Photos from the Government of Ontario/Twitter
Education minister offers assurance to parents despite rocky negotiations with teachers
Negotiations to reach new provincial contracts with Ontario teachers continued quietly behind closed doors this week, with little indication a deal will be reached before students are back in class on Sept. 3.
With the contract set to expire at the end of this month, both sides are making their views known. Minister of Education Stephen Lecce was in Whitby yesterday announcing funding for a new school in Durham, but offered little in the way of details on the negotiations, which have reportedly been unfruitful to date.
"There are some that are increasingly preparing for battle, and I keep hearing this narrative," Lecce said. "Our focus really does remain on getting a deal in good faith. I want the educators in the province of Ontario, likewise trustees, likewise boards, and the parents of the province and the kids themselves to know that my singular duty is to make sure that our kids remain safe in a positive learning environment."
Lecce's comments come a day after the Ontario Secondary School Teachers' Federation (OSSTF) launched an ad campaign slamming the PC government under Premier Doug Ford and its cuts to education in the province.
Students will be returning to schools with fewer teachers and fewer class options, the commercial begins, which will lead to lower graduation rates.
While not willing to comment on the ads directly, Lecce said negotiations continue "unimpeded."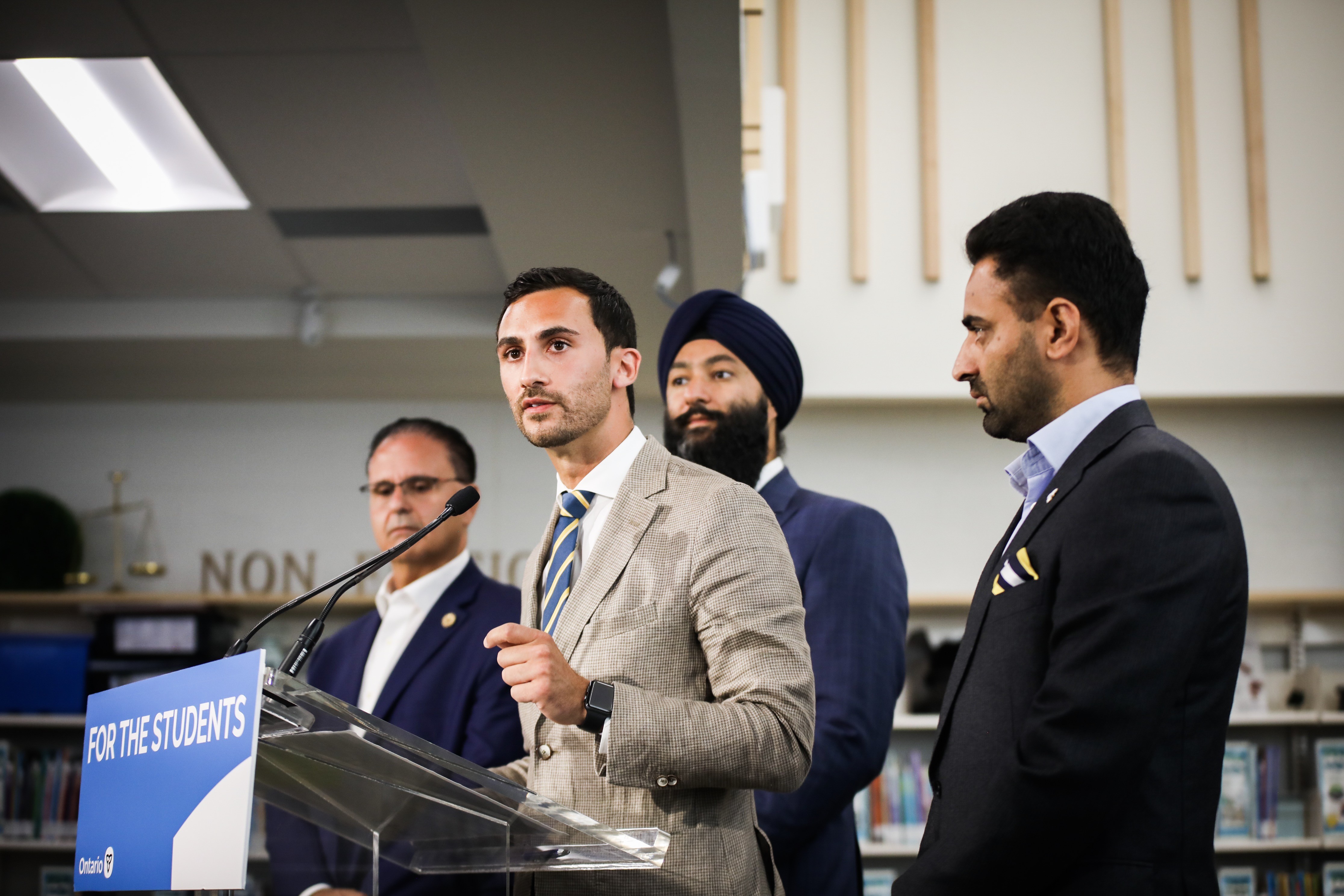 Minister of Education Stephen Lecce
"We continue to have meetings at the table; that process has to happen at the table. But I do believe a deal can be made, and I continue to call on all my partners, including my own negotiators, to work harder, faster, and smarter to provide the predictability that parents of the province of Ontario deserve."
Reaching a deal will be no easy task, with unions and the province at loggerheads for most of the past month, and discussions going before the Ontario Labour Relations Board last week to decide which issues should be bargained at the provincial level and which at the board level. OSSTF president Harvey Bischof said in a fiery speech to union members earlier this month that the province has "declared war" on one of the world's top education systems and vowed to "cultivate resistance" to the provincial cuts.
However, he has previously assured that teachers will be in the classroom once school starts in September whether a new deal has been reached or not.
The main bone of contention has been the widely unpopular changes included in Premier Ford's budget, released earlier this year.
Arguably the most controversial aspect of the government's cost-cutting proposals was the increase to average class sizes for high schools, pushing the average from 22 to 28. The government backpedalled temporarily on that aspect just days ago — long after many teacher layoffs — with Lecce saying the increase would be introduced gradually and that the average class size would be only 22.5 this year.
The class size increase, plus a new requirement that high school students take some courses online, would mean phasing out about 3,500 teaching positions over the next four years, according to the government's own estimates.
Earlier this year, 193 high school teachers and 137 elementary teachers in the Peel District School Board were notified that they were "surplus to board" — essentially a layoff notice. The elementary teachers have since been recalled, along with 119 of the high school teachers, but the remaining 74 were offered only supply and long-term occasional positions, despite the government's promise that no teachers would lose their jobs and its creation of a $1.6-billion "attrition fund" to help boards avoid layoffs. More reductions in staff are likely in future years.
High school students have also found their course options restricted as smaller-enrollment classes, many offering specialized learning in areas such as the arts and vocational subjects, were eliminated to help schools conform to the increased average class size. The cuts have also affected some crucial support staff such as educational assistants and tech specialists.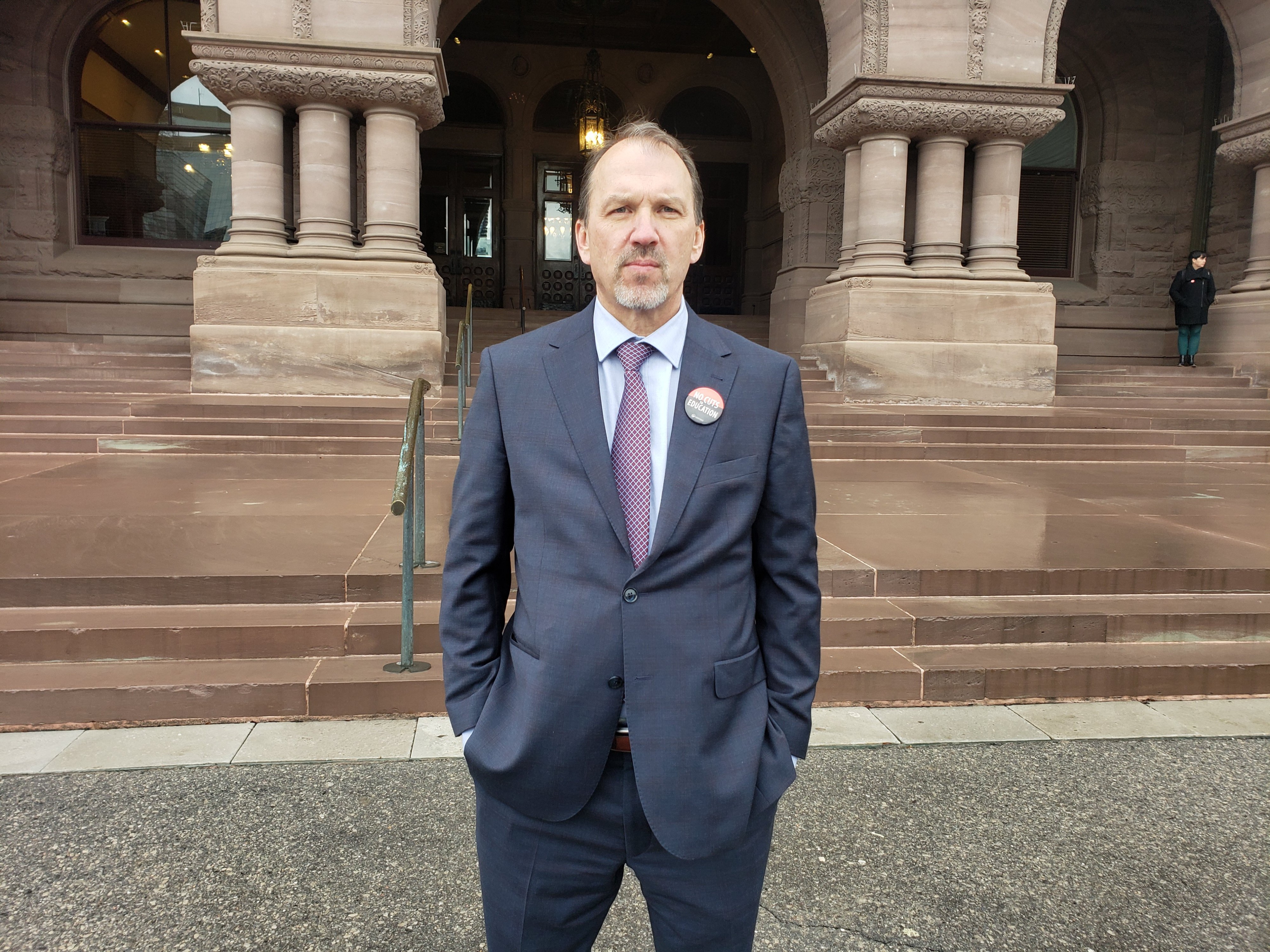 OSSTF president Harvey Bischof
The OSSTF wasn't sold on Lecce's move to delay the class size increases, with Bischof calling it "smoke and mirrors."
"This is nothing more than a feeble attempt at sleight of hand on the part of Minister Lecce," Bischof said in a written statement. "His government declared war on the province's public education system back in March, and he would like us to believe that today's announcement constitutes an olive branch. Sadly, it is nothing of the sort. It is simply a new plan of attack with the same destructive objective."
Earlier this year, there was a window of hope for teachers when Ford shuffled his cabinet and replaced former education minister Lisa Thompson with Lecce, who stepped into the role professing a willingness to work with the unions.
Lecce said at the time he would be willing to sit with every party and discuss their grievances to finalize a new collective agreement before school resumed. That stance rekindled hope among teachers but has yet to result in a contract.
Yesterday, Lecce defended his government's decision-making on the education file, explaining that it has increased spending to "historic" levels in many areas of education.
"I do believe that the student experience (in September) will be positive, will be safe," he said. "I think my message is, we're focused and preparing for the first day of school, that we're focused on making sure your young kids can reach their full potential."


Email: [email protected]
Twitter: @JoeljWittnebel
Submit a correction about this story