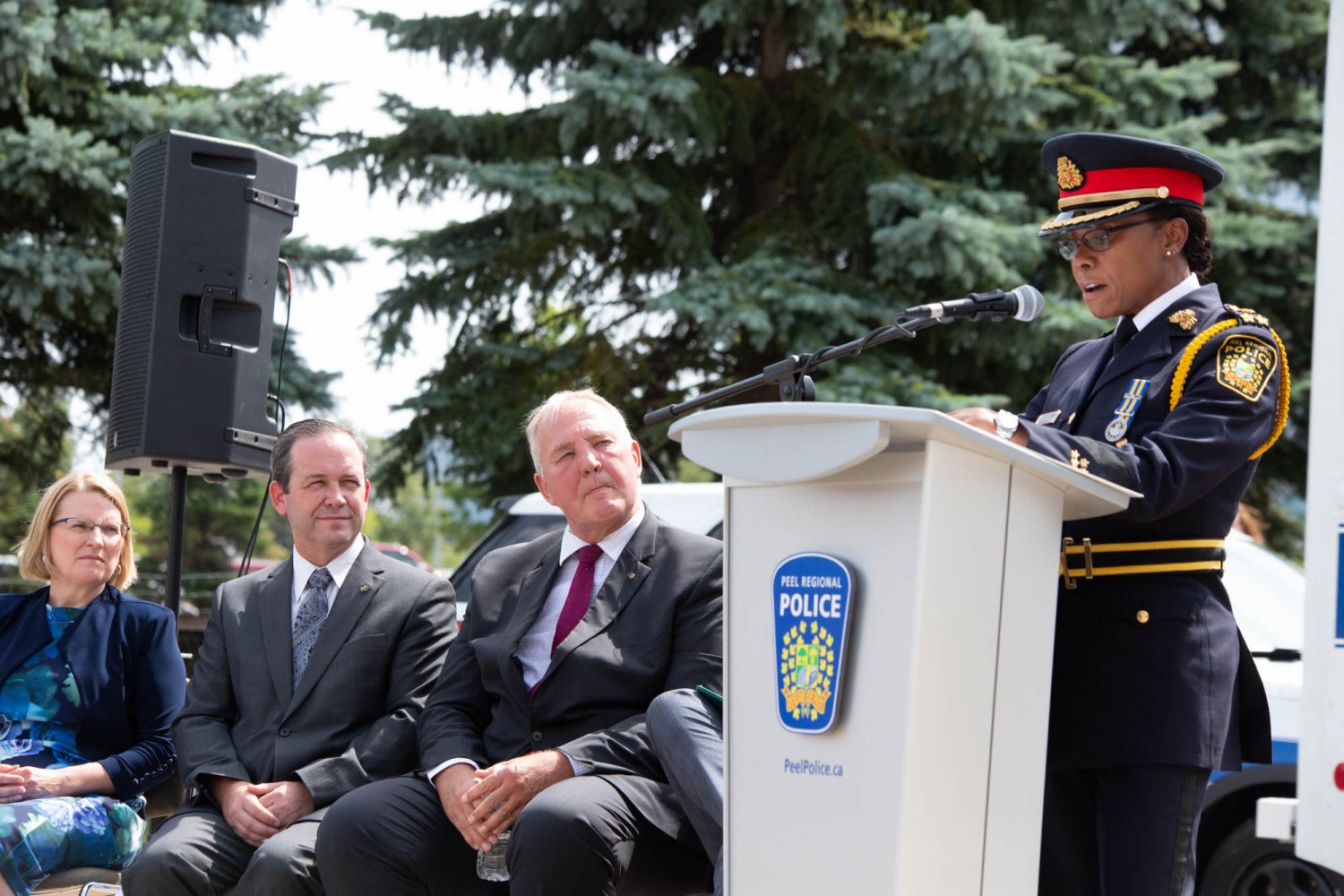 Photos by Mansoor Tanweer
Province and Ottawa announce gang-violence funding and special bail team for Peel
Is it a case of burying the hatchet? Federal and provincial ministers, in a rare move, came together Monday to announce joint funding to combat rising gun and gang crime in the GTA.
The federal Minister of Border Security and Organized Crime Reduction, Bill Blair, provincial Solicitor General Sylvia Jones and Ontario Attorney General Doug Downey announced $54 million in funding over three years to combat gang violence and human trafficking in the province. That is Ontario's share of the $214-million federal Gun and Gang Violence Action Fund.
"Gang-related homicides in Canada's largest cities have nearly doubled in the past five years," Blair told reporters. "Specifically, Ontario will use this funding to target initiatives that stop and address violent criminal activity before it starts."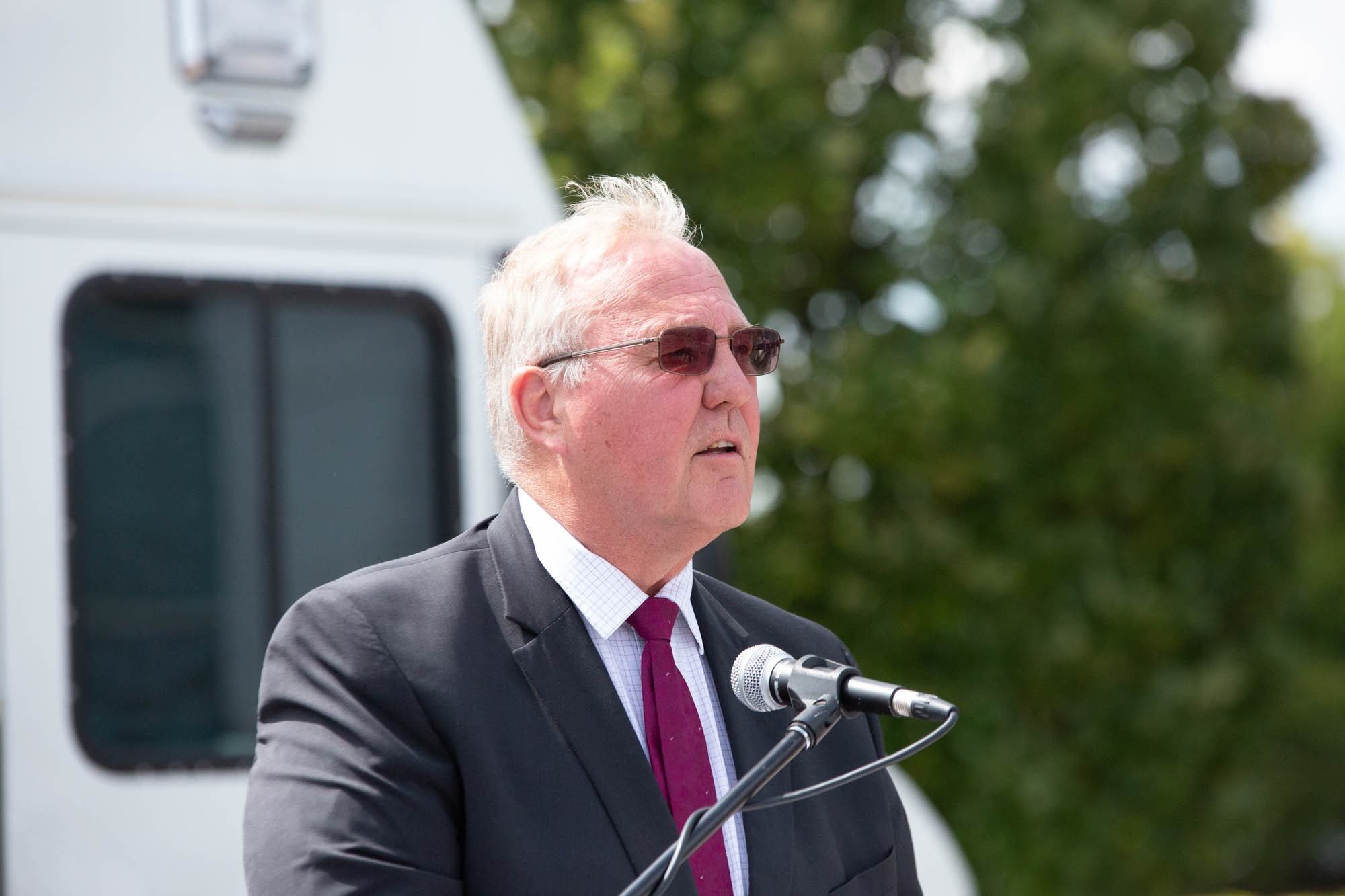 Minister of Border Security and Organized Crime Reduction, Bill Blair
It's not yet known how much of this money will go to Peel Region. Downey told The Pointer that the province is open for applications. "We are looking for some direction from people who are on the ground with the right ideas, with the most knowledge, to be able to help us guide the province to invest wisely."
Peel will, however, be getting an "intensive firearms bail team," Downey said. "It is structured so that we have specialized Crown attorneys who have experience in this area, and they will literally move where the need is. Effectively a Crown attorney SWAT team."
These legal teams will apply their special expertise to providing judges and prosecutors with information they need to decide whether people charged with firearms offences, including gang members, should be granted bail—and if so, under what conditions. Critics have said that lenient bail is at least partly to blame for the uptick in violence in Toronto and other municipalities. It's not clear whether that's true, however Toronto Police Chief Mark Saunders said earlier this month that 326 individuals charged with firearms-related offences were out on bail.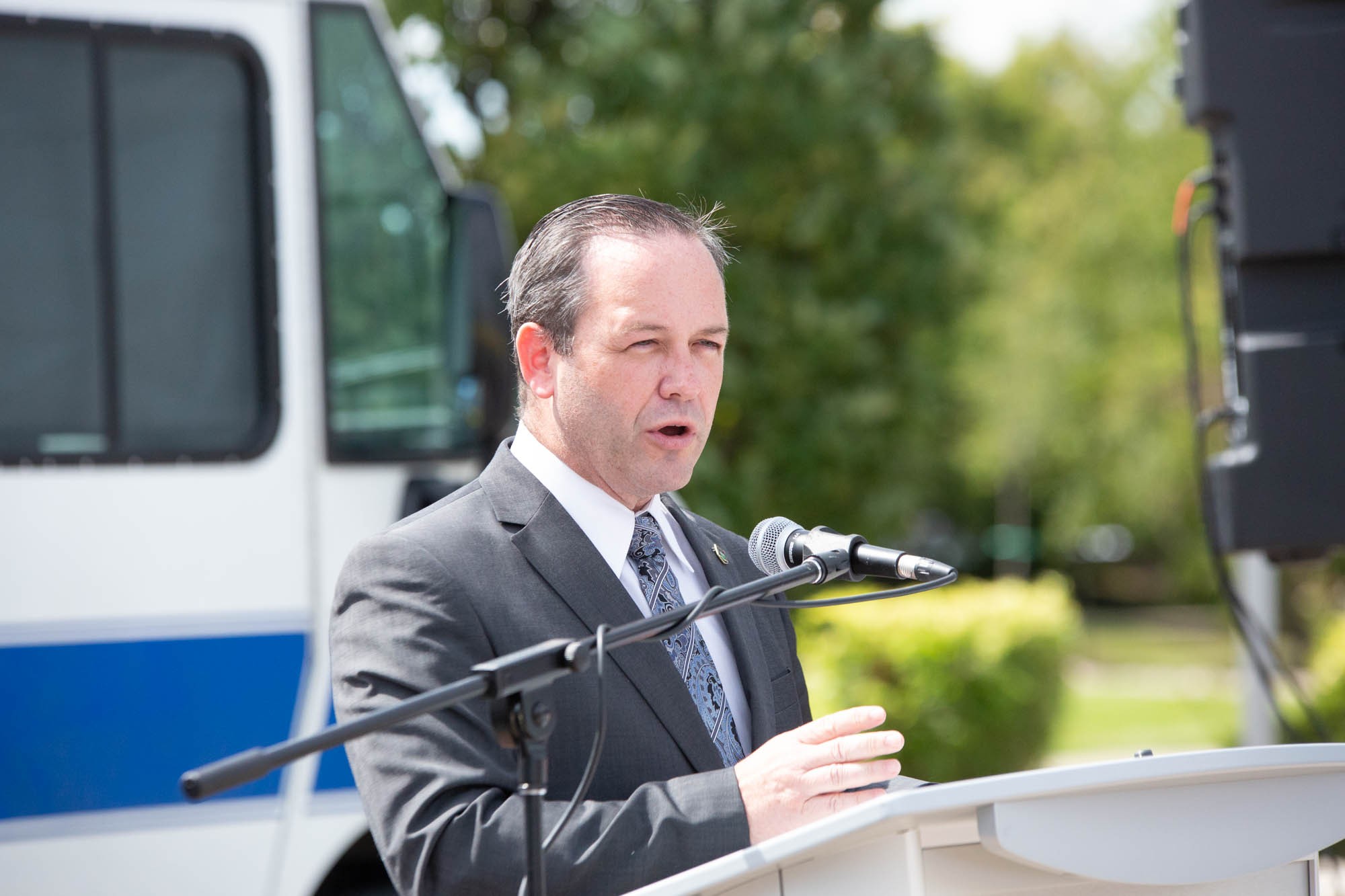 Ontario Attorney General Doug Downey
The task of bail team Crown attorneys will be to put together available evidence on such cases, "help to present the best case possible and help give background on the individual being reviewed," the Attorney General summed up.
Portions of the funding will also be used to address the rising issue of human trafficking in the province. Dollars will be put toward enhancing survivor supports, investments in dedicated prosecution resources, and future enhancements to grant programs.
Violence has been on the rise in Peel in recent years. Last year, the rate was 13 percent higher than in 2017 and 33 percent higher than in 2014. The region's violent crime rate, while still lower than many other regions', has been growing worse three times faster than the national rate. On Aug. 21, Peel arrested two in connection with the murder of 47-year-old Wayne Wojcichowsky. Before that, on Aug. 15, police found the body of a man near Highway 410 and Steeles Avenue. The discovery marked the region's 12th homicide of the year.
Perhaps for this reason, the announcement marks renewed cooperation between the federal Liberal government and the provincial Progressive Conservatives. The two governments have often been at loggerheads of late, blaming each other for crises such as the layoffs at Bombardier's Thunder Bay plant and wrangling over issues such as funding for accommodating asylum seekers.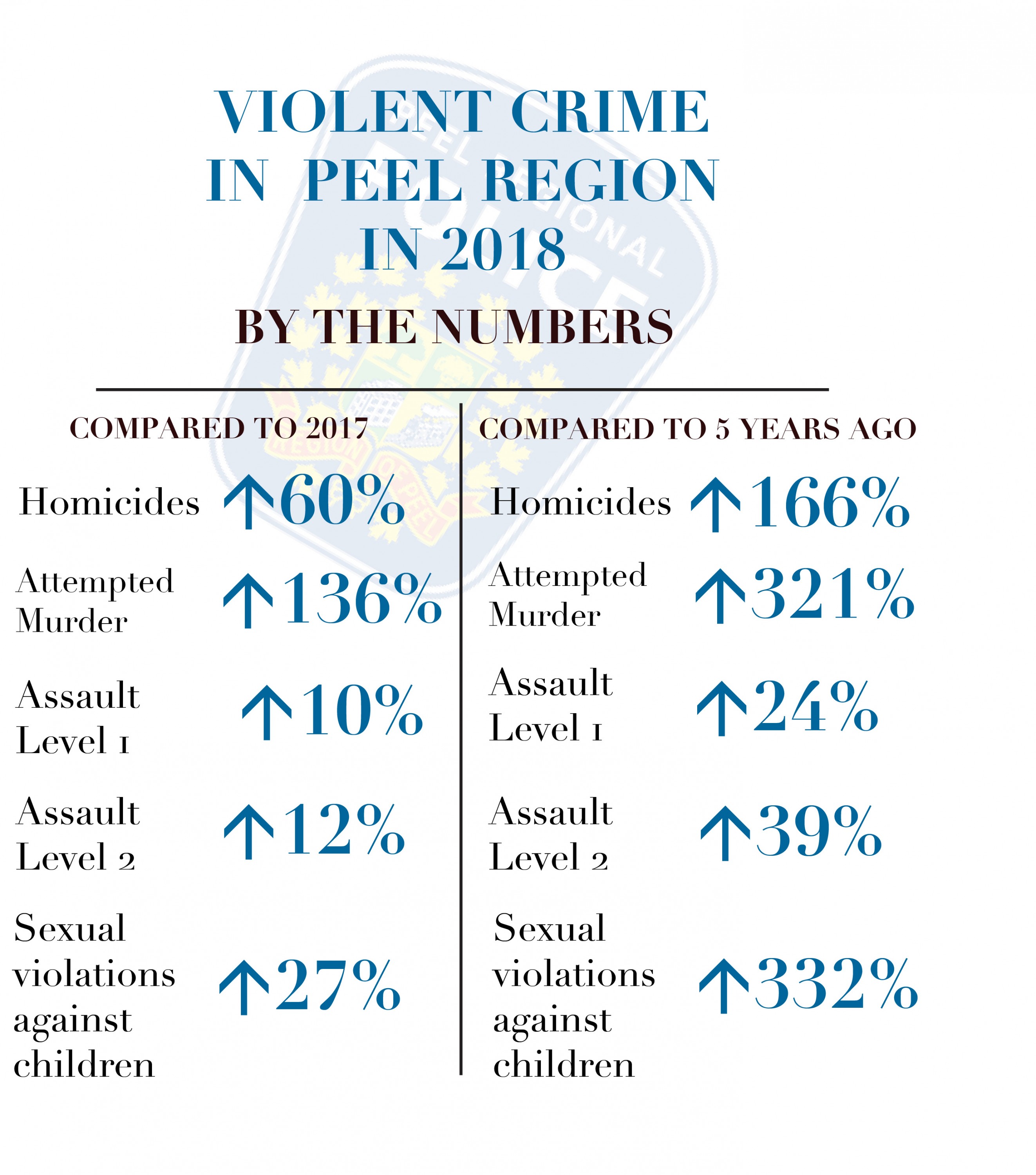 At the announcement, the ministers were asked why it took two years for this funding to come through. Earlier this year, the Liberals complained for months that the Ford government was to blame for Ontario cities not getting access to federal infrastructure funding, because it had failed to open the provincially run applications process for Public Transit Stream money.
Blair, Downey and Jones struck a cordial tone at the news conference, held at Peel Regional Police headquarters at Derry Road and Steeles Avenue, often taking care to call each other "partners."
"Ensuring the safety and security of the people of Ontario and all of Canada is shared responsibility," Jones began her remarks, "that's why I'm proud to join our federal partners for this announcement."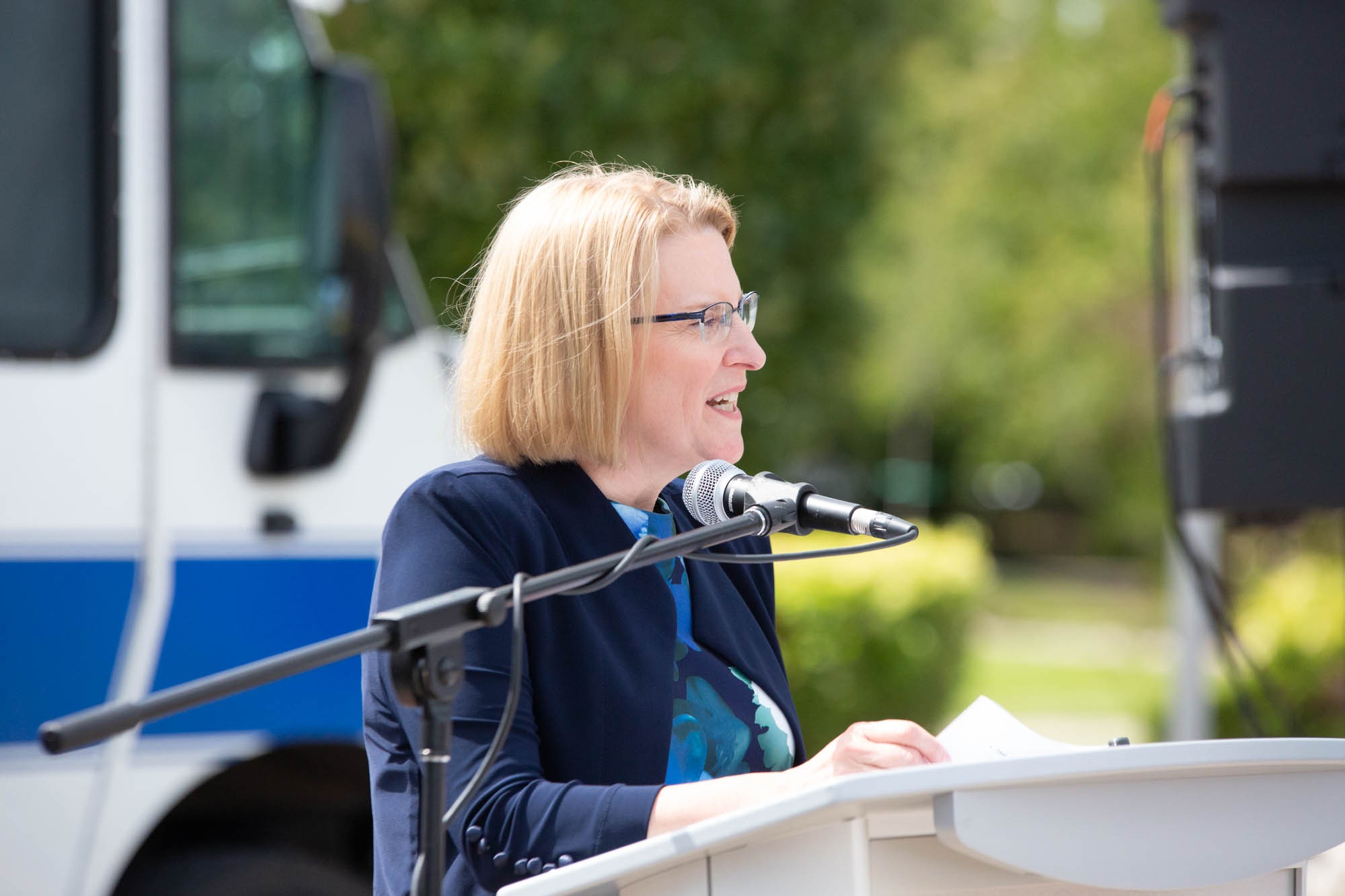 Provincial Solicitor General and Dufferin-Caledon MPP Sylvia Jones
Though the $54 million set aside for Ontario suggests there's good news ahead for Peel, the region has been jilted in the past when seeking funding to combat crime. In May, Ottawa turned down a Peel Regional Police application for $3.72 million from the National Crime Prevention Strategy, meant for a program to combat youth violence in the region. The incoming police chief, Nish Duraiappah, will have to be especially proactive to succeed where his predecessor failed.
Deputy Opposition Leader and Brampton MPP Sara Singh criticized Monday's announcement in the light of deep cuts to programs meant to deal with underlying issues that can lead to violence. "Ford has taken millions of dollars away from community initiatives to put at-risk youth on a better path," Singh's statement begins. "He cancelled $14 million in funding for a badly-needed Lawrence Heights community centre, and he's taking caring teachers away from kids that need more guidance, not less."
Mayor Patrick Brown, on the other hand, welcomed the news. "We have been fighting for Brampton's fair share of funding and appreciate that, following meetings with Bill Blair and Sylvia Jones, Brampton will receive this important funding to fight guns and gangs in our city," he said in a statement.
Email: [email protected]
Twitter: @mansoortanweer
Submit a correction about this story