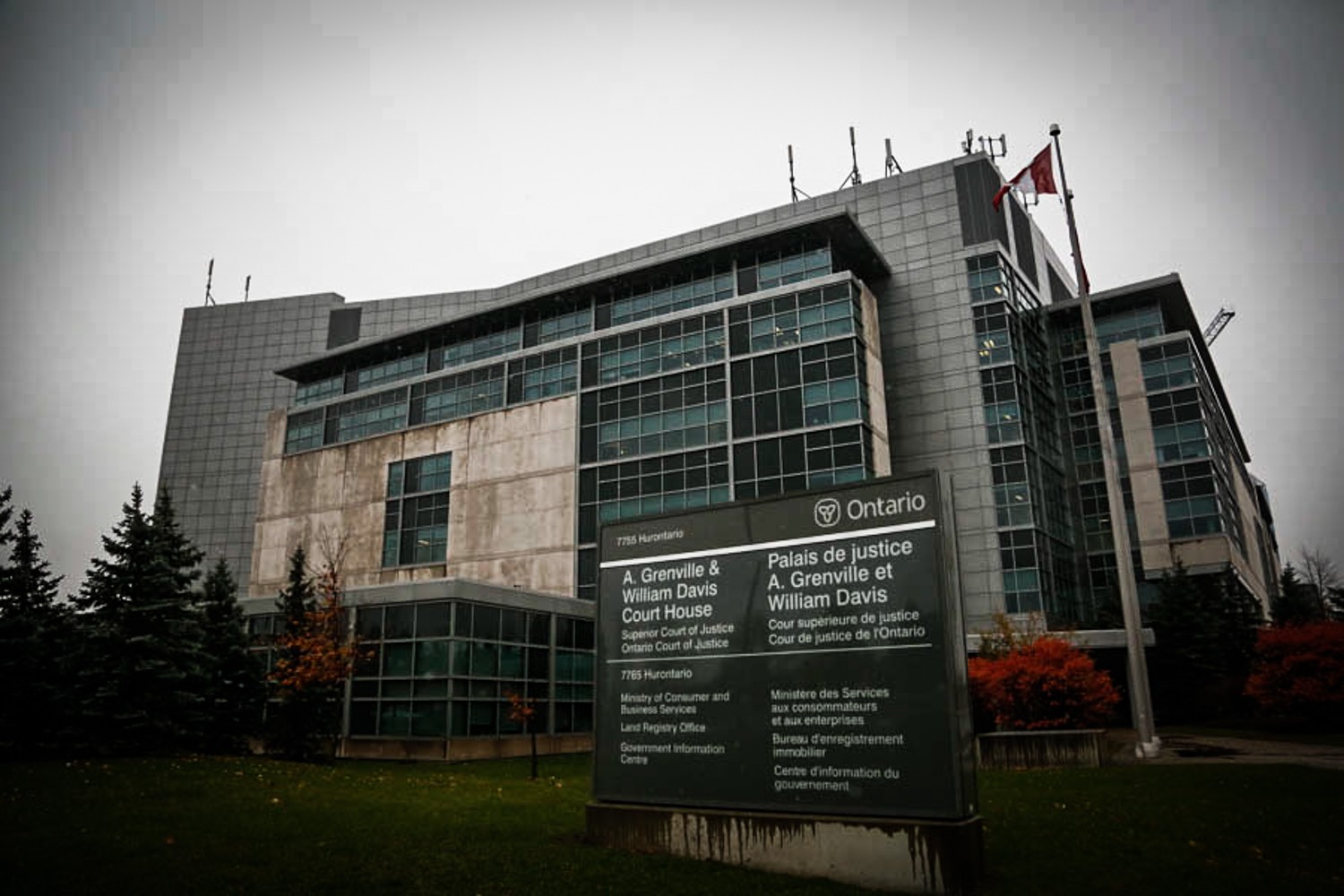 Photos by Mansoor Tanweer/Twitter/Graphics by Joel Wittnebel
Ontario can expect payoffs from putting more cash into prosecuting human traffickers, advocates say
Telling the story of how you were forced to have sex with strangers would be difficult under any circumstances, even more so inside a packed courtroom. However, in many human trafficking cases this is exactly what survivors are put through. The trauma is often exacerbated by lawyers questioning and probing every part of the story for cracks and holes.
It can be demeaning, insulting and retraumatizing, but having someone across the courtroom who knows what you've been through can offer a bit of reassurance, and sometimes that's all a survivor needs.
The province of Ontario, with help from the federal government, is trying to make that support a reality in today's justice system. As part of a joint $54-million anti-crime funding announcement made in Mississauga on Monday — with a federal election weeks away — the province has said it will put more resources toward combatting human trafficking. That will include enhanced supports for survivors, improved grants for agencies working with human trafficking issues, and dedicated resources for prosecutions.
Ontario has a small team of Crown attorneys specifically trained and dedicated to dealing with human trafficking cases. However, according to Barbara Gosse, CEO of the Canadian Centre to End Human Trafficking (CCET), that group is stretched thin and needs help to keep up with the growing workload.
"The number of cases has risen and the [demand on] these Crowns to do all this work is overwhelming," Gosse tells The Pointer. "We do need more of this investment."
In Canada, police-reported cases of human trafficking have been increasing since 2010, rising from less than 50 to to close to 350 in 2016. Keep in mind, these police-reported numbers only provide a snapshot of the problem, as human trafficking is known to be vastly under-reported.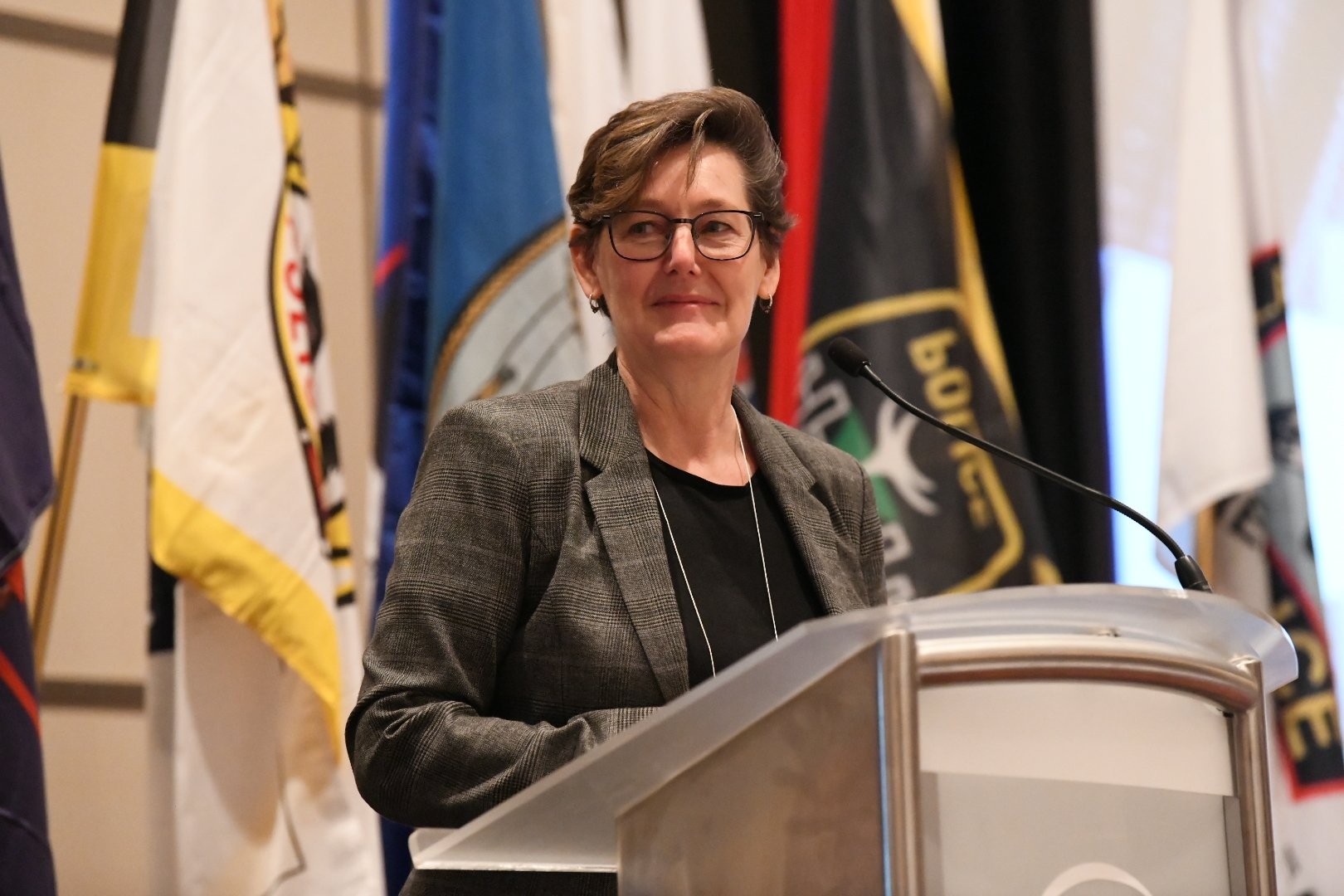 Barbara Gosse, CEO of the Canadian Centre to End Human Trafficking
The Pointer asked the Ministry of the Attorney General to clarify how much funding from the recent announcement will go toward human trafficking, however, specifics as to the dedicated amount were not provided.
"Drug, human and gun trafficking are fuelling gang operations and gangs continue to recruit at-risk youth and young adults. In response, we launched a comprehensive Guns, Gangs and Violence Reduction Strategy to help combat gun and gang violence on all fronts across Ontario and keep our communities safe," reads a statement from ministry spokesperson Brian Gray. "In particular, the Victim Quick Response Program provides financial support to survivors of human trafficking, including funding for treatment at residential facilities, dental work, and tattoo removal. The Strategy provides enhancements to this program that will broaden the benefits available to survivors of human trafficking, ensuring their unique and most urgent needs are met."
Gray also confirmed that part of the funding will go toward expanding Ontario's Human Trafficking Prosecution Team, but specifics in terms of the number of additional prosecutors were not provided.
"Having specialized Crown attorneys who are trained not only on human trafficking and what it is, but also … informed [about] the impacts of human trafficking on the psyche of an individual, whether that individual be an adult or actually a minor — which in many cases they are — is absolutely critically important," Gosse explains.
Having attorneys who truly understand what survivors are going through not only makes it easier for victims to push through the gruelling court process, but can also help the system at large. Reducing the degree to which survivors are retraumatized may reduce the need for more services to help survivors afterward.
It can also help put more traffickers behind bars.
"It's an extremely difficult process, so having a Crown attorney or a team of Crown attorneys who understand the implications of this from a victim's perspective is extremely important, and it means that more justice can be done," Gosse says.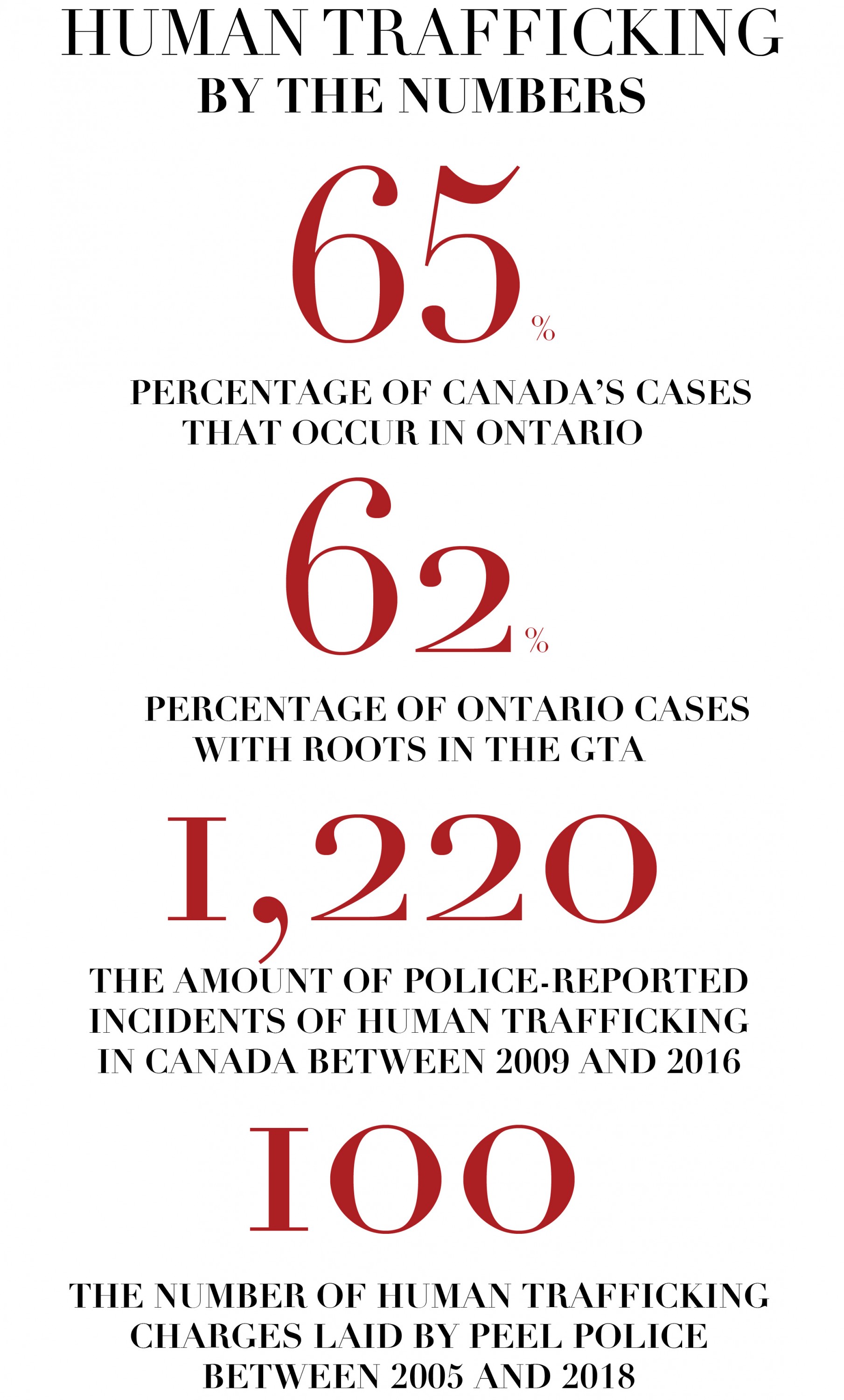 Additional funding is welcome news for everyone engaged in the fight against human trafficking. But the timing of the recent Liberal announcement, which came during a spate of such announcements designed to garner public support prior to the election, creates uncertainty.
Agencies and even Peel police have complained that upper levels of government have a habit of providing one-time funding to establish new programs, but once a program gets off the ground, the grant expires, leaving survivors in the dark.
The issue was raised in Mississauga during the recent Global Conference on Human Trafficking and Trauma hosted by Family Services of Peel, and it came up during the federal government's own consultations on human trafficking late in 2018.
A report summarizing the feedback from those consultations, held in Vancouver, Winnipeg, Montreal and Toronto, was released on Aug. 21.
"Participants … spoke on the necessity of addressing apparent inequalities in various victim support programs and increasing the availability of sustainable funding and transition services," the report says.
It also mentions that many organizations involved in the consultations, including the CCET, placed a significant priority on creating more "robust, trauma-informed training" for professionals.
"It was also noted that training should be more widely available and tailored for other stakeholders including lawyers, prosecutors and corrections personnel," the report says. "The safety risks faced by victims and survivors should be communicated to them by professionals, in preparation for interaction with the justice system. Participants noted that training is a foundation to a more effective response to human trafficking, and is relevant to other elements of a new national strategy."
The report notes that victims of human trafficking often are reluctant to cooperate with police. "This was believed by participants to be, in part, due to the perception that the likelihood of a successful prosecution is low, while the personal cost to victims by taking part in the prosecution process is high. Similarly, some felt the threshold for prosecuting under current human trafficking provisions was high, as some police departments pursued complex cases against traffickers under different charges, such as money laundering."
Relying on alternative charges is not uncommon in Peel, where police deal with nearly twice as many human trafficking cases as other police services across the country. According to numbers provided by PRP, between 2005 and 2018 there were 100 cases where human trafficking charges were laid. However, only 22 of those instances resulted in a conviction for human trafficking.
"In many instances where human trafficking charges have been laid, the offenders are successfully convicted of offences other than trafficking in persons. These may include assault, forcible confinement, procuring, or exercising control over a prostitute. This occurs for various reasons, including pre-trial resolutions and determinations made by judges or juries based on evidence presented at trial," PRP spokesperson Danny Marttini previously told The Pointer.
A successful conviction of any kind can be celebrated when it puts a trafficker behind bars, yet relying on lesser charges means the perpetrator will be incarcerated for less time and therefore will be out on the streets sooner, with the potential to reoffend.
Human trafficking cases are complex and difficult to prosecute, and another idea raised in the 2018 consultations was to review and alter these charges.
The goal of holding consultations was, according to the report, "to identify issues, gaps and challenges affecting Canada's ability to counter human trafficking and to identify potential actions and initiatives to address them."
But the latter part of that statement appears to have fallen by the wayside.
"It outlined what was discussed at length, but really didn't draw any conclusions and didn't look to support any further efforts through recommendations," Gosse says. "This is an issue that crosses all political boundaries; anyone, no matter what their political leanings are, should be concerned that governments, no matter what their political stripes are, should be investing in these types of initiatives."
A starting point would be a national action plan and strategy, something Canada is lacking.
"Without that integrated, coordinated strategy, we are not going to stop these types of crimes from happening," Gosse says.
Without a national strategy, there is also no assurance of any ongoing commitment to human trafficking cases from the $54-million crime-fighting grant to Ontario.
Email: [email protected]
Twitter: @JoeljWittnebel
Submit a correction about this story