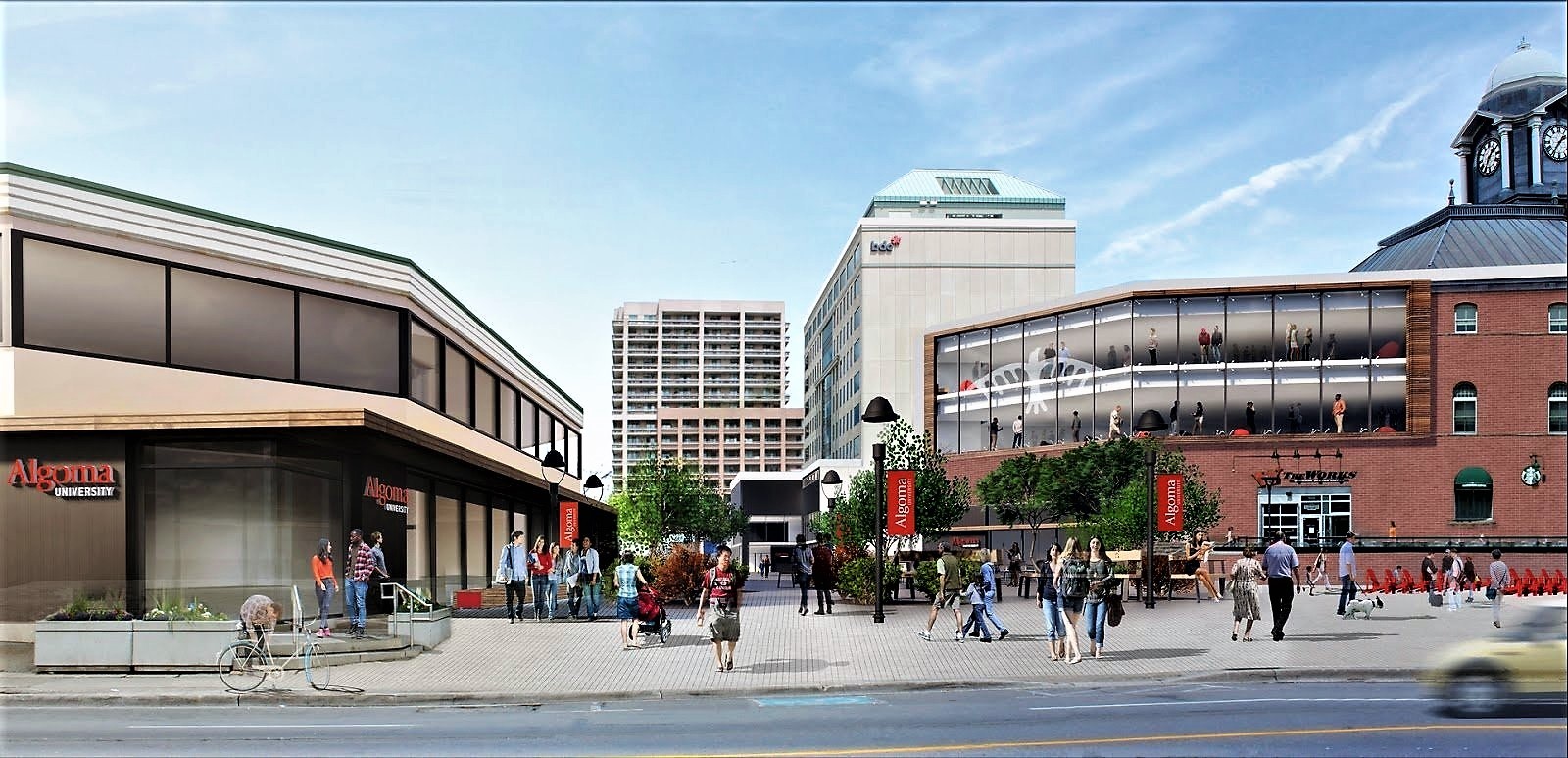 Photos by Mansoor Tanweer/Renderings from City of Brampton
It's a deal: council agrees to $7.3M contribution to expand Algoma campus
An increase in the number of young individuals flocking to Brampton's downtown core with backpacks on their shoulders is in the cards. City council has agreed to contribute $7.3 million to Algoma University's $34.4-million campus expansion project that would double its student capacity.
Council passed a motion Wednesday agreeing to the contribution once the proposal gets rubber-stamped in the council's budget process and a memorandum of understanding is agreed to between the university and the city's chief administrative officer.
The small Sault Ste. Marie–based university, which would be responsible for securing the remaining $27.09 million of the total $34.4 million, envisions building a complement to its existing downtown campus to house a Centre for Social, Cultural and Economic Innovation, which would offer programs such as Community Economics and Social Development, Psychology and Computer Science, all considered high-demand programs among Ontario's high school graduates.
The plan to build the centre, which would increase the size of the campus space from 13,350 square feet to 24,000 square feet, forms the second phase of Algoma's expansion program, which would boost potential enrolment at the Brampton campus from 500 to at least 1,000. At present, Algoma offers only business programs in Brampton, catering to mature students and college graduates and leading to a Bachelor of Business Administration degree.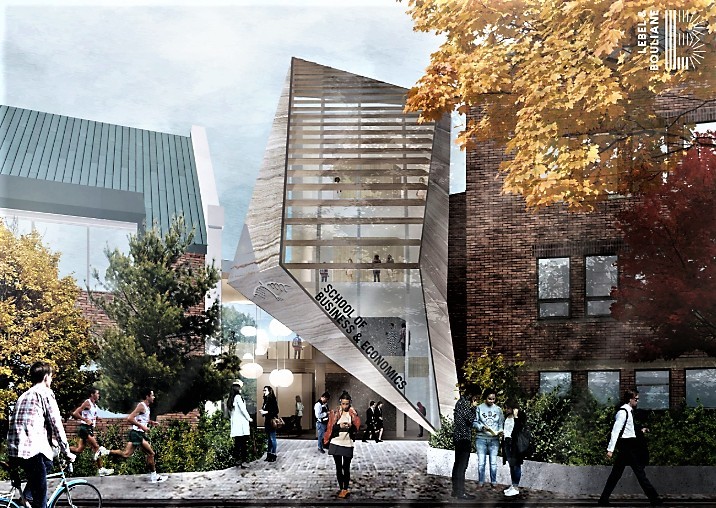 Algoma University plans to spend $34.4-million on a campus expansion in downtown Brampton that will include a Centre for Social, Cultural and Economic Innovation.
Councillor Jeff Bowman told The Pointer that the funding is likely to be passed in the budget process in September, since council is generally interested in investing in Algoma. "That would be good for us." The grant is likely to come from an account called the Legacy Reserve Fund, leaving the reserve account with an unspent balance of $42.7 million.
Asima Vezina, president and vice chancellor of Algoma University, told The Pointer the expanded campus will be a catalyst for downtown renewal, instilling an entrepreneurial spirit in the community and increasing the local talent pool. "As I understand it, the city is very interested in supporting business startups and entrepreneurs … so the program we're bringing in, whether it's through the Centre for Social, Cultural and Economic Innovation or through the School of Business and Economics, these students will become future business leaders, work for businesses and contribute to the local economy," Vezina said.
In addition, she said a university can help lure businesses to set up in the area. Universities and colleges turn out graduates that provide a local hiring pool for businesses. "That really helps in bringing new companies. Our students are going to be movers and shakers," she said.
One facet of the project being highlighted was its goal to scale down the proportion of international students in the business school to 40 percent. The school, which opened only a year ago, has a large majority of international students, which Algoma said was because the institution didn't have enough time to market those programs effectively to domestic students.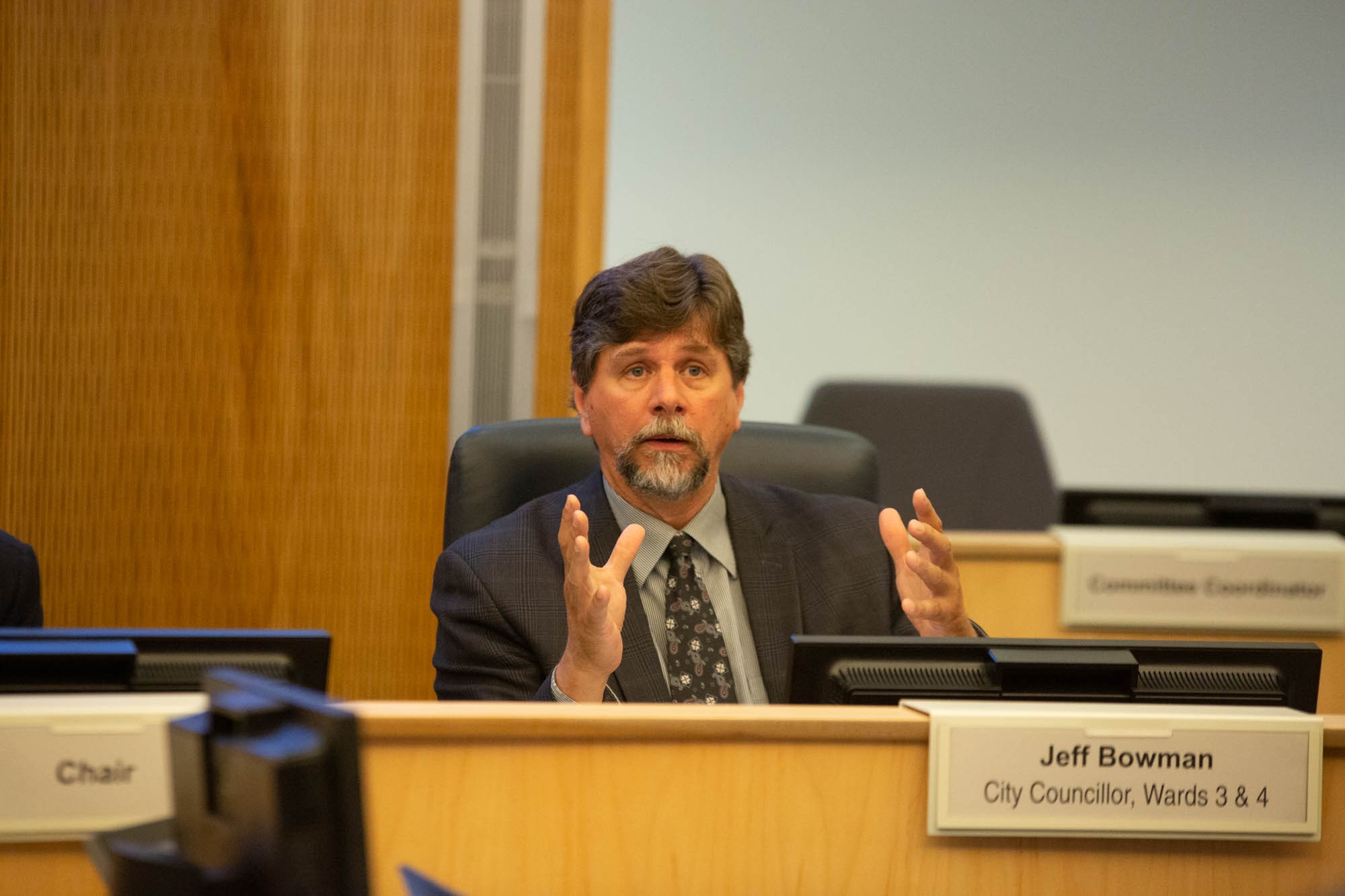 Councillor Jeff Bowman
"We launched our school in July and opened it in September. So we really focused on the international market, which was still quite available to us," Vezina said. "In the next fall we can take a much more domestic presence and are aiming for a 60-40 split, 60 percent domestic and 40 percent international." Vezina says the university hopes to boost local employment by encouraging domestic students to enrol. It will probably use caps and waiting lists to control the mix.
"In terms of the number of younger people that are eligible for university education or want university education, the market is huge," Vezina said.
Huge risks come with targeting solely an international market, she said. "You can't keep your eggs all in one basket. If a market dries up for whatever reason — maybe a world event, a policy — we want to make sure that, whatever we're doing, we can always hold on to the domestic market. Because that's a pretty sure thing."
Grants provided by the province for domestic students offset the loss of revenue from having fewer international students, she added. "It doesn't make a huge difference in terms of revenue growth."
The university has touted the economic benefits to the city of adding to the existing campus. A report prepared by labour market analytics firm EMSI, titled The Economic Impact of Algoma University's Brampton Campus Expansion, estimates that the expansion will generate income of $165.6 million for Brampton's economy by 2028. "These expenditures will create a significant amount of new economic activity that will ripple throughout the Brampton economy," the report says. It suggests that for every $1 invested, the city will reap economic benefits of $10.70 by 2028.
"What you'll see is a thousand students in that downtown, eating at local restaurants, buying their coffee at local coffee shops, investing in housing and rental, purchasing clothing, hiring staff who would move to Brampton and later spend more due to better income, which is tied to better education," Vezina said. EMSI calculated that the financial benefits would amount to more than 10 times the amount actually invested, she said.
Susan Hackett, an economic consultant at EMSI, told The Pointer the highly speculative nature of the calculation was offset by "thousands of data points and factors." Hackett said that, along with an increase in spending by students, the model also calculated the value of their educational degrees in the marketplace and the subsequent economic benefits as a result of employment. Hackett said the report took appropriate measures to ensure that the calculation was accurate.
"Just because a dollar is spent in Brampton doesn't mean the same dollar would create 10 dollars for the city," she explained. The economic benefits enjoyed by a city hinge on where exactly residents invest their income. Therefore, the study accounted for students who might leave the city to find employment after graduating. "We also have a scenario where we say that, if Algoma didn't exist and wasn't graduating these additional students, then workers would get hired outside of Brampton," Hackett said. "So we cut the alumni impact in half because of that."
She said the study also accounted for scenarios where the city's investment in Algoma was used in other ways. "We take a number of steps so that we are pinpointing the most accurate estimate we can."
However, during Wednesday's meeting, a few councillors raised concerns about the project. Their main bone of contention was the lack of details regarding housing accommodations for an influx of students. Councillor Gurpreet Dhillon pointed out that some international students in rental-poor Brampton are living in bad conditions and that, even though the proportion of foreign students is expected to decline, the real number will grow. "I've seen 25 of those kids live in one home … they're living in substandard housing right now," Dhillon said. "If we're going to be adding [students], whether we're adding 10 or 20, or 400, how do we ensure that we have adequate housing in the city?"
Vezina responded that at this point, "one of the things we're looking at is the seven- to 10-year campus master plan, in which we are looking at housing as one of our priorities."
She later told The Pointer that Algoma is still looking for a concrete solution. The master plan, slated to be completed in late fall, will discuss housing without mentioning any immediate plans. "We're targeting local students, so we assume that a majority of them would stay in Brampton."
Bowman said he wasn't convinced. "I'm looking for a commitment; I was looking for someone to say, 'Look, we are expanding the campus, we're also building 300 student housing units.' It's okay to make promises, it's okay to see them talking to people, but I want them to perform," Bowman said.
Algoma opened its small Brampton campus in 2009. In encouraging city council to support the expansion project, Vezina touted the success of the School of Business and Economics, which graduated its first class of 66 Bachelor of Business Administration recipients in June at a ceremony in the Brampton City Hall atrium, with Mayor Patrick Brown as a speaker.
An expanded Algoma campus will complement Sheridan College's Davis campus and other efforts to establish a post-secondary presence in downtown Brampton that remain from the cancelled Ryerson University satellite campus, including a 130,000-square-foot central library/Centre for Innovation; the Cybersecure Catalyst, a centre for education and research in cybersecurity; and a branch of Ryerson's Chang School of Continuing Education.
Vezina said that although increasing student capacity to 1,000 is a conservative move, Algoma doesn't want to rush the process and grow too rapidly. "It's one thing to go to a thousand students, it's quite another to start thinking about 5,000," she said. "Our students have really strong relationships with us and talk about a sense of community, and we don't want to jeopardize that."
Submit a correction about this story