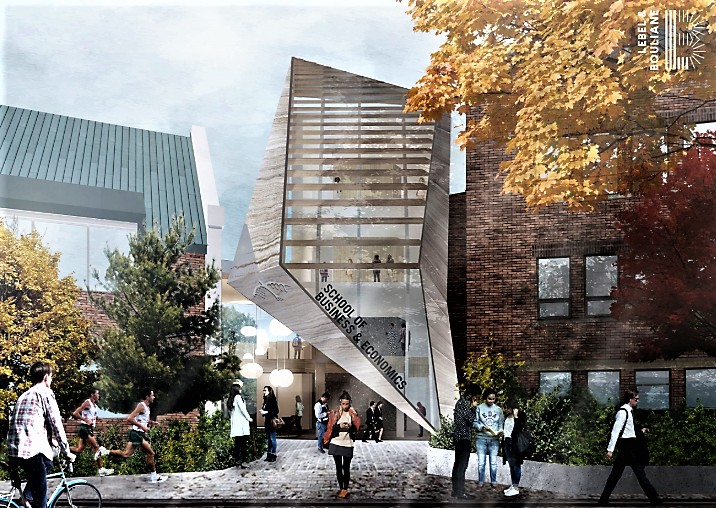 Renderings City of Brampton
Algoma University seeks $7.3M from city toward ambitious $34.4M Brampton campus expansion
Brampton City Council will consider today whether to grant Algoma University $7.3 million it is seeking on top of its own $27.09 million to further expand its Brampton campus, a move that will introduce a string of "high demand" post-secondary programs and double the number of its students flocking to the city's downtown core.
The request marks the next effort in Algoma's quiet moves to step into the breach after a much-ballyhooed Ryerson University satellite campus project died following the provincial government's cancellation of $90 million in funding last fall. The university would be responsible for securing the remaining $27.09 million of the total $34.4 million.
Rendering of the recently approved downtown Algoma expansion; the university is now seeking a much larger expansion in Brampton.
The small Sault Ste. Marie–based university envisions building a complement to its existing downtown campus to house a Centre for Social, Cultural and Economic Innovation, which would offer programs such as Community Economics and Social Development, Psychology and Computer Science, all considered high-demand programs among graduating high school students in Ontario.
Back in spring, the university won approval for a city contribution of $575,000 toward its immediate project: building an addition to its existing business-school campus at Main and Queen Streets in Brampton, allowing an increase in enrollment from 300 to 500 students. The plan to build the centre, which would increase the size of the campus space from 13,350 square feet to 24,000 square feet, forms the second phase of Algoma's expansion program, which aims to boost enrolment at the Brampton campus from 500 to at least 1,000. At present, Algoma offers only business programs in Brampton, catering to mature students and college graduates and leading to a Bachelor of Business Administration degree.
The university is seeking capital support over the next three years, but it's not clear whether the new centre will be built elsewhere or somehow in conjunction with the existing campus. The University declined to comment to The Pointer before council makes its decision.
The university's proposal promises a number of benefits to the city in return for council's support. A report prepared by EMSI titled The Economic Impact of Algoma University's Brampton Campus Expansion estimates that short- and long-term impacts of the expansion will generate income of $165.6 million for Brampton's economy by 2028. "These expenditures will create a significant amount of new economic activity that will ripple throughout the Brampton economy," the report says. It suggests that for every $1 invested, the city will reap economic benefits of $10.70 by 2028.
If council approves the funding request, the grant will come from an account called the Legacy Reserve Fund, leaving the reserve account with an unspent balance of $42.7 million.
A staff report said Algoma University's proposal will help support 273 direct and indirect jobs. In addition, Algoma will conduct a "robust marketing campaign that will assist in Brampton's efforts to become a Post-Secondary Hub" — a goal the city had been seeking for years as it worked with Ryerson to develop the campus project. Algoma has also committed to gauging the economic impact of the expanded campus, for example by tracking graduate employment rates and income. The second phase will also help the Northern Ontario university achieve its goal of attracting a 60:40 ratio of Canadian to international students.
The business school expansion, slated to be completed by the end of summer, has enabled the institution to roll out additional classes this fall. The expansion will provide students with additional social space to interact and collaborate between classes and to meet and work on group projects, something the university said is key to business school education.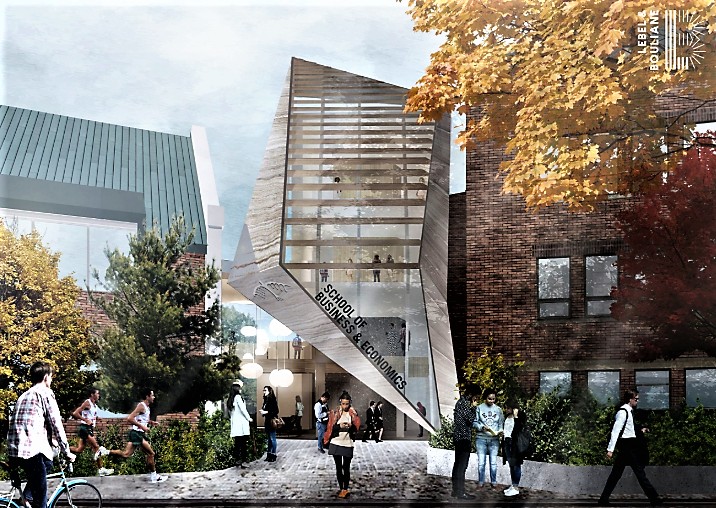 Rendering of the already approved business school expansion
Along with increasing classroom sizes, Algoma is renovating the campus to "create a strong visual presence and create a sense of place." The 24 Queen St. E. campus is being pushed out further onto the northeast corner of Garden Square, occupying more of the space between the existing building and the Rose Theatre. The new facade there will feature a modern glass exterior.
Algoma opened its small Brampton campus in 2009. In encouraging city council to support the expansion project, President Asima Vezina touted the success of its new School of Business and Economics in Brampton, which handed diplomas to its first class of 66 Bachelor of Business Administration graduates in June at a ceremony in the atrium at Brampton City Hall, with Mayor Patrick Brown as the honorary convocation speaker.
An expanded Algoma campus will complement the Sheridan College campus and other efforts to establish a post-secondary presence in downtown Brampton salvaged from the Ryerson project—the so-called "three pillars," including a 130,000-square-foot central library/Centre for Innovation; the Cybersecure Catalyst, a federally supported centre for education and research in cybersecurity; and a branch of Ryerson's Chang School of Continuing Education.
Submit a correction about this story