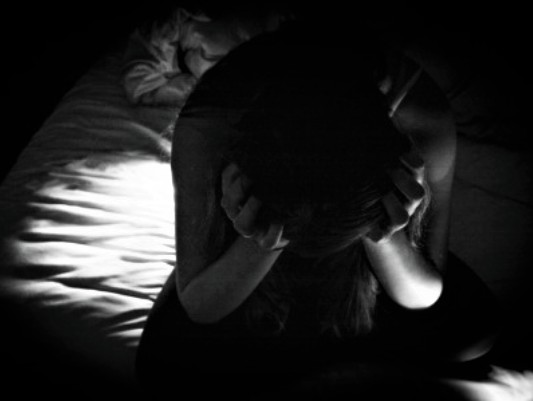 Photos by Joel Wittnebel/Mansoor Tanweer
In Brampton, and across Canada, youth anxiety is becoming an epidemic
You have likely heard the word, woke. It is how a younger generation describes the state of consciousness of many forms of oppression, inequity and injustice. In mainstream use, woke, can also describe someone or something as being "with it."
While the Woke generation is eager for justice and change, it can also apply to the older generations, too – those trying to figure out the growing societal anxiety being felt by our youth, their parents and their parents' parents.
But it is most closely associated with those born after the late '80s. Many of them are now reeling from cyberbullying or are simply worried stiff about the degradation of our crumbling eco-system or wonder how their stagnating paycheques will cover unfathomable rents.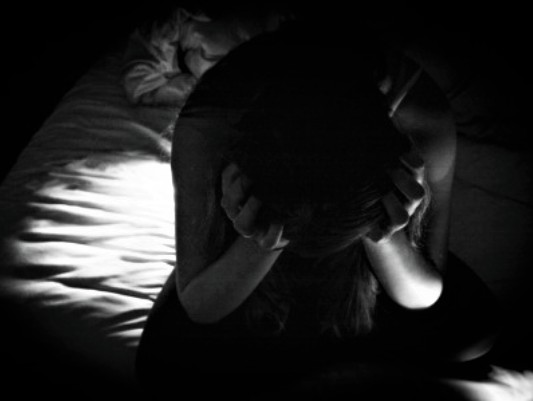 They struggle to see a bright future.
A recent study woke us up to how this might be impacting teenage girls.
The study was published in the Canadian Journal of Psychiatry, and brings into sharp focus how a rising tide of anxiety is manifesting itself in the number of "self-harm"incidents being dealt with in our hospital emergency departments.
The number of Ontario teens suffering self-harm injuries almost doubled between 2009 and 2017.
This troubling stat shows a desperate need for more mental health support systems in this province – monies that have been peeled away by the Ford government since it was elected last year.
The study by the Children's Hospital of Eastern Ontario and the University of Ottawa, shows the changing rates of self-harm and mental disorders by sex. It looked at the 170,000 visits to emergency departments each year by teens 13 to 17 – driven through the doors because of self-harm injuries.
What the study found by looking back to the pre-2009 days, is also startling.
From '03 to '09, self-harm visits had fallen by about one-third.
So, something happened between'09 –'17 to drive up the numbers, and up the anxiety levels.
Was it caused by fallout from the economic meltdown of '08-'09, or the explosion and over-use of social media platforms that coincided with the ubiquity of smart phones? Or was it something else?
Dr. William Gardner – senior scientist at the CHEO Research Institute, and professor of epidemiology, the University of Ottawa and senior research chair, child and adolescent psychiatry and lead author of the paper – was on the look-out for trends.
It's still unclear how the numbers can be interpreted.
The study said there are approximately 840,000 adolescents aged 13 to 17 in Ontario, with 35 percent visiting an emergency department in any given year (140,000 or more). Of those visits, 5.6 percent have a mental health diagnostic code and 0.8 percent were for self-harm.
Dr. Gardner says there was "no evidence" the economic downturn impacted the numbers, or the fact the iPhone (introduced in '07) and the multiplication of smart phone usage had anything to do with it. However, it's easy to speculate that more engagement with social media could lead to increased rates of self-harm in more vulnerable adolescents.
Dr. Gardner says this could happen in several ways: it normalizes self-harm by triggering it, by getting teens to emulate self-harming peers, or by exposing youths to cyber-bullying. However, the study notes that social media may also benefit some troubled adolescents. "It can provide them with a way to escape social isolation or find encouragement to seek treatment."
What is self-harm?
Those who feel overwhelmed by their feelings could self-harm. Boys often externalize distress by showing anger, hitting something, or being verbally aggressive. They struggle with their emotions just like girls but cope in different ways. Feeling a loss of control, giving over personal decision-making to societal and familial pressures, then failing to live up to the sometimes-impossible standards, can lead to a further decline of self-esteem and confidence.
Self-harm comes in all forms: burns, hair pulling, skin picking, or hitting oneself. Those with anxiety, depression, eating disorders, borderline personality disorder and post-traumatic stress disorder are all at risk. So are those with a history of trauma, neglect, or abuse. Self-harm affects about 1 to 4 percent of the population, but teenage rates can run from 14 to 39 percent. Healthyplace.com has comprehensive information on the subject as do other mental health sites.
Those who struggle with self-worth are also prone to self-harm. Acts of self-harm can be impulsive, or planned, and those who do it usually say they don't feel pain when they hurt themselves – or that they do it to feel physical pain. The idea is to "feel" something, anything to cope with the feelings of emptiness or numbness.
The good news is that those who commit such an act don't want to die, but it helps to deal with distress. Often emergency departments are the first contact families have with the mental health system. Many do not have clinicians who are trained to deal with the issue, or even do assessments. "Community mental health follow-up after self-harm has been associated with reduced likelihood of repeat self-harm but evidence on whether youths can be successfully connected to mental health services from the emergency department is mixed," said Gardner. "Efforts should be made to increase the supply of and access to evidence-based treatments for adolescents who self-harm or have mental health problems."
The doctor said it is important to deliver these services to youth before they need to come to an emergency department. He said the study shows us that many more youths who need mental health care are showing up in Ontario's emergency departments. Unfortunately, the numbers of clinicians who can provide mental health care for them haven't increased to meet the growing numbers. "Sufficient treatment resources must be supplied to address increased demands for services," he said.
This survey follows another biennial one, The Ontario Student Drug Use and Health Survey (OSDUHS) delivered two years ago. It is a population survey of Ontario students in grades 7 through 12. The OSDUHS began in 1977 and is the longest ongoing school survey in Canada—and one of the longest in the world. This self-administered, anonymous survey is conducted across the province every two years with the purpose of identifying epidemiological trends in student drug use, mental health, physical health, gambling, bullying, and other risk behaviours, as well as identifying risk and protective factors.
Typically, the OSDUHS surveys thousands of students in over 200 elementary and secondary schools across Ontario. The survey sample is considered representative of all students in grades 7-12 in publicly funded schools in Ontario (almost one million students). That survey provided current and reliable information about the health risk behaviours, attitudes and beliefs of Ontario adolescents, and it tracks changes over time. More than 11,000 students in Grade 7 through 12 from 214 schools took part in the most recent edition.
Many of them fall into the age-group studied by Dr. Gardner and his team. One of the concerning trends in the school survey indicates a growing number of students – particularly girls – have symptoms of depression and anxiety. The impact of technology on students' well-being, was highlighted because of the surge in time spent on social media in recent years. In total, 20 percent of students said they spent five or more hours on social media a day – almost double the finding in 2013.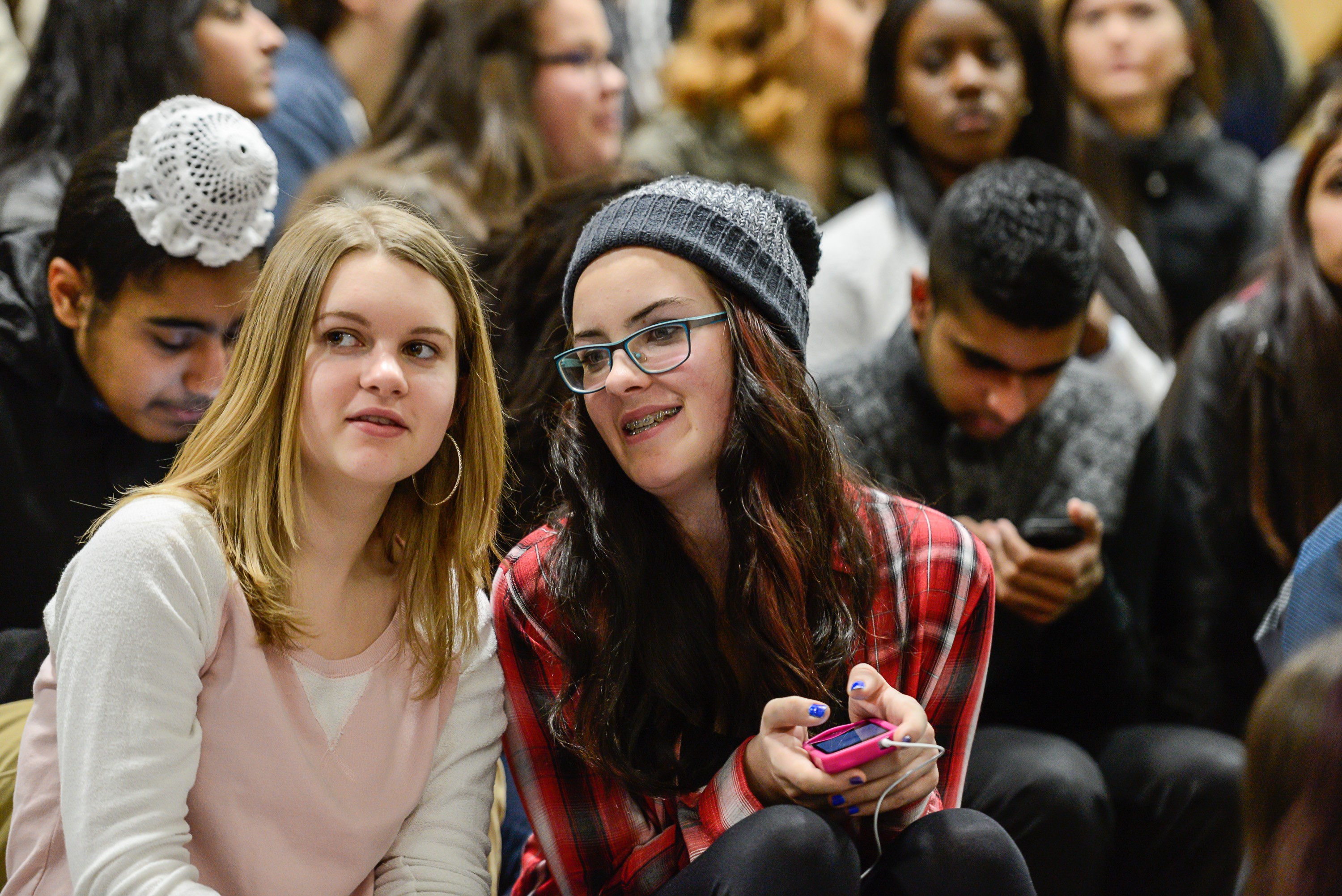 Like most surveys, once students are old enough to vote, drink and go to post-secondary school, there is less interest shown in deciphering their mental makeup. That needs to change. According to Statistics Canada, 23 per cent of people over the age of 15 report they have "quite a bit" or "extremely" stressful levels each day.
Public health authorities in Canada and around the world have called for comprehensive tracking of suicide deaths, arguing that better, more available statistics make it easier for professionals to prevent suicides. The 'suicide' crisis in Woodstock was a major news story in 2016. Five youths in this small Ontario community took their own lives in a four-month period, and reports indicated that 20 more attempted to do so. Why? Officials were baffled.
A glaring shortcoming in all the data is the paucity of information on our First Nations communities, such as Attawapiskat, where a state of emergency had to be declared because of the devastating suicide epidemic that recently swept across the community. Rates of alcoholism directly linked to the legacy of genocide and the ongoing isolation of our First Nations contribute to the destruction that has been done.
In Brampton since 2011 mystery still surrounds a case in which two 17-year-olds died, one a depressed youth killing his best friend in a basement apartment before he walked to an overpass and jumped onto Hwy. 401 where he was hit by a car. He died two days later in hospital.
The anxiety levels are rising in our speeded-up society, according to one former social services and healthcare official from this region, who no longer works in the sectors. Maria Britto worked in the women's shelter system and was a board member of the William Osler Health System. She said youth anxiety levels have reached "epidemic" proportions, and are being dealt with in homes, schools and our healthcare system.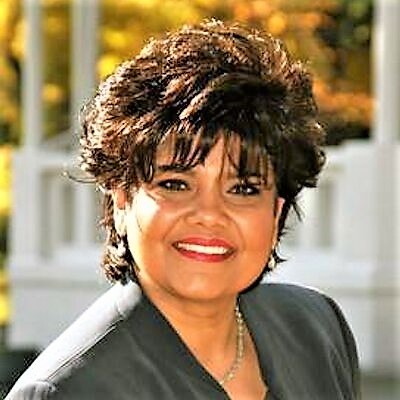 Maria Britto
She told The Pointer last year that the internet was supposed to be a platform that would open up minds, but has been turned into "a garbage dump" – especially exposing vulnerable youth. It's a place where cyberbullying runs rampant, and the most vulnerable get trapped in living in a world enclosed on their computer screen. It's swaddled in lies and hate, and she is not surprised by the rising levels of anxiety, self-harm and even suicide.
Rising anxiety is the issue of our time, she emphasised.
Health minister Christine Elliott came under fire when Queen's Park cut $335 million from planned mental health funding in Ontario after winning election in 2018. After defeating the previous Liberal government, the Ford government cancelled the ex-premier's plan for $2.1 billion in additional mental health services over four years. The Tories added $1.9 billion over the next 10 years – matching federal funding for mental health. That meant new funding was reduced to $190 million. Which drew the ire of NDP Leader Andrea Horwath.
The finances are not sustainable, insisted Premier Doug Ford in February while introducing Bill 74, the People's Health Care Act. This will create a super agency to absorb many of the local LHINs (Local Health Integration Networks), along with other networks including Cancer Care Ontario, and e-Health Ontario, among others. The goal is to find efficiencies, and cut costs – including mental health care.
Horwath said this was putting efficiencies over people's lives and held a special town hall meeting at the Greenbriar Recreation Centre on Central Park Drive in Brampton earlier this year – along with the other members of her caucus from Brampton. Horwath said the $335-million slash of mental health funding was cruel and counter-productive and only takes a serious health crisis and makes it worse. "There are not enough resources…now," she told the crowd. She called the government's mental health commitment too little and "misguided," and said it will have long-term effects within the school system, and at post-secondary institutions.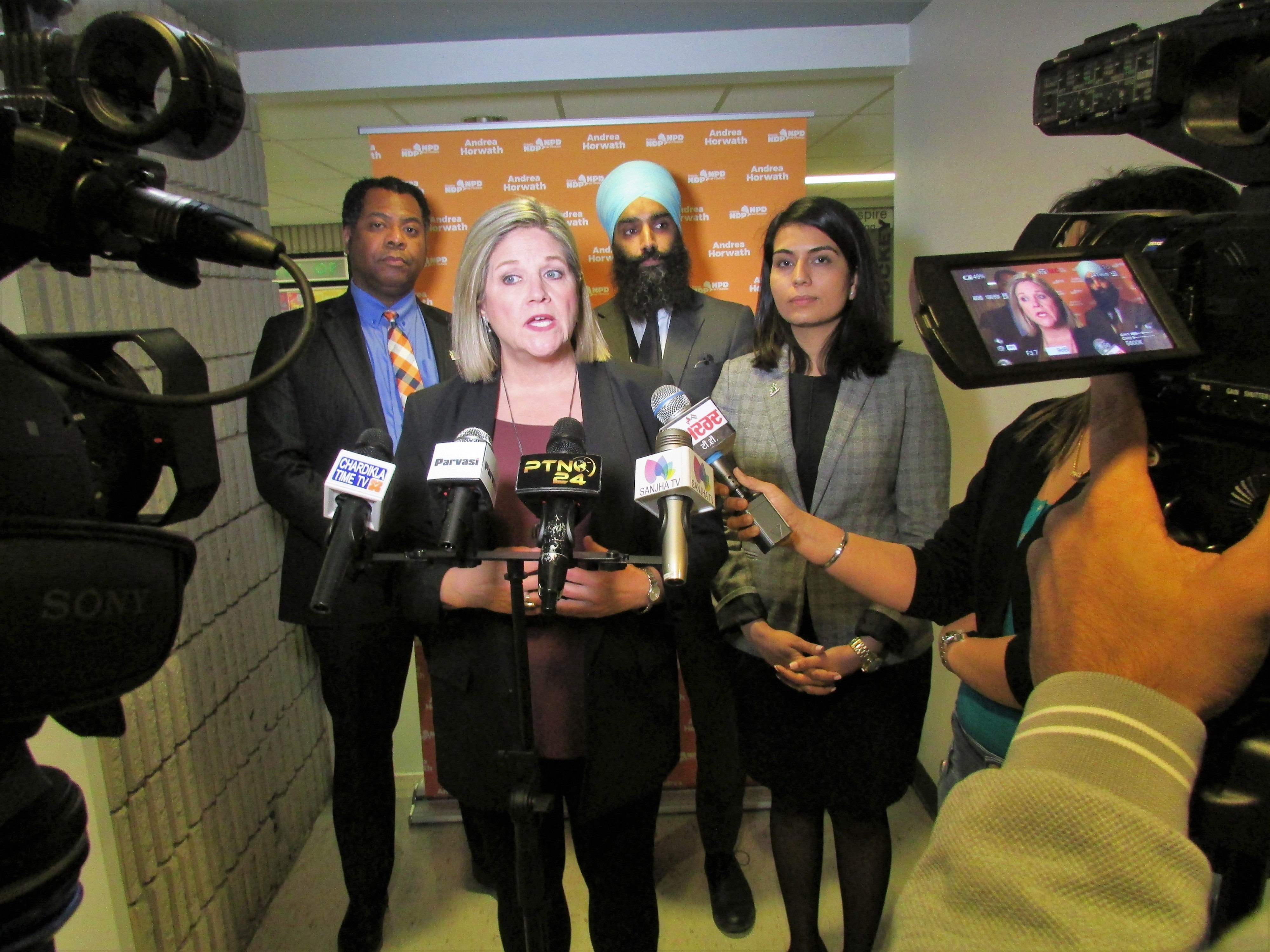 Andrea Horwath and the three Brampton NDP MPPs addressed cuts to mental health care earlier in the year.
The numbers from the self-harm study suggest she is right.
The fact the Ford government is also increasing class sizes, is another worry that the mental health needs, especially of our youth (and teen girls in particular) are not being met, and will have a long-term impact.
Yes, our modern-day world is riven by anxiety. The mental-health issues that impact teen sufferers only get more acute as they enter post-secondary institutions. The teenage girls using self-harm techniques are signalling they are having serious coping problems. Those will only be exacerbated if there is no follow-up treatment. The cutbacks to mental health care comes at a giant cost to society.
The latest studies woke us up to that fact.
Submit a correction about this story