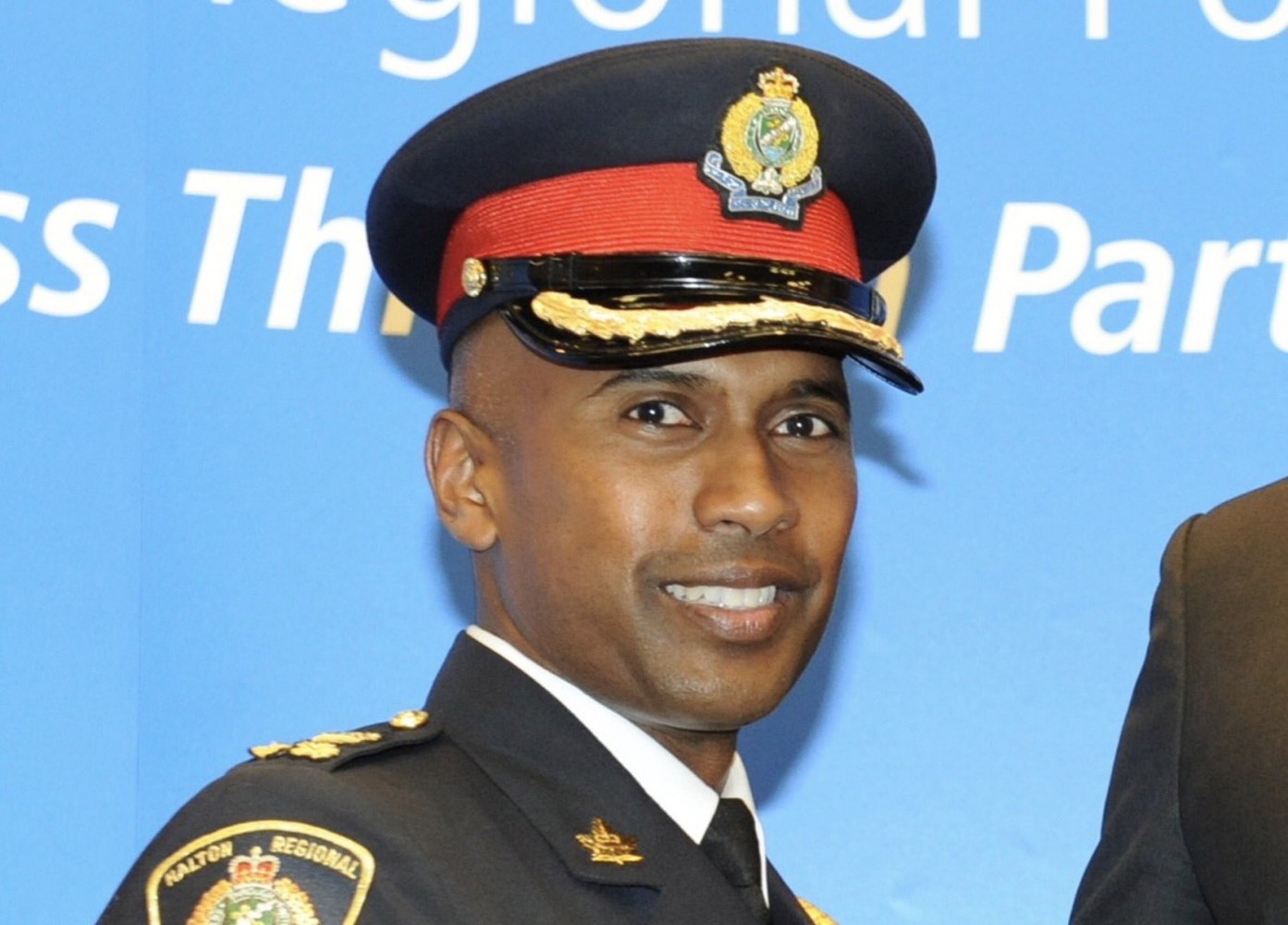 Photos by Joel Wittnebel/Mansoor Tanweer/Twitter
The new face of policing in Peel: Nishan Duraiappah named chief
The Peel Regional Police Service has found its new leader.
Minutes before the end of the workday and the kickoff to the long weekend on Friday, Peel police announced the hiring of Nishan Duraiappah, a deputy chief from Halton Region, as the incoming chief of police, effective Oct. 1.
Duraiappah's hiring is the culmination of a process that has taken nearly seven months following the resignation of former chief Jennifer Evans, who left the job in January.
Deputy Chief Chris McCord has been filling the position in the interim and appeared to be the choice of police brass to fill the role, making the decision to hire from outside a bold one on the part of police board members, including Mississauga Mayor Bonnie Crombie and Brampton Mayor Patrick Brown.
Crombie, who has been a driving force for progressive change within the police service and often challenged former chief Jennifer Evans on issues of discriminatory police behaviour, told The Pointer, "Nish is an inspirational and aspirational leader with a strong track record from his 25 years of service in Halton. He brings a new and innovative style of policing to Peel, representing the next generation of leadership on the force. I look forward to working closely with him in my capacity as a member of the Police Services Board and also as the Mayor of Mississauga to make our force a leader in Canada and around the world. I know he shares our values and I'm confident by working together we will make progress on eliminating illegal firearms, tackling guns and gangs, combating human trafficking, and maintaining our status as one of the safest communities in Canada, and much more."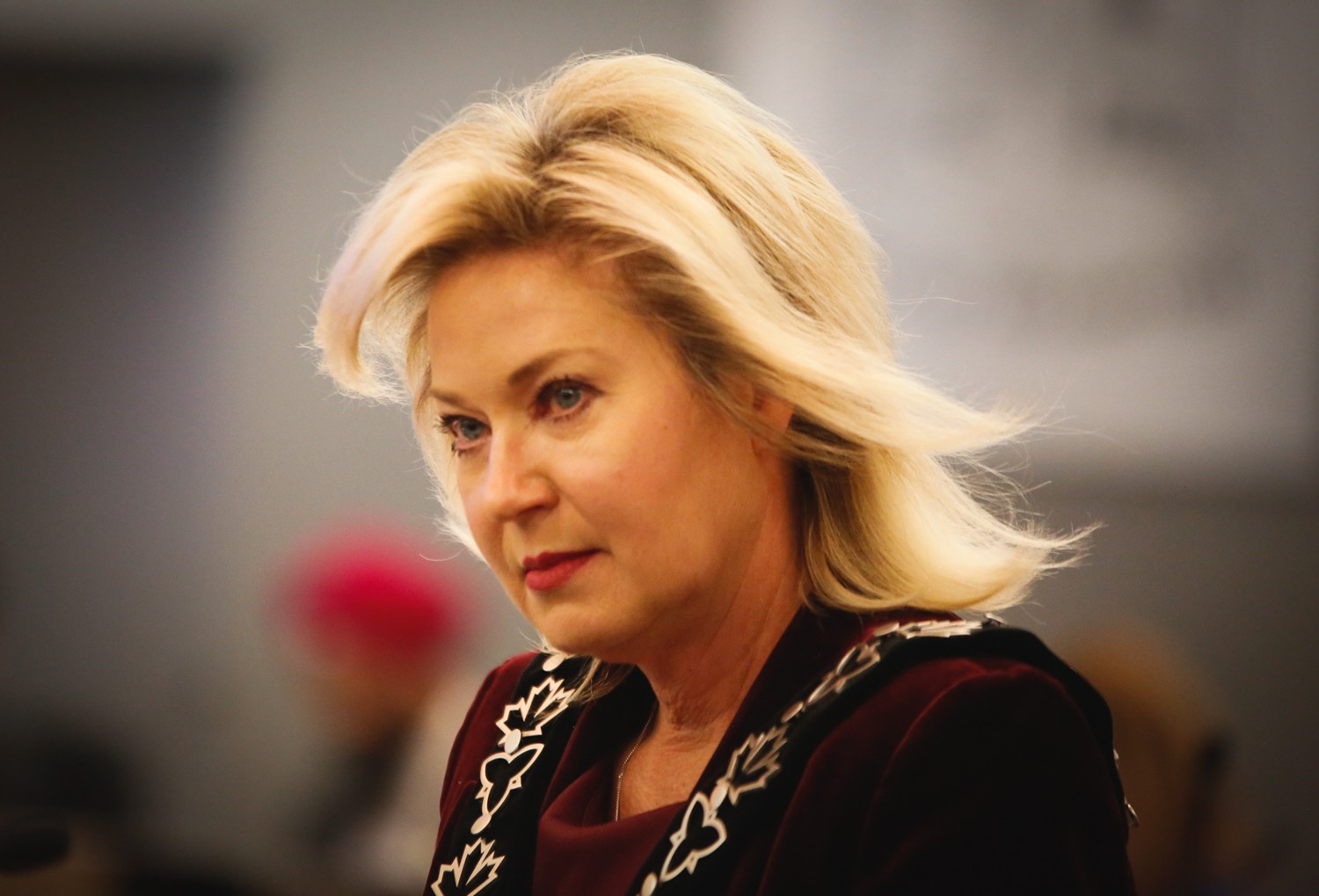 Mississauga Mayor Bonnie Crombie
"I have long advocated for the hiring of a new chief with experience and fresh perspectives on how best to handle the growing number of 911 calls that are mental health related and gun violence in Peel Region," Brown said. "On these issues, and many others, I have the utmost confidence Deputy Chief Duraiappah is going to do an exceptional job for Brampton and Peel Region as our new Chief."
"Deputy Chief Duraiappah represents the next generation of leadership for the police service," said a statement by regional chair Nando Iannicca, who also chairs the Peel Police Services Board. Iannicca had previously said hiring a new chief would be one of the most significant decisions of this council term.
"The community we all serve expects nothing less than the highest degree of duty and integrity — the very qualities we saw in Deputy Chief Duraiappah during the hiring process," he added.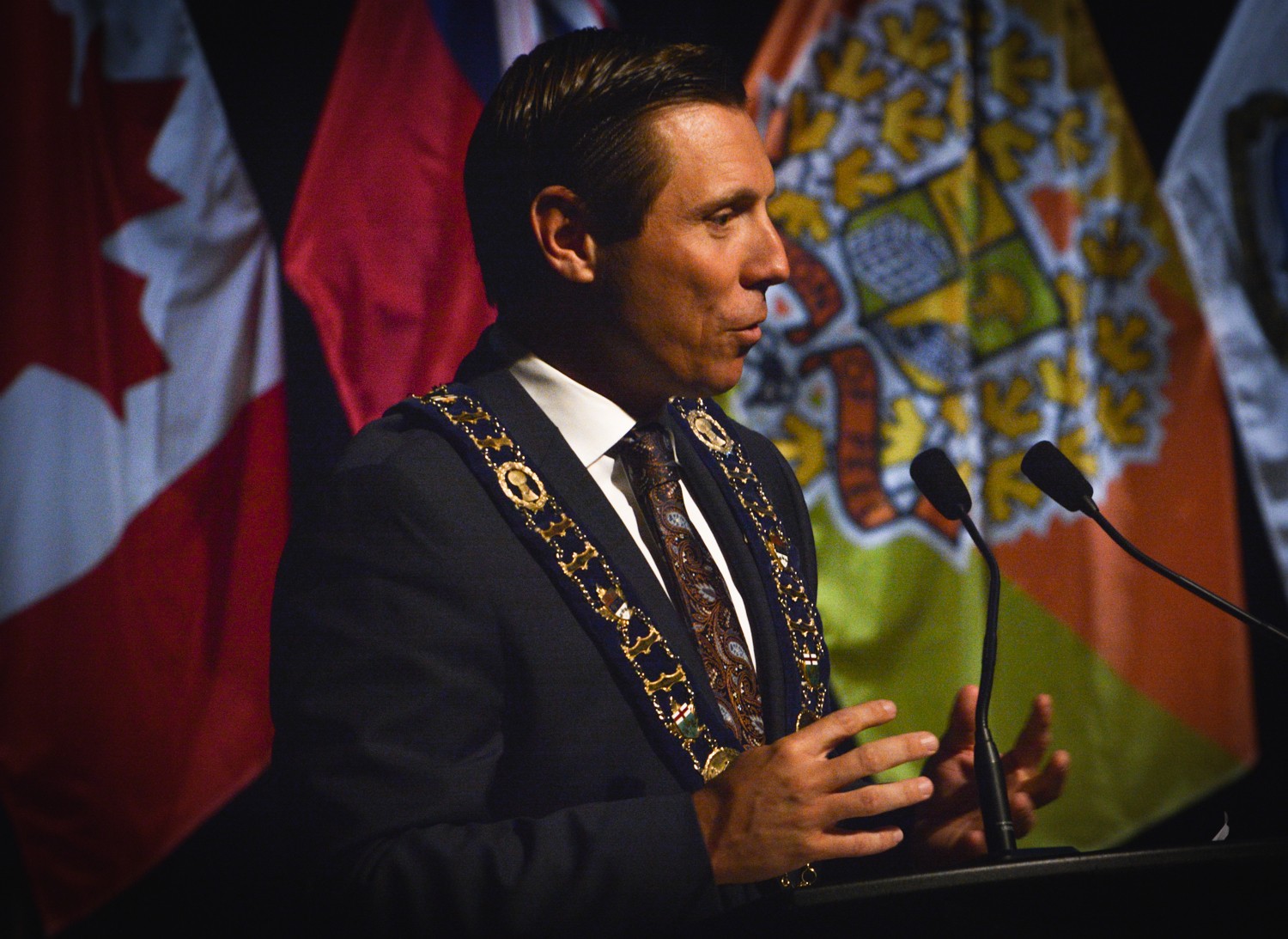 Brampton Mayor Patrick Brown
The decision to go with Duraiappah is an encouraging one for many in the community who have complained about the lack of diversity within the Peel police ranks, where officers demographically don't reflect the highly diverse community they serve. Duraiappah was born in Sri Lanka and, after immigrating to Canada, joined the ranks of the Halton Regional Police in 1995 as a constable. He has been a deputy chief with Halton since 2015 and has also spent time on the drug and morality unit, the guns and gangs unit, and district criminal investigations.
Among other things, Duraiappah served as the diversity and cultural relations coordinator for the Halton Police Service. His experience in that role should serve him well as he enters a force that a recent audit has shown is wracked with systemic discrimination.
The equity audit completed last year by the Canadian Centre for Diversity and Inclusion (CCDI) highlighted issues throughout the organization, particularly a significant disconnect between senior leadership and frontline officers. The audit affirmed claims that community advocates have been making for years that the force has a long way to go when it comes to representing the community it serves.
According to 2017 data, 20 percent of uniform staff were racialized (425, out of a total uniform complement of 2,080), while the service's jurisdiction, Brampton and Mississauga, is 65 percent visible minority and aboriginal. Non-uniform staff are slightly more representative of the community.
Some progress has been made: numbers for 2018 show that 60 percent of new uniform hires in 2018 were classified as racialized persons.
According to the CCDI audit, 93 percent of police leaders surveyed in 2017-18 believed the force was committed to diversity and inclusion and that it exhibited fairness, consistency and flexibility.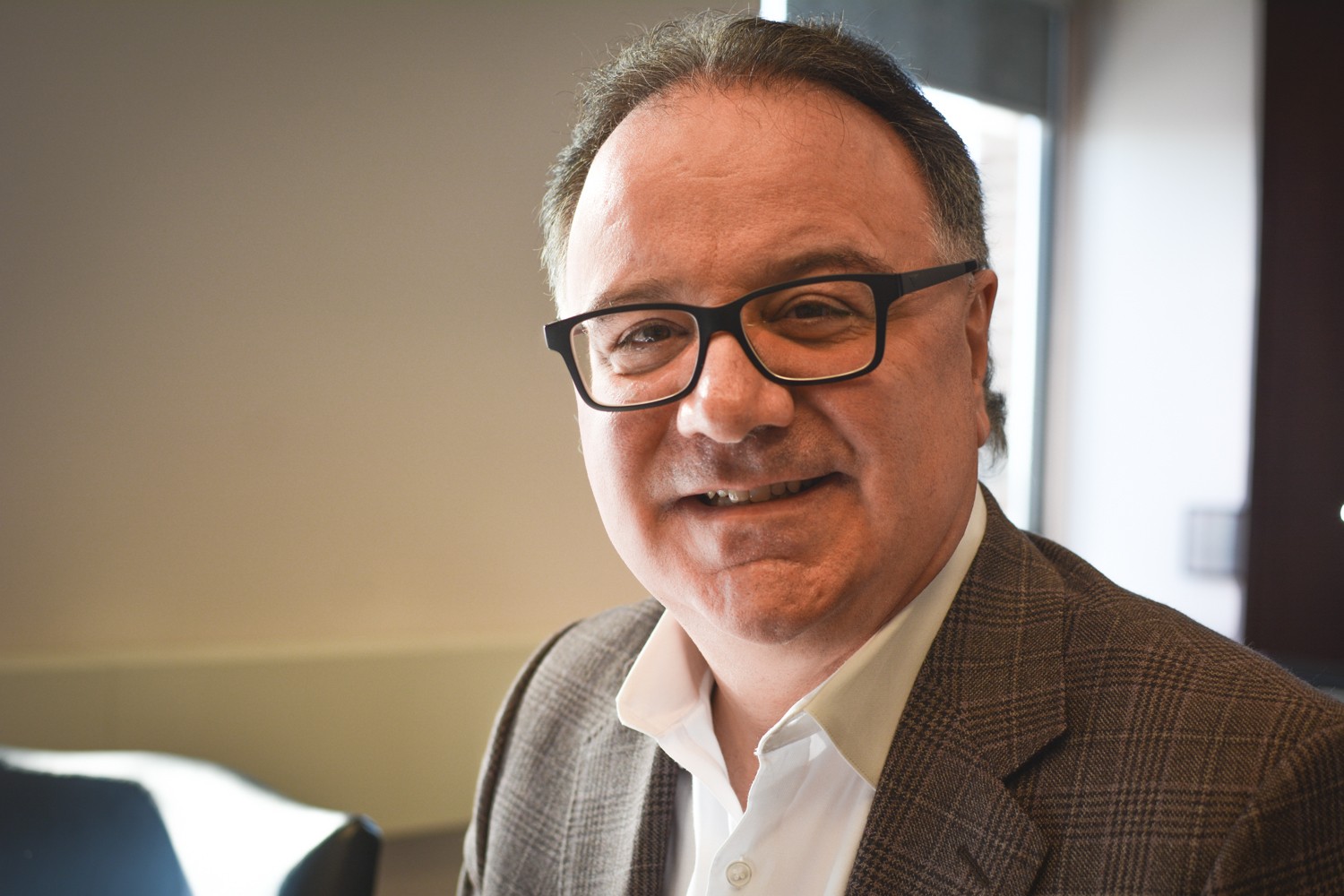 Regional Chair Nando Iannicca
"In contrast, only 41 percent of focus group respondents [composed of volunteer participants from within the police service] had a positive response to this question," the report says, with straight, white, able-bodied men being the most likely to agree. "None of the Racialized or Newcomer respondents responded positively."
The CCDI report places most of the blame for these issues on senior leadership, with a majority of employees describing the organization as "change-averse" and "elitist." The report says almost three-quarters of police leaders and members of the board "do not seem to recognize that barriers exist or [believe they] rarely exist for certain groups at Peel Regional Police."
About a third of the PRP leaders in place in 2017-18 "indicated their belief that these systemic oppressions do not exist within PRP," while others suggested they believe "these oppressions manifest only as individual acts of meanness." These leaders, the report says, don't make "the connection that these oppressions are systemic in our society and therefore are also in our organizations."
However, when rank-and-file employees were asked if "everyone benefits from equal access to resources and opportunities" within the PRP, only half of the more than 1,800 who filled out a survey offered a positive answer. According to Michael Bach, founder and CEO of CCDI, an industry benchmark for such a question is 70 percent.
Duraiappah will also be entering his new role at a time when Peel is dealing with a significant rise in violent crime.
A survey commissioned by The Pointer and completed by Forum Research last summer asked residents: "Overall, do you feel safer than you did four years ago?" Only 10 percent of those surveyed said yes; 26 percent said they felt about as safe as they did four years ago, and 65 percent said no.
In 2018, Peel experienced across-the-board increases in the most violent types of crime. The 26 homicides last year marked a 63 percent increase over 2017. Attempted murders increased by 86 percent, assaults by 14 percent, sexual violations by 13 percent, and a catch-all category of "other violent violations" jumped 25 percent. In Brampton and Mississauga, there were 242 stabbings, a 55 percent increase over the year before; 53 shootings, a 33 percent increase; and more than 500 reports of gunshots fired, an 18 percent increase.
These violent offences were only a small portion of the hefty workload borne by Peel police last year. The force dealt with about 43,000 Criminal Code offences, more than 9,000 of which were crimes against persons (an average of 26 per day), and more than 28,000 crimes against property (an average of 77 per day). The force also doled out about 232 Highway Traffic Act charges on a daily basis.
To deal with the increasing workload, Duraiappah will be responsible for managing an approximately $424 million budget, as well as hiring additional officers. This year saw the addition of 45 uniformed officers to the country's third-largest municipal police force, as well as 10 others assigned to specialty divisions throughout the service.
The additional officers, with more expected in the next few years, will bring Peel Region a little closer to the provincial average for the number of police officers per 100,000 people. Peel has about 138 officers per 100,000 residents, while the provincial average is 183 per 100,000 and the national average hovers around 188.
The contrast between Duraiappah and former chief Evans couldn't be more stark — or possibly more heartening to many residents of Peel who have felt themselves not only poorly represented among police but treated in a discriminatory fashion by them. Evans was famously a defender of the practice of street checks, better known as carding — a practice of approaching people on the street and demanding their personal information, outside of a crime investigation.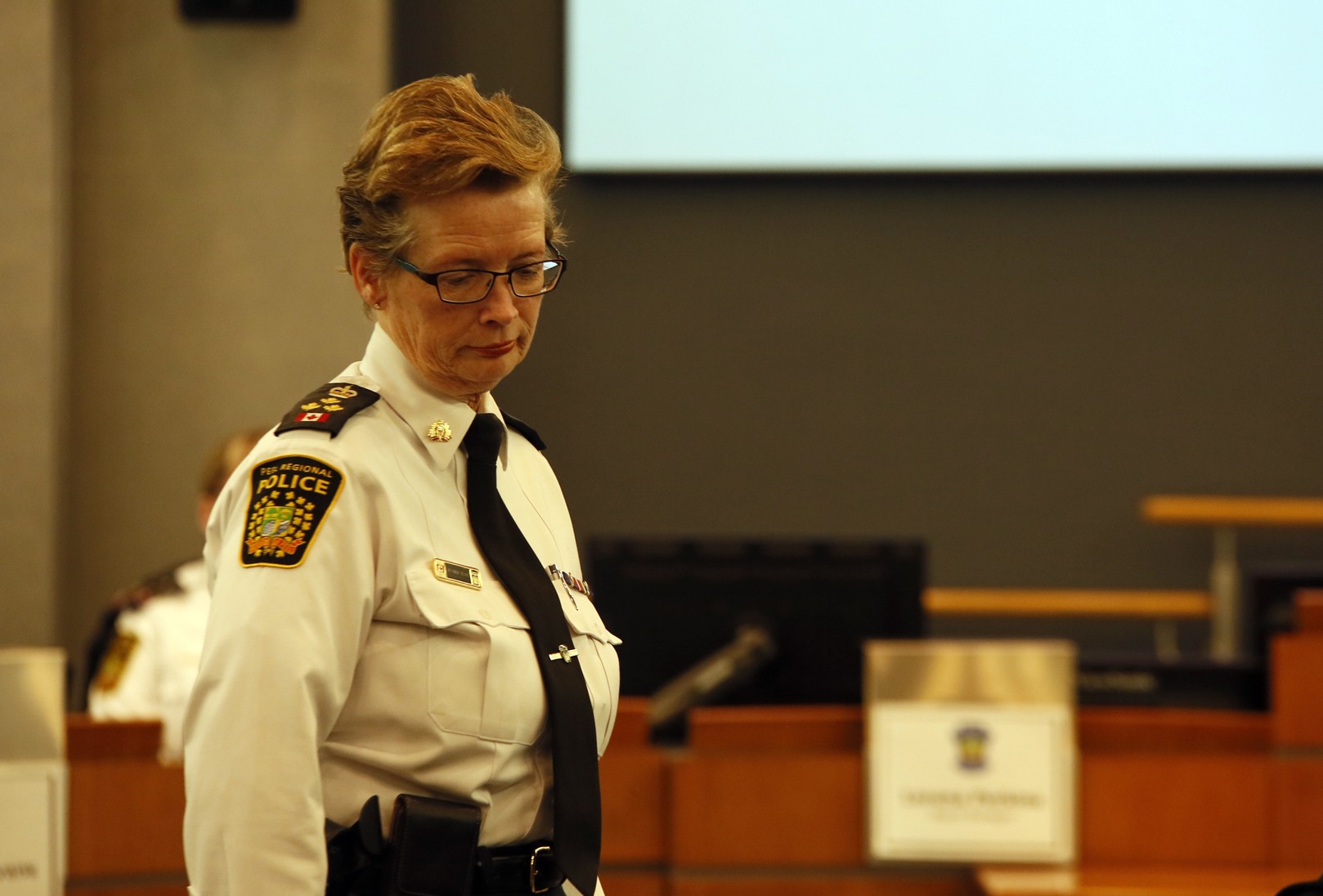 Former chief Jennifer Evans
Media investigations showed carding disproportionately affected young Black men, who were three times as likely as white residents in Peel to be stopped, while contributing little to public safety. Crombie led a successful motion at the police board to suspend the practice in September 2015, which marked a glaring departure from the compliant board culture that had acquiesced to police brass for decades.
While the demographics of the two cities had shifted dramatically, it became clear the force and its leadership had little desire to build bridges with its rapidly changing community. Evans refused to accede to the board's request to curtail the practice until provincial legislation forced her to do so.
Amid the uproar that followed her refusal, many community groups called loudly for Evans to step down. On the evidence presented by some of these groups, the board, with Crombie leading the push, approved hiring a consultant to conduct the internal diversity and equity audit, over the objections of Evans and senior officers.
The long-delayed release of that audit confirmed that the force's lack of diversity and the obliviousness of senior leadership to systemic discrimination was affecting not only what happened on the streets but what happened in the hallways of Peel Regional Police headquarters.
A 2017 Ontario Human Rights Tribunal ruling had already determined that the force had discriminated against decorated South Asian officer Baljiwan (BJ) Sandhu, denying him the chance to compete for promotion into the senior ranks. It also said the Peel Police Service routinely devalued policing within the South Asian community. Evidence in the case revealed the presence of racist language and behaviour within the force and what seemed like a frat-house culture that mocked diversity.
The tribunal ruled that Sandhu's rejection was due, at least in part, to his ethnicity. "As such I find that the applicant has been subject to discrimination because of race, ancestry, place of origin, and ethnic origin in violation of … the [Human Rights] Code," Bruce Best, vice-chair of the tribunal, wrote in the decision.
The tribunal further noted that police portfolios rooted in the South Asian community are "generally devalued in the service" because they are "associated with the South Asian population" and are "not considered real police work."
Evans offered no apology in response.
A recent black mark on the force involved the case of Leora Shemesh, a criminal defence lawyer who has frequently taken Peel police to task for lying in court and other wrongdoing, who was herself charged with perjury and obstruction of justice in what she believes was an attempt to silence and punish her. The charges were dropped last year, but Shemesh is suing Peel police and the board, as well as crown prosecutors who participated in the case against her, seeking $1.25 million in damages for negligence and malicious prosecution.
Duraiappah will have the challenge of overcoming a legacy of police wrongdoing and public suspicion. The force has faced a string of court cases in which officers lied about evidence and altered their written reports. Last year, a judge threw out a case because of "completely unjustifiable" behaviour by four officers who were charged with theft and perjury for allegedly lying about removing a statue of Scarface character Tony Montana from a storage locker while investigating a drug case.
In another drug case, the court found Peel officers had colluded in altering their stories before a case went to trial and, in the words of Justice Deena Baltman, "committed perjury en masse."
Many other cases have raised questions about police culture and whether officers have been properly disciplined for unethical behaviour.
Police leaders have also faced accusations about bungling a triple murder case that unfolded over a period of years involving members of the same family. Evans and the police service were sued for negligence by the innocent victim of a stray bullet fired by a Peel officer, amid accusations that Evans herself interfered in the investigation by trying to buy off the victim with promises of a job.
The list goes on.
A Toronto Star investigation in 2016 revealed that about 640 officers, or nearly one-third of Peel's uniformed staff complement, had been disciplined for misconduct since 2010. The Ontario Provincial Police (OPP) had roughly the same number of discipline cases during that period, though it is nearly triple the size of Peel's force.
Turning the lumbering ship of the Peel Regional Police Force around on issues of ethics and diversity will be among the many huge challenges for Duraiappah as he takes the helm in October.
Submit a correction about this story