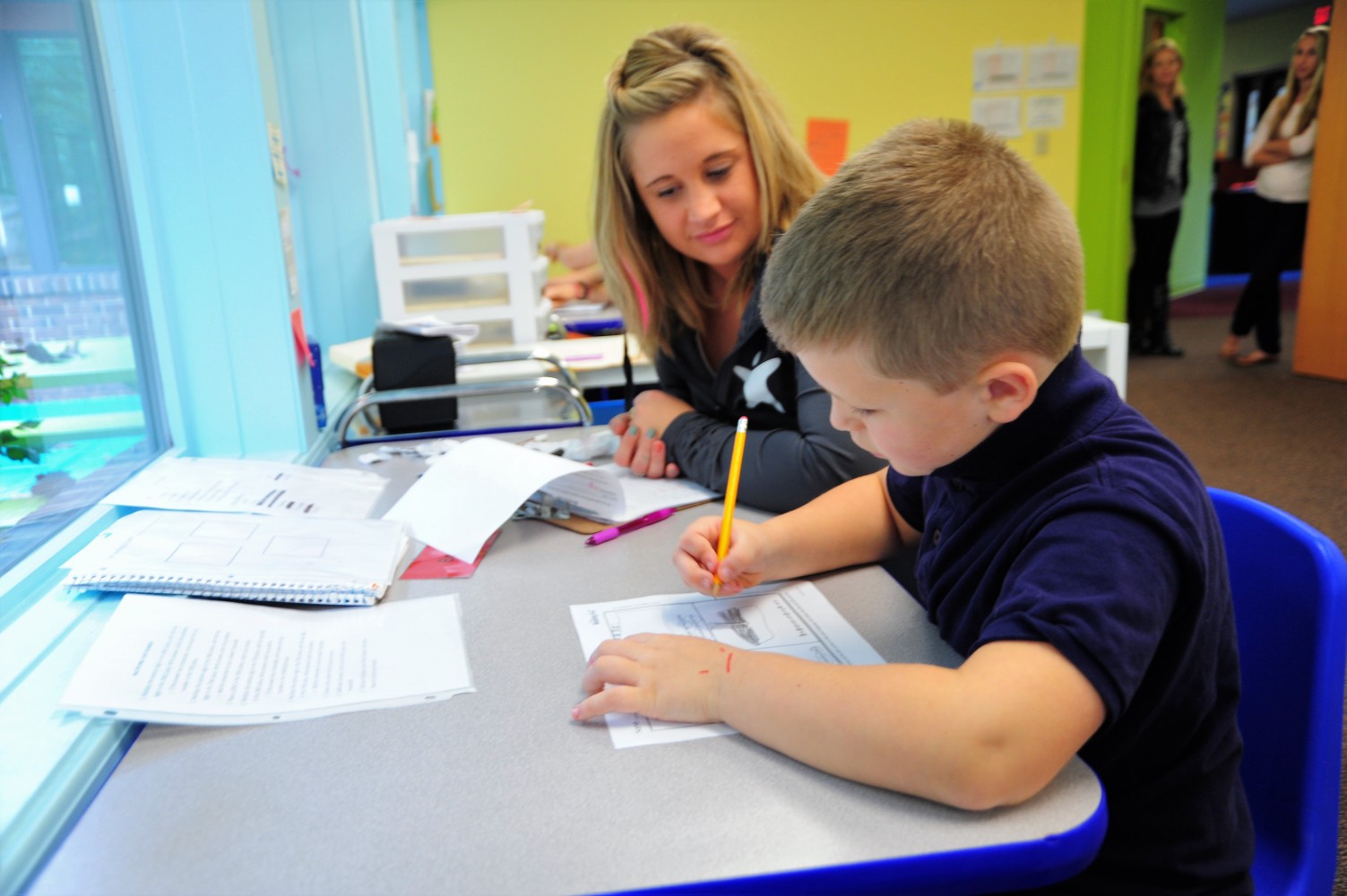 Photos by Mansoor Tanweer/Government of Ontario/Flickr/Region of Peel
Provincial backtracking on controversial changes to autism program leaves many families waiting months longer
The province attempted on Monday to appease scores of families whose children are living with autism by announcing fresh revisions to the Ontario Autism Program, after months of turmoil, uncertainty and criticism.
New Minister of Children, Community and Social Services Todd Smith spoke about a range of measures, including a promise to consult with an advisory committee composed of autism experts, parents and service providers to provide recommendations on building a new "needs-based program," rather than giving families a set amount based on the age of the child. The government said it expects to receive the committee's report by the end of summer, with plans to implement revisions in April 2020.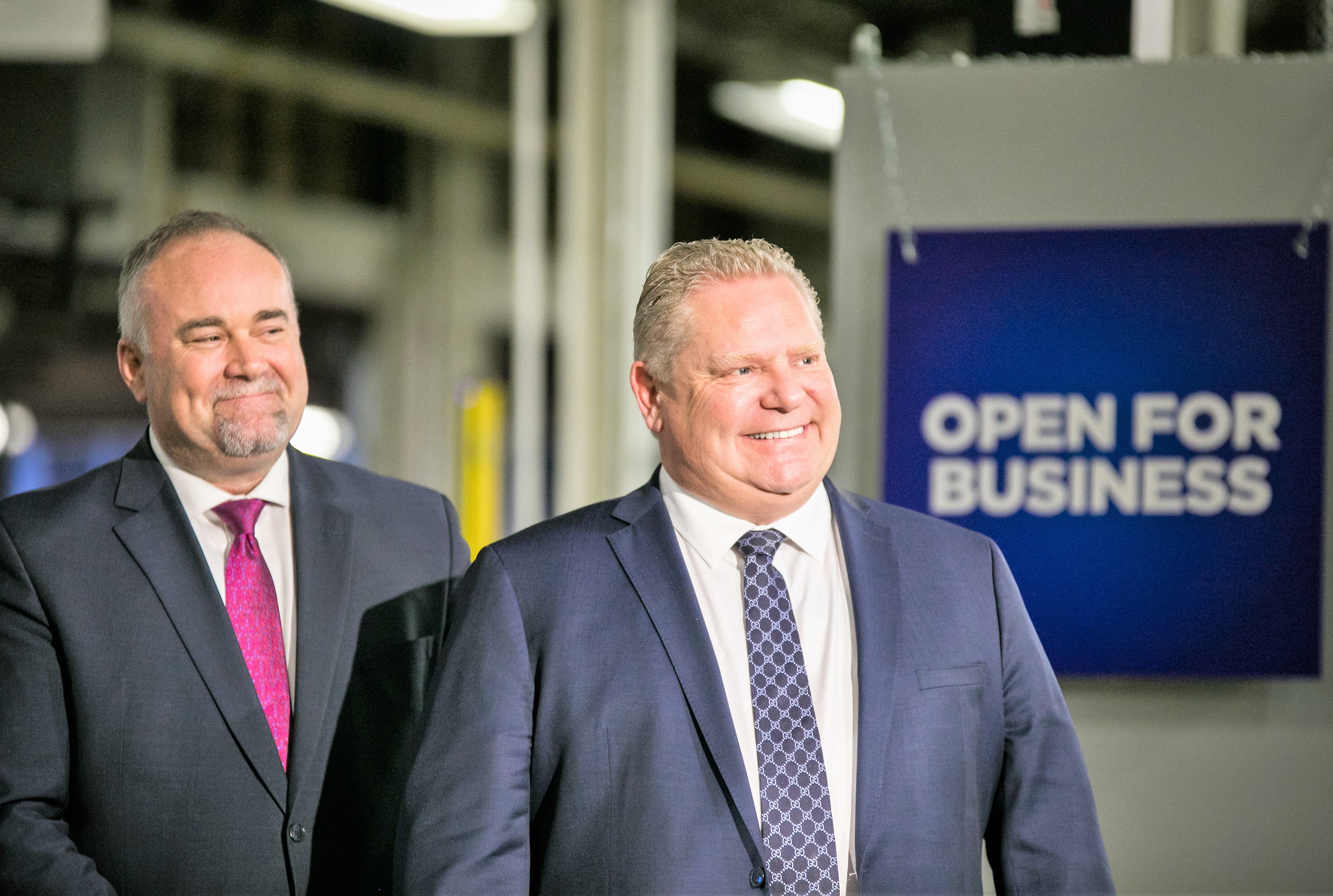 Children, Community and Social Services Minister Todd Smith with Premier Doug Ford
In the meantime, the province will allow families enrolled in the previous Ontario Autism Program (OAP), who cleared the waitlist before April, when the PCs revamped the program, to extend their service plans by six more months after their expiration. It will also continue dispensing funds under the Childhood Budget scheme until the new program rolls out.
Smith, who replaced Lisa MacLeod following a cabinet shuffle, conceded that the governing party's upending of the old system had caused anxiety among families with autistic children, and apologized. "I am committed to getting this right. We are certainly sorry for the anxiety this has caused parents across Ontario," he said. He reiterated that his new move would right the previous mistakes. "It's clear to me that we didn't get the redesign right the first time. I'm here to tell you we will now," he said.
Bridget Fewtrell, president and CEO of ErinoakKids — a therapy centre for children with autism and other disabilities — told The Pointer in an email that she welcomes the move. "It is good news that children currently in service will have their services extended for another six months," Fewtrell said.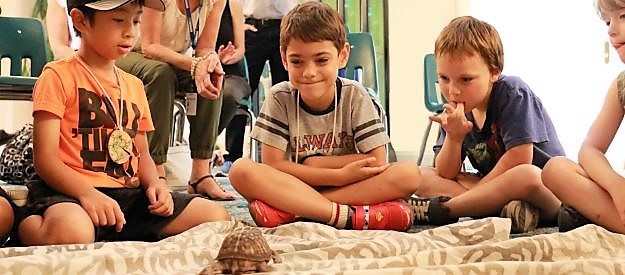 However, she said it is imperative for the government to effectively balance several aspects of this program. "We hope the government will pay equal attention to children currently on the waitlist, as they have been waiting for a very long time for service, and the rate at which the ministry is providing them with Childhood Budgets so that they can purchase services is very slow." Ontario Autism Coalition (OAC), an advocacy group, estimates that currently 23,000 children are on the waitlist.
NDP children and youth services critic Monique Taylor told the Pointer that delaying implementation of the revised plan to April 2020 will further prevent many affected children from getting the treatment services they need in a timely way. She said there are many families currently in crisis who have been waiting for treatment services for several years, and "because the government has wasted one more year now, we will have families wait that much longer." She said the government wouldn't have needed to apologize if it had properly consulted with families in the first place.
Christine Wood, press secretary to Smith, told The Pointer in an email that affected children would not suffer because of the wait for implementation. "While the new needs-based Ontario Autism Program is being developed, there will be no gaps in funding for those currently in service. For families not currently receiving services, Childhood Budgets will continue to be issued at the existing funding levels," Wood said.
The ministry also announced that the government will boost funding for the Childhood Budget — a sum parents receive to help pay for their children's autism treatment — by $278 million, raising the government's investment to $600 million.
Some experts have pointed out that although the new announcement is a step in the right direction, the benefits are still a far cry from what parents and families received under the original plan developed in 2017.
Laura Kirby-McIntosh, president of the Ontario Autism Coalition and a member of the government's autism advisory panel, told the Globe and Mail that the revisions offer a reprieve for many families. "On the one hand, this is welcome news. On the other hand, it didn't have to be like this. We have just lost a year, and families have gone through an incredible amount of pain and anxiety and suffering," she was quoted as saying.
The Ontario Autism Program, initially developed under former premier Kathleen Wynne, gave families and parents whose children were diagnosed on the Autism Spectrum Disorder (ASD) two alternatives: a direct-service option (DSO) in which they could receive treatment services from a fully funded regional provider, or a direct funding option (DFO) through which parents could purchase those services themselves.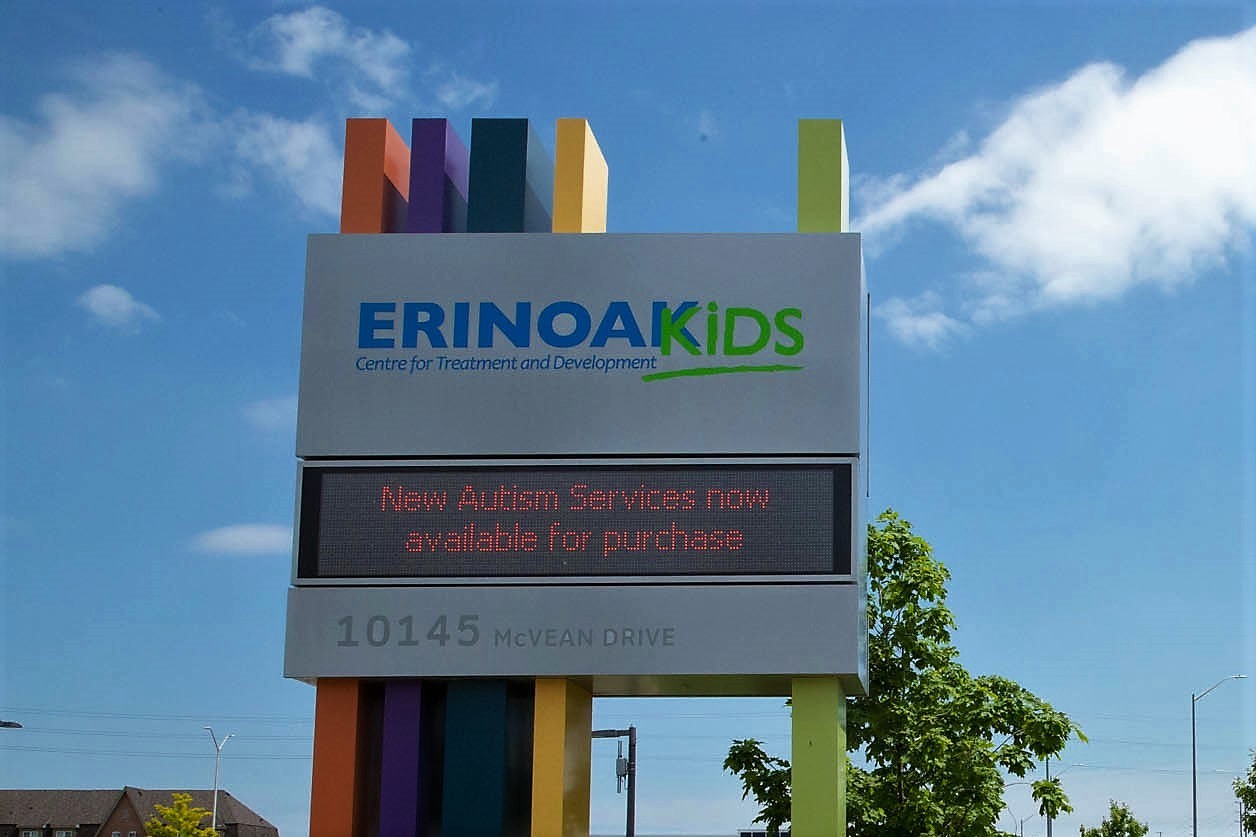 Parents who chose the latter were responsible for selecting a provider who would work with them to identify their child's strengths and needs, determine goals and develop a plan for behavioural services, all of which could have been received for free from a funded regional service provider had they chosen the DSO.
In addition, under the DFO, parents had to manage payment and submit invoices to receive reimbursement. The amount received under the option was based on the budget prepared by a clinical supervisor and was capped at a maximum rate of $55 per hour. However, to be eligible, families had to enrol in a single waitlist, irrespective of the alternative they wanted to opt for. Only after clearing the waitlist could they choose their option.
However, in February, almost a year after Doug Ford's PC party came to power, the province completely eliminated the direct service option, depriving parents of the choice to treat their child in a funded treatment centre. The PC government called the decision part of a "widespread reform" that would "clear the unfair and punishing waitlist." The government instead emphasized the direct funding option and substituted the term Childhood Budget. It also announced that families would "finally" get funding for services that they were already receiving under the previous program.
In addition, the government moved away from the previous method of calculating financial support for families — a maximum rate of $55 per hour — and mandated that children who enter the program at age 2 would qualify for a maximum payout of $140,000, in increments of $20,000 per year, up to age 6, after which the annual amount would be reduced to $5,000 until the child turns 18. For children who entered the system at age 7, funding would be capped at $55,000 between then and age 18.
Consequently, parents were left struggling to pay for treatment services that could cost nearly $80,000 a year, for which they received a maximum grant of $20,000 — an amount that would decline as the child grew older. Many families took to the streets to voice their concern over the revisions.
Meanwhile, the former direct service providers were no longer to be funded directly by the province, rattling treatment centres whose operations hinge on government funding. ErinoakKids, a major treatment centre serving Brampton and other municipalities in the area, had to lay off 291 permanent staffers, including therapists, supervisors and applied behavior analysts, at various locations including Brampton. The centre later said it would rehire 180 staffers on contracts, to help it weather the current uncertainty, but was eliminating more than 100 job positions.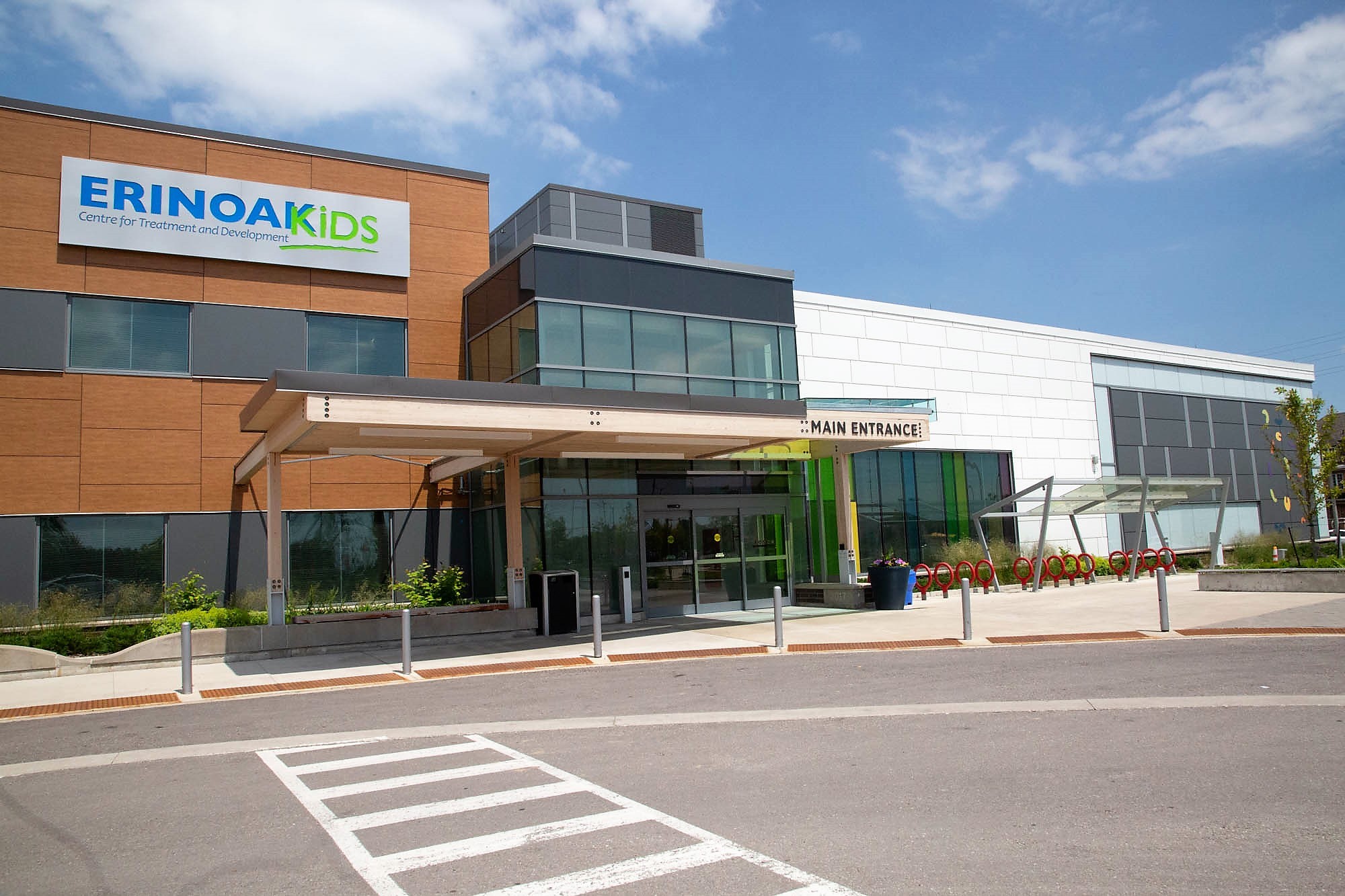 ErinoakKids in the city's east end
It's unclear how service levels will be maintained with 100 fewer staff to do the work, especially in Brampton, where the population and corresponding demand for vital services, particularly for children with autism, grow each year.
"Agencies like ErinoakKids are no longer funded to administer and deliver these services through the public sector, as we have done since the inception of the original program in 2000, for successive governments. Instead, families of children with autism are being provided with a Childhood Budget, which they can spend with any provider of their choice," spokesperson Jennifer Arnott had earlier written in an email to The Pointer.
ErinoakKids received $73.2 million from the province per year, according to records from 2017; that amount accounted for 82 percent of its operating budget, while the Region of Peel contributed $2.6 million the same year, or 2.5 percent of its operational funding.
Monday's announcement did nothing to change the reality for ErinoakKids and many other such centres who have relied on funding from the government since they were established. The government decided to ratchet up its investment in autism therapy to $600 million but is applying that only to increasing the Childhood Budget pool, leaving such centres without the certainty of direct financial support.
"Unfortunately, today's announcement does nothing to alter the staffing reductions ErinoakKids Centre for Treatment and Development announced June 17, 2019," Fewtrell said. She said the centre fully supports returning to a needs-based model, and hopes that in the redesign the government will reconsider providing families with the option to receive their services through a funded agency as well as directly, through receipt of a Childhood Budget. "This would give families real choice, and allow those who do not have the time or resources to manage their own child's program a viable alternative," she said.
Taylor warned that the governing PCs intend to privatize the entire system, depriving families of services they have come to depend on. "This government's plan entirely privatizes the system and removes all public dollars, and in that format [it] creates a for-profit system and does not create the same accountability and transparency that should be in the system," she said. "They are forcing parents to navigate the system and decide what kind of treatment their child needs without having the required knowledge. They are asking a lot from parents [while] giving much less."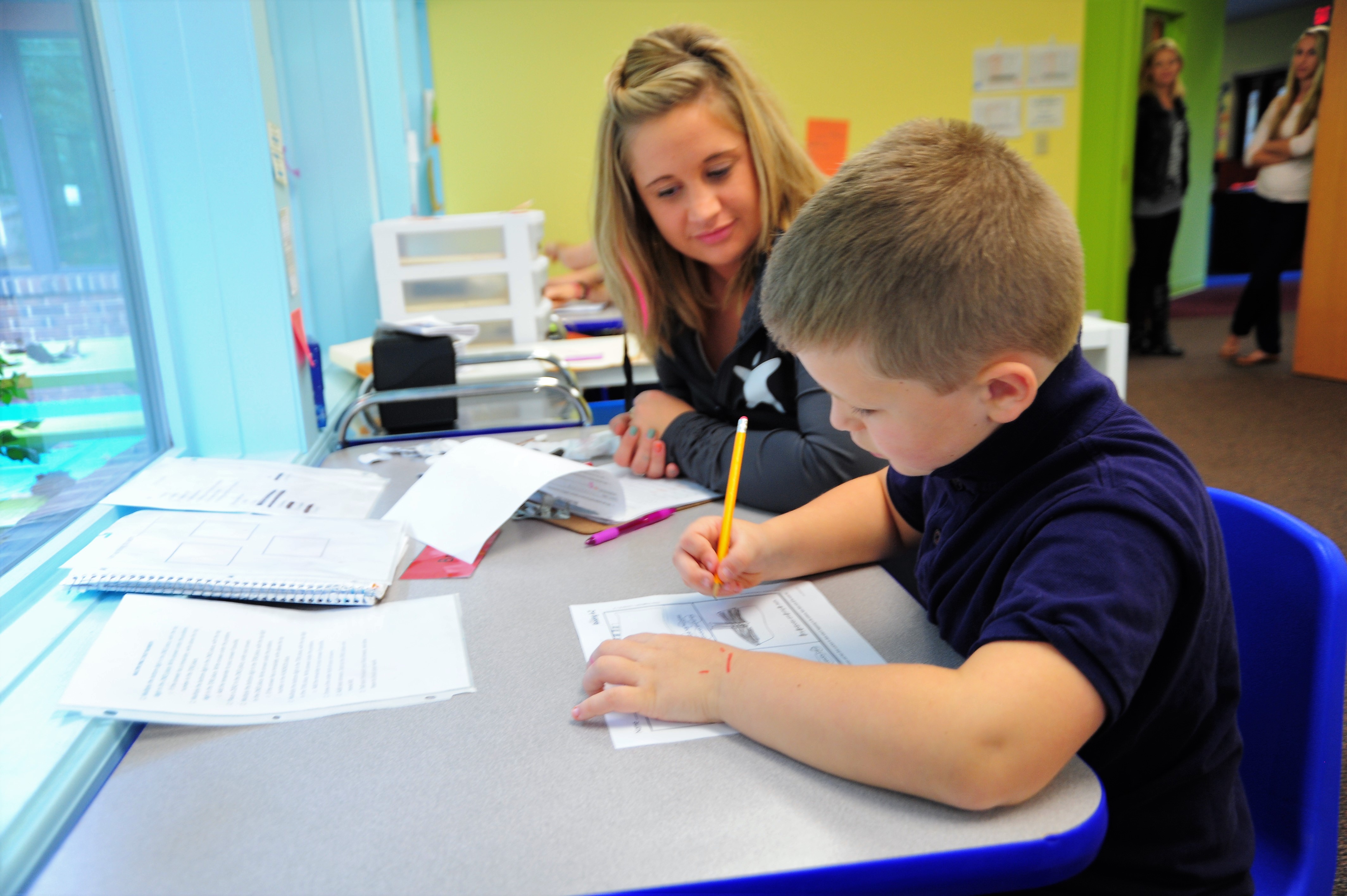 A report published by the Ontario Autism Coalition in June detailed the shortage of practitioners in Ontario, whose numbers fall well short of what's needed to meet the demand of OAP. The report suggests the province should create financial incentives for psychology students to study autism and ABA (Applied Behaviour Analysis, a common form of intensive autism therapy). It also suggested that "the Ministry of Training, Colleges and Universities should establish a strategic roadmap in collaboration with higher education institutions to increase training. We need more ABA training programs in Ontario's colleges and universities."
The report recommended the province adopt a need-based program that provides children with services based on individual needs as determined by a clinician and updated over time. "Funding should fluctuate according to need, because needs fluctuate over time. Puberty, for example, can be a very challenging time for autistic people," the report said. "Having flat-rate funding means that some kids will get too much and others won't get enough."
Along with instituting a needs-based program, the report said that instead of reimbursing parents for their children's treatment, the government should allow treatment centres to bill the government directly. "Forcing parents to pay upfront and then wait to be reimbursed is an unnecessary barrier — especially for those already living at the poverty line or who face education, literacy, language and/or cultural barriers," the report said. "Most parents do NOT want to take on the role of accountant — approved service providers should be able to bill the government directly."
Submit a correction about this story