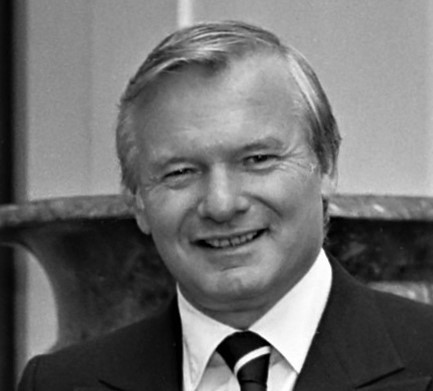 Wiki Commons
Brampton's Bill Davis gifted us a remarkable legacy
Originally published August 1, 2019, to celebrate the 90th birthday of Bill Davis.
---
The air is toxic with political vitriol, and it's getting harder to breathe.
If cynicism is the exhaust of hope, then we're choking on it.
South of the border, president Donald Trump is all-in when it comes to dividing his country along racial lines. He and his base of supporters seem to long for a time when white supremacists ruled, and the coloured's knew their place in it – at the back of the bus, or under it.
Nativism isn't confined to the U.S., but has its tentacles around the world, driven in part, by the vast migration of souls who have been displaced by war, climate change, gang violence, or economic insecurity.
We even have our very own alt-right movement, the People's Party of Canada. It says it's time to ease up on the flow of immigrants and refugees into this country. The Maxime Bernier-led party is less than a year old, yet already claims thousands of members and upwards of 10 percent support in a recent poll. If a rally held last week in a hall in Malton is any indication, PPC members are overeager to queue up for this October's federal vote. A few hundred filled the hall just kitty corner to Pearson Airport to welcome their party's founder as if he were a Roman general returning from his latest conquest.
While Bernier said he embraces responsible immigration tied to the economy and welcomes visible minorities into his party with open arms (many of the candidates present in Malton were of diverse backgrounds) it's clear we now live in a world reverting to many old ways.
Estrangement, unending debate, polarized positions, and full-frontal attacks on fellow citizens are becoming more and more normalized every day. Meanwhile, strongmen like Vladimir Putin, who uses leadership as a weapon to destroy enemies and gather more power, watch while the USA and other countries fall victim to his destabalizing and divisive efforts around the globe.
All sorts of media in our hyper-electronic age, has become the perfect tool for those stoking the strife.
The left is battling the right, and no one seems to be manning the middle.
Which brings us to William G. Davis, aka. "Brampton Billy," the 18th premier of Ontario (1971-85). On Tuesday, he celebrated his 90th birthday.
It's obviously a significant milestone when anyone moves from octogenarian to a nonagenarian, but even more so when you're a political lion, and Brampton's most famous son.
What's shocking to some observers of a certain vintage (mostly boomers) isn't Davis's ripened age, but the fact it's been 34 years since he was premier of this province (1971-1985).
Almost as mystifying is that he left office at 55 – an age when most politicos are just settling in to enjoy all of the trappings of their power and influence.
A long tenure often means those in power begin to morph into swamp creatures. By the time the electorate gives them the heave-ho, most have passed their best-before date. Who can forget Susan Fennell or Stephen Harper's or Dalton McGuinty's slow slide into botched irrelevancy?
But Davis was the master of good timing. He left with the highest approval rating in his career. His list of accomplishments was long, and eclectic:
• Before reaching the Premier's office, he was the province's greatest educator since Egerton Ryerson, leading the post-war expansion of our public schools. He was the father of the community college system, created five universities, TVO, and the Ontario Institute for Studies in Education. He also extended public funding for the Catholic school board, and Brampton's Sheridan College Davis campus is just one of many schools and institutional buildings brandishing his name.
• A Conservative politician who won the Jane Jacobs Award, celebrating someone who contributed to the fabric of life in Toronto in a unique way. In one of his first acts as premier, Davis stopped the Spadina Expressway that cut through the very heart of Toronto. His quote explaining why, is often repeated by eco-warriors: "If we are building a transportation system to serve the automobile, the Spadina Expressway would be a good place to start. But if we are building a transportation system to serve the people, the Spadina Expressway would be a good place to stop."
• He commissioned Highway 410 which would become this city's most powerful north-south thoroughfare.
• He introduced regional government which, in effect, created modern-day Brampton.
• His four consecutive election victories, were the most since before World War I.
• He's the second longest serving premier, behind only Oliver Mowat.
• He was an indispensable player, along with former prime minister Pierre Trudeau, in the 1981 repatriation of our Constitution with an accompanying Charter of Rights and Freedoms.
But he was never wedded to a wholesale political ideology. His government did the unthinkable and bought a 25 per cent piece of the oil company Suncor. He also created the rent review system, took the bold decision to build the SkyDome in downtown Toronto, and of course, cancelled an Expressway, much to the chagrin of the development community. He was also a Conservative who never balanced a budget.
He understood that Canadians abhor extremes and mistrusted ideologues.
His 90th birthday isn't just a jarring reminder of what we gained from his premiership, but what we've lost.
Davis lives and ruled by a code, a system of beliefs and laws for moral conduct. This concept of manners has virtually disappeared. The ugliest manifestation is Donald Trump, the demigod who has lowered the political conversation to the basest level. He's a race-baiting bigot who creates policy to separate children from their parents, equates neo-Nazis to "very fine people", tells four congresswomen of colour to go back to the countries they came from (three were born in the USA and all are American), and is accused by 21 women of sexual improprieties, including rape.
In the Access Hollywood tape, he described how he routinely grabbed women's genitals. "You know, I'm automatically attracted to beautiful — I just start kissing them. It's like a magnet. Just kiss. I don't even wait. And when you're a star, they let you do it. You can do anything," the leader of the most powerful nation told an entertainment reporter, unaware that his comments were being recorded.
If Trump was a Marvel comic villain, okay, but he's supposed to be the moral leader of the western world.
Our current premier, Doug Ford, is another comic cut-out, with a disgraceful moral bent.
The Globe and Mail published an extensive report on Ford's drug dealing years in Etobicoke and the premier has never taken legal action to challenge the reporting.
After conning voters about cleaning up Queen's Park, hardly a week passes without more news of his high-priced favours and cushy appointments for friends funded by unwitting Ontario taxpayers.
His recent cabinet overhaul was a desperate move a year into his leadership that illustrated how unpopular the man who was booed from the stage during the Toronto Raptors' championship celebration has become.
By contrast, Davis was the pipe-smoking master of ennui, and sat in the premier's chair like he was chairman of the board of Ontario Corp. He was emblematic of a kinder and gentler age, a compromiser, and a sober second thinker.
Years after he left office and his party had drifted far right under premier Mike Harris, he bristled when it went on a war footing against teachers in the province. Davis was so upset when he attended the Toronto City Summit Alliance in 2003, he delivered an impassioned, off-the-cuff defence of educators.
They are competent. They are not underworked and overpaid. He said, if you showed him a good doctor, a good lawyer, or a good whatever, "I'll show you a good kindergarten teacher, a good high school teacher and a good university professor."
His conclusion: there is no more important commitment a government can make than to education.
His speech was a stirring reminder that political leadership can change lives, if it comes from a strong moral core.
This year not only marks his 90th birthday, but also the 60th anniversary of his victory in the provincial riding of Peel, at the age of 29. He saw the movement from rural to urban, and during his premiership, this area was bursting at the seams with growth. Regional government prepared us well to respond to it.
But his influence was Canada-wide, too, and he helped steer the country through the turbulent years when some in Quebec were threatening to tear us apart.
There was a strange duality about Davis: the free marketer, and "pinkish" social activist. He was the last great leader of The Big Blue Machine which held power for 42 straight years. Davis was one of the last to serve the people, not the special interests who infested our cities with sprawl and gridlock and continue to do so today under Ford.
Davis built consensus, not animosity. He also had faults. Critics say it was him not leader John Tory who pushed a plank of funding religious schools in the 2007 provincial election, thereby costing his party a crushing defeat to the Liberals under McGuinty. He also jumped on and off the bandwagons when it came to supporting Brampton mayors. He was an early Susan Fennell fan, but by 2014, he joined the electorate in rejecting her spendthrift ways, and chaotic leadership style. Davis backed former Liberal cabinet minister Linda Jeffrey in the 2014 municipal vote and introduced her at the victory party. He hopped off when Jeffrey led a Queen's Park-initiative to run the proposed LRT line up Main Street route, right by the former premier's long-time residence. It's not surprising he threw his support behind Patrick Brown's winning bid to oust Jeffrey. At press time, that relationship was still going strong.
As premier, Davis was that rarest of leaders: someone who recognized the talents of others, and who wasn't intimidated by it. He recommended his foe and political rival, Stephen Lewis, to then prime minister Brian Mulroney as Canada's next ambassador to the United Nations. It was pure Davis – unbiased, empathetic, and open minded. Lewis became a diplomatic star and has helped millions in under-developed countries live a better life.
Davis's generosity of spirit was rooted deep in his DNA and helped bridge many ideological divides. He was throwback to a gentler time when politics wasn't a cynical game of frying and fricasseeing others to make a point.
He never drank or swore, and when he smoked his pipe, it wasn't a political prop. He had a wicked sense of humour, and used it unsparingly, on friends, foes, and especially those in the media.
His tenure as premier seems thoroughly unmodern these days. But to some, he's a startling reminder that public service was once an admired vocation, and politics a more civil pursuit – not the barbaric game of thrones it has reverted to.
He wasn't like Ford who undid policies of his predecessors just because he could. He wasn't like Harris who cut oversight of services for public utilities because he could. When Ford reneged on funding for a new university in downtown Brampton, this was a particularly hard blow to Davis, who is not only the father of our educational system, but Brampton's oldest cheerleader, and had led the blue-ribbon panel to secure a university campus here.
Ford undid those efforts with a wave of his hand, for no good reason. Many believe it was a petty act purely motivated by an ongoing feud with the former PC leader, Brampton Mayor Patrick Brown.
To think, a so-called leader could rip such a beneficial educational opportunity away from thousands of Brampton families who pay their taxes and deserve a university, just to settle a personal vendetta.
The age of political chivalry is long gone, as has the silky-smooth management style that Davis inherited from his predecessors and was based on moderation and co-operation. He passed it on to others who ignored it.
We might never get back to an era when electioneering is more civil, and voters churned out leaders like Davis. Moderation in all things is how he lived his life, and it became the ruling passion of his political soul. Voters trusted him to do and say the right thing.
Hopefully, it won't be another 90 years before we see the likes of Bill Davis again.
Submit a correction about this story