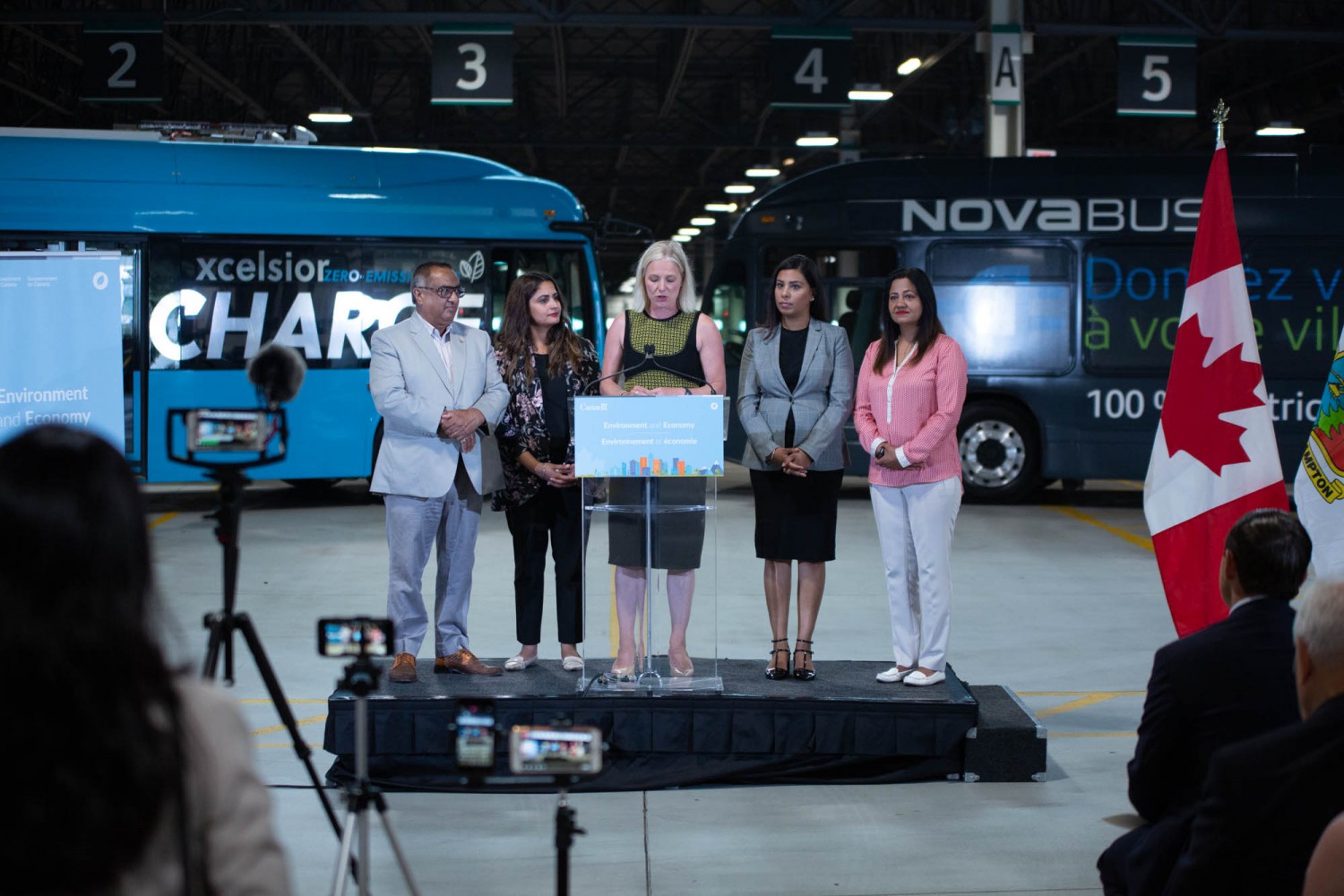 Photos by Mansoor Tanweer
It's deja vu as Ottawa gives Brampton Transit $11 million toward electric buses
Federal Environment Minister Catherine McKenna was at the Brampton Transit Sandalwood Facility on Monday to announce an investment by Ottawa in greener transit. Flanked by two fully electric buses, McKenna promised $11 million towards the procurement of eight fully interoperable battery-electric buses and four high-powered overhead chargers.
About $7.6 million will be coming from the Low Carbon Economy Fund, a $2-billion Canada-wide envelope for stimulating clean growth, and $3.5 million from Infrastructure Canada's Green Infrastructure Program, a $5-billion pool of cash.
Two Canadian firms will build the zero-emissions buses: Winnipeg-based New Flyer Industries, North America's biggest bus maker, and Quebec-based Nova Bus. Swiss company Asea Brown Boveri and Siemens, of Germany, are providing the four on-route chargers.
"It is a world first," McKenna said of the charging system as she spoke to a group of reporters gathered around her, along with Mayor Patrick Brown and Brampton's four Liberal Members of Parliament.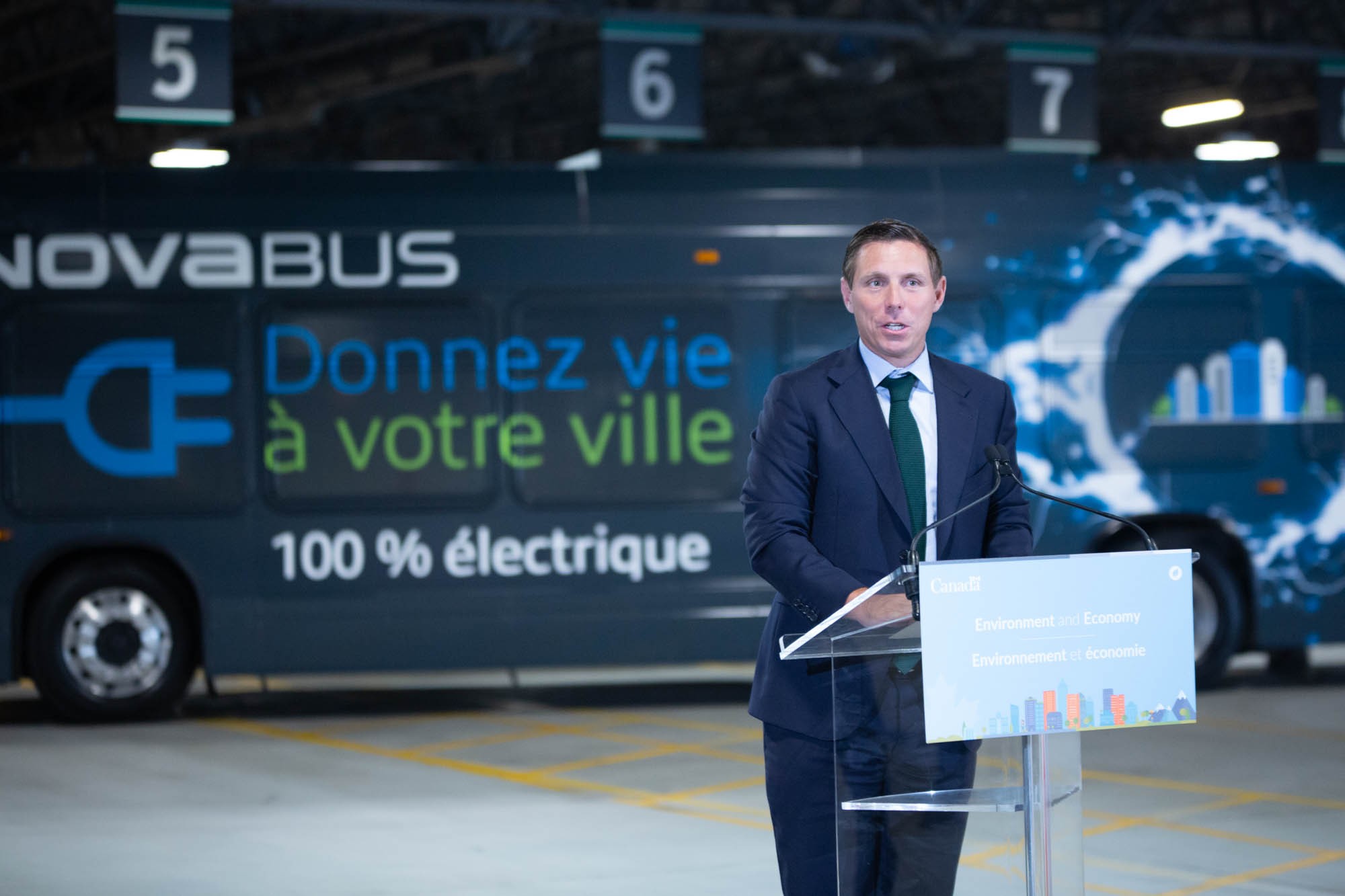 Brampton Mayor Patrick Brown
"Normally ... you have to use the charging infrastructure that goes with a particular bus," she said, drawing a comparison to cell phones that will only work with a specific type of charger. "Now, you'll be able to charge the different buses with the same infrastructure."
"This is a great example of electric buses that, for the first time in the world, plug and play into multiple manufacturer charging systems," said Josipa Petrunic, executive director and CEO of the Canadian Urban Transit Research and Innovation Consortium (CUTRIC).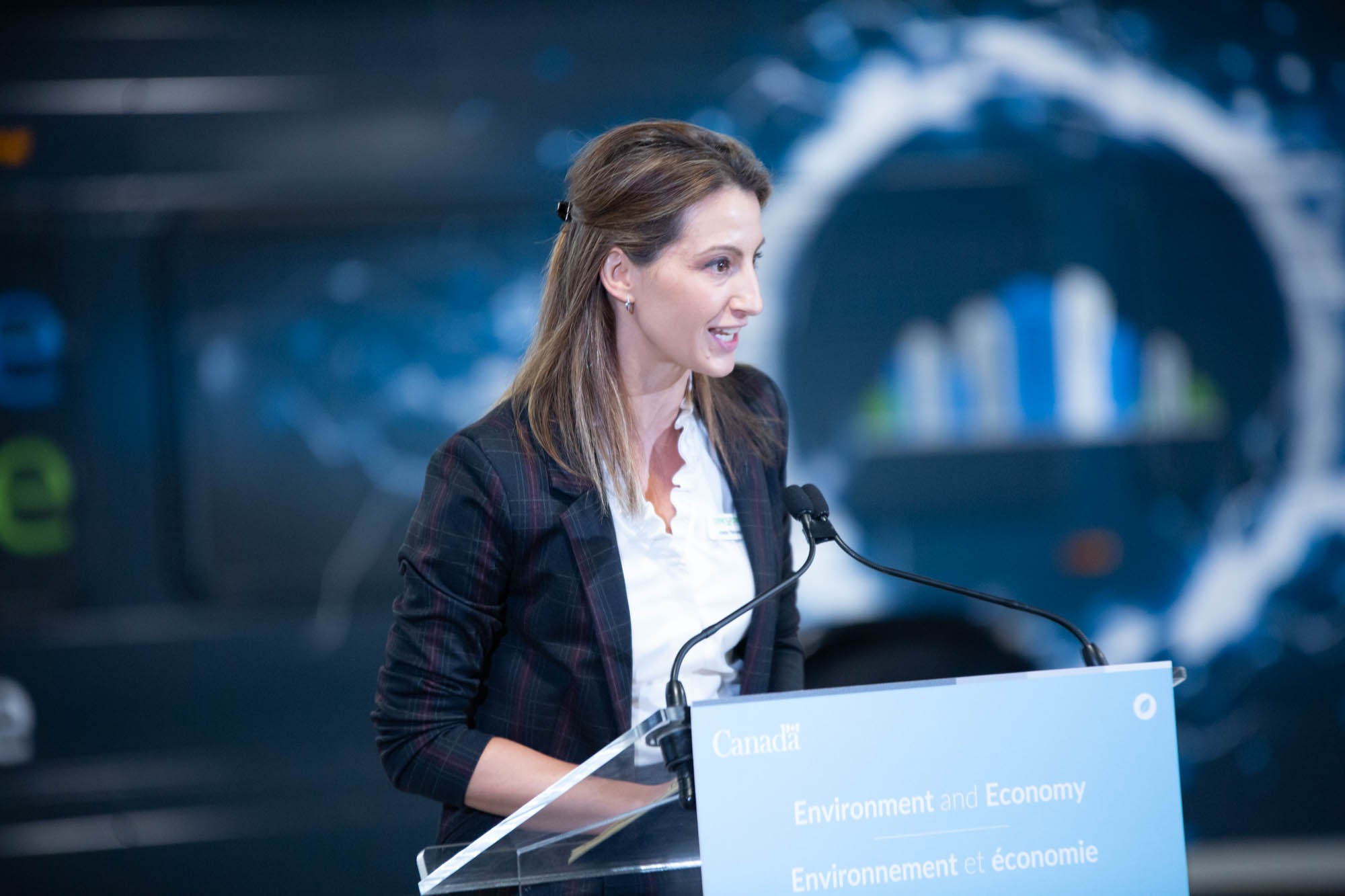 Josipa Petrunic, executive director and CEO of the Canadian Urban Transit Research and Innovation Consortium (CUTRIC)
Brown said the buses are a "milestone" in achieving Brampton's goal of "reducing greenhouse gas emissions in Brampton by 80 percent by 2050."
CUTRIC launched the Canadian Electric Bus Demonstration and Integration Trial in April 2018, in partnership with Metro Vancouver's transit authority, TransLink. CUTRIC is a not-for-profit research group that supports green transportation solutions across Canada through industry and academic collaborations. The trial comes with a price-tag of $40 million.
Brampton and York Region were the municipalities chosen to do on-street trials of the system outside of British Columbia. The former provincial government of Kathleen Wynne, a month away from losing the 2018 election, promised $13 million toward the project from proceeds of the cap-and-trade program, citing the fact that in 2015 the transportation sector accounted for one-third of the province's greenhouse gas emissions.
A news release from the City of Brampton suggests that the content of McKenna's Monday appearance was virtually identical to last year's provincial announcement, at which then-provincial minister of economic development Steven Del Duca said the promised funding would go towards "eight electric buses (six by New Flyer Industries, and two by Nova Bus) and four charging systems (three by ABB Group and one by Siemens)."
The victorious government of Doug Ford has since scrapped the cap-and-trade program, leaving the original funding in limbo. It's not clear when exactly the federal government stepped in to take on the project, but government messaging suggests the trial was meant to be a partnership between the Wynne Liberals and CUTRIC. It appears that the federal government is picking up where the province left off last year.
McKenna took advantage of the announcement to call out the provincial government for its lack of support of environmental projects and carbon pricing. "Unfortunately, what we have seen here from the Ford government — first thing they do, they make it free to pollute. Which is terrible," McKenna said.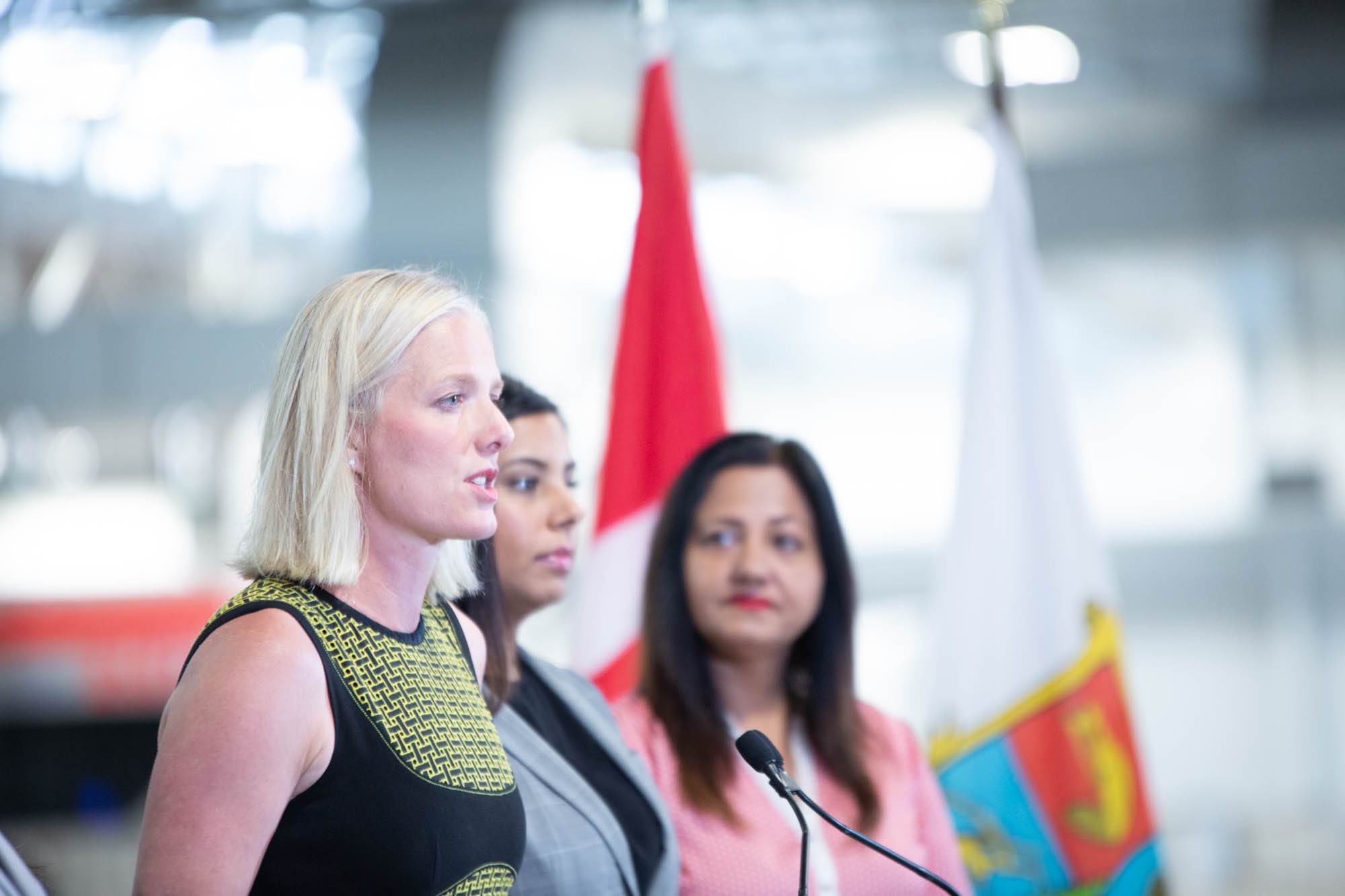 Federal Environment Minister Catherine McKenna
The two types of buses up for procurement are NFI's Excelsior CHARGE battery-electric articulated bus and Nova's LFSe bus, a non-articulated system.
Conceptually, the overhead on-route chargers are expected to be located at certain bus stops where drivers will be able to recharge their vehicle batteries in roughly four minutes, with an output of 450 kW — more than 60 times the output of a typical 240-volt home charger used for electric cars. Theoretically, buses could remain in service indefinitely, stopping only for the driver's shift change and regular maintenance.
Cities who have experimented with battery-electric buses have come away with mixed results, however. The City of Albuquerque, N.M., said last November it was pulling the plug on its $135-million battery-electric bus project. Mayor Tim Keller pointed to concerns about the battery, faulty brakes and other equipment malfunctions. The city's Central Avenue, which increases in elevation rapidly, ended up being too taxing on the battery. The fleet of buses was returned to manufacturer BYD.
A suburban Minneapolis transit system and other cities with cold winters that have tested electric buses have had concerns about battery consumption increasing dramatically in cold weather. Canadian winters are going to be an issue for the buses. However, the availability of quick on-route charging and Brampton's relatively flat terrain could mean those problems are minor.
The city of Shenzen, China, to use one successful example, operates 16,000 electric buses, which have replaced its entire fleet of gas-engine vehicles.
Email: [email protected]
Twitter: @mansoortanweer
Submit a correction about this story