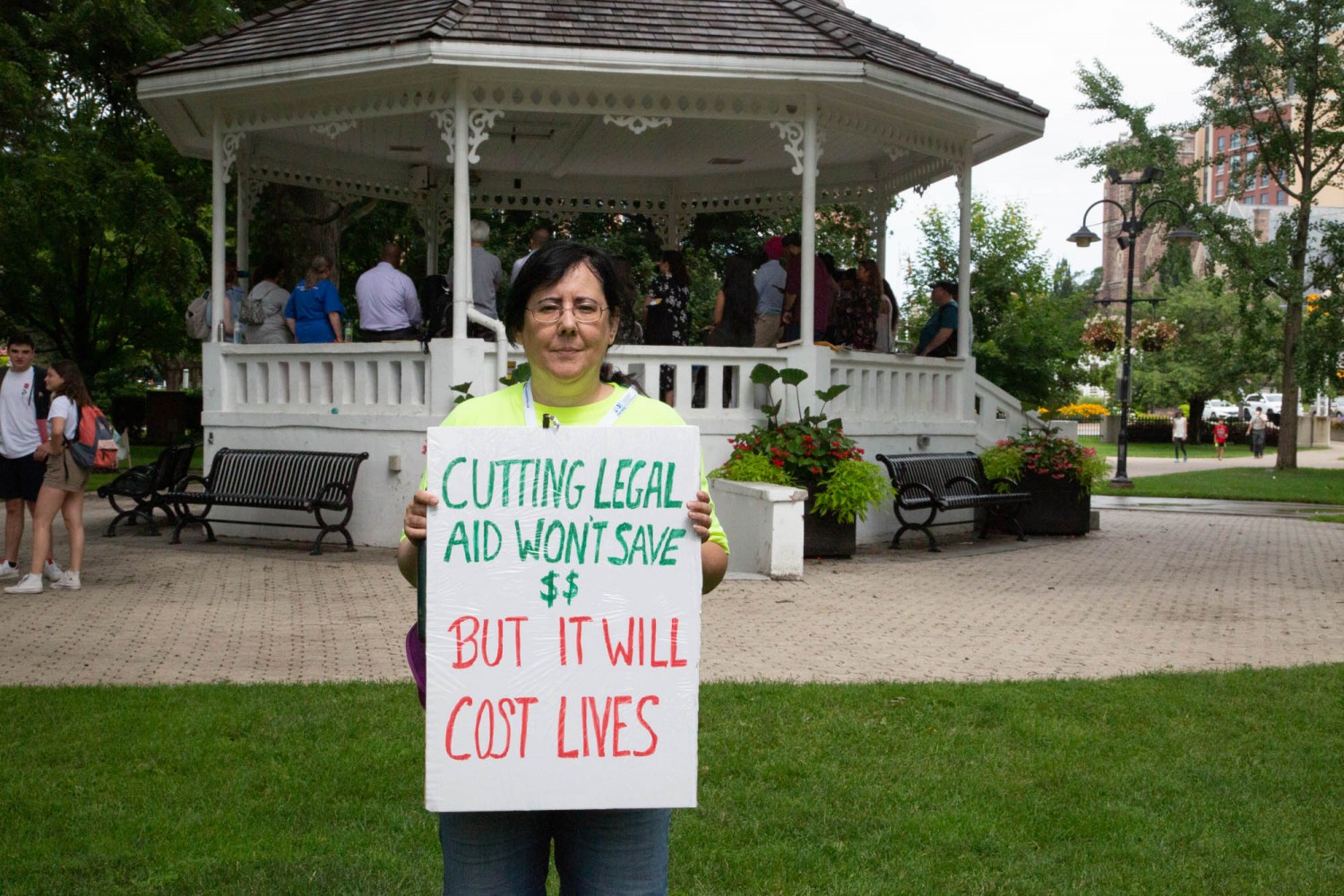 Photos by Mansoor Tanweer
Bramptonians gather to protest province's cuts to legal aid
Brampton resident Catherine Fenech, 51, spent Tuesday morning at Gage Park, across the street from city hall, participating in a protest against the province's deep cuts to Legal Aid Ontario, an "emergency room" program for low-income people needing legal representation.
Fenech knows how much Legal Aid matters. Years ago, suffering from repetitive stress injuries from working part-time as an LCBO cashier in the mid-'90s, she enlisted the help of Ontario's publicly funded legal services to fight the old Workers' Compensation Board (later the WSIB) after her injury claim was denied.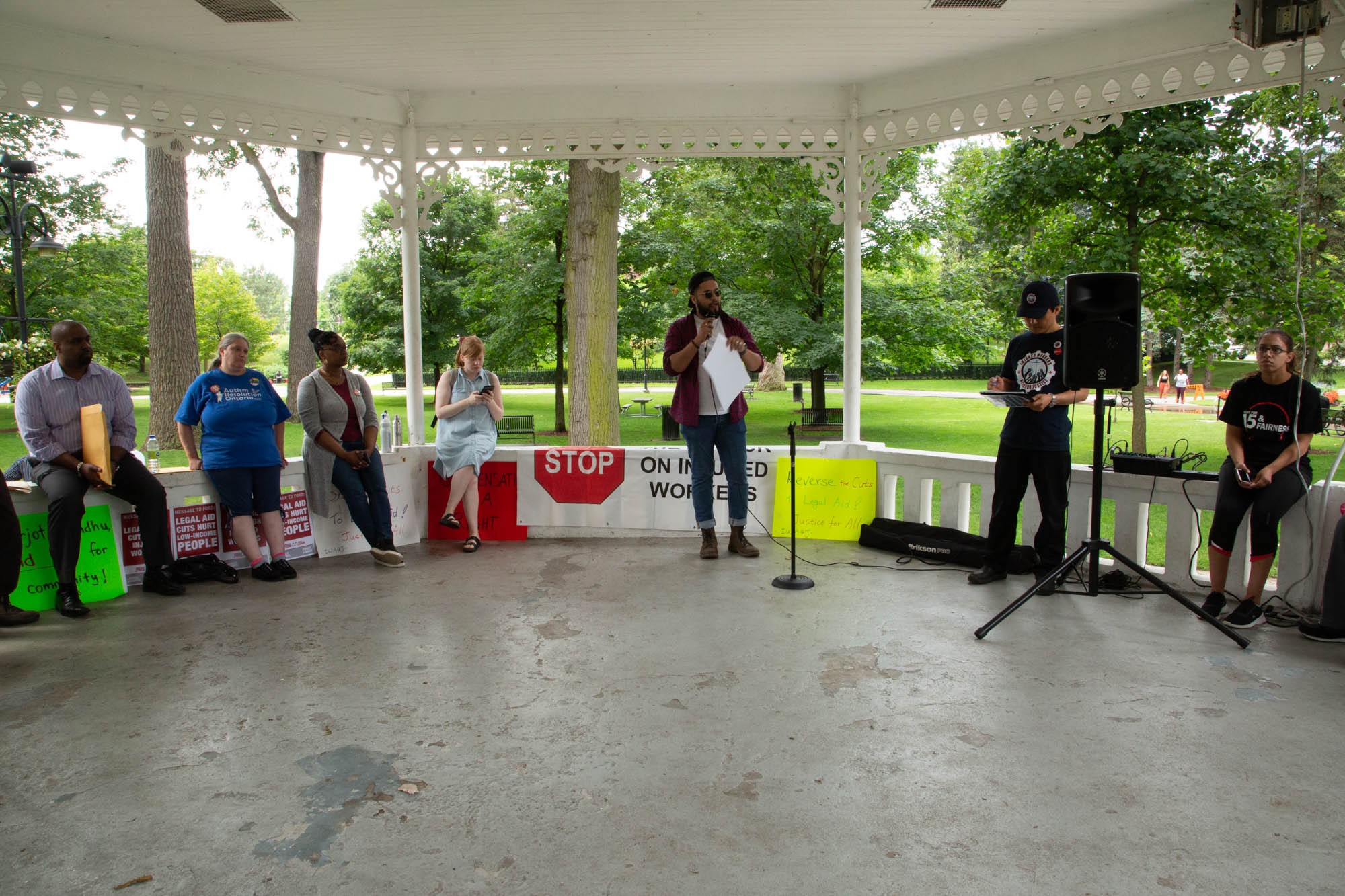 Residents gather in Gage Park to protest cuts to Legal Aid Ontario.
"It was my right wrist, initially. They told me, 'You got a left arm. Use that.' So I started getting injured in my left arm," Fenech recalls, describing how dismissively the WCB treated her. "So if the job was repetitive and awkward using my dominant hand, guess what it was using my non-dominant hand?"
About ten months after that, her other wrist was injured as well. The pain she was experiencing and the lack of support she received from the government put her in a state of depression, she said. "I had gone back to work. I was being harassed at work because of the injury. It was all kinds of stuff going on."
In 1996, she turned to the Injured Workers Consultants community legal clinic in Toronto to help her fight her case. She describes the people there as "welcoming," and she enjoyed the peace of mind that came with free legal help. "It was a relief to me just to be able to turn it over to somebody else. Because I got fixated on every single lie that was in the file because it was so personal to me."
In 2000, she won her case against the WSIB. She was recognized as 39 percent disabled, as her injuries grew to include her back and shoulders as well. She was placed on modified duties at her workplace. Her troubles, however, did not end there.
Eventually, she was not able to work anymore. She once again enlisted the help of legal aid, this time from North Peel and Dufferin Legal Services Inc. (NPDLS), located in the heart of downtown Brampton. They got her the help she needed, and now she receives benefits from the Ontario Disability Support Program.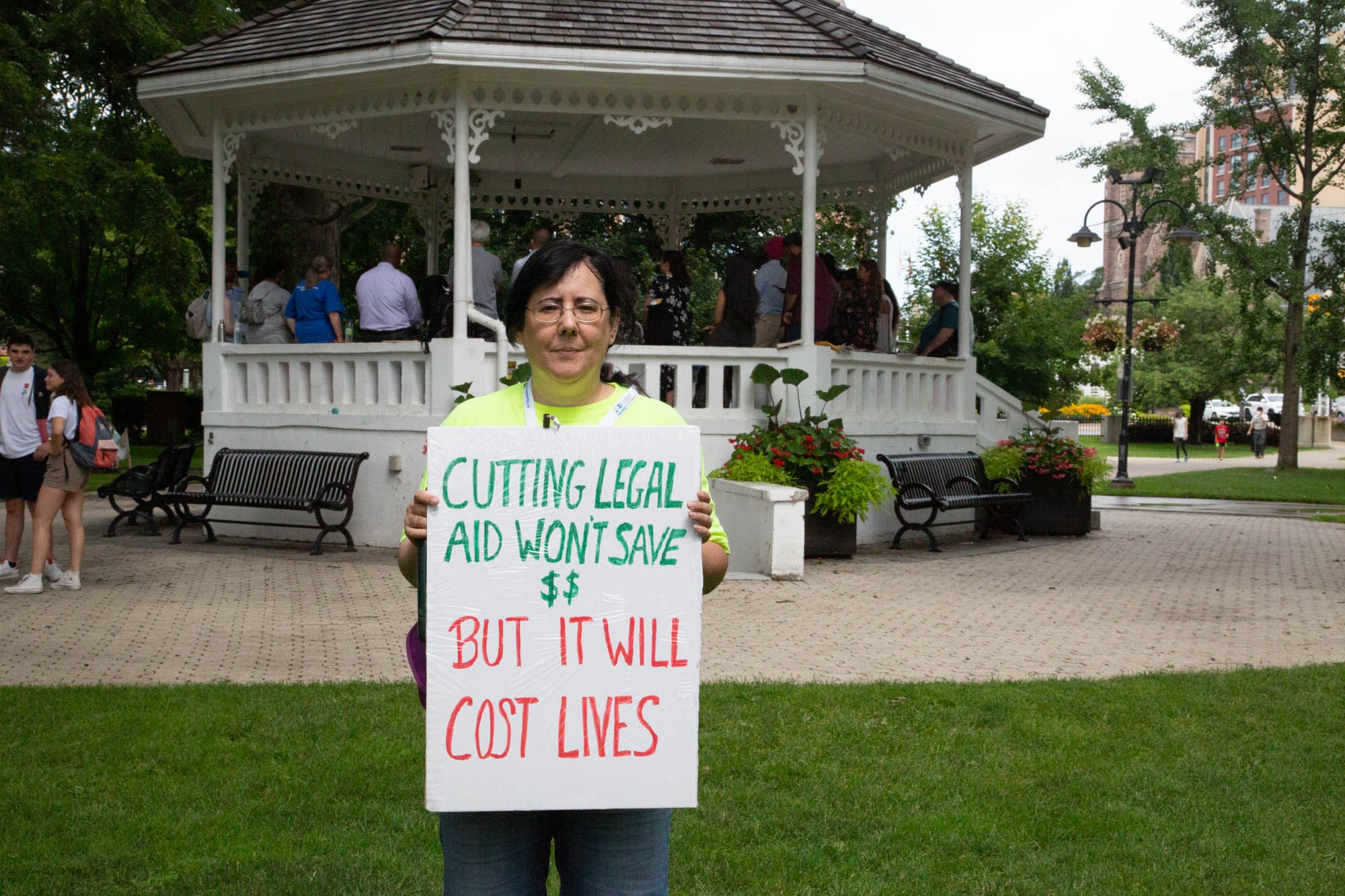 Brampton resident Catherine Fenech
If not for the legal aid clinics, provincially funded through Legal Aid Ontario, Fenech would not be receiving the help she so desperately needed. She might well have ended up in a wheelchair, lost her independence and not been able to leave the house — to go to this week's protest or even to take care of her own needs.
The LAO is an independent but publicly funded program that provides low-income people access to legal services. Along with injured workers, tenants facing eviction, refugees, people escaping intimate partner violence and people being harassed at work can all seek legal services free of charge through LAO.
The PC government of Doug Ford has taken a $133-million bite out of LAO's government grant. That reduction is expected to rise to $163 million in three years. LAO's government grant for the 2017/2018 fiscal year was $418 million.
It is not yet known how LAO's 73 local community legal clinics will be affected. The community clinics, NPDLS being one of them, were allocated $78.5 million for the 2017/2018 fiscal year, averaging roughly $1.07 million per clinic. Critics say the government's savings will be made off the backs of the most vulnerable.
"The legal issues I work on do impact the basic necessities of people's livelihoods," Simarroop Dhillon, a staff lawyer with North Peel and Dufferin Legal Services, explained to The Pointer. "Such as immigration status: What if you are about to get deported? Such as job loss: What do you do if you lose your job, you are wrongfully dismissed? What about if your landlord is harassing you?"
Simarroop Dhillon, a staff lawyer with North Peel and Dufferin Legal Services
On the topic of legal aid, the issue of whether Brampton is getting its fair share rears its ugly head once again. Dhillion says that the NPDLS is "the second-least funded legal clinic in all of Ontario based on income per capita. So what that means is, per low-income person, we have the least amount of funding."
Brampton resident Annie Zhang hopes to once again engage the help of Legal Aid. Much like Fenech, Zhang has been struggling to maintain her quality of life ever since 2012, when her job at an environmental lab exacerbated repetitive stress injuries in her back, right wrist, left shoulder and left elbow. "I can't go back to normal work because the pain comes back every day," Zhang said.
She sought legal aid after the Workplace Safety Insurance Board, the successor to Workers' Comp, stopped the order for modified work after eight months and sent her a letter saying she could now go back to "normal work." She wants to appeal the decision, saying, "I still need the modified work," but with cuts on the horizon, her hopes of getting assistance with her appeal are in jeopardy.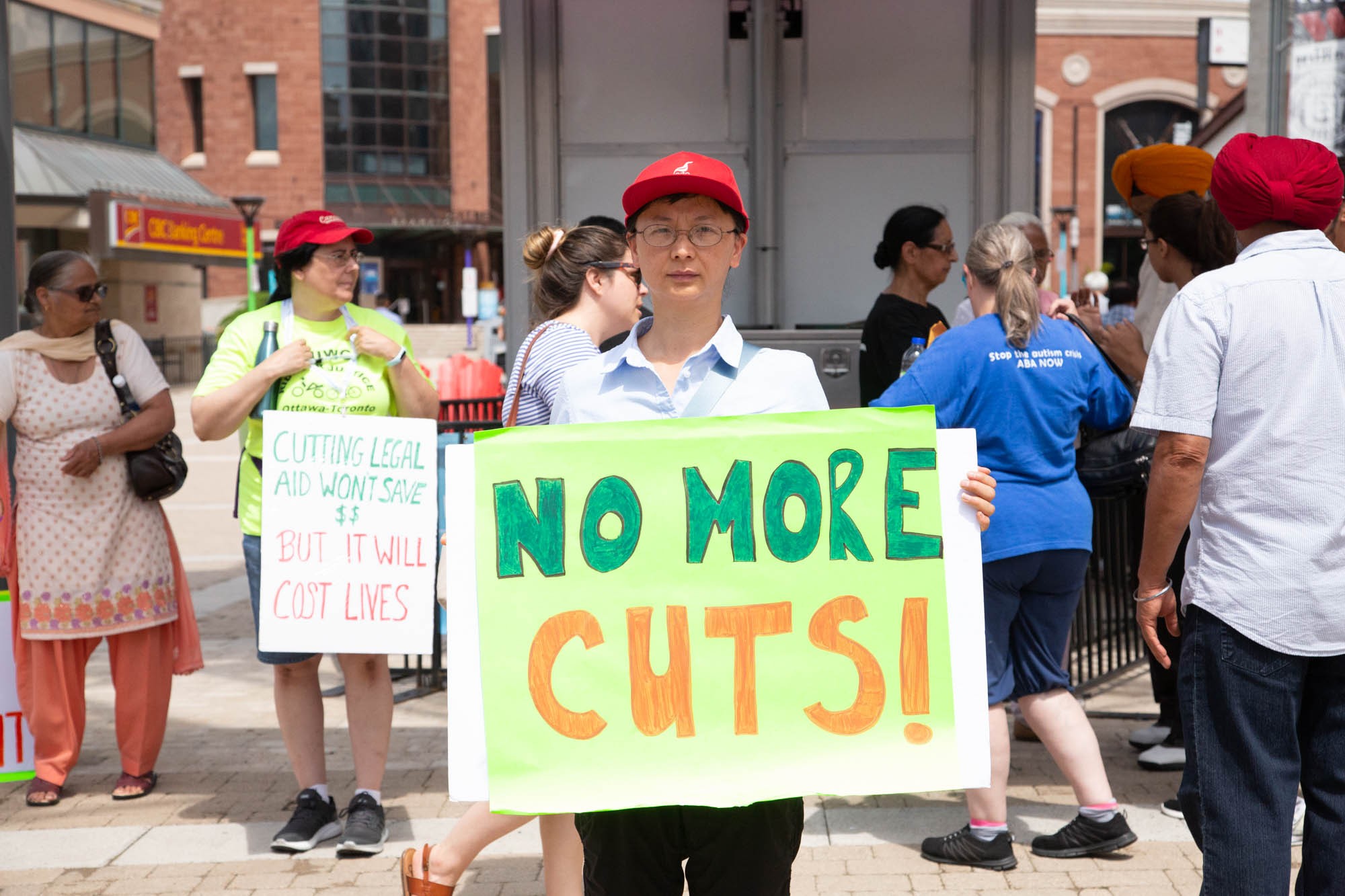 Brampton resident Annie Zhang
After the demonstration in Gage Park came to an end, Zhang and the rest of her cohort made their way to the constituency office of Brampton South MPP Prabmeet Sarkaria's constituency office. The intent was to deliver a letter to the MPP and to set up a meeting with him.
Back in May, Navi Aujla, an organizer with the Workers Action Centre, set up a pop-up legal clinic in the plaza where Sarkaria's office is located. The same day, she and her colleagues knocked on Sarkaria's office door to schedule a meeting but got no answer.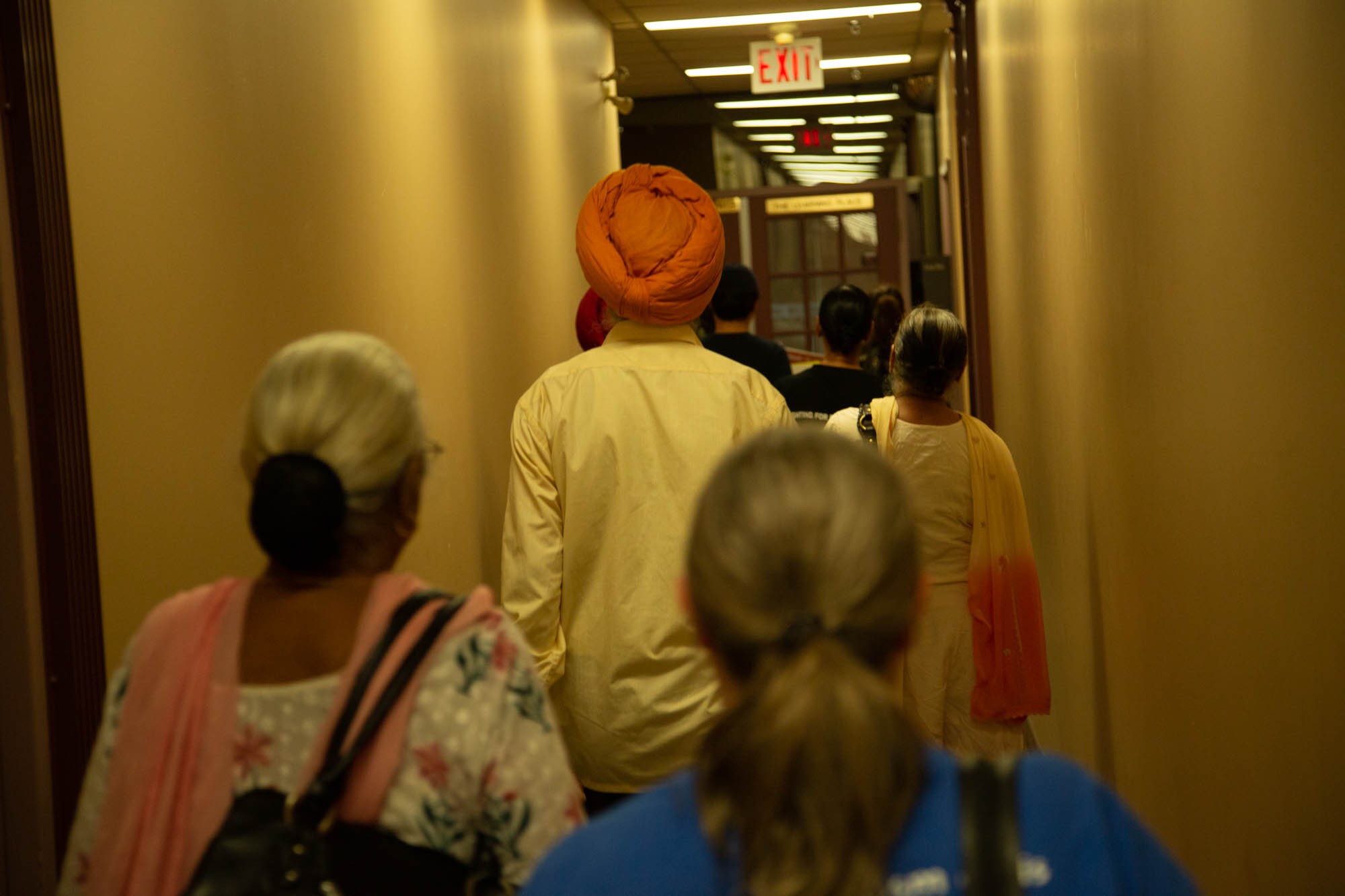 Legal aid supporters made their way to the constituency office of Brampton South MPP Prabmeet Sarkaria with the intent to deliver a letter to the MPP and to set up a meeting with him.
"It was during office hours and the door had been locked and [a sign] said to give a call instead," Aujla said. "It's been not only difficult to get an appointment but also to get into the office, as you saw today. They're not even willing to open the door for us."
On Tuesday, perhaps after seeing media present with the protesters, Sarkaria's communications person, Sukhpal Sidhu, met with the protestors in the hallway of the building. At times the exchange got heated, but he agreed to schedule two meetings with Sarkaria. One for this Thursday and another for Aug. 9.
Email: [email protected]
Twitter: @mansoortanweer
Submit a correction about this story