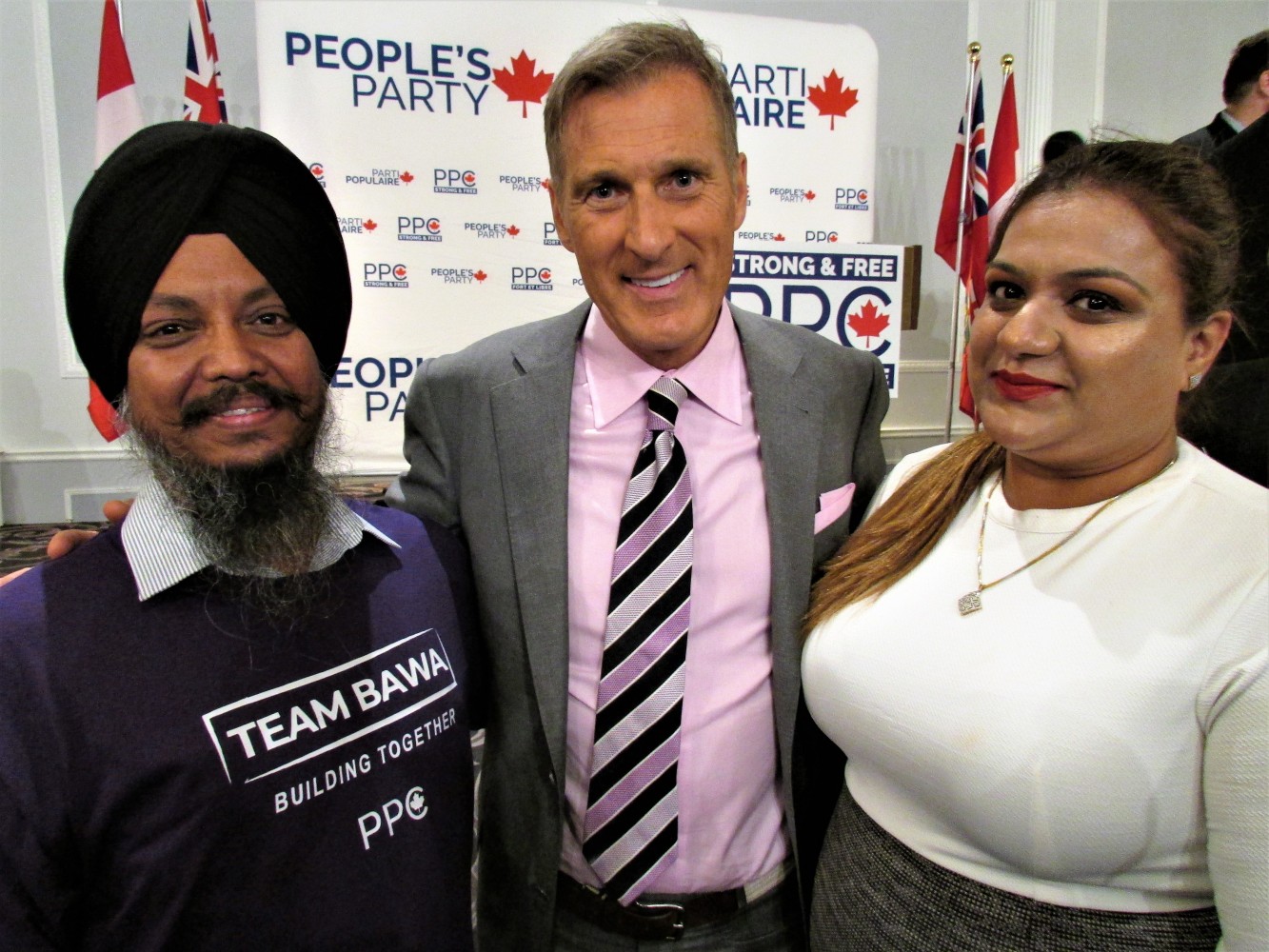 Photos by Rick Drennan/Flickr
Mad Max, the political sequel, features a controversial protagonist; Liberals should be worried  
It's easy to shrug off the latest musings on immigration by the leader of the People's Party of Canada (PPC) as the voice of a borderline bigot who is preaching to a fringe element of society that, according to recent polls, is hovering over the political battlefield like a bullet-riddled helicopter trailing smoke with only three percent support.
Some critics say Maxime Bernier lives up to his nickname, "Mad Max".
But the PPC leader's controversial appeal – to establish a clear commitment to 'Canadian' values from anyone seeking entry – drew a hearty crowd of 400 to 500 enthusiastic supporters at the Eros Convention Centre in Malton on Wednesday night. This is slightly stunning considering the hall is located in the heart of the most multicultural community in Canada – and only a few minutes from Brampton where 74 percent of the city's residents are visible minorities.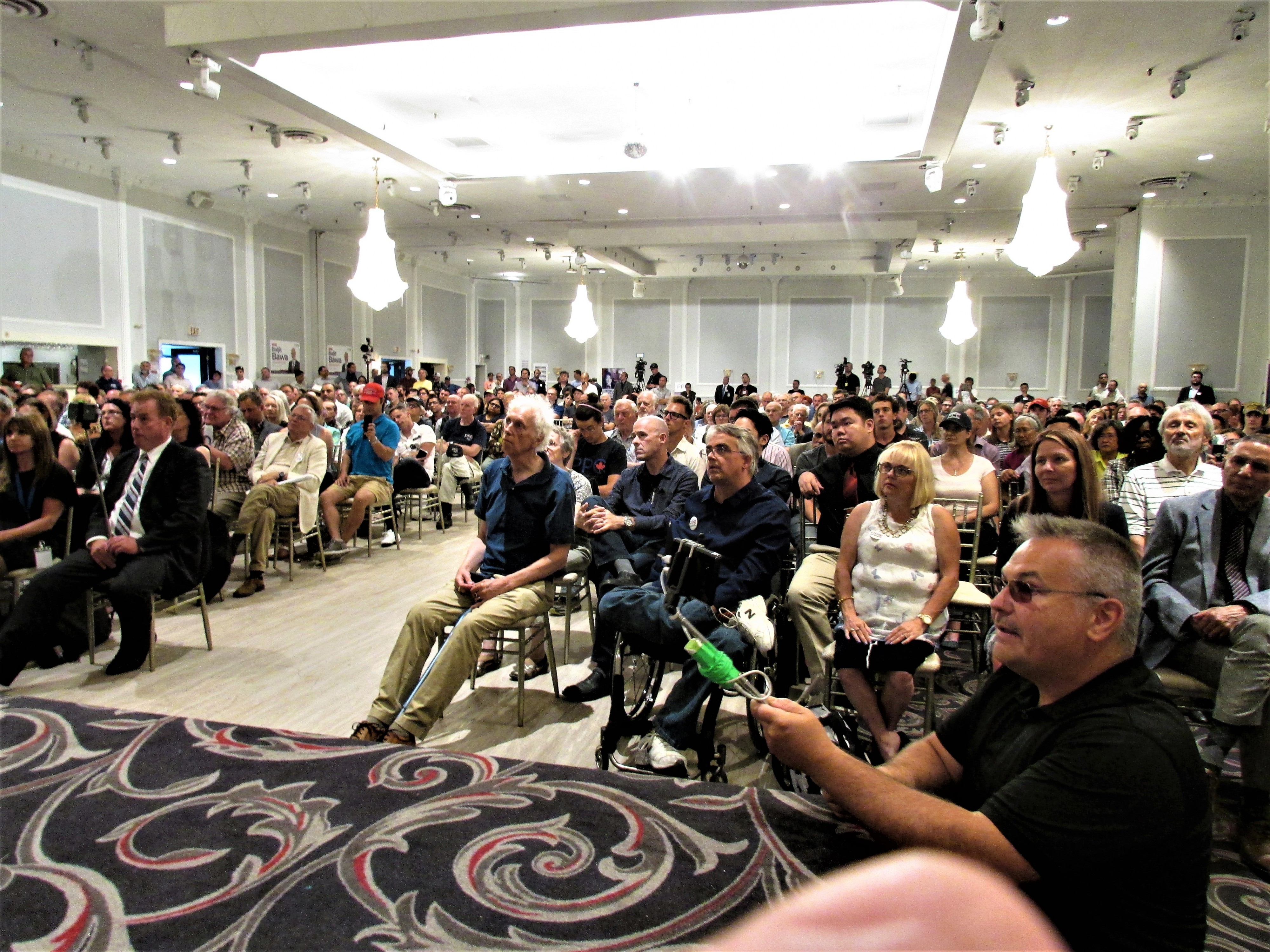 The crowd Wednesday evening at the Eros Convention Centre in Malton
While the composite drawing of most PPC followers on Wednesday evening was old, white, and male, there was a light sprinkling of women and non-Caucasians, including the man who introduced the leader to the audience, Salim Mansur, a Pakistani-born Muslim, and the party's "star candidate" in the riding of London North Centre.
The crowd also featured many of the PPC candidates running in the area, including an IT specialist and immigration consultant named Baljit Bawa. He was born in India, has lived here for the past 20 years, and is now running in the riding in which he and his family live, Brampton Centre.
Mansur cuddled up to Bernier after getting booted from the Conservative party – the same one Bernier made a losing leadership bid for in 2017. He lost by a whisker to Andrew Scheer.
Bawa has been a red-as-red Liberal for 20 years. Whether the PPC found him, or he found them, they now share a common cause: to remake Canada's out of touch (his words) immigration policy.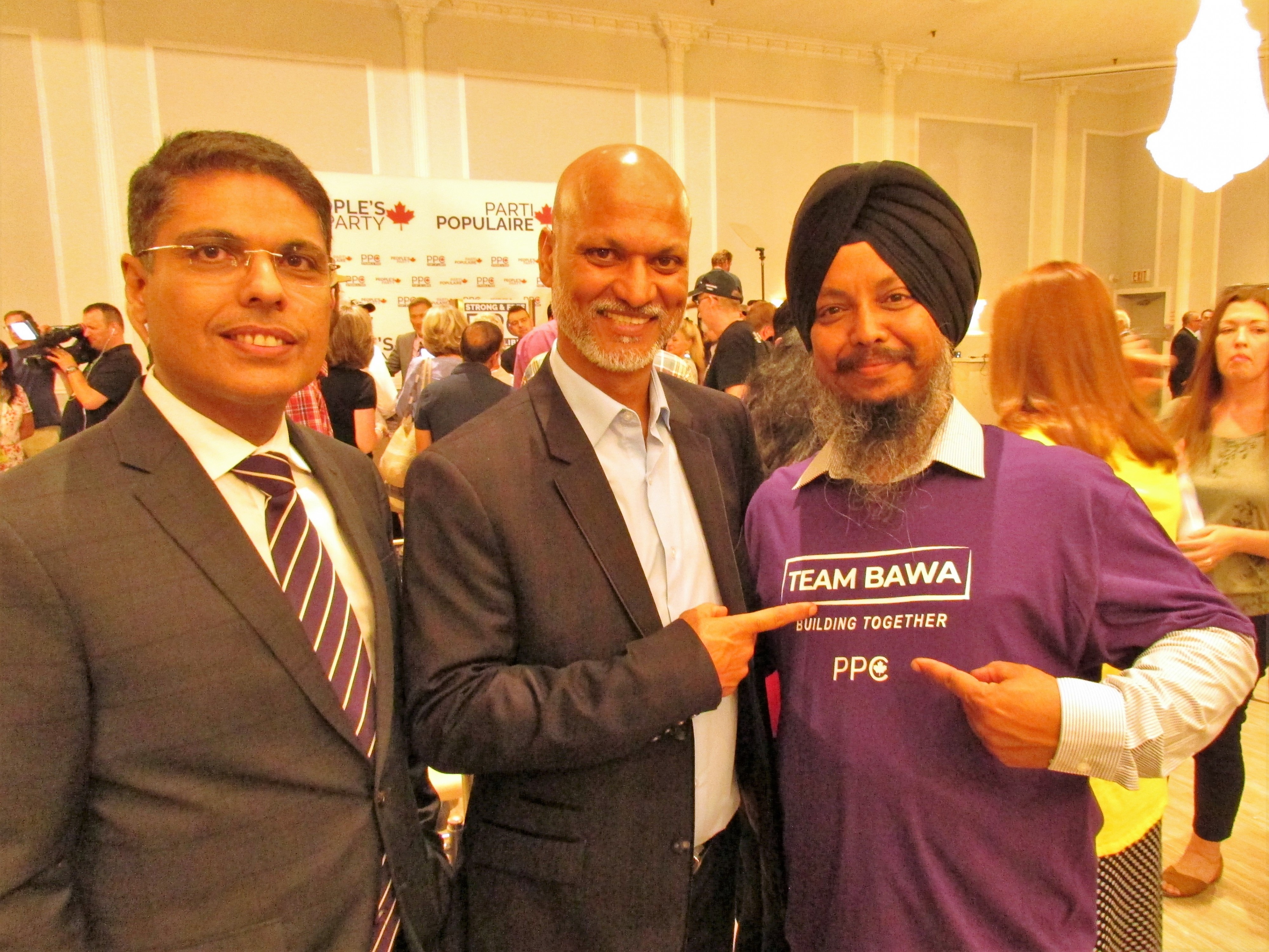 PPC candidate for Milton, Dr. Percy Dastur, Baljit Bawa, candidate for Brampton Centre, and his supporter Ajay Pal Singh from Brampton
The room was filled with all sorts of puzzling realities.
While much of the righteous media hammers away at Bernier, the gathering was a small-scale reflection of much larger political rallies south of the border. And just like the American left, including the press that got the 2016 presidential election so wrong, it would be a mistake for Liberals here to underestimate how deep and wide the concern over immigration has spread.
It's now clear: Canada has become the latest western country to face the complex, often harsh, political environment of a post-modern world whose borders have become flash points. Italy, Germany, Holland, France, Belgium, the UK, even Sweden, Australia and, of course, the USA, have all watched the Mad Max movie play out and in most cases the left has been blind to the forces of fear that have won the day – fear of losing traditions, fear of losing jobs, fear of the unfamiliar, and, most importantly, fear of cultural values that just don't align with the majority view.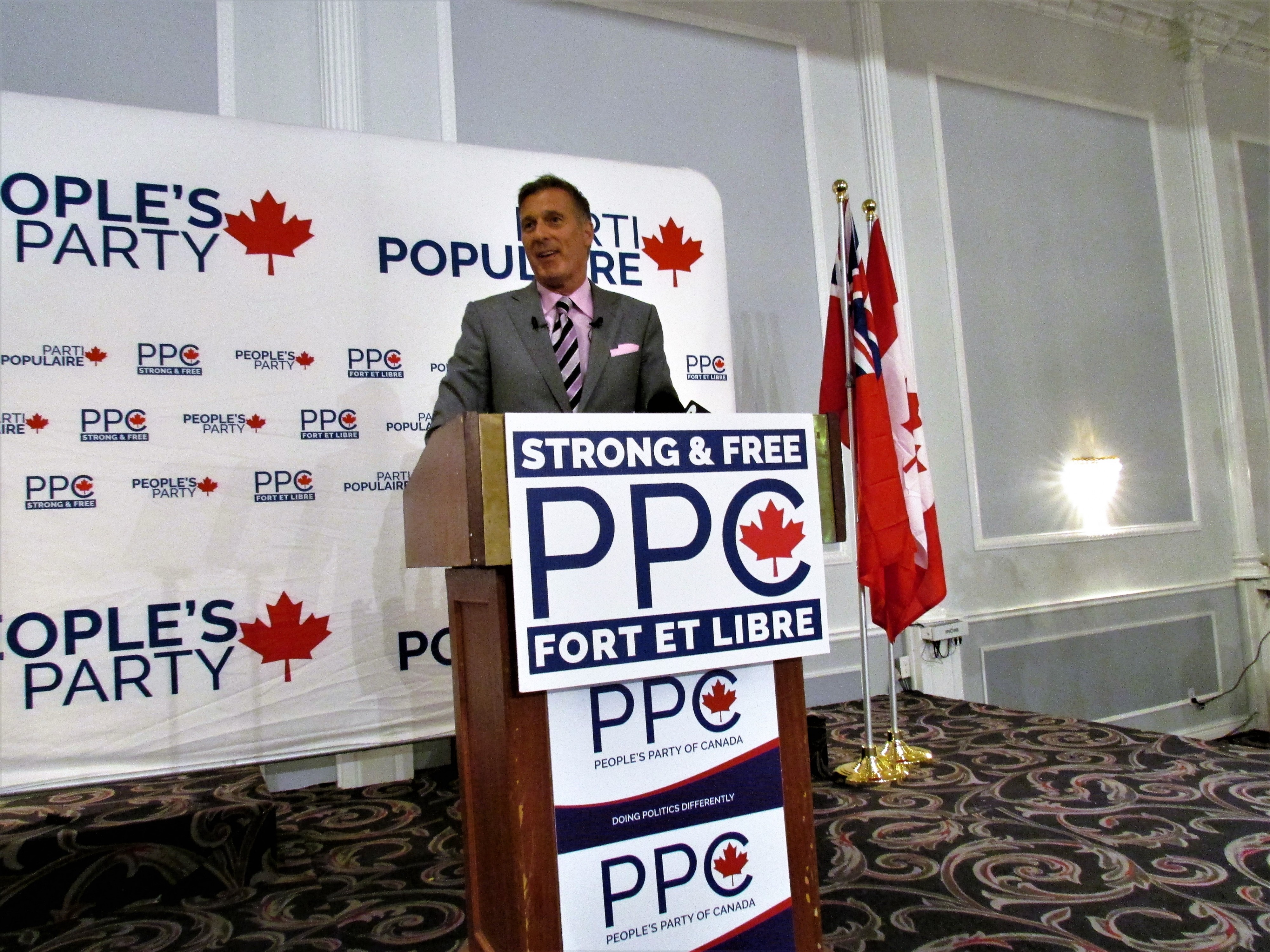 Consider how close Bernier came to winning the Conservative leadership, which would have positioned him to become our next prime minister. He led Scheer in the first 12 rounds of voting and eventually won 49 percent in the 13th, barely losing to the eventual winner.
But before doing a deep dive into how popular his message might be and the assumed contradictions of two immigrant candidates putting their names forward to help a party running on an apparent anti-immigrant platform, let's peel back to Bernier, and explain how he got to the stage Wednesday as leader of a party that is virtually unknown to most Canadians.
Mad Max is an athletic 58-year-old father of two girls who was born in St-Georges-de-Beauce, Quebec, and like the character from film lore, he knows how to go the distance under dire circumstances. He once ran 106 kilometres across his constituency to raise $165,000 for a food bank. The University of Ottawa law student was called to the Quebec Bar in 1990 and was first elected MP for Beauce in 2006. He was appointed to the Stephen Harper Cabinet as Minister of Industry, before moving to Foreign Affairs. In 2011, he was named Minister of State for Small Business and Tourism and was one of the few to survive the Trudeau tide in 2015. He took on Scheer for the party leadership, then left in 2018 to start the PPC. He brought the policies from his failed leadership bid – slashing taxes and capping immigration – to his new party, which is less than a year old.
The Mad Max road warrior image has stuck, and critics say the movie's apocalyptic vision of the future is much like the PPC's, devoid of optimism, and driven by a slam-the-door-shut immigration policy, with little to offer but fear. But those sorts of characterizations are problematic and might only fuel the 'fake news' sentiment here.
If you thought this brand of nativism would fall on deaf ears, you didn't attend Wednesday's rally. The room was packed, the mood was upbeat, and the ever-smiling Bernier was laser-focused on a single issue.
The nascent party is driven by a Canada-first agenda and has signed-up thousands of new members, raised nearly three-quarters of a million dollars in the first quarter of this year (matching the Green party totals), and stunned the political pundits in early February when, in a by-election in the B.C. riding of Burnaby-South, the PPC candidate won nearly 11 percent of the vote.
Bernier calls the party's philosophy "smart populism," and like the Green party, it hopes to field a full slate of candidates in all 338 ridings for the October 21 vote. Andy Brooke, a PPC candidate in Kingston, told Global News that calling it a fringe party "is absolutely baseless".
Bernier sees it as the little party that could – could upset the tired old Liberal-Conservative-NDP troika that shares in supporting extreme multiculturalism and a cult of diversity. He says all parties, except the PPC, walk in lockstep on immigration because to do otherwise, is "taboo" in this country.
Bernier held his fawning supporters in thrall for an hour as he laid out his party's immigration intentions. He said the "mainstream" parties having accepted as religious doctrine that immigration is a good thing (both fiscally and socially), and by not proposing meaningful changes, are doing a great disservice to an electorate begging for a serious conversation about what we want our country to look and feel like.
Bernier leaned on some mathematical percentages to show where his party stands on the issue. He says 26 percent of immigrants (not sure where he got the numbers) actually contribute positively to our economy, while the other 74 percent are subsidized by government programs and are a drag on our future wellbeing. He wants to reverse those numbers, and pulled two more out of his quiver: 100,000 to 150,000. This is the number of immigrants (per-year) he would like to see come to Canada, a dramatic drop from the present 350,000 (the high end of the Liberal target for 2019) – the largest number of any western democracy, including the U.S..
He talked positively about the form of immigration policy he wants.
He refuted with passion the idea that more immigration was good for the economy and said only 55 percent of newcomers were selected through the "economic program" while the rest came from family unification – which is another big drain on taxpayers. He vowed to lower the family numbers if elected.
"We cannot be the welfare state [for the world]", he said.
Unlike the man who sits in the Oval Office, Bernier did not use alternative facts to whip up and win over his base. His math is correct. The current immigration policy under Prime Minister Justin Trudeau, includes a target of 191,600 newcomers under all the "economic" categories which represents 55 percent of the upper-end immigration target for 2019 of 350,000. The remainder will be welcomed under family reunification, as refugees and other protected persons and "other humanitarian" cases.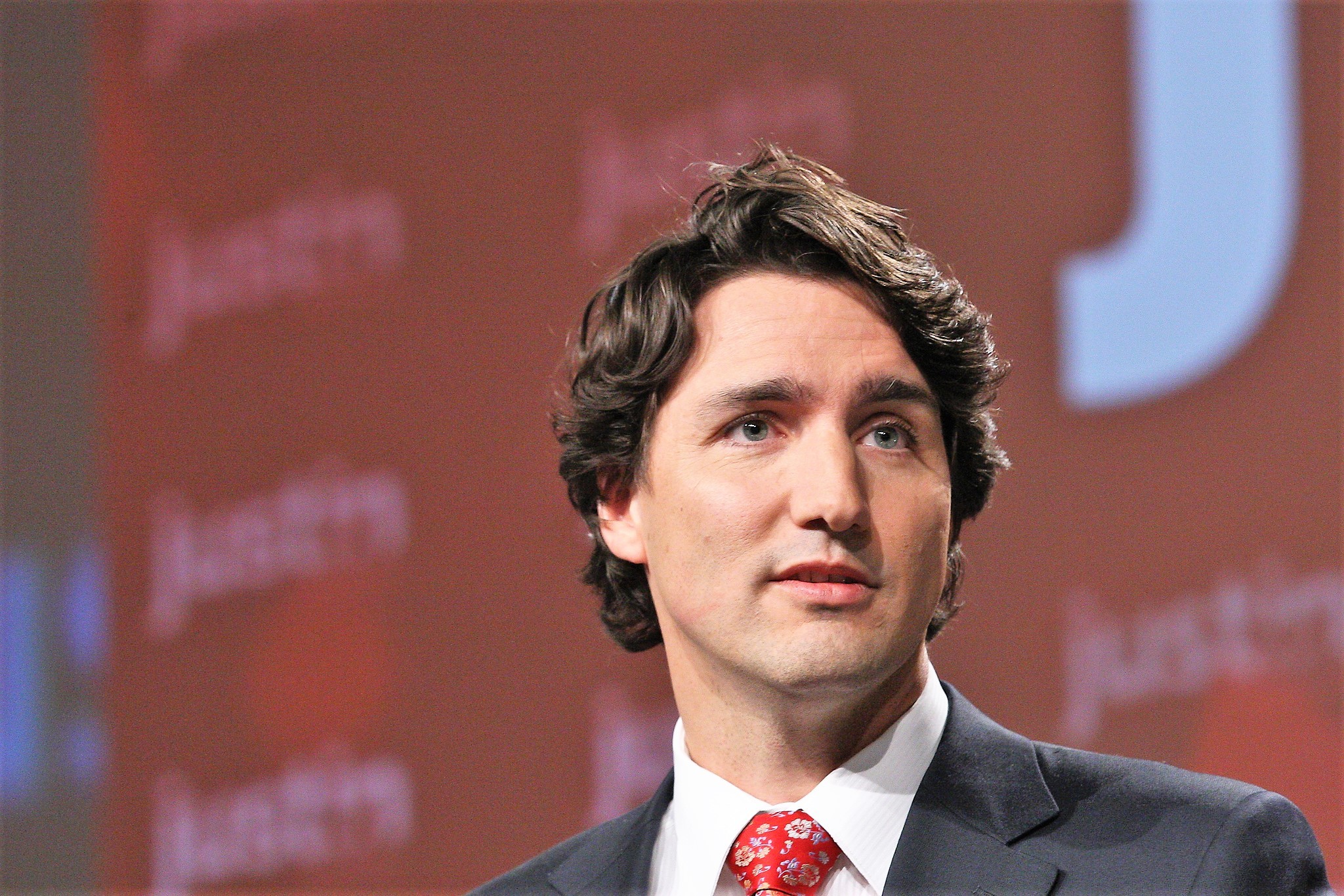 Bernier speculates that the outrageously high house prices in Toronto and Vancouver are the direct result of hyper immigration, and he emphasized that it's high time we "first help those in need at home." This, again, stirred up another wild round of applause.
He was unsparing in his takedown of Trudeau who, he said, sees himself as a "world minister." Not only has Canada lost control of its borders, said Bernier, but the current government is "effectively trying to erase it."
He stated, rather bluntly: "Canada is not a shopping centre where you can buy citizenship."
Bernier continued his assault on the status quo. Canada welcomes more immigrants than any other country in the world, and we are also allowing in more refugees, he said. The U.S.-Quebec border is porous or non-existent, and when he proposed that his party would build a fence to stop or slow down the flow, he was greeted by another standing O. He also wants to outlaw "birth tourism," in which foreign visitors come to Canada to deliver children as a way to secure citizenship.
After all the applause died down, the lone voice of a woman saying "Thank you, Maxime," reverberated around the room.
The PPC looks as if it is embracing two emotions concurrently: love and hate: love for Canada and its inherent "western values," and hatred for those newcomers (especially Muslims) who are reluctant to integrate and pose a threat to our security because of it.
While some Canadians are uncomfortable watching Trump call for a Muslim ban and talk about building walls and caging migrant children at the Mexican border, Bernier insists there's a hunger north of the border to stop the "more, more, always more" policy of open invitations to immigrants.
Mansur has neatly slipped into the PPC tent after being dumped by the Conservatives, and he also spared little time in taking down his former party, and its leader, Scheer. He said it was both he and Bernier that were the real conservatives. Scheer, he said, has fallen into the immigration-is-good-for-all trap, while spouting hollow slogans and quaking at the feet of the thirsty God of political correctness. He called "free speech the mother of all freedoms," then vilified the non-binding parliamentary M-103 motion, which condemns Islamophobia. He called this nothing but "censorship on a central discussion point." Like a stand-up comic warming up the crowd for the featured speaker, he called it Trudeau's attempt to appease the Muslim Brotherhood. He added that Islamism is the "elephant in the room" that has to be faced head-on in Canada.
He even went so far as to say Bernier's leadership has been a heavenly intervention. "There are moments that cry out for leadership, and providence answers and brings that leader in the hour of need," he said.
Mansur then reached back into history to dredge up our seventh prime minister, Wilfrid Laurier, who, he claimed, had the right idea about Canadian citizenship. Newcomers must give their adopted country their undivided loyalty, said Sir Wilfrid.
Yes, the immigrant's goal is to assimilate into our society, not the other way around. That, he claimed, is not what Islam is doing.
He introduced Bernier, who did a slow walk from the back of the hall to the front, glad-handing with supporters along the way, and was metaphorically lifted on to the stage by an opening wave of sustained applause.
Bernier's attempt to preach both love and hate, gave his nativist speech a revivalist feel. In another era, it might have been held under a giant tent.
Nationalism is a risen force across Europe, and the recent elevation of Boris Johnson (pro-Brexit) to the prime ministership of the UK, is only one example of the unflinching base of support being given to leaders across the world. Johnson has adamantly defended immigration and immigrants (born in New York City, he could be called one). But Johnson has also effectively hit on the fear that propelled Brexit and his just completed rise to the Prime Minister's seat.
The rock-star welcome Bernier received in the Malton hall, is the most recent example, and perhaps indicates that a growing political movement is afoot here in the months before the October vote.
Bernier struck quickly by laying out his party's new immigration proposals, and starting by discounting charges that he is xenophobic, or anti-immigration. He mocked Scheer for a recent speech in which he spent 30 minutes explaining why he was not a racist. "I'll spend only 30 seconds refuting these false accusations," he said, chuckling to the crowd, who responded in kind. He insisted that "racists and bigots are not welcome in our party."
Navdeep Bains, the MP for Mississauga-Malton, and current minister of Innovation, Science and Economic Development, was quoted in the Toronto Star in the days after Bernier's appearance, saying the PPC leader was "stoking the politics of division and fear, and Canadians deserve better."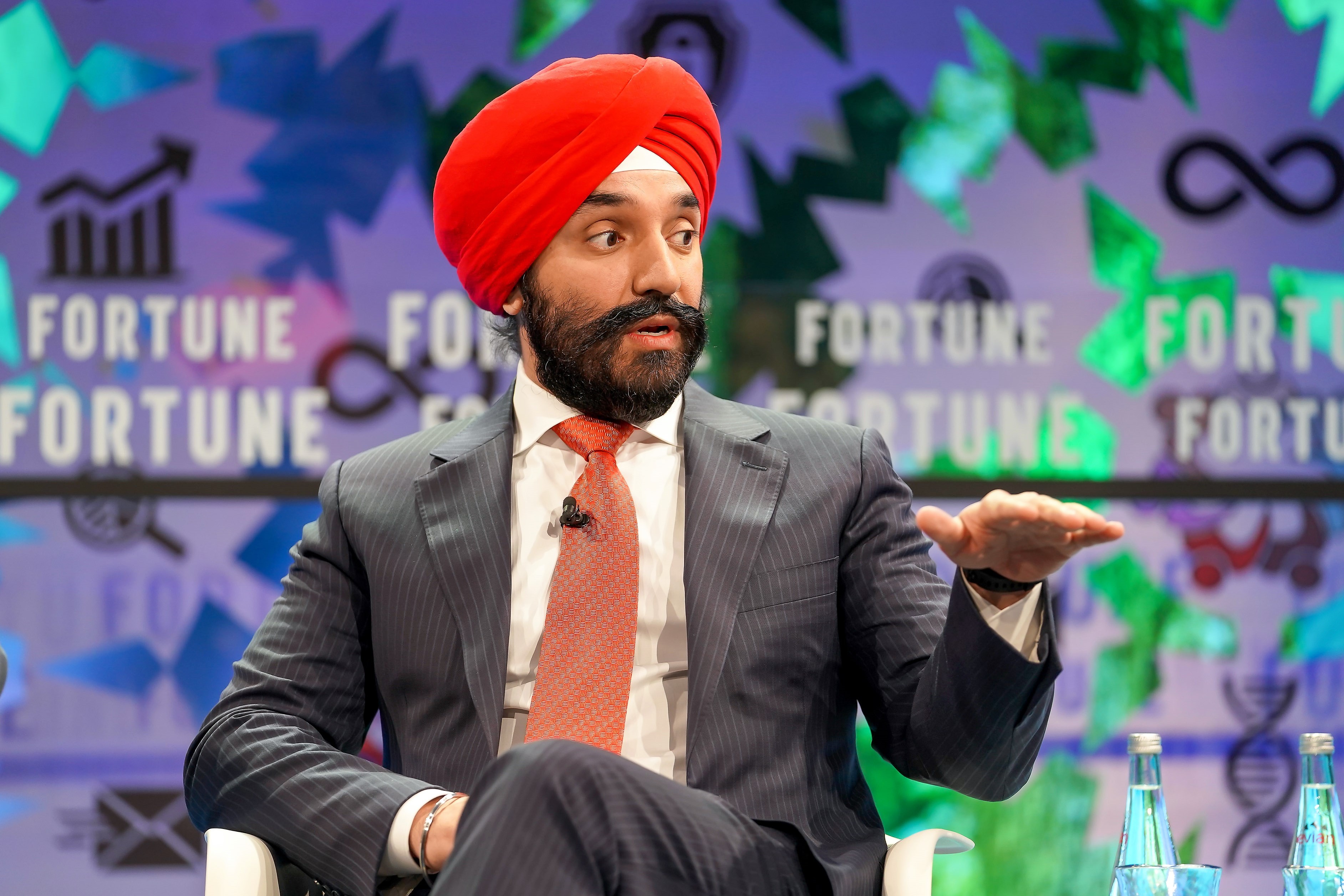 Mississauga MP Navdeep Bains
But here lies the problem with the Liberals. Bains is a minister, but not the one who looks after immigration policy. It's convenient, however, for him to be rolled out to condemn Bernier, showing the successful face of immigration to the country: a man who embraces what many would describe as Canadian values, and succeeding because of that, while simultaneously holding true to an important part of his identity, which also has plenty of room to flourish here, wrapping himself in a red and white set of cultural expressions that he helps create, to form our unique Canadianness.
Bains pointed to his own family's move from India to Brampton in the early 1970s, and how his father started up a successful small business. This, he said, is the real measure of how immigrants can enrich their families, and their new nation. But what he didn't detail in his criticism of Bernier, was all the public schooling and numerous conversations with neighbours and the rainbow of supporters who would eventually help Bains grow seamlessly into a leader who has fought for gender equality and religious tolerance and other human rights.
He is simply a Canadian, who chose to surround himself with Canadianness.
The problem, illustrated by more and more polling, is that more and more Canadians question whether or not newcomers bring to our country what Bains' father brought – the burning desire to embrace a new country as home, while understanding that some of its core values include limits to what should be tolerated. There are inherent contradictions in fighting for human rights, while being unwilling – either out of political correctness or a fear of alienating supporters – to consider if those very values are being properly respected in all quarters of our society.
Mansur focussed on the Muslim community, and it was clear from the comments in the hall Wednesday that certain cultural expressions in some, probably a small number of circles within the incredibly diverse Islamic community here, represent the real elephant in the room.
While Canadians for the most part long-ago got over Sikh men in turbans because they quickly showed how deeply and truly Canadian they are, those Muslim women covered from head to toe in their black niqabs or burkas stir a mix of feelings, even among many who consider themselves progressive.
The Pointer isn't about to wade into the debate on whether the wearing of these garments is religiously or culturally motivated, and whether or not women wear them for status and independence (from societal dress codes) or if little choice is involved.
But polls have consistently shown that Canadians, across the country and from a wide range of demographic categories, are uncomfortable with such dress in public.
Many are also uncomfortable with private religious schooling, if anti-Canadian values are taught, and prescribed cultural attitudes that prevent us from becoming truly comfortable with one another. We don't want to see parts of the country descend into the sorts of religious-ethno-cultural stratification that creates an us vs. them society.
Bernier's beloved Quebec has been a hotbed of controversy over the passage of Bill 21, a law banning public employees from wearing religious symbols that has been met with equal parts fierce opposition and support.
Gary Anandasangaree, parliamentary secretary to the Minister of Heritage and Multiculturalism, said recently that Ottawa has to show leadership in order to combat racism in Canada. Meanwhile, it's clear where the PPC stands on the issue. Bernier points out that other federal parties are unwilling to confront issues of religion and culture because of the constraint of political correctness. He says the poll numbers prove they are doing a disservice to voters. The Léger poll of 1522 Canadians conducted online for La Presse Canadienne in mid-April, showed 46 percent of all Canadians are favourable to a similar bill as Quebec's, while 42 percent rejected it. In La Belle Province, 66 percent were somewhat if not totally in favour, and 47 per cent in Ontario were against a ban on a similar bill here. Even the poll's executive vice-president Christian Bourque, said "It would be false to claim all Quebecers are racists because they're in favour of the bill."
Bernier made the point that conflating racism with cultural protection, is an invalid argument. The healthy number of visible minorities in attendance Wednesday were the perfect example. Many stood up and agreed with his policies, embracing the protection of 'Canadian' values, while renouncing cultural expressions that create division. Race, they said, has nothing to do with it, despite the efforts of the left and many in the media who constantly make the association.
Does Bill 21 represent a changing sentiment that is gaining traction, and is Bernier right when he claims his party is in "the mainstream" when it comes to these types of issues?
He admits that immigration has been successful in the past, but that doesn't mean it will remain so. He trashed Trudeau's "diversity is our strength" mantra as an empty platitude and pointed to the diverse cultural makeup of Canada that already sees communities in Cape Breton or southern Alberta as uniquely ours. They can only survive if nurtured by newcomers willing to embrace them.
He has in the past come under fire for suggesting that "Western values" are the preferred ones to embrace.
On Wednesday, he said past immigrants have added fine seasoning to our culture. We don't need immigrants to "re-create the culture that they left behind."
This drew wild applause and one of many standing O's. It's a powerful mood that shows up in the polling.
Bernier says ethnic differences was the main reason why human conflict has taken place in history and promoting it here is clearly "insane."
"Ethnic politics is the norm [in Canada]," he said, and explained why. "They [politicians] don't talk to Canadians, they simply talk to themselves."
Creating a "cultural Balkanization" will be the result of our open-door immigration policy, he predicted, and exhorted his audience to pick up a copy of 'Selling Illusions: The Cult of Multiculturalism in Canada' by conservative author Neil Bissoondath as must-reading.
He cautioned them not to believe what they read in the press, especially the CBC, which he says paints many conservative writers as "far-right white supremacists."
He called Islamism the fastest growing and most dangerous "radical ideology in the world today, and responsible for so much violence". He blamed Human Rights commissions for spreading the "lie" that "all cultures are equal."
"We must fight that lie," he says. It's not clear what he meant by this. If it's the sort of Trump-style dog-whistling meant to attract bigots, that could do harm to Bernier's strategy of appealing to social conservatives of all stripes.
He mocked Justin Trudeau's romantic vision of himself as a "citizen of the world," or his position that "Canada is the post-national state with no core identity." Following this "globalist" agenda will mean "Canada will cease to exist as a distinct nation."
He even proposed our security agencies do face-to-face interviews with proposed immigrants "to see if they align with [our values]."
Any immigrants who "do not share mainstream Canadian values will be rejected."
On it went, new proposals, wild applause, and that seemed to embolden the PPC leader.
One of the attendees to Bernier's rally was Ray Schrauwen of Milton, whose partner Wendy Martin, is the PPC candidate for Oxford County. He said Milton was once a small town that housed 50,000 but has now doubled in size – due in part, to immigration. He has been both a Liberal and Libertarian in his political past, but thinks the electorate is "confused" on immigration, and Bernier is helping lift the fog.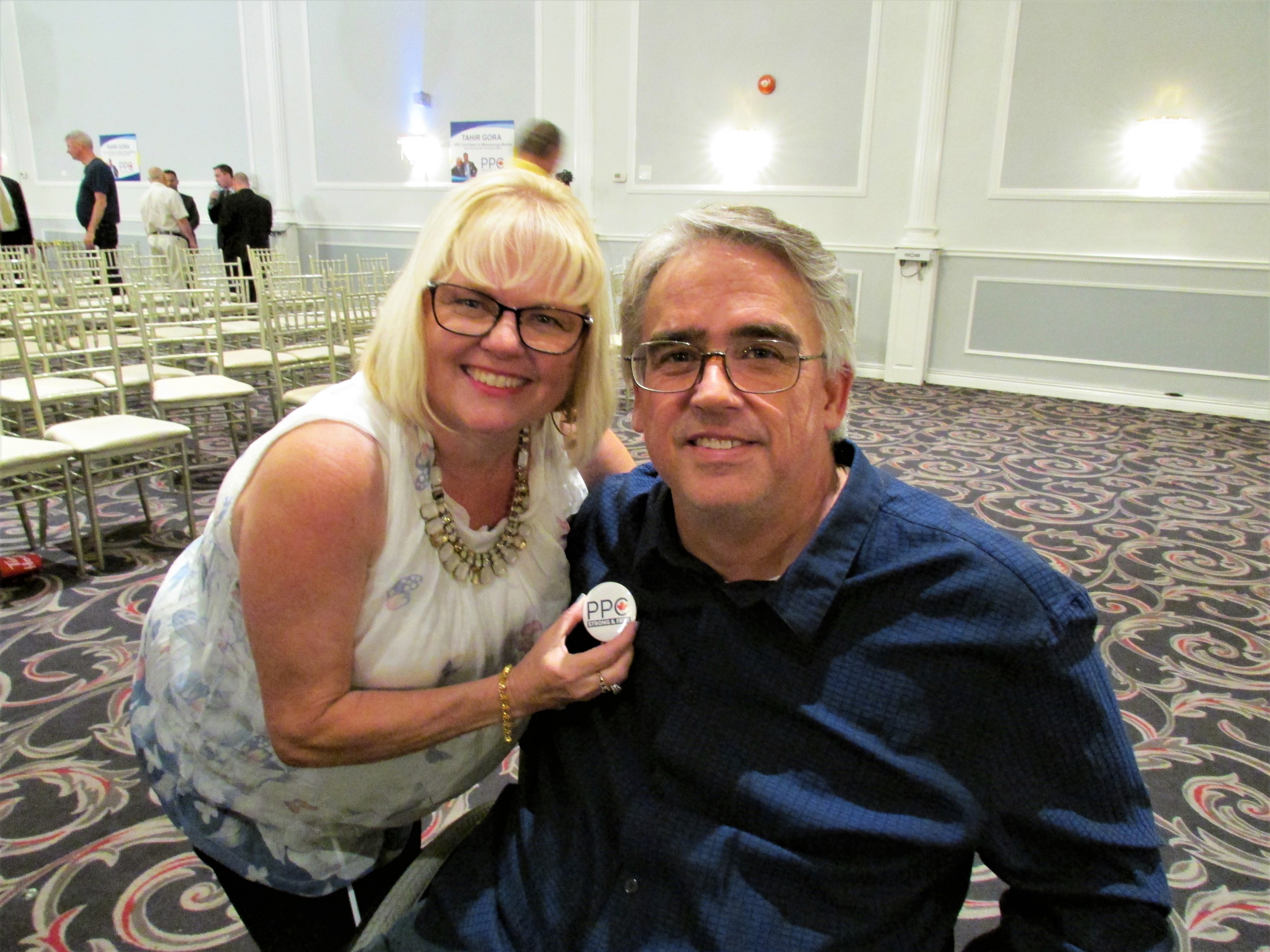 Ray Schrauwen of Milton, whose partner Wendy Martin is the PPC candidate for Oxford County
The Liberals for decades have faced harsh criticism for an immigration policy that to many is nothing more than a vote-buying scheme to create huge blocs of support among large constituencies of newcomers and their children. Meanwhile, according to some critics such as Bissoondath (who has not been as public about his views over the past decade), the Liberals succumb to a political correctness that panders to those immigrants who confuse such concern with actual policy to help them. These growing pockets of immigrants are left isolated by a party that only cares about them every four years and has failed to support its ill-conceived plan with a cohesive economic strategy to support those who come here and languish.
In other countries, most notably France, this type of isolation felt by many who don't consider themselves part of the mainstream, has led to a devastating divide.
Paul Meaney, a retired math teacher in his 70s was in the hall to support his son JD, the PPC candidate in Oakville. He said Trudeau lovers give the prime minister carte blanche to run up a $1 trillion debt (it's actually just under $700 billion) because they like his look, but fail to see that it is really a façade – hiding an immigration policy that is too costly for the country. "When you're in love [like voters are with Trudeau], they are delusional," he said. "They don't see his faults."
Bawa is excited to carry the PPC banner in the Brampton Centre riding, and said it took him three months to understand the heart and mind of Bernier, and his reasons for forming the PPC. "He touched me as a common man," he said.
He thinks immigrants like him had to go through an extensive assessment before they were even allowed to come to Canada. He said India provided him with a great education and all the tools needed to move here, but it still took almost three years before he was accepted. The current state of the immigration system is unsustainable, he said, and what really irks him is the illegal crossings of the border by migrants moving from the U.S. into Quebec. "They are jumping ahead of the line. We [PPC] should have a process."
He also says, "We [PPC) are not anti-immigration – far from it."
Bernier wants to tell it like it is, even if it isn't.
His statement that bigots are not welcome in this party seemed to hang like a veil over the proceedings, since his security team must have missed one of his most ardent and active supporters during the evening, Kevin "Jackal" Johnston.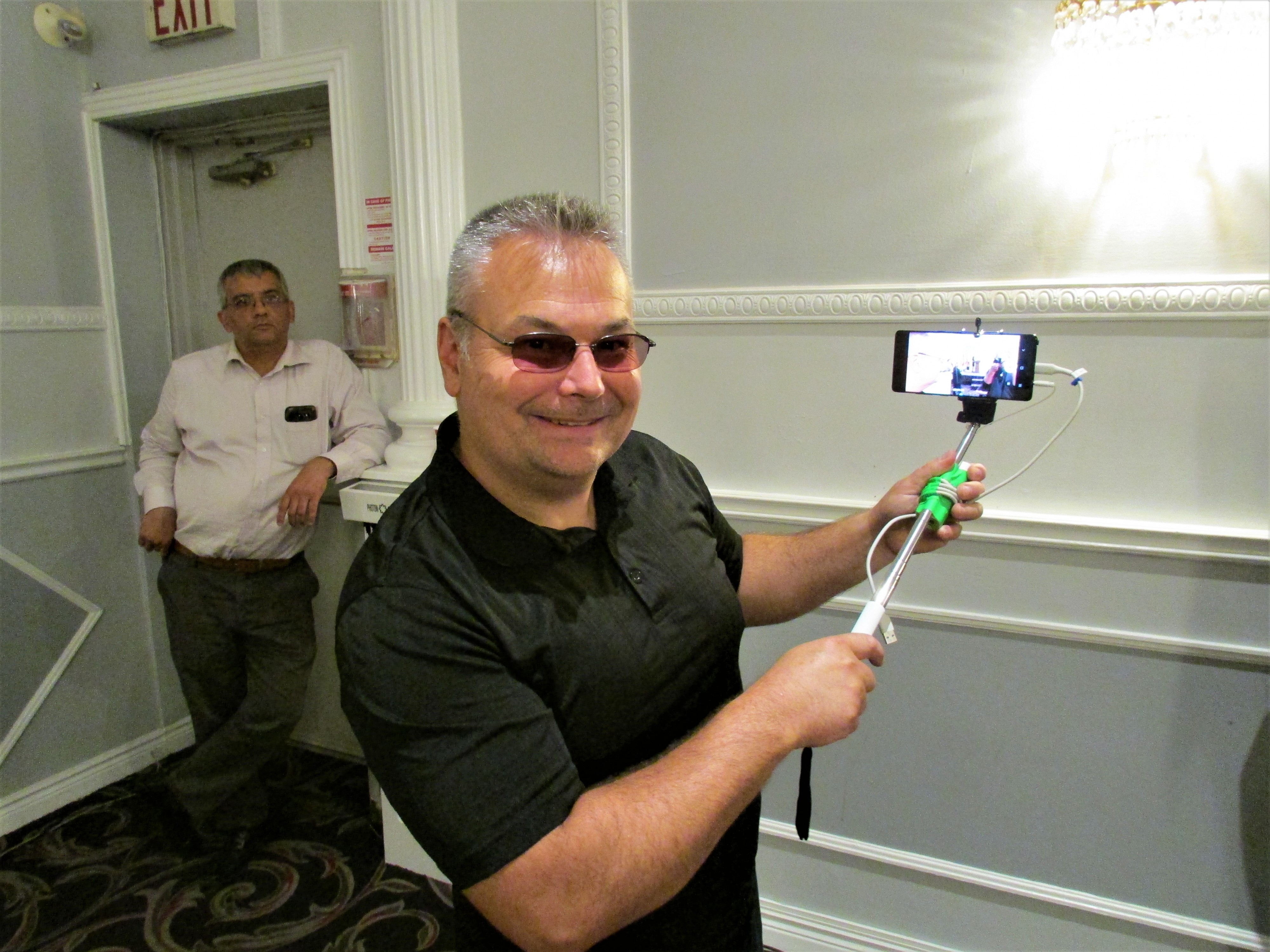 Controversial Mississauga resident Kevin Johnston
He's the anti-Muslim provocateur who, when last reported on in The Pointer, had been ordered to pay $2.5 million to Mohamad Fakih (the popular owner of the Middle Eastern restaurant chain Paramount Fine Foods) for making hateful Islamophobic remarks about him.
The decision by Ontario Superior Court Justice Jane Ferguson called Johnston's comments, a "loathsome example of hate speech at its worst."
Johnston was unrepentant and told The Pointer that Islam was plotting to take over the West, and made the unfounded claim that "Canada will be under sharia law within 15 years". He complained that various politicians were "on the take".
Johnston says he will appeal the $2.5-million decision against him, claiming it sets a precedent that "so long as you are a member of a specific group … you win by default."
Johnston's Muslim-baiting goes back years – Mississauga Mayor Bonnie Crombie called him out publicly at a council meeting for spreading xenophobic literature against Muslims when he fought to prevent the construction of a mosque – and he roamed the hall throughout the evening Wednesday, capturing on video Bernier's entire presentation.
The PPC leader will have to decide where he stands on people like Johnston and those in the yellow-vest movement. Denouncing racism and racists in words, as Bernier has done, falls short unless strong actions back it up. Trump has mastered the art of dog-whistling, when he has to, walking back his words when he has to and flat-out appealing to the darkest racist elements of his base when he wants to, which is quite often.
Bernier's first true test of any xenophobic strain running through his party came in February, when B'nai Brith Canada, after its own investigation, accused a senior political adviser, Martin Masse, of publishing anti-semetic, misogynistic and homophobic views in the past. They both challenged the claims and Masse, a former Quebec-based publisher, remained with the party, despite calls for him to step down.
If his message goes over the guardrails, Canadians who sympathize with much of what Bernier says, unlike many Americans, won't be so easily fooled.
Bawa, a father of two, understands that some "hateful" people are drawn to PPC, and he knows "what they've done," a direct reference to Johnston. But he says his party does not support them. It only encourages straight talk, and straight solutions to a critical issue – like hyper-immigration.
Mansur's 2011 book, Delectable Lie: A Liberal Repudiation of Multiculturalism, said all cultures are NOT created equal. The doctrine of multiculturalism is a lie and not all cultures demand equal respect because they don't embrace freedom or democracy. While this fits nicely into the cozy confines of the PPC party, Scheer's Conservatives rejected it, and him.
It's becoming clearer that the October vote will be volatile (aren't they always). What's still unclear is how the immigration issue will play out. The three traditional parties – Liberals, Conservatives and NDP – seem knitted in the middle and although separated by policy, are being pushed hard from the sides, the alt-right (PPC) and the alt-left (Green).
Bernier sees the traditional parties as the mushy middle.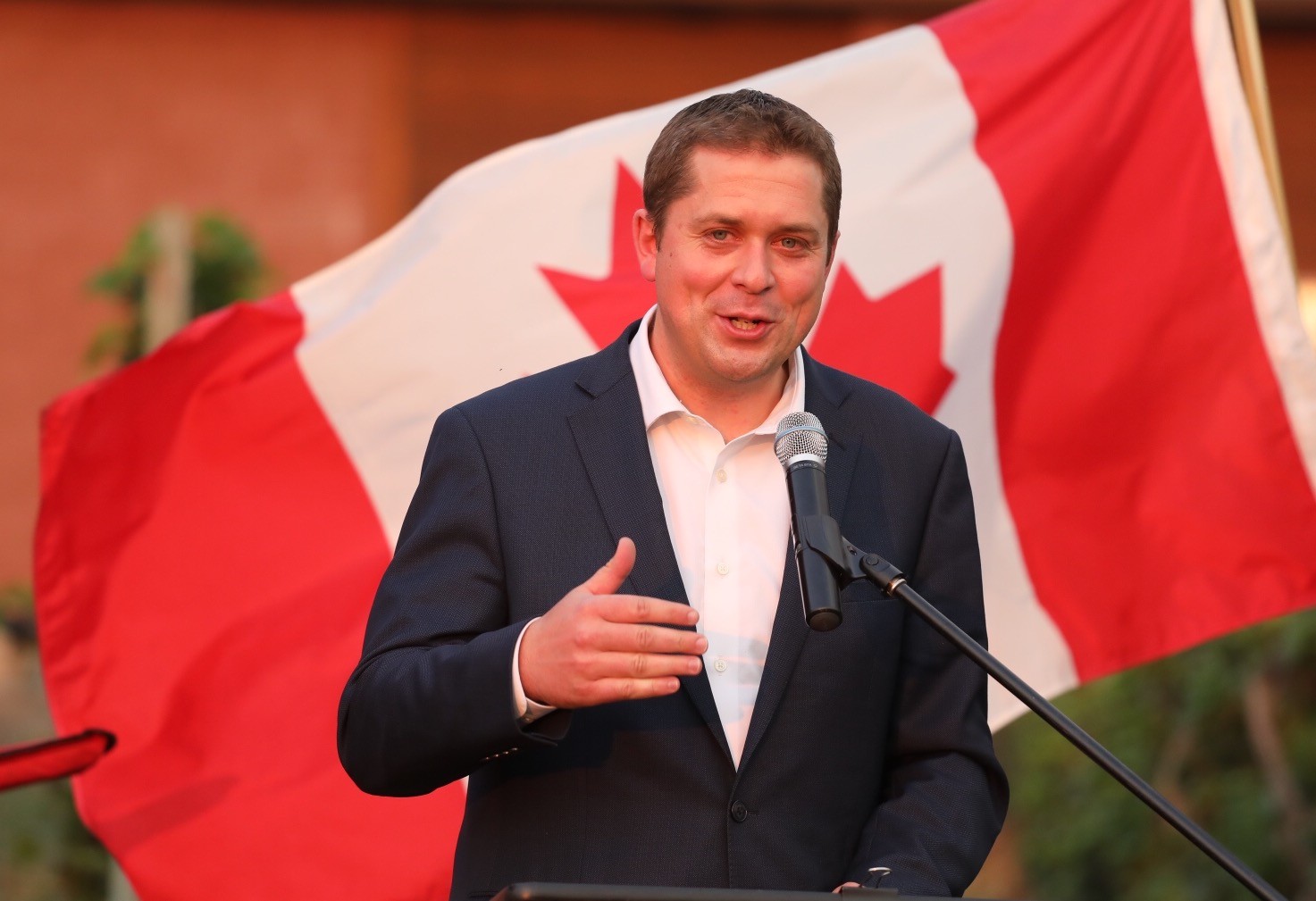 Conservative leader Andrew Scheer
Canadian voters seem to abhor extremes, and the Bernier-led movement has had the unusual effect of making Scheer seem like a voice of moderation. This, it seems, is the goal of the PPC, to out him as the latest spineless, politically correct man lost in the middle. It also aims to eviscerate Pierre Trudeau's legacy and paint his son Justin, as the heir apparent to push forward the extremes of open immigration.
If you think this alt-right doctrine is borderline racist and Bernier is Trump-lite, and all this will all disappear soon, then you weren't in the Eros hall on Wednesday night.
Sure, there were outright bigots drawn to the flame of anti-immigrant rhetoric, who, like Johnston, reacted with wild, lathered-up enthusiasm to Islamist bashing. Others simply wanted to slow down the rush of immigrants here. Bernier says this has raised the anxiety levels and left many Canadians terribly confused and worried about our future – and our national identity.
The room was filled with husbands and wives, the working class, high-paid professionals, and candidates who were drawn by the grassroots appeal of the Bernier doctrine. Many of those were visible minorities.
Perhaps Canada's immigration policy does need a second look, a toning down, or at the very least a more clearly articulated and evidence-based strategy for pairing immigration with economic need (and the proper supports to realize those benefits). Parties that fail to offer a realistic immigration policy, or paint those who want these compromises as racists, only invite political parties like the PPC to formulate and flourish.
A recent Ipsos poll conducted for Global News had the Conservatives and the Liberals running at 37 and 31 percent, respectively, while the alt-right PPC is trailing the alt-left Green Party, with both sitting in the low single digits.
But the question remains: are mainstream parties even capable of responding to a groundswell of angst, anger, and resentment?
Has the PPC latched onto an issue that has real relevance as election day approaches?
The problem with movements that lean on racist dog whistles to make their point, and feed off real or perceived grievances to win over voters, is that they also attract crackpots.
"I don't care a bit about people's race or skin colour," said Bernier, earlier in his speech, and then followed with his line about not welcoming racists and bigots to his party… "The journalists who don't want to recognize this and keep coming back with questions of bigotry can just take a hike," he said.
It might be wise if he told a certain bigot, as described by our courts, who attended his rally and spent most of his time recording it for posterity, to do the same.
If he plays his cards well, the PPC could become a legitimate home for Canadian voters tired of Liberal vote-banking on immigration and the Conservative fear of political correctness.
But if history is any guide, this political movement will rise and fall by the company it keeps.
Submit a correction about this story