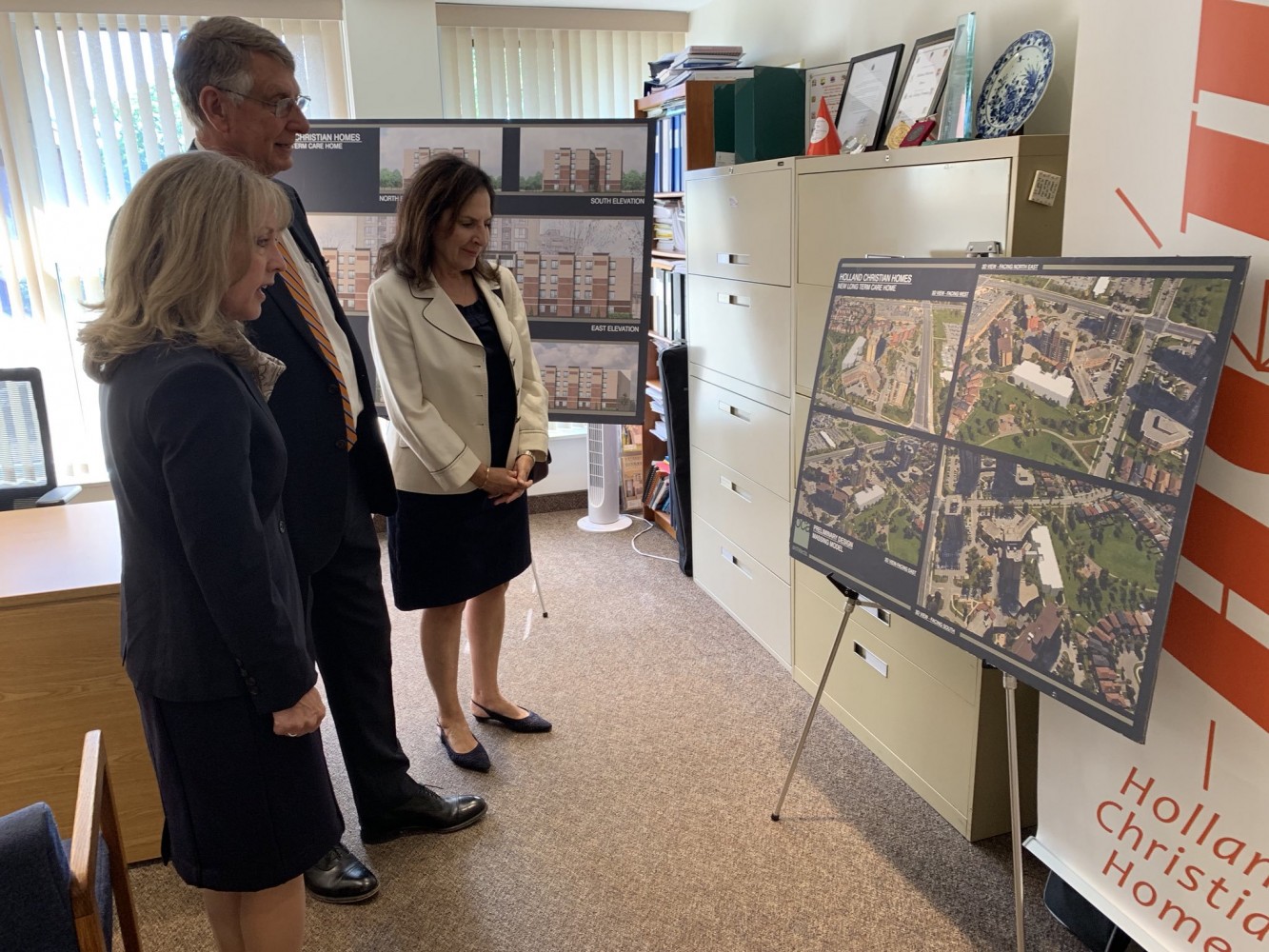 Photos from Government of Ontario/Holland Christian Homes/Region of Peel
Brampton to get 168 new long-term care beds, alongside upgrades at two facilities
The province's efforts to add beds to long-term care facilities could help prevent physical abuse among residents, says the director of one such facility in Brampton, though more is needed to fully solve the problems faced by homes caring for elderly patients with dementia and other health issues.
The Ministry of Health and Long Term Care announced Tuesday that it will add 40 beds to the Faith Manor redevelopment project in addition to upgrading the existing 120-bed facility. The ministry will also upgrade the 160-bed Tullamore Care Community and allocate 128 new beds to the Revera Living project, all of which are located in Brampton.
Additional beds will also arrive in Mississauga. Trillium Health Partners will get 220 additional long-term care beds and Schlegel Villages–Mississauga will get 137 beds, plus upgrades to 55 existing spaces. The ministry will also allocate 320 new long-term care beds to a seniors' care partnership project between Indus Community Services, Trillium Health Partners and the Yee Hong Centre for Geriatric Care.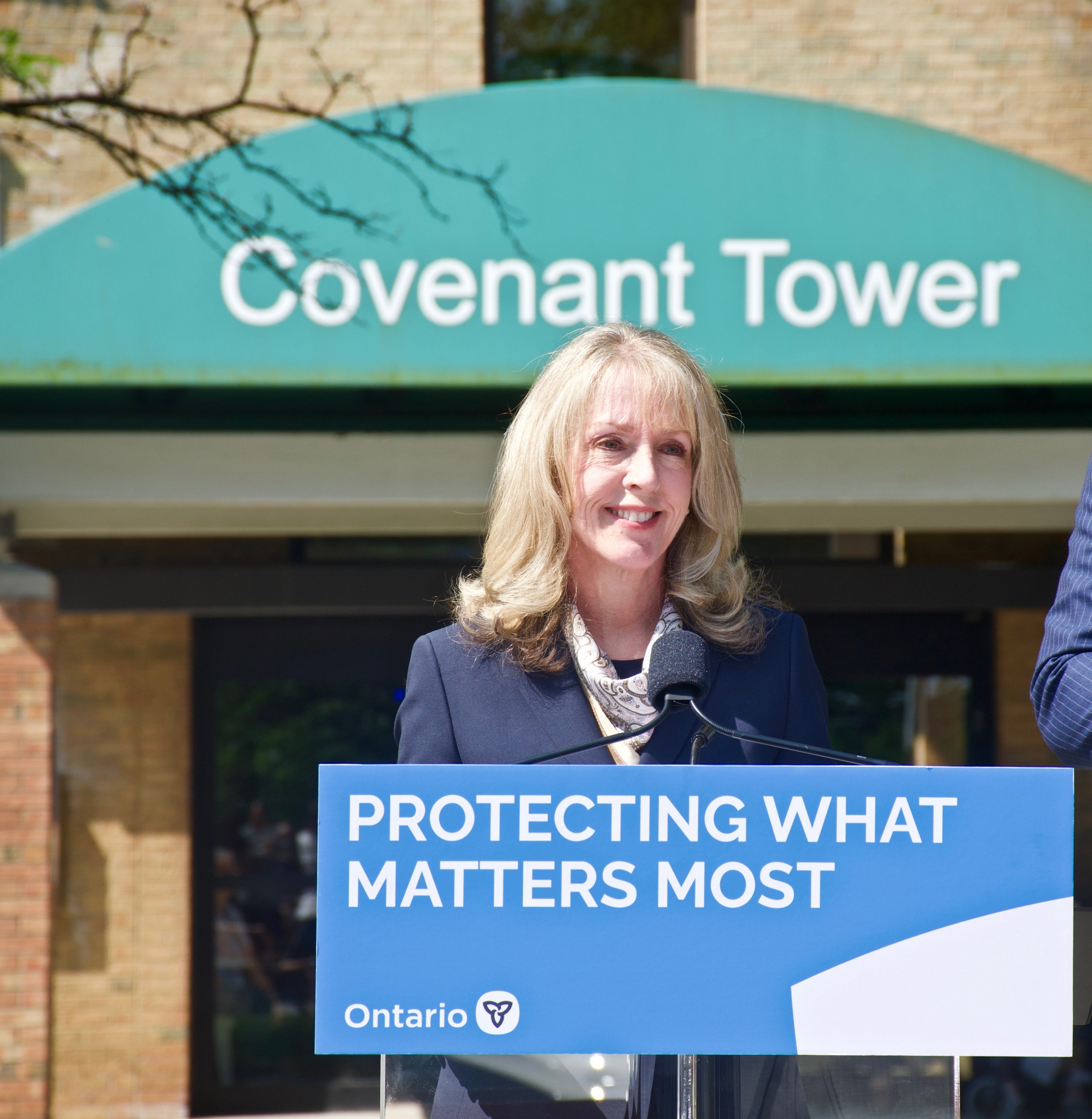 Minister of Long-term Care Merrilee Fullerton was in Brampton and Mississauga this week announcing additional long-term care beds for both communities.
The announcement comes as welcome news in a city that has been awaiting new investments in healthcare for a long time. More long-term care beds are seen as one way to reduce overcrowding in hospitals, where patients in need of placement in such facilities often occupy hospital beds urgently needed for new patients temporarily parked in hallways. The city's lone full-service hospital, Brampton Civic, has become the poster child for such "hallway healthcare" facilities in Ontario.
Kenneth Rawlins, chief executive director of Holland Christian Homes, of which Faith Manor is a part, told The Pointer the upgraded 120 beds will provide specialized care for dementia patients, while the rest will be used to offer an enhanced Adult Day Services program. Rawlins said that it's a rounded program that goes beyond the traditional care facility to meet broader needs among the aging population.
"Our goal is to have the new long-term care home operational by the fall of 2020 and the retrofitted building available within two years after that," Rawlins said. Although the 40 new beds are unlikely to contribute much towards reducing wait times, which currently average 1,106 days, the new design criteria will offer larger living spaces to the senior residents. Rawlins said this will make it easier for the staff to control aggressive behaviour, a side effect of dementia for some patients and one of the biggest challenges facing people who care for them.
"There are new design criteria for long-term care homes that are far superior to what was in place when we built Faith Manor," he said. The upgraded facility will accommodate 120 residents on five floors, whereas currently there are 80 patients crammed together on two floors. The modernized design will also move away from using privacy curtains in rooms containing two beds to giving every resident the privacy of individual spaces separated by walls.
Rawlins said the smaller space and lack of privacy currently makes it more difficult to handle residents who are prone to aggressive behaviour. "Like, it's crazy. Behaviours escalate, people are on top of each other constantly," he said.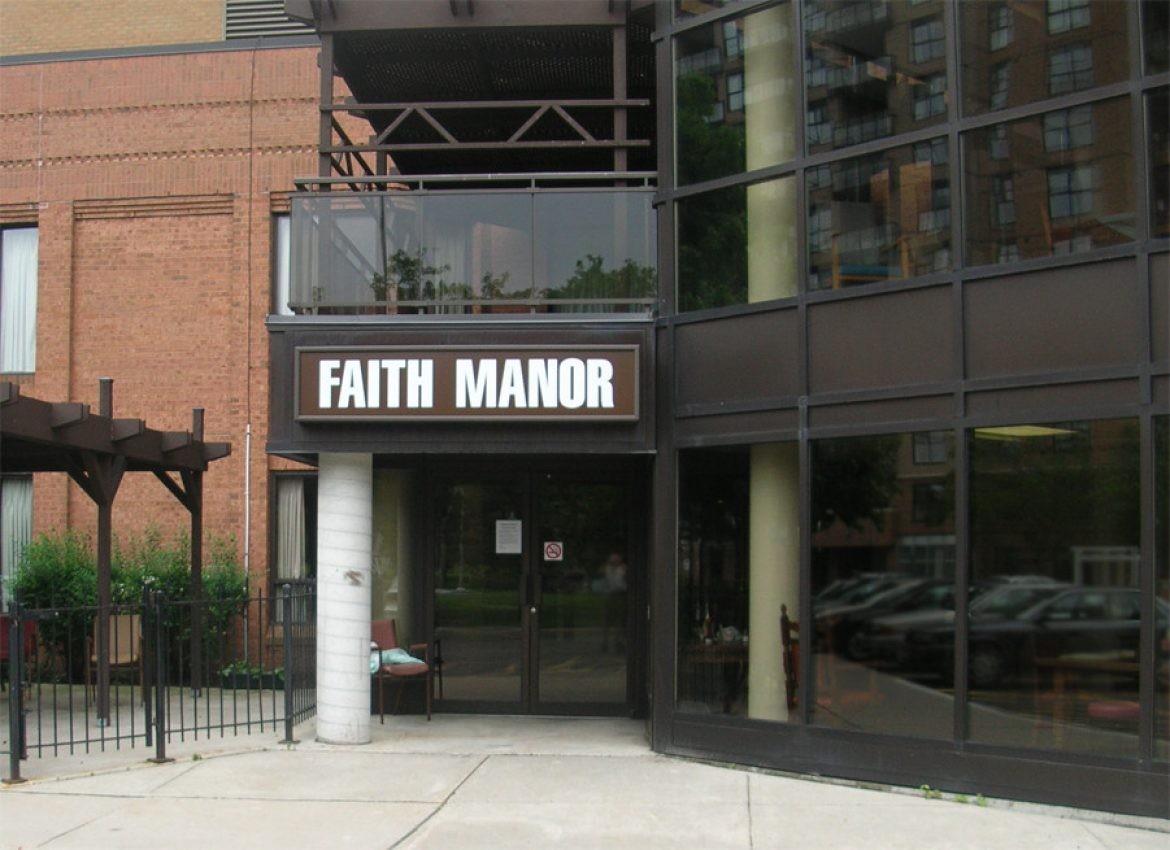 Behaviour issues often keep staff members at Faith Manor from carrying out their daily functions effectively. "One of my biggest concerns is resident-to-resident abuse," he said. The Ontario Long Term Care Association (OLTCA), an advocacy group, reflected Rawlins' predicament in a report published this year, saying that 45 percent of seniors living in such facilities exhibit some kind of aggressive behaviour. The report also said that, although the problem has been reduced in the past decade, it still remains a major concern.
"I need staff watching my residents 24/7 to ensure that doesn't happen," Rawlins said. "I wish I could have more staffing. Based on the funding we get, [it] makes it almost impossible to add more people."
The report says that to accommodate the province's goal of adding 15,000 more long-term care beds across Ontario, 20 percent more staff would be required than currently. In addition, the report noted that most facilities find it difficult to recruit staff. In a survey conducted last year, 80 percent of respondents reported difficulty in filling shifts, while 90 percent experienced challenges recruiting staff. "The situation has reached a tipping point," the report says.
Rawlins said he would also like to see the government investing in training, especially in-depth training for personal support workers — frontline caregivers who help residents with the activities they cannot do independently. "Basically making it a legit career, as opposed to a [place] for people who can't get a job anywhere else and hope to go into nursing one day," he said. "It's hard to find people who are qualified and want to do this kind of work."
Echoing Rawlins, Cathy Granger, Peel's director of long-term care, says staffing is one of the biggest areas the PC government should be focusing on. "Current funding models have not kept up with the resources required to manage increasing rates of dementia in long-term care," Granger said in an email. "More staff and training in person-centred care approaches are required to fully meet the needs of people living with dementia in long-term care."
The OLTCA report found that nearly 50 percent of the work done by personal support workers (PSWs) is unrelated to the care directly received by residents and could be performed by other staff members such as health care aides. Passing such responsibilities to them would ease the PSW shortage, the report says, but there are currently legislative and funding restrictions that discourage this type of flexibility.
On the other hand, the report notes that the shortage of registered nurses (RNs) could be mitigated if the province permits registered practical nurses (RPNs) to perform some of their roles. RPNs have the knowledge and skills required to provide all but the most complex care and could play a much larger role in long-term care, the report says. "There is no shortage of registered practical nurses in the province, and many would be eager for this leadership opportunity," it says.
One reason long-term care facilities have struggled in recent years is that the province has focused on encouraging "aging at home" while setting stricter criteria for admitting senior residents to space-limited facilities. "Increasing access to care in the home is better for clients and helps make our health system more sustainable, including reducing the burden on hospitals and long-term care beds," a spokesperson for the Ministry of Health said in an email. As a result, residents are typically very frail and ill when they enter, which means they need a higher level of care.
Consequently, a higher proportion of residents than used to be the case are suffering from advanced dementia, increasing their dependence on caregivers for daily chores such as dressing or feeding themselves. The report also found that "the prevalence of bladder and bowel incontinence has notably increased," underscoring the fact that dementia is often accompanied by physical deterioration.
Rawlins echoed those findings, saying that since the government hasn't boosted per capita funding, providing residents with the care they need gets harder. "As the budget gets tighter, finding ways to provide the level of care that is required is a challenge, for sure," he says.
Granger would like to see more funding dedicated to expanding the range of services long-term care homes provide. She suggested the planned redevelopment of Peel Manor, which will include a day services program for seniors living in the community, offers a way to think about the future of long-term care homes.
"The goal is to integrate these services to allow for easier system navigation, making it easier for people to access the services they need while living at home," she said. Investment in such models can help delay entry into long-term care and sustain the health system.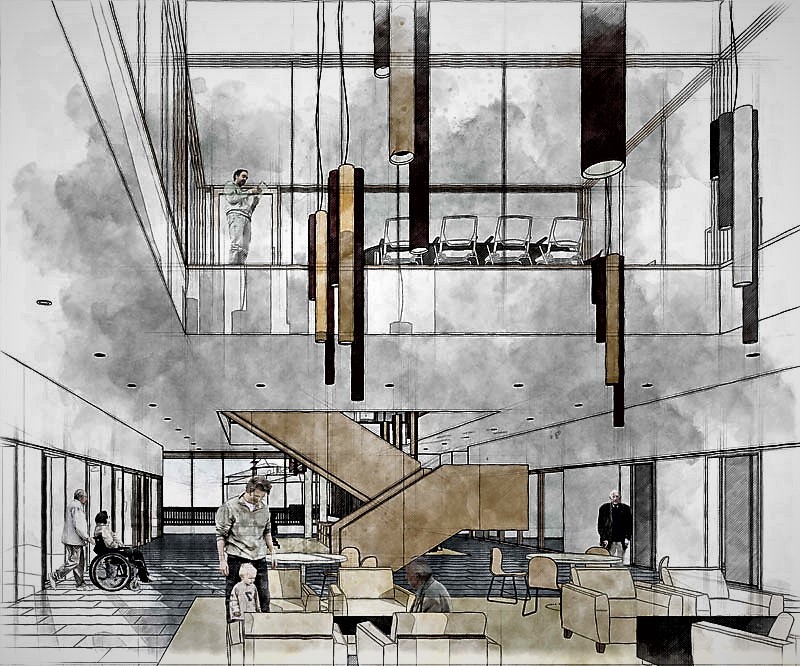 Conceputal art for the redevelopment of Peel Manor
Another school of thought suggests that cities can better design themselves to help people age at home more successfully.
Glenn Miller, a senior researcher at the Canadian Urban Institute, wrote in a 2017 report published by the Institute for Research and Public Policy (IRPP) that the services provided by typical long-term facilities are restricted to a limited number of people and don't meet the needs of many seniors — the kind who remain in their homes in sprawling suburbs and suffer from isolation, loneliness and reduced mobility. For many, a different type of housing would be more suitable, but it's notoriously scarce in places like Brampton.
"People end up in a long-term care facility only when they have no choice," he previously told The Pointer. "They usually look for a condominium, but the problem is that there aren't many." For many, there's also a stigma attached to long-term care centres and retirement homes, especially in a region with a large South Asian community that tends to view institutional settings for seniors negatively.
Living in a single-detached house, in an area where transit is infrequent or nonexistent, usually compels people to drive a car to meet their basic needs. But that becomes more difficult as people age, forcing them to depend on others for grocery shopping and the like.
"When people reach a stage in life when they may be willing to move to an apartment or a condominium, in places like Brampton there is a limited number of opportunities to do that. Without having those physical options, people stay where they are, and that's what leads to isolation," Miller said.
However, Granger believes long-term care homes remain a vital service, especially for seniors suffering from dementia. It's estimated that close to 228,000 Ontarians are living with the disease, and as the population ages that number will rise to 430,000 by 2038, she said. "The needs of individuals living with dementia can be quite complex and require extensive supports."
A report published by the Financial Accountability Office of Ontario (FAO), the province's financial watchdog, stressed the financial benefits of long-term care facilities.
It said the cost of housing a frail patient in alternative care is significantly lower than a hospital bed. A hospital bed in Ontario costs $650 a day, while care in a long-term care home is just $150 a day. The province has said committing an additional $267 million to build 15,000 new long-term care beds will improve front-line care, reduce wait lists for long-term care, and relieve pressure on hospitals.
However, the FAO report points out that the provincial government has yet to describe in detail how such investments will affect waiting times for long-term care. The report also questioned whether the province is spending enough or setting its priorities in ways that are in line with its stated commitment to end "hallway healthcare," the problem of overcrowded hospitals. "It is not clear whether targeting spending to long-term care homes, community programs and health capital program areas, while restricting base hospital operating funding growth to less than one per cent, will allow the Province to achieve its objective to end hallway health care," the report says.
Submit a correction about this story