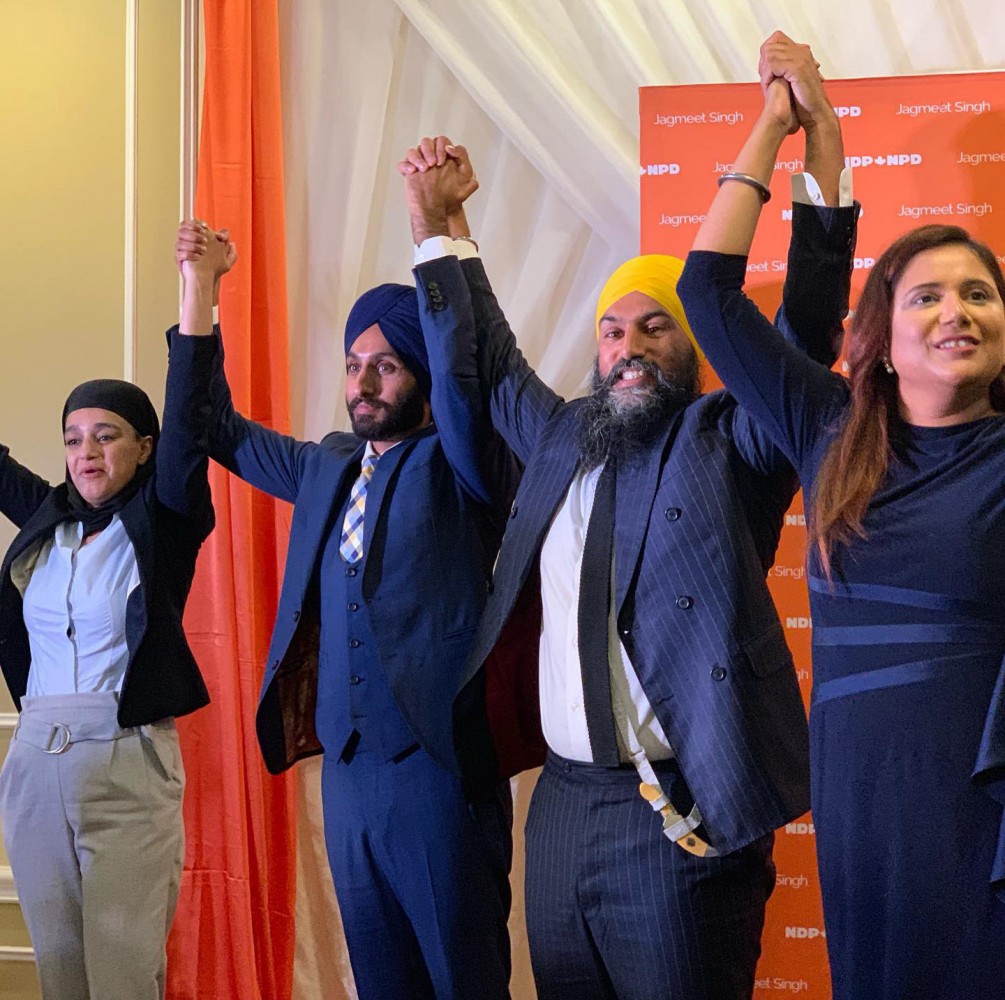 Photos by Mansoor Tanweer/Twitter
Three down, two to go: NDP finally announces federal candidates in Brampton
NDP Leader Jagmeet Singh took to Twitter on Sunday evening to herald three newly chosen candidates as Team Brampton, a trio he thinks could dominate the coming federal election and "turn these communities orange."
The NDP candidates contesting ridings in Brampton have less than 100 days to convince voters of their case, versus the Liberal incumbents, who have the advantage of being in the public eye, and the Conservative candidates, some of whom have had a 10-month headstart.
On Sunday, the NDP held a nomination rally in Brampton in which Singh crowned the three nominees, who ran for the role uncontested — Navjit Kaur in Brampton West, Mandeep Kaur in Brampton South and Saranjit Singh in Brampton East — but left two city ridings still absent of NDP candidates. The slow process of nominating candidates in Brampton has raised questions about the party's commitment to contest the city in this fall's federal election.
Saranjit Singh, a labour and human rights lawyer, told The Pointer he has worked on election campaigns in the past and said he was "very confident heading into the 2019 election. Jagmeet has done a great job connecting with Canadians and I can feel the momentum in Brampton."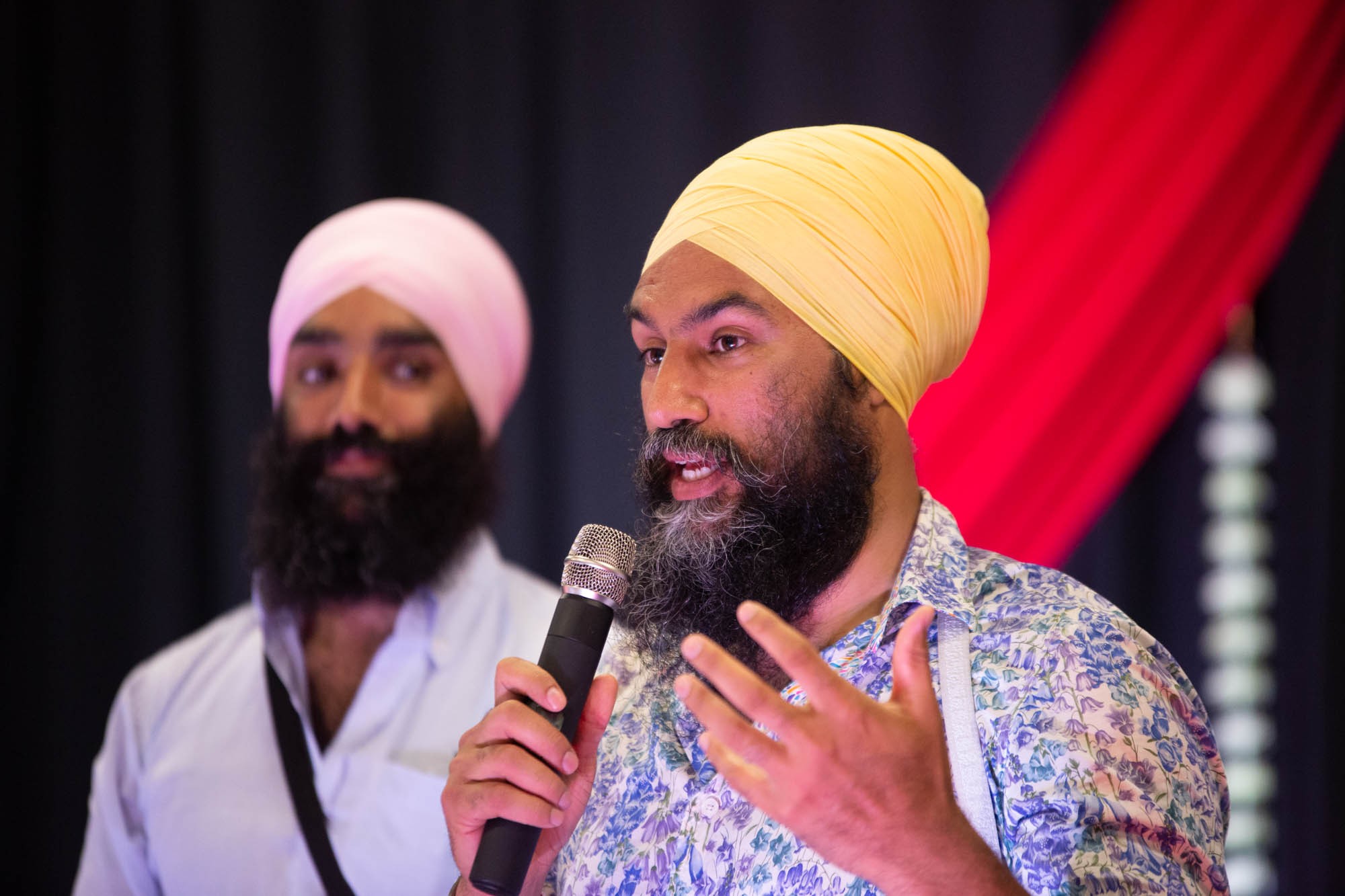 NPD Leader Jagmeet Singh
Like her colleague, Navjit Kaur named improving healthcare as one of her priorities as a candidate. "I'm very proud of the NDP's well-known history as pioneers of modern Medicare," she told The Pointer, decrying the fact that Brampton has only one full-service hospital and saying that a national pharmacare program would be one of her priorities, along with advocating for consumer protection against Canada's high Internet and cellphone costs.
The three candidates will compete against Liberal incumbents Kamal Khera (Brampton West) and Sonia Sindhu (Brampton South), who plan to run again, as well as Conservative candidates Murarilal Thapliyal (running in Brampton West), Ramandeep Brar (Brampton South), and Ramona Singh (Brampton East), some of whom were nominated last year.
Liberal MPs Sonia Sidhu (Brampton South) and Ramesh Sangha (Brampton Centre)
Tamara Small, an associate political science professor at the University of Guelph, believes the delay in announcing a party's candidates doesn't do as much damage as one might think. She told The Pointer that a party generally names candidates early to help in canvassing and raising enough funds to contest the election. However, a party doesn't necessarily require a candidate for fundraising, she said.
"Even though election planning is going on, most Canadians are not thinking about an election, especially in the summer," Small said. However, she said nominating a candidate early assures a donor when asking for funds. It's "helpful when you ask someone to give money to [have] a particular candidate [rather] than asking for funds for someone who will be nominated in the future."
Ryerson University political expert Karim Bardeesy told The Pointer he feels Jagmeet Singh's close ties with Brampton could work to the advantage of the party and the candidates in the city. "Jagmeet Singh has a great connection with local communities like Brampton, so it may not be such a great challenge," he said. Historically, Bardeesy said, the vote in suburban cities like Brampton has tracked closely with national trends, so a party's overall national standing is a bigger indicator of its election chances than how early it chooses its federal candidates.
However, a poll completed on July 5 by Nanos Research suggests things aren't going the NDP's way this time around. The party trails significantly behind, with 18 percent support, while the Liberals and Conservatives are duking it out at 35 and 30 percent respectively.
But NDP campaign co-chair Marie Della Mattia has defended the slow rollout of candidates by suggesting that the effort the party puts into ensuring candidates reflect diversity and equity is what sets it apart. Della Mattia was quoted in the Toronto Star saying that the NDP's nomination process takes longer because of rules mandating that efforts be made to consider a wide range of candidates, including women, racialized people, indigenous people and members of the LGBTQ community. She said the party would prefer to see more than half of its candidates be women, trans or non-binary people.
Small said she wouldn't be surprised if this is why the party delayed its decision. "This is in the NDP constitution. It is expected that most people who want to be a member of the NDP would be very committed to that public policy or that equity goal anyway," Small commented when briefed about Della Mattia's comments.
Navjit Kaur seemed to back that up, telling The Pointer of her own nomination process, "The NDP sets a high standard for candidates and how they conduct themselves. I'm pretty proud that the party is very committed to running a diverse group of competent people who approach challenges in a respectful way."
Normally, a party chooses its candidates after they compete among a number of potential nominees at the nomination meeting. However, that process seems to have been unnecessary in this case since the nominees ran uncontested, according to Kaur and Singh.
Days before the nomination rally, The Pointer attempted to take a closer look at why the NDP still hadn't announced its candidates in Brampton for October's electoral contest.
The Pointer found what seemed an unusual level of disorganization within the party. Not only were party officials unreachable, but the party website's list of local riding associations named as president many people who no longer held that office.
Patti Chmelyk, who appears on the NDP website as the president of NDP's Brampton South riding association, told The Pointer she hasn't been president for one and a half years. She said she still receives many calls despite leaving that position in December 2017. She said she didn't know the name or contact information for the current president of the riding association. She did share contact information for the director of communications and media, Mélanie Richer, but Richer has yet to respond to questions sent by The Pointer.
Gaspard Ndayishimiye, who appears to lead the Brampton West riding association on the NDP website, also no longer holds that office and instead currently handles "provincial responsibilities." He parried requests by The Pointer for contact information of the president who replaced him, saying he'd need to get the okay of the designated person first. Ndayishimiye hasn't responded to calls since then.
Repeated attempts to connect with NDP officials via the party's official email address have gone unanswered.
A staffer at MPP Gurratan Singh's office briefed The Pointer about the three candidates who were to be nominated at the Bovaird Banquet Hall on July 21.
Submit a correction about this story