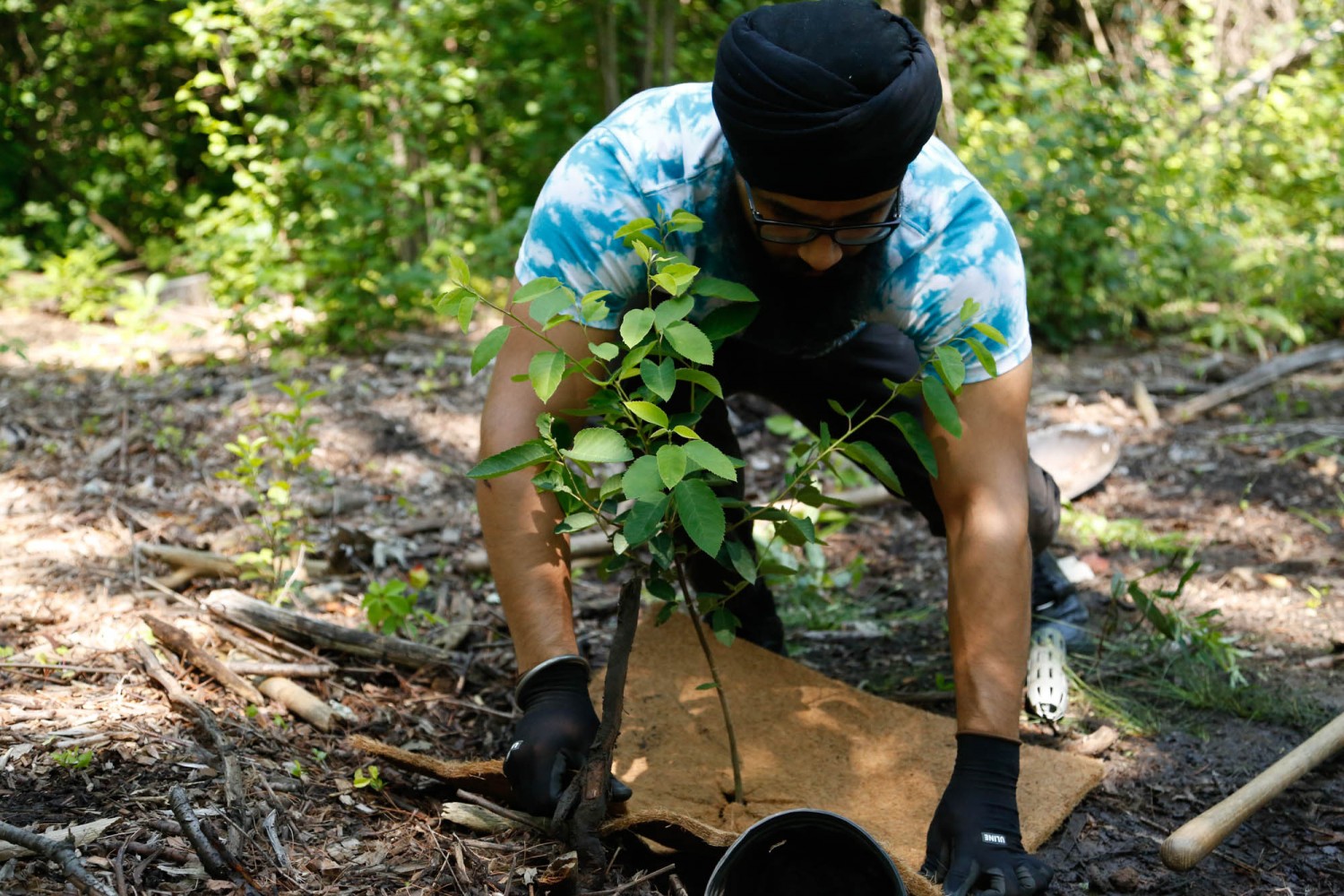 Photos by Mansoor Tanweer
Students plant trees in one of Brampton's most sensitive ecosystems
Kulreet Samra, 15, was in Norton Place Park on Wednesday with her friend, 14-year-old Navroopam Haans. The Pointer found them shooting the breeze in the marshy area of the park, clearing the area between bulrushes with heavily soiled gardening gloves on and planting saplings in the space. They were part of a larger cadre of students who were in the park to plant trees. Dubbed the Conservation Youth Corps, it is a summer volunteer program formed through a partnership between the City of Brampton, Toronto and Region Conservation Authority and the Credit Valley Authority, among others.
"We know that everyone is cutting down trees. We need to help our environment, need to help our world get more trees, because that is what we need to breathe," Samra said while taking a break from her duties to speak to The Pointer.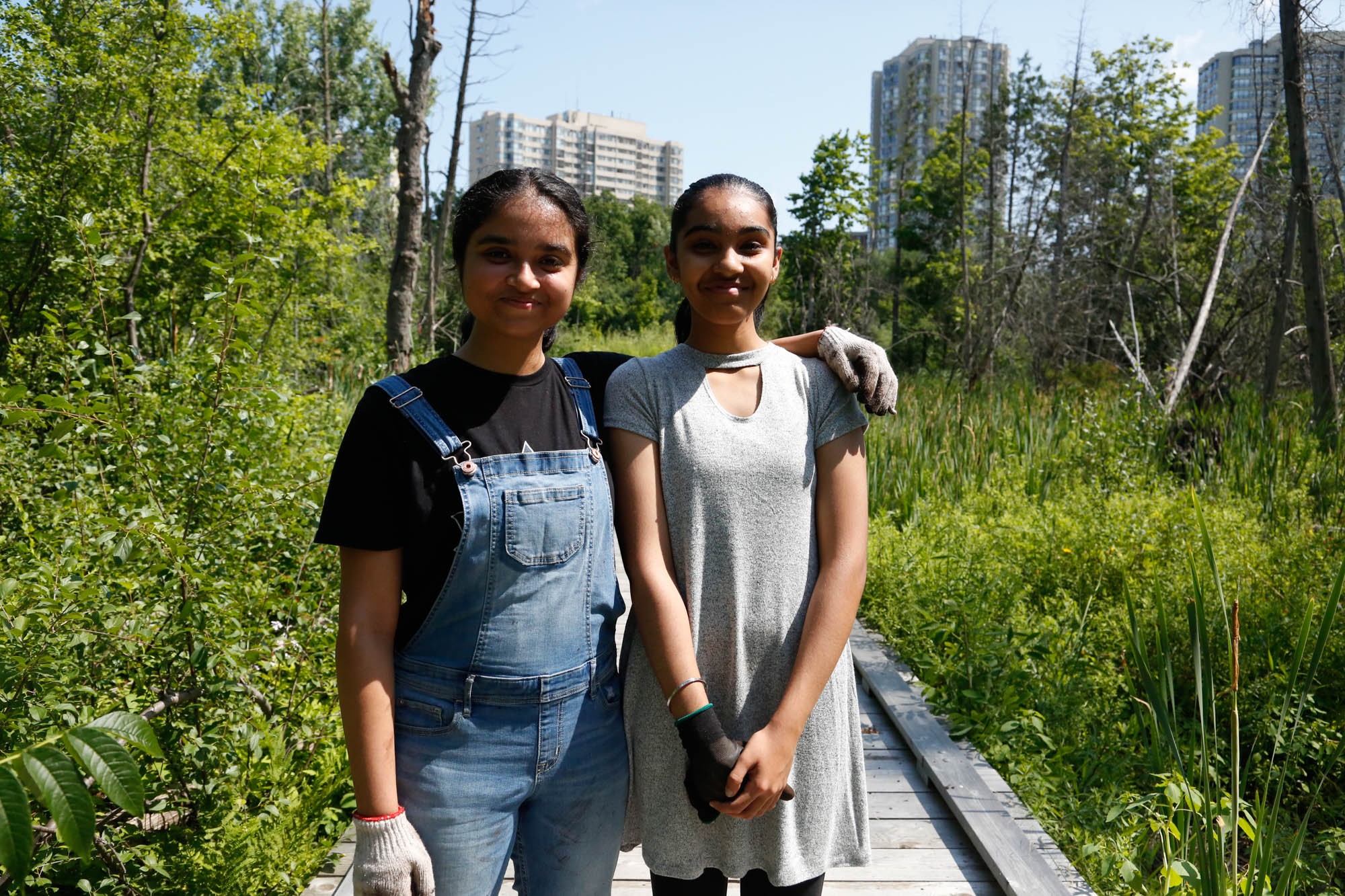 Kulreet Samra (left) and Navroopam Haans
"It is also educating us about the different species that are in our environment and our local neighbourhood. We also get knowledge about how to take care of them, or what we need to do to protect all the things we planted as well," Haans added.
It's easy to miss, but Norton Place Park still bears the scars from the ice storm that hit the area in 2018. Fallen and splintered trees are a common sight on the forest floor. The Conservation Youth Corps asked the city which areas are most in need of new trees, and staff identified Norton Place Park. In addition to the civic benefit, the students accumulate volunteer hours towards their high school graduation requirements and knowledge they will no doubt take into their post-secondary lives.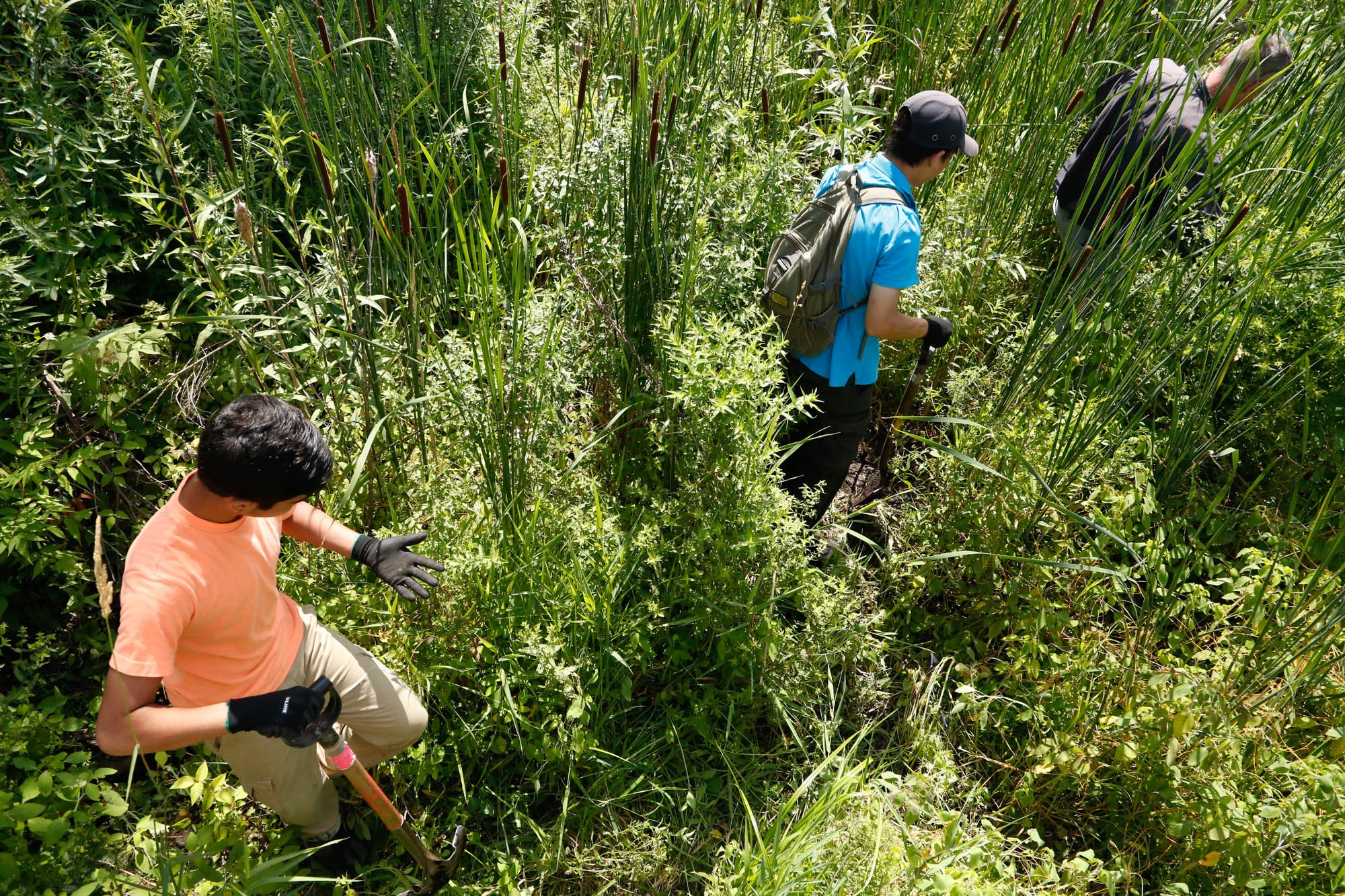 "I want to be an engineer. There are things that I'll take in. Knowledge like, when you're building things, you don't cut down a lot of trees and you don't want to waste the areas," Haans said.
Samra hopes to go into an environmental profession, with ambitions "to be an oceanographer and an environmental lawyer."
Norton Place Park, located between condo buildings just east of Hwy. 410 in Bramalea, is a common stomping ground for locals seeking fresh air and shade from hot summer sun. The park is a jungle with a thick canopy and diverse flora. John Hennessy, a forestry inspector for the city, says the park is a "jewel" in the urban landscape of Brampton, based on a formation created in the last ice age.
"This is a very ecologically sensitive part of Brampton. We've chosen this spot very particularly because it is an esker. An esker is a geological feature that was created as glaciers melted," Hennessey told The Pointer. It's a gravel and soil deposit that's left behind, which some say visually resembles a railway embankment.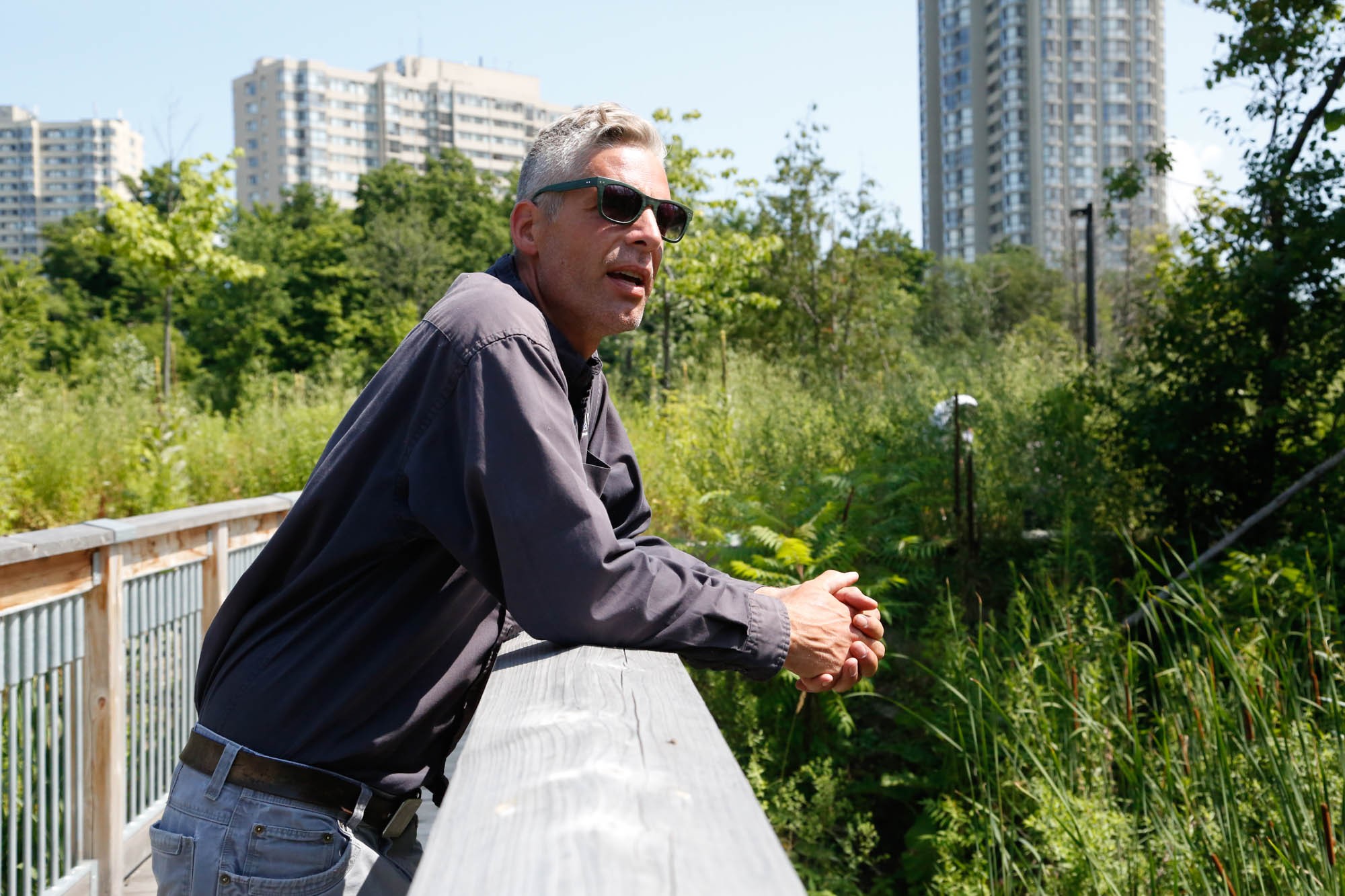 John Hennessy, a forestry inspector for the City of Brampton.
"What would be left [after the glacier disappeared] is dissolved small stones. As the 2 kilometres of ice … that sat over our heads here melted, it deposited these little bits of stone," Hennessy explained.
An esker provides an ideal environment for a high degree of biodiversity. Norton Place Park's comparatively drier areas are ideal, according to Hennessy, for native trees such as musclewood and white pine. More moist areas, such as the park's marshy wetland area, are home to crack willow and cedar trees. The Conservation Youth Corps brought with them various kinds of tree saplings, and the supervising staff instructed the teens on where to plant them to help them thrive.
"If you go to a regular park, you won't have access to that geography. You'll have a really flat- panned area. So an esker provides you with a whole multiplicity of different planting sites to support a whole different variety of different plant material," Hennessy said.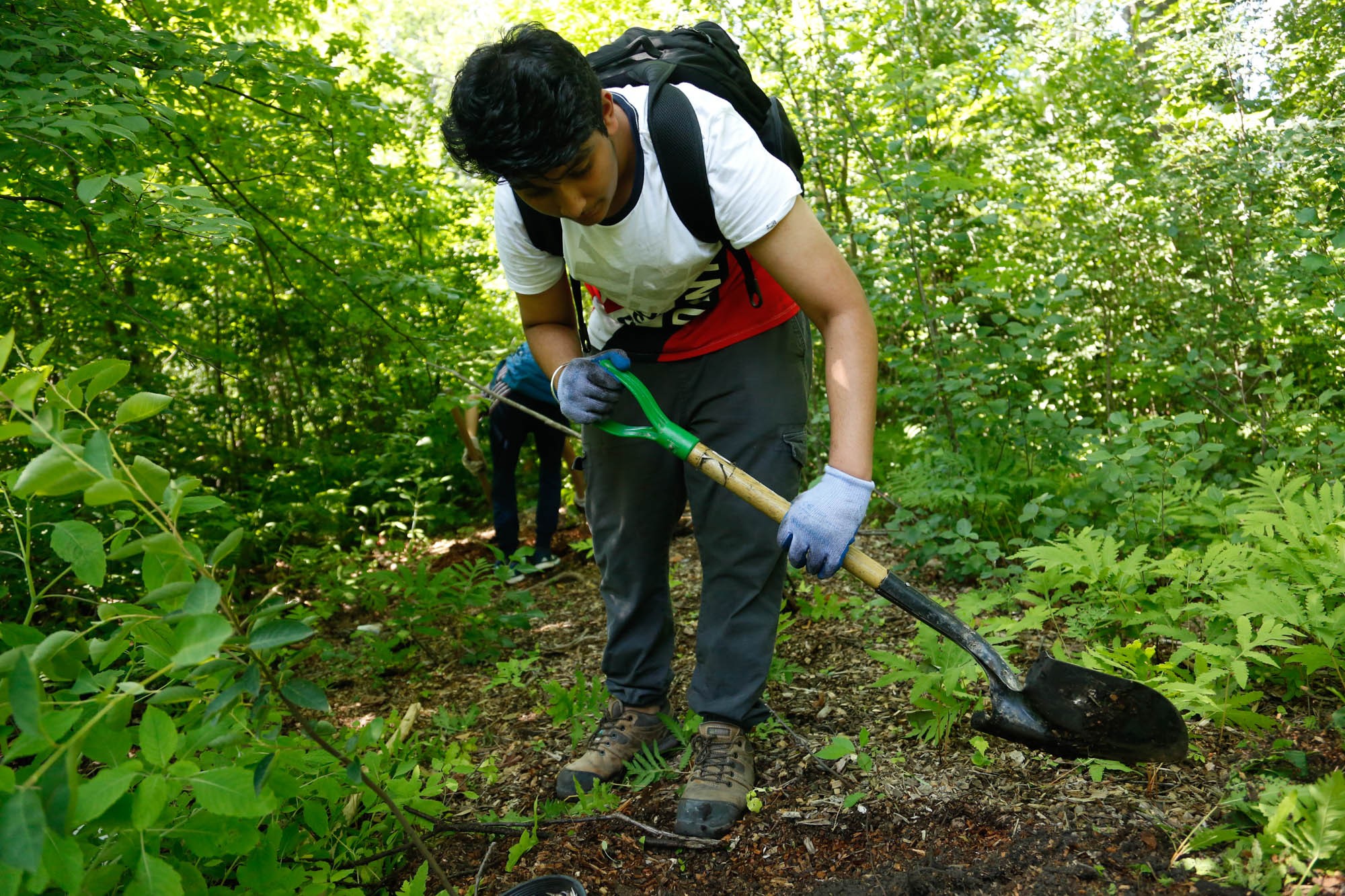 The park forms part of the Etobicoke Creek watershed, on the western edge of the TRCA's area of concern. A watershed is a geographical area drained by a particular set of creeks and rivers into a larger body of water like Lake Ontario. The TRCA is concerned with 10 watersheds stretching from the eastern half of Peel Region — where the Etobicoke Creek Watershed is located — all the way to eastern Ajax.
The conservation authority's 2018 report card, however, paints a dire picture of the state of the watershed. The Etobicoke Creek area received an overall D for water quality, which TRCA says has not improved since its 2013 report card. Chlorides, various types of salts, are a particular concern in the analysis, though the report takes care to say that data on the chemical was not included in the poor grade.
Over 75 percent of all water samples collected within the watershed had chloride levels higher than the recommended limits. In small doses, chlorides are harmless and even necessary to humans; however, overexposure can cause hypertension. Plant life can be damaged, as roots are able to absorb chlorides even to toxic levels that damage the plant.
The Etobicoke Creek Watershed is an urban sea of grey, with green spaces not being the norm. Only 14 percent of the land area consists of natural green cover, and 19 percent is rural. The vast majority, about 67 percent, is classified as urban. By comparison, five other watersheds in the TRCA's purview have higher shares of natural cover than the Etobicoke Creek.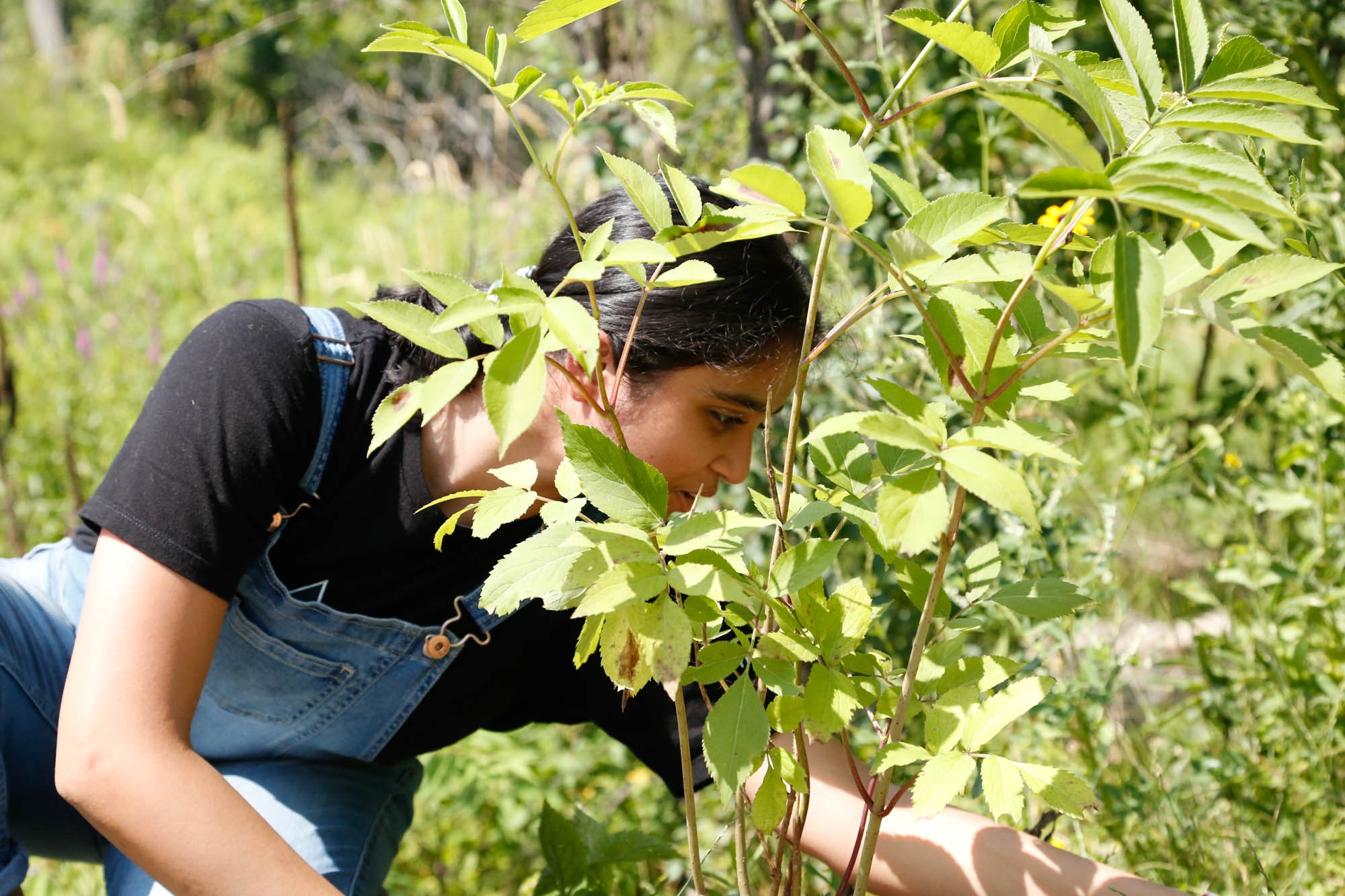 Maintaining an abundance of green areas is an effective tool for flood mitigation, as more porous forest soil allows rainwater to absorb into the ground and drain slowly into creeks and rivers rather than running instantly off land that's been paved over and built upon. Tree roots serve the same function, absorbing ground water and contributing to the health of a forest and the communities around it. Trees draw in and store carbon dioxide, a major contributor to climate change, while cooling surface temperatures.
It is for these reasons and more that the Brampton 2040 Vision sets a goal of one million trees planted across the city. The vision calls for creating a more robust tree canopy across the city, which it hopes will allow Brampton to become a designated Eco-Park thanks to an extensive network of green spaces. Though the contribution made by a group of young people Wednesday was small, it was a step towards Brampton's greener ambitions.
Email: [email protected]
Twitter: @mansoortanweer
Submit a correction about this story