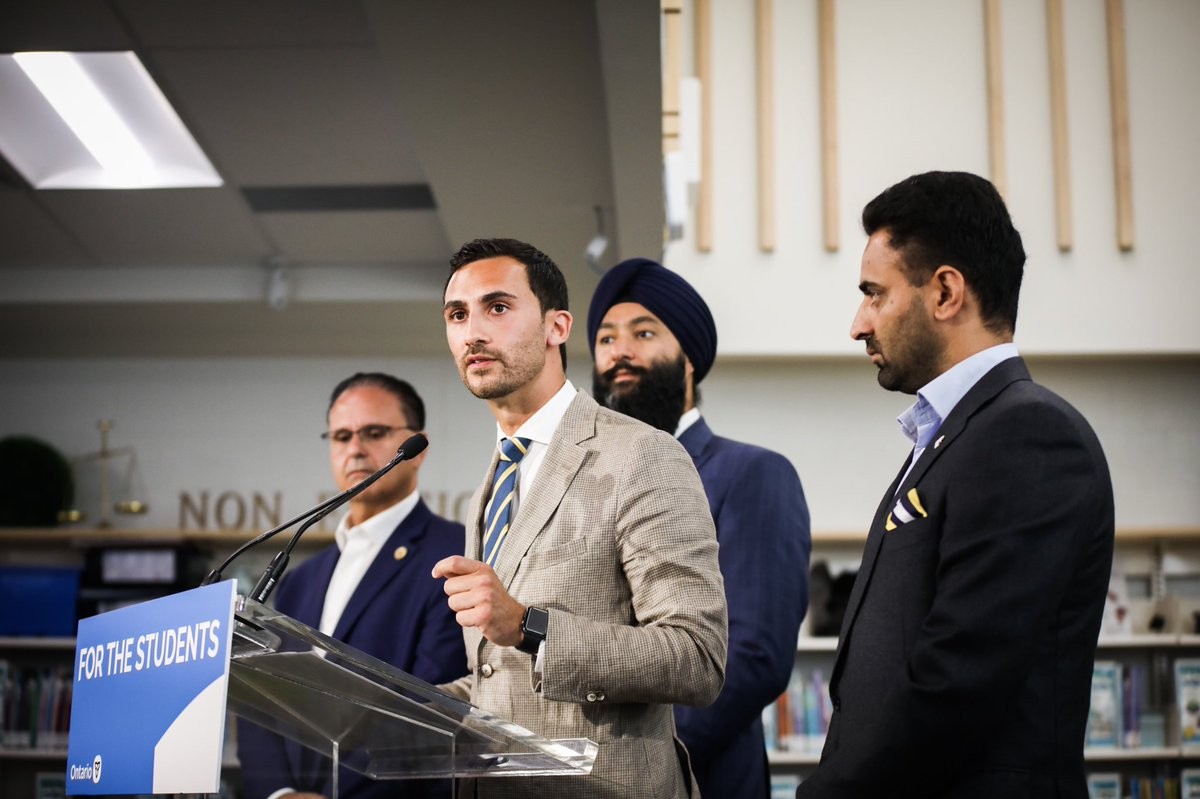 Photos by Mansoor Tanweer/Government of Ontario/Graphics by Backpack Studios
Province releases nearly $2 billion to build and renovate schools — but will there be enough for Peel?
The Ministry of Education's Capital Priorities program, hailed as a plan that will improve the physical state of schools across Ontario, could at best provide less than one-fifth of the money Peel's school boards need to expand and build new schools to meet the needs of a rapidly growing population, particularly in Brampton.
Education Minister Stephen Lecce announced Monday that the program will shortly dole out $500 million for school construction projects that meet the eligibility criteria and an additional $1.4 billion for renovating older buildings, for projects to be completed by the 2023-24 school year. A total of $13 billion is to be made available for construction and renovation over the next 10 years, according to a ministry news release. Lecce said the average age of schools in Ontario is 40 years, meaning many schools are in dire need of repairs and upgrades.
What remains unclear is how much of the immediately released funding could be applied to capital projects in Peel Region. Since there are 72 school boards in Ontario, a simple calculation suggests that the combined share of the Peel District School Board (PDSB) and Dufferin Peel Catholic District School Board (DPCDSB) could be under $26 million, with only a portion of that available to projects in Brampton. The Catholic board's budget for capital spending in the upcoming school year is $75 million alone, while the PDSB has at least $76 million earmarked for capital projects.
According to the Ministry of Education's student funding projection for the upcoming school year, Peel's two public boards should get about $224 million of the $1.9 billion being set aside for capital costs, if the formula is based on per-student funding for boards across Ontario. PDSB is projected to have 156,893 students for the coming year and the region's Catholic board is expected to have 80,219 students. Overall, 2,013,000 students are projected to be enrolled in all 72 public school boards. The per-student calculation for capital funding does not consider factors such as the needs of individual boards based on average school age, the repair backlog and the demand for new schools based on population growth in each jurisdiction.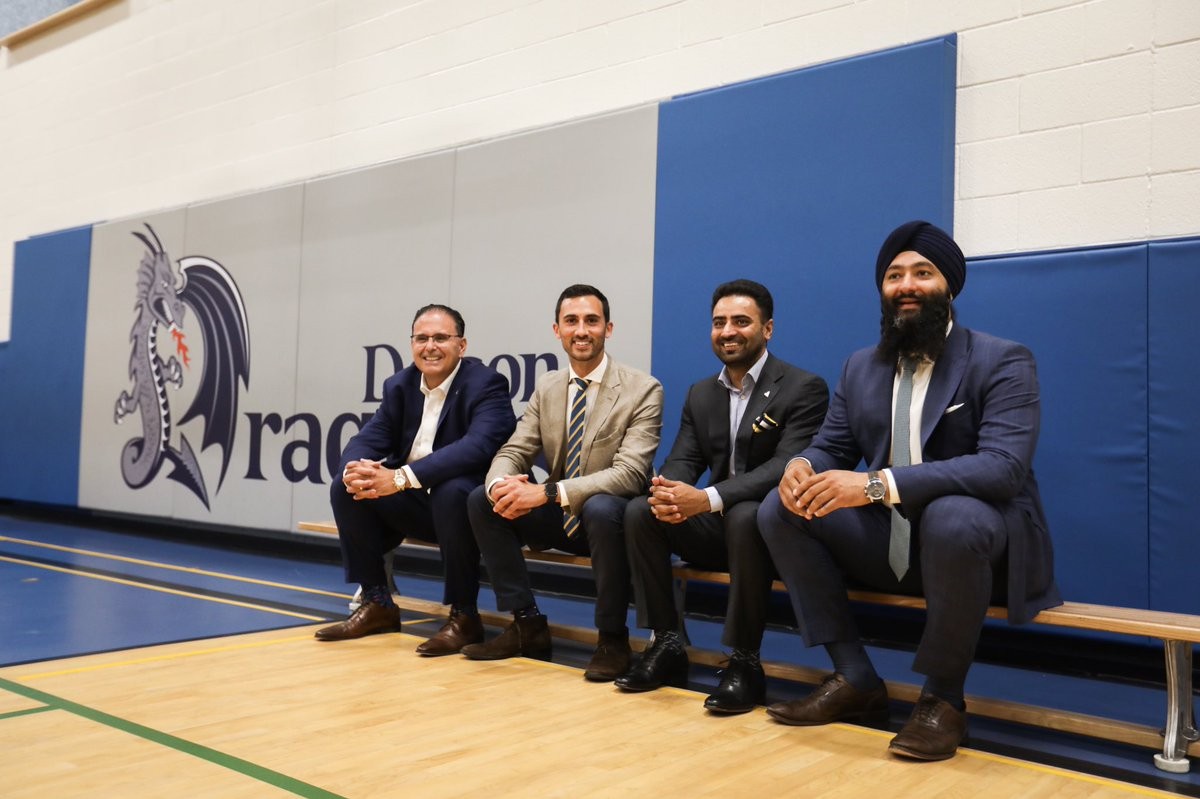 From left MPP Rudy Cuzzetto (Mississauga-Lakeshore), Education Minister Stephen Lecce, MPP Amarjot Sandhu (Brampton West) and MPP Prabmeet Sarkaria (Brampton South) during yesterday's announcement at Dolson Public Elementary School in Brampton
However, Stan Cameron, chair of the PDSB, said he is hopeful the public board will win some of that funding, given the region's rapid growth in student population and the fact that newcomers often are forced to attend an out-of-neighbourhood school because there is no room to accommodate them closer to home.
"We have no room to let students in. That's not right for the people who move into the area," he said. "This is their home school, their local school, their boundary school, but we have to move them somewhere else. So we need more money for additional schools as enrolment increases."
He said the board faces a 0.2 percent increase in enrolment in 2019-2020, and the funding it has received is not enough to house the surge of students. PDSB, though it received a slight increase in basic funding, is dealing with a shortfall of $27.9 million this year in relation to the growing needs.
"Where do we put these increasing students without this kind of money?" Cameron wonders.
The board's current predicament provides evidence of its need for a good-sized share of the capital fund, he said. "One of the criteria is to have enrolment pressure. We can prove there are 300 students in a holding school, which is not their full-time school, and are waiting for the new school, for which we have no funding yet."
The announcement didn't mention the fact that the PDSB already has four new schools in the pipeline, anticipated to be built by 2022, which have been awaiting approval for provincial capital funding since last year. A capital funding program existed for years under the Liberals but was suspended for more than a year after the election that put Doug Ford in the premier's seat. It's not clear why it took so long to return to accepting funding applications.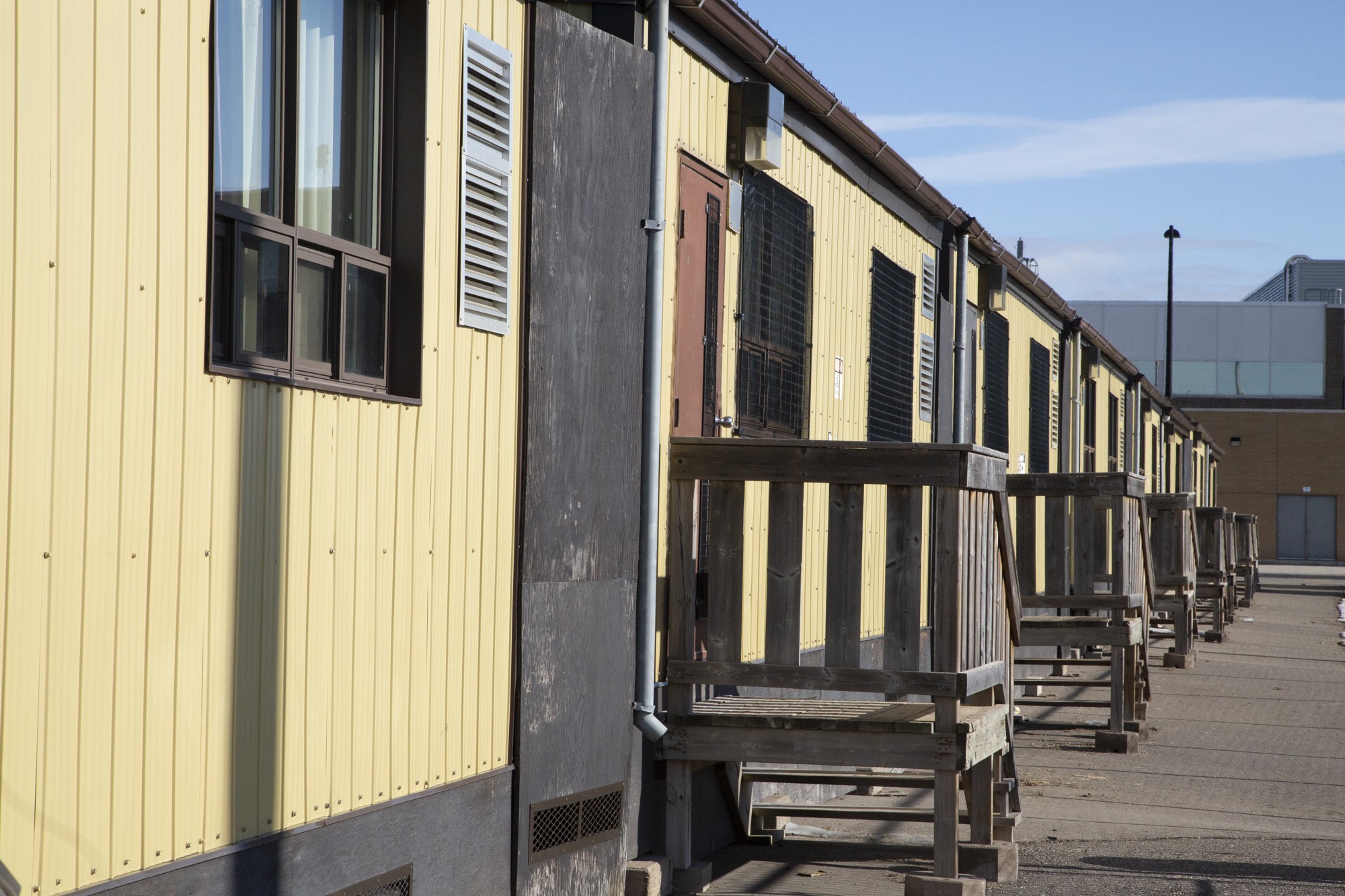 Enrolment pressures at schools across Peel see many students learning in portable classrooms
Marit Stiles, the NDP education critic, said the commitment to spend $13 billion over a decade is $3 billion less than the Liberals had promised over that same time period.
"Too many schools have lead in the children's drinking fountains, leaky roofs and 40-degree classrooms on hot days," she said in her statement. "Kathleen Wynne let us down by ignoring the the repairs that students, teachers and education workers desperately needed. But Doug Ford's plan … is a $3 billion cut to the school building and repair fund over the next 10 years. Doug Ford is taking even more away from Ontario's students."
PDSB's 2019-2020 annual planning report says Brampton will need at least 10 new schools within the next decade to accommodate the expected surge in enrolment.
The formula used to estimate enrolment growth uses current data on elementary and secondary student populations to extrapolate into the future. Although the planning report touts its accuracy, it's not clear whether it takes into account the presence of an unknown number of unregistered secondary suites, which can skew estimates of how many children are living in a particular neighbourhood.
It's been estimated that Brampton has as many as 30,000 to 50,000 such suites, which could significantly elevate actual enrolments and even increase the number of schools required.
"Effective today, school boards will be able to apply to the ministry for capital funding for new schools, including child care spaces as well as funding for major additions and renovations to existing schools," Lecce said. Boards will be able to apply for ministry funding for up to 10 capital projects "that help address student accommodation needs."
Lecce also promised to provide funding for new child care spaces in conjunction with these school projects. However, his announcement seems at odds with a provincial move to cut spending on child care in general. Under Doug Ford's tenure, child care services in Peel alone are suffering a funding shortfall of $14.4 million.
A report prepared recently by Peel's commissioner of human services, Janice Sheehy, highlighted challenges to the child care program, including a decree by the PC government that the region can spend no more than 5 percent of its child care budget on administration next year, down from 10 percent. That means reducing the administration budget by about $4 million.
Peel will also have to bear 20 percent of the operating costs of its Expansion Plan — funding the province previously covered — along with 50 percent of all administration expenses. The Expansion Plan provides special needs resources and fee subsidies to eligible families. The province has also mandated that the region will have to pay its entire share before being able to access the provincial funding for the remainder.
Along with the shortfall, the report also says the Fee Stabilization Support Program, which provided employment supports to meet the new minimum wage requirement for child care staff without increasing fees paid by parents, has been cancelled by the province. There is no additional provincial funding to fill the gap in wages, and regional staff did not recommend that Peel fill the gap out of its own budget. That will inevitably mean higher childcare fees for young families.
One of the main criticisms levelled against the education ministry is its reluctance to address certain operational needs. PDSB has cut a number of teaching positions due to the funding shortfall.
The board has had to implement a 10 percent reduction on discretionary spending outside the classroom, according to its financial statement. "In addition, 121 central educator positions have been eliminated due to non-classroom funding changes, 51 classroom educator positions due to the elimination of local priorities funding, and 36 Early Childhood Educator (ECE) positions due the new ECE allocation model."
Another ministry decision that has enraged both teachers and many parents and students is a planned increase in class sizes. Average class size in Grades 4 to 8 is slated to rise to 24.5 from 23.5 and to 28 from 22 in high schools. Sheehy has warned of many implications to this move, including the fact that larger sizes make it harder to teachers to give personalized attention to students, resulting in frustration and the potential for more classroom violence among students whose needs aren't being met.
Gail Bannister-Clarke, president of the Peel Elementary Teachers' Local, recently told The Pointer that bigger class sizes will make it more difficult to give extra attention to students who speak English as a second language or have special needs, crippling the learning process. The larger classes, and a new requirement that high school students take some courses online, will mean phasing out at least 3,500 teaching positions over the next four years, according to the government's own estimates.
Earlier this year, 193 high school teachers and 137 elementary teachers in the PDSB were notified that they were "surplus to board." Although the elementary teachers and 119 of the secondary school teachers have since been recalled, the remaining 74 will be offered only supply and long-term occasional positions, despite the government's promise that no teachers would lose their jobs and its creation of a $1.6-billion "attrition fund" to help boards avoid layoffs. More reductions in staff will come in future years.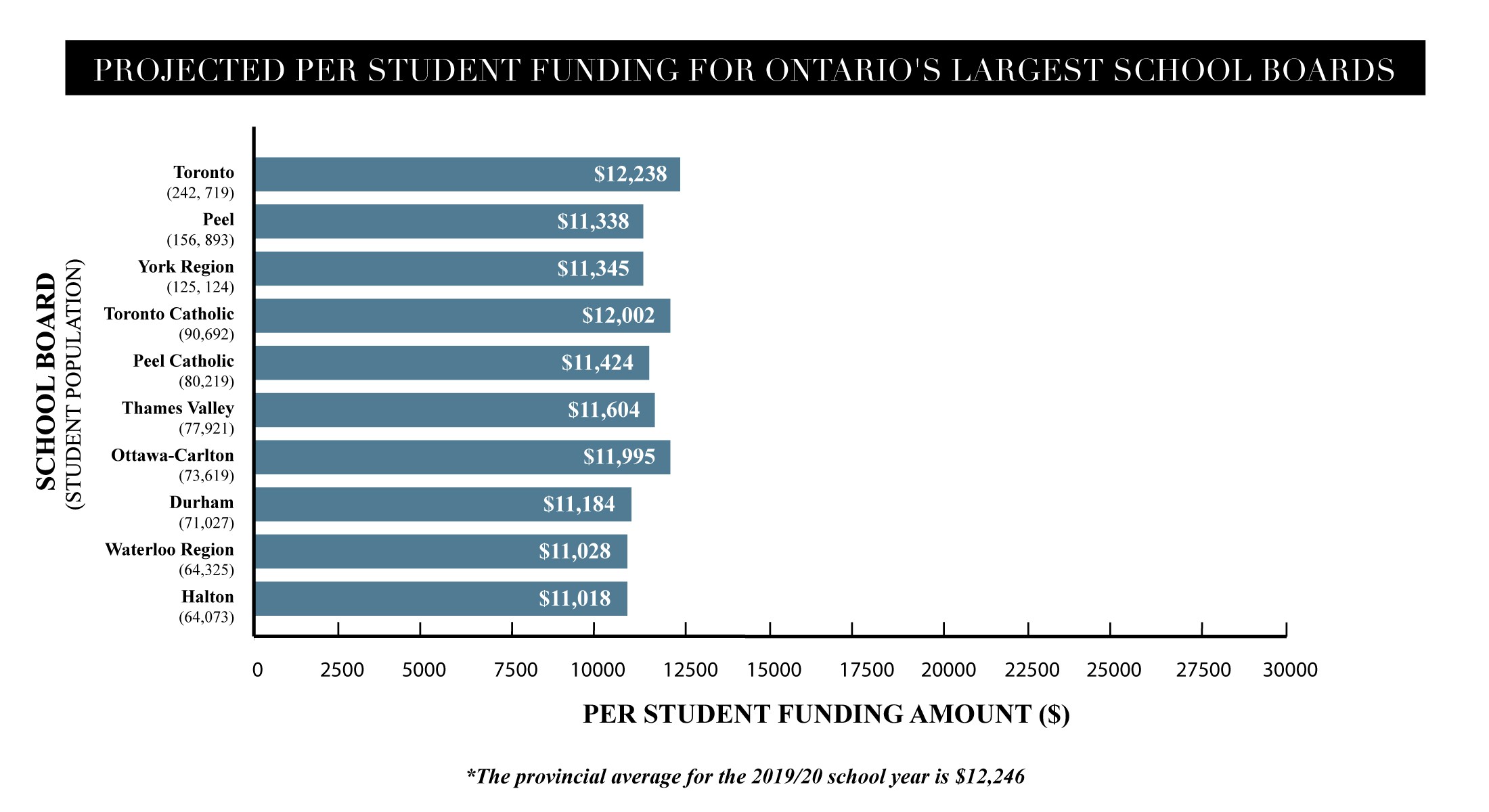 These figures represent overall funding for both operating and capital costs
High school students have found their course options restricted as smaller-enrollment classes, many offering specialized learning in areas such as art and vocational work, were eliminated to help schools conform to the increased average class size.
Meanwhile, the cuts will affect some crucial supports beyond teaching staff, such as guidance counsellors, technical support staff and school psychologists.
Submit a correction about this story