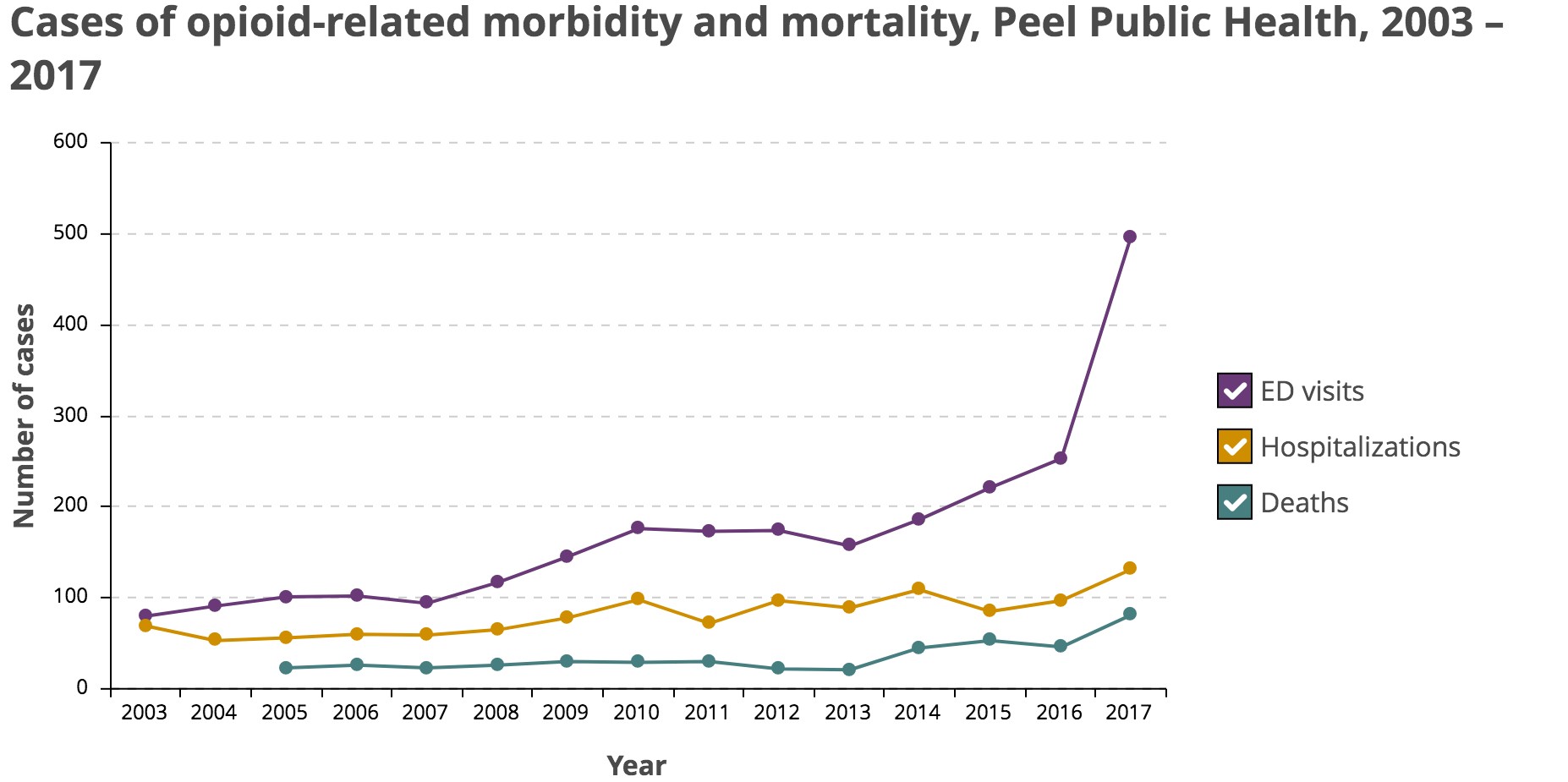 Photos by Mansoor Tanweer/Graphics from Public Health Ontario
Axing of addictions program comes when Peel may need it most
Ontario is scrapping a program widely praised for its ability to help people with addiction issues find work — a decision that could have significant impacts in Peel Region, which has recently experienced an astronomical rise in opioid-related emergencies.
The program, which has operated through Ontario Works since 2005, helps people with concurrent disorders — mental health and addiction issues — overcome barriers to employment by connecting them with case workers and community services.
However, the Ministry of Children, Community and Social Services, citing poor results, decided to axe the initiative earlier this year. It officially ended in Peel at the end of June.
In its place, Peel Region says, the ministry plans to create a "province-wide, wraparound" support model for mental health and addictions. However, no details have been released.
Peel's program had a $900,000 budget. The need for such a program in the region is sure to grow as Peel deals with the ongoing crisis of addiction to opioids, which for many people begins as a simple prescription for pain relief. Rising numbers related to opioid emergencies and hospital visits received no mention in the region's report.
According to data from Peel Public Health, the region saw 496 emergency department (ED) visits related to opioids in 2017 (the latest year for which complete data is available). This is not only an unsettling 96 percent increase over the 253 ED visits in 2016, but a shocking 520 percent increase from 2003 numbers. Through nine months of 2018, Peel experienced 254 ED visits related to opioids. The numbers suggest that as more people struggle with opioid-related addictions, there will be a bigger need for programs that help them get back on their feet, not less.
Hospitalizations and deaths also increased dramatically. The number of people admitted to hospital for opioid use increased 35 percent between 2016 and 2017 (an 89 percent increase from 2003), and the death toll from opioid overdose increased from 23 in 2005 to 81 in 2017, up 252 percent.
The program cut comes amid a wide range of funding reductions by the province now being faced by municipalities. In Peel Region, cuts estimated to total about $36.4 million in 2020 are forcing regional council to project a 3.9 percent tax increase for next year, a full percentage point higher than initially planned, even while service levels are being reduced.
The region is noncommital about whether it would consider funding the Addiction Services Initiative (ASI) out of its own budget.
"This is a provincially funded program and the province's plan includes expanding access to mental health and addictions supports across the province through the Ministry of Health and Long-term Care," Stella Danos-Papaconstantinou, Peel's director of community access, wrote in an email in response to questions from The Pointer. "Currently, we are not aware of timing or any further details."
In the first five months of 2019, 168 clients were relying on the voluntary ASI program. A total of 244 were assisted in 2018. Peel says clients currently receiving services through the ASI will continue to do so.
"ASI at Peel has always worked in partnership with community agencies to provide clients the supports and counselling they require. These agencies will continue to provide their services to clients who were in the program," Danos-Papaconstantinou said. "Any new Ontario Works clients requiring additional supports will be referred to community agencies as well."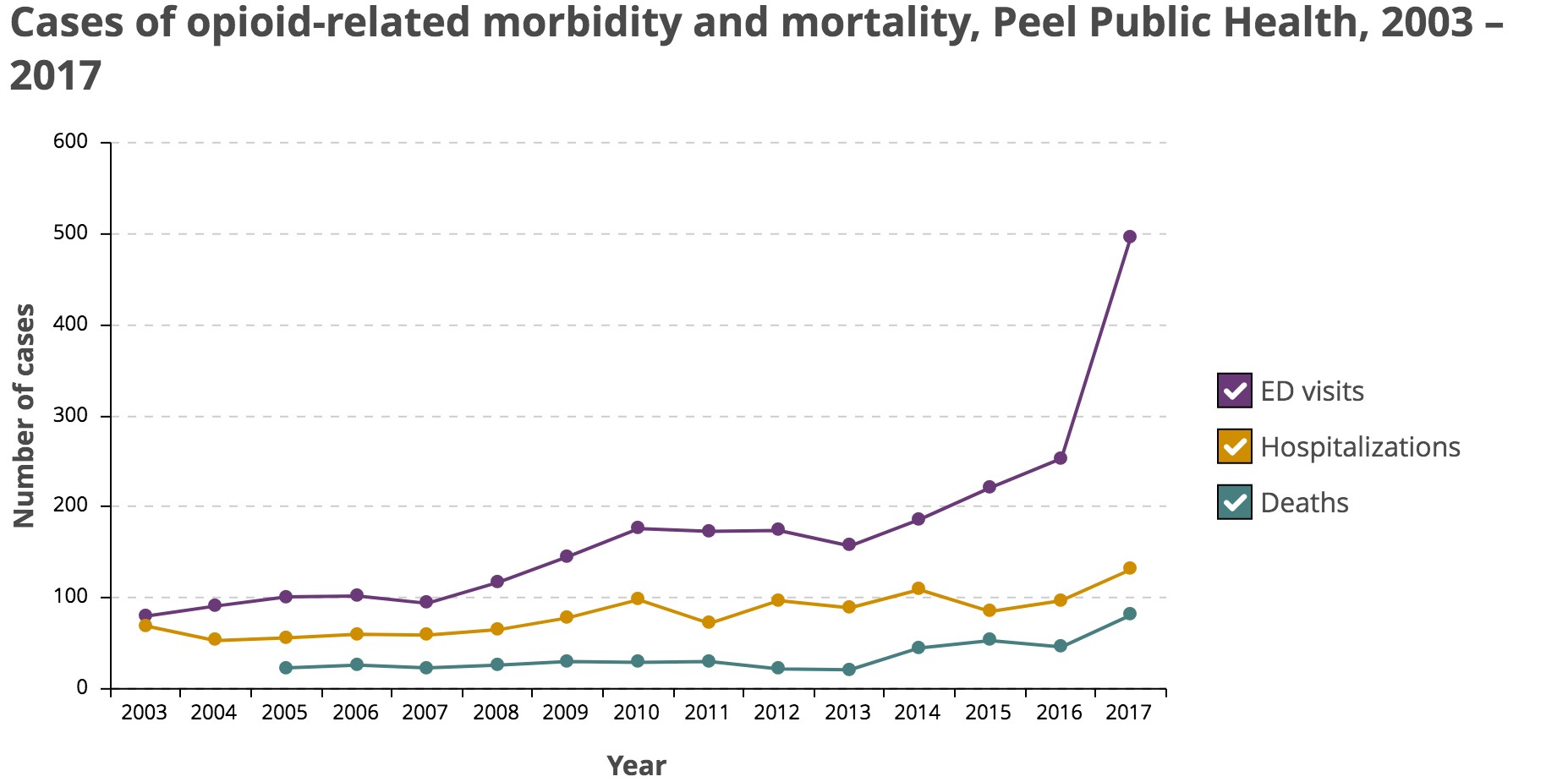 While the province claims the program was "not meeting expected outcomes" in its reasoning for slashing it, it's clear the initiative has seen success in the past.
A 2012 report from the City of Hamilton found that the program had helped approximately 400 people, more than a quarter of whom were able to find work while receiving top-ups from Ontario Works. Additionally, about 11 percent of individuals in the program were able to cease relying on Ontario Works completely, most because they had found full-time employment.
Hamilton's analysis found the program was "achieving the goals set out at its inception and is having a positive impact on the lives of many of the participants. There are no fundamental flaws in how the program was designed and implemented or how it is currently operated. This is a best practice program."
Also, a report from Simcoe County in 2016 found that ASI's "wraparound approach ensures that clients are well supported in their journey to improved health and well-being." A Dufferin County analysis that engaged clients of the program found it to be "very impactful."
It's not clear whether Peel has conducted its own analysis of the program's success locally, with the department's response simply indicating that "evaluations of the ASI over the past few years by the province have shown it is not demonstrating enough value for investment to justify continuing the program."
The fact that the value of such addictions-related programs has been heralded by other government agencies seems to highlight a disconnect between the perceptions of the governing PCs and those of Ontario Works service providers.
In her 2018 annual report, auditor general Bonnie Lysyk surveyed service managers across Ontario, and nearly 90 percent of them pointed to mental health conditions or addictions issues as two of the biggest barriers to employment for people within the Ontario Works caseload.
Lysyk was also extremely critical of the Ministry of Children and Social Services as a whole and its ability to adequately understand the effectiveness of its programming.
"The Ministry lacks measures to assess whether service managers are effective in helping 36 percent of recipients identified as having barriers to employment overcome them," she writes. "Although the Ministry expects service managers to help recipients overcome these barriers, it does not analyze and assess whether service managers are effective in assisting recipients to overcome their employment barriers."
Earlier this month, Caledon MPP and Solicitor General Sylvia Jones was in Brampton announcing that Peel will be one of three municipalities to implement a new "employment services system" in the fall. This new system, part of a restructuring of Employment Ontario, will create a new "localized delivery model" to help businesses and job-seekers connect.
"(It) offers great opportunities for Peel. It allows us to better help job seekers find and keep good jobs, and to help employers find and recruit the workers they need to grow their business," Jones said in a news release.
The release makes no mention of assistance for those with mental health or addiction issues.
Email: [email protected]
Twitter: @JoeljWittnebel
Submit a correction about this story