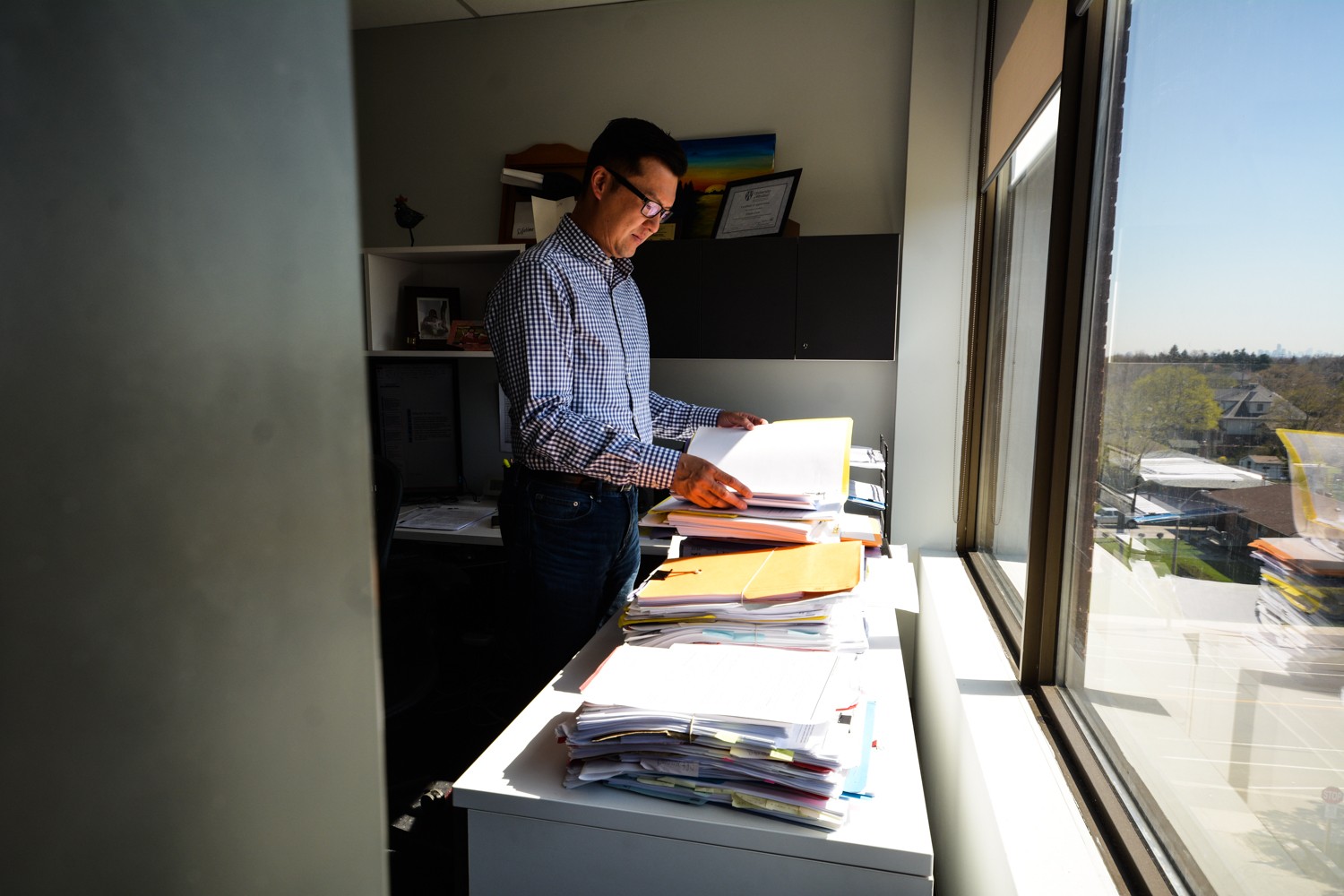 Photos by Joel Wittnebel
Fight continues to save the "emergency room" of legal services
On Doug Kwan's desk sit heaps of files, each representing an individual war.
One person's fight to avoid eviction sits cleanly compressed inside a manilla folder, directly beside another's effort to continue getting disability assistance, money essential to putting food on the table. Each folder represents a life-changing situation for a Peel Region resident. And without Kwan and the help of Mississauga Community Legal Services, those people would be left to fight their battles alone.
Struggling against bureaucracy and powerful interests without legal help could become more common for low-income people across Ontario as the PC government under Premier Doug Ford forges ahead with plans to cut Legal Aid Ontario's budget by $133 million, a 35 percent reduction. The parent agency provides funding for community legal clinics across Ontario, including Mississauga's.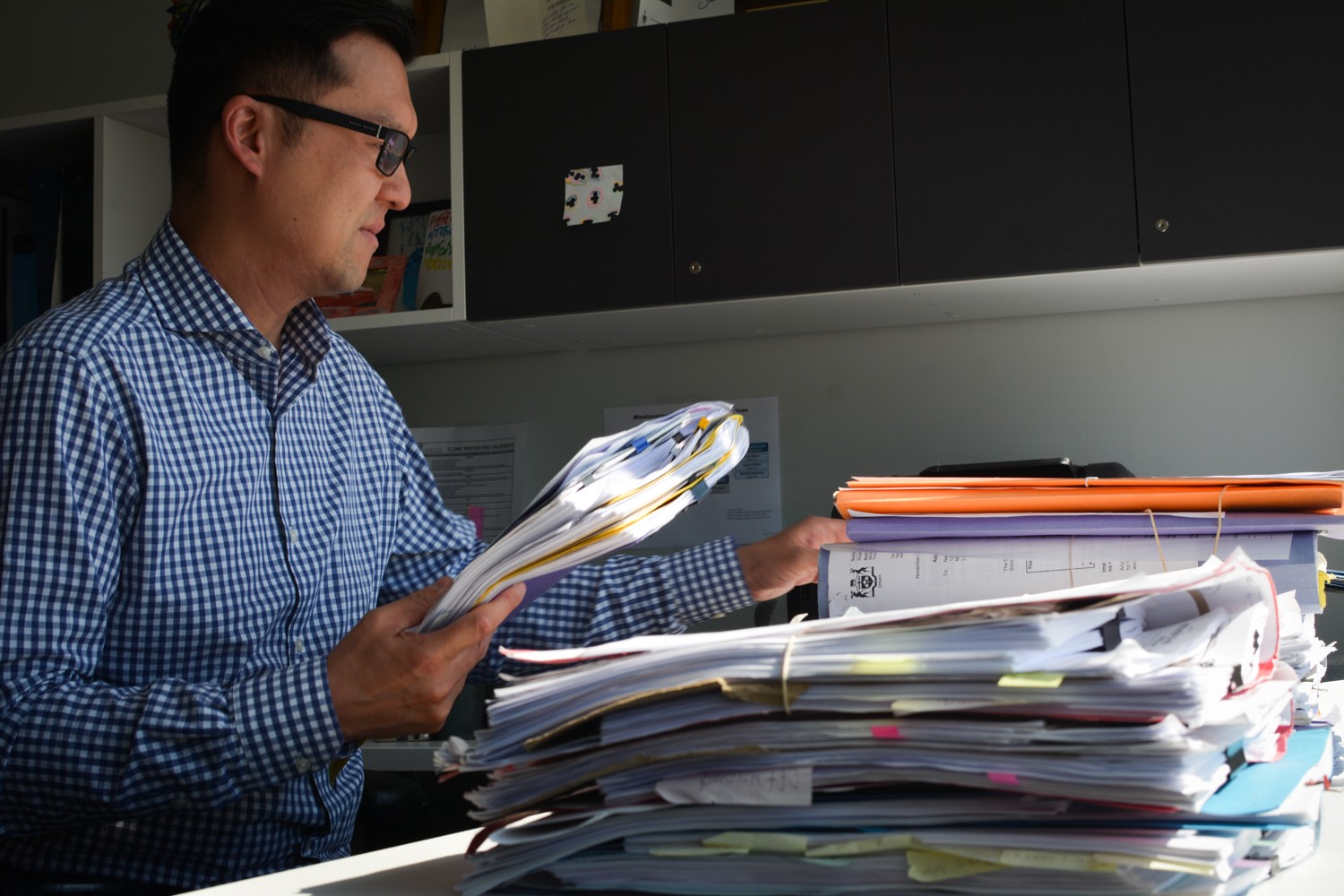 Doug Kwan inside his Mississauga office.
Kwan's clinic helped more than 3,000 people in 2018, a number projected to grow to nearly 4,000 this year. Kwan says that if these cuts are not reversed, the unfortunate reality is that people will wait longer for the help they need, or may not get it at all.
"We'll focus on evictions, because those are the immediate, urgent needs of people," he explains. "But we may not be helping people with maintenance issues, problems with mould in their basements, harassment by their landlord; (or) we might not be able to be there when they have a court or hearing (date) … So people will feel it; there will be fewer people served."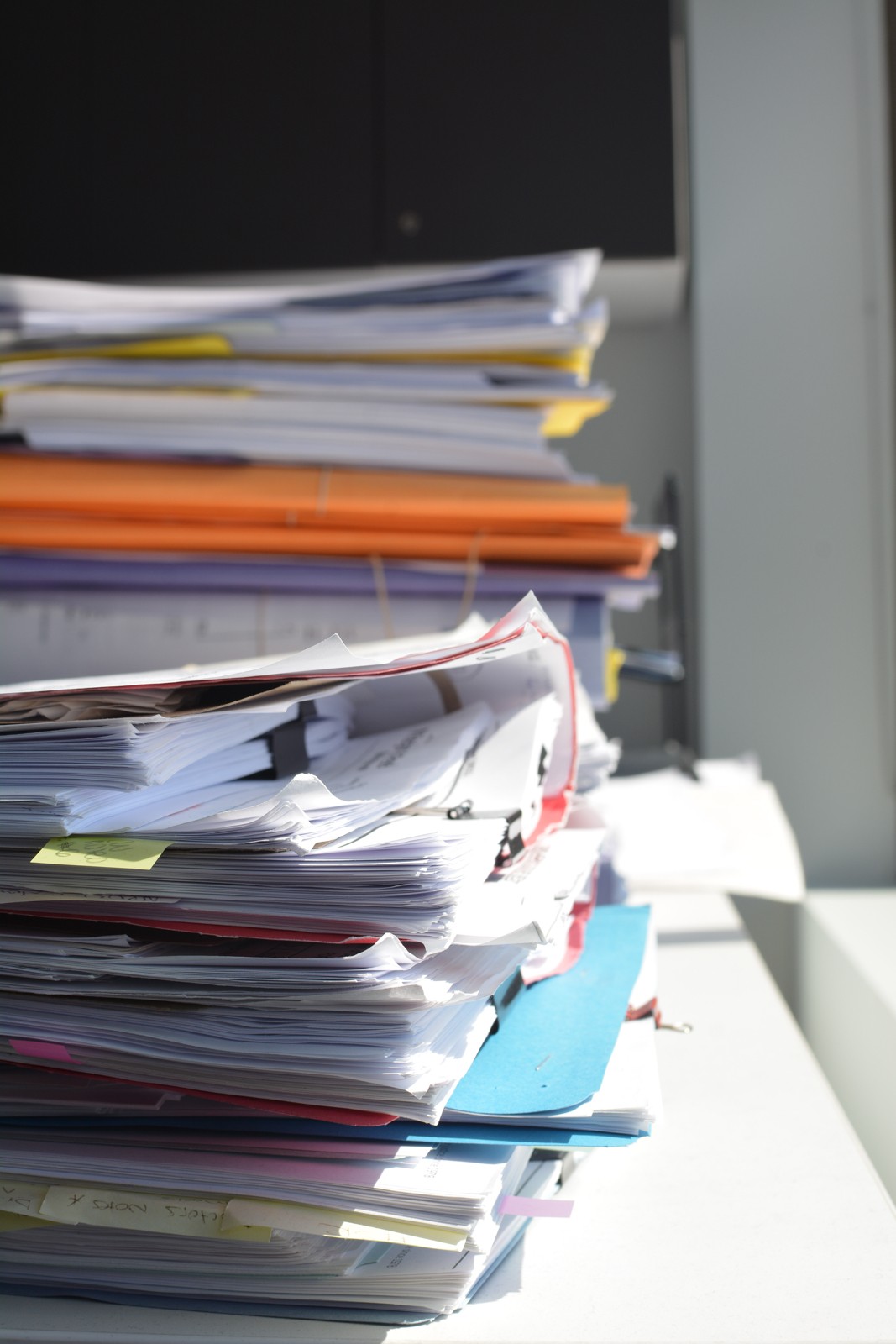 Legal aid lawyers are a different breed.
All are perfectly qualified to pursue what society sees as more glamorous work: high-profile criminal cases, say, or high-paying gigs on Bay Street.
Kwan's aspirations while studying at York University's Osgoode Hall law school were, like many students', lofty.
"(I was) thinking I could change the world with a law degree," he says from his Mississauga office.
And while he found studies at York to be very "Bay Street focused," he found through immersive experiences at the student legal aid clinic a pathway that would bring him closer to that lofty goal.
"I found that this is great. I can practice what I've learned; I can make a meaningful impact in people's lives," he says. "My first appearance at the Immigration and Refugee Board, I won, and my client hugged me. That was such an amazing thing, where you can see directly the impact of what you do and how it can make a difference."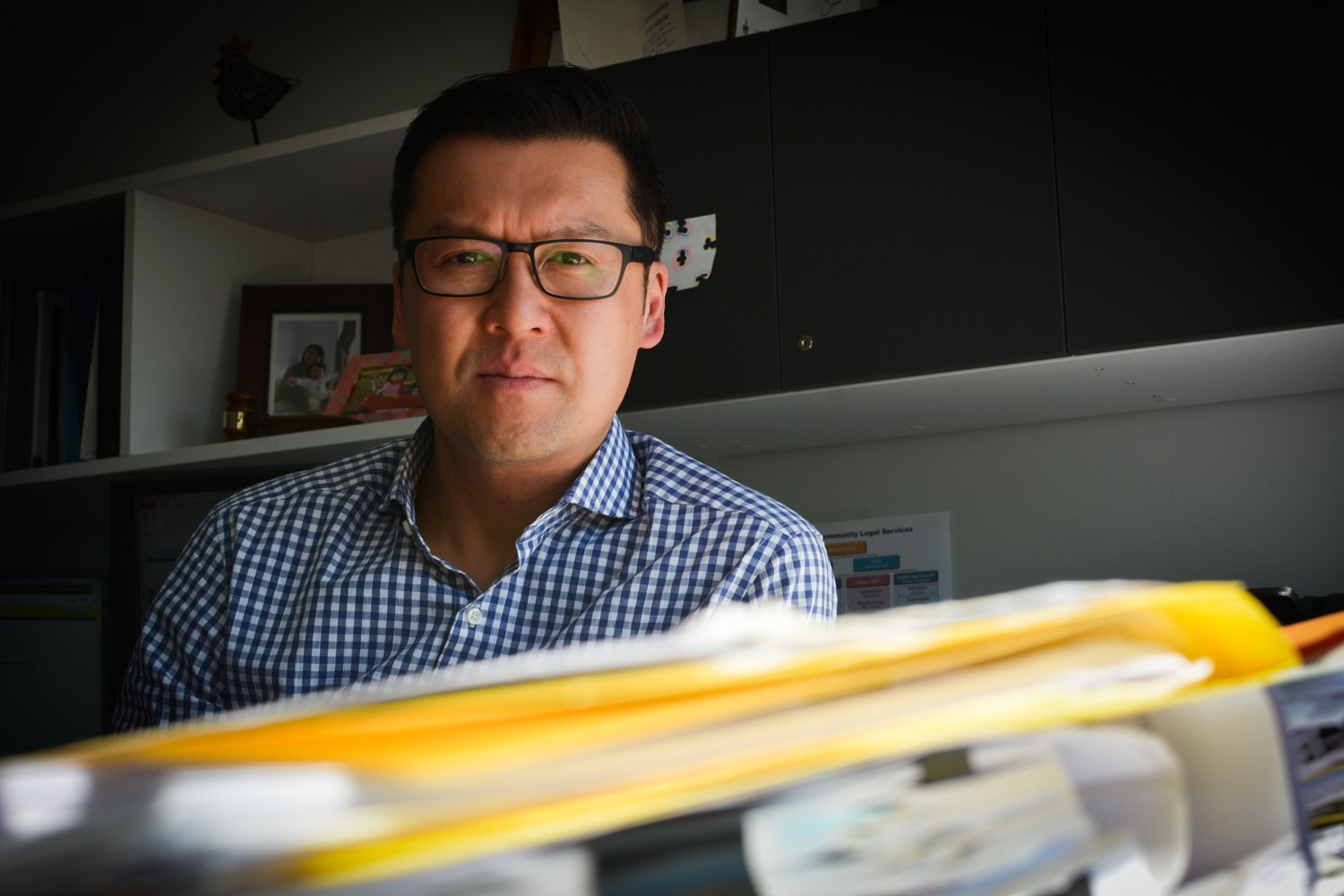 In 2004, he joined the Mississauga Community Legal Services team. Since then, he has worked his way from a staff lawyer on the front lines to associate executive director five years ago, to his current position as co-executive director.
"I sort of see this as an ER law service. People come in with eviction notices, they come in with their benefits cut off, they don't know what to do, they don't know how to navigate the system. Our services are a benefit to them, because it helps produce better outcomes," Kwan says.
In recent years, the previous Liberal government had begun to acknowledge the funding shortfall Legal Aid was facing and was investing more into the system. That funding infusion helped Kwan grow his team to where it sits now, at about 19 people serving the city of Mississauga.
"The previous government recognized that there was an imbalance, so they started to address that issue," Kwan says. "We were one of the primary beneficiaries of additional funding."
That shouldn't be a surprise, given that Mississauga is the second worst-funded legal aid clinic in the province on a per capita basis, ahead only of Brampton's, which sits at the bottom.
The news of Legal Aid Ontario's budget cuts has left both advocates and Opposition politicians like Brampton Centre MPP Sara Singh (NDP) outraged, confused and surprised. There have been passionate pleas in the Legislature calling on the government to reverse the cuts.
The governing PCs have defended the decision under the argument that fewer clients are relying on Legal Aid's services, while repeating their mantra about the need to find "efficiencies" and reduce the $13.5 billion deficit said to have been left behind by the Liberal government. However, a report from Ontario's own auditor general appears to contradict the claim of lesser reliance on these services.
In December 2018, the provincial AG released a value-for-money audit of LAO which found that since 2013-14, there has been a 23 percent increase in the number of people represented by legal aid lawyers, a 2 percent increase in those helped directly by duty counsel at courthouses, and a 12 percent increase in legal clinic clients. These numbers were signed off on by both Legal Aid Ontario and the ministry before the report was released.
"The auditor general didn't identify any decrease in clients served. The word 'increase' shows up 62 times in her report," Kwan says.
The Mississauga clinic alone has observed a 56 percent increase in people served since 2013, growing from 2,488 to a projected nearly 4,000 in 2019.
Additionally, budget reductions for Legal Aid are clearly disproportionate to the justice sector budget as a whole.
The total justice sector budget in Ontario is approximately $5 billion, which under the PCs' plan will be reduced to $4.7 billion over three years, for an annual reduction of $300 million. LAO's budget is $495 million. The funding cut will reduce the budget by $133 million this year, with that reduction increasing to $164 million in three years.
This means that while the LAO budget makes up only 10 percent of the justice budget as a whole, it is being forced to shoulder 50 percent of the total justice sector cut. The numbers get even worse when you look at the budget of the Ministry of the Attorney General, which administers the LAO budget. The ministry's budget is being cut by $154.3 million this year, which means Legal Aid Ontario, representing some of the province's most vulnerable people, is bearing 86 percent of that total reduction.
Singh says she has met with members of local legal aid clinics to get a clearer picture of the "cruel" cuts to their services from the Ford government.
"Once again, frontline workers and experts made it clear that these short-sighted cuts will have far-reaching social and financial impacts for our province and its people," the Brampton Centre MPP wrote in an open letter to newly appointed Attorney General Doug Downey, who replaced Caroline Mulroney in Ford's recent cabinet shuffle. "Legal aid services are crucial to many Ontarians — they help single parents seek child support, help workers get the wages they're owed, and do so much more," Singh said. "We should be doing more to help the most vulnerable Ontarians get the legal help they need, but instead Doug Ford is choosing to spend money on cushy jobs for his friends and insiders."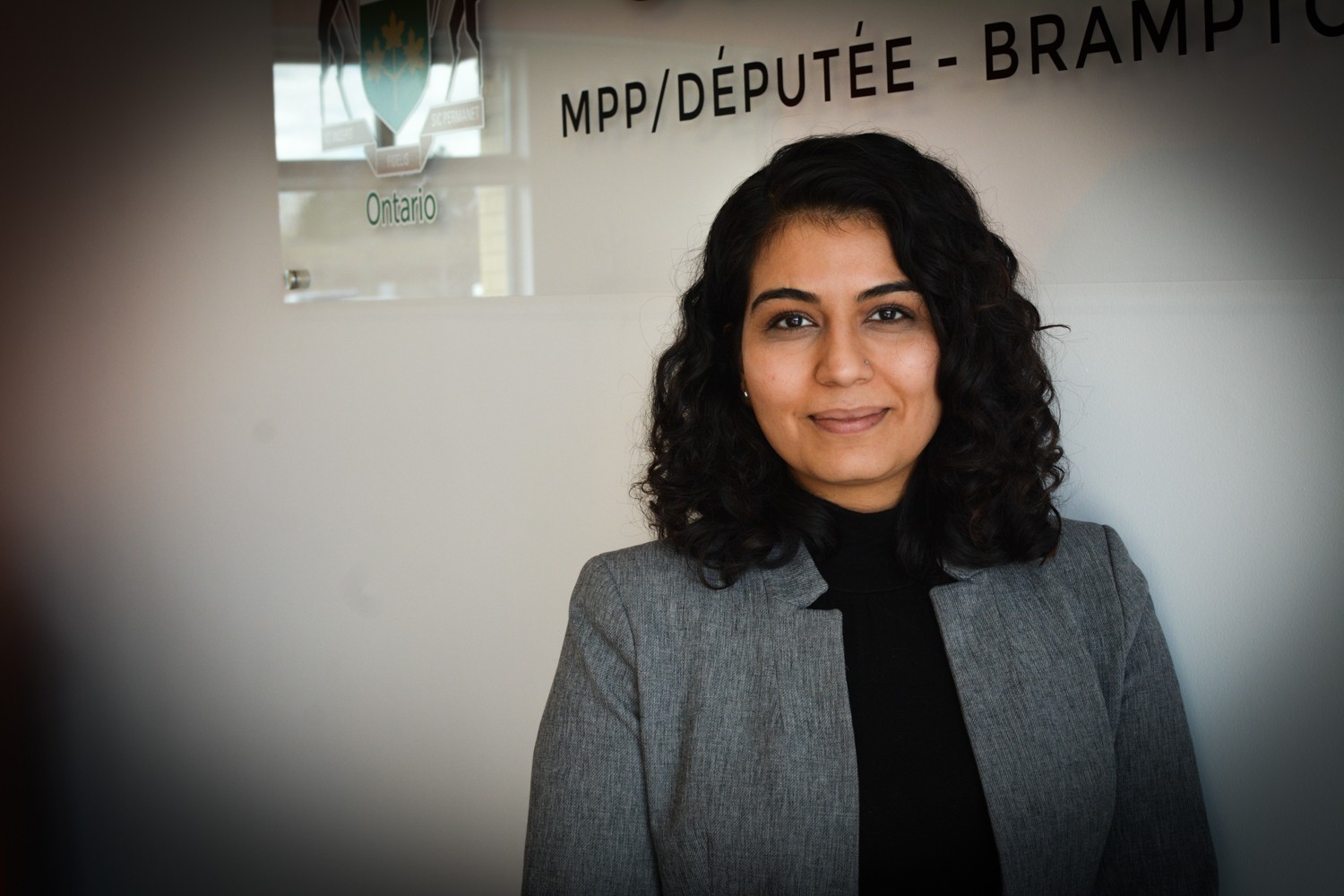 Brampton Centre MPP Sara Singh.
"A 30 percent cut, conceptually, is huge," Kwan says. "A 30 percent cut to our budget would result in losing people, and because we serve an under-resourced community, and we're not properly funded (ourselves), we're already starting behind."
The province has also completely ended access to legal aid funds for refugee claimants, for whom help in presenting their case to an Immigration and Refugee Board judge may mean the difference between life and death.
The irony is, if the PC government is looking at Legal Aid cuts as a way to save money, there are piles of studies, perhaps as numerous as the folders on Kwan's desk, that suggest it will in fact accomplish the opposite.
The most recent, from the Canadian Bar Association, suggests that every $1 taken out of legal aid services will result in a $6 increase in other government expenditures.
"It's crazy, and it sort of challenges the perception that this is about efficiencies," Kwan says.
Ontario's court system is notoriously bogged down, leaving policy makers floundering to find ways to alleviate pressure on the system. A landmark Supreme Court ruling two years ago, meant to speed the progress of criminal cases through the courts, has seen little success, despite the fact that the majority of these cases involve qualified lawyers.
For low-income people who can't afford a lawyer, making Legal Aid unavailable will force them to represent themselves in court. Unrepresented litigants, of whom there are many already, can slow down the process immensely. It means judges need to explain more, and more court time is taken to ensure the person understands the process. That robs time from an already congested court system, and that time, in the hands of judges and Crown attorneys, is expensive.
On the other hand, if people choose not to fight their case because Legal Aid is not there to help them, that could lead to more reliance on local shelters and other services, if the result is that they lose their income or get kicked out of their home.
"For all those reasons, it's not fiscally responsible to make this cut," Kwan says. "It's also wrong, and it hurts Peel more than anybody else."
In June, Kwan, along with Jack Fleming, executive director of North Peel Dufferin Community Legal Services, appeared before Region of Peel council looking for its support in opposing the future cuts.
In response, regional council agreed to back a motion declaring its opposition to the cuts and wrote to Ford and the attorney general laying out their position.
To date, the region says no response has been received to that letter.
Email: [email protected]
Twitter: @JoeljWittnebel
Submit a correction about this story