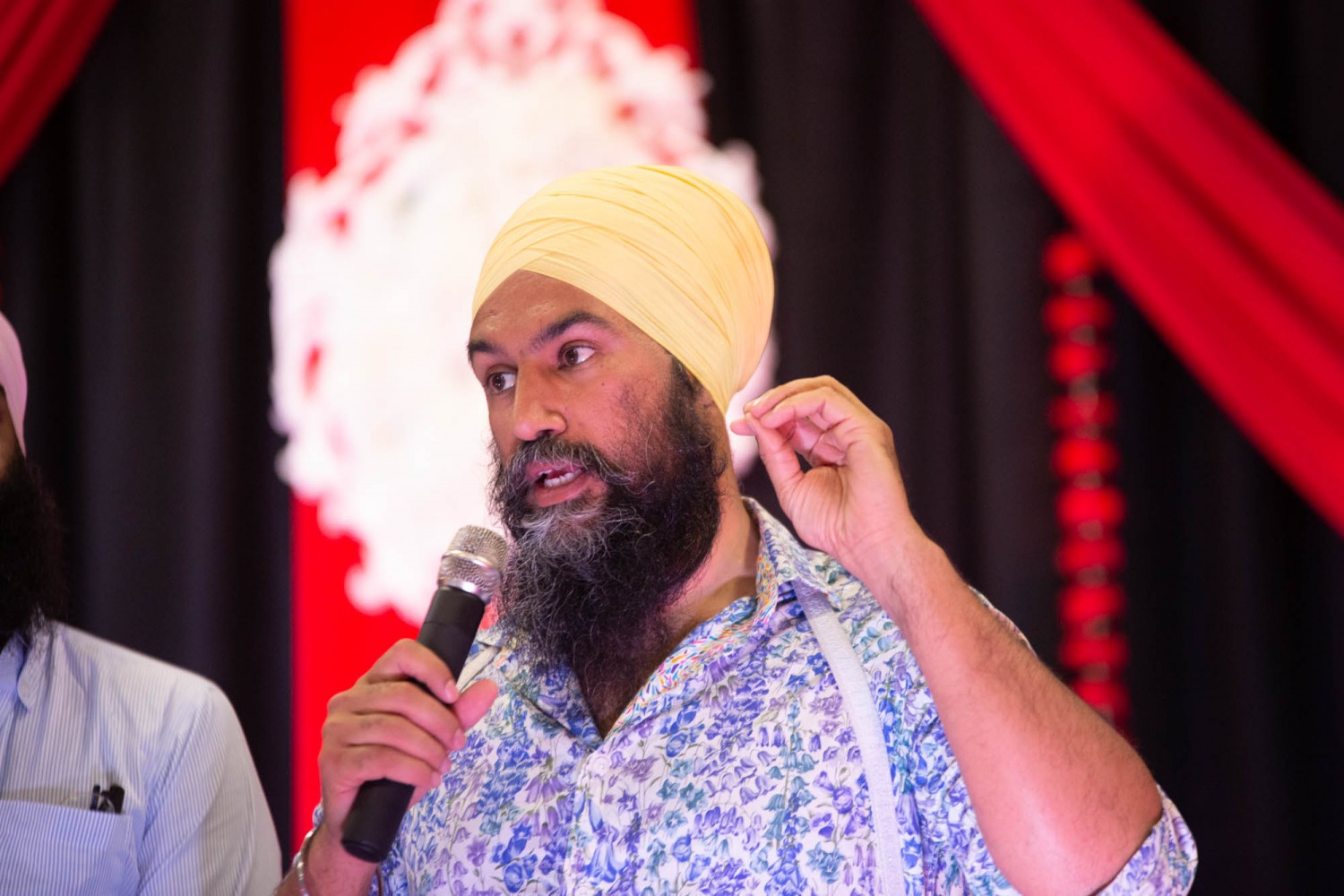 Photos by Mansoor Tanweer
Can Jagmeet Singh deliver for his hometown as PM?
(Correction: An earlier version of the story incorrectly stated Jaskaran Sandhu is a federal NDP candidate for the Brampton North riding. The Pointer regrets the error.)
The sights, sounds and smells of Carabram are an attraction for anyone looking to take in the spice of Brampton. Last weekend's celebration was a showcase of the city's unparalleled rainbow of cultures. A much-anticipated visitor to the event was federal NDP Leader Jagmeet Singh, who's more like a rockstar in these parts.
Federal politicians predictably start paying attention to Brampton with repeated visits in the run-up to an election, while often ignoring the city in between. But for Singh, the visit was also a return to the place where he came of age politically. His first foray into big-time politics was his election to the old provincial Bramalea-Gore-Malton riding, a seat he held for six years.
He's well aware of the lay of the land.
"First off, we need another hospital. It's a massive priority. We've announced that we would support infrastructure at the federal level if we formed a New Democratic government, to build that additional hospital Brampton so desperately needs," he told The Pointer during the Carabram festivities, laying out his three priorities for the city where he hopes to turn a Liberal wave into an NDP orange crush.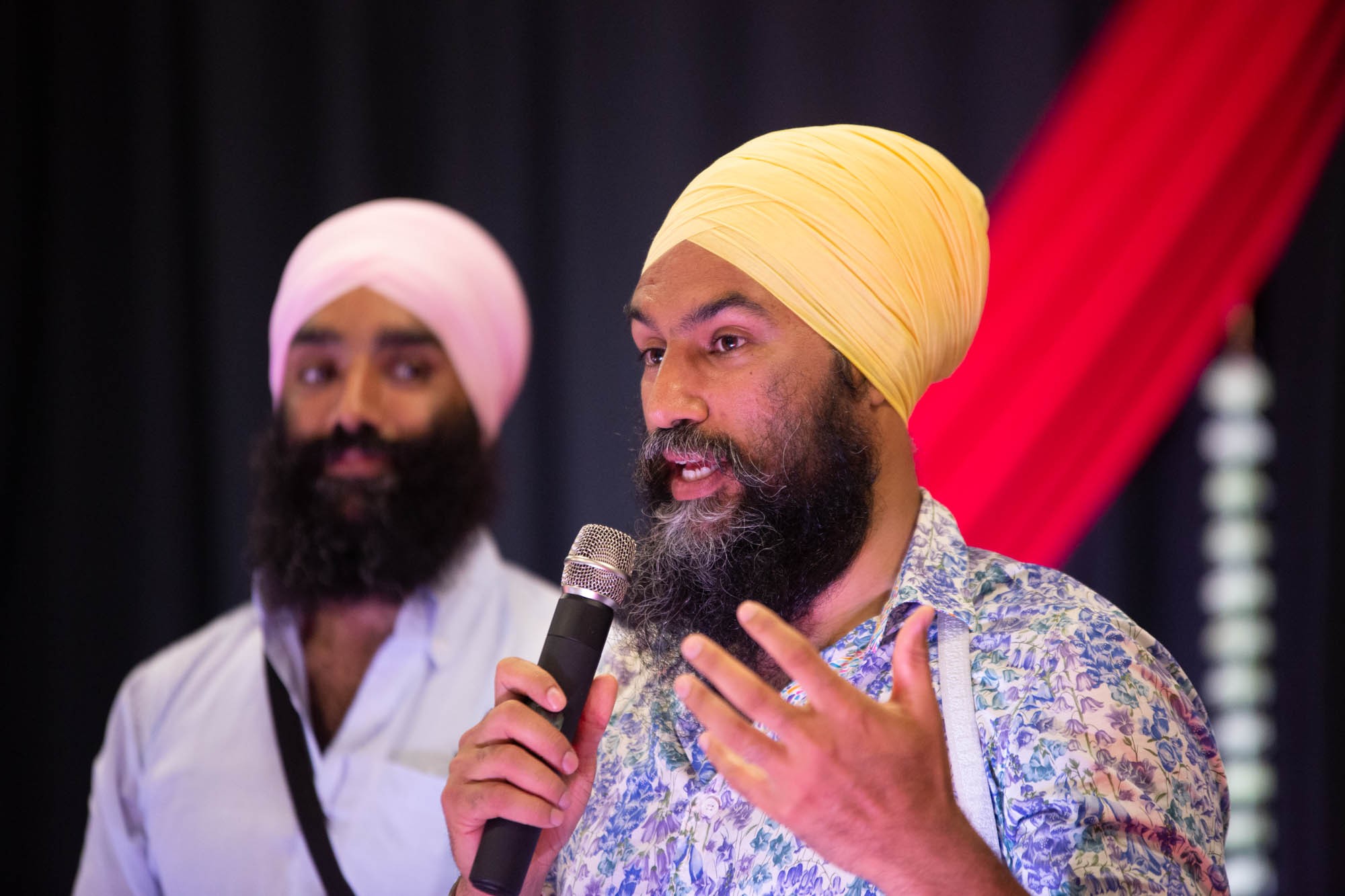 Jagmeet Singh at Carabram Saturday with his brother, Brampton NDP MPP Gurratan Singh, looking on
The five federal seats here (all of them won by Liberals in 2015) often represent a bellwether for suburbs across the country, particularly those where large voting blocs are drawn along ethno-cultural lines. It's one of the reasons Brampton is turned into an election hot-spot every four years.
If Singh hopes to swing the Brampton seats, he will have to prove his leadership on the organizational front. Right now, there are serious concerns about his party, which does not yet have a list of candidates on its official website, while widespread reports suggest the NDP have fallen alarmingly behind in the nomination process.
Singh says his second priority for the city is postsecondary education. The push for a full downtown campus has stagnated since the provincial government of Doug Ford cancelled a promised $90-million investment in a proposed Ryerson facility that would have housed at least 2,000 students. Singh said he "would like to commit as a federal leader and prime minister to make sure that we've got the funding for a university."
A national-level plank appears to be his third priority for the city. In April, he promised his government would implement a universal pharmacare plan, whereby the federal government would share costs with the provinces to provide better, less expensive access to prescription drugs.
Hospitals and universities are not, however, part of the federal jurisdiction. It is possible for the federal government to fund research at such institutions, as Ottawa is currently promising with the Cybersecure Catalyst planned for Brampton. But building facilities is more of a provincial responsibility, with control of capital funding for such infrastructure. The current Ontario government's quite different list of priorities is one of several challenges Singh would have to overcome to realize his dream to become prime minister.
Ford and his cabinet haven't shied away from engaging in a war of words with parties on the other side of the political spectrum. Ford has publicly attacked Prime Minister Justin Trudeau over his imposition of the carbon tax on Ontario. Singh is an advocate for the pricing scheme and says it's necessary to help Canada meet its commitment within the Paris Accord of achieving a 30 percent reduction in greenhouse gas emissions by 2030.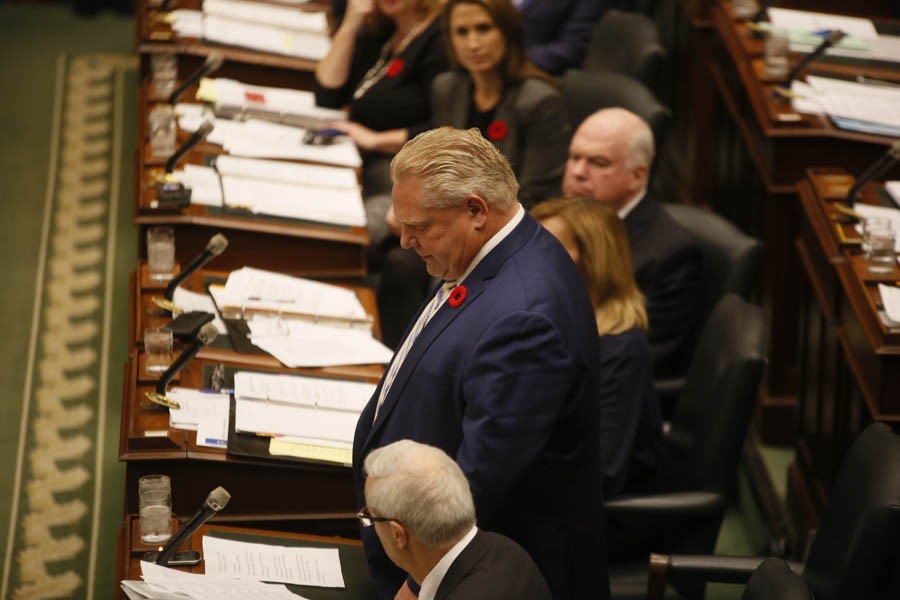 Due to the bilateral agreement set up between Ontario and the federal government, any funding for infrastructure projects would have to filter through the province before Brampton can take advantage. The Trudeau government blames the pending layoff of more than 500 workers at the Thunder Bay Bombardier plant on the PCs' failure to move ahead expeditiously on transit projects. Federal rhetoric, most recently coming from Employment Minister Patty Hajdu, has it that the PCs are not releasing federal funds already allocated toward infrastructure projects. Ford blames the Liberals for "sitting on their hands" and letting the layoffs happen.
The war of words between Trudeau and Ford might be something Singh could capitalize on in Brampton, with the city desperate for infrastructure money to start flowing.
The provincial Tories on more than one occasion have killed the provincial NDP's efforts to jumpstart a new hospital and restore funding for a university campus as well. Ford could be a large obstacle for Singh if his party were to form a government after this fall's federal election.
"We'd have to do whatever it takes. We would have to sit down at the table and have negotiations and make clear commitments," Singh told The Pointer.
"I would be hopeful that any premier would be willing to sit down and negotiate with the federal government, to be a partner with something as vital as infrastructure builds like a university and a hospital."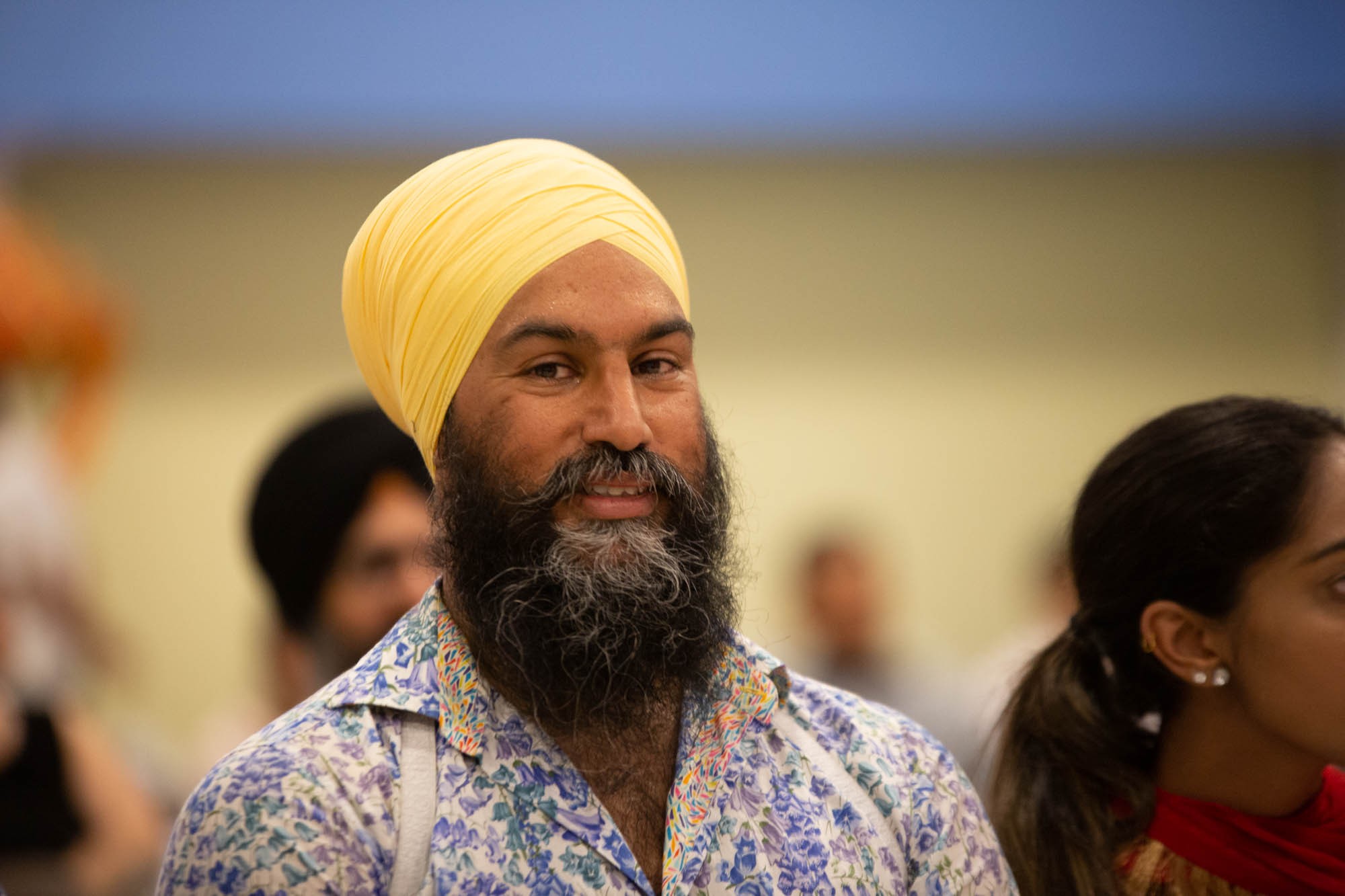 Polls suggest that if an election were held tomorrow, the federal NDP would lose handily. Numerous polls have the New Democrats garnering roughly 13 percent of the vote. The fact that Singh was without a riding of his own for a sizeable chunk of his time as Leader hasn't helped (he won the seat of Burnaby South in a byelection in February), nor has the fact his party has been slow out of the gate.
It appears only one NDP candidate has so far been nominated for the 12 ridings in Peel Region. Nikki Clarke is running against Navdeep Bains in Mississauga-Malton. In contrast, the Liberals and Conservatives are close to having full slates ready to start campaigning. Singh's candidates will enter the race later than the rest and have less time to get their message out there.
There is also a real danger of vote-splitting between his party and the Liberals against Andrew Scheer's Conservatives, who are promising to undo the carbon tax and other Liberal initiatives largely supported by the NDP. Trudeau and Singh are vying for the younger, largely left-leaning voter. They are both young, social media-savvy and have platforms and brands that appeal to the millennial generation.
The two have branded themselves as the pro-feminist, pro-multiculturalism, environmentalist party leaders. In a lot of ways, it's hard to differentiate. Despite Trudeau's struggles over issues such as pipelines and the SNC-Lavalin affair, his incumbency and party clout present a huge challenge to Singh. The Liberals' roots stretch back to Confederation, while the NDP has never formed a government nationally.
Singh has enormous brand appeal, especially in Brampton, where events such as his recent book launch draw huge crowds. Whether his persona can overcome the widespread perception that his party is light on policy and direction, remains to be seen.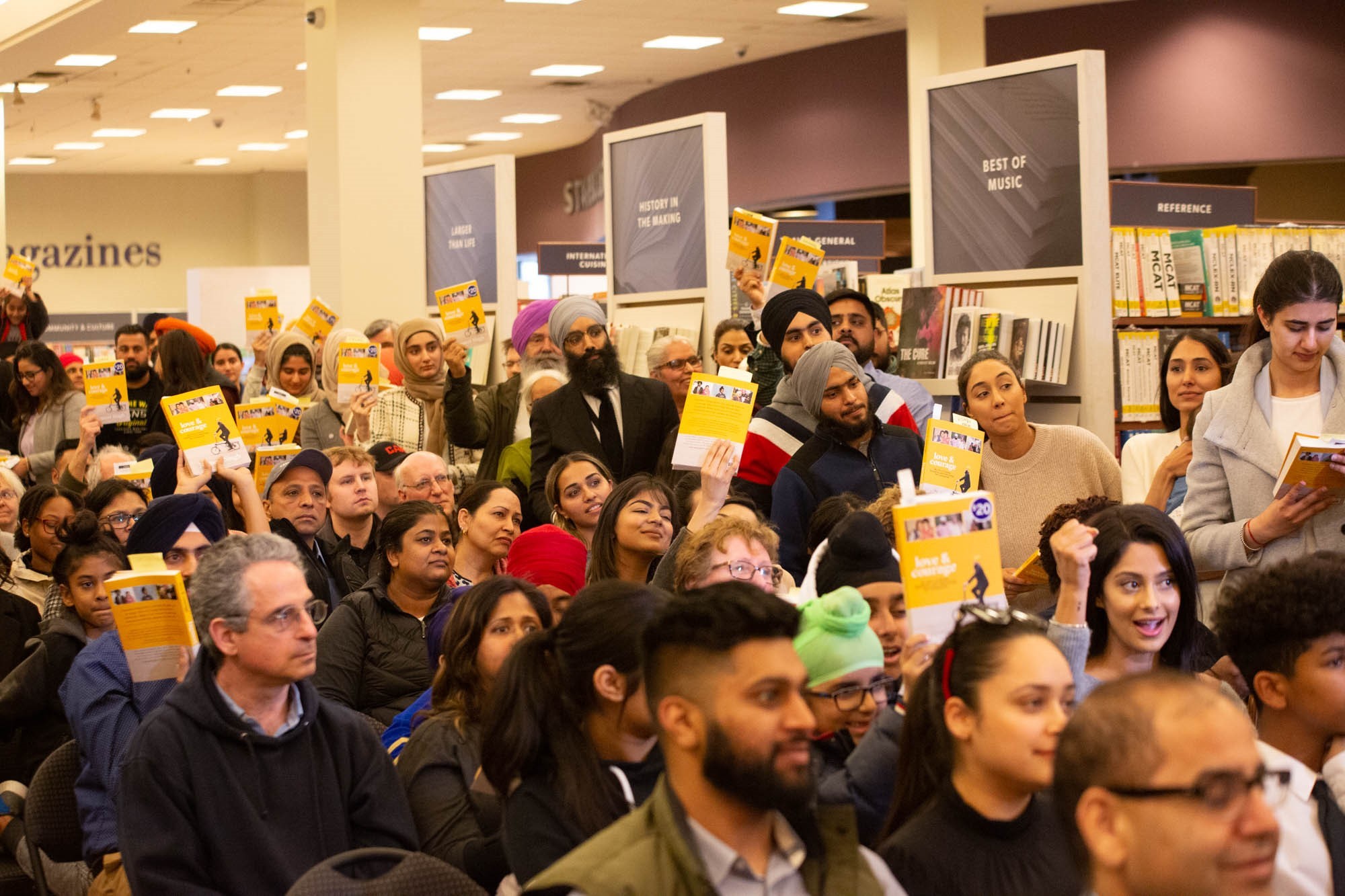 A packed house gathered for Jagmeet Singh's book launch at a Brampton Indigo store in April
To get into position to deliver on his priorities, will be more than an uphill battle. "I know for sure that there is much support within Brampton; there is a lot of support in five Toronto seats; we already have a base in Quebec; within B.C. there is a base, but we will further it. I know for sure that we will win new seats," Singh said in Punjabi, speaking with a reporter from Red FM.
"So, I have a lot of confidence that people want the New Democratic hopefuls, because they work for the people and not big corporations."
Email: [email protected]
Twitter: @mansoortanweer
Submit a correction about this story