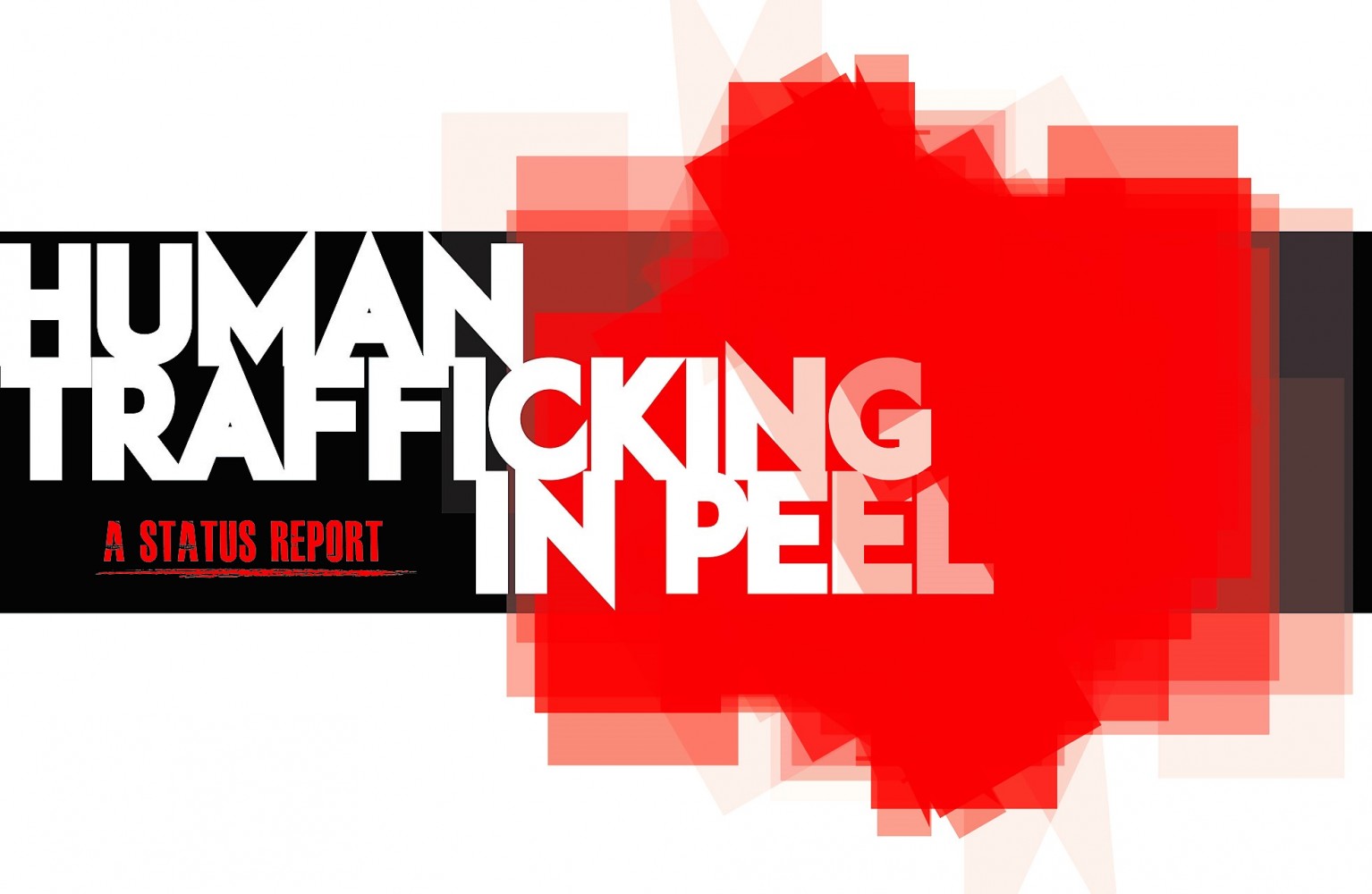 Photos and graphics by Joel Wittnebel/Chart Statistics Canada
Part 3: The Ideas — Changing tack in the battle against human trafficking
Imagine a river, its fast-moving white water crashing through rocky channels.
Despite the obvious dangers, people are wading in and trying to traverse the river. Many are swept up in the flow, pulled into the icy grip and dragged downstream and out of sight. Rescuers race ahead, but time is now the enemy. They do their best, but the bodies are hard to spot. Without any warning of the danger, people upstream keep trying to wade across.
Among those in the public health sector, this is a common analogy.
Treating people already trapped in ongoing but preventable health issues — addictions, obesity, chronic ailments — is a "downstream" approach, trying to save people who have already fallen into the river.
But public health units focus on the "upstream" approach. How do you stop a person from trying to cross the river in the first place? Or in this case, discourage him from picking up that first cigarette, or convince her of the benefits of a balanced diet?
The analogy can also be applied to human trafficking.
At the Global Conference on Human Trafficking and Trauma last week, a lot was said about band-aids. Projects and programs that are reactive, not proactive, providing only the briefest of relief for survivors. The focus was on the downstream, pulling survivors out of the river, and not enough on what's happening upstream.
The sheer numbers of those affected by trafficking and the shortage of resources to address the issue means that if attention shifts upstream, some people could be left to drown.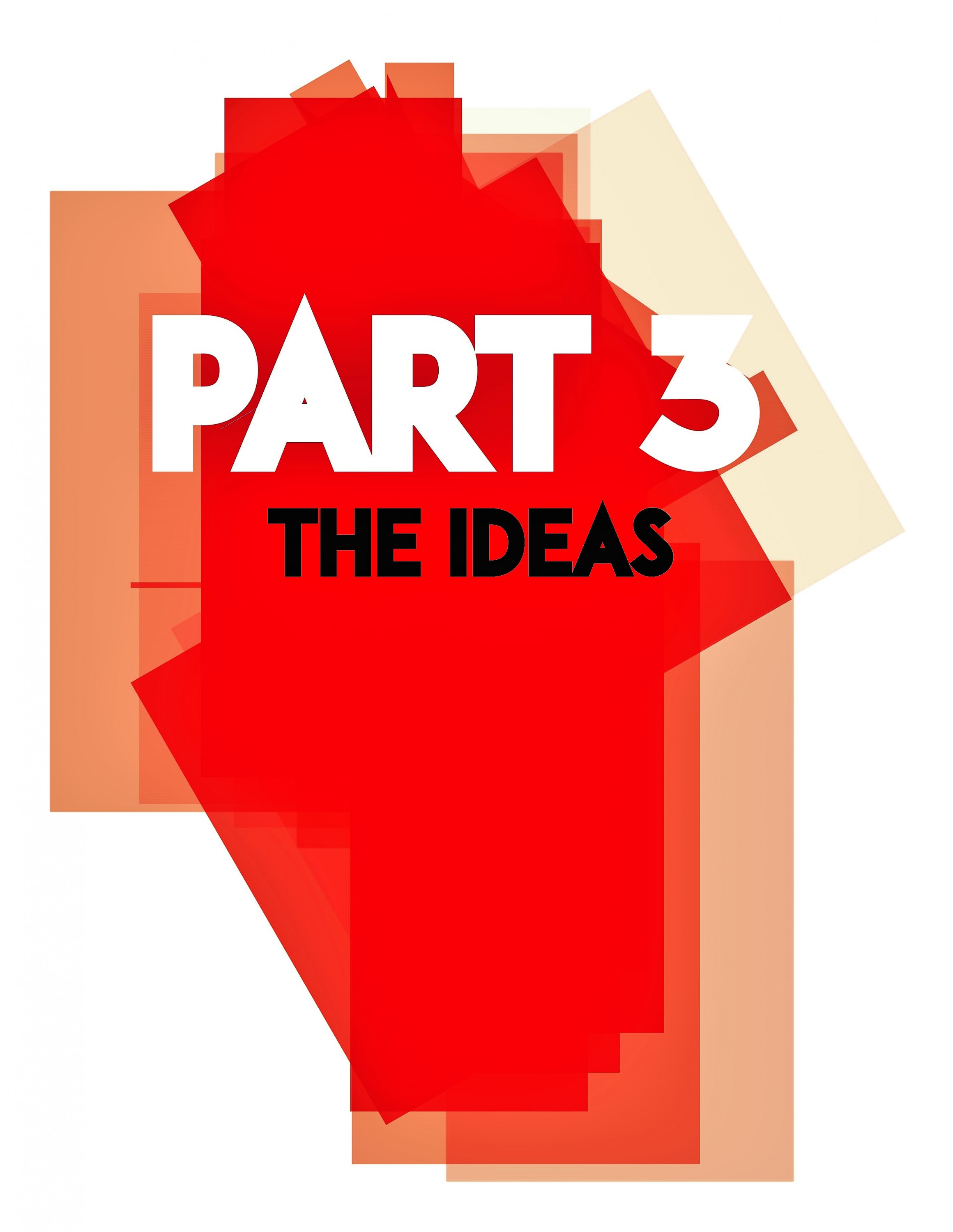 Peel Regional Police have seen some success recently in their ongoing battle against traffickers.
On June 27, a day after the Family Services of Peel Global Conference wrapped up, police charged a 38-year-old Brampton man with several criminal offences, including human trafficking, following allegations that he trafficked a 26-year-old woman around the Mississauga area for six years.
A human trafficking investigation by the Peel police Vice Unit in 2014 culminated with a guilty verdict in early June this year. Jason Scott, 36, of Brampton was sentenced to four years in prison.
"Peel Regional Police is committed to identifying and aiding victims of human trafficking as well as identifying, arresting and prosecuting those responsible for exploiting these victims," according to a statement from PRP.
The role of police in the fight against human traffickers cannot be understated, as they are the only entity capable of truly holding traffickers to account. However, as Dr. Hanni Stoklosa, the executive director of HEAL Trafficking, said during last week's conference, "We cannot arrest or prosecute our way out of trafficking."
Stoklosa was pointing to the fact that police efforts, while critical, are still very much downstream and do little to address the trauma that can make a young woman vulnerable to being sucked into the world of sex trafficking.
"I think it really has to do with the commodification of the female body," says Monica Riutort, the lead investigator with the Peel Institute on Violence Prevention. "That (gives) human trafficking a complexity that other violence might not have."
For that reason, education becomes a critical component of any upstream approach to tackling this issue: "Working with children, working with the school system, but working with educational programs that work, that can show impact and have strong valuations," Riutort says. "Not a one-day workshop, in and out. It has to be continued, it has to be long-term. We are talking about rewiring minds."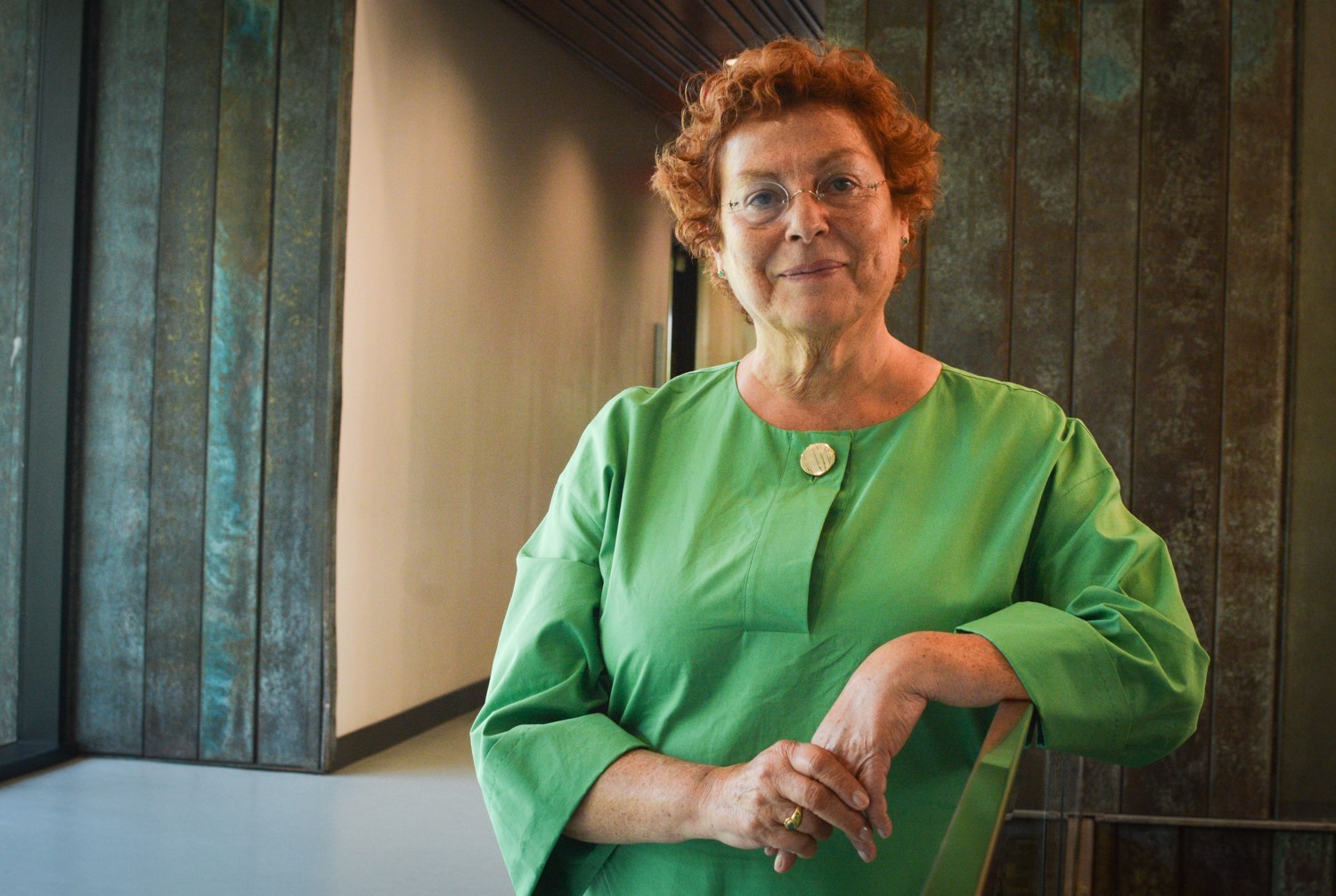 Monica Riutort
In Peel Region, a move to introduce such lessons in schools is being spearheaded by Caledon Councillor Johanna Downey, who is also a member of the Region of Peel's Human Trafficking Service Providers Committee.
Downey, along with Const. Joy Brown, a member of the Peel Regional Police Community Mobilization Unit, explained at the conference that they have already instituted training for teachers and school staff to help them identify and assist victims of human trafficking.
The future goal is to insert lessons about human trafficking into the curriculum. Currently, any teaching on the crime is inconsistent, Brown says. "We know that there is some resistance around certain topics being presented in school."
The Needs Assessment completed by Family Services of Peel in May calls for education and awareness campaigns to be funded by the federal government. As described in Part 2 of this series, funding for organizations to undertake projects on human trafficking, whether upstream or downstream, tends to be limited and short-term.
For that reason, the work of Northeastern University researcher Kayse Lee Maass was of particular interest to many at the conference. An industrial engineer, Maass and her team are using mathematics to help service providers understand how best to apply resources to help victims.
Maass presented a funding formula that helps organizations choose the best locations for future shelter spaces for survivors. Most recently, Peel Region Council approved $1.3 million for a three-year pilot program to create shelter beds for trafficking survivors in Peel, including four immediate/emergency shelter spaces and six transitional spaces. The FSP Needs Assessment found a "desperate" need for more housing for human trafficking survivors.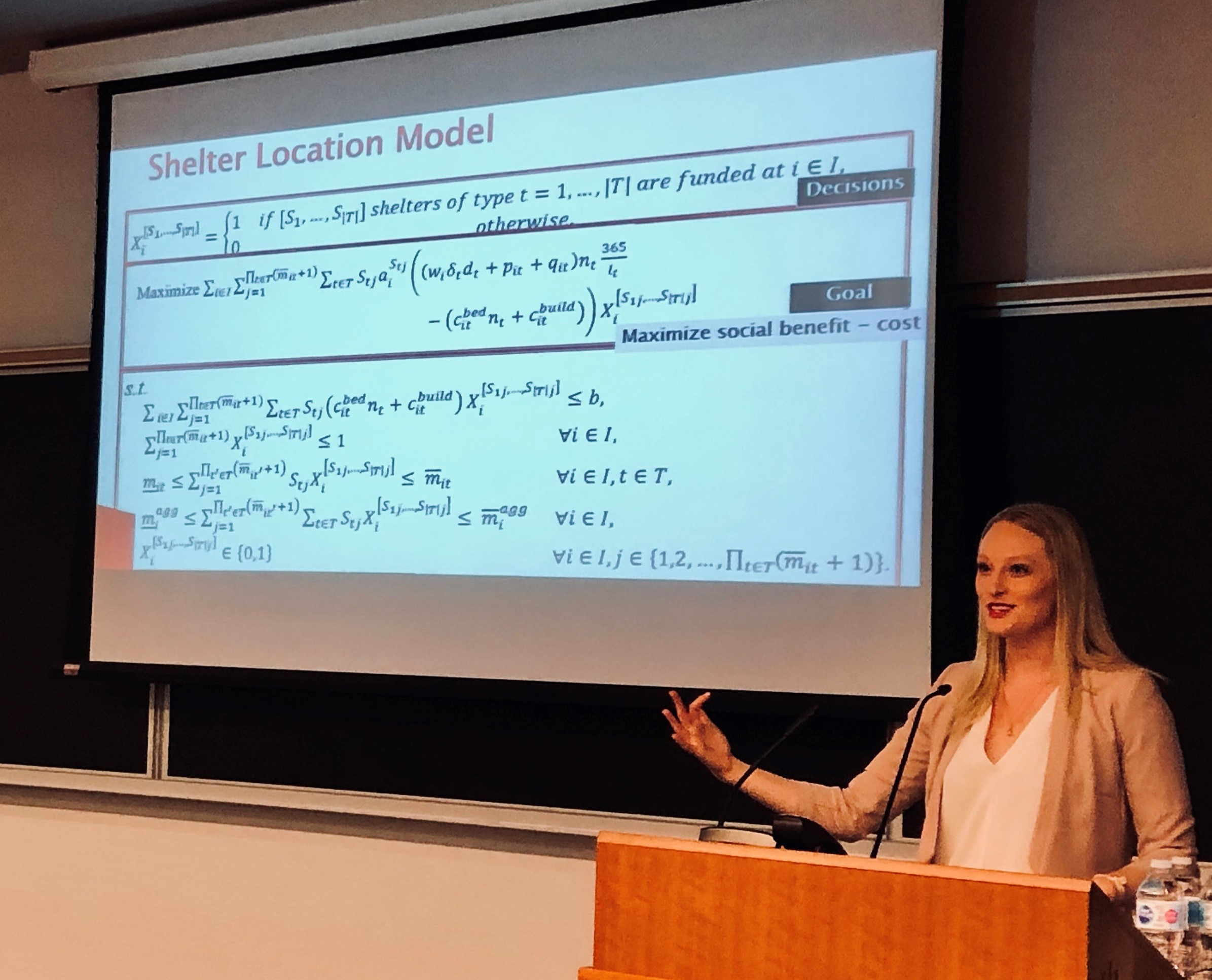 Kayse Lee Maass
There was a collective gasp and a bit of laughter when Maass flashed her convoluted mathematical formula across the screen. But Maass explained that using this formula, which takes into account a variety of factors including location, property values, community aesthetics, and proximity to other services, allows the researchers to quickly assist organizations in finding potential shelter locations.
"The benefit of using this interdisciplinary, collaborative space is that there are a lot of different factors that you want to include when you're coming up with how you want to address human trafficking, how you want to best meet the needs of survivors," Maass explained. "What we know is that resources are very much lacking, both in terms of time and in terms of money. What we try and do is come in and work with them to capture nuances of what their particular issues are, whether that is trying to increase access to housing, access to stable housing, access to any type of services, so that [the survivor is] not re-victimized and … can just go on with living" as she wants to.
The results of this research, still in its infancy, help analyze numerous "what-if" scenarios and answer difficult questions organizations face when looking to expand services. For example, Maass explained that if an agency were to approach them with a $1-million budget, hoping to establish a 15-bed shelter in a residential neighbourhood, close to transit, but away from a downtown area, they could plug those variables into the formula and immediately be provided with potential locations.
"You give it all these options, and it kind of scans through the options in a way that meets all of your criteria," Maass explains.
Her team is trying to develop a similar formula to identify the best ways to disrupt human trafficking networks, both physical and digital.
"You look at that network … from all these different perspectives and you see how things are moving around and how things are connected. And then we can say: If you were to make a change in that network, what players would it address, or what connections between them would it address?"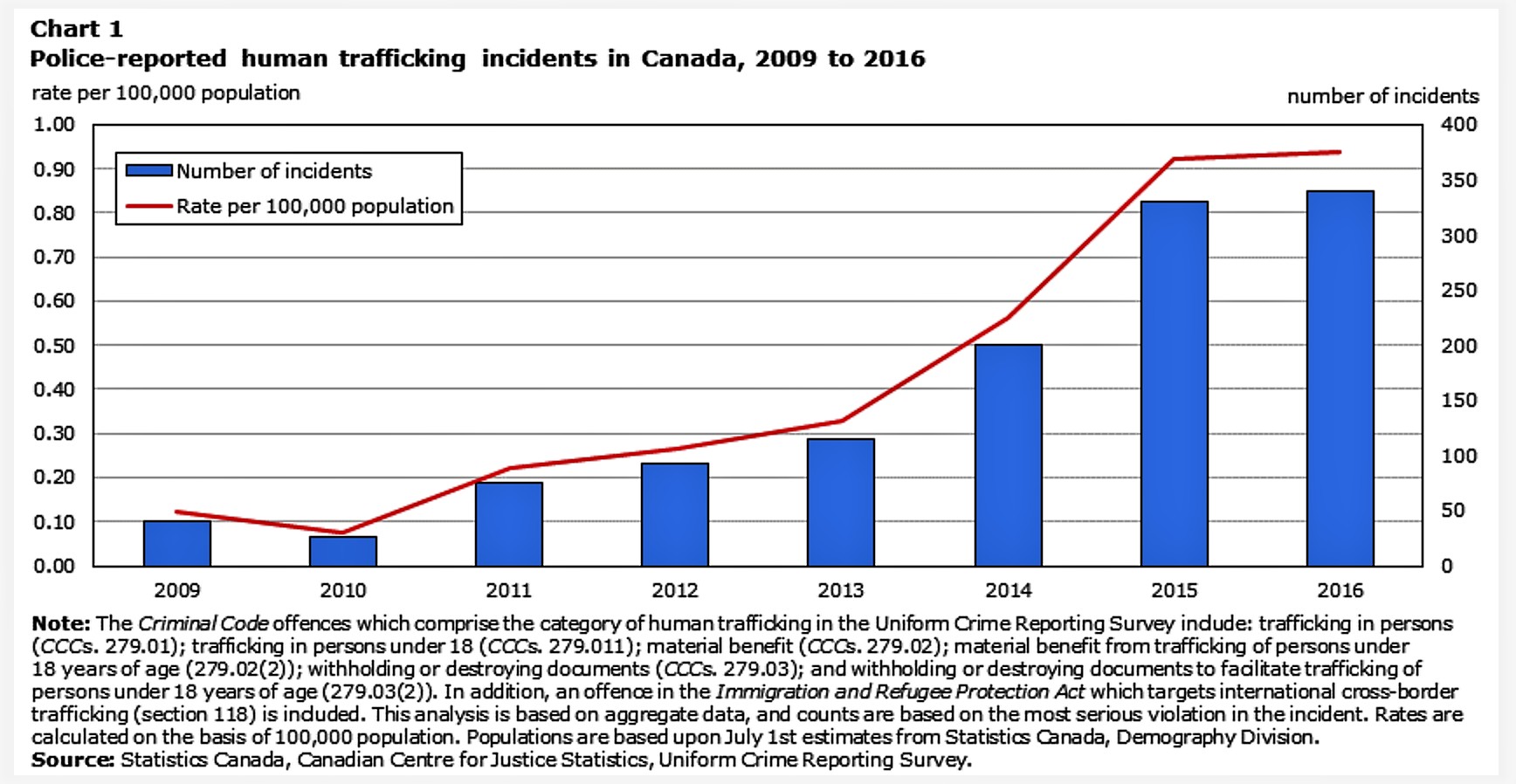 Participants gathered once more at the conclusion of the conference for a final opportunity to share ideas about where to go from here. After two days of constant discussion and learning, there were many.
Any approach to tackling the issue needs to be survivor-centred, said one attendee; more money needs to be put toward frontline services, as opposed to more research, said another; Ontario should think about creating a division of court that deals solely with trafficking, said another.
There were as many ideas as there were people in the room. However, if the conference made one thing clear, it's that there are people across North America dedicated to fighting the battle against human trafficking.
"It is always difficult when we face things head-on that we know shouldn't be. Human trafficking shouldn't be," said Dr. Elsabeth Jensen, a member of the Global Conference's scientific committee. "We can be better with each other. Every human being can be better with every other human being. In spite of that, we are dealing with the reality that that is not the case today," she concluded.
"This is a difficult topic, but you have come, and you are committed to facing it."
Email: [email protected]
Twitter: @JoeljWittnebel
Submit a correction about this story