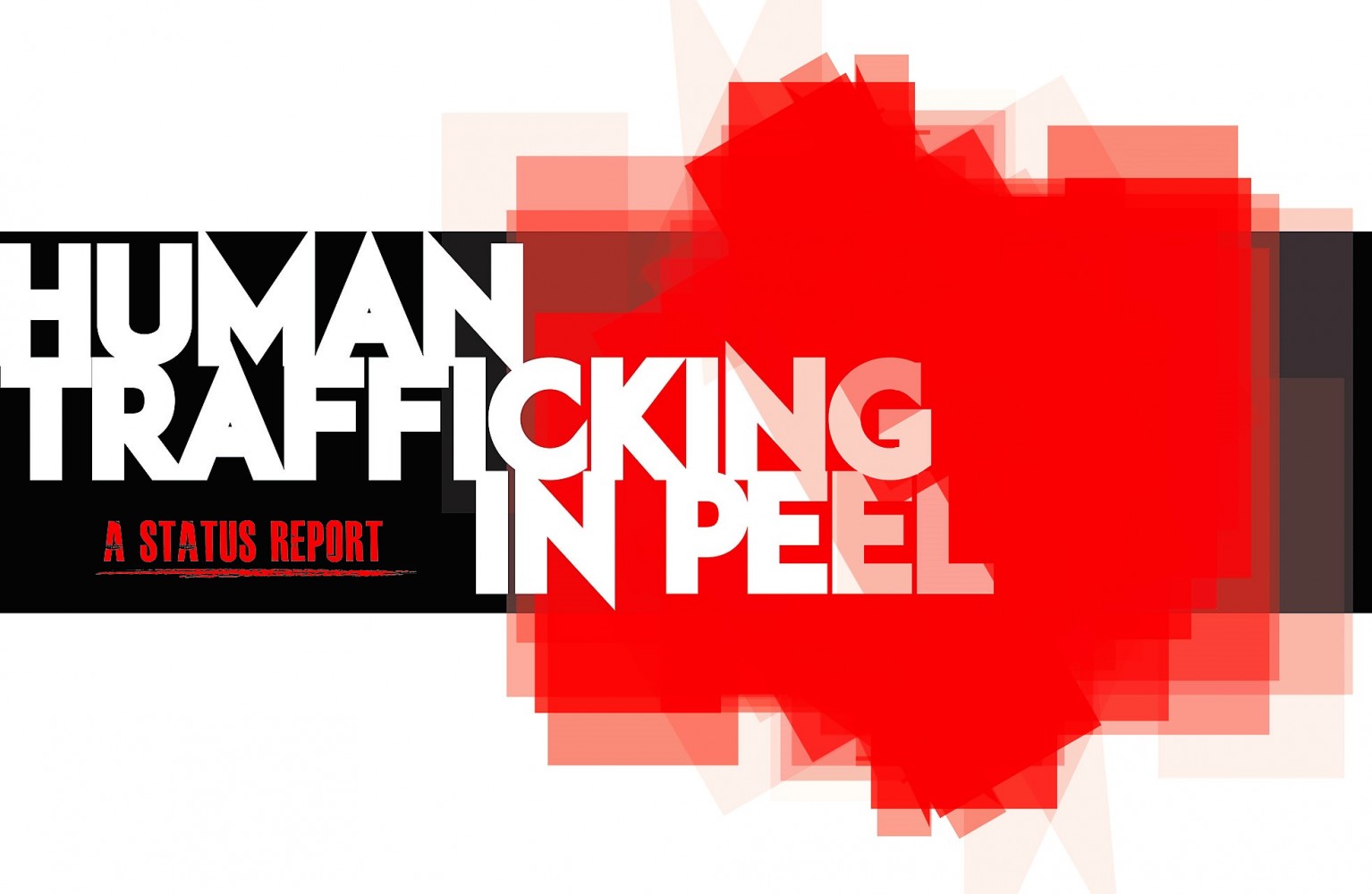 Photos and graphics Joel Wittnebel/Chart Statistics Canada
Part 1: Hundreds gather in Peel, the heart of Ontario's human trafficking network, to hunt for answers
A Google search, an address, a turn of the key in the ignition.
Three easy steps to find my way to the Global Conference on Human Trafficking and Trauma, the same three easy steps someone could take to have sex with a woman coerced into the sex trade.
It's that easy today, and in Peel Region it happens more than anywhere else in the country. If that doesn't put ice in the pit of your stomach, it should.
I listen to the murmur of voices as people file into the Information Centre at the University of Toronto Mississauga campus. The conference, the first of its kind, is looking to frame the issue of human trafficking through the lens of public health. Family Services of Peel, the host of the conference, wants the issue declared a public health crisis in the region.
A quick look at the statistics explains why.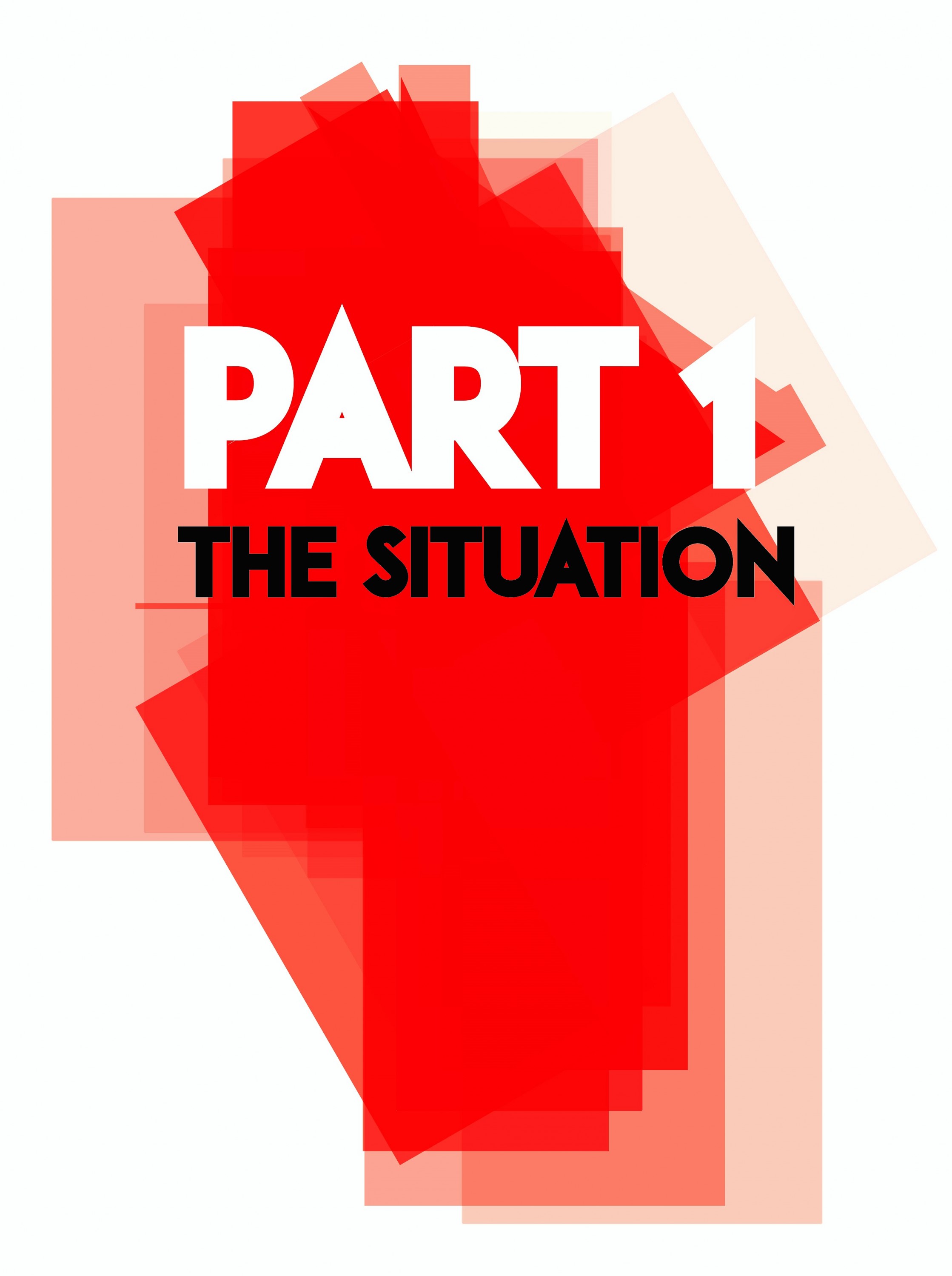 At the macro level, Ontario is the core of Canada's human trafficking business. Between 2009 and 2016, 66 percent of police-reported human trafficking cases originated in Ontario.
Keep in mind, this number doesn't include cases where survivors choose not to involve police, a common practice. Human trafficking is known to be vastly underreported.
Zooming in a little closer, data shows that the majority of Ontario's cases originate in the Greater Toronto Area.
In 2016, for instance, while Ontario accounted for 65 percent of Canada's human trafficking cases, 62 percent of those cases had roots in the GTA.
And Peel Region, specifically Brampton and Mississauga, is ground zero. Peel's rate of human trafficking cases is nearly double the national average.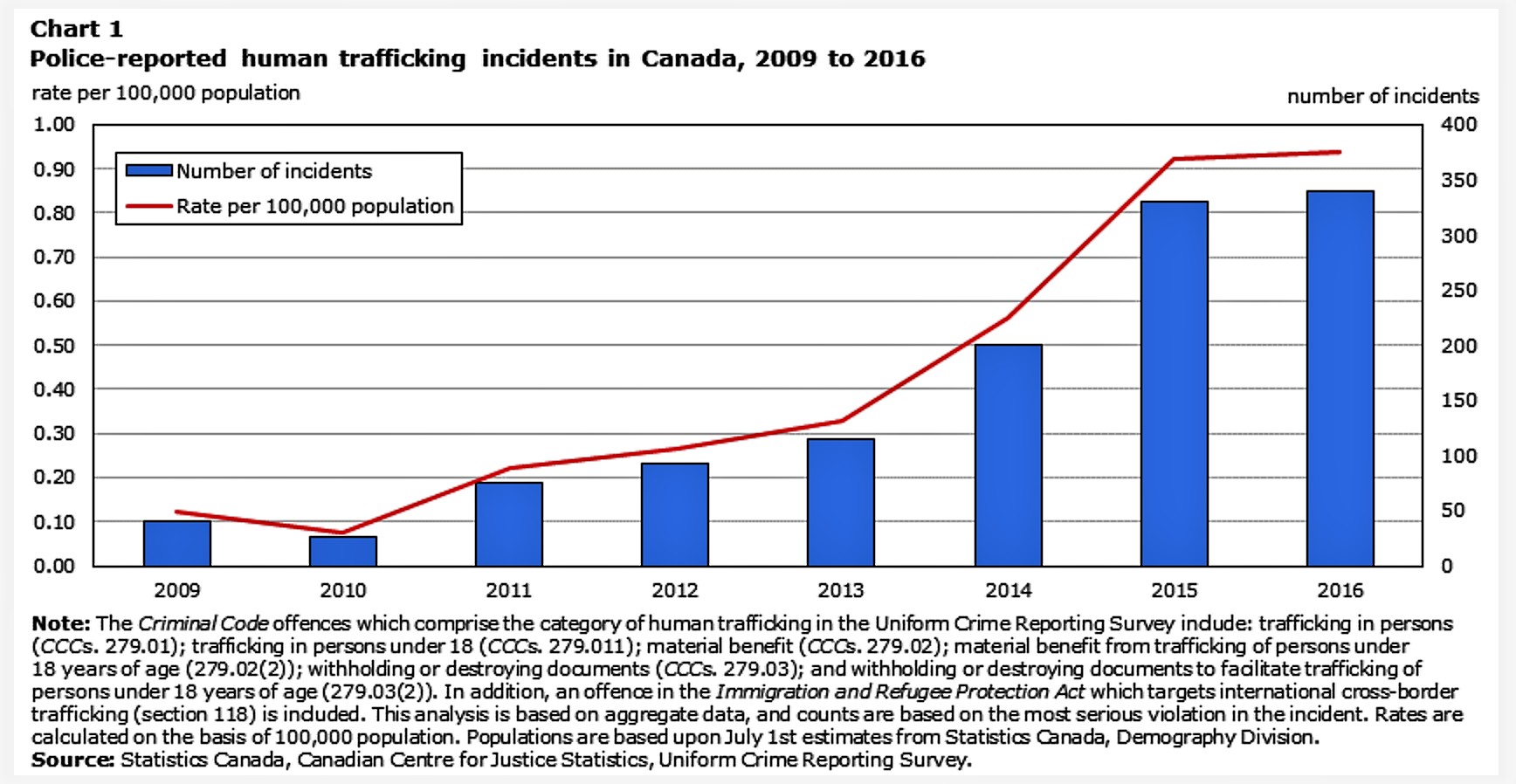 The reason it was easy to find my way to the U of T Mississauga campus — it's close to several major roads and 400-series highways — explains why Peel is a common place for traffickers to conduct their crimes.
Major highways, particularly the 401, crisscross the area, making it easy to move victims. Proximity to Pearson International Airport opens another means of transport for trafficking networks, many of which extend across international boundaries, and the turnover of travellers coming and going creates no lack of new clientele. Finally, the plethora of hotels in the area offer many places to do business.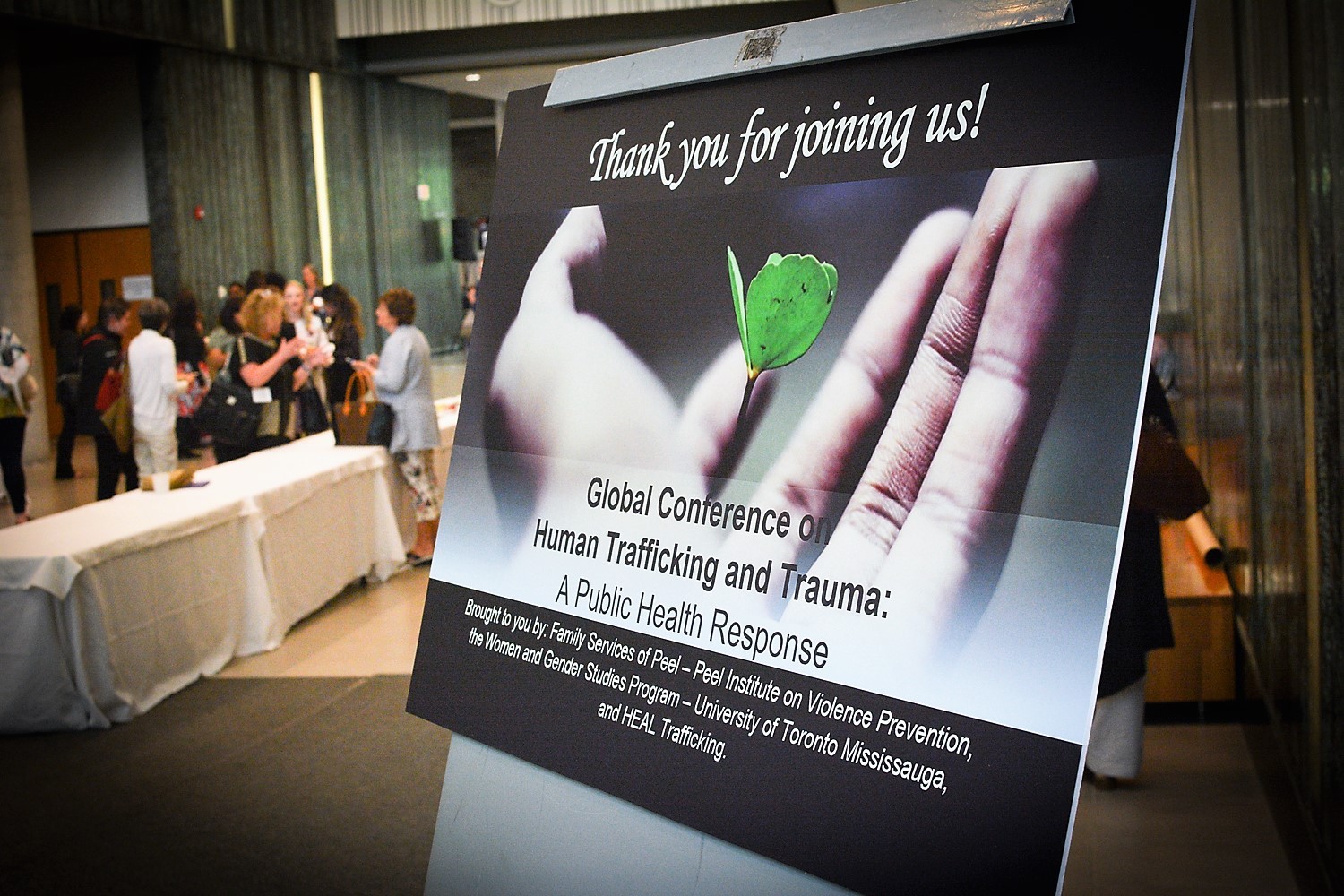 The Global Conference has nearly 200 people registered from across North America. By the end of Day 1, I will have heard speakers from Saskatchewan, California, Thunder Bay, Virginia, Ottawa, Boston, and many more.
Sitting in the lecture hall, waiting for the conference to officially get underway, I wonder how many of the attendees know how close they are to the heart of Canada's human trafficking crisis. I wonder which hotels these visitors have decided to stay at. I wonder if they know that within a 20 km radius of this campus there are several that have been used by human trafficking rings. Odds are, there are several still being used for such purposes. In January this year, for example, a young woman was trafficked in a Mississauga hotel after meeting a guy on the dating app Tinder. Three people — two men and a woman — have been charged in that case.
Dr. Joan Simalchik, director of the women and gender studies program at U of T Mississauga, is one of the first to speak. She says the goal of the two-day conference is to foster new dialogue about human trafficking and a public health response.
New ideas are critical, says Dr. Hanni Stoklosa, executive director of HEAL Trafficking and a member of the conference's scientific committee, along with Simalchik.
"We cannot arrest or prosecute our way out of trafficking," she says.
With 74 abstracts received from researchers across North America, it's clear the conference will offer no shortage of new ideas. From a Boston-based industrial engineer using math and data to study the best ways to disrupt human trafficking networks, to social workers designing the best work programs to get survivors back on their feet, to researchers studying the vulnerability of international students to becoming victims of human trafficking, the conference will hear it all.
In Peel, new ideas are needed not only to address rising rates of human trafficking, but to fill the service gaps that keep survivors from receiving the help they need.
"The concentration of human trafficking activity has implications for the sheer number of services that are needed in the Region of Peel," reads the May 2019 Human Trafficking Needs Assessment from Family Services of Peel, the document that was the catalyst for this conference. The study pointed to a lack of housing, healthcare, and employment services in particular. "These flaws contribute to women back-pedalling into exploitation."
For Rhonelle Bruder, a human trafficking survivor turned advocate, it's about stopping women from being trafficked in the first place, by resolving the trauma that can make someone vulnerable to a trafficker's manipulative tactics.
"Human trafficking doesn't begin when you're trafficked … it begins at birth, it begins when you're neglected as a child, abused as a child," she said. "Where are those early intervention points where we can create frameworks, methodologies where we can reach out and support (people)?"
Monica Riutort, a pioneer in research on violence against women who also headed the Family Services study, says the healthcare system and awareness campaigns need to be more survivor-focused.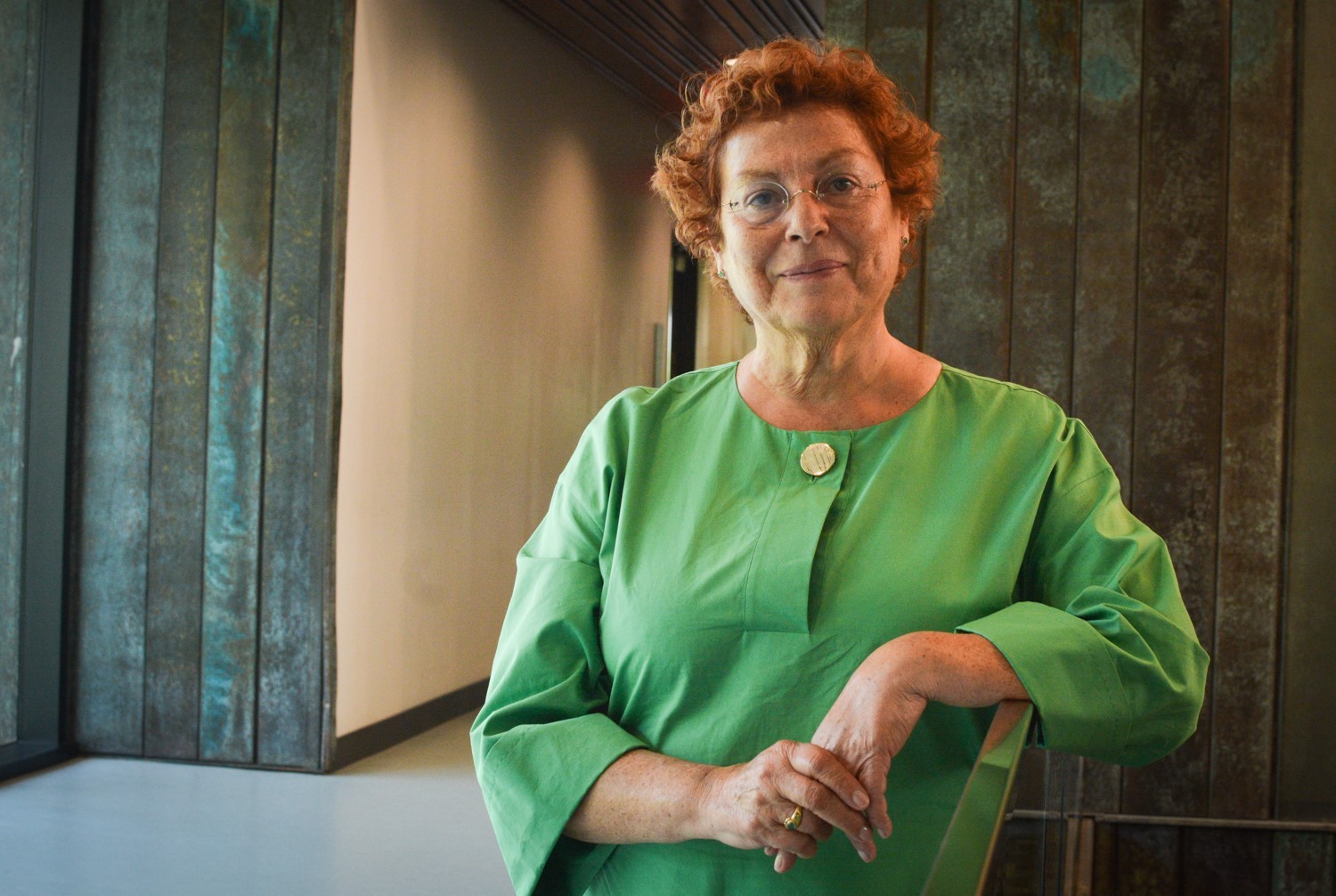 Monica Riutort says our healthcare system and awareness campaigns need to be more survivor focused
Riutort's seminar on the needs assessment has drawn a full house. The 70-year-old holds her audience rapt as she delivers a gut-wrenching talk on the level of violence described by human trafficking survivors.
"This is an issue that goes beyond most of us," she says. "It's a kind of abuse that is almost impossible to describe …This is constantly on my mind."
The hush in the room is evidence that her words have struck a chord.
As the room clears after the presentation, Riutort is one of the last to leave. I need to hear more.
The human element is something often lost in the discourse on human trafficking. With the desire to protect a victim's privacy, this is a crime often invisible to the public. But hidden behind every arrest report is a woman — most likely under the age of 25, maybe a daughter, a sister, a parent — whose life has been altered forever. Riutort understands this.
"Human trafficking is almost like constant torture," she tells me. "(It) is such a level of violence that I cannot comprehend, and it's touched my heart so deeply. To see that type of suffering is just incredible.
"Why? How can another human being inflict so much physical, emotional, and spiritual pain?" she asks.
As part of the Family Services needs assessment, Riutort met with survivors and the mothers of survivors to gather information about the nuances of trafficking and the issues faced by survivors once they get out of the trade.
While she says she was shocked by the sheer volume of cases in Peel Region, the lack of public concern about the issue was less of a surprise to her.
"When you're talking about human trafficking, you walk this very thin line between sex work and human trafficking, and there's a lot of social misunderstanding of sex work," she says.
This is understandable. The previous Conservative government's Bill C-36, passed in the House of Commons in 2014, is quite convoluted. While it makes prostitution illegal in Canada, it does not criminalize the sale of sexual services.
Let me explain.
Bill C-36 makes purchasing sexual services illegal. In this way, the government was looking to target the demand, or the "Johns," those seeking to purchase sexual services. The bill removed criminal liability from those selling and advertising their services. However, it does make it illegal to advertise someone else's sexual services, as traffickers do.
Online classified sites like Leolist are filled with ads from women advertising escort and other, more sexually explicit, services. Distinguishing between women placing ads on their own and those being trafficked is nearly impossible.
These misconceptions about sex work and human trafficking dilute the public's abhorrence for a crime that is reaching crisis proportions in Canada.
For Riutort, there is no real distinction between sex work and human trafficking.
"Everything is really labour trafficking," she says, referring to the trafficking of workers. "Sex work is labour; it's a way that women support themselves and provide for themselves and their family.
"This is a major social issue," she adds. "I think it's come a time in our society that we are willing and able to open our eyes and see that this is something we have to tackle, this is something where we have to find social solutions."
How? With the increasingly complex nature of the issue, trafficking networks spanning across digital and geographic boundaries, and survivors left with serious trauma, what can be done?
"You need people who feel passionate about doing this work," Riutort says.
Her words stay with me as I mingle among the hundreds in attendance. Advocates, researchers, social workers, service providers, all converged on a single goal.
If there was ever a place to find people passionate about ending this issue, this is it.

In Part 2 of The Pointer's series on human trafficking, we'll address the gaps and problems that exist for assisting survivors of human trafficking.
Email: [email protected]
Twitter: @JoeljWittnebel
Submit a correction about this story