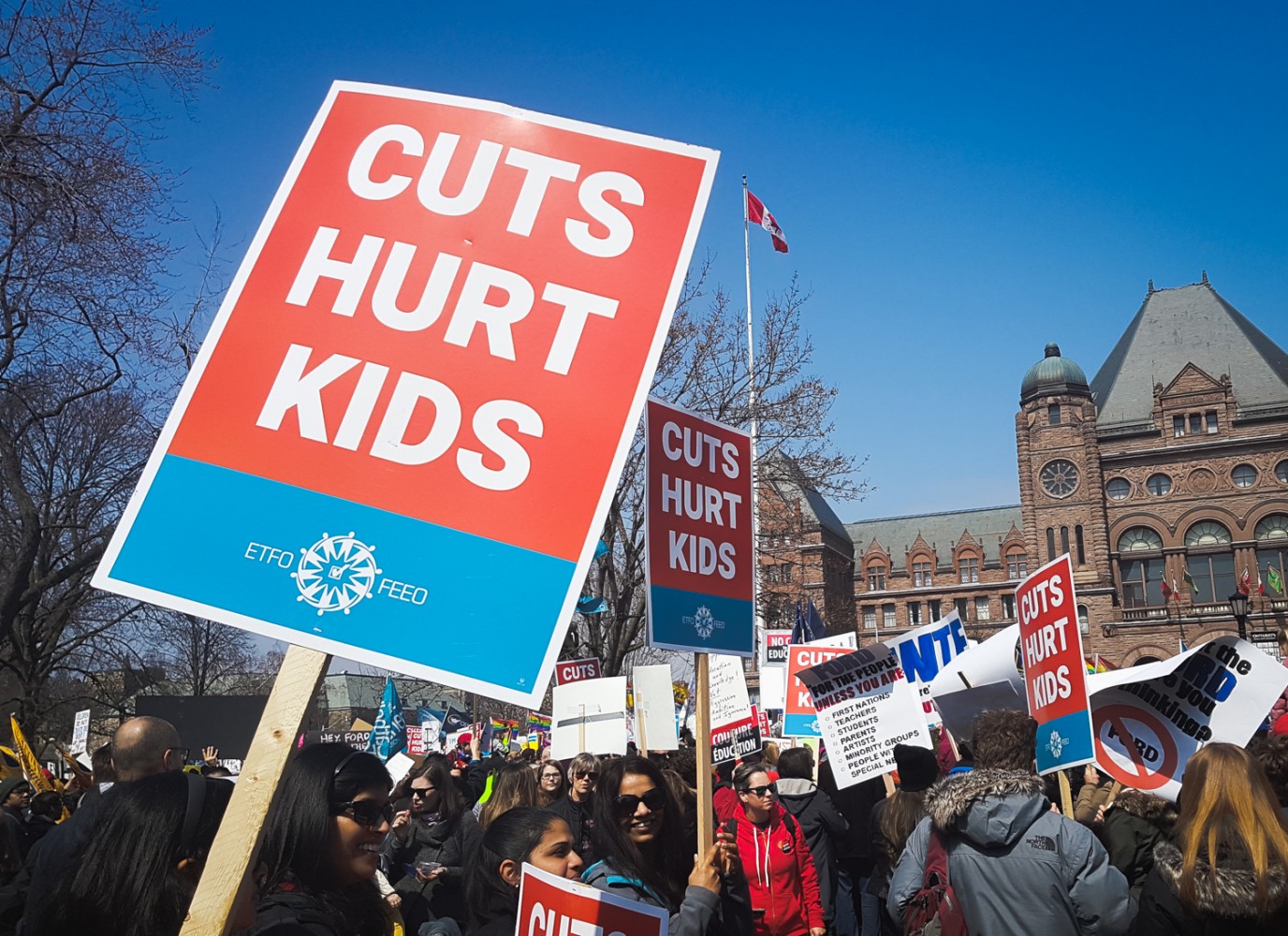 Photos by Mansoor Tanweer/Province of Ontario/Graphics from Backpack Studios.
Many Peel teachers declared surplus will get their jobs back
In a move that will alleviate some of the anxiety around Premier Doug Ford's cuts to education, many of the Peel Region teachers given layoff notices last April will be returning to work come fall.
The announcement came Friday when the Peel District School Board said 119 of the 193 high school teachers who received notices and all of the 137 elementary school teachers declared "surplus to board" will be able to come back to work, as there are enough jobs for them. Forty-five of the 119, the board says, have been placed already.
The layoffs were attributed to Education Minister Lisa Thompson's decision to increase average class sizes, boosting classes in the older elementary grades by one student on average and high school classes by six, from an average of 22 to 28. A provincial memo made public two months ago said just under 3,500 teaching positions would be phased out over four years, netting the province $851 million in savings. The job losses were particularly jarring for the PDSB, as the board hadn't found it unnecessary to hand out surplus notices at any time over the past five years.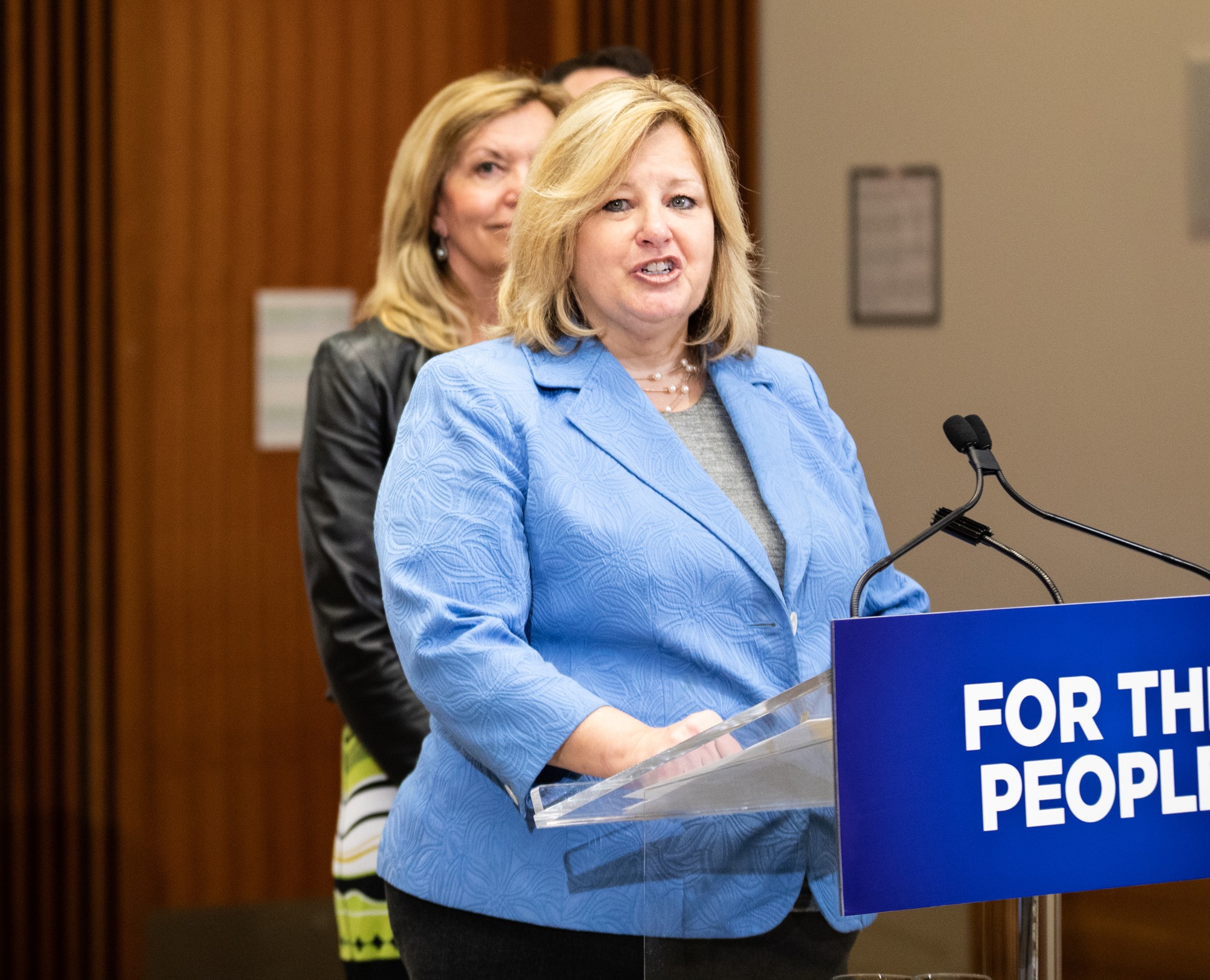 Education Minister Lisa Thompson
Some of the remaining 74 teachers considered surplus will be offered "long-term occasional" positions, essentially temp positions covering long-term absences such as parental leave. The rest will be put on the supply list, becoming on-call supply teachers. Both categories are typically filled by teachers with low seniority, just starting their careers as educators.
One reason the jobs were saved was a $1.6-billion attrition fund put in place by the Ford government to cushion the job losses after strong pushback from the public, including teachers' unions. In April, thousands of students across Brampton, as well as the rest of the province, walked out of their classes to protest the changes. Their teachers followed suit the weekend after that, marching on Queen's Park. However, the measure is a temporary one to bridge the gap between attrition and the mandatory reduction of the teacher pool that will result from cutting positions.
Carla Pereira, spokesperson for the PDSB, directly credits the fund for saving those jobs. "Based on our enrolment, we would have had to reduce our secondary school staffing by approximately 520 positions, to implement the 28 class size. In order to phase this in, the government is providing attrition protection, so that we reduce our staffing complement over time, using retirements and other leaves," she told The Pointer.
"Based on our current retirement/leave numbers, we are expecting attrition protection for approximately 400 teachers, which equals approximately $44 million for this year."
It should be noted that there are approximately 2,850 secondary school teachers in the board; a loss of 400 jobs would mean shrinking the teacher pool by 14 percent. As it is, course offerings for students have been curtailed to meet the challenge of hitting an average of 28 students per class. Some classes will be substantially bigger than that number to make up for specialized courses that necessarily have lower enrollments.
The funding is trickling down to the boards through the Grants for Student needs program, the mechanism through which the Ministry of Education provides funding for particular purposes such as special needs, salaries for Early Childhood Educators, textbooks and at-risk youth programs.
An adjustment to the GSN grants at the end of April meant that the Dufferin-Peel Catholic District School Board lost out on $8 million it expected to receive and the PDSB, while its funding grew slightly in keeping with an increase in students, got a fraction of the increase it has received in previous years.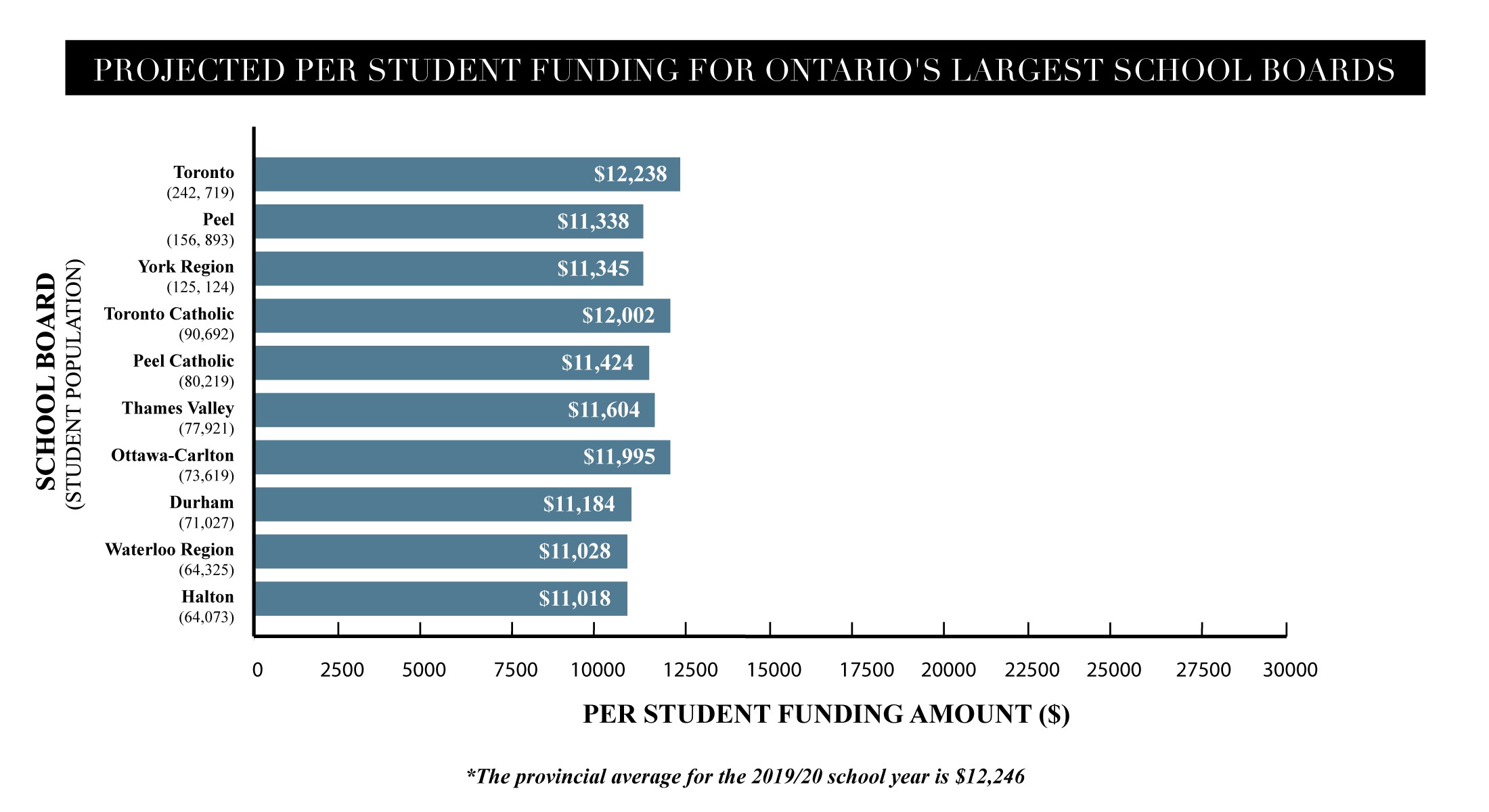 Teachers are being recalled based on seniority and qualifications, which means that not only is time in the profession is considered, but also individual skills that may be in higher demand, such as an ability to teach in French, or science.
Mike Bettiol, president of Ontario Secondary School Teachers' Federation district 19 (Peel), points out that the 74 teachers not being recalled are still suffering a job loss, contradicting the government's pledge that no teachers would lose their jobs. "These are people who won't be going back to permanent positions. So the jobs that they held in the schools are no longer there," he said.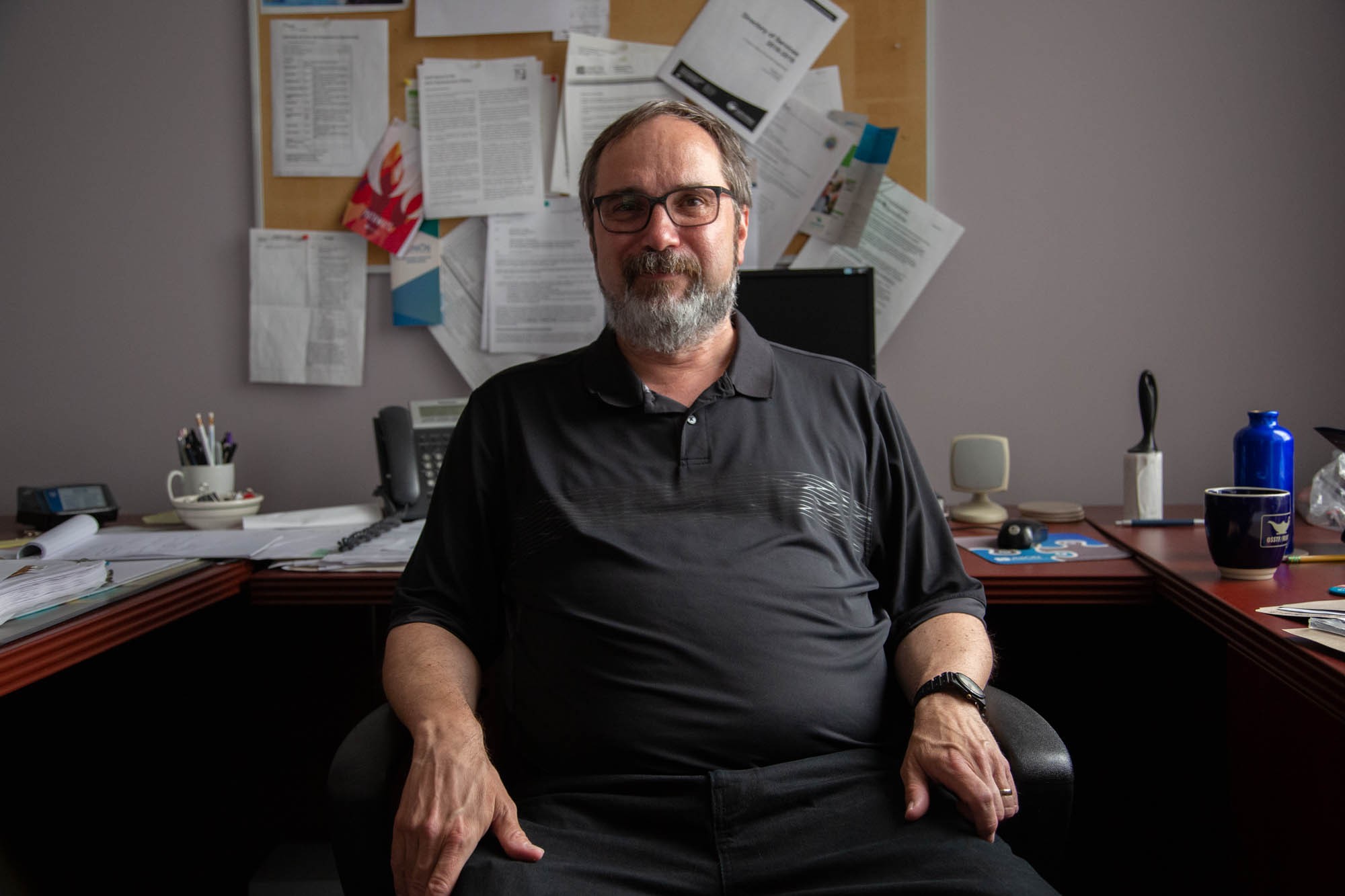 Mike Bettiol, president of Ontario Secondary School Teachers' Federation district 19 (Peel)
Bettiol's worry is that if the teachers on the supply list don't find jobs within 26 months, their official seniority will return to zero. He also pointed out that the 45 or so teachers who have been placed are filling positions that opened up due to retirement.
The Pointer previously profiled Emily Brown, a surplussed teacher who achieved viral notoriety when she took her frustrations with the government to social media. She said things are beginning to look up for her and she is feeling better about her work prospects. "For me, personally, it is very likely with my seniority and qualifications that I will be recalled, which I am thankful for," she said in an email.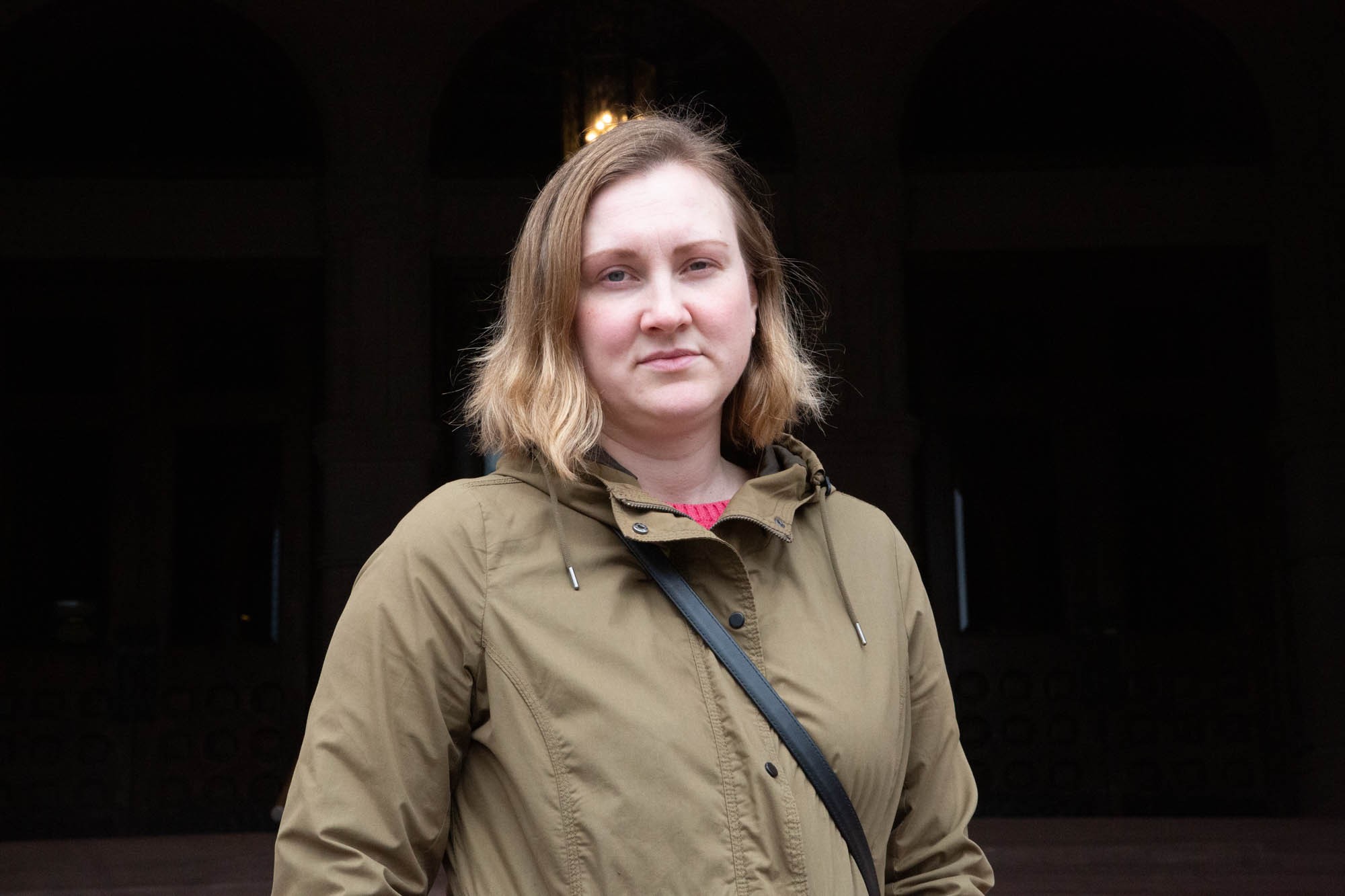 Emily Brown
She has not been officially called back to work yet. The mother of two, who will be coming off of maternity leave in July, remains frustrated with the government and sees the whole situation as largely avoidable. "Much of this distress could have been avoided if the government had effectively worked with school boards by respecting their staffing timelines and was upfront with them about how much funding was available. Even though I will likely regain a teaching position in Peel, it will not be at my current school, [which] has already completed their staffing. I lost the ability to apply to positions and have to wait and see where I am appointed to."
As a teacher with just two years of permanent full-time work under her belt, memories of working in long-term occasional positions and being on the supply list are still fresh. That situation is stressful, as it means never knowing for sure what the next paycheque might look like.
"I personally find supply teaching very stressful. In most cases you find out the morning-of if you will be working that day. You enter a school not knowing the students or if a lesson was left for you by the teacher. I only had to supply-teach a few days before I was able to secure my first long term occasional (LTO) position. Some people enjoy supply teaching because you are not responsible for planning lessons, marking, and a number of other tasks. People will travel if they want work. If you're lucky, you can become known at schools and they can request you in advance," she said.
People working as an LTO get paid on the same pay-scale as those employed permanently by the board. Supply teachers, on the other hand, get paid when they are asked to come in and fill a position on a day-by-day basis.
Email: [email protected]
Twitter: @mansoortanweer
Submit a correction about this story