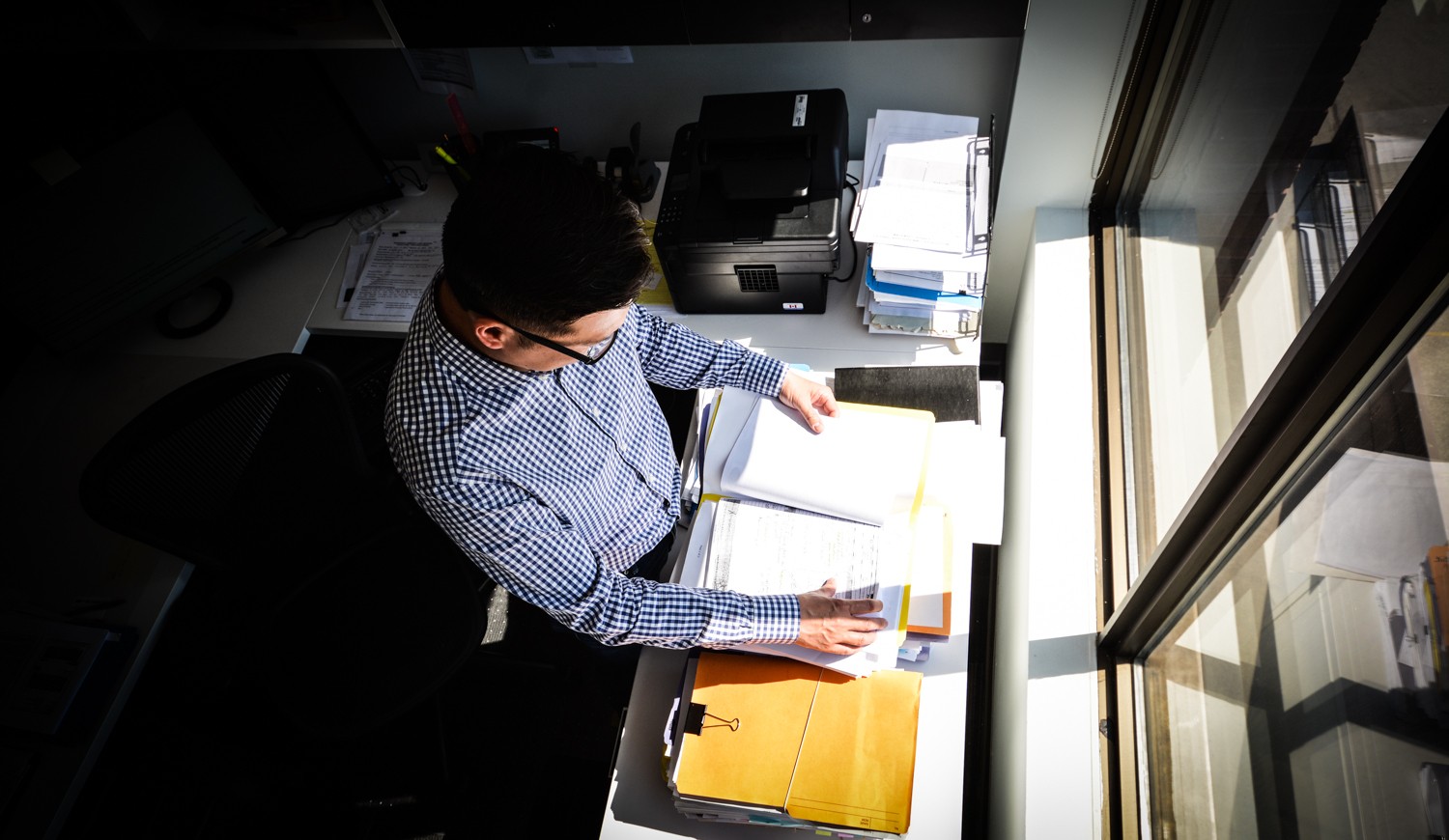 Photos by Joel Wittnebel/Mansoor Tanweer
Councillors shocked by impacts of legal aid cuts
People in the midst of some of life's hardest situations — facing eviction, dealing with a disability, fleeing family violence — lean heavily on legal aid supports in Peel Region and across Ontario. With recent cuts to funding, that support system could soon crumble.
The reality of the situation stunned councillors during Thursday's regional council meeting as representatives from Peel's two community legal clinics laid the situation bare for them.
"When you see the impact on people's lives and children … just passing the motion [to register Peel Council's official opposition to the cuts] doesn't seem enough," said Brampton Councillor Martin Medeiros.
"I wish I could do more than this," said Mississauga Councillor Dipika Damerla.
The emotional responses came following a presentation from Doug Kwan, the co-executive director of Mississauga Community Legal Services, and Jack Fleming, executive director of North Peel Dufferin Community Legal Services, in which they explained the sweeping implications for some of Peel's most vulnerable residents of legal-aid cuts announced in the provincial budget.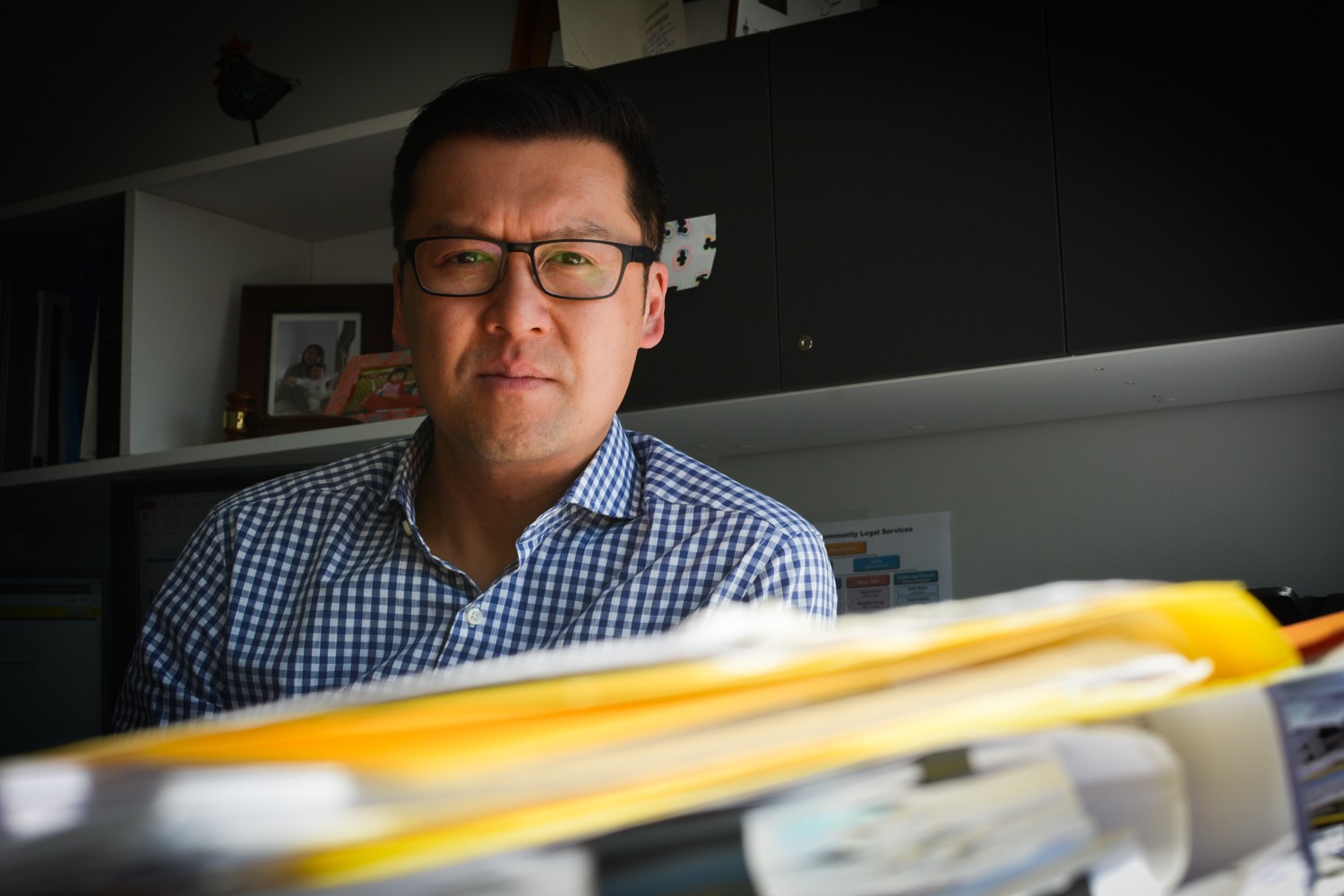 Doug Kwan, co-executive director of Mississauga Community Legal Services
They said the province used "faulty math" to cut $133 million from Legal Aid Ontario (a 35 percent reduction in its budget) as part of the governing PCs' plan to trim millions of dollars from provincial operations to eliminate what they have claimed is a $15-million deficit left behind by the former Liberal government.
Kwan said the move isn't logical, as many studies, the latest from the Canadian Bar Association, have shown that every $1 taken out of Legal Aid services results in $6 of spending on other government expenditures.
"It's in fact less efficient and more costly overall" to reduce legal help for vulnerable people, Kwan told The Pointer. Legal aid "helps save the government money, because when a person is empowered and knows about their legal rights, everything runs smoothly. There are fewer delays in court, judges don't waste time trying to explain the law to unrepresented litigants, people don't drag things out unnecessarily."
The reductions to Legal Aid are also proportionately significantly higher than other cuts made in the provincial budget — some of which the province has backpedalled on following public backlash.
The total justice sector budget in Ontario is approximately $5 billion, which under the PCs' plan will be reduced to $4.7 billion over three years, for an annual reduction of $300 million. Legal Aid Ontario's budget is $495 million. The funding cut will reduce the budget by $133 million this year, with that reduction increasing to $164 million in three years.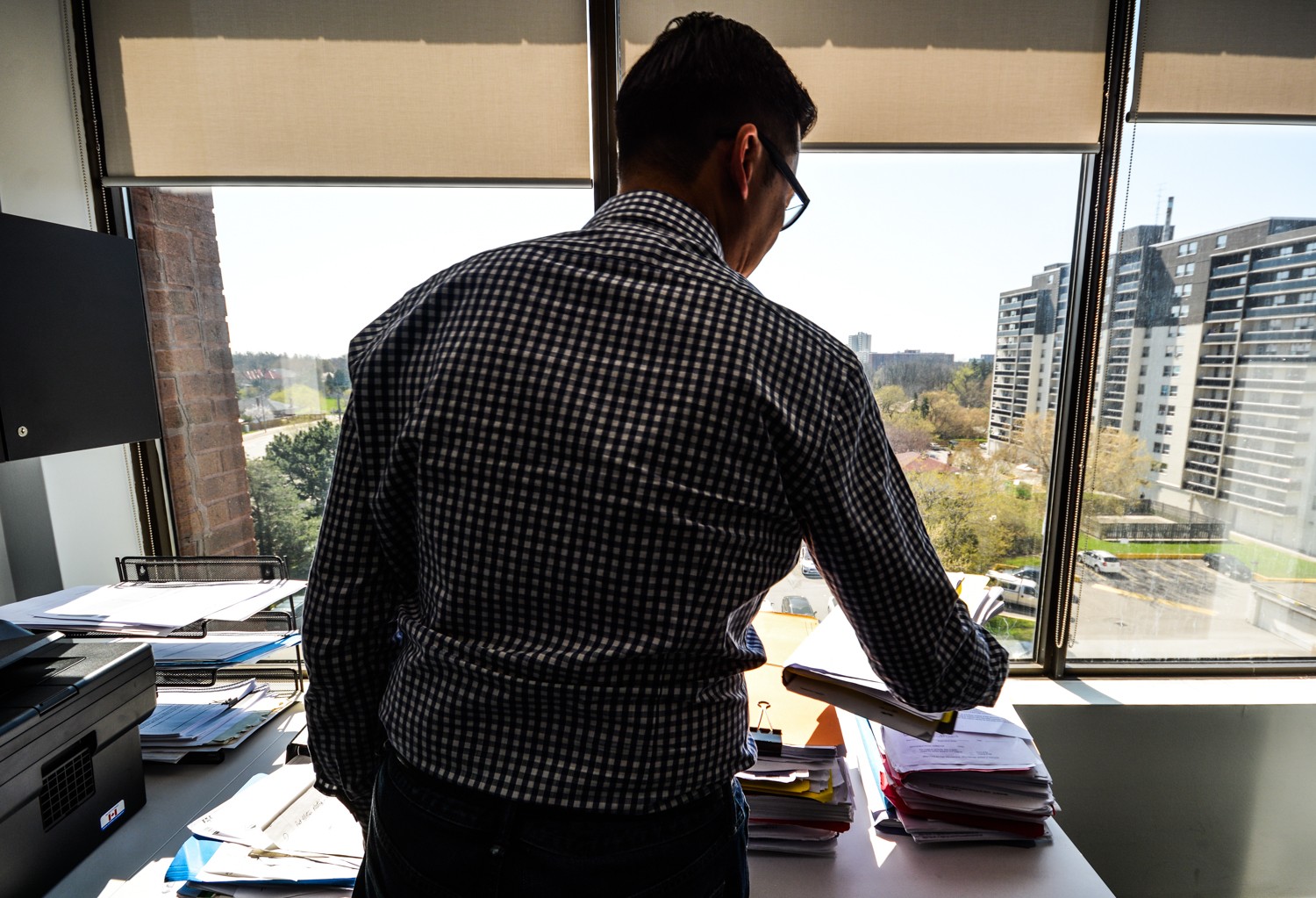 Kwan says 86 percent of the funding received by Mississauga Community Legal Services is directed to frontline services.
This means that while the LAO makes up only 10 percent of the justice budget as a whole, it is being forced to shoulder 50 percent of the total justice sector cut. The numbers get even worse when you look at the budget of the Ministry of the Attorney General, which administers the LAO budget. The ministry's budget is being cut by $154.3 million this year, which means Legal Aid Ontario is bearing 86 percent of that total reduction.
"It's crazy, and it sort of challenges the perception that this is about 'efficiencies'," Kwan said.
The province justifies the cut by saying that Legal Aid Ontario has served 10 percent fewer clients since 2013/14. However, numbers from Ontario's chief auditor suggest otherwise.
Last December, the provincial Attorney General released a value-for-money audit of LAO which found that since 2013/14, there has been a 23 percent increase in the number of people represented by legal aid lawyers, a 2 percent increase in those helped directly by duty counsel at courthouses, and a 12 percent increase in legal clinic clients. Both the LAO and the ministry signed off on those numbers before the report was released.
"The auditor general didn't identify any decrease in clients served. The word 'increase' shows up 62 times in her report," Kwan said.
Brampton MPPs Prabmeet Sarkaria (Brampton South–PC) and Amarjot Sandhu (Brampton West–PC), did not respond to requests from The Pointer for comment on these cuts or clarification on the numbers.
Deputy Leader of the Opposition Sara Singh (Brampton Centre–NDP) has spoken numerous times in the Legislature on this issue, repeatedly calling for the legal aid cuts to be reversed.
"Not only is forcing people to navigate the legal system without lawyers cruel, but it will result in delays and backlogs in the court system, which will come with massive human and financial costs," Singh said in a press release. "We should be doing more to ensure the most vulnerable among us can get legal help when they need it, not ripping supports away."
The services of Legal Aid Ontario support those in need of help navigating many streams of the judicial system, including criminal law, family law, child protection law, residential tenancies, and refugee and immigration claimants. These services are funded by the province, with funds flowing through Legal Aid Ontario and down to local communities by way of three main programs. These include supports for in-court services helping those with immediate needs; lawyer certificates — vouchers that allow people to obtain a lawyer to assist them with their legal needs; and finally community legal clinics, which, as Kwan describes them, are the "ER law service."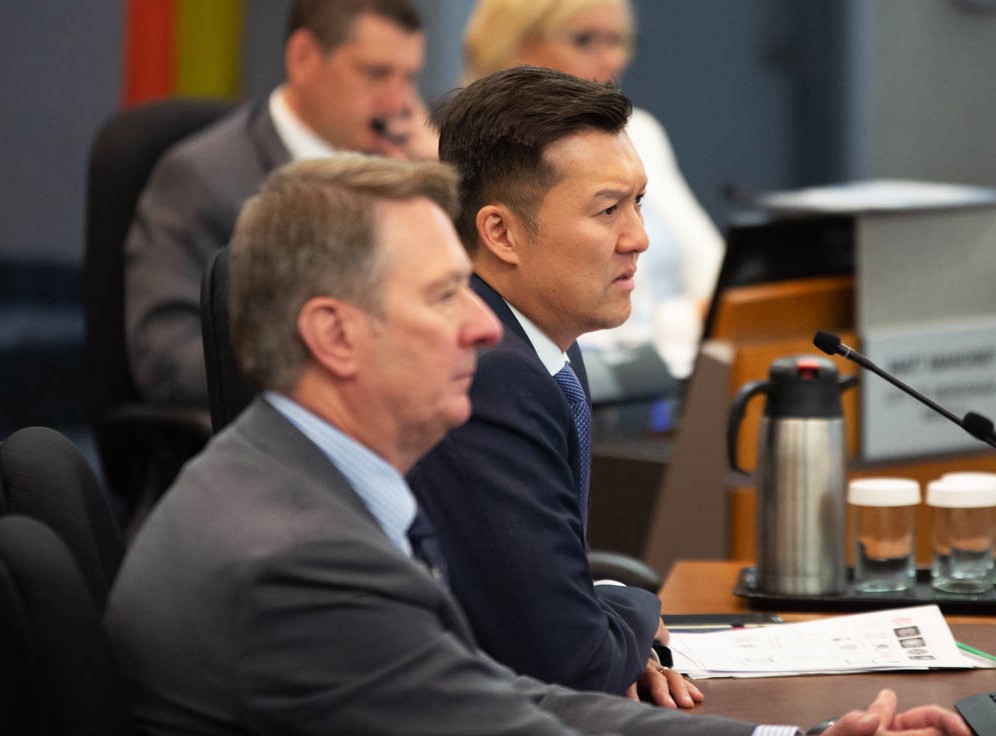 Kwan, along with Jack Fleming, executive director of North Peel Dufferin Community Legal Services present to regional council on Thursday.
"People come with eviction notices, they come in with their benefits cut off, they don't know what to do, how to navigate the system. Our services are a benefit to them because it helps produce better outcomes," he said.
The cuts will also affect those hoping to receive immediate assistance. Kwan explains that the legal clinic's "very popular" Family Law Fridays sessions, which provide family services on a walk-in basis, will cease operation at the end of this month.
The program, which has been in operation since 2006 serves between eight and 14 people every Friday. A similar program is offered directly out of the Brampton courthouse.
"The program offered the same service as the one in the Brampton courthouse and saved many residents a lot of time going up there and the wait involved in getting through security to obtain family law advice," Kwan says. "Those residents who live south of Eglinton really appreciated this service, and now that is gone."
People in vulnerable and precarious work situations may also feel the pinch after these cuts. A popular Mobile Justice Project, launched in 2017, has helped vulnerable workers recover over half a million dollars in unpaid wages, according to recent reports. The program consists of a trio of roving lawyers who move around the province helping people in precarious working situations with their legal needs.
In a bit of good news, Mississauga's funding for this program was spared any cut for the coming year.
"I don't see [legal aid] as much different than a basic human right," Mississauga Councillor George Carlson said.
And indeed, many people who apply for legal aid are in dire situations. Kwan said 75 percent of the family law certificates provided are given to women, and half of those involve domestic violence cases. According to numbers from Peel Family Services, 366 clients in the region received access to legal aid services in 2018.
"This impacts women and the most vulnerable … that is a very concerning alarm bell for us," said Councillor Rowena Santos.
The province has also completely ended access to legal aid funds for refugee claimants, for whom help in presenting their case to an Immigration and Refugee Board judge may mean the difference between life and death.
The plea from Kwan and Fleming spurred council to act, in hopes that by putting their weight behind ongoing advocacy efforts to reverse the cuts, the provincial government might pay attention. Premier Doug Ford has already paused cuts to a number of municipal services, including childcare and public health programs, after a public outcry.
"How can we have a just society unless we have at least reasonable access to the judicial system?" asked Councillor Damerla, who put forward the motion to have council officially oppose the legal aid cuts and call for their reversal.
"This was not at the forefront of all the cuts that came through," said Councillor Medeiros, the seconder of the motion. "We will do our best to at least raise this issue with our residents."
Email: [email protected]
Twitter: @JoeljWittnebel
Submit a correction about this story