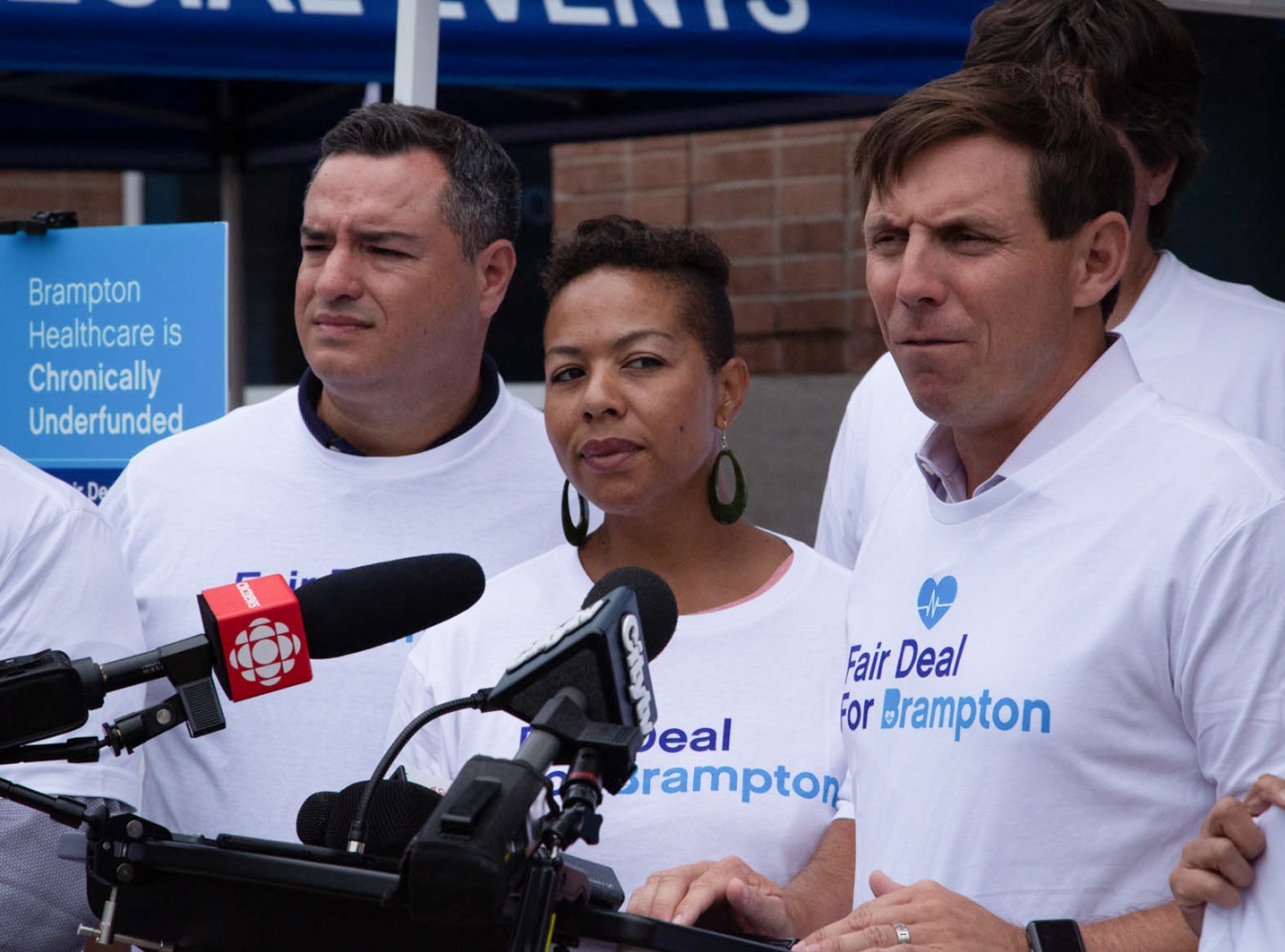 Photos by Mansoor Tanweer
"This may be the most atrocious negligence in the province," Mayor says about Brampton's healthcare crisis
Brampton Mayor Patrick Brown and his council colleagues are placing the spotlight on Brampton's healthcare crisis. City councillors and the mayor took time away from their duties at Saturday's kickoff of the Brampton Farmers' Market to launch a campaign to get provincial funding to expand healthcare and ease hallway medicine in the city's overcrowded hospitals.
The demands are simple: #FairDealForBrampton asks the province to provide "immediate funding" to cushion the effects of increasing patient volumes at Peel Memorial's Urgent Care Centre, fund the completion for the stagnant Phase 2 expansion of Peel Memorial and to fund the creation of a third healthcare facility in Brampton.
"This may be the most atrocious negligence in the province," Brown said at the press conference Saturday.
The advocacy offensive involves a petitioning campaign in three locations: City Hall, Gore Meadows Community Centre and Chinguacousy Wellness Centre. "We're going to take this petition directly to Queen's Park. We're going to ask our elected officials to present it to the legislature. We plan to go to Queen's Park with nurses, with healthcare workers, with physicians to directly make our pitch."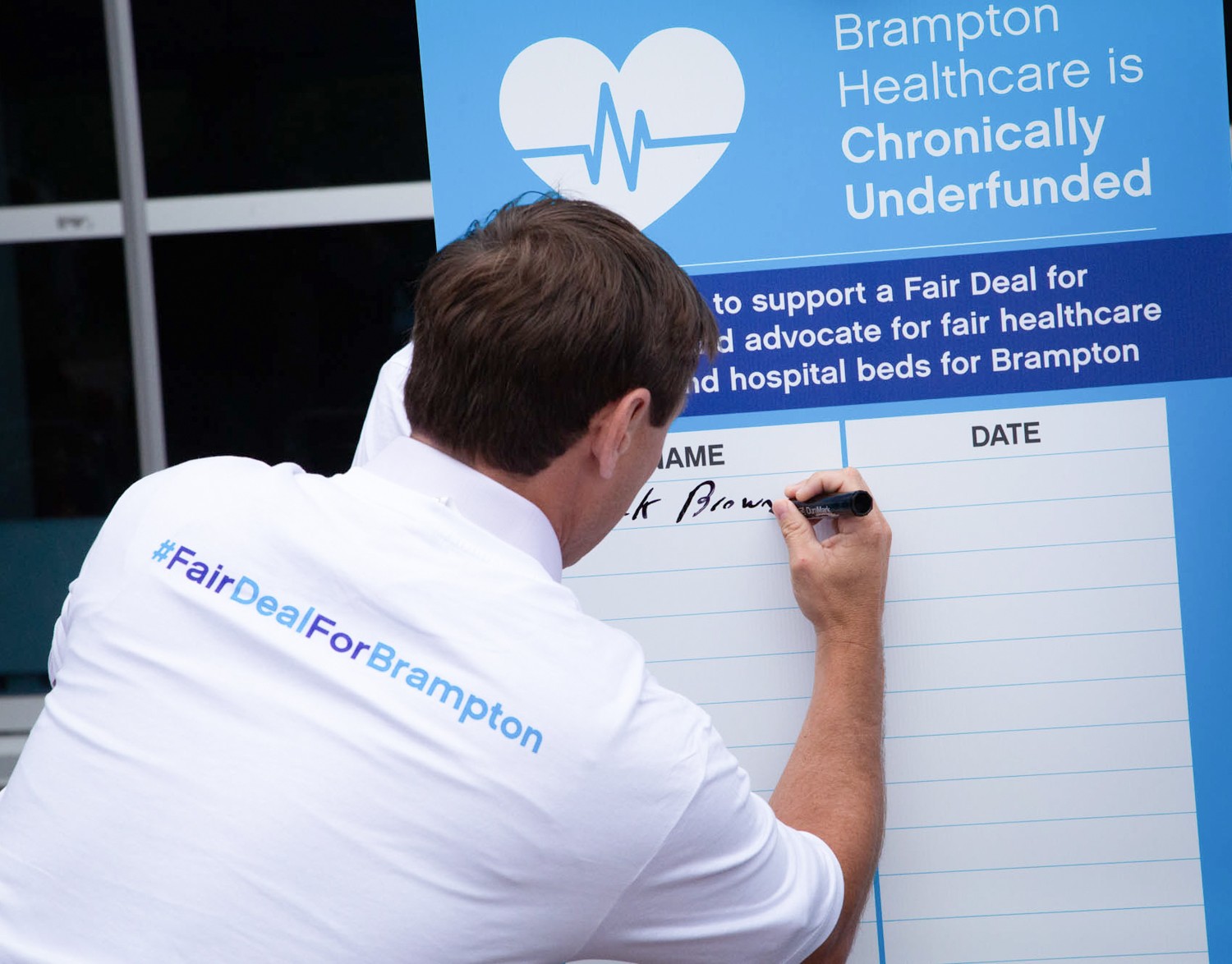 Mayor Patrick Brown signs the petition
"You get visitors to Brampton all the time. Prime Ministers, Premiers love to drop by Brampton on election campaigns," he said about the lip service paid to the vote-rich city by other levels of government when they're looking for support.
"The last provincial (and) federal election, I don't think a city had more visits than the City of Brampton. But we're tired of being a city that is a place for photo-ops. We want the government to pay attention to having quality healthcare in Brampton."
Brown, and council, appear to have searched for an opportune moment to make the move. In May, facing a stiff backlash across the province, the Doug Ford PC government walked back many of its most controversial reforms to public health, education and ambulance services.
"What we've found with this government is that when there has been citizens who have spoken up loudly, that the government has walked back decisions. We remember when they cut the express GO Train from Toronto, Brampton residents rallied to say it makes no sense to cut the express train during rush hour. After a month, the government walked back the decision," Brown said.
Just the day before, Ford visited Etobicoke General Hospital, which also happens to be in the William Osler Health System just like Brampton Civic and Peel Memorial. He was there to "celebrate" the grand opening of a new $358 million patient tower, adding 250,000-square-feet to the hospital.
"We made a promise to end hallway health care and to protect what matters most to the people of Ontario," Ford said in a Province of Ontario release. "Today, we are taking another step toward delivering on those commitments with the grand opening of the new four-story patient tower at Etobicoke General Hospital that will provide better access to patient services, including emergency, maternal, and newborn care. With hospital projects like this one, we are making sure everyone in Ontario has access to the high-quality care they expect and deserve."
While his announcement Friday was welcome news in Etobicoke, where Ford is from, Brampton remains the poster child for hallway healthcare. Many in the city are growing more than frustrated by the lack of attention consecutive provincial governments have paid to the crisis here, as other jurisdictions with much better service get funding ahead of the country's second fastest growing city.
Brampton has less than one bed per 1,000 residents. Recently obtained data from Osler, through a freedom of information request by The Pointer, showed that hallway medicine is still prevalent in the city. The number peaked at 3,990 patients treated in hallways and other makeshift spaces inside Brampton Civic Hospital in 2017, but the number dropped in 2018 down to 3,035. However, that figure is three times higher than the 1,014 patients treated in hallways at the city's only full-service hospital in 2012.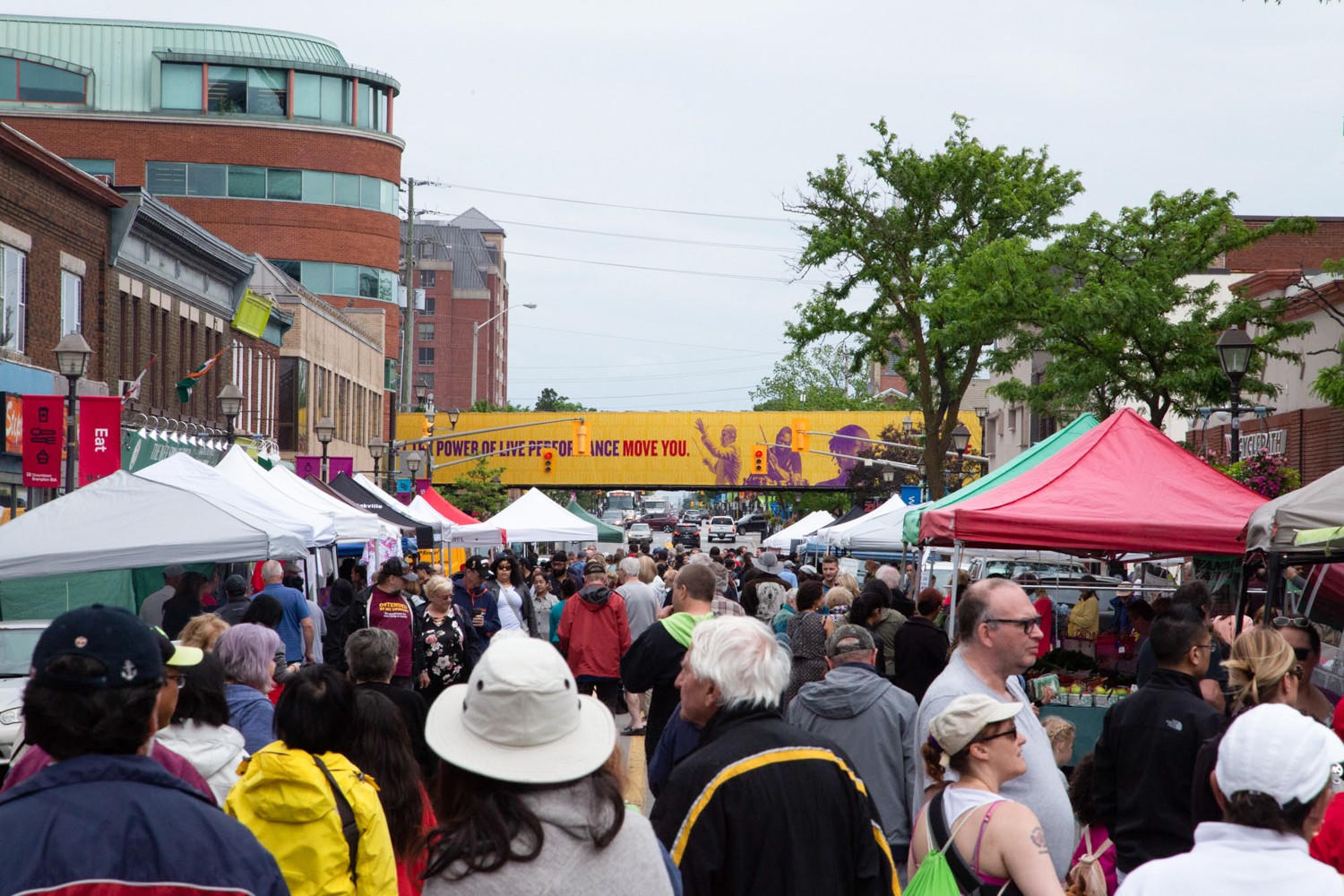 A city-wide fair-share healthcare campaign was launched at Saturday's Farmers' Market
"There is life outside of the city of Toronto. There are good people in places like Mississauga, Brampton, Vaughan and Durham. We expect investment as well," Brown said, regarding the disturbing statistics.
While Ford travels around the province stating that he is committed to ending hallway healthcare in Ontario, his words never seem to mention Brampton, where the term was first popularized because of the glaring healthcare shortages here. In October, Brampton was not named in a $90 million push to add 1,100 flu season beds to seven Ontario hospitals, a move Ford characterized as an effort to end "hallway healthcare".
That same month, Leader of the Opposition Andrea Horwath tabled a motion to fund the creation of a third hospital in the city. The motion was voted down by the PCs. Brampton was also not named in the province's 2019 budget document, which has a list of long-term care bed allocations to 16 hospitals.
The previous Ontario Liberal government announced that it would fund Phase 2 of Peel Memorial (Which has been converted to a preventative medicine facility), a project that would have seen 100 new rehabilitation and complex-care beds provided to the hospital. Three years and an election later, that money and the promised expansion still have not come through.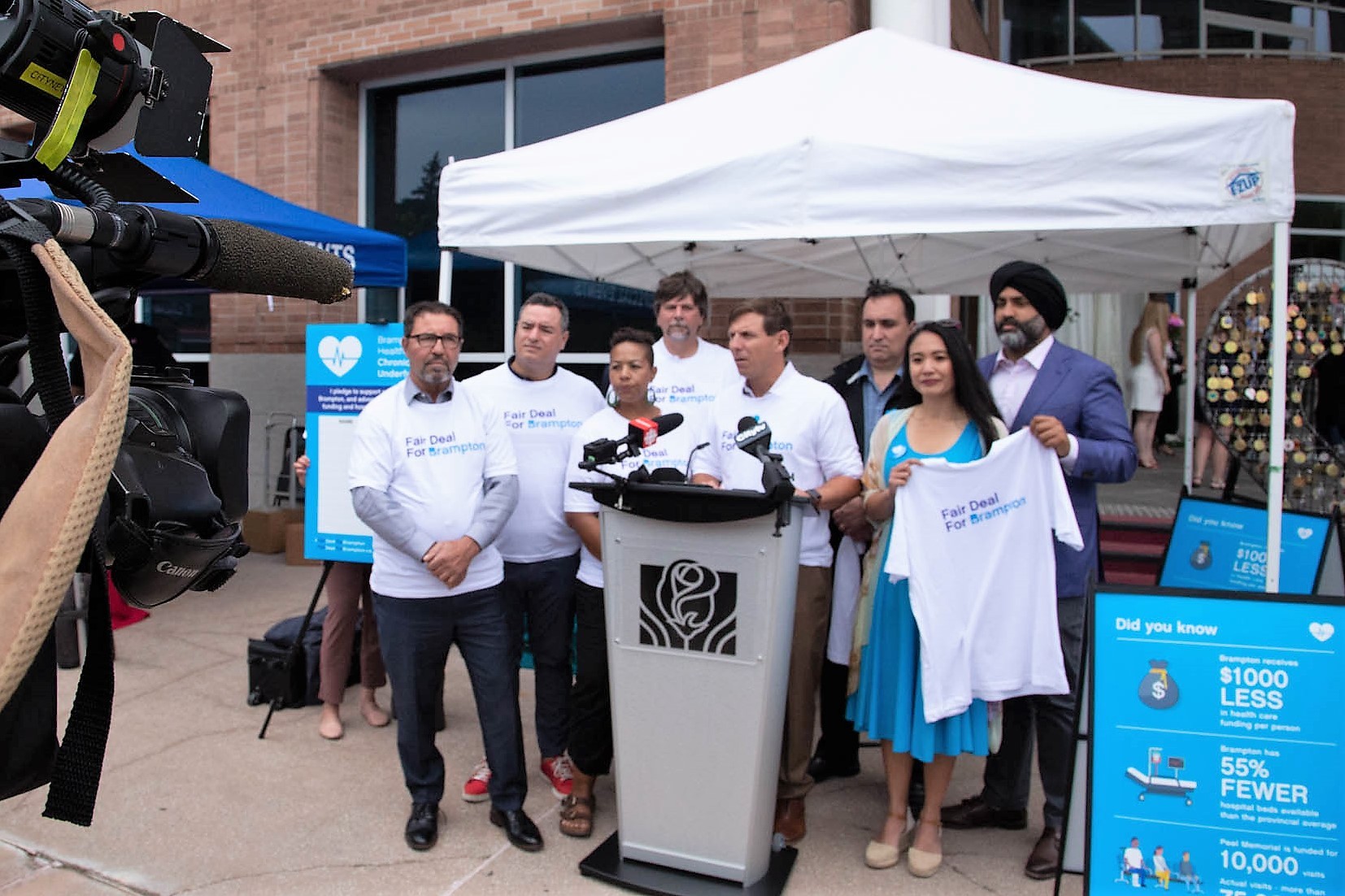 Brampton City Council members kick off the healthcare petition-campaign, with signatures heading to Queen's Park
Brampton resident Nargis Fatima, who signed the petition, is one of the lucky ones. She twisted her ankle some time ago and was in and out of Brampton Civic within two hours. She is aware of the gridlock problem as her friends and family often talk about hallway medicine. "Lots of people have said to me that the wait times are long in the hospital, otherwise I'm lucky. It often takes two hours to be seen at a walking clinic also," she told The Pointer in Hindi (her comments have been translated).
That's not the same story for Chantelle Selkridge, a mother of two from the city. She told the Pointer that she has used both hospitals in Brampton, and that she spent 21 hours in Brampton Civic Hospital, 12 hours just waiting to be induced into labour to give birth to her first son.
"That was the frustrating part because usually, you go into the hospital once you start getting your contractions sort of close together. And they told me, because I was overdue, I would have to come in early. But they didn't do anything and I was just sitting there waiting," Selkridge said.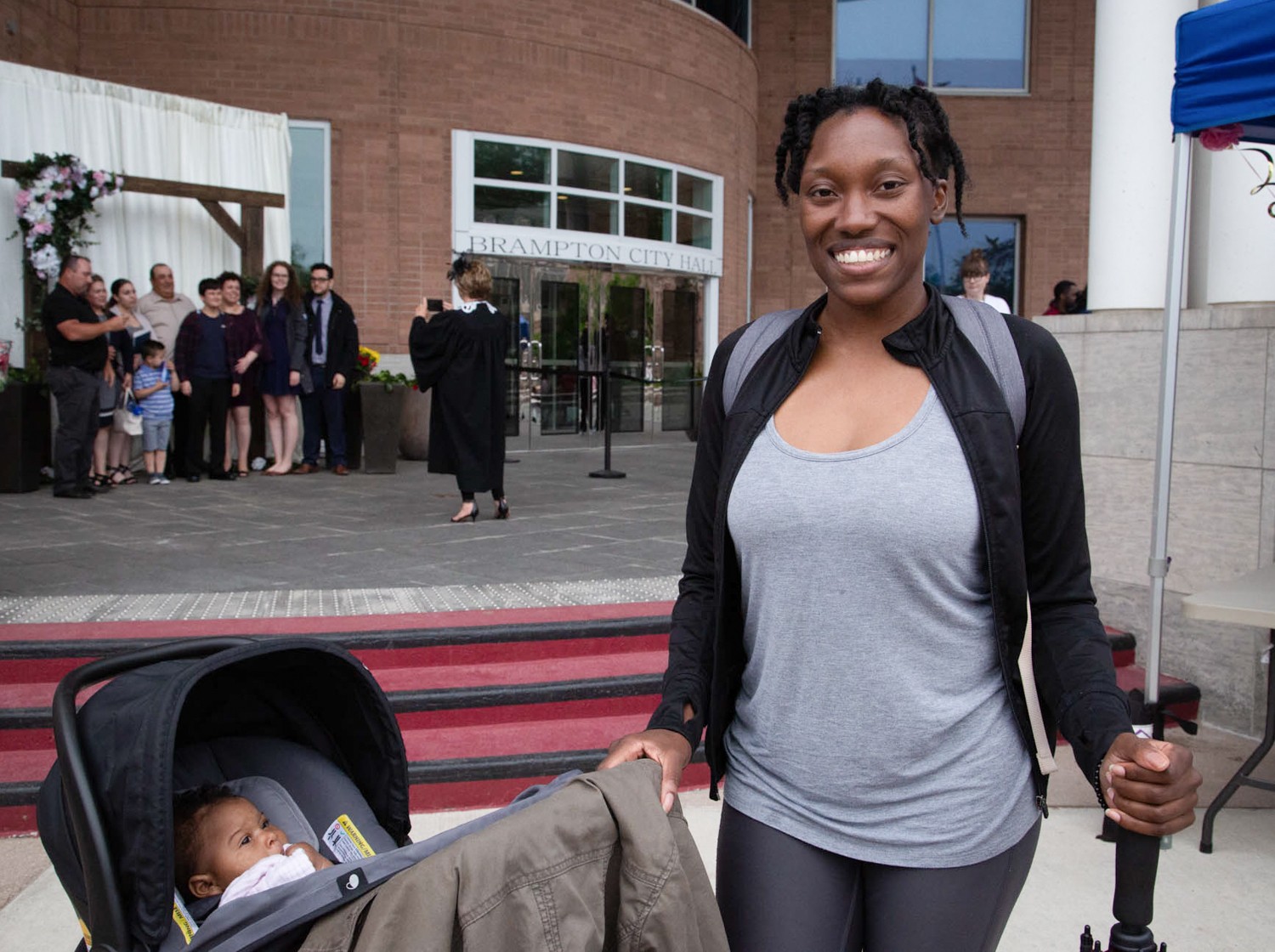 Brampton resident Chantelle Selkridge
She is hesitant to use Peel Memorial and BCH, but if forced to choose she prefers Peel Memorial over BCH for non-emergency visits. However, she spoke of her brother's preference for going to Guelph instead, despite also being a Brampton resident. "That's just how much he doesn't trust (Brampton hospitals). There have been stories about Brampton civic and stuff."
Actor Shannyn Kelly, who has been living in Brampton for six years, refused to see a doctor when she hurt her foot. "As a matter of fact, I knew better than to try to use the healthcare system (here)," she told The Pointer.
"Rather than going to get care, because I know I would be in the hospital waiting probably in the hallways for eight to ten hours, I chose to just suck it up and walk it off." She says that her foot is still "very painful."
Email: [email protected]
Twitter: @mansoortanweer
Submit a correction about this story