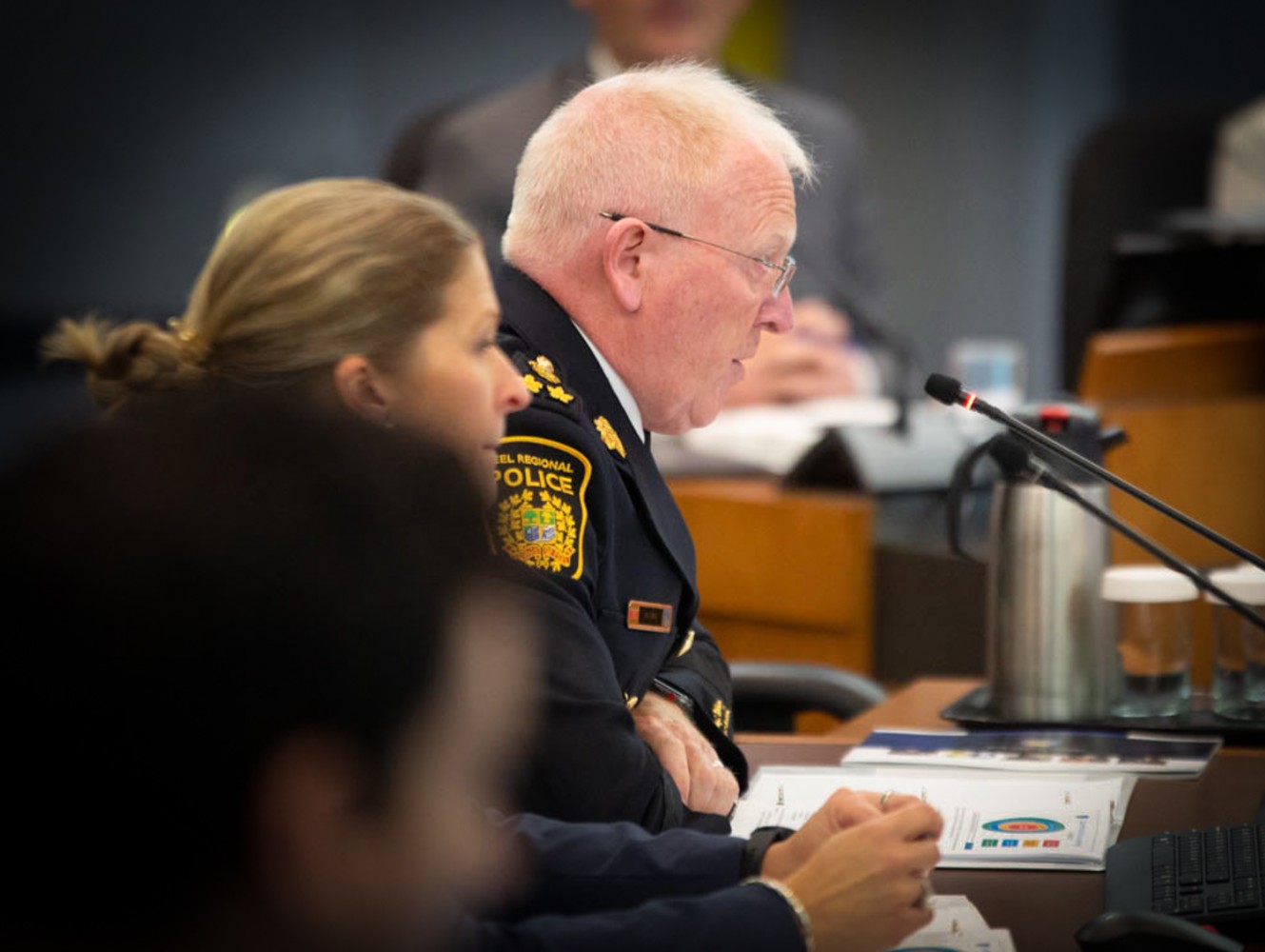 Photos by Mansoor Tanweer/Graphics from the Region of Peel
Peel taxpayers may need to pay more for transporting prisoners as province shucks responsibility
Though the provincial legislature is now in recess and Premier Doug Ford has promised to delay some of his most controversial cuts, the effects of provincial downloading loomed large over Thursday's Peel Region council meeting.
Acting Police Chief Chris McCord filled in councillors about some street-level fallout from cutbacks in provincial funding, particularly to prisoner-transport and court services.
"It's going to be on the back of the [municipal] taxpayer," McCord told The Pointer in reference to prisoner transport, a service provided by local police but traditionally heavily underwritten by the province. "It would have to come out of our regular operating budget, because we are mandated to provide it. I know that, in here, I used the term 'mayhem,' but the mayor [Patrick Brown] asked me, 'What if you stopped doing it?' I emphasized that we can't stop doing it. If we stopped doing it, it would be mayhem, because how do you get your prisoners to court?"
Back on May 9, at the height of council tensions about the Ford cuts to regional services such as childcare and public health, which at the time totalled about $40 million, Brampton Mayor Patrick Brown facetiously suggested stopping the service to emphasize the difficulty of providing it without provincial support. Brown brought up the point again on Thursday. On the chopping block is $2.6 million in court services funding, including $700,000 normally spent on prisoner transport.
McCord told Brown losing $2.6 million from the police budget equates to "approximately 17 officers." The province has also cancelled $1.9 million in direct grants for policing. In response, Peel Regional Police have requested $1.9 million through Community Safety and Policing Provincial Priorities Grants to make up for the shortfall, plus $5.7 million from the CSP Local Priorities fund.
The total cost of providing prisoner transport and court services is $12.1 million, for which the province typically subsidizes PRP to the tune of $9.6 million. This year, according to McCord, the PRP will be receiving only $8.9 million for that service.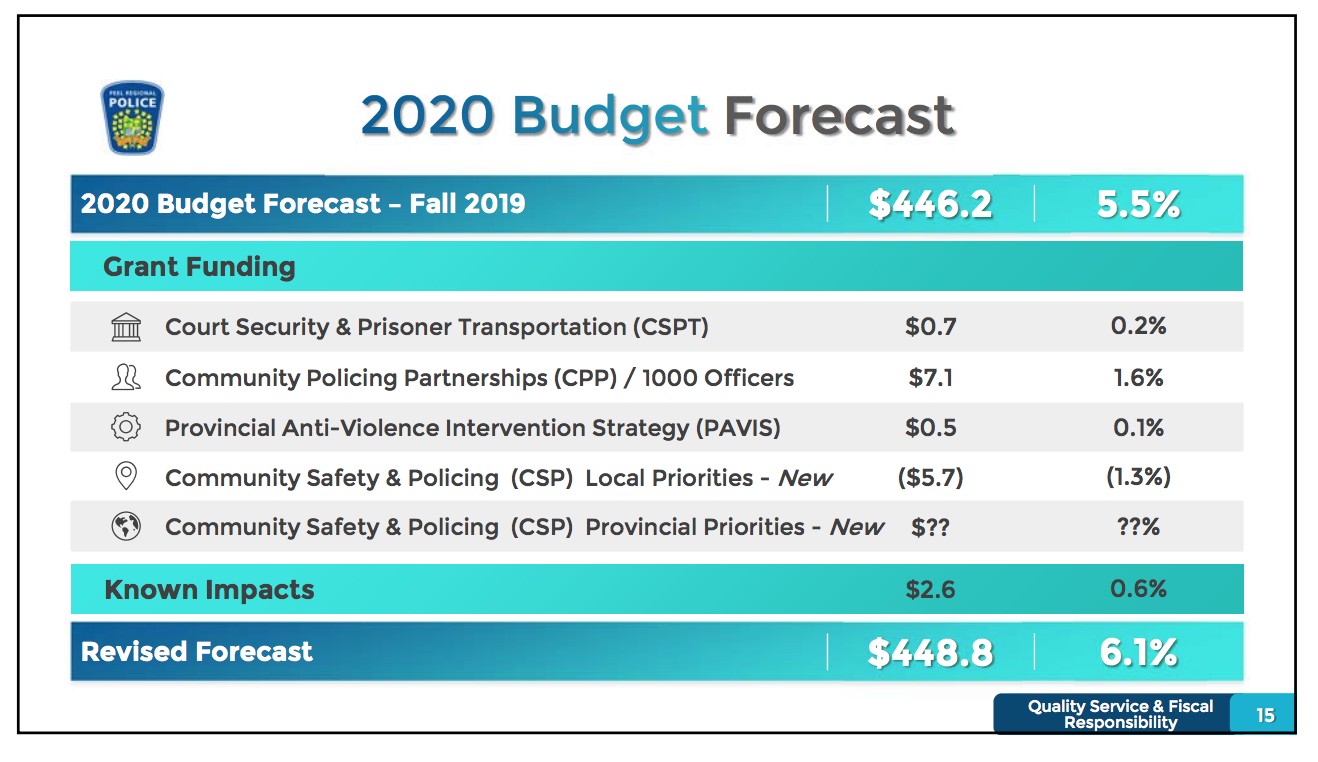 Mississauga Mayor Bonnie Crombie asked what strategy the police service has to deal with the cuts. "Will you be asking us for the budget increases, or continue to advocate to Queen's Park for the need not to make this shift?"
McCord responded: "So first, advocacy. I would hope that we would get the support of regional council to advocate on our behalf." He did not mention any requests for additional financial support from the region.
Prisoner transport is a statutory service, which means the service absolutely has to be provided by law. The region, which provides the services jointly with PRP, would have no choice but to resort to other sources of funding to pay for it.
But McCord says the PRP has some financial room to maneuver, at least temporarily. "First of all, we are looking into what we haven't been able to do this year," he said, pointing out that items budgeted for in a particular year may not come to fruition right away. "You don't always get to everything at the time you want to."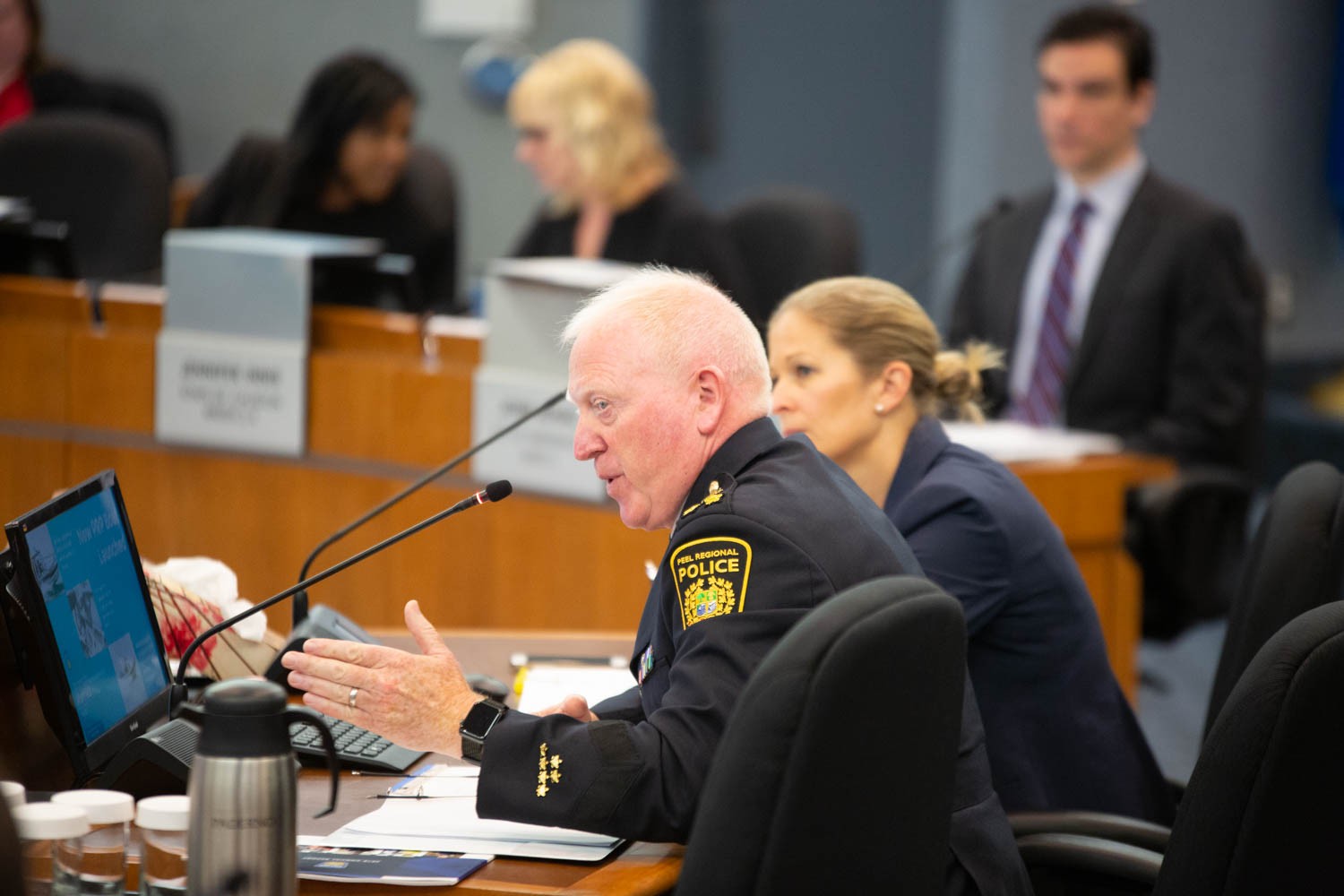 Acting Police Chief Chris McCord
He said the police service has "had more attrition this year, and more people retired. We will be hiring more people to replace them. That'll take a few months to be able to do that, and in that time span between those few months, there are savings there and you can take that money and be able to use that." Dipping into reserves is also an option, but McCord emphasized that the PRP is not quite yet at that point.
In January, during budget deliberations, McCord went to council with an appeal for a bigger budget. At the time, he reported a $17,000 deficit and requested a budget increase from $401.5 million to $423 million, the largest increase being to salaries, some $8.9 million. McCord said that $17,000 hole has since been plugged.
That was not the only funding shortfall PRP has faced this year. Brown questioned McCord about $200 million in federal funding to tackle guns-and-gangs issues which the Liberals rolled out in March, some $11 million of that to be disbursed to Ontario police forces.
"The federal government announced funding for guns and gangs, and we don't receive any of that. Do you have details … about why we are not able to access those federal funds?" Brown asked McCord.
"There was $7.9 million set aside for guns and gangs; most of that funding has been targeted towards projects that were specifically intended for investigative purposes for guns and gangs. We have submitted applications with respect to every project delivery initiative we are taking to try and access that," McCord replied, adding that the process is different from that to access provincial grants.
PRP also applied for $3.72 million from a pool of cash available under the National Crime Prevention Strategy. But that request was denied despite a 25.3 percent increase in violent crimes in the region, which McCord verified at the council meeting. In 2015, there were 24 shootings in Peel; in 2018, that number jumped to 53. Last year, there were 282 stabbings in the municipality, up from 187 from four years ago.
Email: [email protected]
Twitter: @mansoortanweer
Submit a correction about this story