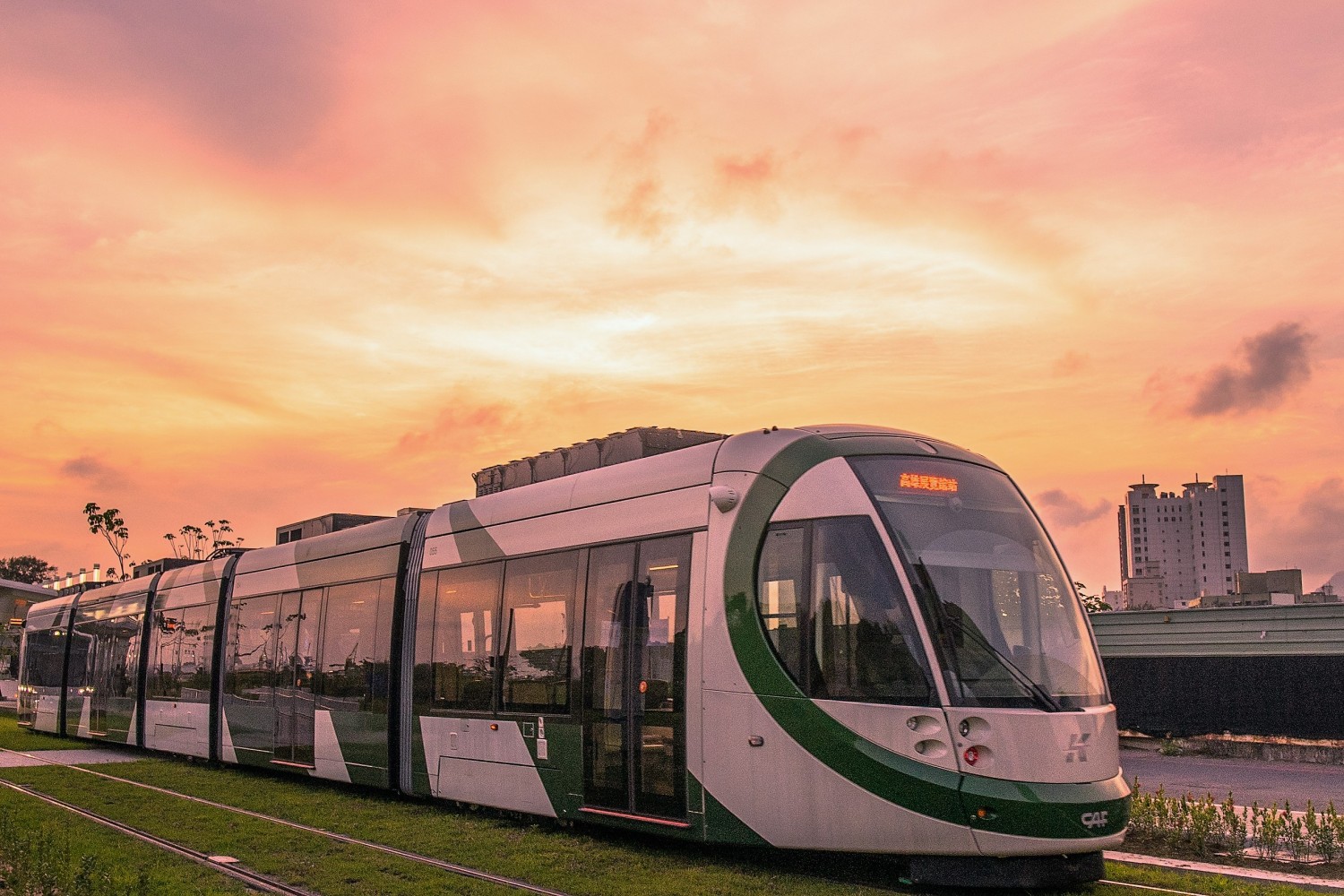 Photos By Mansoor Tanweer/Flickr/Renderings City of Brampton
Mayor and MPs mum on federal funding commitments after major conference
Brampton council members' social media are awash with photos from the recent Federation of Canadian Municipalities conference — as well as FCM's Big City Mayors Caucus, another policy development forum — a lobbying bonanza where city officials typically pitch the federal government for support, usually financially, on municipal projects.
Mayor Patrick Brown was accompanied by Councillors Rowena Santos, Paul Vicente, Martin Medeiros and Gurpreet Dhillon, who was elected to FCM's board of directors at this meeting. "I think some of the photos were shared on social media by FCM. Minister [Jean-Yves] Duclos was there, Minister [François-Philippe] Champagne was there," Brown told The Pointer.
Brown said he had met "with half the federal cabinet and the prime minister," but was unwilling to offer details as to who he engaged or what concrete commitments he might have secured from the federal level.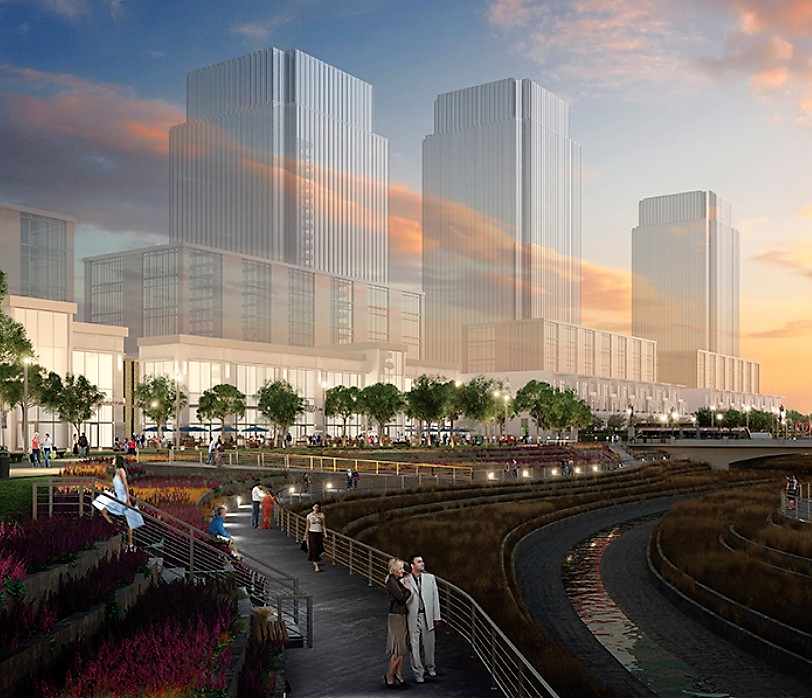 The unfunded Riverwalk project could cost hundreds of millions of dollars
"I'm not allowed, at liberty, to tell you, but you will get a notice probably two or three days before the press conference," Brown said cryptically about what might be coming down the pike from the federal level.
The Pointer reached out to the offices of Brampton MPs Ruby Sahota, Kamal Khera and Sonia Sidhu to get a picture of federal commitments to Brampton. Sahota and Sidhu's office declined to comment and Khera's never responded.
Mississauga Mayor Bonnie Crombie, who attended FCM in Quebec City, held her cards close to the chest as well but was a bit more forthcoming. Her spokesperson, Nicole McInerney, said Crombie "specifically advocated for permanent, direct funding for transit projects. She also discussed the critical need for continued and enhanced investments in affordable housing across Canada, but particularly in the GTA, where vacancy rates are low and housing prices continue to climb."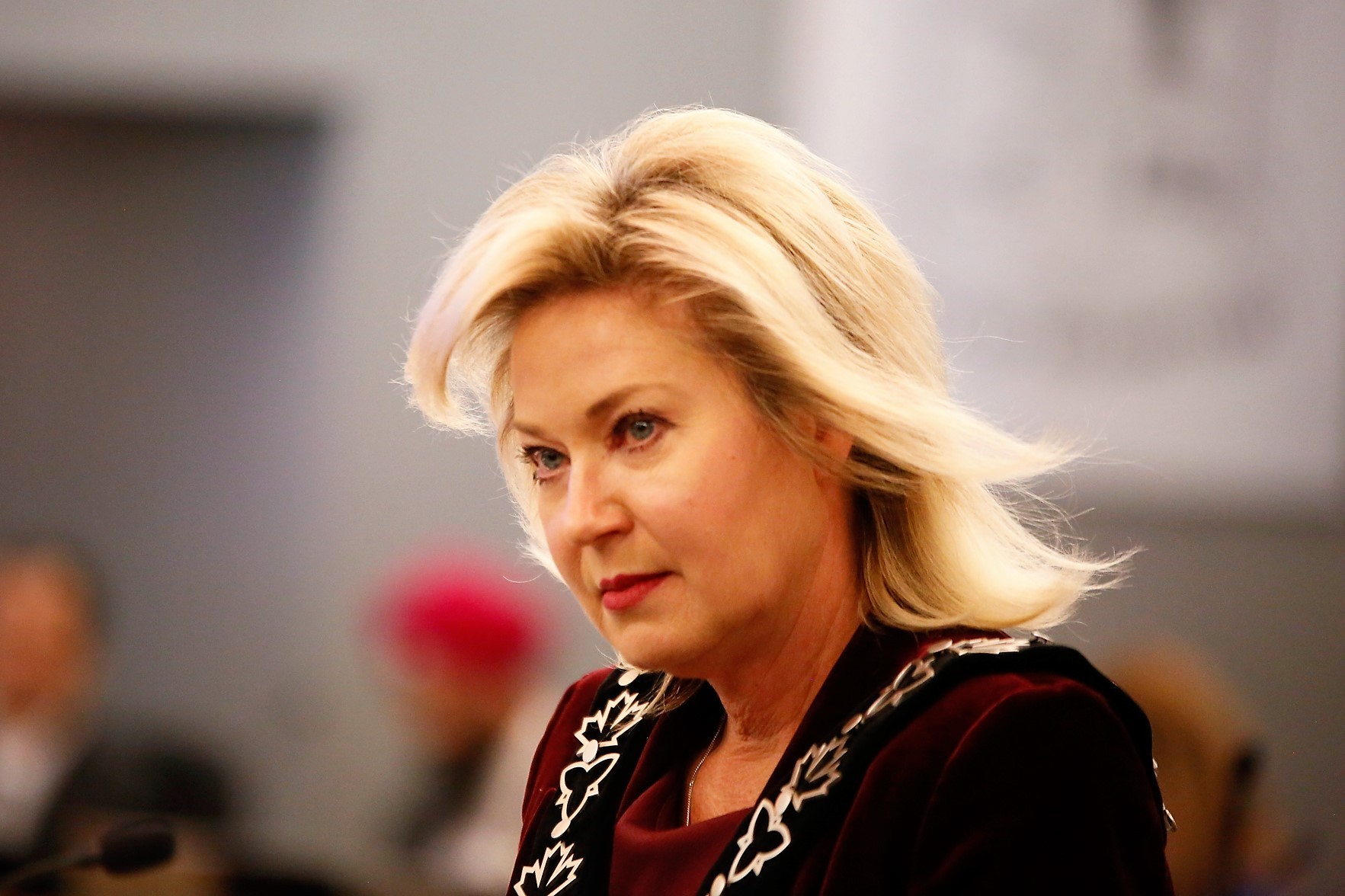 Mississauga Mayor Bonnie Crombie
McInerney said Crombie met with Duclos and Champagne, Conservative MPs Matt Jeneroux and Dan Albas, NDP MP Guy Caron, and Prime Minister Justin Trudeau for an hour-long meeting.
The federal Liberals, as part of their election promise in 2015, said that they would increase nationwide infrastructure spending. The year after coming into office, in 2016, the Trudeau government announced a $60-billion top-up to a $125 billion infrastructure fund established during the Stephen Harper era, totaling a mammoth $185 billion over 12 years.
Before attending the FCM meeting, the City of Brampton made clear what its priorities and asks from that money were. It is looking in particular for support from the federal government on public transportation, both higher-order transit and buses.
The pace of infrastructure projects in Brampton receiving funding has been, over the past four years of Liberal rule, snail-like. While Ontario has received the largest share of the fund, $12.2 billion, only 27 projects have been approved, with the most expensive being a promised $1.5 billion investment ($753 million from the federal level) in the Kitchener GO Regional Express Rail. However, only about $42 million has trickled down to the City of Brampton since 2016.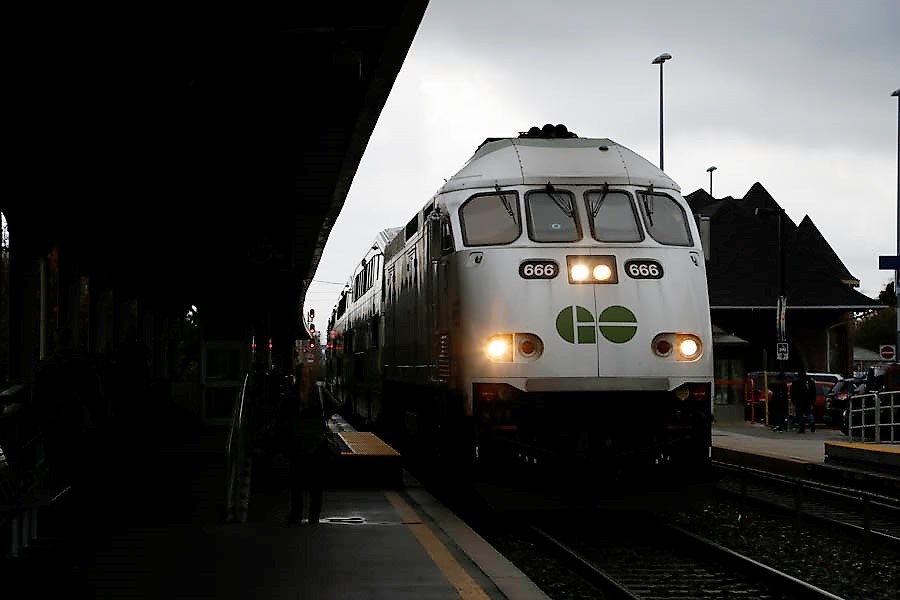 With Brown's zero municipal property tax increase now firmly in place, it is hard to know where additional money for capital projects will come from. The city owns $3.5 billion in assets; replacing them would cost $5.8 billion.
With light rail transit back on the minds of local politicians and Brampton Transit expanding rapidly, the time is ripe for investment in transit to meet the challenges that come with a rapidly growing population. Transit ridership in Brampton grew by 17 percent in 2017 and 14 percent the year after that. If the trend continues into 2019, demand will soon outstrip supply.
Debate over the LRT route, with the Main Street alignment rejected in 2015 now being revived, has gridlocked city council in the past. The mayor and Councillors Vicente and Santos have butted heads over the question, with Brown determined to see much of the route to go underground while Vicente has pushed the advantages (especially cost) of a surface route. A council motion empowered Brown to seek full funding for a tunneled route from the provincial and federal governments.
It is not known what kind of support for the project would be forthcoming, as many details need to be hammered out before any upper-tier support can be secured. Meanwhile, Mississauga has received full funding status for its portion of the LRT line (Port Credit to the Brampton border), with the province contributing $1.4 billion.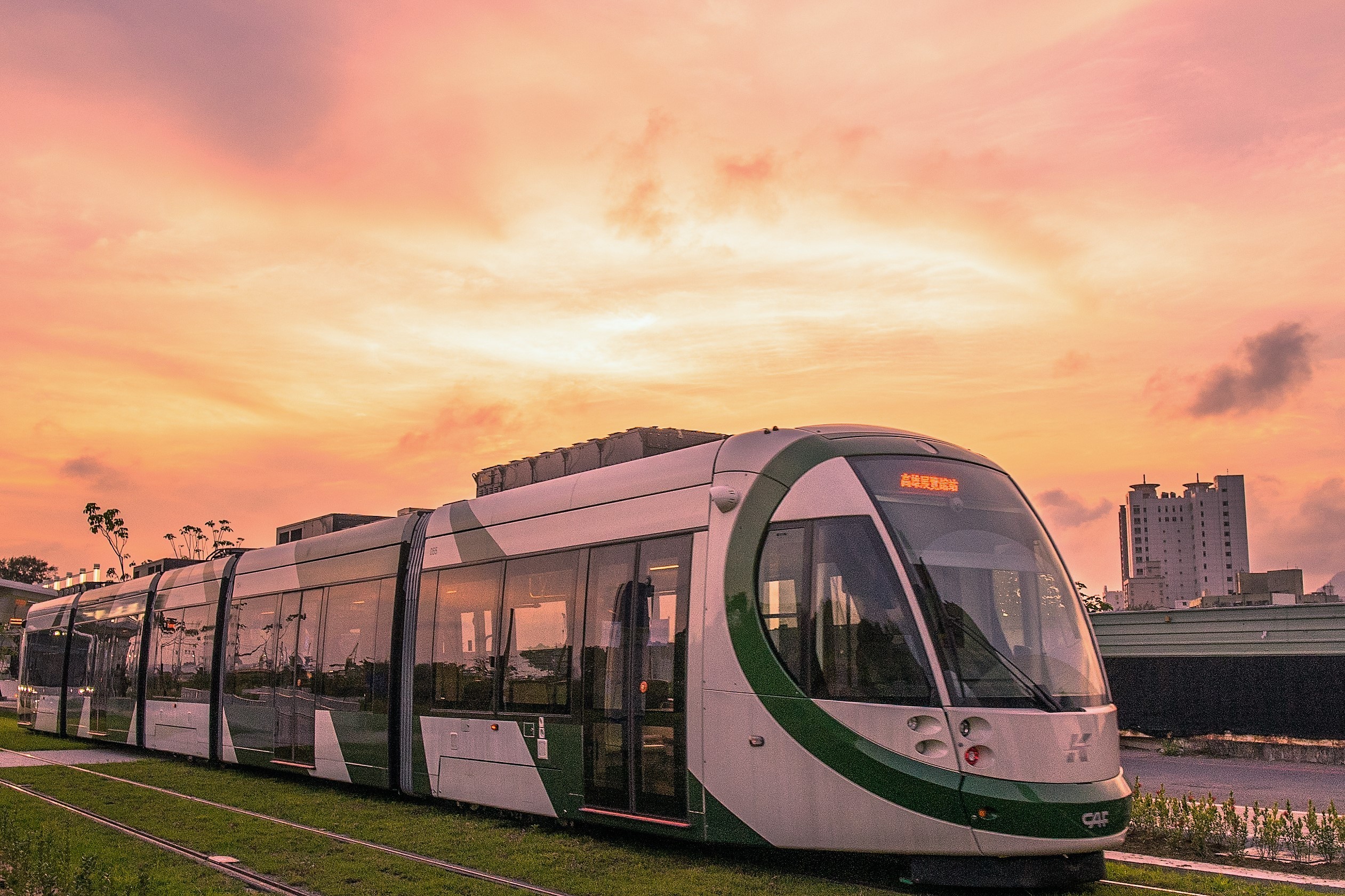 The route would travel along Hurontario Street and terminate, currently, at the Brampton Gateway Terminal at Shoppers World. With no funding commitment beyond that, Brampton council's desire to see the LRT continue along Main Street and end at the downtown GO station will not be realized.
As part of a one-building-does-all project, the city is moving forward with its central library project, called the Centre for Innovation, into which an expanded Brampton GO station will be integrated.
The "transit hub" part of the project is relying on what is called the Public Transit Stream, federal and provincial dollars set aside for transit projects. Brampton staff are asking for $30 million for the project. If PTS funding is not approved, the city will need to incur $60 million in debt to fund the project.
Transportation advocate Kevin Montgomery, of Bikeport, a bicycle advocacy group, believes the city is taking positive steps towards ensuring Brampton's transit needs are met, but "it's a work in progress, and getting better.
"Weekend and off-peak service remain horrible," he said. "A 20-minute schedule and transfer window often means that bicycle, and sometimes even walking trips, are faster— assuming one is able," Montgomery said.
Another project the city hopes will cement Ryerson University's presence in Brampton is the Cybersecure Catalyst, a hub for cybersecurity research and innovation. It is not clear what exactly the project will consist of, but the federal government, in its 2019 budget, set aside $80 million for three such facilities affiliated with post-secondary institutions across Canada.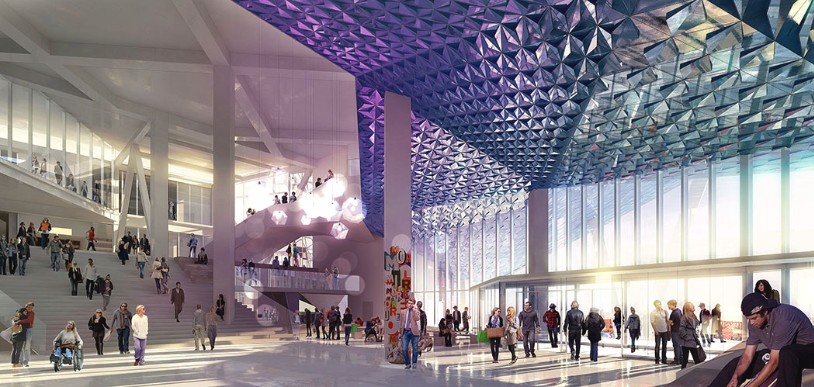 Rendering of Ryerson's now cancelled downtown campus
No indication has been given about funding allocations to this program by either the mayor or the MPs. Cash for post-secondary education development in Brampton has been hard to come by ever since the Ford government pulled its $90-million contribution towards a Ryerson satellite campus downtown.
Not far from downtown Brampton, where the Ryerson presence is focused, is Etobicoke Creek. The area is the subject of a major flood-mitigation infrastructure project called Riverwalk. Once completed, it will not only allow the province to lift the floodplain designation in the downtown, thus opening up the area to development, but also turn the banks of the creek into an attractive destination for residents.
The federal government, so far, has committed $1.5 million towards the environmental assessment for the project. The city is awaiting further cash infusions to help advance the project, especially in a time when high waters and flooding from Lake Ontario has heightened awareness about the impact of climate change.
Minister Champagne and Ruby Sahota were at Professor's Lake earlier in the year to announce $22 million in federal dollars to support flood-mitigation projects in Peel Region. Since Etobicoke Creek is notorious for flooding—producing a particularly devastating flood in 1948, which prompted the creation of a flood bypass channel—the federal government will have to look at Riverwalk as part of its flood mitigation strategy as well.

Rendering of the Riverwalk plan
Infrastructure renewal tends to be delayed in Brampton. The city's 2019 budget painted a grim picture of the current repairs backlog, which stands at $246 million. That number could grow as high as $743 million in coming years if changes aren't made to budget allocations.
The Association of Municipalities of Ontario, a provincial organization similar to FCM, says that property taxes, one of the few revenue tools available to cities, were never equipped to pay for infrastructure costs. AMO also says in another report that "Ontario municipal governments face an average annual shortfall of $4.9 billion for the next 10 years" in costs of building, maintaining and replacing infrastructure. Cities, it says, will have to rely more on other levels of government.
Email: [email protected]
Twitter: @mansoortanweer
Submit a correction about this story