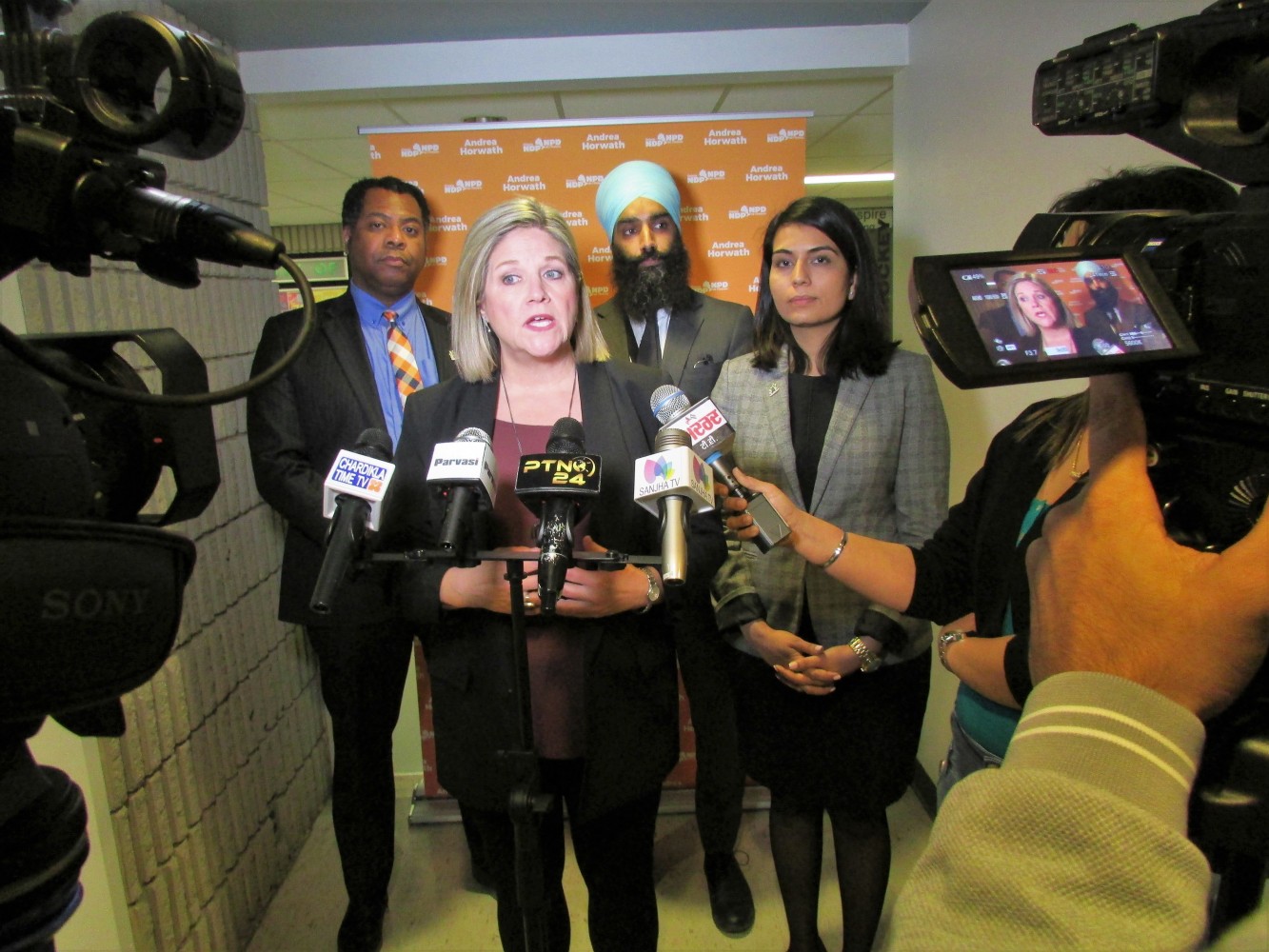 Photos by Mansoor Tanweer/Twitter
Horwath tables bill to curb Ford's power over cities, saying he meddles to take revenge
Ontario's official Opposition, perhaps emboldened by Premier Doug Ford's cancellation of some of his most unpopular cuts, took largely symbolic steps Monday to "give power back to municipalities and their local residents by curbing Doug Ford's ability to meddle in municipal governance."
NDP Leader Andrea Horwath tabled a bill called the Municipal Representation and Restructuring Protection Act, which Horwath said in a press release "would make it harder for Ford to cut municipal councils and unilaterally amalgamate, dissolve, annex or sever municipalities as part of his regional governance review."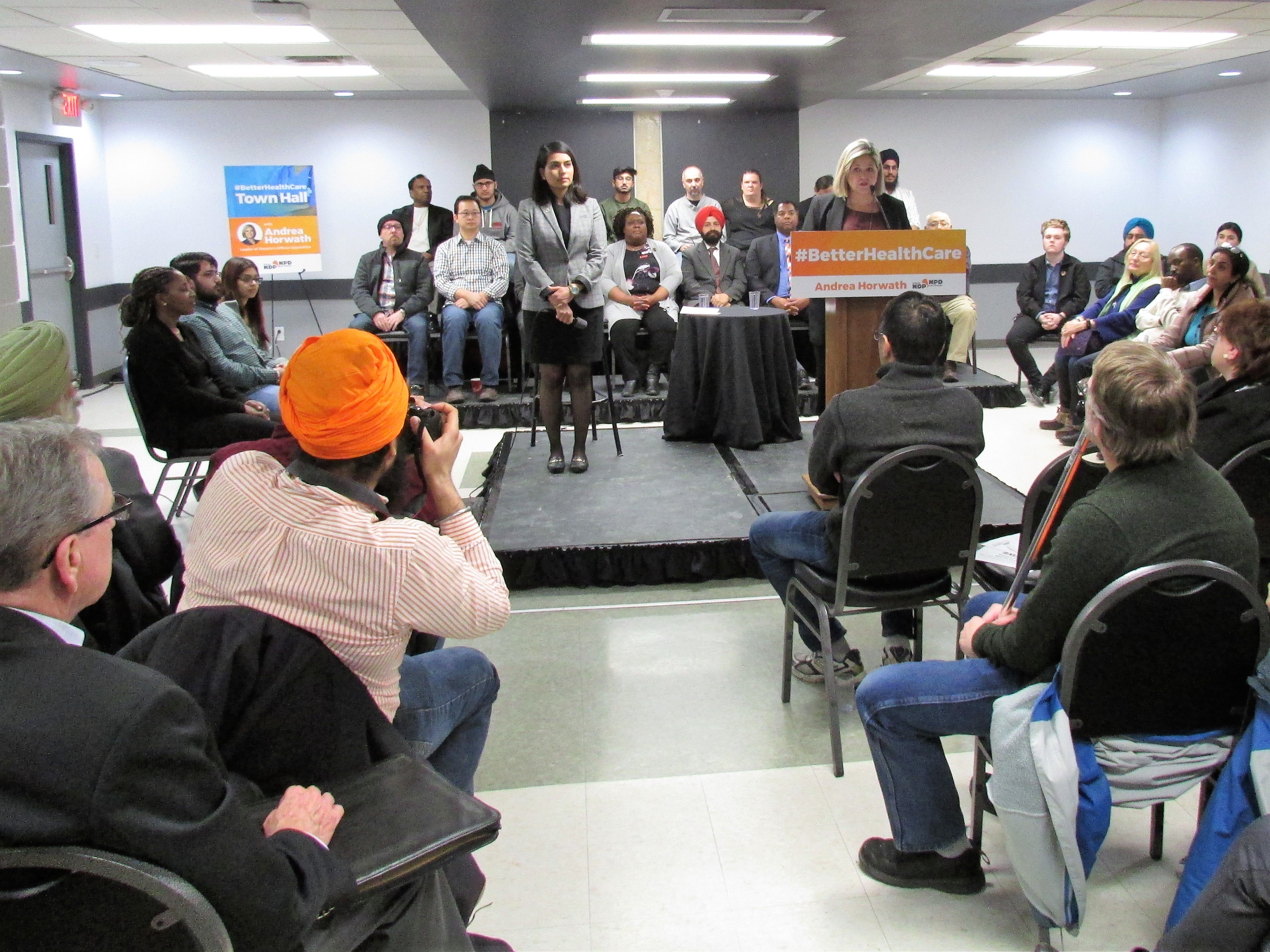 NDP Leader Andrea Horwath in Brampton recently for a healthcare townhall
The NDP is accusing Ford of meddling with municipalities as a way of settling old scores with political opponents during his time in city government. "One of Doug Ford's first priorities was to take revenge on his old political foes and cancel over half of Toronto's municipal elections," Horwath said in the release. Leaders of Peel Region, with Mississauga and Brampton at loggerheads over the future of regional government, are concerned about what direction the Ford government will take in its current review of the region.
This comes after months of funding clawbacks and sweeping reforms to municipal and provincial services, including education, healthcare, social services, public health, some policing services and ambulance services, among others. The Region of Peel still stands to lose about $40 million in funding for municipal services, down from the initial estimate of $45 million. Ford, in response to vociferous opposition to funding cuts in areas such as public health, has since walked back some of them.
"And we know Doug Ford is going to continue to meddle in local affairs with his municipal review, leaving people across the province worried that forced amalgamations and even more cuts are on the way," Horwath said.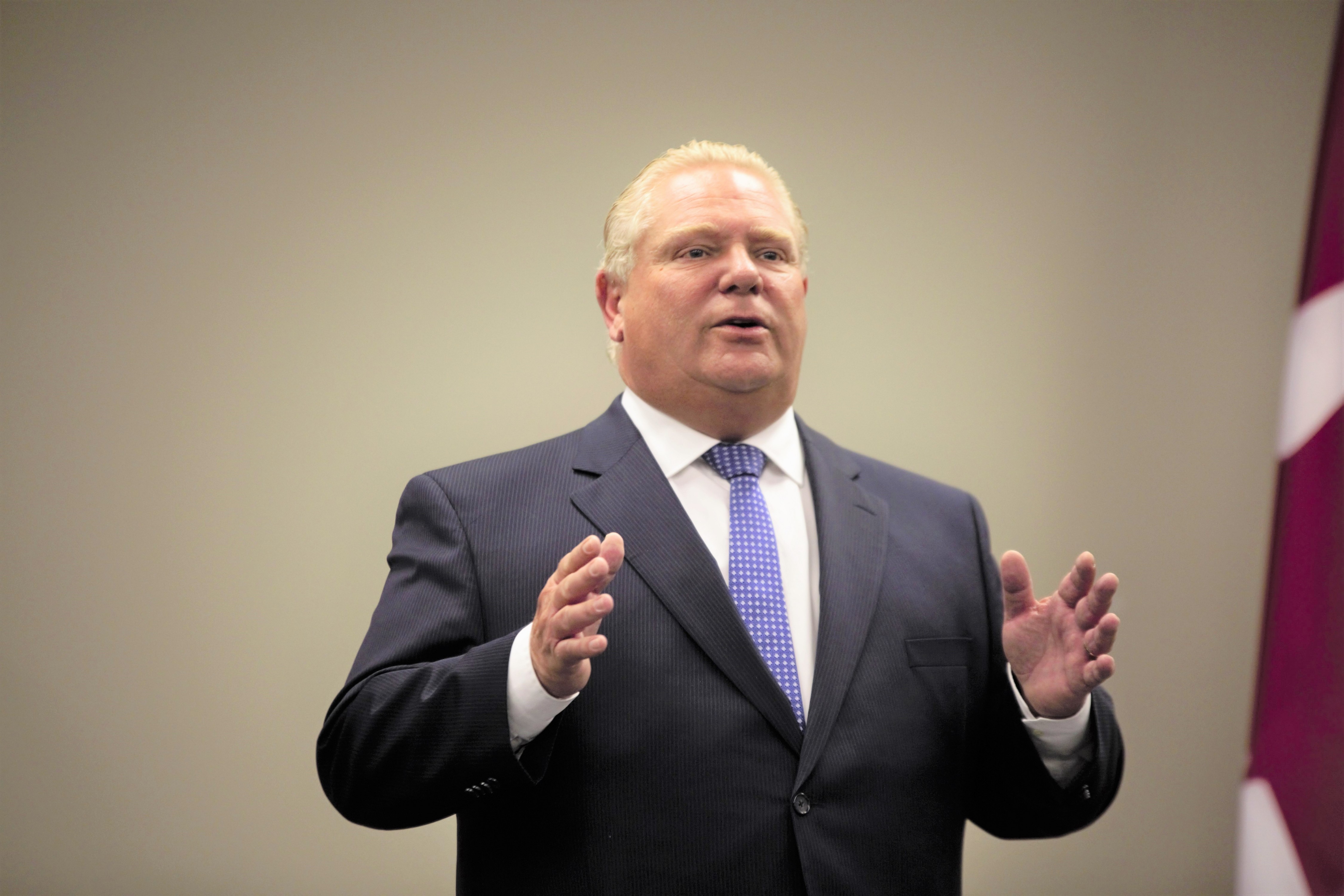 Premier Doug Ford
Horwath was referring to Ford's sudden decision last summer to cut the number of Toronto's wards, originally 44 and slated to rise to 47, down to 25 — just as the election season was getting underway. Critics, including Horwath, panned the move as an attempt to get back at city councillors with whom he often butted heads when he won the council seat long held by his brother, late mayor Rob Ford.
A similar move could take place in Brampton. The Pointer reported in March that Doug Ford could decide to amalgamate Peel Region into a supercity — the largest in Canada by area — and unilaterally redraw ward maps to align with federal and provincial ridings, just as he did in Toronto.
Many have said Ford's cancellation of the first-ever election process scheduled for the Peel Region chair position in 2018, as well as a clawback of $90 million in funding towards a Ryerson University extension campus in Brampton, were both deliberate digs at Patrick Brown, whom Ford succeeded as Progressive Conservative leader. Brown had planned to run for the chair position until Ford cancelled that election; he then switched to the Brampton mayoral race. The university funding was cancelled the day after Brown was elected mayor.
Responding to Horwath's claims Monday, Brampton PC MPP Amarjot Sandhu told The Pointer, "our government has a great relationship with our municipal partners. In August of last year, we moved to have monthly meetings with AMO rather than every 2 months like the previous government. In fact, we have met more than once a month with AMO. We also have regular meetings with the City of Toronto at staff level on government policies."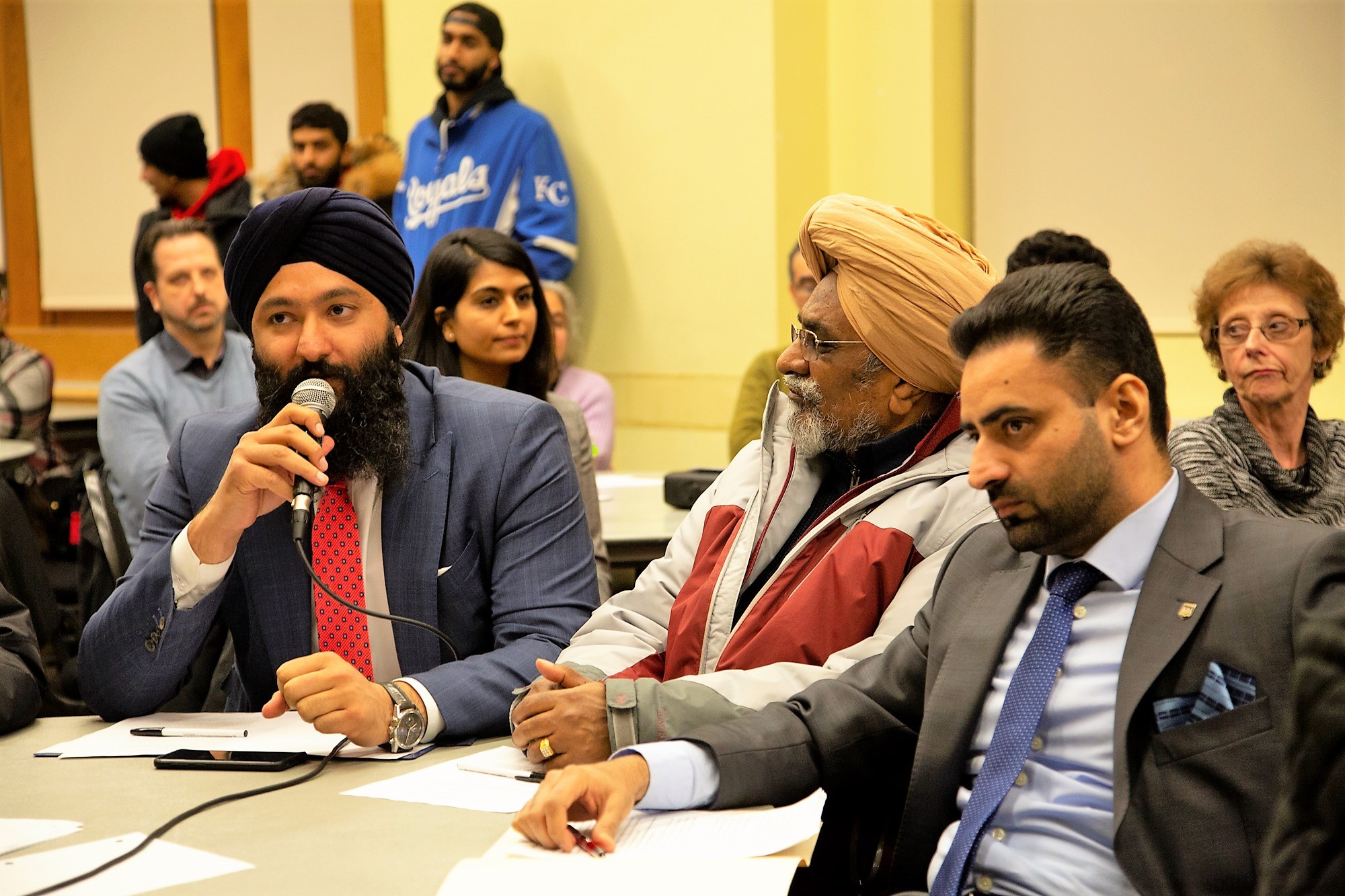 Brampton PC MPPs Amarjot Sandhu, right, and Prabmeet Sarkaria, left, were confronted during a recent healthcare townhall for ignoring their city
It's unclear why Sandhu referred to meetings with the City of Toronto. It appears he and his Brampton PC colleague, MPP Prabmeet Sarkaria, who did not respond, have not had similar meetings with the City of Brampton.
Brown told The Pointer that, "We host regular MP and MPP meetings to discuss our priorities. The two PC MPPs told us their schedule was booked for the previous meetings, but they said hopefully they could make the next one."
Brown and other local politicians, particularly the city's three NDP MPPs, have been vocal about the need for Sandhu and Sarkaria to advocate for Brampton, instead of supporting Ford's devastating funding cuts to initiatives and services in the city.
In response to questions in the Legislature by Horwath at Monday's question period about whether Ford will take unilateral actions against municipalities again, Minister of Municipal Affairs Steve Clark ignored the substance of the question, saying only that he was "looking forward to our monthly meeting at the AMO [Association of Municipalities of Ontario] table next week. I look forward to continuing to meet with our partners. The regional governments have a meeting this Friday … Our government is committed to consulting with our municipalities."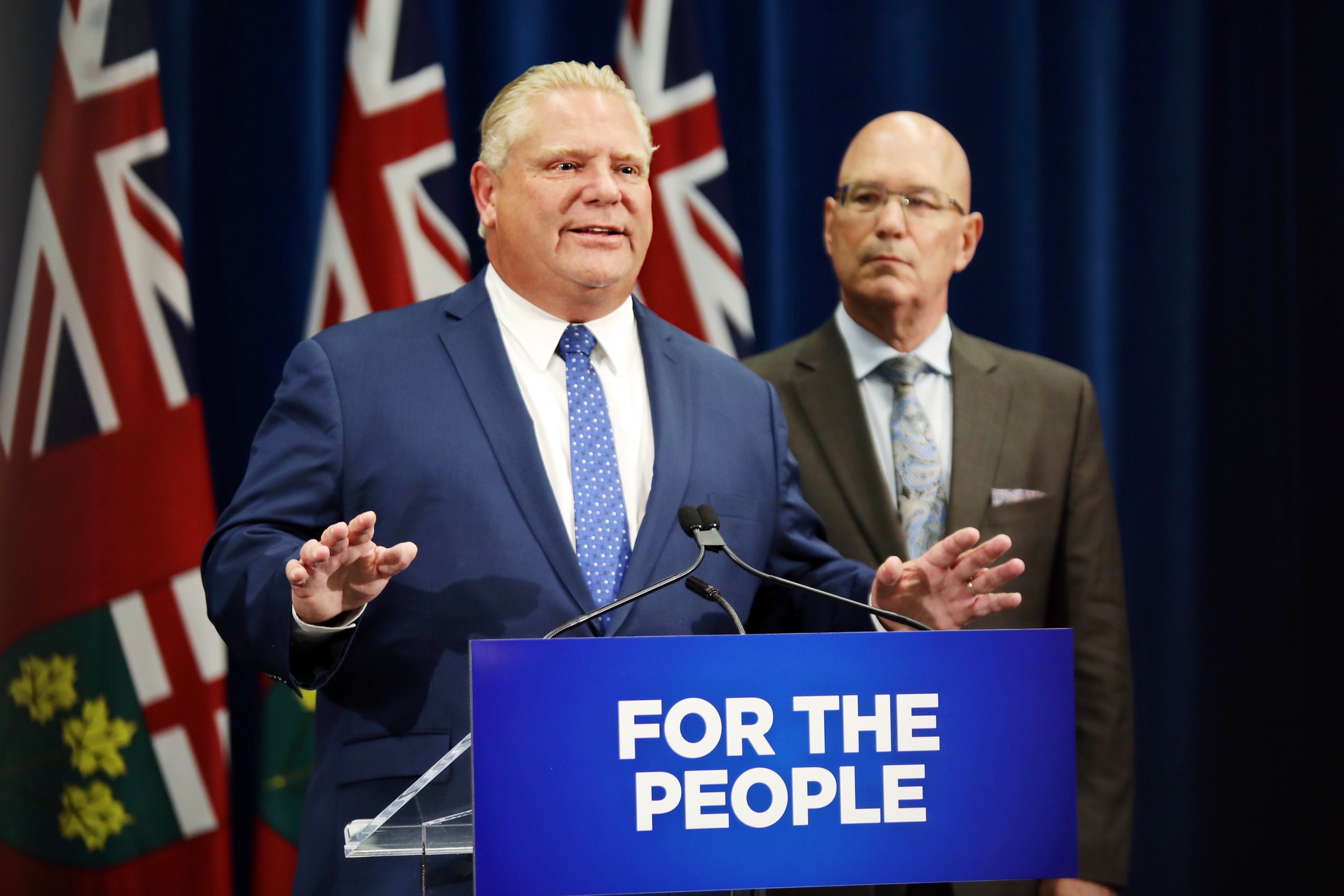 Ford and Minister of Municipal Affairs Steve Clark
The bill would give cities more power to set the terms in any provincial move that involves municipal matters.
While the government claims to have conducted tens of thousands of consultations with municipal stakeholders and leaders, the bill would make that mandatory, requiring it to give notice to, and get input from, municipalities regarding any changes it proposes. The bill would also require approval from the concerned municipalities for any decision on ward boundaries, changes to regulations, composition of councils, or the structure of municipal government.
Doug Ford's review of regional governance could reshape the region greatly. The three potential outcomes for the review are dissolution, amalgamation, and status quo. The first two would mean drastically redrawing the maps of each of Peel's three municipalities.
The province has been conducting consultations on the matter. Ford and Minister of Municipal Affairs Steve Clark picked Ken Seiling and Michael Fenn to serve as special advisors on potential reforms. On May 9, Fenn and Seiling held a public meeting in the regional council chambers to get input from Peel residents.
Ford is already redrawing the map when it comes to providing services. He has proposed that Ontario's public health offices be reduced from 35 to 10 across the province. The various EMS services, 52 in total, would be downsized to 10. Both services are provided by regional government in Peel and would be affected by this legislation.
"We encourage local governments to continually look at ways to streamline local governance, improve efficiency and service delivery for their residents and businesses," Sandhu told The Pointer.
Horwath said she intends to do what she can to assist municipalities. "We want to make it more difficult for Ford to disrupt local democracy and governance, because this should be difficult. No premier should ever be able to use their position to settle old scores at the expense of our municipal governments, and our democracy."
Email: [email protected]
Twitter: @mansoortanweer
Submit a correction about this story