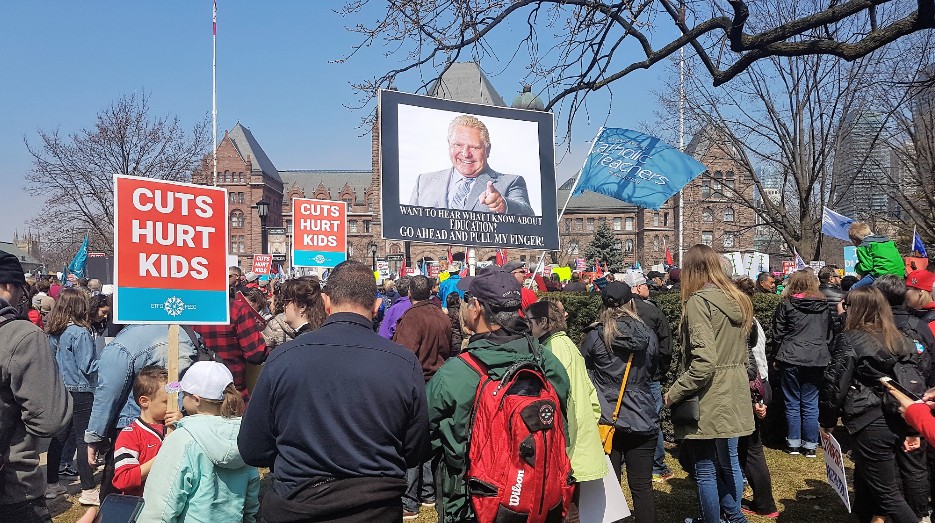 Photos by Mansoor Tanweer/Government of Ontario
Peel school board chair says claims of fear mongering by region's PC MPPs 'simply untrue'
Peel's educational stakeholders are urging the province to reverse proposed class size increases and requirements for mandatory e-learning courses, two things they say will significantly impact the future success of students across the region.
Both the Peel District School Board and the Dufferin-Peel Catholic School Board have made their concerns public in open letters to local PC MPPs and Education Minister Lisa Thompson, claiming Premier Doug Ford's tunnel vision will have sweeping impacts on Peel's youth in the years ahead.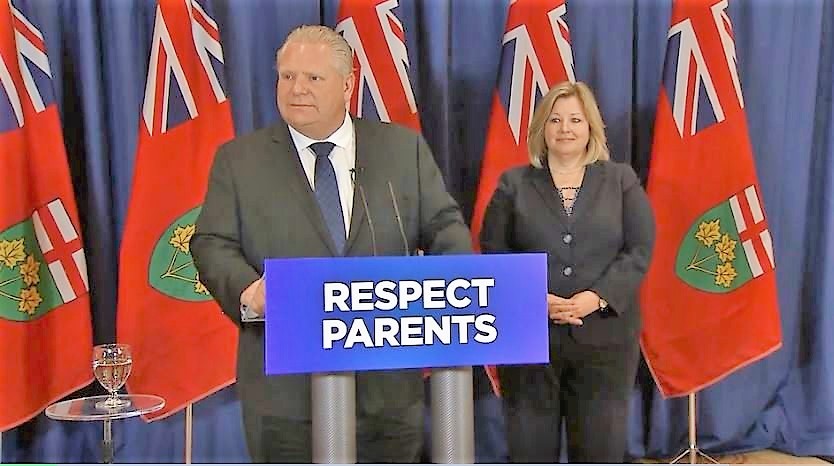 Premier Doug Ford and Education Minister Lisa Thompson
"Put simply, increasing class sizes places more value on lowering the provincial debt than in investing in the future of Ontario's children and youth. That is a substantial price to pay," writes Stan Cameron, chair of the PDSB, in a May 14 letter.
The correspondence was a follow-up to an earlier letter sent by the board at the end of March detailing several concerns with the cuts to education being felt by school boards across Ontario. The board's March letter did not receive a response from the province.
However, following its May 14 correspondence, Peel's PC MPPs penned an open letter of their own. In an overtly defensive tone, the MPPs accused the school board of misleading the public with "premature, or simply not true" information, particularly when it came to statements around the number of potential teacher layoffs for the upcoming year.
"Let us be clear, we are not firing teachers. Layoff notices are an annual occurrence during the budget planning process, in line with deadlines, established in local collective agreements," the MPPs' letter reads, adding that many teachers are then recalled to their roles once budgets and enrolment projections for the school year have been analyzed. "Suggestions otherwise have caused grief and anxiety to both students and teachers."
The lines are part and parcel of the PC response since the education budget was introduced in early April, with Ford and Thompson vigorously defending the spending cuts. The MPPs point out in their response to the board that the government is investing $700 million more in education this year than the previous government, with an additional $90 million going toward special education programs and $92 million more for student transportation.
Despite this increase being repeatedly championed by PC politicians, it's clear that the increase is not enough to support the growing needs of schools in Ontario for the coming year.
Teachers protested the proposed education cuts at a Queen's Park rally earlier in the spring
The core source of funding for school boards are the Grants for Student Needs (GSN) funding. As noted, the governing PCs are hailing an increase in funding to schools, projecting total spending for 2019-20 to be $24.65 billion, up slightly from the $24.61 billion invested this current school year. These additional funds are spread across many key grant areas, providing for classroom needs, school buildings and special programs.
This means, during the current school year, the province spent an average of $12,293 per student, with just over 2 million students in the public education system. This amount will actually drop to about $12,246 for 2019-20, as schools expect to see enrolment province-wide grow by 11,601 students. So the claim by the PCs that more money is going into the education budget, while true, is misleading.
Both the Peel District School Board and the Dufferin-Peel Catholic District School Board will be forced to make do with almost $1,000 less per student than the provincial average.
"We understand the government's focus on restoring fiscal sustainability for the people of Ontario. But, we cannot stand by as the province makes changes that affect students without offering factual accounts of what these changes mean at the micro-level – to students, classrooms and schools across Peel Region," Cameron writes in his May 17 response to the PC MPPs.
The Pointer reached out to Cameron for further comment, but a request was not returned ahead of publication.
For the PDSB, layoff notices have been issued to 369 teachers and 30 early childhood educators, mostly due to the province's plan to increase class sizes for Grades 4-8 and secondary schools. Cameron admits some of these teachers will be recalled as the school year approaches, but not all of them.
"We have never said the government is firing teachers. And yes, staffing processes take place every school year that can result in teachers being declared surplus to region, but that has not happened in the Peel board for more than a decade," he states. "The suggestion that we are sharing inaccurate and premature information with our communities is simply untrue. The impacts are real, not imagined, and our intention has never been to fear-monger, but to advocate on behalf of the students and communities we serve…Respectfully, these public attacks on our integrity as a board, undermine our focus on student success and do not move us forward."
The latest letter has yet to receive a response.
For the Dufferin-Peel Catholic School Board, which is staring down an approximately $8 million funding cut for the coming school year, tough decisions lie in the months ahead.
To date, the board has not issued any layoff notices, but 170 teachers have been declared surplus by the board, says spokesperson Bruce Campbell.
It's a process that occurs annually, Campbell explains, and one that has been further impacted by the class size changes proposed for the coming year, yet the board remains optimistic.
"Some of those teachers who have received a surplus notice will be placed in permanent teaching vacancies, while others may be placed in long term occasional assignments," Campbell tells The Pointer. "The redeployment process has not yet taken place. This year, the majority of the secondary teachers who received a surplus notice, did so as a result of changes in class size ratios and other funding reductions. It is expected that all of those who received a surplus notice will retain a full-time teaching position with the board next year."
The PDSB has taken particular issue with the proposed increased to class sizes, which could see one additional student in classes for Grades 4 to 8, and secondary school class sizes grow from 22 to 28, on average, something the PC government says is in line with other jurisdictions.
"Although adding one, two or six students to a class may seem like an insignificant impact, it has already resulted in the cancellation of many courses at the secondary level. Fewer teachers means fewer options for students. There is no room for debate on this," Cameron writes in his May 17 letter to local MPPs. "We welcome the opportunity to sit with you and board staff to help you understand the timetabling process and its complexities, and how increasing class sizes can lead to lower graduation rates."
The majority of courses being lost are at the senior level, in the arts, technological education and social science and humanities. Classes in business, computer learning, math and some sciences are also being lost, the PDSB board says. The elimination of these courses is the equivalent of slamming the door in the face of high school seniors, many of whom need these particular courses to gain access to certain post-secondary programs.
The course reductions will push students toward online classes, night and summer school options, and even private schools in order to make up the credits needed.
"This is not education that works for us," the board states.
The Ontario Student Trustees Association has also rallied against the cuts.
On May 6, the OSTA released its vision document "The Students' Vision for Education" which backs many of the claims being made by the school board trustees.
In terms of class sizes, the OSTA states the data indicates smaller is better.
According to the OSTA, in 2007 the provincial government cut class size averages at the primary level, requiring 90 percent of classes to have 20 or fewer students. This change yielded dramatic increases in reading and writing comprehension.
Grade 3 reading and writing scores went from 49 percent and 52 percent of students meeting or exceeding provincial standards in 2000, to 75 percent and 72 percent in 2017-18.
Secondary class sizes were similarly lowered to 22 pupils, resulting in student success on a variety of educational indicators. The graduation rate also increased to 86.3 percent in 2017-18 from about 70 percent in 2000.
The OSTA is advocating for class sizes to be left at 2018-19 levels.
Student advocates have also shown a disdain for the new mandatory requirement that students must complete four e-learning courses in order to graduate. OSTA survey data show that when asked to rate on a scale of 1 to 5 (where 1 is "not at all" and 5 is "exactly the same") the extent to which online classes provide comparable quality learning opportunities to in-person classes, 75.4 percent of students rated between 1 and 3.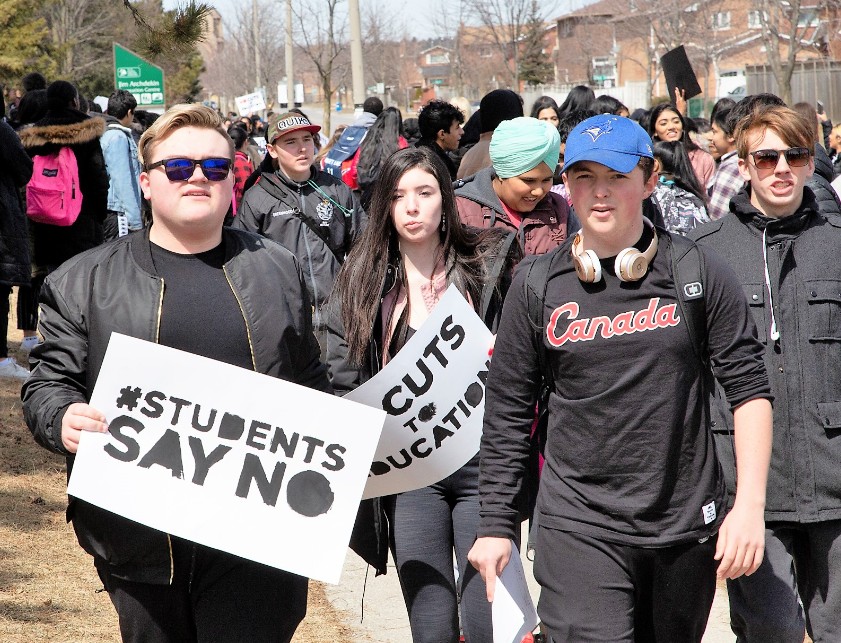 Brampton high school students took part in a recent province-wide protest against education cuts
The online learning mandate also causes particular concern for trustees in the Dufferin-Peel Catholic board, whose educational system is based on close community principles. Pushing students into an online learning environment can damper the strong sense of community schools are trying to build, explains Sharon Hobin, chair of the board of trustees for the Dufferin-Peel Catholic District School Board.
"It is imperative that personal connection between teacher and student be an integral part of any course or student program, but particularly in Religious Education courses," she writes in a letter to Minister Thompson.
The e-learning requirement will also have impacts on vulnerable students, the board explains, for those who rely on the face-to-face teacher in order to succeed, and those dealing with mental health and social isolation issues. Pushing them into online environments to learn can only exacerbate these problems, Hobin writes.
Email: [email protected]
Twitter: @JoeljWittnebel
Submit a correction about this story