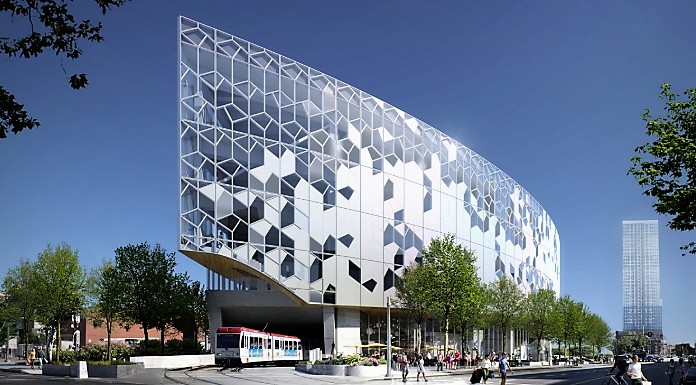 Photo by Mansoor Tanweer/City of Calgary/Renderings Ryerson University/City of Brampton
Library board concerned about cost, lack of community input on shifting plan for innovation centre
After Ryerson University's withdrawal from a downtown campus project, forced by the province's cancellation of $90 million in funding, a Centre for Innovation has been touted as one of the "three pillars" that will preserve Ryerson's presence in Brampton and help revitalize the city's downtown, along with something called the Cybersecure Catalyst and a branch of Ryerson's Chang School for continuing education.
However, indications this week and at Wednesday's committee of council meeting suggest that the "innovation" component of the plan will play only a small role in the $100-million building now in the works, much of which will be taken up by a library. And staff are recommending an extra $30 million be poured into the project to add five floors to the building design – despite few details of what they will be used for – on top of an extra $30 million for an adjacent transportation hub, bringing the total projected cost to $160 million.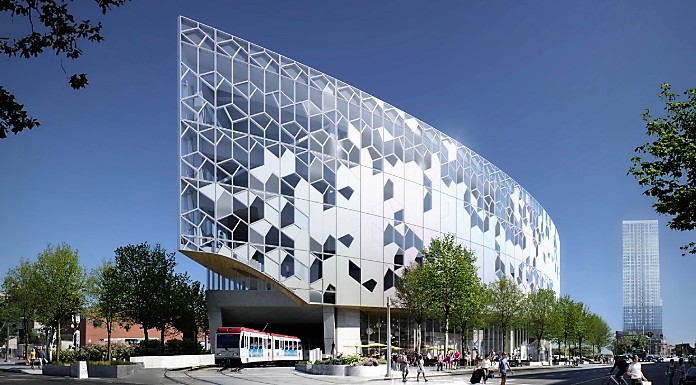 Calgary's central library with its transit hub was used as an example
The city's library board, meanwhile, is raising concern about the cost and that the city's shifting plans are happening without proper public consultation.
Council approved $100 million for the project in the 2019 budget, but it appears taxpayer dollars are being used without first going to residents with a clear idea of what their money is being spent on.
The library board, in a statement on this past Wednesday's committee of council agenda, wrote that while the evolving plans for the innovation centre, including a large library space, is a good news story, there has been a "lack of community consultation on how the space should be developed". It also states, in response to city staff's direction that external debt will have to be taken on, that options be considered "to avoid costly borrowing by the residents of the City."
Jaipaul Massey-Singh, chair of the Brampton Library board, expressed concern about the vagaries of the plan at Wednesday's meeting. "There are a couple of items we do want to touch on … one of them is the lack of specifics with the layout and allocation of space," Massey-Singh began.
"But what we understand right now is there is an allotment for approximately 105,000 square feet for a city library, and what is being referred to as a collaboration zone, without any real indication of how that space is going to be divided and thus making it difficult to understand if that space is adequate. ... To intensify the downtown, all the additional uses, Ryerson being part of this picture as well, means that 105,000 square feet is not going to be enough for very long."
It appears that even the Brampton Library system, despite being a major partner in the project, is in the dark about its own role in the building. Massey-Singh pointed out that 40,000 of the 105,000 square feet of space, as per the report, could be repurposed as an academic library, which "makes it very difficult for us to understand how we can program in the long term and how we can make the spaces we do have work," he said.
The library board, in its presentation on the agenda, states it wants to see "That a commitment is made to maintain the library space as Brampton Library and not reallocate it to academic library needs in future."
The report to council said that of the 130,000 square feet in the proposed innovation centre, 105,000 would be used for a library and collaboration zone (it's unclear what exactly such a zone would be used for). The report states there is now an "opportunity to create a new central library".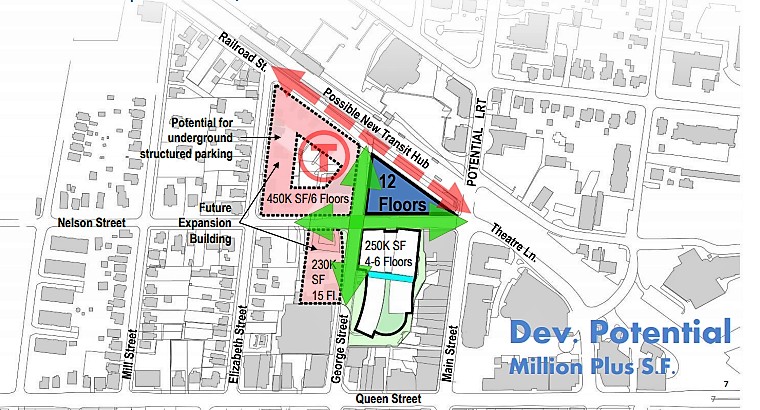 City of Brampton Map detailing future downtown plans
But in the library board's response to the city's shifting plan, which seems to have been put together with little input from key stakeholders, other central libraries in Mississauga, Halifax and Hamilton, which range from 120,000 to 146,000 square feet, are used as examples.
The presentation by the library board asks the question: "Do we want a branch or a central library?"
The board also raises questions about how the new facility would be planned in consideration of the existing downtown library at 65 Queen Street East and it raises concerns about developing a project in connection with an adjacent transit hub, stating there are "some benefits to them being close together but very different needs."
The library board, in its presentation, states:
"What We'd Like To See
That council support the recommendation to proceed with a revised project scope for the CFI with the following additions:
• That a fulsome community engagement that considers the inputs of all stakeholders; tenants, customers, and the community at large be undertaken prior to finalizing site or commencing design
• That a review of the needs of transit and the library be conducted to determine if they both should fit within the CFI and how best to do so if that's the case
• That a plan that details how the space is envisioned to be utilized be developed
• That a commitment is made to maintain the library space as Brampton Library and not reallocate it to academic library needs in future."
---
A presentation by acting CAO Joe Pittari included 3D renderings of a gleaming flat-iron style glass building to be erected on Main Street, a "crown jewel of our downtown." Council adopted the recommendations of the staff report and gave staff a green light to move ahead on the project.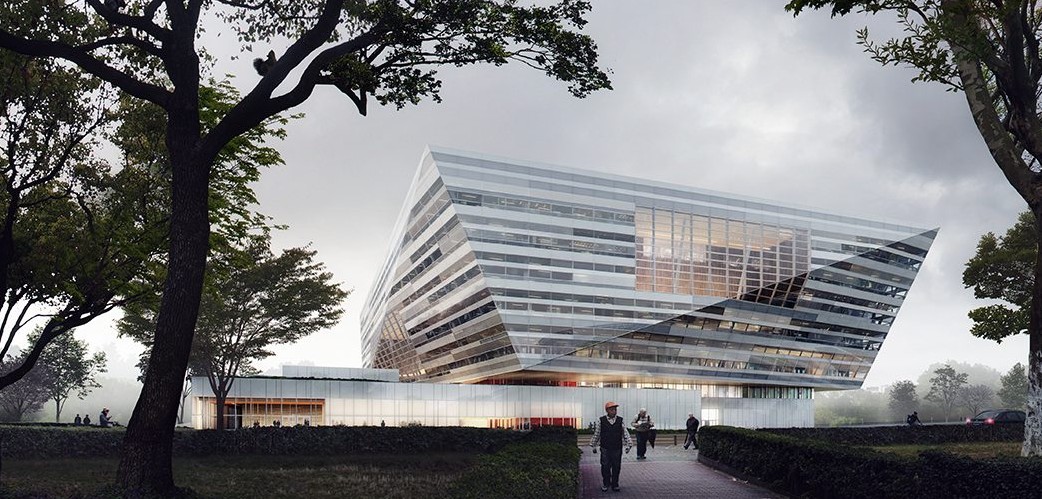 One of the renderings used to show what a Centre for Innovation could look like
A central library in the heart of downtown could be a strong pillar in the community, as would any centre for learning that provides educational spaces, access to information and resources that would otherwise be hard to access. However, the vision of this library is a far cry from what has been originally conceived.
The library space will take up about 105,000 square feet out of a total 130,000. Also envisioned is a transit hub to be integrated into the building, at an additional cost of $30 million. "So the main floor would be [the] entrance into that transit facility, that mobility hub. But there would also be shared programming that integrates [the] main floor into that library and other program spaces," Pittari told The Pointer Wednesday.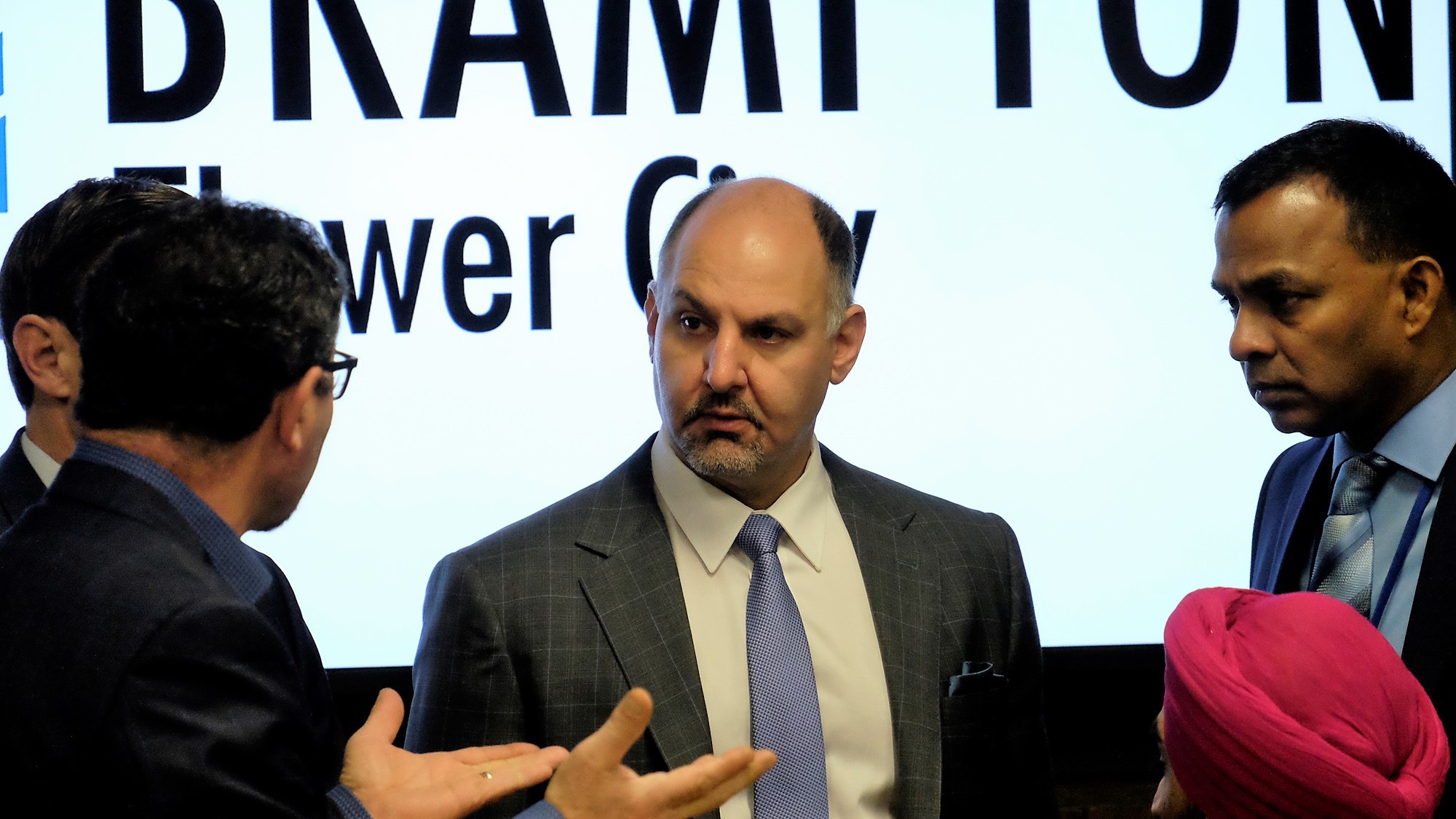 Interim CAO Joe Pittari, centre
The building as presented on Wednesday attempts to do it all, using transit integration to funnel patrons into the massive central library and the innovation zone — all 10,000 square feet of it.
So why is the project still being called a Centre For Innovation when that activity appears to be taking up less than a tenth of the floorspace? What happens in the innovation space "is yet to be determined," Pittari said. "We wanted to have that collaborative space for staff and businesses, for other partners, and we'll see what shakes out. We don't know yet."
"The Centre for Innovation right now is a placeholder name, recognizing if the library is a crown jewel tenant in the building, that has to be recognized as part of that," Pittari said. "The current scope of the building is at six floors, and two of those floors are dedicated to be the new central library." Staff are also asking to boost the budget by $30 million to add an extra five floors to the building, bringing it to 11 stories, which would tower over anything else in the downtown.
"At this point in time, we don't have a program to occupy those five floors. But what we're saying is between now and the time a shovel is going to go in the ground we're going to mine all of that [projected demand]," Al Meneses, commissioner of community services, told council. Staff would then come back to council with a clearer plan of who would occupy those five floors, and for what purpose.
It's unusual for municipal staff to plan for such space without knowing what it's for, seek approval from council for funding and prepare to get external debt financing, all before any guarantee that the additional five floors are needed and will provide a specific use that's in demand.
A library has long been contemplated as part of the building. A 2017 study by urbanMetrics Inc. in preparation for creating what was then referred to as the Centre for Education, Innovation and Collaboration envisioned building 200,000 square feet of usable space, of which 170,000 square feet would be dedicated to a learning common, a heritage space like a museum, and a library. The remaining 30,000 square feet were to be used for an innovation zone, similar to Ryerson's Digital Media Zone. UrbanMetrics projected a return on investment as high as $239 million worth of economic output from the CEIC.
The report does not provide a breakdown of how the learning commons/heritage/library uses would be applied, but 85 percent of the entire floor space was to be dedicated to those three activities, whereas 81 percent of the net area of the current project will be taken up solely by the library/collaboration zone.
When the province last fall pulled its $90-million funding for a downtown Ryerson satellite campus with 2,000 students initially, which could have created a highly productive synergy with the innovation centre, hopes for a full-fledged university in Brampton were thrown into disarray. It might have been time to take a pause, reassess, and consider new options or funding partners to move the plan forward, but council and Ryerson did the opposite, attempting to salvage what they could of the original ambitious plans.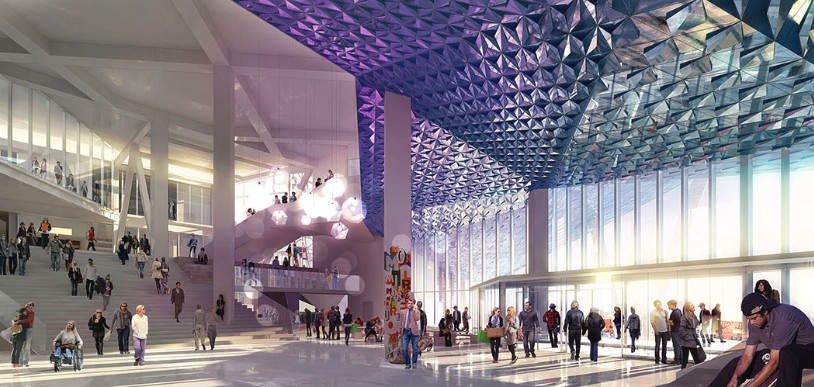 A rendering of the now cancelled Ryerson downtown campus building
At an emergency meeting in November, Ryerson Provost Glenn Craney told council that Ryerson would pursue the "three pillars," including the Centre for Innovation, while still looking for a way to continue with the campus. Since then, Ryerson's involvement with the campus project was officially cancelled, due to the loss of provincial funding. It appears that, for the foreseeable future, the city will have to pin its downtown economic development hopes on the CFI, the Chang School and Cybersecure Catalyst.
Email: [email protected]
Twitter: @mansoortanweer
Submit a correction about this story