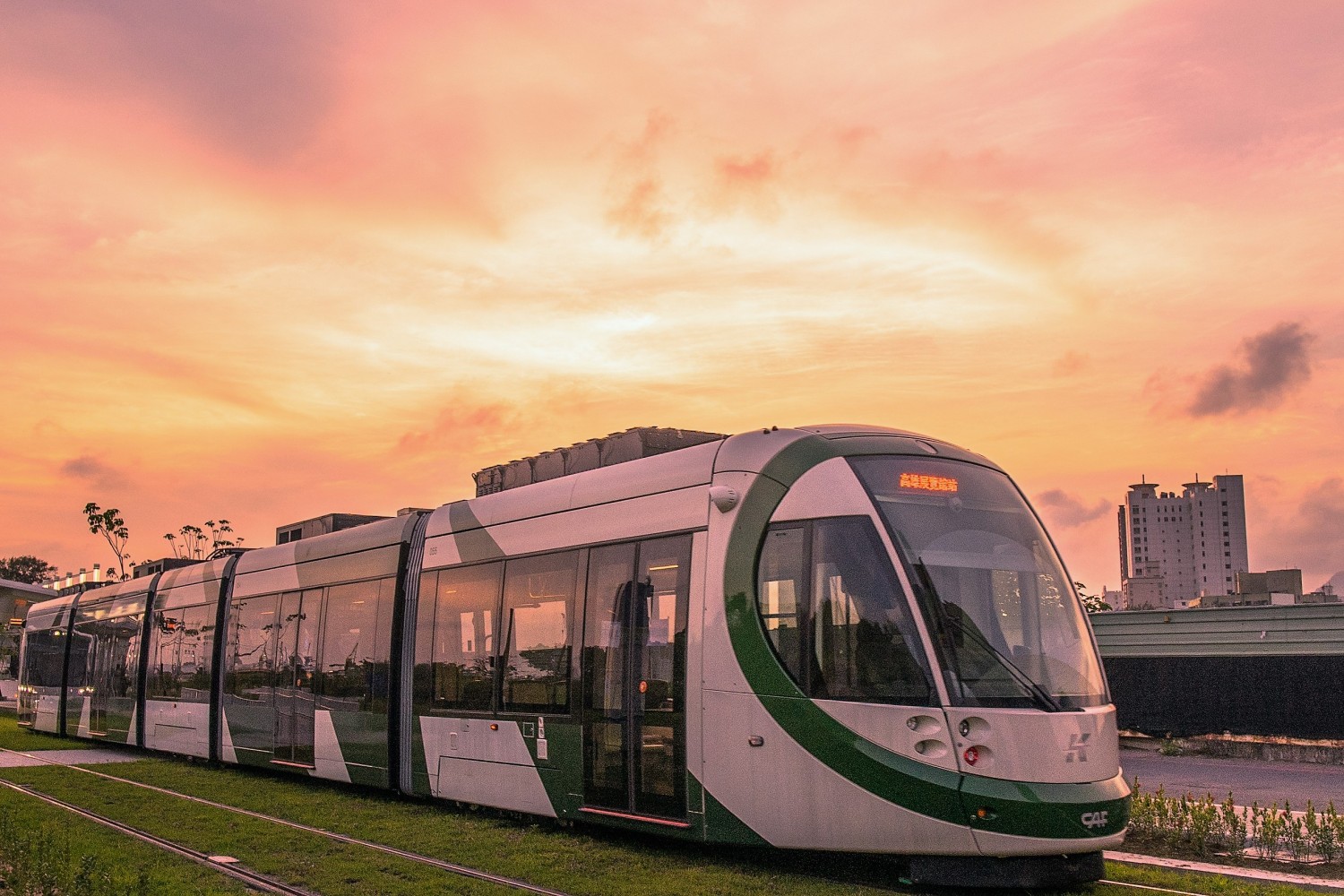 Photos By Mansoor Tanweer/Flickr/Map from PAMA/Rendering City of Brampton
Amid council cheerleading for Main St. LRT, no money has been committed for the potential $1.7 billion cost  
Though the atmosphere on Wednesday was optimistic and energetic, Brampton council's latest efforts to make a start on the revived Main Street LRT project may contribute to further delays.
Council voted unanimously to take further steps toward building light rail transit downtown, including asking Mayor Patrick Brown to seek funding from the provincial and federal governments for a "fully-funded option." But acting on that will have to wait until councillors come to some agreement on the preferred configuration of the LRT: whether it should be an at-grade (surface) route or partially tunnelled. And now, even though no money has been committed for a project that staff say could cost as much as $1.7 billion (to go partially underground as per Brown's desire), council has introduced the added cost of a downtown loop into the preferred design.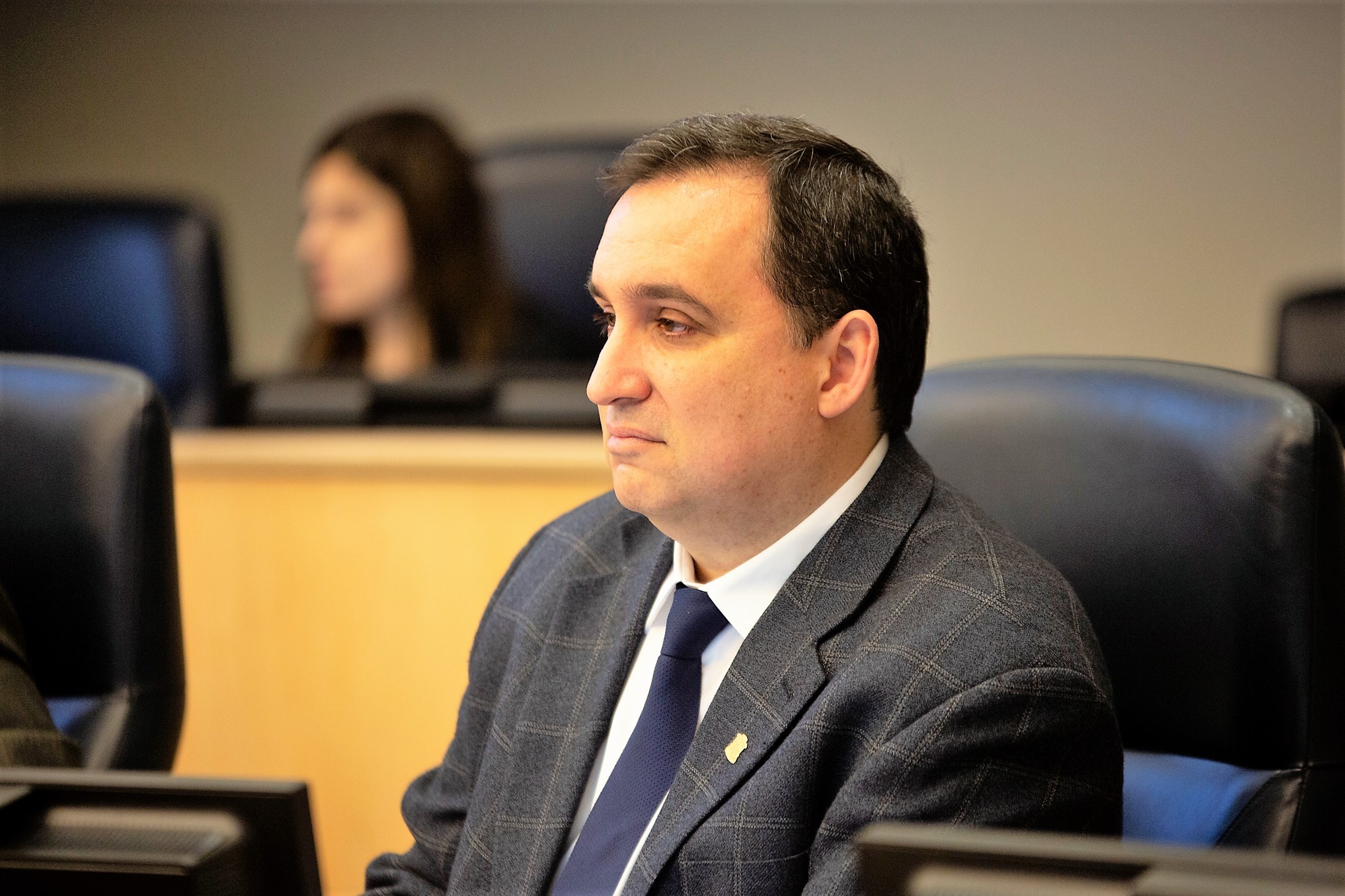 Brampton Councillor Paul Vicente
The last time the LRT was discussed, on April 3, Councillors Paul Vicente and Rowena Santos were at odds with Brown over his demand to move forward with a partially tunneled option. After Brown accused Vicente of providing misleading information in support of his desired surface route, council voted to defer Vicente's motion calling to approve the alignment he wants, which was addressed at Wednesday's meeting.
The motion that has now passed unanimously includes undertaking a new study of the linear surface alignment along Main Street, to update the existing environmental assessment on the route long favoured by Vicente and former mayor Linda Jeffrey. Her unrelenting position that the LRT had to be a surface route and had to run along Main Street into downtown, led to a deep division on the previous council, as opponents argued that Main Street did not offer room for expanded ridership, that it would be difficult to get approved because of its proximity to Etobicoke Creek (where engineering and flooding challenges exist) and because of concerns that it would disrupt the heritage character of the area.
The current study supported by Wednesday's motion would also look at the feasibility of the underground path favoured by Brown and a one-way loop option, whereby the LRT would briefly head south on George Street before rejoining Main Street near its northern point. All of this will be considered, "keeping in mind for every option that elements of Downtown Reimagined need to be integrated as best as possible," Vicente told The Pointer on Wednesday. (Downtown Reimagined is a project, currently stalled in part by the LRT plan, to revitalize the downtown streetscape, repair old sub-surface infrastructure and help activate the city-centre. Funding questions also led to its postponement after projected costs swelled due to unknown issues related to sub-surface water channels currently being studied by staff.)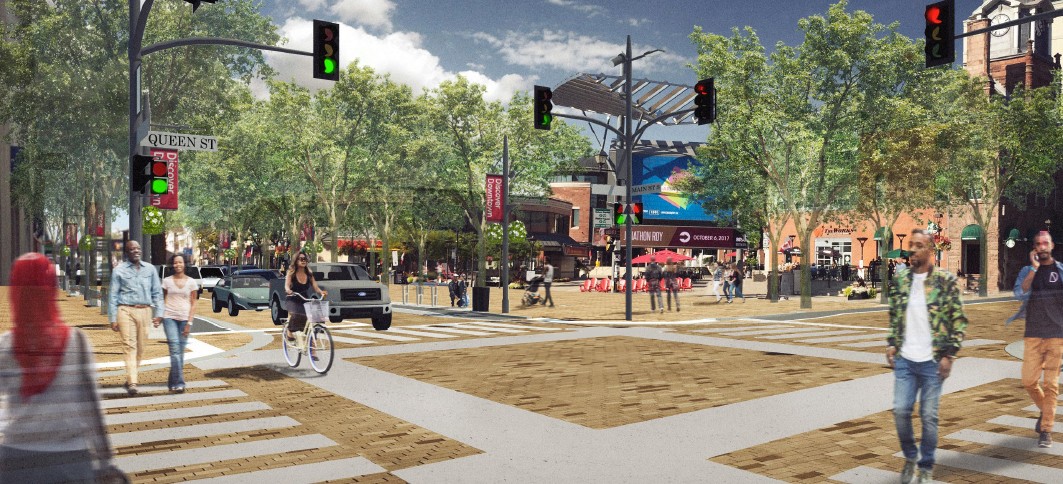 A rendering of the postponed Downtown Reimagined plan
Staff were directed to explore the idea of relocating the Brampton stop of the currently funded Hurontario LRT to a spot just north of the Brampton Gateway terminal, where it was previously expected to be located just to the south. The Hurontario LRT plan is moving forward, and will run through Mississauga, from the lakeshore into the southern part of Brampton. It was originally supposed to be a route that would continue all the way into downtown Brampton, but the city's full portion of the corridor approved and funded by the previous Liberal government was scrapped when a slim majority on the last city council, against Jeffrey's wishes, rejected the Main Street route and called for two other alternate routes into downtown to be studied instead, one along Kennedy Road and the other along McLaughlin Road (those studies, despite being partially completed, were promptly halted by the new council). The provincial government, at the time, said the roughly $300-$400 million for the Brampton portion of the cancelled project would be returned into the general fund to support other priority transit projects in the province.
Now, it's unclear where the funding for an LRT will come from and what any project, if funding is secured, would actually look like.
"We're going to negotiate with our partners to see where there [are] potential partners. I believe there are potential partners for one of the alignments, but I'm willing to be proven wrong," Brown told The Pointer, addressing the motion's call to pursue an option that gets full funding, and its wording that now empowers Brown to lobby the province and Ottawa for the needed money. He also acknowledged that if the full cost for an underground option, which staff say could cost as much as $1.7 billion, can't be funded, he's willing to relent and move forward with a plan that can get funded, which could mean a surface route with a light rail train sharing road space with cars along Main Street into downtown.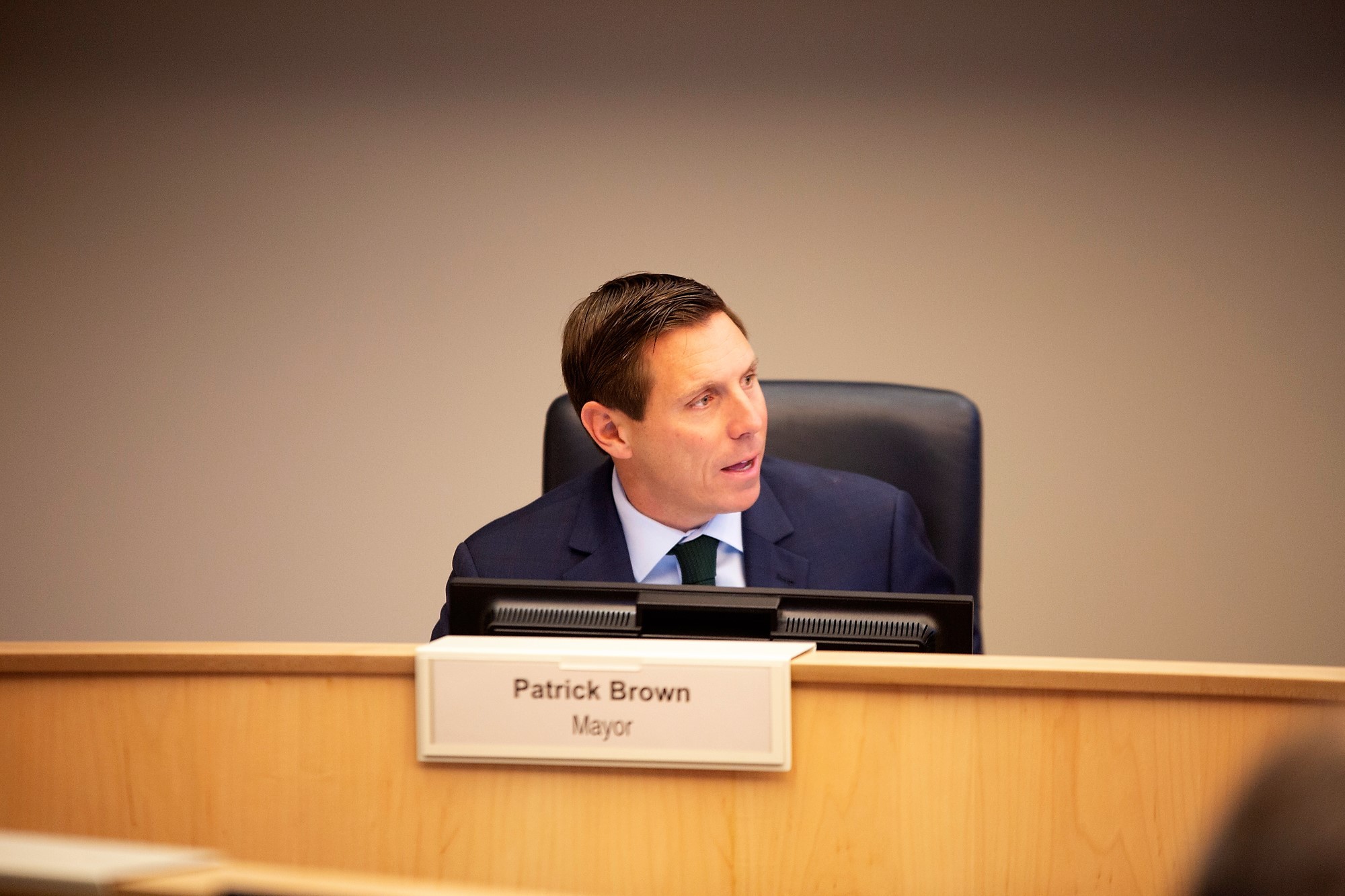 But it's all moot if the city can't find the money, just like promises of all-day, two-way GO Train service, which were made to residents almost two decades ago. The Doug Ford government announced in the fall that the latest plan to deliver on the promise, made by the Kathleen Wynne Liberal government, was being cancelled. There's now no clear timeline for full GO Train service and no idea if an LRT project will move forward, while the country's second-fastest growing city continues to be crippled by traffic with no major transit plan on the horizon.
Brown said that the motion was spurred by a need to get the "EAs (Environmental Assessment) done … Now it is our job to go and convince the government to participate."
Critics have asked what would happen if the detailed EA work shows Main Street, primarily because of Etobicoke Creek's adjacent path, isn't a viable route for the LRT, or if it could only support a surface option. Any funding request to the province and Ottawa would need to first be supported with the actual approved plan for the project. Right now, there is no such clearly understood plan.
In the last term of council, members communicated with the Toronto and Region Conservation Authority (TRCA) about geological and flood risks along Main Street and conveyed publicly that the TRCA has serious concerns about an LRT route along Etobicoke Creek right in the middle of the floodplain. The Pointer has reached out to the TRCA for its current position, but has yet to hear back from the organization, which can provide input to either help approve or halt such projects.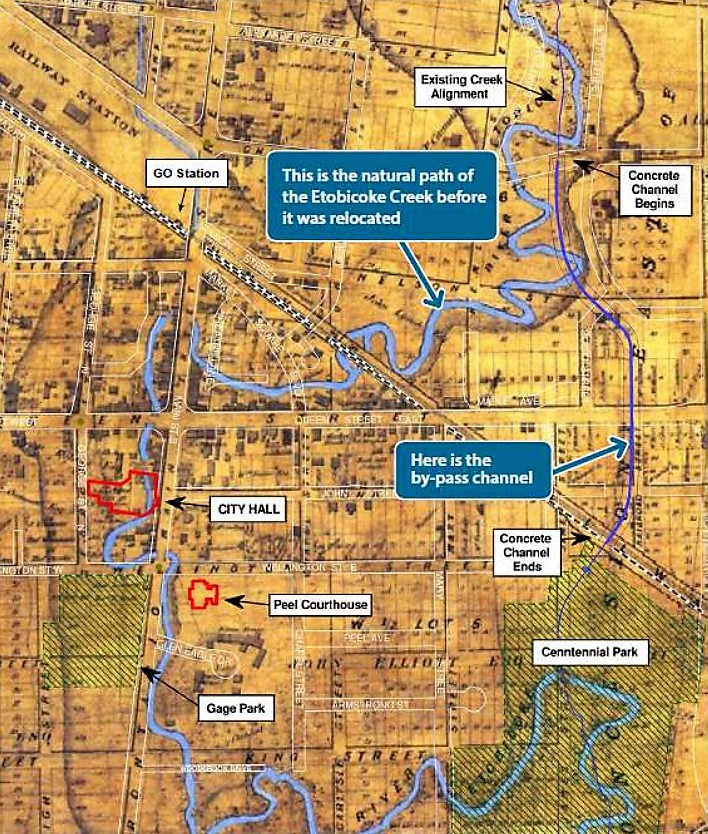 An old floodplain map shows Etobicoke Creek's path along Main Street
Another lingering question is the city's professional capacity to deal with such a complex project. A major urban higher-order transit plan involving an internal commuter rail design is beyond the scope of anything city staff has ever dealt with in the past. Currently, Brampton is operating without a permanent head bureaucrat, with CAO Joe Pittari filling the role since Harry Schlange was let go in December. Schlange was criticized for claiming he would build a world-class senior-staff culture to move the rapidly growing city forward after he fired some two-dozen senior officials shortly after becoming CAO in 2016.
Despite a "national" search that cost almost $40,000 for an outside firm to find the right talent, many key positions went unfilled or were given by Schlange to people who worked for him when he led Niagara Region's bureaucracy prior to arriving in Brampton.
He was questioned about bringing key staff from a mostly rural, agricultural and tourist area, to one of the largest cities in the country facing major urban challenges. Shortly after Schlange was let go, the city announced the dismissal of Rob Elliott, commissioner of planning and development, Erin O'Hoski, who headed communications, and the head of human resources, Fiona Peacefull, who was responsible for filling key positions. Both O'Hoski and Peacefull worked under Schlange in Niagara and were hired by him in Brampton after the "national" search.
Now, senior positions in planning, transit and engineering remain unfilled while the city embarks on the biggest transit plan in its history, with the need for complex EA work, design, engineering and integrated transit planning, while no funding has been committed for the project. It's unclear if Pittari will take on the CAO role permanently. City officials had indicated after Schlange's firing that a search for the right person to lead Brampton into the future would be initiated.
Residents and business people are pushing council to take strong leadership on the LRT file. "We have a little spot in Brampton that we call downtown and it is a sweet spot in the GTA. We have a development opportunity for a heritage-centric Four Corners … . Whatever decision we make on these options, we have to recognize the potential of what we have," Rick Evans, of CCV Insurance, said at Wednesday's meeting.
Evans had strongly advocated for Brown's preferred tunnel option through downtown at the April 3 meeting, where he highlighted the broken promises of the last council and the provincial government on a project that has been in the works for a long time with little to show for it. "I do know that Brampton has been ignored, not for a decade, but two decades. We have a provincial government that thinks they can dig tunnels all over Toronto and they can't Brampton?" Evans said.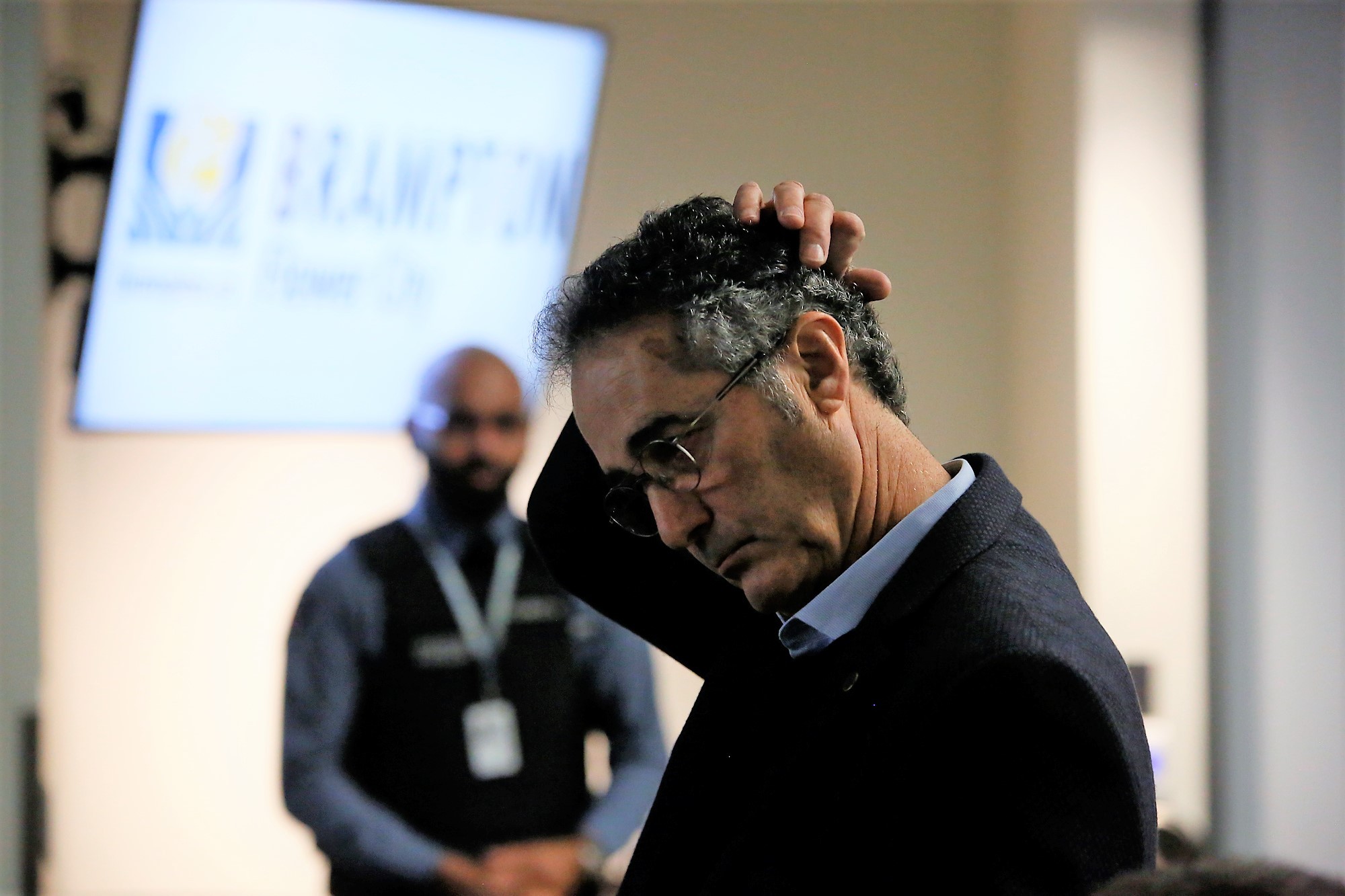 Downtown business owner Rick Evans
Initial indications were that the city is headed for another showdown over the preferred path of the LRT. In April, Vicente produced a letter from the Brampton Board of Trade stating its position in favour of a surface route, which CEO of BBOT Todd Letts confirmed to The Pointer. Brown, meanwhile, cited the public stances of various people from Brampton's business community, who favoured a tunnel option.
The surface route is the cheaper of the two choices, with estimates ranging between $400 million and $450 million. The tunnel option, according to staff, could cost as much as $1.7 billion.
On Wednesday's committee of council meeting agenda were two competing letters, one again from the BBOT, this time from the CEO himself, and another from Christopher Moon of real-estate and city planning law firm Davis-Webb.
Letts' letter advocated for a surface route, saying "we encourage Council to leverage the existing Environmental Assessment that continues to remain valid, and to act forthwith to advocate that the Hurontario Light Rail extension align as closely as possible with the current Metrolinx Hurontario LRT procurement process."
Countering that, Moon's letter urged council not to heed the board of trade and others pushing to abandon the tunnel option for the proposed Brampton extension of the LRT already in the works along Hurontario Street in Mississauga.
"Discarding the tunnel option now and returning to the surface route will once again generate the self-defeating divisiveness that plagued the city and the previous council," the letter from Moon said. "The tunnel option is a reasonable compromise that will maintain the integrity of the heritage area and downtown, while still obtaining the benefits that the LRT is supposed to bring."
It is worth noting that Davis Webb partner Neil Davis is also the son of former Ontario premier Bill Davis, whose 2015 letter challenging Linda Jeffrey's justification for a Main Street LRT surface route has been tied to city council's decision to quash the project in October of 2015. Jeffrey and her supporters claimed the former Ontario premier didn't want the LRT to pass in front of his house, which is located along the path chosen by the previous mayor.
It was widely believed that her stinging criticism of Bill Davis, claiming he had a personal agenda in the matter, led to Davis's support of Brown in last year's mayoral campaign, after he had previously been a supporter of Jeffrey.
The showdown on the LRT configuration will likely come at a later date when council will have to light a fire under itself to move the file forward, decide on a specific route and proceed with lobbying senior governments for the money to get it done. If no money is handed out, it's likely that all the cheerleading and tension about the LRT will be irrelevant.
Email: [email protected]
Twitter: @mansoortanweer
Submit a correction about this story