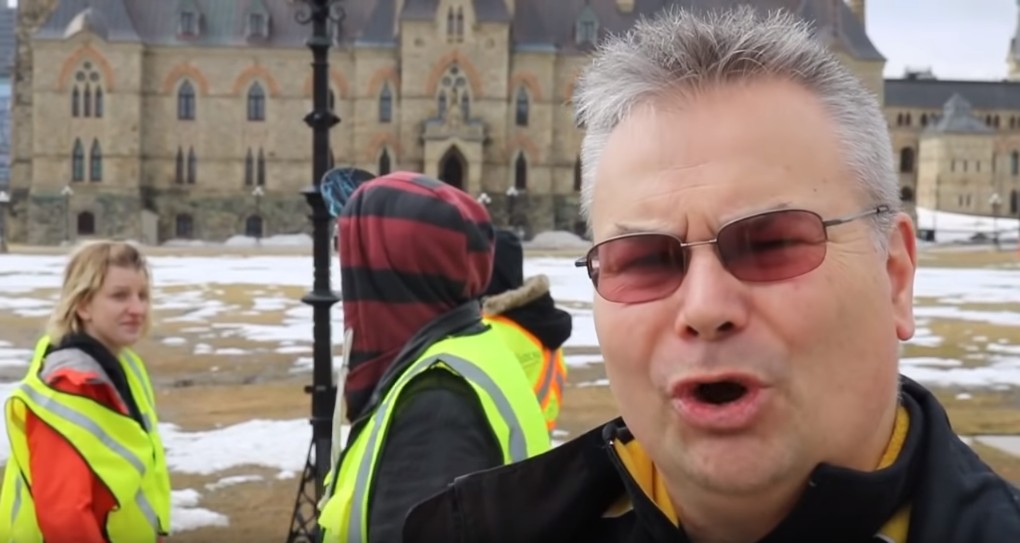 Screenshots from Youtube/Photo from Paramount Fine Foods
'Canada will be under sharia law,' former Mississauga mayoral candidate says after being ordered to pay $2.5M for defaming restaurateur
Anti-Muslim provocateur and former Mississauga mayoral candidate Kevin "Jackal" Johnston has been ordered to pay $2.5 million to Mohamad Fakih — philanthropist and owner of the popular chain of Middle Eastern restaurants Paramount Fine Foods — for making "hateful islamophobic remarks" against Fakih.
In her decision Ontario Superior Court Justice Jane Ferguson called Johnston's comments, including his claim that Fakih's staff barred anyone who isn't a "jihadist", a clear example of hate speech.
"Motivated by ignorance and a reckless regard for acceptable norms, the Johnston defendants' behaviour reflects a contempt for Canada's judicial process, an abuse of the very freedoms this country affords them and a loathsome example of hate speech at its worst," Ferguson wrote in her ruling.
In response to the decision an unrepentant Johnston repeated to The Pointer conspiracy theories popular among anti-Muslim groups that Islam is plotting to take over the West, the unfounded claim that "Canada will be under sharia law within 15 years," and complaints that various politicians were "on the take".
Sharia is a medieval era interpretation of tenets laid out in the Qur'an and collections of the Prophet Muhammad's sayings called the Hadith — which were later compiled into a code of jurisprudence. While there is a growing recognition in the Islamic world of the antiquity of sharia, certain countries such as Saudi Arabia and Iran prescribe to a rigid and hardline orthodox version of it. No aspect of sharia law has ever been contemplated or applied to non-Muslims in Canada.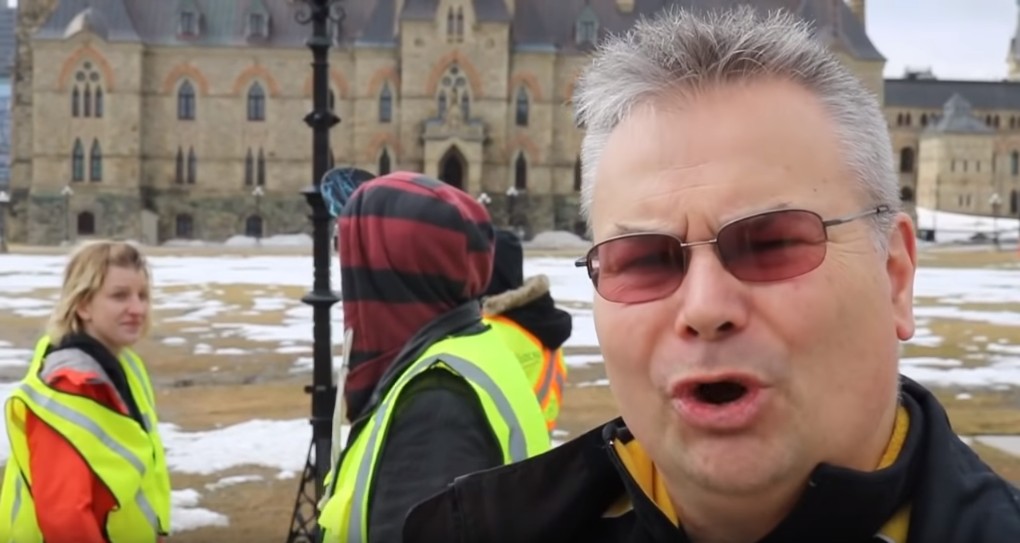 Kevin Johnston at a 'Yellow Vest' protest against immigration in Ottawa
Johnston says he will appeal the $2.5-million decision against him, claiming it sets a precedent that "so long as you are a member of a specific group … you win by default."
In July 2017, Johnston and fellow agitator Ranendra "Ron" Banerjee, who runs the website Rise Canada, stood outside a Mississauga Paramount restaurant where Prime Minister Justin Trudeau was hosting a fundraiser. Johnston and Banerjee made a series of eight videos, the second of which included defamatory statements about the restaurateur and Muslims.
"I didn't know these people until that time," Fakih told The Pointer. "The judge's ruling made it clear that it was all about my background, my religion, and where I am from."

Paramount Fine Foods owner Mohamad Fakih
Fakih is of Lebanese-Canadian descent and a Muslim who saw sectarian violence tear his native country apart during the 15-year Lebanese civil war. In 1998, while visiting a friend in Toronto, he found Canada to be a peaceful refuge from the politics and uncertainty of Lebanon. He started Paramount Fine foods not long after moving to Canada.
"They said that I support Boko Haram. Maybe they don't know, but maybe with your interview they will find out Boko Haram is in Africa and I'm Middle Eastern. So it has nothing to do with me and Boko Haram, nor have I ever been in Africa," Fakih said.
Ron Banerjee, who founded a Hindu-Canadian advocacy group and has agitated against Islamic prayers in schools, was required to apologize last December for his part in the remarks in the videos shot outside of Fakih's restaurant. The apology was part of a settlement agreement that included a $100,000 "consent to judgment," a payment he would be liable for if he made similar comments about Fakih again.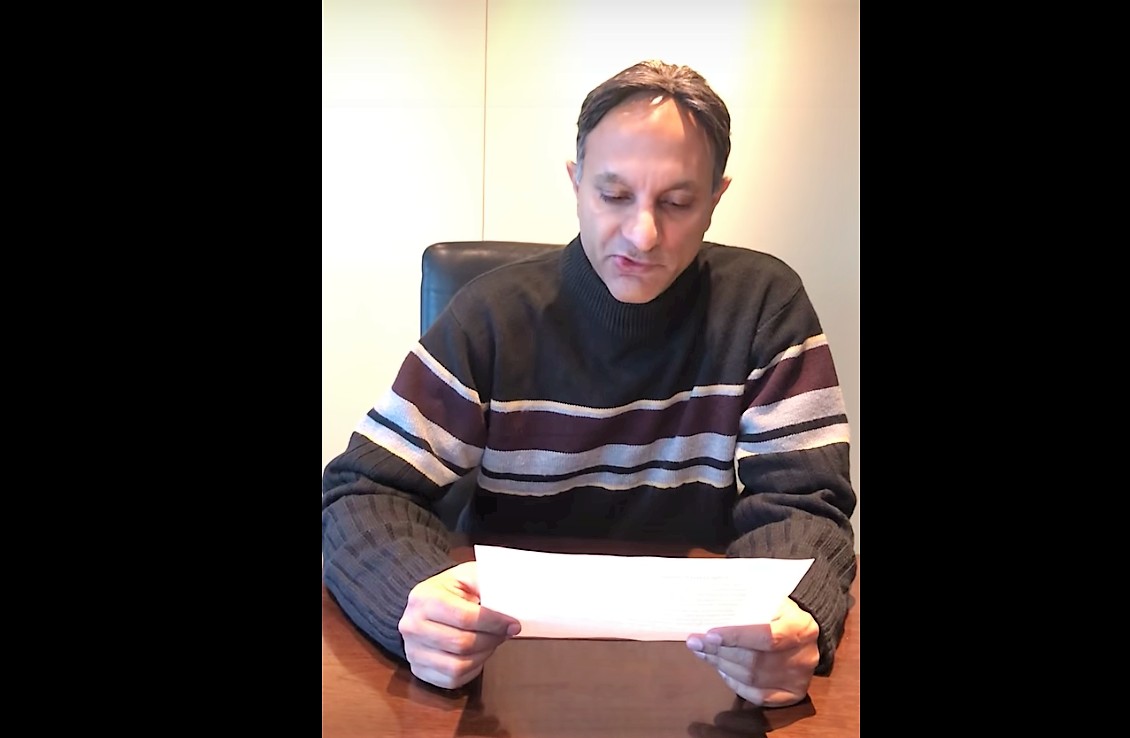 Ron Banerjee reads an apology to Mohamad Fakih in December
Johnston runs a website on which he hosts a regular program focusing on opposition to Canada's Muslim community. He gained notoriety in 2015 for opposing the expansion of a mosque in the Mississauga neighbourhood of Meadowvale, across the street from Meadowvale Town Centre. Johnston's role in the debate tarred others with the same brush, including many residents who opposed the project for different reasons, including Councillor Pat Saito. Saito said on her social media two years later, "I did not support it as my mind has not changed over the planning concerns. I am very supportive of a mosque in the community as we welcome places of worship, but I do not feel this is the right location." Still, accusations of islamophobia followed Saito for years after that.
Again in 2017, Johnston was back in the news for offering viewers $1,000 for video of Muslim students praying at school. Peel Regional Police charged him with promoting willful hatred against an identifiable group and "concerns over information published on various social media sites," police said at the time.
The following year, in February 2018, he said he took a trip to Myanmar at the height of the crisis where hundreds of thousands of Rohingya Muslims were displaced and thousands died due to government policies of ethnic cleansing. He repeated Myanmar's line that they were from neighbouring Bengal and "There is no Rohingya people — but the Burmese army killed nobody." He told the alt-right conspiracy website Infowars that the army "always shot in self-defence."
Johnston also ran against Mississauga incumbent Mayor Bonnie Crombie last year and lost by a huge margin — 13.5 percent to her 77 percent of the vote.
Fakih says that, after recovering his legal costs, he will put the money towards his philanthropic work. "The rest I think I will [provide] for people who are subjected, or people who are exposed to, such hate and don't have the means to defend themselves. I will make it available to some causes I believe in."
Email: [email protected]
Twitter: mansoortanweer
Submit a correction about this story