Photos By Mansoor Tanweer/Flickr
Region takes steps to help survivors of human trafficking with new shelter spaces
Peel Region is extending an open hand to the survivors of human trafficking.
Avoiding the many deviations and delays that can come with moving a document from words on paper to practical action, regional councillors have approved $1.3 million for a three-year pilot program to create 10 new shelter spaces for survivors of sex trafficking in particular. The project emerged from the region's strategy to end human trafficking, approved by councillors last June.
The new shelter spaces, which include four immediate/emergency spaces and six transition spaces, will help survivors extricate themselves from their trafficker's web and escape a situation that is becoming increasingly common in the GTA.
Data from 2018 shows that Peel Region is a hotbed for traffickers, with Peel Regional Police conducting more than half of that year's human trafficking investigations in Canada.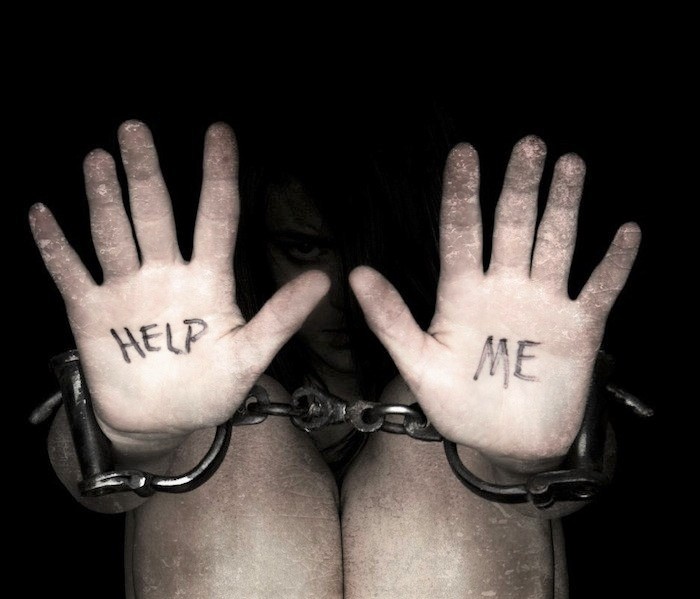 A number of elements factor into Peel's leading role in trafficking, including geography and clientele. Ontario is Canada's main hub for this type of criminal activity, with Highway 401 acting as an artery for trafficking girls and women between major city centres. In 2016, Ontario accounted for roughly 65 percent of police-reported trafficking cases across the country, and about 62 percent of those cases originated in the GTA.
The new shelter spaces will be operated by the Elizabeth Fry Society under a three-year contract with the region, the spots reserved for females and female-identifying survivors.
Council approval for the funding comes at a financially uncertain time for the region, with Premier Doug Ford's PC government budget delivering a serious blow to municipalities across Ontario, including significant cuts to critical services such as public health, mental health and addiction services.
Caledon Councillor Johanna Downey, a member of the Peel Region Human Trafficking Service Providers Committee, praised council for making the right decision in a tough financial time.
"We'll be facing some impossible decisions to come, but I applaud all of you for standing up and doing the right thing when we need to," she said.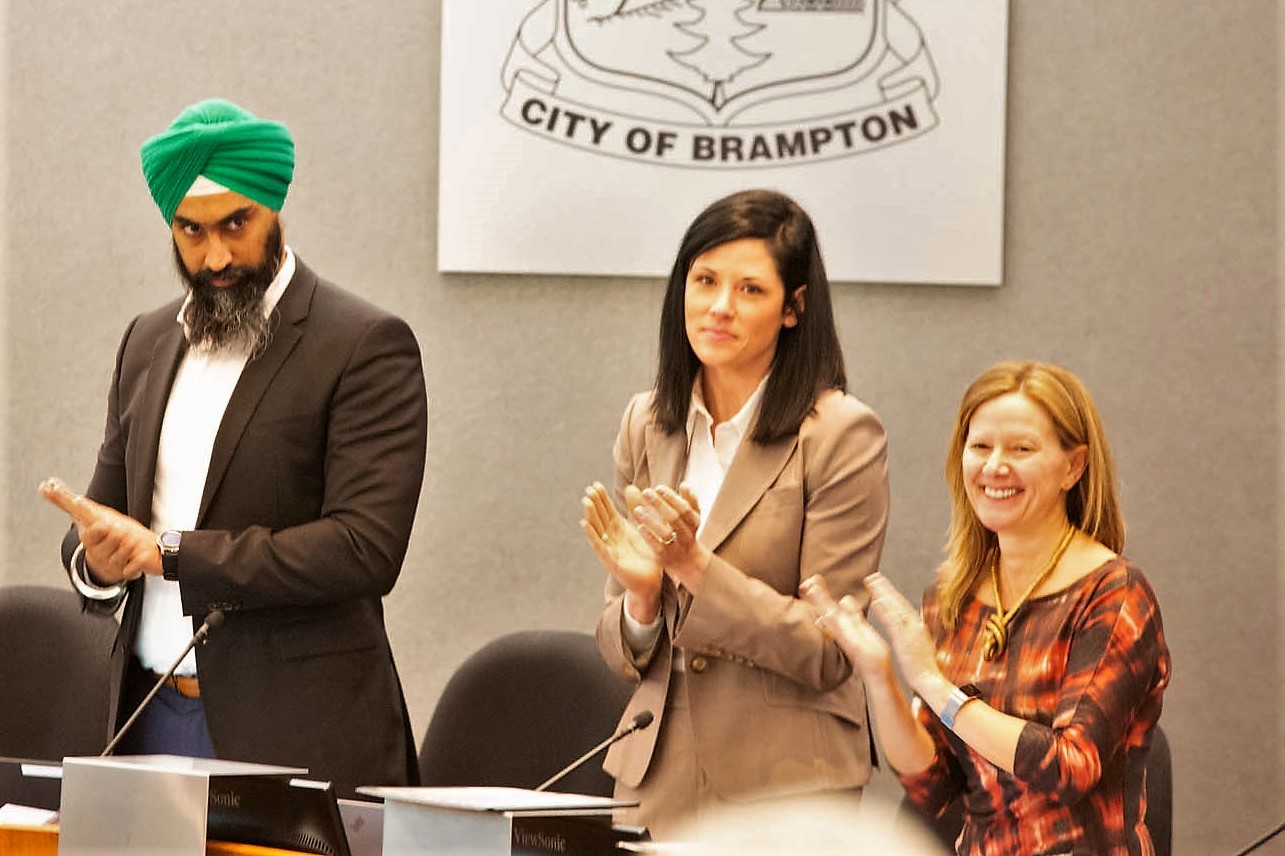 Caledon and Regional Councillor Johanna Downey, centre
Peel Region's strategy "works toward bridging the gap in services for victims and survivors of sex trafficking," by providing housing options and accessible programming. The three-year pilot program will provide a services hub for survivors along with the shelter spaces. The hub, meant to provide all the services survivors need in one place, is still in the works, with the region aiming to secure an operator for a planned launch date in the winter of 2020. People escaping human trafficking may have a wide range of needs; models launched in other jurisdictions provide everything from help applying for government assistance, to finding housing, to simply supplying clothes and food.
Peel police data shows that the incidence of human trafficking in the region may be decreasing. In 2015, the force made 39 arrests and laid 244 charges related to sex trafficking. These charges range from living off the avails of prostitution, human trafficking and forcible confinement, to drugs and weapons charges. In 2018, there 17 cases and 79 charges laid.
However, these numbers don't provide a full picture of the issue in Peel, due to the transient nature of such crimes and the fact that they go vastly underreported.
The mental anguish of sex trafficking in particular is that victims often form a "trauma bond" with their traffickers, emotional attachments that continue within a cycle of violence. Some trafficked women don't even recognize themselves as victims.
Successfully prosecuting a charge of human trafficking can be extremely difficult in the court system. Traffickers often are found guilty of lesser offences, which skews the statistics.
Overall, the pilot program will cost $1.8 million, with $1.3 million of that dedicated toward the housing and emergency shelter spaces, and the remaining $450,000 toward the service hub.
The region has also approved a $500,000 grant for the Elizabeth Fry Society to undergo capital repairs to accommodate the additional spaces, which should be ready for the fall.
The emergency shelter spaces will give survivors with a place to stay in the immediate aftermath of escaping their traffickers. The initial crisis and stabilization stages are the most critical for survivors, to ensure a successful transition back to a normal life. A survivor may stay for anywhere between 72 hours and four months. After that, the additional transitional housing spaces will offer further housing supports as survivors take the next steps in rebuilding their lives, providing a place to stay for up to two years.
Another key thrust of the region's strategy is raise awareness of the issue and help residents identify warning signs when they see them.
The human trafficking protocol provides an overview of the issue in Peel Region and, most significantly, streamlines supports for survivors.
The region continues to advocate to the province for funding to bolster these efforts. In 2018, the province established a sex trafficking roundtable, along with partners in the federal government, aimed at discussing ways to stop trafficking. The Ontario strategy also offers a funding stream for various projects in this area. Peel was unsuccessful in an attempt to gain funds in 2017, a recent report from the region explains.
The region will be looking for "long-term sustainable operational funding" from the province. However, with recent cuts made by the PCs it's unclear whether that expectation is realistic. The report adds that if there is no additional provincial funding, the burden will fall on the region to continue the program.
But with municipalities starting to band together on this issue, there may soon be a louder chorus of voices at Queen's Park seeking assistance to fight human trafficking.
According to Mississauga Councillor Chris Fonseca, the Federation of Canadian Municipalities (FCM) has voted to include human trafficking as a piece of its ongoing advocacy work for municipalities, specifically as it relates to housing for survivors.
"This is a concern right across the country, obviously, for municipalities and regions," Fonseca told her fellow councillors. "There is expressed interest in moving forward for funding, specifically to address this."
Estimates put the number of people affected by trafficking in some form worldwide at 20.9 million. This includes not only sex trafficking but also labour exploitation, domestic servitude and forced criminality, cases of which also appear in Canada, such as the 43 male labourers who were freed in Barrie in February after having been brought to Canada under false pretences and forced to work for a cleaning company while living in squalid conditions.
Victims of sex trafficking in Canada are most commonly young, white females between the ages of 14 and 22. The perpetrators are generally not much older than their victims, and are both male and female. One of the largest misconceptions surrounding human trafficking is that these women are brought in from other countries and are made particularly vulnerable by being isolated from family, with very little in resources. While such cases do occur, government statistics suggest the vast majority of women being trafficked in Canada, about 90 percent, are Canadian.
The number of young Indigenous women drawn into these crimes is particularly jarring: while only 4 percent of the Canadian population identifies as Indigenous, more than 50 percent of sex trafficking victims are Indigenous.
Police encourage individuals to come forward and report suspected human trafficking incidents to the Major Drugs and Vice Unit by calling (905) 453-3311, ext. 3555 or 3515. Information may also be left anonymously by calling Peel Crime Stoppers at 1-800-222-TIPS (8477), or by visiting www.peelcrimestoppers.ca or by sending a text message to CRIMES (274637) with the word 'PEEL' and then your tip.
Email: [email protected]
Twitter: @JoeljWittnebel
Submit a correction about this story