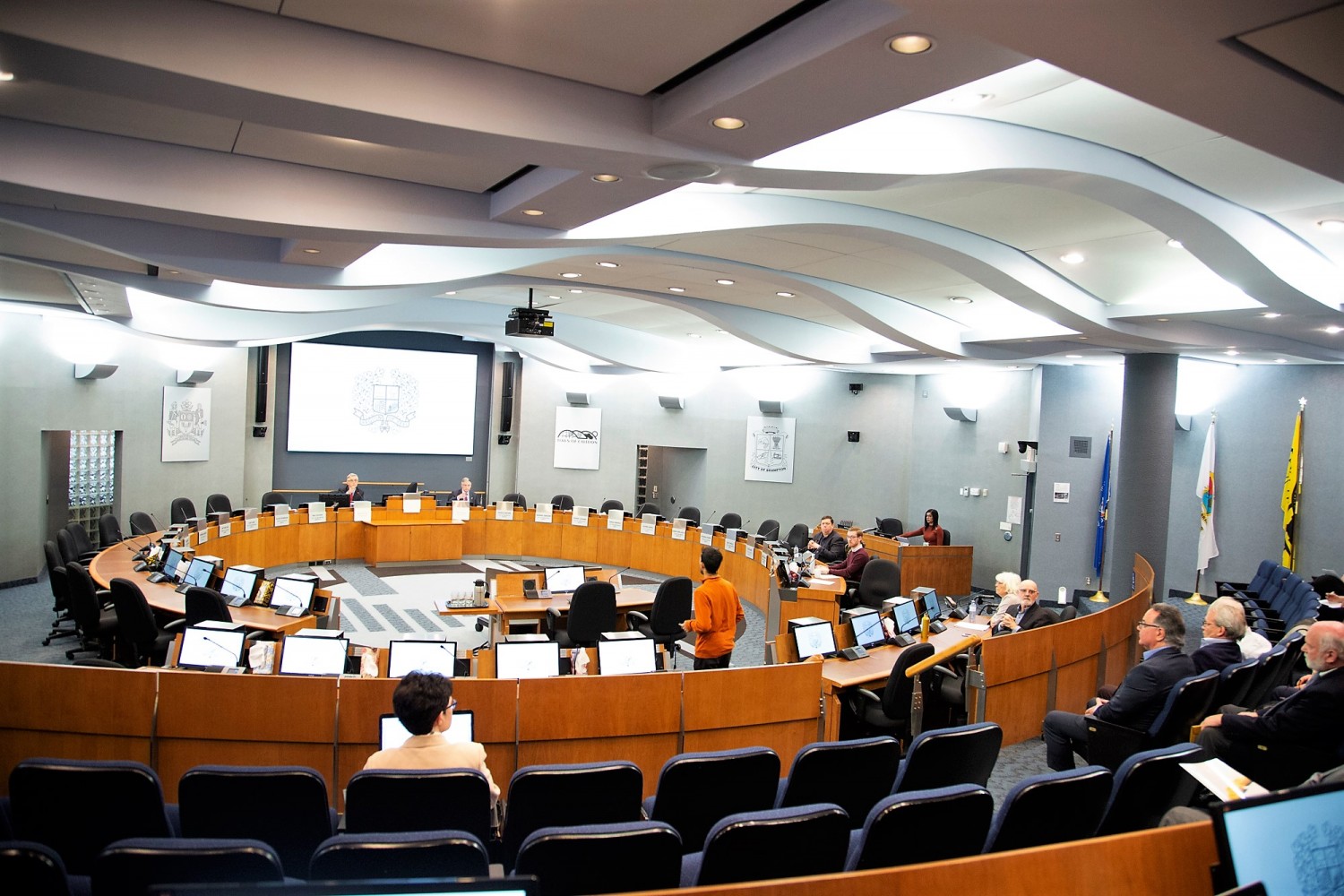 Photos by Mansoor Tanweer
Brampton residents a no-show at meeting with regional government review advisers
Peel residents, activists and stakeholders had their chance on Wednesday to meet with Ken Seiling and Michael Fenn, Premier Doug Ford's advisers on the provincial review of regional governance. Over the course of four hours, many speakers from the region came forward to provide feedback.
But the absence of one group of people was notable. Mississauga, the most heavily represented city, and Caledon both had residents speaking on their municipality's behalf, but Brampton did not. The size of the audience ebbed and flowed over the course of the meeting, but the audience gallery was only about half filled at any given time.
"I can't account for who shows up at these things," Seiling told The Pointer after the meeting was done. Fenn added to Seiling's point, saying that "the invitations were broadly offered. It's just a question of whether people have something to tell us they want us to hear."
Caledon, a much smaller municipality than Brampton and one representing a fairly long commute to regional headquarters in Brampton, had Town Councillors Ian Sinclair and Johanna Downey, accompanied by Mayor Allan Thompson, in attendance. Sinclair spoke on behalf of Caledon. A slew of speakers belonging to residents' groups and other organizations from Mississauga made up the rest of the delegations at the meeting.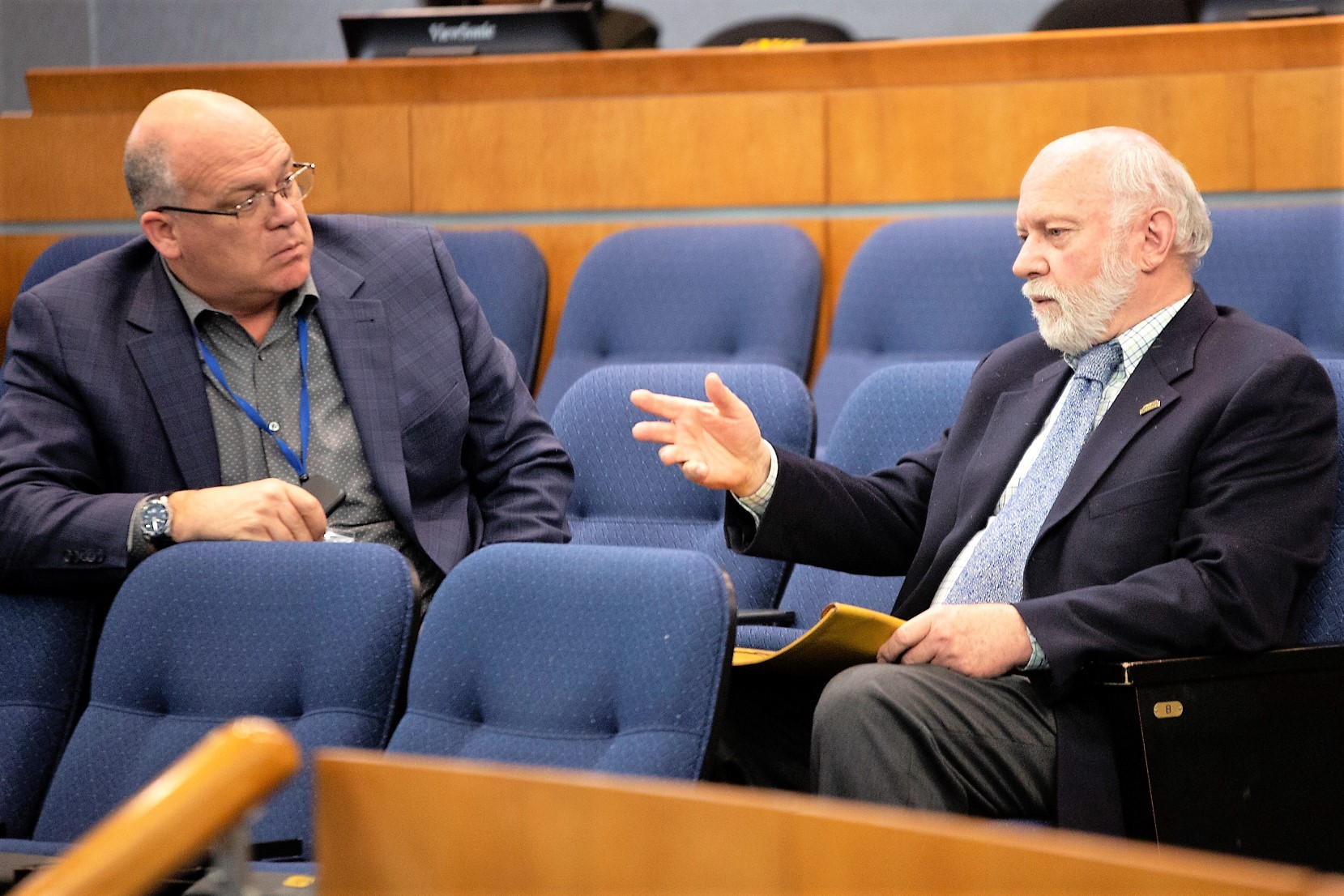 Caledon Mayor Allan Thompson, left, and Caledon Councillor Ian Sinclair
Mississauga held a town hall on April 8 on the regional review, specifically on the question of whether that city should secede from the region and become a single-tier city. Brampton held one as well this past Saturday, where the turnout was also abysmal, with roughly two dozen people sitting in the audience gallery. Comparatively speaking, Mississauga's council chambers were packed shoulder to shoulder.
The most robust public feedback from Bramptonians on the regional review was during a tele-town hall, in which a poll of participants found that 66 percent of Bramptonians supported maintaining regional government as-is. Some 41 percent said they would not support Brampton becoming a single-tier city if that meant increased costs. While the results of that poll appear thorough — nearly 5,000 residents participated — it should be noted that it was not a scientific, random poll.
"We certainly would have liked to have heard from everybody right across the region, there is no question about that. We did hear a difference of view even within the Mississauga people — both sides of the coin on those particular views. So I think we got a good representation," Seiling told The Pointer.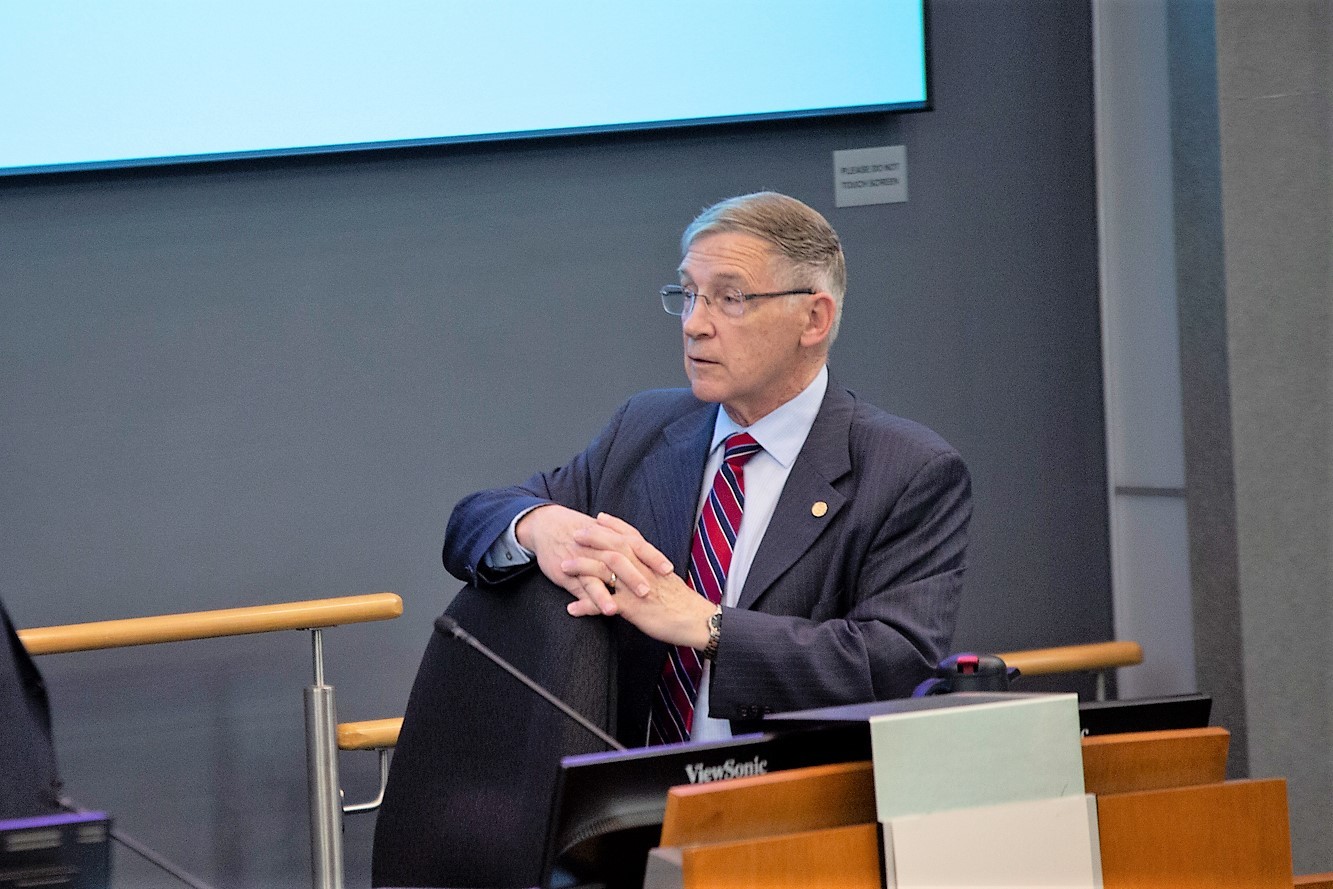 Provincial adviser Ken Seiling
"I think you have to bear in mind as well that we have already talked to 82 mayors and heads of council, and we have an online portal that's had, by our count, nearly 6,000 submissions so far. So we are definitely hearing from a broad sweep of people," Fenn added.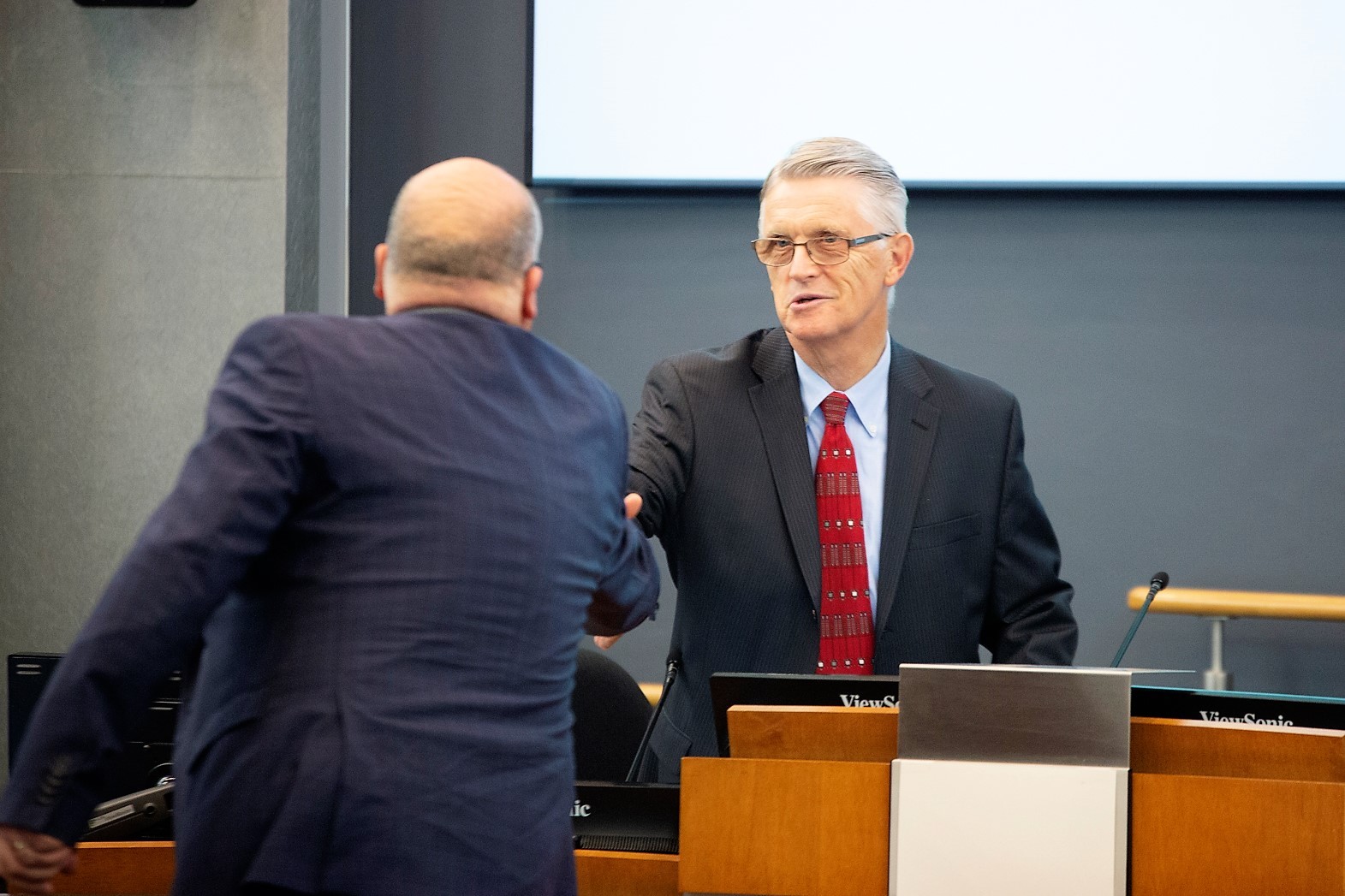 Michael Fenn shakes hands with Caledon Mayor Allan Thompson
There certainly was a diversity of views expressed by those who attended the meeting. The second delegate to go up and speak was Caledon's Sinclair, though he did not introduce himself as a councillor but instead as a Caledon resident and "an activist in the community." His council in the previous week had decided that their "interim position [was] to support the continuance of a two-tier governance structure in the Region of Peel."
So it was no surprise that Sinclair spoke in support of no changes to regional government. "I guess my first preference in terms of Region of Peel structure would be the status quo," Sinclair began. "Region of Peel was the most rationalized amalgamation of any region when formed in '74 … Since 1974, the Region of Peel has grown by 25,000 to 30,000 people a year and consistently maintains a AAA credit rating. Far better than the province."
A chorus of pro-Mexit and pro-status quo speakers from Mississauga then followed. Joe Horneck, who has run for Mississauga's Ward 6 seat in the past, came out in favour of Mississauga leaving the region, using the emotional argument. "No one, certainly, walks around saying 'Hi, I'm from the Region of Peel,' as opposed to Brampton or Mississauga or Caledon," Horneck told the advisers. Horneck used this point to argue against amalgamation, saying that "Brampton and Mississauga don't belong together."
"Mississauga has a population similar to the size of Seattle, which is the same physical size. It's actually bigger than Washington D.C. or Denver by population. So if you think of those cities, you certainly don't think of them being governed by some external regional body," Horneck said.
David Wojcik, president of the Mississauga Board of Trade, was perhaps the most passionate speaker in favour of a divorce from Peel. "Now, more than 45 years later, the time has come for a careful review of regional government," Wojcik began his remarks to Fenn and Seiling.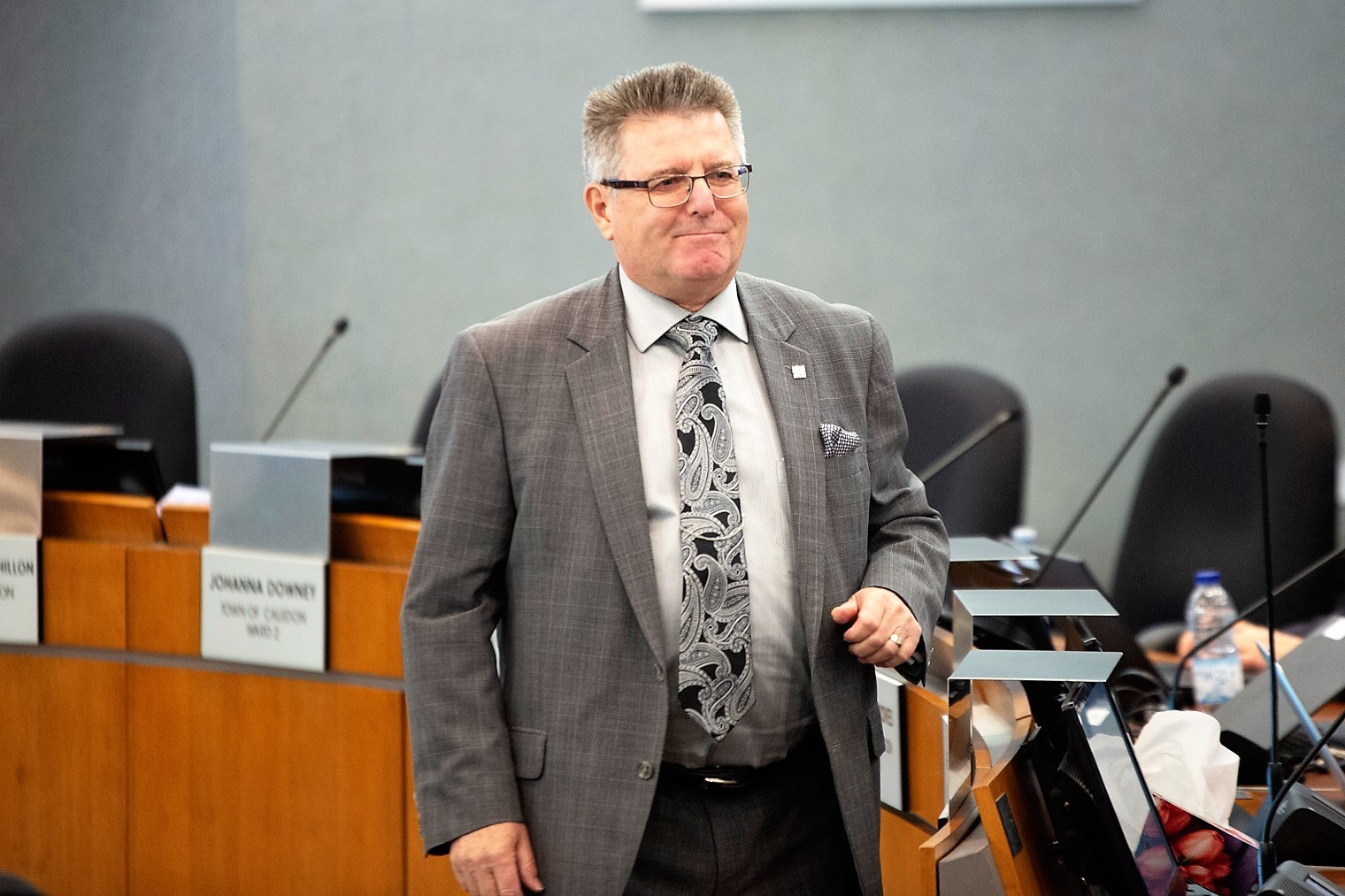 David Wojcik, president of the Mississauga Board of Trade
"From a business perspective, we would like to see an efficient and effective, streamlined and less bureaucratic municipal government, in whatever form that may take," Wojcik told the advisers.
"Mississauga Board of Trade would support a stand-alone, single-tier municipal government as the best option." Wojcik explored the idea of amalgamation and said believes that the regional government, as it stands now, "does not provide a representation-by-population government. We are not sure this would change with an amalgamated Peel."
Sue Shanly, of Miranet, a network of ratepayers' and residents' organizations out of Mississauga, used the marriage metaphor to raise the alarm on what she and her organization called "the lack of unbiased information about the effects of separation" on Mississauga and said she doesn't want the province to rush the process. "At this point we are concerned that we are headed for a shotgun wedding," she said, in reference to rumors that the province might create a Peel "super-city." On the other hand, "a divorce almost always creates unhappiness and unintended consequences."
Mayor Bonnie Crombie has been sniping with Peel Chair Nando Iannicca and Brampton Mayor Patrick Brown on the subject of the "divorce." Crombie and her colleagues on council have repeated their refrain that Mississauga stands to save $85 million a year by leaving the region, which Brown has frequently disputed, during and after Mississauga's April 8 town hall.
Crombie has also called into question the secretive nature of a report produced by Deloitte consultants and commissioned by Iannicca and regional staff without the knowledge of the region's Mississauga partners. The controversial report, whose accuracy Mississauga disputes, contends that accomplishing dissolution would require over $1 billion in additional levies, a far more expensive option than the status quo or amalgamation. An independent legal opinion sought by the City of Mississauga contends that the Region of Peel violated its own bylaws when hiring Deloitte and Watson & Associates to conduct the report at a total cost of $325,000. Meanwhile, Ernst & Young have been hired to repeat the process, this time with more consultation with the municipalities, at a cost of about $660,000.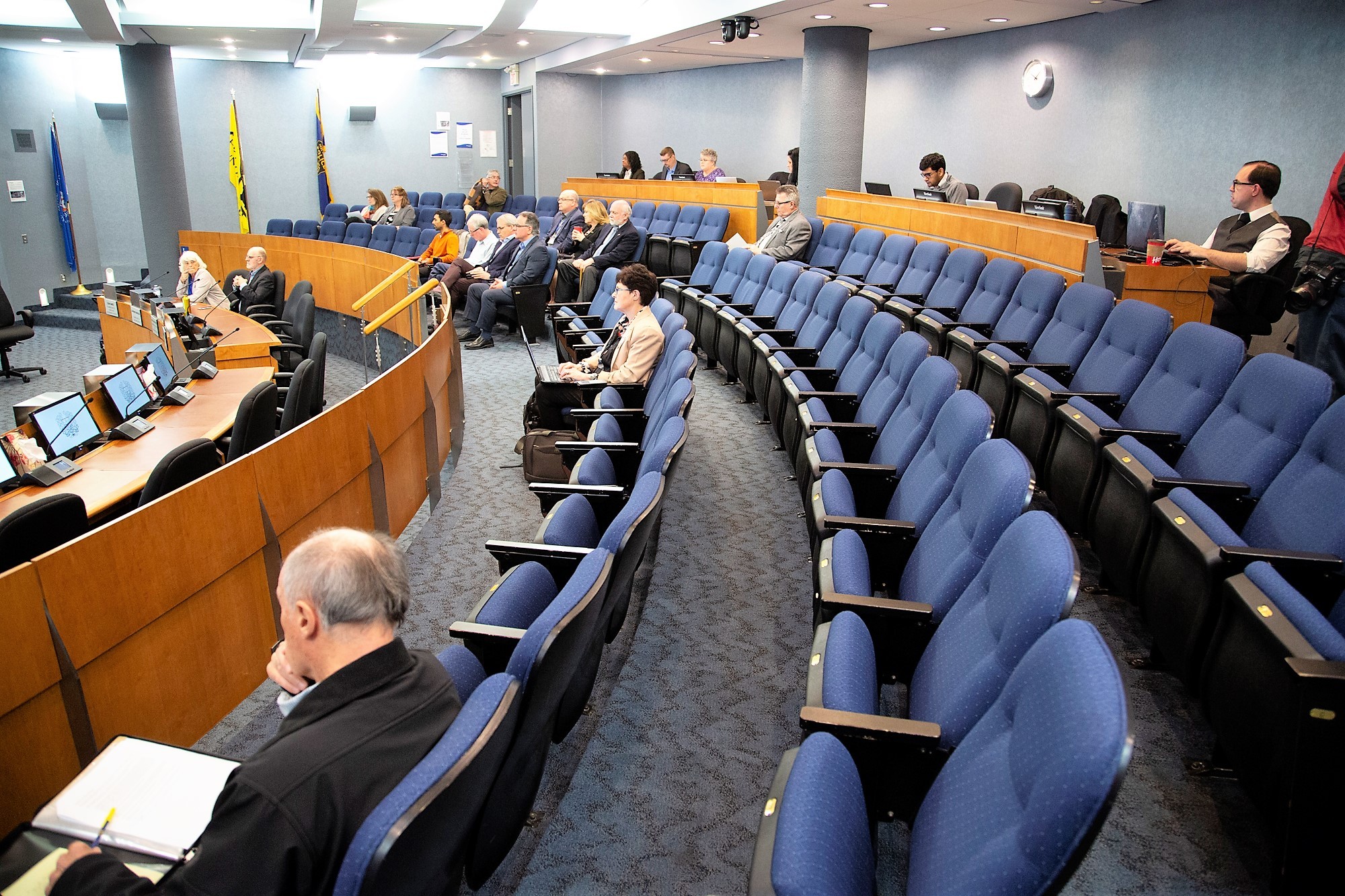 A sparce group at yesterday's session on the regional review
The president of the Lakeview Ratepayers Association, Deborah Goss, agreed with Shanly that not enough reliable detail has been provided as to the consequences of changes to the regional structure. "We haven't had enough information. Obviously there has been a big move by Mississauga to separate. We haven't had enough information to understand how financially that is going to impact homeowners and residents in Mississauga," she told The Pointer.
All this could all be for naught, as Seiling explained that "there will be a report and recommendations. [The report will be] advice to cabinet. It will go to the government, it won't be a publicly tabled report. The government can do whatever it wants at the end of the day, but they'll take that as advice."
Email: [email protected]
Twitter: @mansoortanweer
Submit a correction about this story