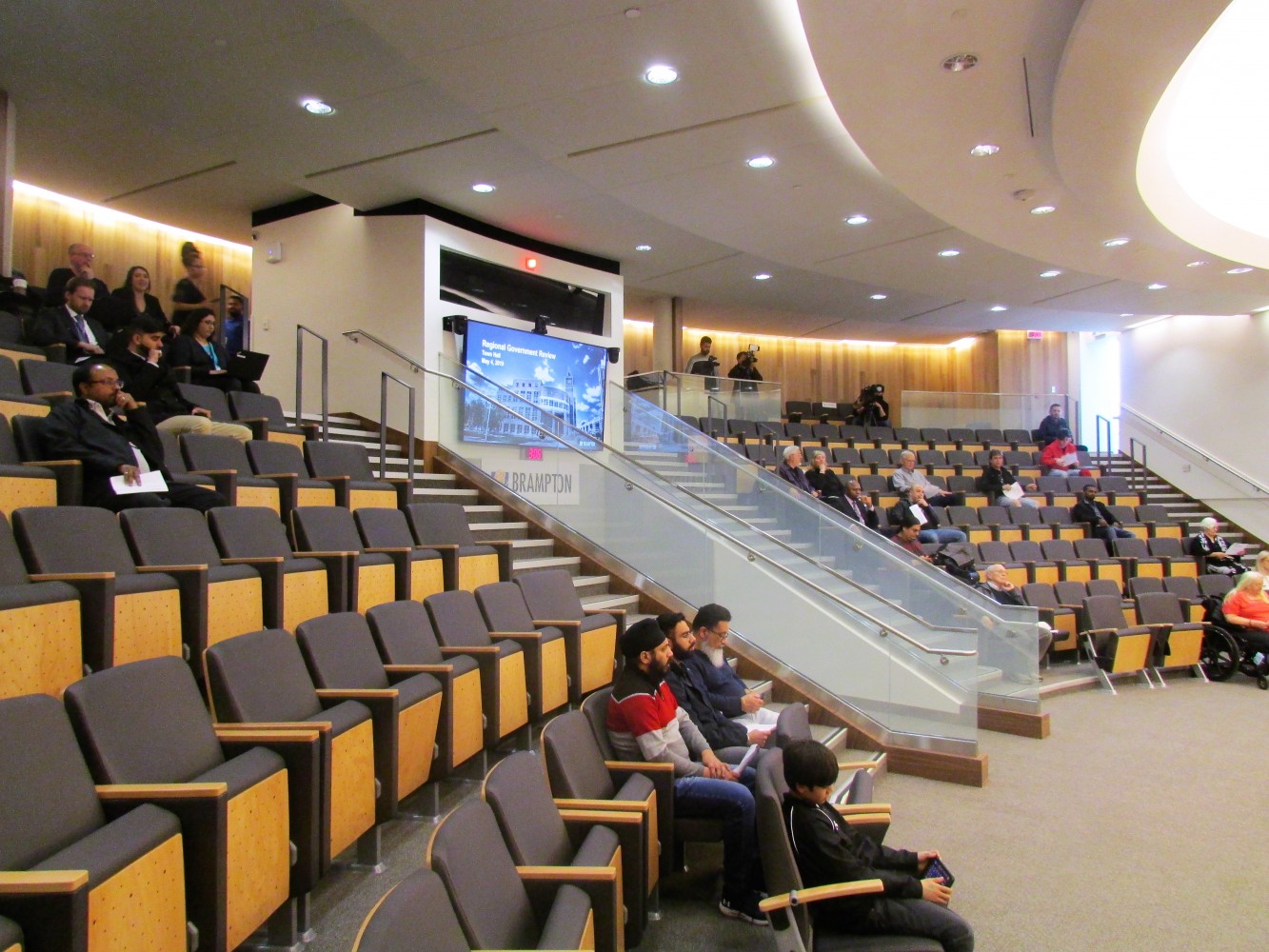 Photos by Rick Drennan
Brampton a no-show for town hall on city's future
Although Brampton is the 9th largest city in the land with a population of more than 600,000 and the second fastest growth rate among the country's municipalities, there's a fair chance it might disappear altogether later this summer when the province's study on regional governance helps Premier Doug Ford decide on one of three options: maintain the status-quo and keep Peel Region as is; dissolve the whole thing and let the three municipalities become independent; or amalgamate them – the formation of one super-city.
The outcome might not be good news to community activists and local politicians fearful that the wrong decision could be detrimental for Brampton's future.
Mayor Patrick Brown chaired a town hall meeting Saturday afternoon at city council chambers which included about half of the council members, and a light gathering of citizens in the public gallery. The entire city had a chance to participate via Facebook Live.
The sparse crowd was a stark contrast to the packed Mississauga council chamber where the city recently held a similar town hall that featured numerous passionate delegations from residents calling for the city's independence.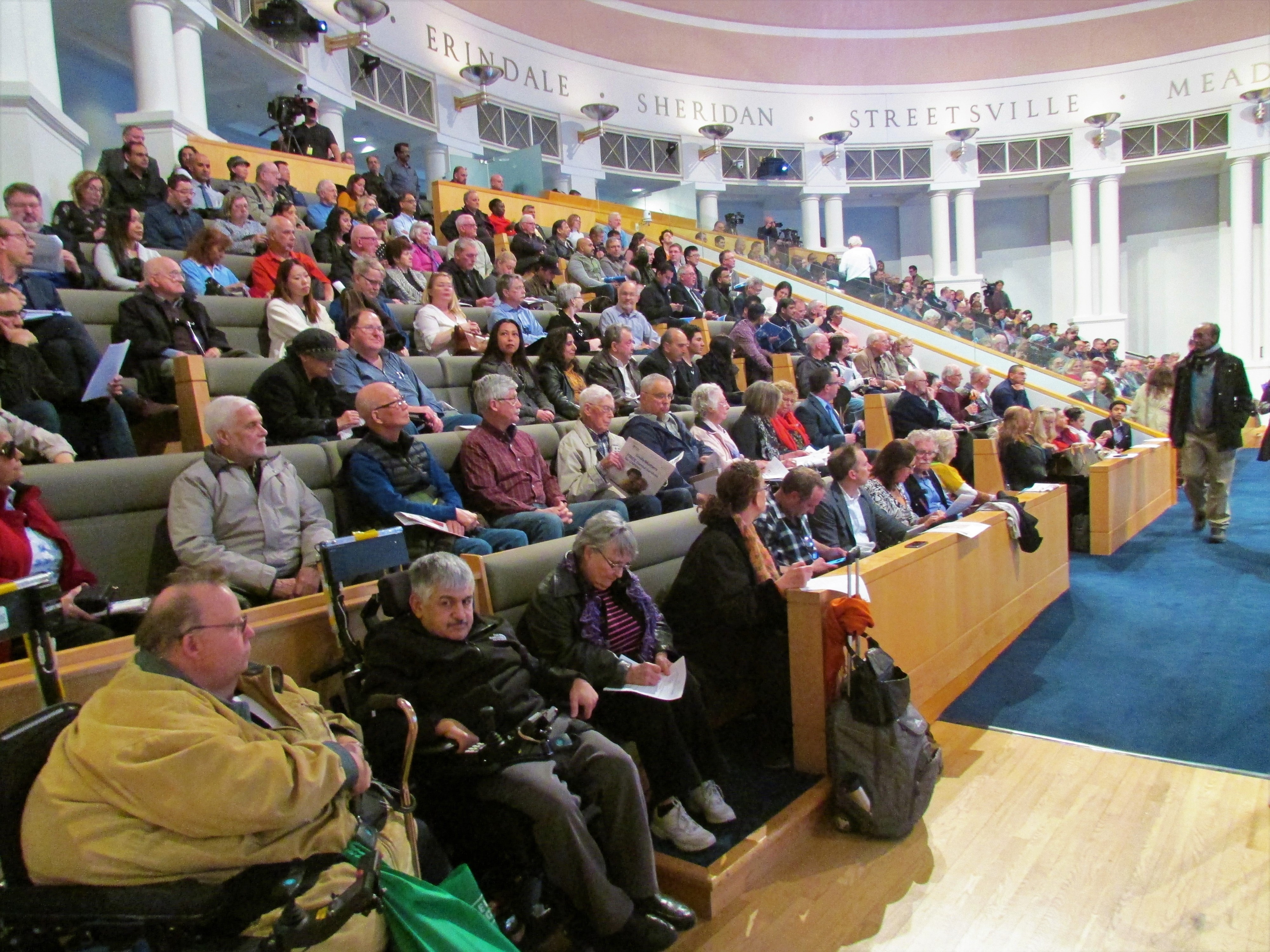 A recent Mississauga town hall on the future of Peel Region.
The start of Brampton's town hall Saturday on the future of Peel Region, before another dozen residents trickled in.
There was little engagement by the public in Brampton Saturday.
But Brown came prepared and also spoke passionately about the need for his city to stand its ground.
He told media that the provincial review "is something we didn't ask for," and the possible outcome – dissolution, status quo or amalgamation – has heightened concerns for the city's future.
Mississauga has made its position clear, that it wants independence and that the two-tier system is costing its taxpayers, as they have to subsidize Brampton and Caledon. They have countered that Mississauga's claim is inaccurate and they are the ones paying an outsized amount into regional government.
A second external report commissioned by the Region of Peel, which will involve all four governments, is currently being put together to determine the financial implications of a separation and what amalgamation would cost.
Brown suggested Saturday that the city is already preparing legal arguments and costing out the financial ramifications if Mississauga is allowed to exit the regional structure. He said to protect residents from possible financial disadvantage as a result of the province's decision, his city will take its case to the courts, and to the court of public opinion.
The immediate takeaway was this: Brampton's size, stature, and history – incorporated as a village in 1853 and gaining city status in 1974 – might not be enough to save it from becoming a diminished state.
The province recently hired two former municipal heavyweights, Michael Fenn, who has served as a deputy minister in the provincial government three times and is the former CEO of transit agency Metrolinx, and Ken Seiling, the former chair of Waterloo Region, to issue a report on the viability of a new regional governance model – and some of the changes that might entail. Their report is expected this summer, and a final decision by Ford and the ruling PC government could come sometime in August.
Brampton has stated clearly that it wants to retain the status quo, and Brown said yesterday's town hall was a chance for the public to vent some pent-up frustrations, and express directly to him and council what they want to see happen in the future.
He opened by stating his reluctance to oversee major changes to the regional model. "If I had a 'Top 100' list of things to do, [changes to] regionalization wouldn't be on it."
Any challenge to the eventual decision by the PC government would be difficult. In the middle of last year's municipal election when Ford decided to cut the number of Toronto councillors almost by half, it also won its battle when Toronto challenged the move in court.
This rule by fiat created a certain anxiety amongst local lawmakers, and was quickly followed by Ford's decision to return votes for regional chairs to councils, setting the stage for the recent re-making of this extra tier of regional government. He also announced that Fenn and Seiling will come back with recommendations that might impact the eight regions under study, including Peel.
Brown said the Municipal Act and the province's oversight over municipalities restricts the city's ability to pass bylaws and in many ways, to chart its own future.
"It really inhibits us," said Brown after the town hall, speaking one-on-one with the media. He asked why well-run cities can't simply "design our own regulations."
He said Mississauga's numbers, suggesting it has been subsidizing its two municipal partners within regional government, are both "flawed and out-of-date," and Mississauga Mayor Bonnie Crombie's attack on a report commissioned by Peel Region Chair Nando Iannicca, which suggested the status quo is the most favourable outcome for all parties, is simply a case of being "embarrassed" by the findings.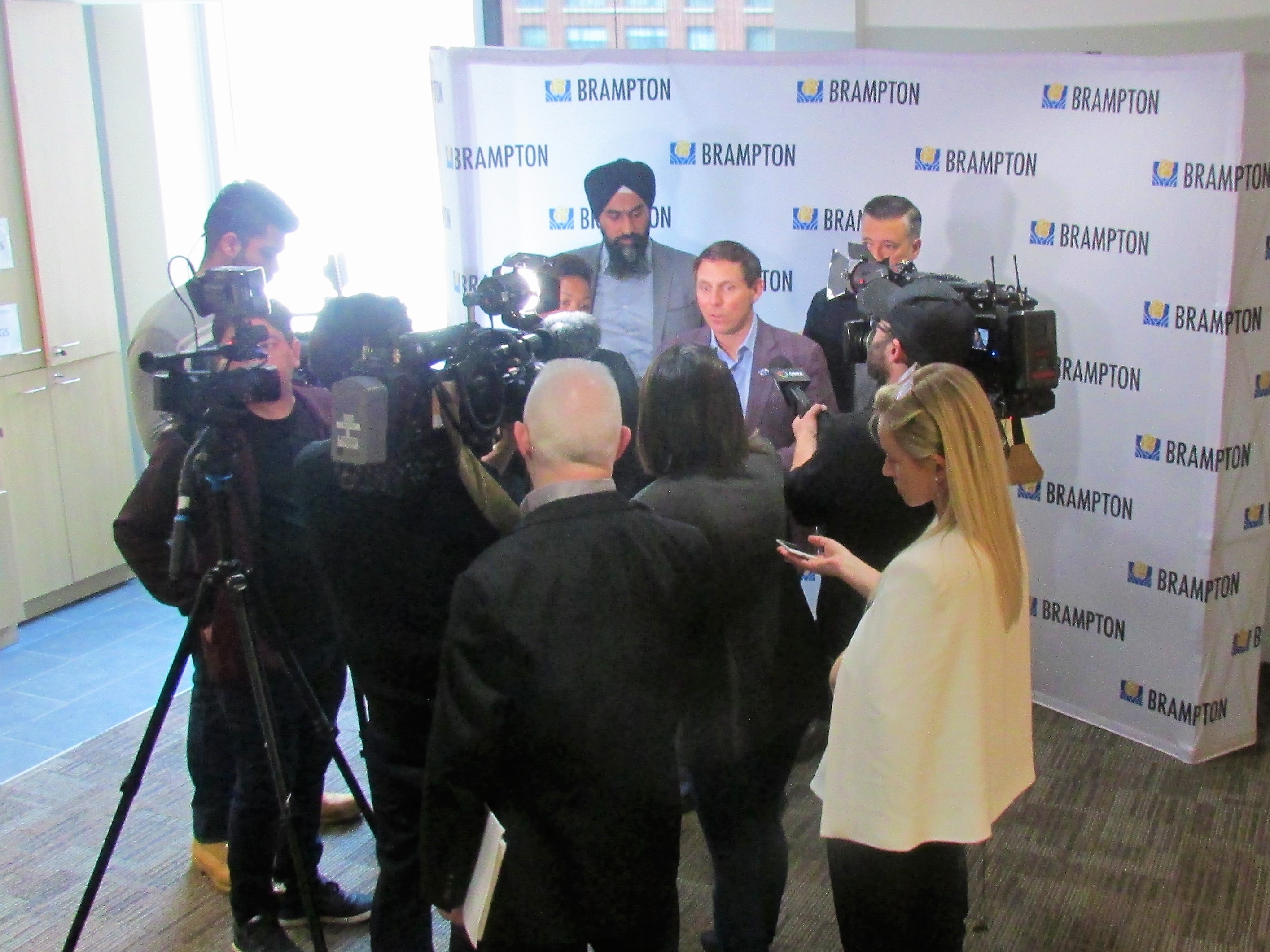 The mayor and councillors address the media Saturday
But Regional Council has since moved to get another report done in time to hand its recommendation to the province before the big decision is made.
Fenn and Seiling are scheduled to visit regional council soon, and Brown hopes a healthy contingent of local citizens will be there to greet them. He also told one of the speakers yesterday, that the new report being put together by Ernst & Young will further illuminate the real costs of dissolution or amalgamation.
Those numbers will come as a result of information gathered by the four CAOs and CFOs of Caledon, Brampton, Mississauga and the region.
The City also held at tele-town hall last week which garnered feedback from many of the roughly 5,000 residents who took part. A report from that meeting was put together by staff and sits on the city's website. It's notable that almost two-thirds of residents want the Ford government to retain the status quo. The in-person town hall yesterday only reiterated that request.
The meeting drew councillors Gurpreet Dhillon, Charmaine Williams, Rowena Santos, Michael Palleschi, Paul Vincente, plus the city's chief administrative officer, Joe Pittari.
Palleschi urged the audience to engage with the two PC members from Brampton who now sit in the legislature, Prabmeet Sarkaria and Amarjot Sandhu. If they have a real concern about the process and want to vent their frustrations, then he said they should also contact the three Opposition MPPs from the NDP party, Kevin Yarde, Sara Singh, or Gurratan Singh.
Brown pointed out that although Mississauga is only slightly larger than Brampton, with a population currently projected at about 730,000, compared to its northern neighbour's approximately 650,000 residents, it has 12 regional council seats to Brampton's seven – plus houses the massive regional waterworks facility and Peel police headquarters. Brampton helped pay for both facilities and could lose them if Mississauga wins independence from its northern neighbours.
All arguments about who gets what and what might happen in the future, might be unproductive, because the truth is this: the Ford government has the final say on all local matters. The Premier has already shown a predilection for upsetting the status quo, which puts dissolution or amalgamation in Peel squarely in his crosshairs.
The recent animosity shown by Mississauga toward Brampton in its bid to divorce caught the eye of Brampton resident, Ryan Elcock, 41, a marketer.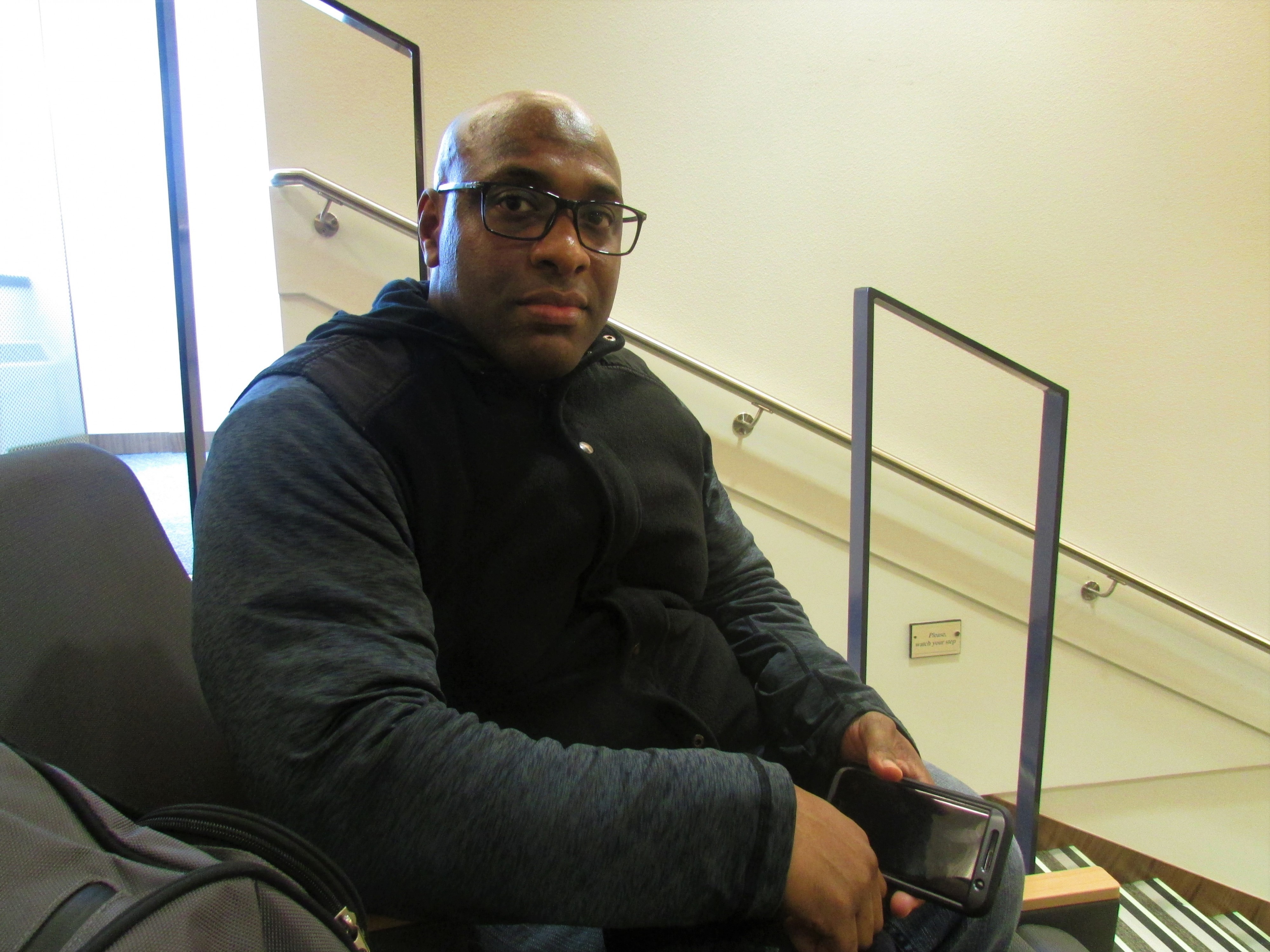 Brampton resident Ryan Elcock at Saturday's town hall
He wondered during Saturday's public gathering if there was something more sinister behind this anti-Brampton push. He asked if there might be a "racial tinge" in their eagerness to shunt his city aside. He drew a comparison between Donald Trump's comments about parts of Africa containing "s…hole countries," and Mississauga's view of its neighbours to the north. He's heard the putdowns on Brampton before, he said, and suggested its driven by racial animus. Could the city to the south be viewing a potential union through the prism of Brampton's large immigrant population? He said he hears "coded language" in Mississauga's independence arguments.
But such fears from residents are difficult to validate. Mississauga leaders, residents and politicians have stated their motivation is essentially driven by the fact that the country's sixth largest city has outgrown regional government, which is meant to help share growth-related costs among small communities until they can stand on their own. Mississauga argues that it has been able to do so for a long time and that its exit and independence is way overdue.
Brown said Brampton's diversity is its true power base, and the number of new arrivers coming to the city is quickly skewing the population numbers in its favour. He hopes Ford has studied the changing demographics, like urbanologist Joe Berridge.
In his new book, Perfect City, released this past week, the University of Toronto professor and a partner with Urban Strategies, said studies have shown that the fastest growing and most successful cities on the planet, draw most of their vitality, economic development, and innovative ideas, from their ability to draw in immigrants.
Yesterday's meeting solved little, but offered citizens a chance to vent their frustrations at the process, and express their hopes for Brampton's future.
Brown finished with a warning to the current PC government, which not so long ago, under a different leader (Mike Harris), imposed a major amalgamation on the City of Toronto. Creating the current super-city, said Brown, didn't deliver on its promise of tax savings, and actually ended up costing property owners more. The claimed efficiencies touted by Harris never materialized, he said. It so muddied the political waters for the provincial PCs, it kept them out of power for the next two decades.
In the end, said Brown, "We will not pre-judge the process underway, and we'll wait until we have all the numbers before making our submission."
Submit a correction about this story