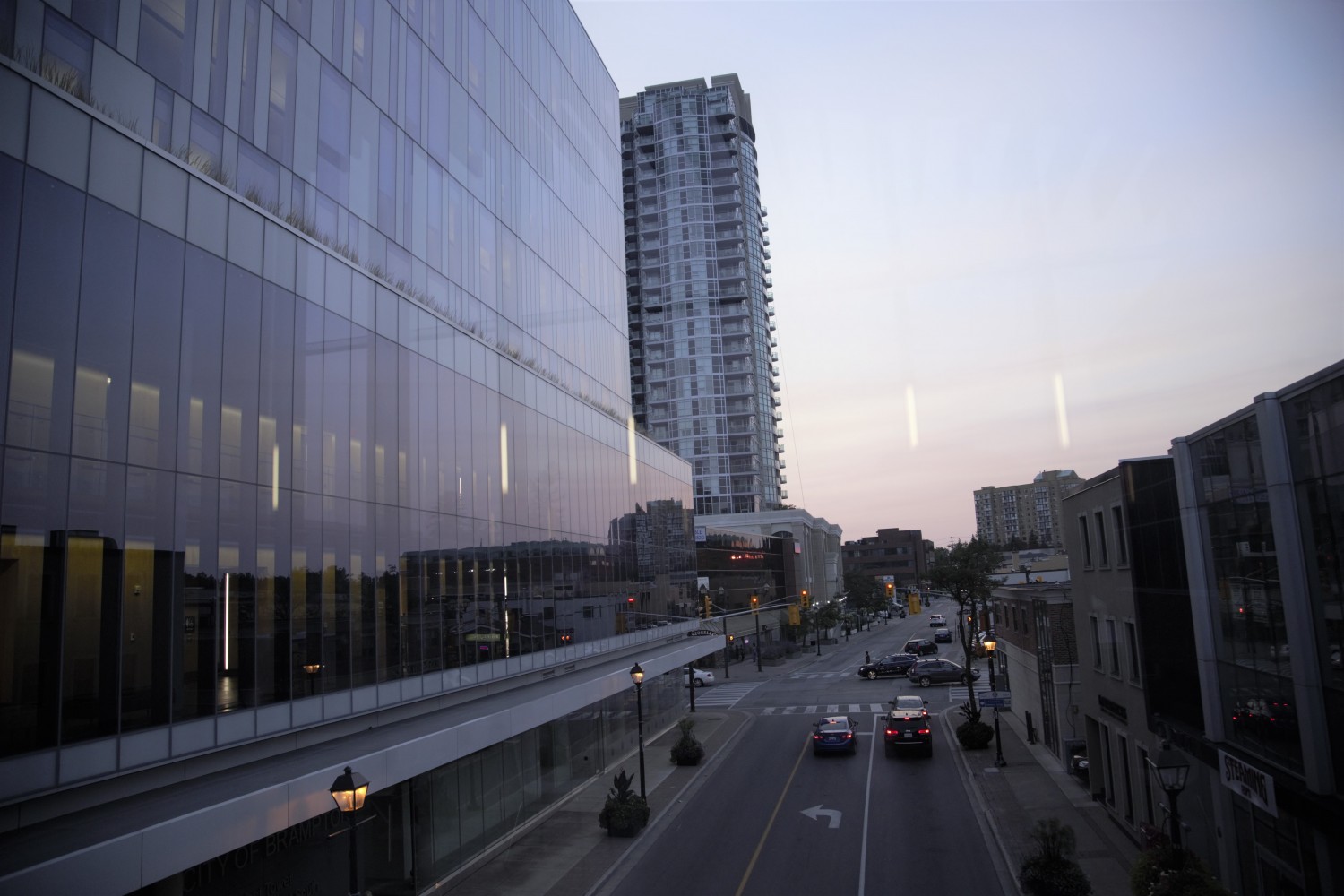 Photo by Mansoor Tanweer
The 6-percent solution
In the years leading up to the 2015 Pan Am and Parapan Games being hosted by Toronto and the GTA, it was clear Brampton had lost its mojo.
It began subtly when feelers were sent out to cities across the area asking them to host events at the games. Brampton barely showed interest.
It grew by gradations when the city eventually offered up a big fat no.
That decision was magnified when the games – despite some early worries about a lack of interest, lagging ticket sales, etc. – was an overwhelming fiscal, cultural and sporting success.
Did Brampton miss out because It lacked confidence, civic pride, or was run by a political class that didn't want to compete?
Yes, the evidence is now overwhelming that the Susan Fennell regime, despite some early enthusiasm by the former mayor, was short-sighted, and forever tainted by this bad misread.
Organizers identified Brampton as the potential site for softball and baseball, perhaps even field hockey. A group of local supporters urged the city to get involved. Brampton had the parks and fields, and even the federal minister of sport at the time, Bal Gosal, was the MP representing Bramalea-Gore-Malton. Everyone seemed bullish on Brampton – but no one could unite the city behind a serious bid.
When Canada's ninth largest city opted out, smaller communities jumped in. Milton built a velodrome and hosted cycling. Scarborough built an Olympic-sized pool at the campus of the University of Toronto for swimming. Ajax took on the baseball and softball venue.
The community involvement across the 905 was overwhelming. Organizers were stunned by the thousands who eagerly signed up to volunteer. A rah-rah spirit developed between coordinating communities and the games, across the GTA, were considered a huge civic success.
Brampton's no-show was baffling. It was always known as a great "sports town," and a long list of world-class athletes have been produced here. Click on to Brampton.ca to view this illustrious list.
The loss wasn't just emotional. Tourist dollars poured into host cities, and the venues received 56 percent federal funding. Even the province tossed in monies to pay the costs of operations. Brampton turned down an opportunity to add a legacy building or two to its portfolio and show itself off to the international community.
Milton's velodrome was a popular venue for spectators, and once the games were over, it became home to the Canadian cycling team. This state-of-art facility is still a community gem. In Ajax, Canada won a gold medal, and fans poured into the venues. They are now thriving additions to the city's portfolio of parks.
This lack of political leadership left a lingering ache.
Faith-based politics
Fast forward to April 24th of this year, and the hour-long tele-town hall hosted by Brampton's mayor Patrick Brown. During this hour, about 5,000 callers took part. The talkfest revolved around the proposed changes to the governance model of Ontario's regional system, including Peel. Three options are on the table: no changes; the amalgamation of cities like Brampton and Mississauga (and perhaps the Town of Caledon); or the creation of independent, single-tier cities in Mississauga and Brampton.
A vast majority of callers (66 percent) said they like the status quo, and only 6 percent – 6 percent! – wanted to ditch the region and allow Brampton to stand on its own.
The city issued a report on the tele-town hall. The issues were discussed until they were beaten half to death, but the 6 percent number continued to stick out, and begged for interpretation.
Was Brampton again showing a lack of confidence, or civic pride? When Mississauga held its own town hall recently, the overwhelming response from its mayor, council and citizenry was an eagerness for independence. While a Deloitte study argued the split would cost Mississauga dearly, Mayor Bonnie Crombie disputed the numbers, and rejected the argument (a new report is being commissioned by the region). Mississauga is eager for a divorce – whatever the cost.
So why does a rather puny number of residents in Brampton feel the same way?
Is this another sign of weakness – a lack of confidence?
The Pointer took this question to Brampton's Ward 2 and 6 Regional Councillor, Michael Palleschi. He joined council in 2014, not long after the previous regime rejected the Pan Ams. The father of three is a long-time city resident, who is all-in on his hometown. He was eager to contradict the notion that Brampton's rejection of the independence option is an inherent sign of no self-regard and a lack of cohesion. He said the city has a longer history than Mississauga, and its bluster is a lot of style, with little substance. He calls it a "fashion show" that ignores the practicalities of a region that is working quite well for its participants.
He thinks Mississauga is trying to bully its way to a divorce, and its mayor, Bonnie Crombie, is hoping "to achieve what Hazel [McCallion], her predecessor] never could: independence."
He thinks Brampton isn't lacking in confidence at all and acts as a check to the power Mississauga brings to the decision-making process. He believes Premier Doug Ford has an emotional attachment to Brampton (his family once lived here), and that doesn't bode well for a radical governance re-do. Besides, he said, any decision will be based on "the real actuals" – the financial implications. Currently a report to get a handle on those financial implications is being completed by a third-party with the cooperation of the region and the three municipal partners. Once finished, ahead of the province's looming deadline for feedback before a summer-decision on the future of Peel, all parties will know better how to interpret what they find.
It's clear that not all cities are created or governed equally. Mississauga's patron saint, McCallion, mayor for 36 years (1978-2014), was the loudest orator for independence, and Crombie sings from the same song-book. She told the Mississauga town hall that her city was paying $85 million a year just to remain in regional government, and there is an inevitability about the city shucking off its partners in Brampton and Caledon.
We make up 60 percent of the population of the region and pay 70 percent of the taxes, she added. The numbers don't make sense.
Mississauga has a rich and diverse business sector with over $9 billion in infrastructure assets. It sits on seven 400-series highways, and is home to over 60 Fortune 500 companies, and 90-plus company headquarters. Its commercial-to-residential land-use mix is something Brampton can only aspire to, and its vibrant and emerging downtown is awe-inspiring. It also has plenty in reserve, including hundreds of acres of shoreline property (readying for development) that is the envy of other jurisdictions throughout the world.
The city has developed an exaggerated strut when it comes to its place in the region. This confidence came through in 2015, when it embraced its role in the Pan Ams. The Mississauga Sports Centre became one of the go-to venues. It was the only one that held competitions every day of the Games. The Centre's 5,500-seat multi-purpose arena and three additional National Hockey League (NHL)-sized community rinks, held competitions like karate, judo, taekwondo, wrestling and wheelchair rugby, and another one for powerlifting.
Brampton's downtown, on the other hand, is a boarded-up mess, with its "Reimagined" program for renewal on hold because funding to improve its underground watermains has doubled and tripled in price, while staff try to figure out what lies beneath the surface. While the Rose Theatre is a lovely addition to Garden Square, its seating capacity is a problem. It's built betwixt and between – too large for some shows, not big enough for others. It sits dark too many nights of the year.
Downtown merchants – especially restaurants – have not been able to feed off its show times.
The city is also devoid of architectural wonders, and even the expansion of the City Hall on George Street, which was supposed to act as a draw for urban renewal, is bland, and the construction was marred by controversy.
The proposed Riverwalk project is a work in progress, and Brampton lacks many of the fine-grained development that is sprouting up in Mississauga, and other cities across the GTA. No LRT line has been built to drive economic renewal, and the proposed Ryerson campus in the downtown was shelved because of the province's move to claw back $90 million in promised funding. The city is stretched out into the 'burbs, and too dependent on the car. It doesn't even have all-day, two-way GO Train service, despite decades of ineffective pleading with the province.
While other GTA communities rise with smart growth initiatives, and still sport top-notch facilities built for the Pan Ams, Brampton lags behind, unsure of itself, and unwilling to seek independence. Does the ninth largest city in Canada want to grow up, instead of continuing to stretch out, like some gangly adolescent still trying to understand how to coordinate his arms and legs.
The Susan Fennell and Linda Jeffrey regimes, which came after the sprawling give-away of Peter Robertson, who never met a developer he didn't like, left little of substance behind, and as the Ford regime asked two former municipal experts to devise a game plan and a new governance model, there's the possibility that Brampton might disappear altogether under amalgamation with Mississauga – which would make both communities unhappy.
Brampton has been stymied by the polemics for generations, which seemed to reach a lower low when it was asked to participate in the Pan Am Games. Is there a certain timidity or lack of civic engagement in the city's psyche that has rooted itself and now leaves it vulnerable to proposed changes soon to be imposed by the province? Is it too spread out and disjointed? Have we become a community of separate communities?
The failed regimes of the past didn't seem to understand the intrinsic benefits of a united council, or the power of civic pride.
It's an argument invoked often enough, especially by economists Peter Groothuis, Bruce Johnson and John Whitehead who published a study a decade ago that examined whether or not civic pride actually exists.
Their study used sports – the Pittsburgh Penguins and Pittsburgh Pirates – to show how it can generate this pride. They proved that citizens of the city were willing to pay with public funds to have these teams represent the city.
It further drills down on Brampton's missed opportunity in not supporting the Pan Am Games.
Tom Collins also studied civic pride in an article for the Royal Geographic Society three years ago. His take: "As a symbol of identity, or as an ideal of local government, civic pride is part of what defines and shapes cities, and forms an important lens through which they are imagined and governed."
Another takeaway: "Civic pride has been integral to the history of cities. It has both shaped and been shaped by a fundamental belief that cities constitute distinctive political communities where people share a sense of identity and common purpose, a certain tendency to conflate civic pride with other related terms, such as 'community spirit' or 'civic boosterism', for instance."
This shared and cohesive city image is fundamental to what makes people want to be part of a community.
His conclusion: "Pride is a complex emotion to define. Usually it refers to a feeling of self-worth or self-respect and the different ways people value or praise their identity or community."
He links civic pride to a "sense of self esteem, confidence and integrity."
For the past few years, they have been in short supply in Brampton.
Mississauga has confidence enough to strive for independence.
Brampton is working on it.
The fact a vast majority of residents in our tele-town hall favoured keeping the status quo is the result of years of bad leadership, and civic disappointments.
The good news is the city seems to have embraced the "Team Brampton" unveiled by new mayor Patrick Brown in his inaugural address.
It's clear that if the current mayor and council was overseeing this city when organizers of the Pan Am Games approached them to take part, the response would have been an immediate and enthusiastic, yes.
This new-found confidence is about to run head-long into the report currently being prepared for Premier Ford. He will ultimately decide the fate of Brampton – a scary thought.
But the good news is that it's not too late to show how bullish you are on Brampton.
At 3 p.m. today, another town hall gathering, on the future of our municipal structure, will take place at City Hall, inside council chambers, and this one will offer citizens the chance to express themselves in person.
The Pointer urges everyone to come out and participate.
Whatever the outcome of the regional governance study, Brampton has a proud heritage, a long history, and recent outcomes, especially the October municipal election, show, it is not the same city it was just a few short years ago.
It's ready for change and a better future.
Submit a correction about this story