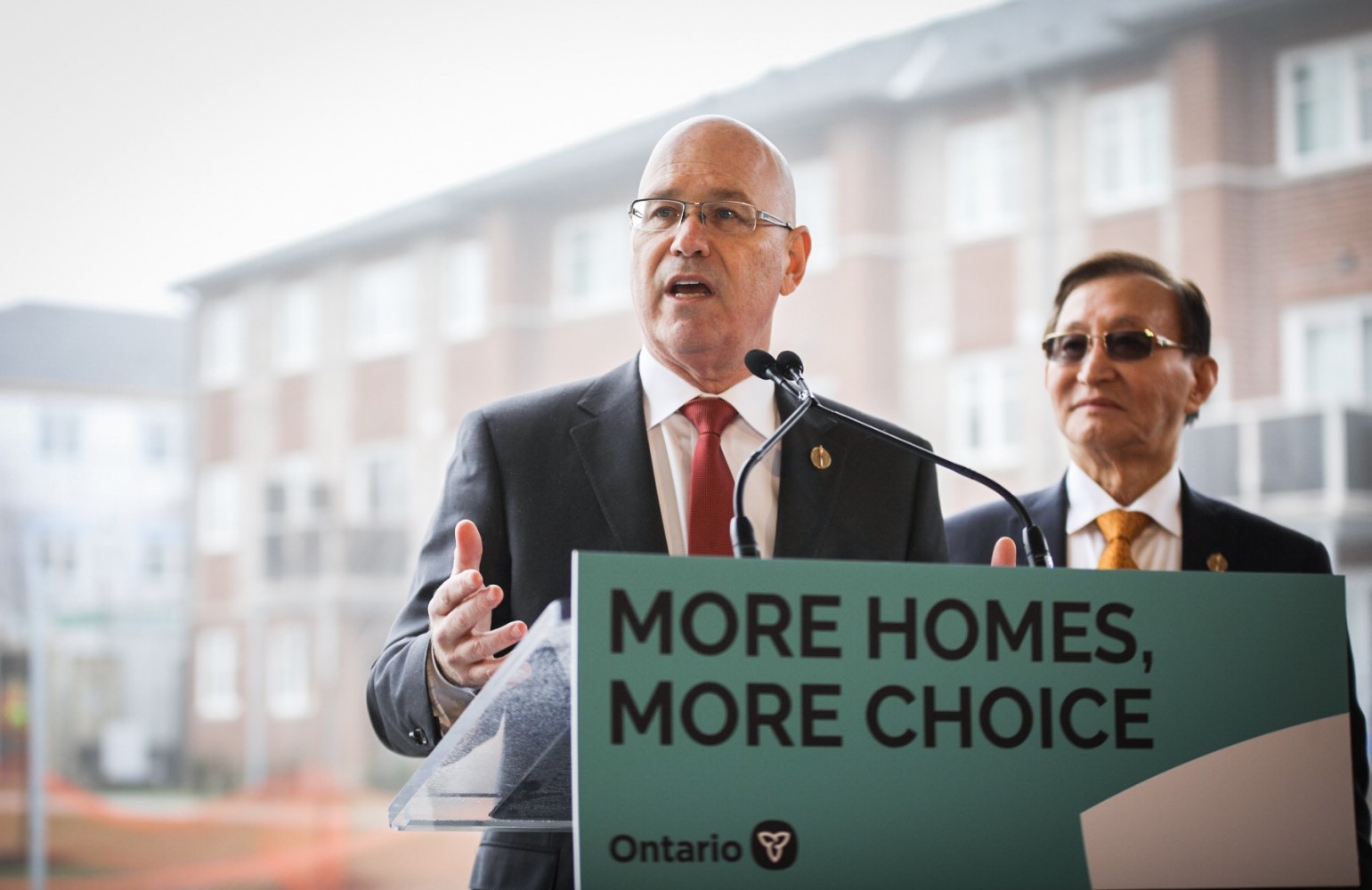 Photos by Mansoor Tanweer/Government of Ontario
Critics say new basement suites strategy will encourage sprawl, lacks safety regulations
On a rainy Thursday at a Habitat for Humanity build site in Scarborough, Minister of Municipal Affairs and Housing Steve Clark, along with Scarborough North MPP Raymond Cho, announced the provincial government's plan to increase housing supply in Ontario.
The plan is called More Homes, More Choice: Ontario's Housing Supply Action Plan. Clark is billing it as a roadmap for easing the province's housing crisis. He claims the bill, if passed, will bring more housing to market sooner, create a more diverse mix of housing units and boost supply.
"Young people in their 20s and 30s are asking: What happened to the starter home? And why can't I find a place near transit? Families are asking, why aren't there enough apartments, condos, mid-rise buildings or townhouses that I can afford, with a space for my kids?" Clark said at the news conference, touching on a popular theme, particularly in the GTA.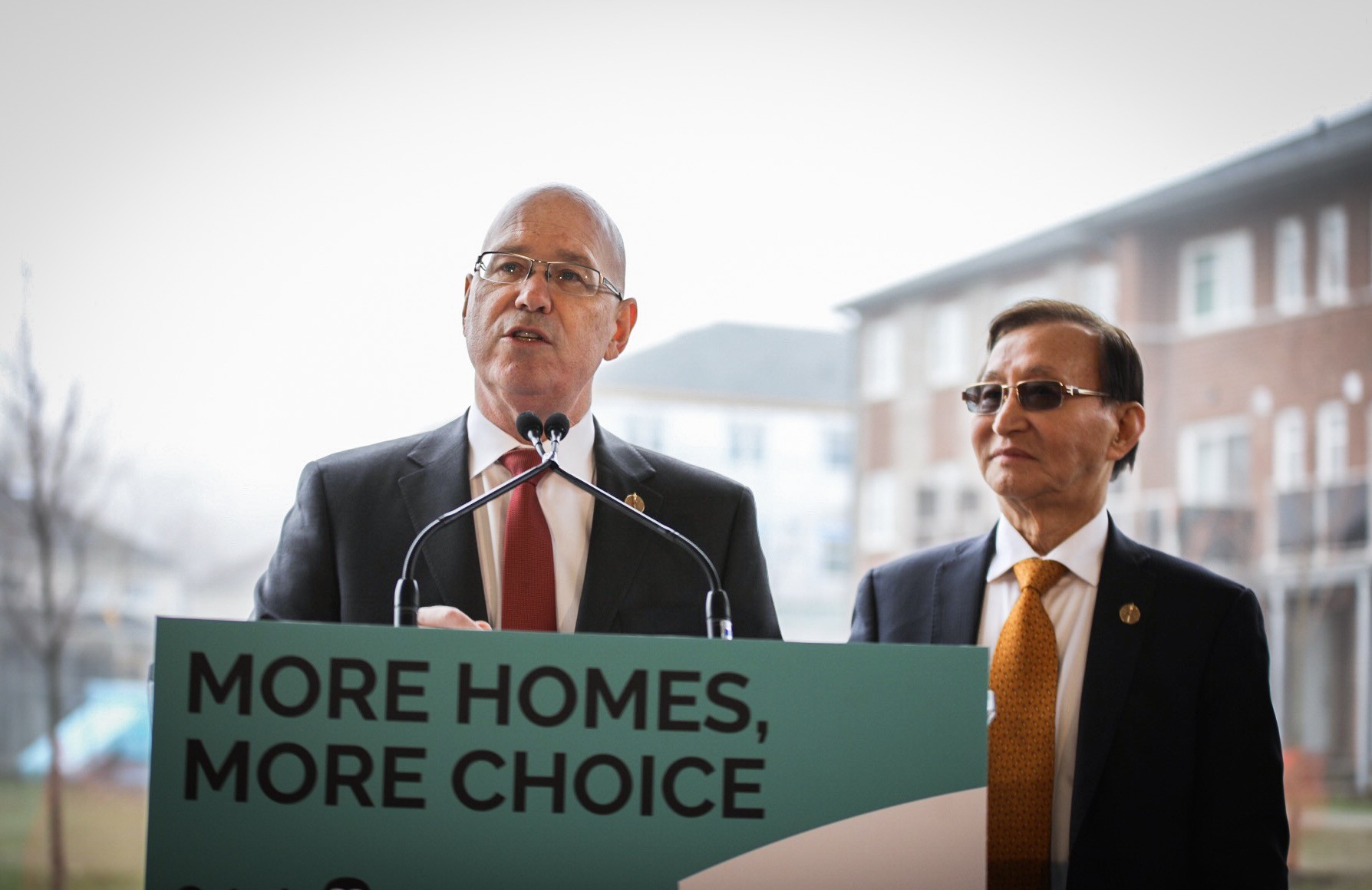 Minister of Municipal Affairs and Housing Steve Clark, and Scarborough North MPP Raymond Cho.
However, critics are already expressing concern that the new housing strategy is short on details, is bad for the environment, and could be another gift to developers.
Wards 3 and 4 Councillor Jeff Bowman — though he praised much of the plan's provisions, such as delaying development charges on rental units till tenants start paying rent — is concerned that not enough detail was provided on the question of secondary suites. The new plan would make it easier to build new suites in detached homes across the province, in an effort to increase the supply of affordable housing.
What's missing is provisions to ensure the "safety and security of a tenant. He's done nothing in there to further allow our bylaw [enforcement] or fire to come in and inspect illegal units," Bowman told The Pointer.
Bowman wrote a letter to Premier Doug Ford last month asking for more powers for bylaw enforcement that would allow city officials to enter homes and inspect suspected illegal basement apartments. Unregistered suites, which could number as high as 50,000 in Brampton, represent a potential safety hazard for tenants and surrounding homes.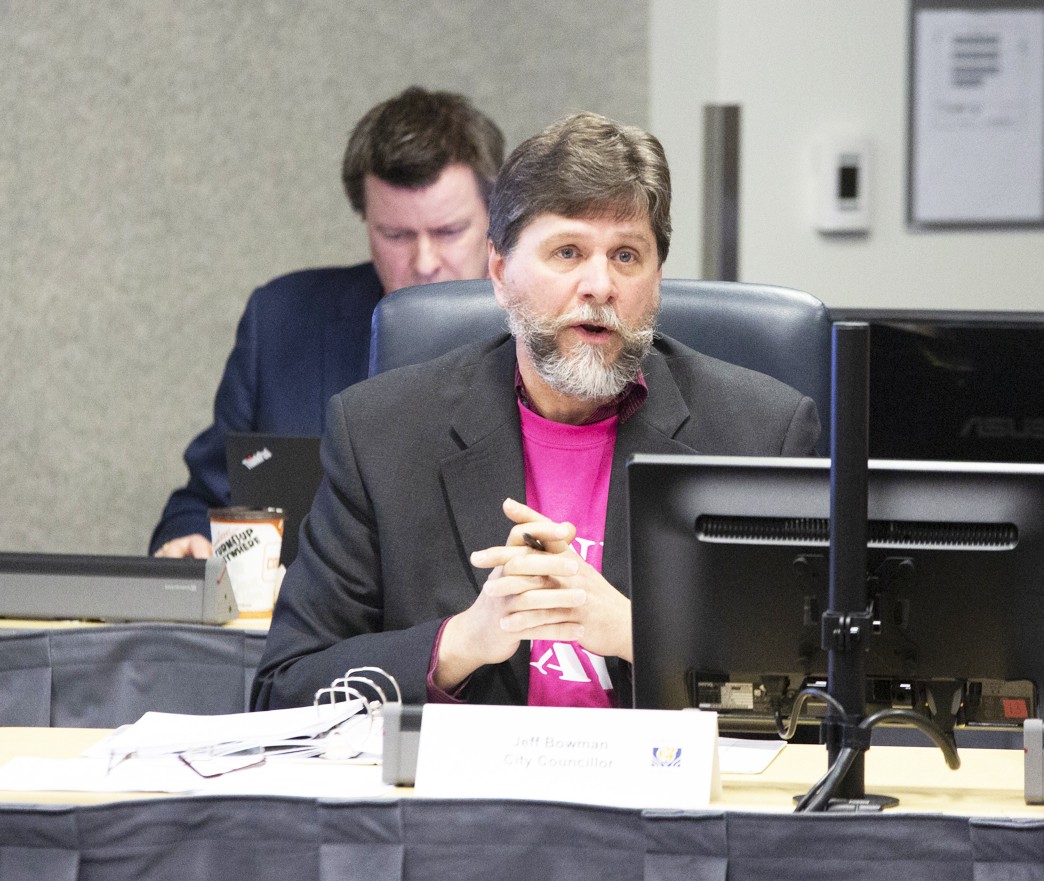 Councillor Jeff Bowman
He was spurred to take the action after a basement apartment tenant died in a fire that same month. The Brampton Guardian reported earlier this week that there have been two fatalities in basement apartment fires in Brampton since 2016.
When asked if he has received a response from the premier's office, Bowman said, "Absolutely not. Maybe we know the reason now."
A spokesperson for Clark's office told The Pointer that, "Current exemptions for additional residential units in existing homes would also be broadened to apply to units in structures ancillary to existing homes. Building Code requirements continue to apply to new construction and renovation."
Furthermore, "We're encouraging small landlords to create new rental units, too, by making it easier to build second suites (like basement apartments) and helping them navigate the complicated building code approvals process."
Illegal basement suites are a bane for residential taxpayers because they produce no additional tax income while increasing the strain on city services. "They need to contribute to the prosperity of the city, not burden it with more residents who require the same city services as do all property tax payers," said Chris Bejnar, of the group Citizens for a Better Brampton.
But more politicians are realizing that these alternative housing units are part of the solution for a shortage of affordable housing, especially in overwhelmingly suburban cities like Brampton.
Clark's new housing strategy includes eliminating development charges for secondary suites. It is not clear how this will be implemented since the framework is so light on details. However, a recent decision by the City of Mississauga could serve as an example. City council voted to eliminate development charges on new subdivisions that include legal basement apartments in the house plans.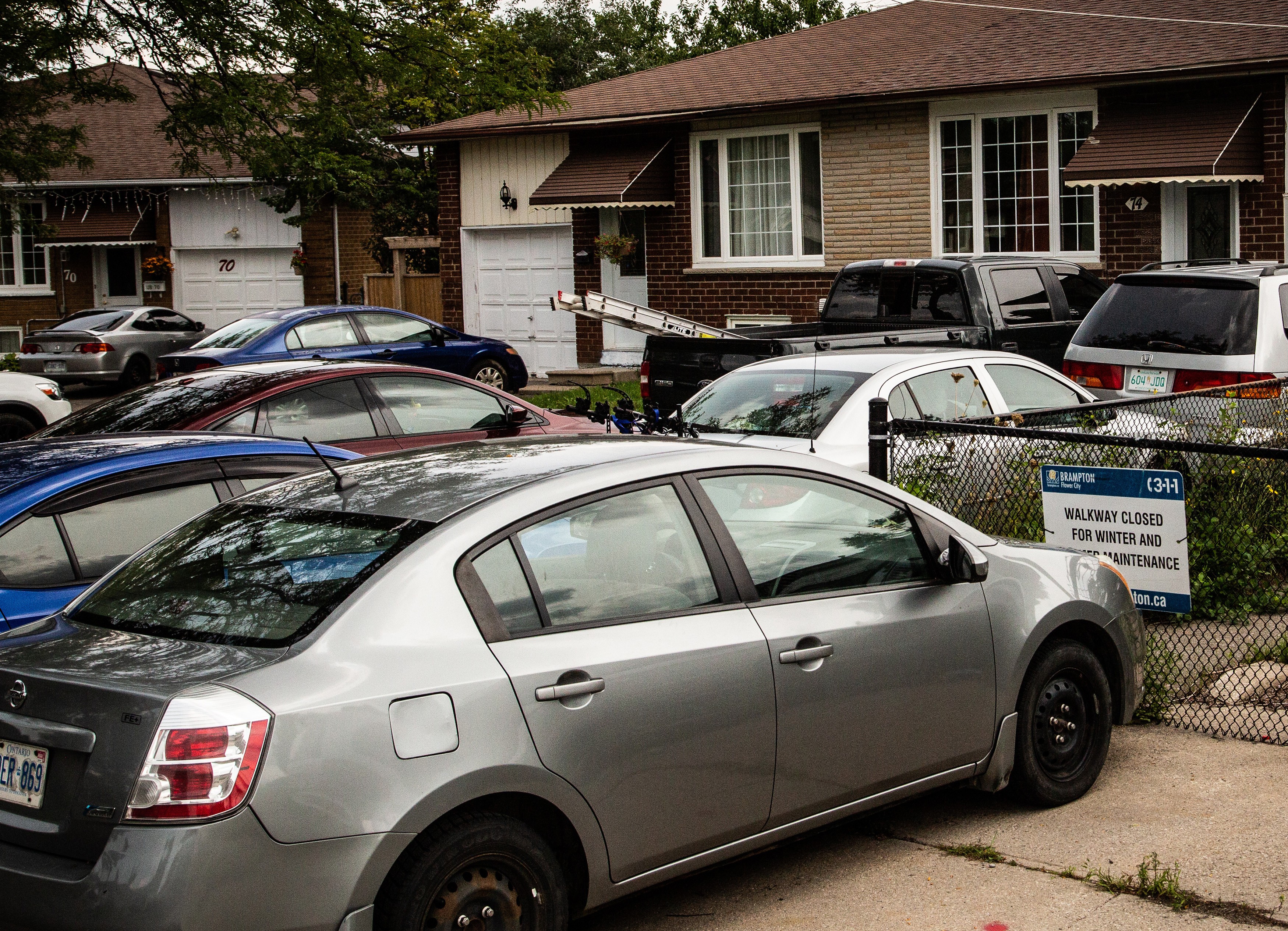 The ministry appears to be following Mississauga's example. They say "the proposed changes, when implemented by regulation, would exempt one second unit in a newly built home or ancillary structure from development charges. Current exemptions for additional residential units in existing homes would also be broadened to apply to units in structures ancillary to existing homes. Building Code requirements continue to apply to new construction and renovation."
Housing strategists have been saying for some time that the GTA, and particularly cities like Brampton, need to work at encouraging mid-sized development, housing that fits between the high-rise city tower model and the sprawling single-family home model that makes up most of Brampton.
"There is tremendous opportunity to create that missing middle," Clark said at the news conference. "Second units—again, something that people have talked about. The opportunity to convert a basement to a second unit, or a garage or a laneway. We need to do a lot of work in the future to create opportunities for secondary units."
Clark's framework will also reverse the previous Liberal government's reforms to dispute resolution between residents and developers. The new Local Planning Appeal Tribunal system replaced the previous Ontario Municipal Board, which was frequently criticized as heavily favouring developers's interests at the expense of citizen concerns or smart growth. Under LPAT, the appeal body is much more limited in its ability to overrule decisions made by a municipality or its committees. Adjudicators may simply judge whether a municipal council's decision about a particular development met local and provincial planning policies.
Clark says developments representing some 100,000 housing units, many of them begun while the OMB was still in place, are backlogged under LPAT, and the province plans to hire more adjudicators to clear that backlog — following the old rules.
Under the OMB, new evidence could be produced, allowing the whole matter to be re-litigated and decided by the tribunal. The expensive process puts residents at a disadvantage to deep-pocketed developers, and the Ford government also recently shut down operations of the Local Planning Appeal Support Centre, a body that provided citizens with information and some legal help in challenging appeals to planning decisions.
"We're going to continue to work with the LPAT through this transition as we increase adjudicators. I'm very confident that the goal is to unlock that 100,000 that's there," Clark told the media present at the press conference.
It's a move Toronto councillor and longtime OMB foe Josh Matlow said meant "going back to a free-for-all by developers."
Bejnar isn't buying it, either: "Looks like a very developer-friendly policy. Good for building, bad for green space and environment. The policy needs to help limit endless sprawl, not encourage."
Environmental groups have also panned the new PC legislation as encouraging sprawl and not doing enough to protect the environment. "We're concerned this move gives sprawl developers a free pass to pave over farmland, forests and endangered species, putting our clean air, drinking water, local food supply and vulnerable habitats at risk," said a press release from Environmental Defence.
Premier Doug Ford has long been suspected as favouring developers. He was seen in a video last summer telling a group of them that he will "open up the Greenbelt, not all of it, but we're going to open a big chunk of it up and we're going to start building." The video raised fears that the PCs would gut the protections on sensitive lands and helping developers encroach on protected Greenbelt.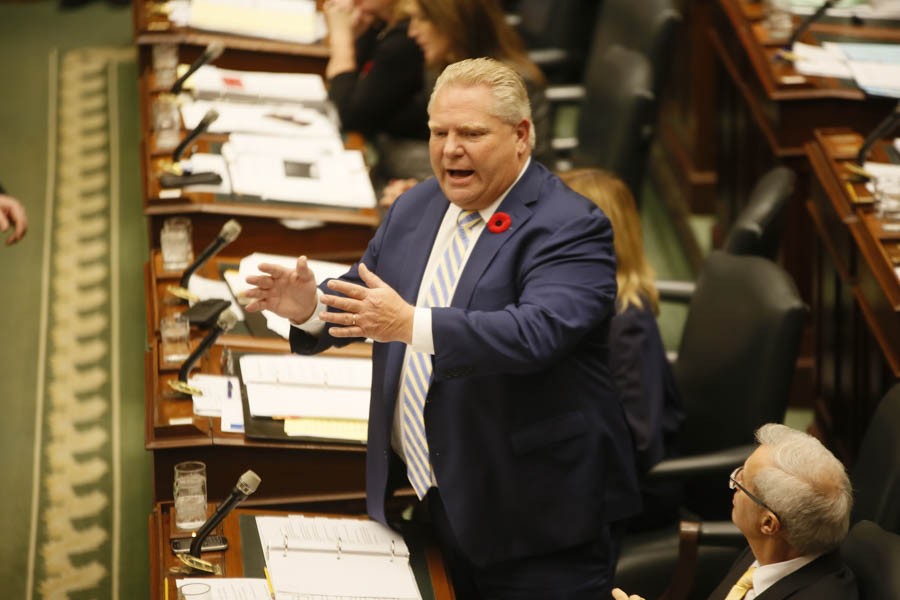 Premier Doug Ford
At the press conference, Clark said, "I want to be clear; we will not touch the Greenbelt. Premier Ford has been crystal clear with this. We will preserve the Greenbelt in all its entirety."
However, Clark also attended a secret summit last March hosted by the Ontario Stone, Sand and Gravel Association, which published two white papers recommending the province allow for resource extraction within the Greenbelt.
"The proposed legislative changes would not undermine any of the protections for the Greenbelt. All of the existing protections for the Greenbelt remain in place and these proposed legislative changes do not weaken Greenbelt protections in any way," the ministry said.
Email: [email protected]
Twitter: @mansoortanweer
Submit a correction about this story