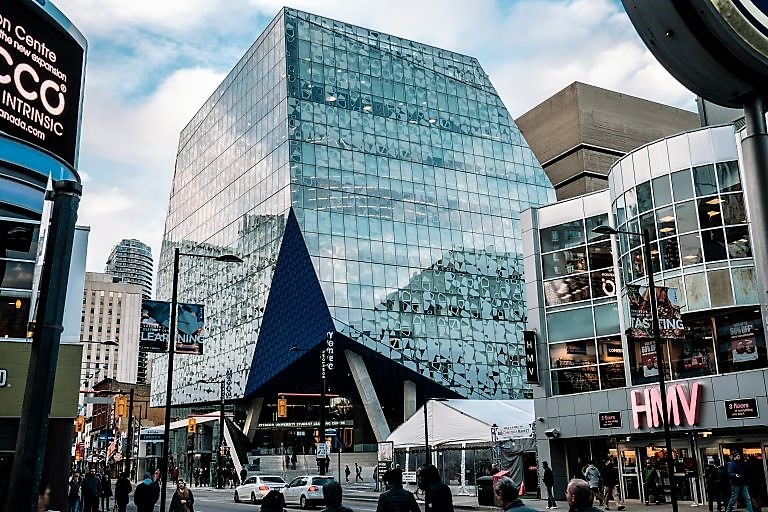 Photos by Mansoor Tanweer/Ryerson/Map and renderings City of Brampton
Committee pushing for post-secondary education in Brampton, as plans with Ryerson and Algoma move forward
Efforts have been underway to salvage post-secondary education in Brampton since last fall, when the PC provincial government cancelled $90 million in funding that had been pledged towards building a Ryerson University satellite campus downtown. Algoma University's small business campus here is undergoing expansion, in partnership with the city, helping to create a post-secondary ecosystem in the city.
At Wednesday's committee of council meeting, Paul Aldunate, of the city's economic development office, delivered an update on the new Action Committee on Innovation and Post-Secondary Education, created by council in January "to advance the City's aspirations for post-secondary expansion, partnerships, and city building opportunities."
The 11-member committee has held two meetings so far, the first largely introductory, Aldunate told The Pointer. "Last week, we had our second meeting and it [was] just about picking up the momentum where the post-secondary education file left off. Everyone wants to keep a dialogue going; everyone is looking to bring a new post-secondary education facility in the downtown. They all believe in the Ryerson-Sheridan [College] partnership, and now that Algoma is growing too, these are all bonuses we can grow on," he said.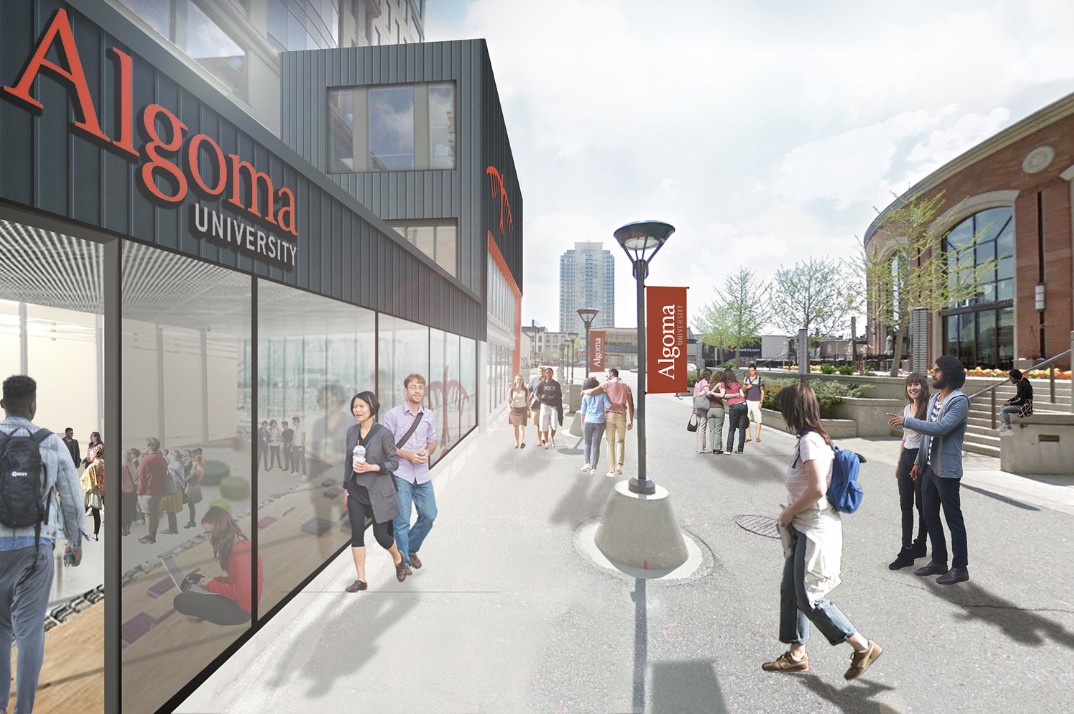 Rendering of Algoma University expansion plan across from the Rose Theatre
The council discussion on the topic lasted about three minutes, with only Councillor Doug Whillans asking a question. "With our entrepreneur thing (Innovation Hub) that just opened recently on George Street, we've had a lot of people in there…. Are we looking at other opportunities for Ryerson? Because I would hate to see Ryerson come in and take away what we've spent the last three years building," Whillans asked Aldunate.
"We see Ryerson as an added bonus, to have them there and using their expertise—their reputation and their knowledge in the entrepreneurship space is world-renowned. So having them in there is a really important piece we're trying to move forward with," Aldunate responded.
The committee's mandate, in part, has been to "refine the business case" for a university in Brampton. An economic impact study already published by urbanMetrics said construction of the university campus downtown alone would generate $440 million in economic output and create 2,125 employment years.
When asked what more refinement was needed for the business case, Aldunate said, "really it's just looking at other protection programming. Other potential curriculums that we can bring here … We had a cybersecurity element as a key piece of the puzzle when they were trying to bring that main campus here." When pressed for more details, he said he had none.
The committee has no chair yet. Sheridan College's vice president of external relations, Jeff Vallentin, a member of the committee, said it's important that "the committee would be served by some strong leadership, but we really didn't plan on either who or how we might get to that point."
Other members include Algoma's president Asima Vezina, Ryerson deputy provost Glenn Craney, Peel District School Board superintendent Pat Noble, and other representatives from the Catholic school board and the library, healthcare and business sectors. The committee is considering adding more representation from students, young entrepreneurs and the private sector.
Aldunate says it's too early to know what direction the committee will take.
Patrick Brown, throughout his run for mayor, kept advocating for a full stand-alone "University of Brampton," and not just a Ryerson satellite campus as was then envisioned.
"I believe Brampton deserves our own university. If you look at the 10 largest cities in Canada we are the only one without [one]. Frankly, if you look at the 25 largest cities in Canada, it's a glaring omission that Brampton that Brampton doesn't have its own," Brown told The Pointer.
"So when the province pulled their funding from the satellite campus, it was then stepping back from the bare minimum they should be doing for the city of Brampton — not understanding that the people of Brampton deserve the same quality education that other communities have."
Brown's assertions appear correct. Cities smaller than Brampton have large and sophisticated universities, providing much in the way of economic development for those cities. Hamilton, a municipality roughly the same size of Brampton, has McMaster University, world-renowned for its DeGroote Business School and a medical school with accompanying teaching hospital. London, Ont., considerably smaller than Brampton with 400,000 people, has the University of Western Ontario, home to close to 37,000 undergraduate and postgraduate students.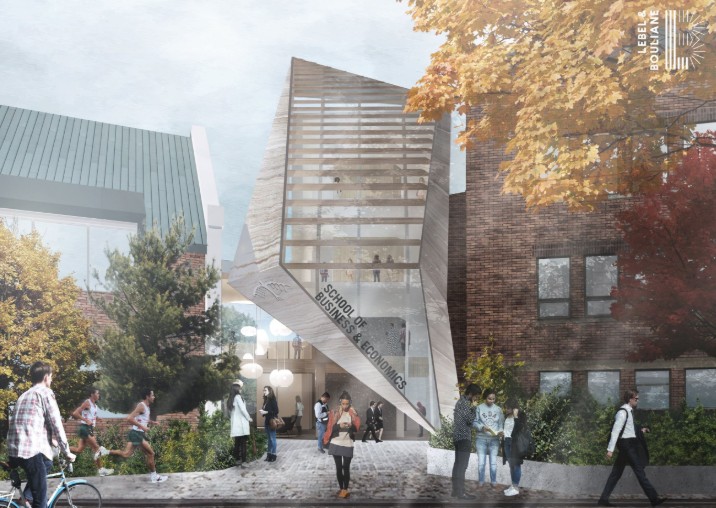 Rendering of Algoma University's plan to expand its business school in downtown Brampton
While Brown has larger aspirations, he has made it clear that the Ryerson partnership is his focus. "We're still committed to making the Ryerson project happen. So they are committed to the project, Brampton is committed to the project, and where there is a will there's a way," said Brown.
Aldunate confirmed that is the city's focus as well, though he admits that the city hasn't really moved forward on the Ryerson campus for which the provincial $90 million was removed. "The idea behind working with Ryerson has always been for them to bring distinct programming here to Brampton. So it was never meant to be a satellite campus, it was meant to be distinct programming," Aldunate said.
The city has been focusing on what it calls the "three pillars" that remain active: the Centre for Innovation, the Cybersecure Catalyst and the Chang School satellite of Ryerson's school of continuing education, which is now offering some classes. After the provincial funding was withdrawn, the Ryerson campus slated to be built next to the Brampton GO station was effectively dead. Following that, Ryerson Provost Glenn Craney told the then-departing councillors that Ryerson would continue pursuing the three pillars for now.
Email: [email protected]
Twitter: @mansoortanweer
Submit a correction about this story