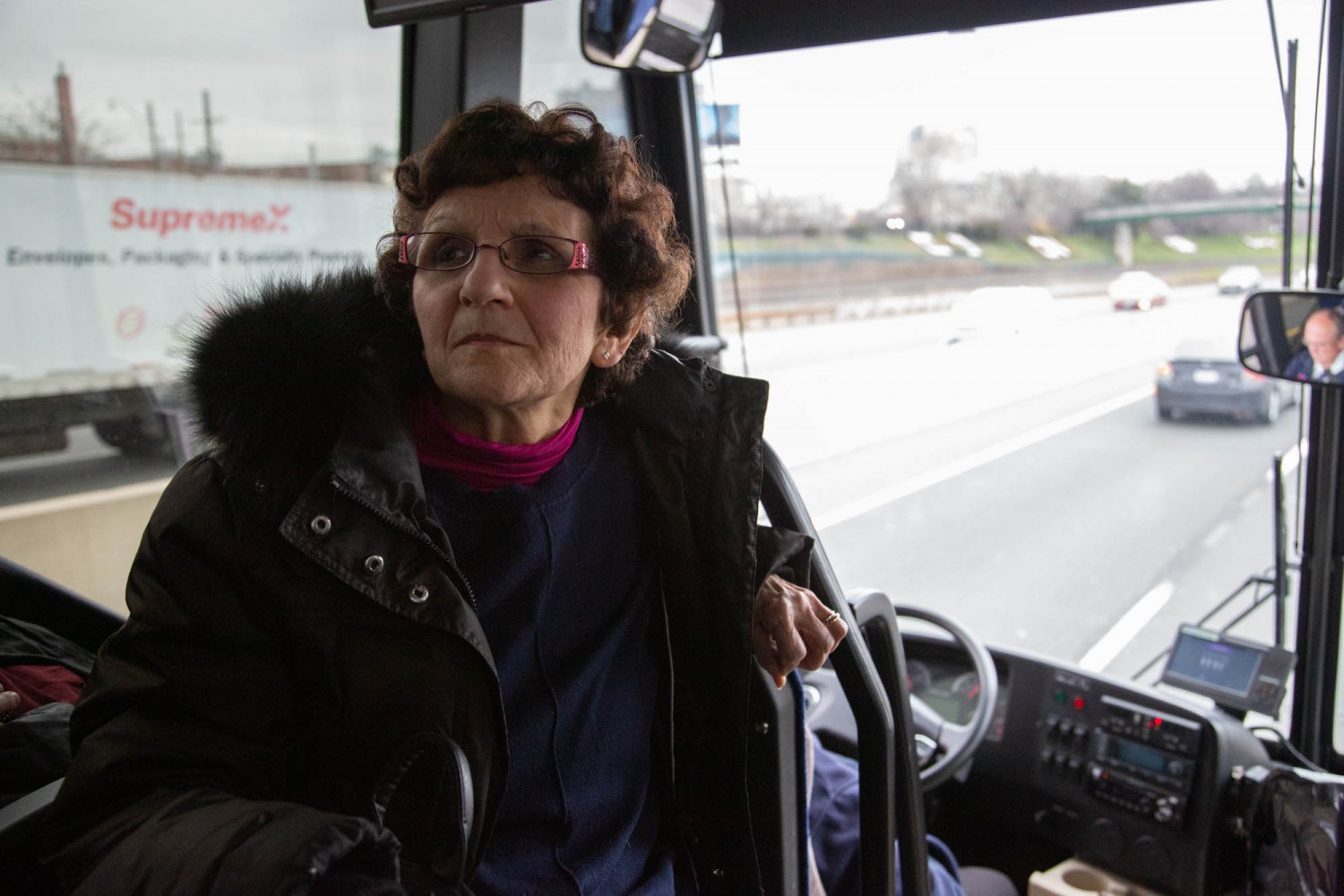 Photos by Mansoor Tanweer
Personal healthcare stories drive seniors and others to protest at Queen's Park
Caledon resident Marisa Mascioli, on the way to Queen's Park on Tuesday to protest reforms to healthcare, recalled how she once suffered from keratoconus, a condition in which the cornea of the eye begins to bulge into a cone shape, causing severe vision impairment. It was corrected back in the '80s through a corneal transplant, and she now has comparatively minor difficulties.
"[The doctors] were relatively successful, therefore I am able to see you. But had I not had that surgery, I would see fog. I would be virtually blind," Mascioli told The Pointer. "Now, that same transplant — people do not have access to it now the way I had access to it in 1986. The right eye, and in 1992 the left eye. Now, there are many more roadblocks to that surgery."
A close family friend, whom she describes as being like a nephew, is developing the same condition, and she worries he will not get the help he needs. He was a candidate for a procedure, but "they told him that, virtually, he cannot have any health intervention until he goes blind … I think about him every day."
Mascioli, who has lived in Caledon for 32 years and now lives on the border with Brampton, is among the many Ontarians who turned out at the protest in Toronto to express their concerns about provincial cuts to healthcare and massive changes proposed in the way it's governed in the province.
Earlier in April, the Ontario Health Coalition held a town hall meeting at Professor's Lake Recreation Centre, where executive director Natalie Mehra was present to energize local support in Brampton prior to a protest to be held at the end of the month.
On Tuesday, attendees of that town hall, many of them seniors, joined various healthcare professionals, including paramedics, to protest the Doug Ford government's plans. It was a show of solidarity between healthcare providers and those most likely to be their patients.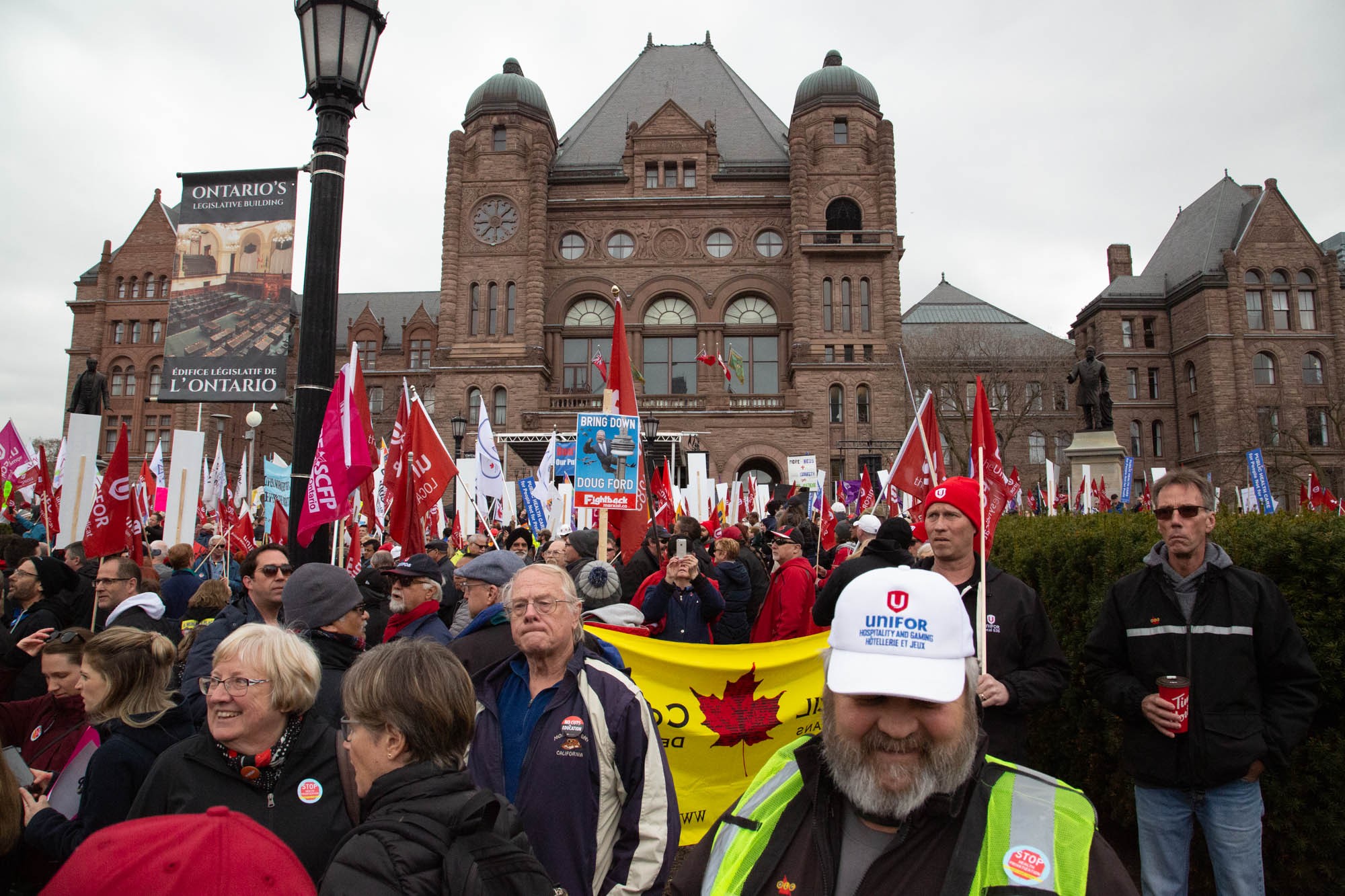 The lawn at Queen's Park was filled with thousands of demonstrators turning the grass to mud and making their voices heard, with an atmosphere much like the protest against education cuts earlier in the month that drew thousands of teachers. Queen's Park Circle, around the Legislature, was closed off by police to help accommodate the sheer number of people.
It was people like Mascioli who drew Matthew Hackett into becoming a paramedic. He has been working in Peel for nine years and feels the system has been improving. It's about the patients, he said. "Over the nine years I have seen the profession grow and expand. … We are sort of modernizing in a lot of ways," Hackett told The Pointer.
But news this month that the province plans to consolidate Ontario's 52 regional ambulance services down to 10 immediately provoked fears among paramedics of privatization and possible layoffs. "[Ford is] making it easier for privatization. Right now, if the municipalities chose to privatize, they could do that. Fifty-two of them would have to make that decision, and Ford's corporate friends would have to bid competitively on each one of those," said Dave Wakely, president of paramedic union OPSEU local 277.
"He's creating a system where there's going to be 10 contracts, and his cronies are going to be the ones making the decisions," he added.
Hackett says fears of losing his job are not a big deal to him, "because paramedics are going to be needed regardless. But I am more worried that the services will become less tailored to the communities that we work in. I work in a community [Mississauga and Brampton] that has its own challenges, much like a rural community might have its own challenges, and you can't generalize emergency services across the province."
Frank Alfieri, a retired millwright with Boeing and a 33-year resident of Brampton, became teary-eyed as he related the precarious position cuts to public health have placed on one of his two daughters who work as nurses in Peel.
She is, according to Alfieri, currently on maternity leave and is not sure if her job will exist for very long after she gets back to work. "She is going back to work in June, and she was telling me that probably by April next year, this amalgamation is going to take place, and she doesn't know whether she will have a job or not," Alfieri said.
"As a father and grandfather, it makes me angry and mad, and that is why I'm here."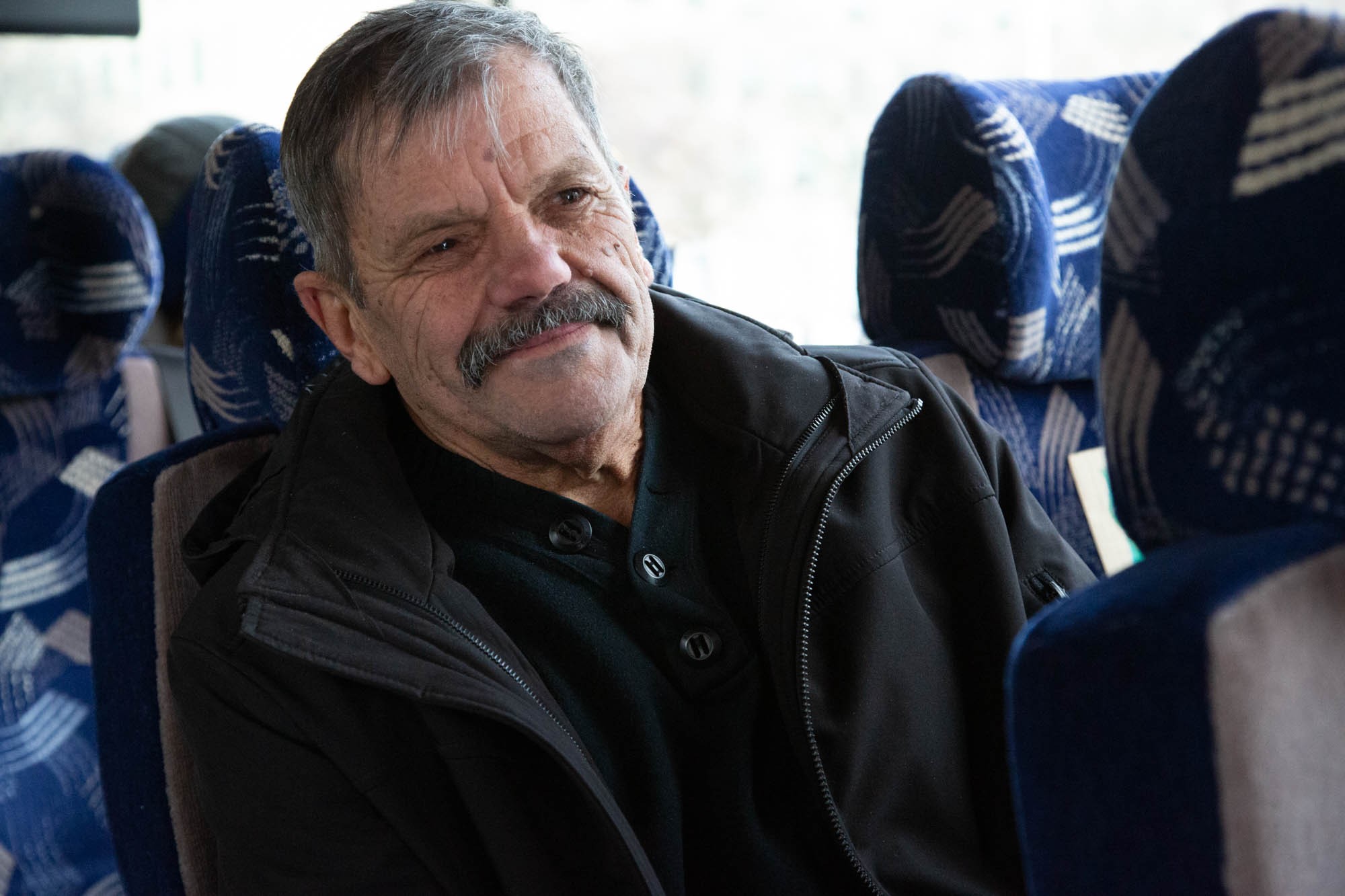 Frank Alfieri
The provincial budget proposes consolidating Ontario's 35 public health units into 10, a move the government says will save $200 million by 2021.
Emotions ran high in Toronto City Council last week during a heated confrontation between board of health chair Joe Cressy and Travis Kann, a spokesperson for the Ministry of Health and Long-Term Care. Cressy said a projected loss of $1 billion in funding to Toronto Public Health meant that "Torontonians will die." Kann called his remarks "fear mongering" and said "that any reasonable Ontarian will view it as that," in a media scrum where Cressy was also present.
That same week, Peel Region CFO Stephen VanOfwegen revealed that a $20 million cut to public health could be on the horizon for the region.
Alfieri's health worries don't end with the precarious job situation of his daughter. His wife recently recovered from colon cancer and needs regular checkups to make sure her illness doesn't come back. "Lately, there was something that the doctor is concerned about. That's why, instead of being tested every year, now it's going to be tests every six months," he said.
While Alfieri worries about the future of his wife and children, paramedic Sean Kaw worries that he will be less able to help racialized people in Peel. Kaw lives in Richmond Hill but said he chose to work in Peel because he believed his South Asian background would be a major asset in Brampton and Mississauga, thanks to their significant South Asian population.
Kaw speaks Hindi and understands Punjabi in addition to English. That language flexibility has been an asset in overcoming language barriers when dealing with emergencies.
"I truly think that the people that live in a community, they deserve representation in the services that they receive. When I started in 2014, I was one of maybe four or five South Asian medics on the force, and at that time there were just over 300 paramedics working for Peel Region," Kaw said at the protest.
"Over the past couple of years, that number has increased, and it is something that I fear will go away if they make it a sort of provincial system. The members of the communities that get served by people that live there, I don't think they'll get the same sort of service from people that are provincial employees, that maybe get posted to places that are far away from where they live and outside the communities they live in."
Email: [email protected]
Twitter: @mansoortanweer
Submit a correction about this story