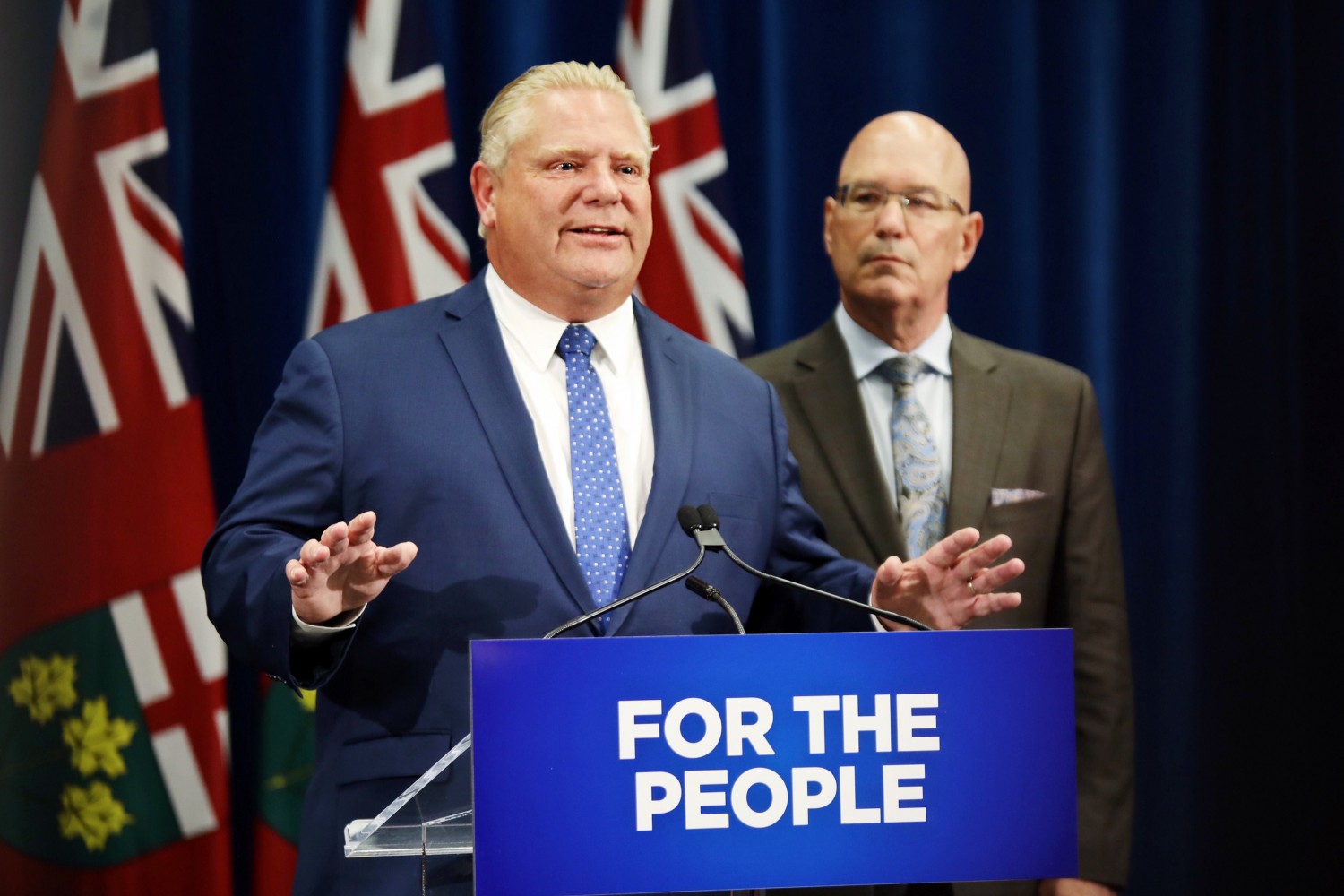 Photos by Mansoor Tanweer/Government of Ontario
Big city mayors sound off on Ford's shell game, warning of downloading costs onto property owners
The war of words between the province and municipalities escalated Tuesday with a press release from the chair of the Large Urban Mayors Caucus of Ontario, attacking the provincial budget and moves to download costs to cities "by stealth."
In his release, Guelph Mayor Cam Guthrie said the budget cutting "amounts to millions of dollars per year in funding reduction to vital, frontline services including public health, policing, library services, childcare, tourism and flood management."
Joining Guthrie are both of Peel Region mayors Patrick Brown and Bonnie Crombie, both members of the urban mayors' caucus. Brampton's Brown, responding to questions from The Pointer, said he shares the "sentiments in [the] press release. There is only one taxpayer."
City treasurer David Sutton told The Pointer, "The City is still assessing the impact of the expected 2019 shortfall specifically from the provincial gas tax announcement and reviewing all options available to make up for the expected shortfall."
Crombie said the downloading by the province would strain her city's resources. "The City of Mississauga, [and] all other municipalities with the exception of the City of Toronto, have limited revenue tools at their disposal. Commercial and residential property tax, along with stormwater levy, are the only forms of revenue for the city that help us pay for building and maintaining infrastructure and the services our residents rely on," Crombie told The Pointer via email.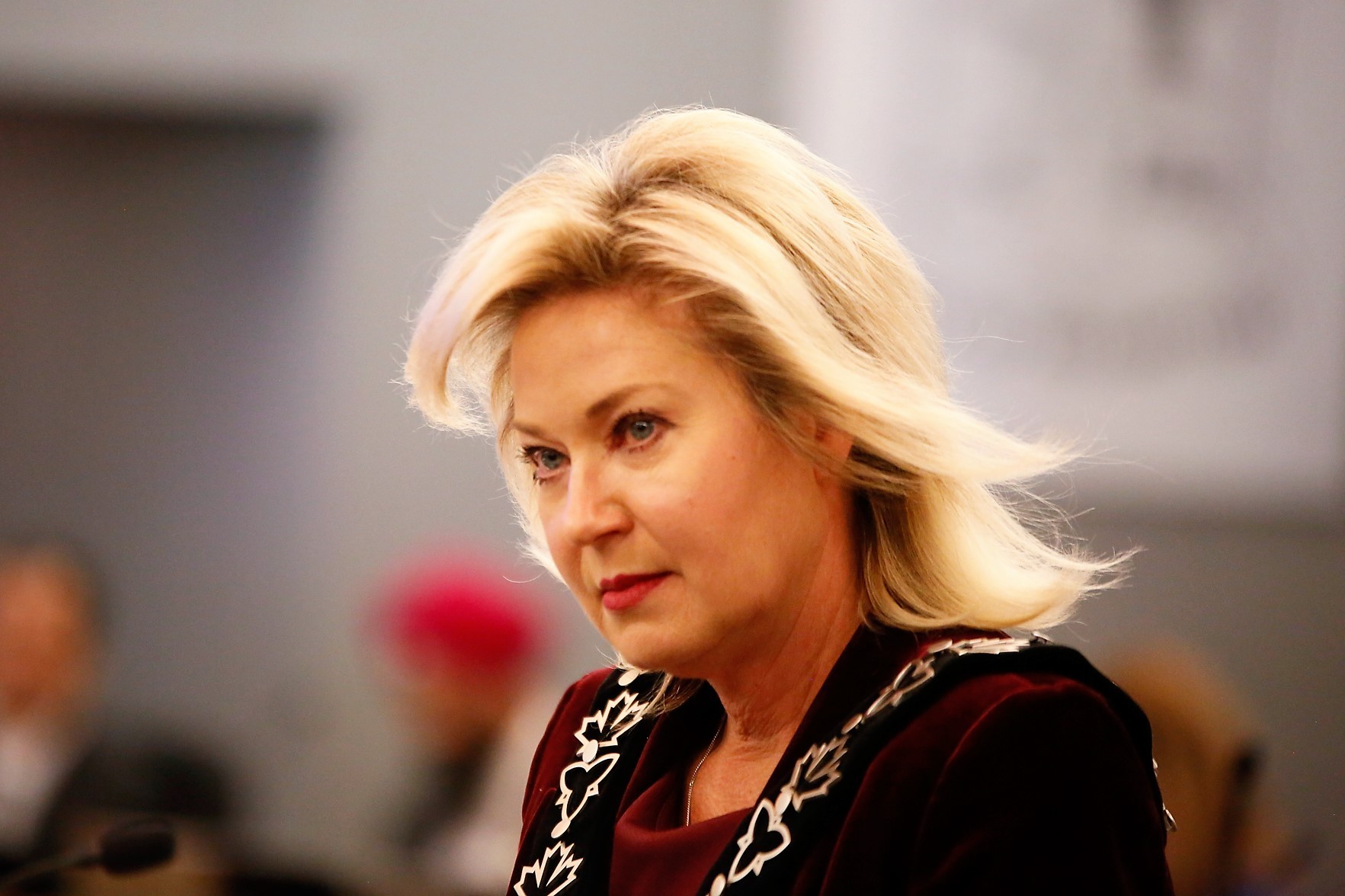 "I understand the province is trying to get its fiscal house in order. I understand they face challenges … . We are more than willing to work with them. But asking already strapped municipalities to take on more, without consultation, and retroactively apply the funding changes arbitrarily, is not fair."
A question hanging in the air is how this could affect Mississauga if Crombie gets her wish to see the city separate from the regional government. Separation could mean fewer revenue tools at her disposal, making life more expensive for the city. "I anticipate that any downloading from the province would affect single-tier and two-tier municipalities equally, and as such, the province's downloading has no impact on Mississauga's quest for independence," Crombie countered.
Last week, Peel Region CFO Stephen VanOfwegen revealed that the provincial cuts could mean Peel stands to lose $20 million. The services taking the brunt of that loss include social assistance, public health ($5.5 million), childcare services ($11.7 million) and housing and homelessness services ($1.9 million).
At the same time, the provincial government announced that a Kathleen Wynne–era promise to double the provincial gas tax transfer to cities would not be going ahead. The City of Brampton and other municipalities rely on that funding to pay for transit projects. Brampton received roughly $13 million from the provincial gas tax last year, and that was expected to grow gradually to $26 million. Had the doubling gone through, Brampton would have received about $30 million in transfers by 2021.
"The Government of Ontario is effectively forcing municipalities to consider tax increases or service cuts to absorb the download of services it has proposed," Guthrie's statement said in reference to the gas tax money.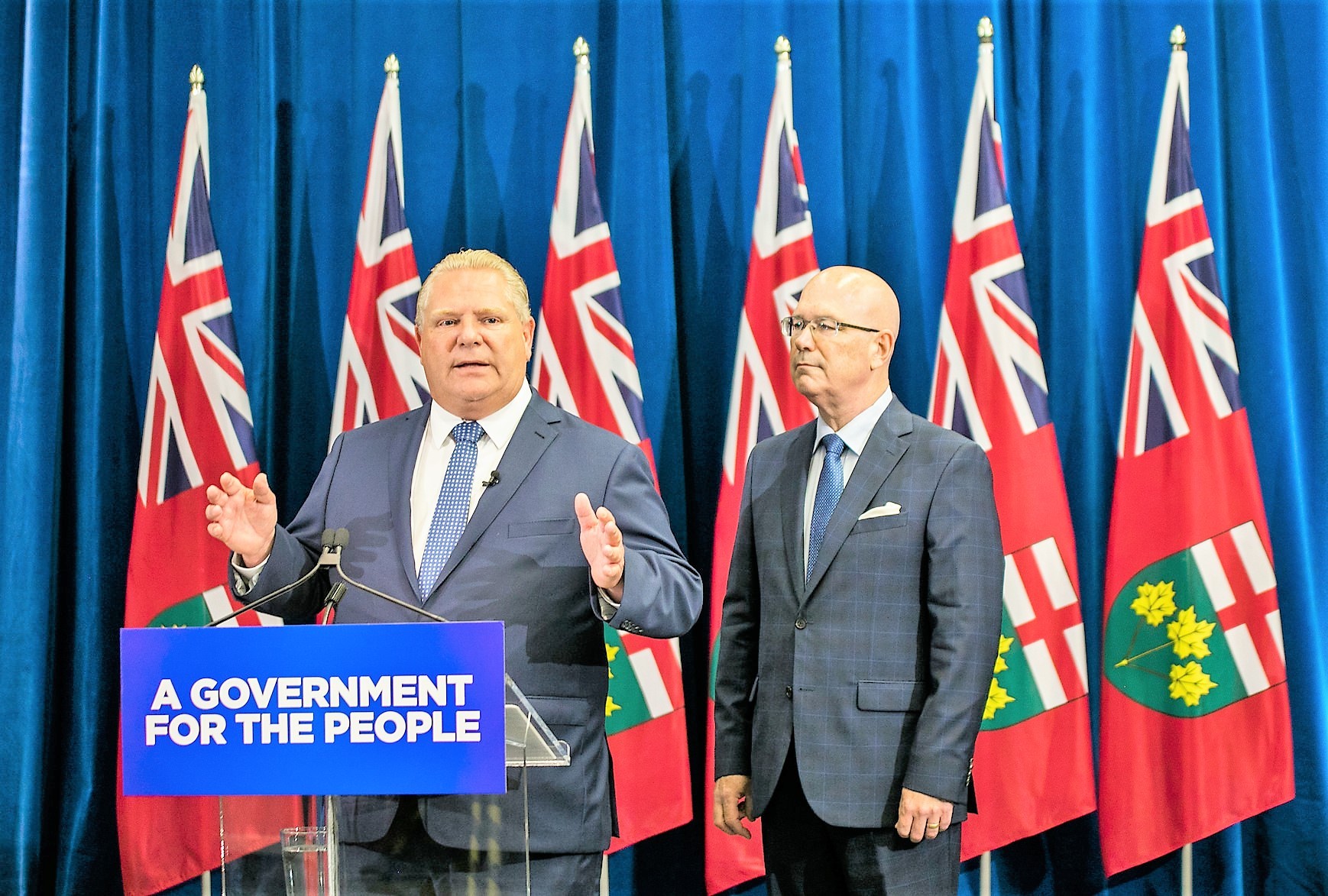 Premier Doug Ford and Municipal Affairs Minister Steve Clark
"Currently, many of the services identified in the LUMCO letter are those provided by the Region of Peel (Public Health, Policing, Child Care). Funding for Conservation Authorities is also funded at the Regional level. Given the current Provincial review of regional government, we are mindful the City could be more directly impacted by these proposed changes, should the province choose to change the governing structure within the Region of Peel," Sutton said.
The province responded to criticisms from the mayors with a by-now familiar refrain of the need for "streamlining" and "modernizing." The Pointer reached out to Premier Doug Ford's office but instead got a reply from Health Minister and Deputy Premier Christine Elliott.
"As we modernize public health in Ontario, public health units that don't benefit from the population size or annual budget that would help effectively respond to this year's shift in the cost-sharing funding model will be protected from major cost increases," Elliott told The Pointer in her statement.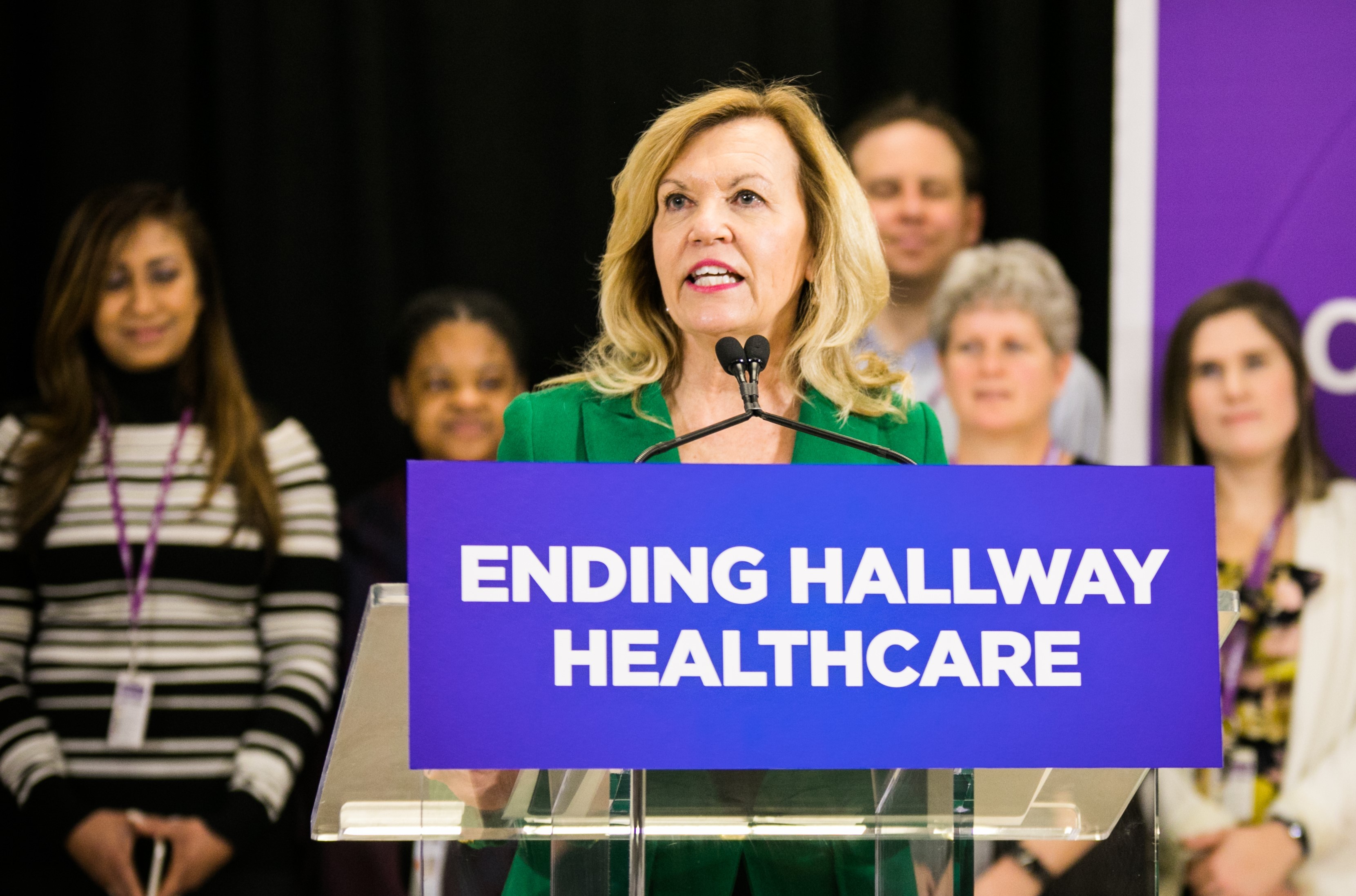 Health Minister Christine Elliott
"We value the feedback and relationship we have with our municipal partners. That's why we have a monthly meeting with AMO where we discuss items like public health transformation. LUMCO has a seat at this table and has been part of these discussions."
Municipalities will have to, as a result, rely more and more on federal funding. Ottawa, in its 2019 budget, approved a one-time doubling of the federal gas tax transfer to $2.2 billion, $819 million of which will go to Ontario municipalities to fund various projects.
"Doug Ford's continued cuts have been devastating for Ontario municipalities. Whether it's cutting funding for public health and affordable housing or slashing public library funding, it's clear that the Ford government's priorities are misguided," said Vincent Hughes, a spokesperson for the federal Minister of Intergovernmental Affairs.
"We remain focused on investing in Canadians and their communities. In our most recent budget, we doubled the municipal gas tax fund, meaning there is an additional $2.2 billion this year for municipalities across the country to invest in critical infrastructure projects that will make a real difference for Canadians," he told The Pointer in his email.
"[Brampton's] amount of federal gas tax collected in 2018 was $30.6 million," City spokesperson Natalie Stogdill told The Pointer. "Given the one-time top-up, the city is expected to receive an additional $30.6 million in 2019." The City has received approximately $30.5M of provincial gas tax overall, she added.
Email: [email protected]
Twitter: @mansoortanweer
Submit a correction about this story