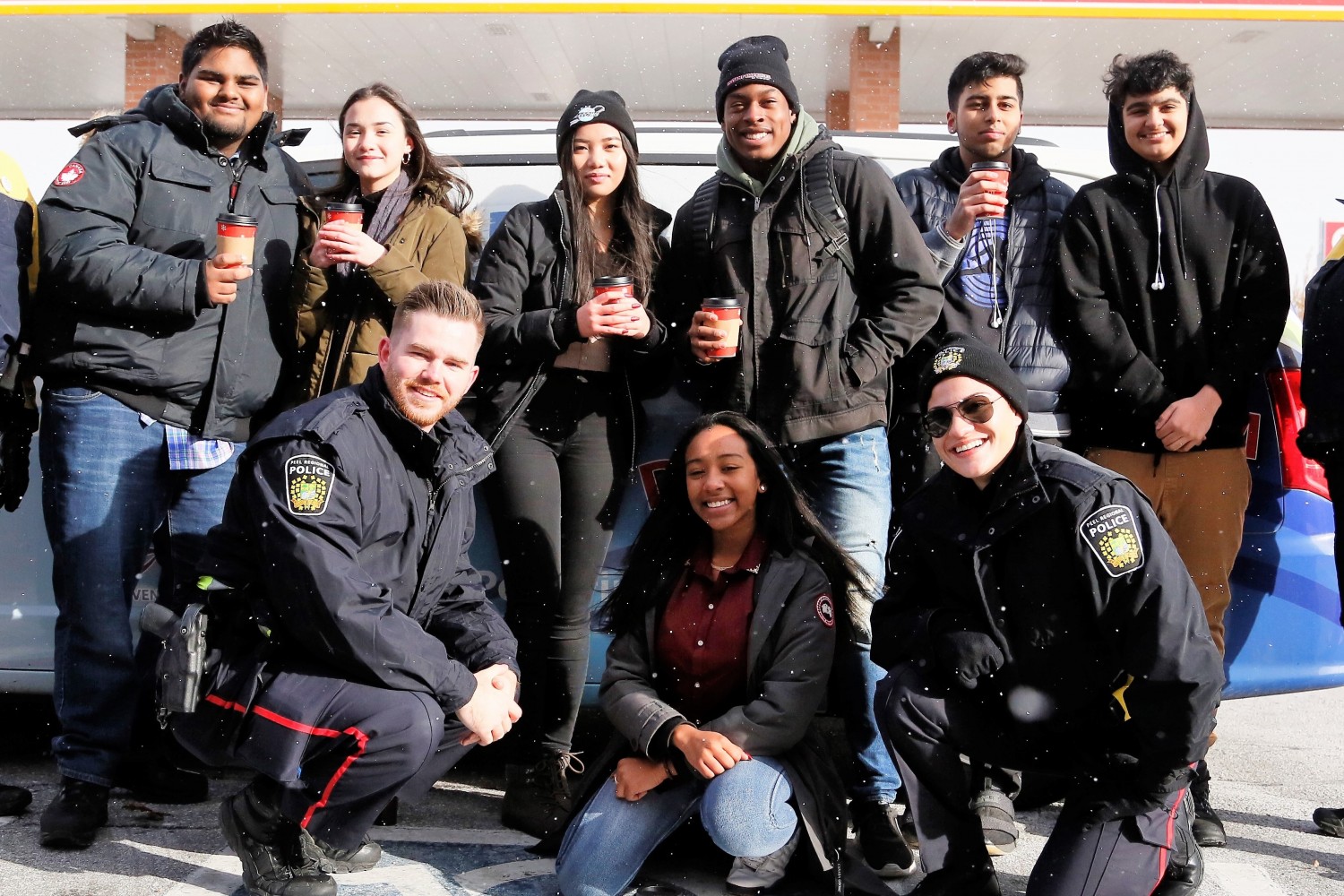 Photos by Mansoor Tanweer
As youth violence spikes, Peel police double down on employment program
The Peel Regional Police are once again furthering efforts to forge positive relationships with the region's youth, after 2018 saw yet another increase in violent crime among the young population.
The Peel Police Services Board, for the second consecutive year, has approved a small bump in funding to the police Youth in Policing Initiative, also known as the YIPI program. The additional $24,000 will go toward including five additional youth, many of them from marginalized communities in Peel, in the eight-week summer employment program, bringing the total to 25. The other 20 are funded through dollars from the Ministry of Children and Youth Services.
"I've met some of the youth that have gone through it and they've just transformed. It's wonderful. I'm glad we're putting this support behind it," Mississauga Mayor Bonnie Crombie said during a recent meeting of the board.
Mississauga Mayor Bonnie Crombie sits next to Brampton Mayor Patrick Brown at a recent police board meeting
One of the keystone efforts of police services across the province to engage with young people, YIPI is aimed at connecting officers with youth "through mentorship, exposure to the (policing) work environment and productive assignments that promote policing as a career choice," according to Peel police information.
Applications are solicited through local school boards, the Children's Aid Society and divisionional neighbourhood policing unit officers, with the hope of turning at-risk youth away from a pathway of crime. Many of the teens who take part come from marginalized or at-risk populations.
The program is one small move to counter a steady rise in violent crime committed by teenagers (12-17) in Peel. Numbers from the Peel police 2018 annual report show that, overall, crime among youth has decreased slightly in recent years, with young offenders accounting for 11.5 percent of people charged by Peel police in 2018, down from about 14 percent in 2017. That drop is mostly due to a reduction in charges for drug crimes and criminal driving offences.
Conversely, the more violent crimes — including assault, uttering threats, sexual violations, robberies and homicides — committed by youth increased 9 percent between 2017 and 2018, from 861 to 938 violations. There was a similar increase between 2016 and 2017.
Crimes against property (break and enter, theft, mischief) dropped slightly last year, from 524 to 512. Drug crimes decreased from 103 to 63, a decrease of 38 percent.
Peel Region, including Caledon, has the highest percentage of people aged 14 and younger in the Greater Toronto Area. Brampton and Mississauga are home to about 120,000 kids within this age group, meaning that youth, some of them vulnerable to criminal activity, will continue to be a significant proportion of the population in the years to come. Currently, about 7.7 percent of the population that Peel police are responsible for fall into the youth category.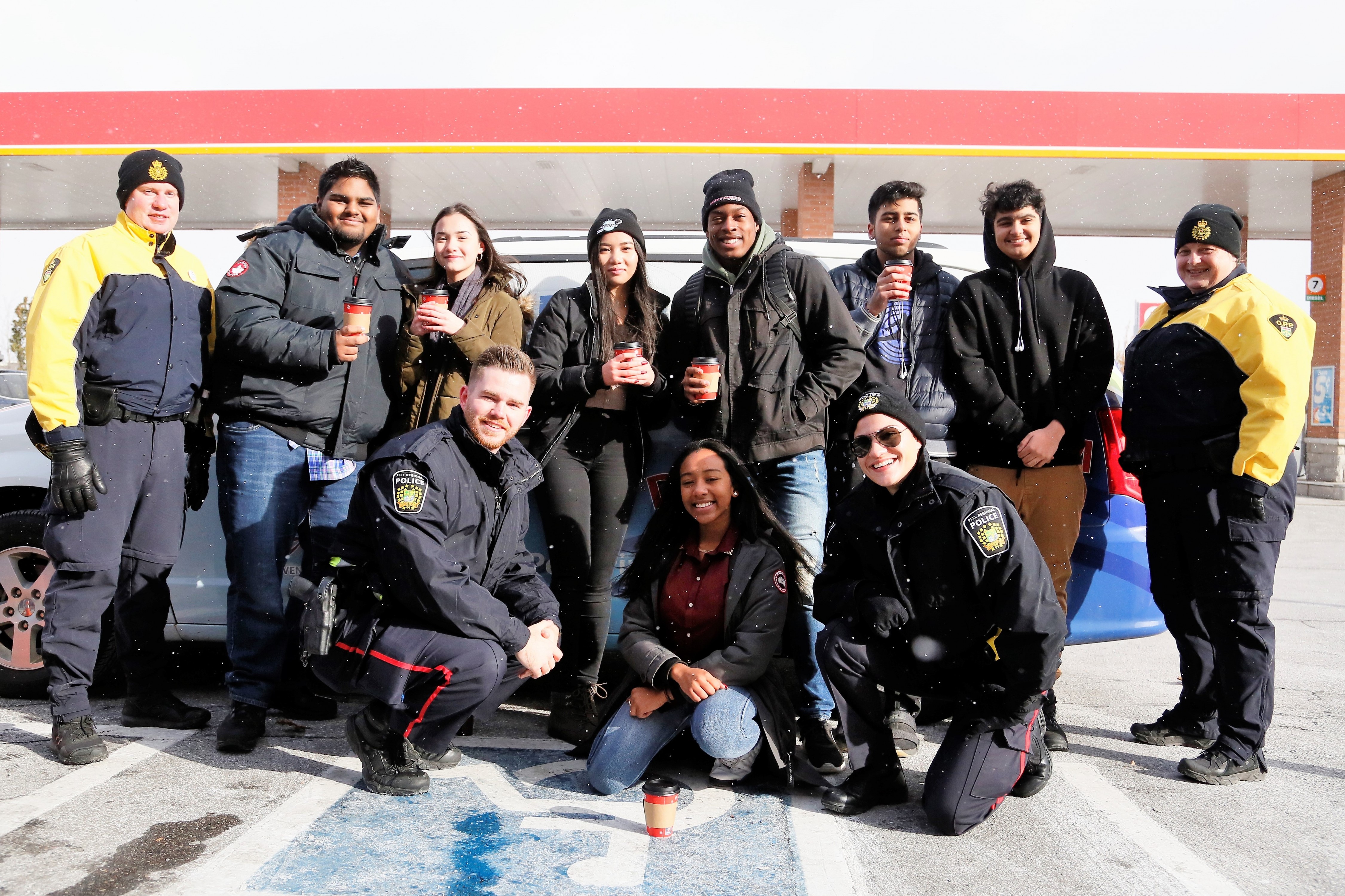 Peel police with a group of youth at an event last year
Funding for crime prevention programs and policing in general hasn't kept pace with this growing young population, or for that matter, the booming population growth across Brampton and Mississauga. The Peel Police Service is now responsible for a community of about 1.3 million, with about 138 police officers for every 100,000 residents — much lower than the national average, which hovers around 188 officers per 100,000.
In an effort to close the gap, Peel police have applied for federal assistance through Public Safety Canada and the National Crime Prevention Strategy for funding a program directed at reducing youth violence. Peel police are seeking nearly $4 million for the three-year project. Few other details about the project or its scope are available.
Public Safety Canada told The Pointer in December that decisions would be made regarding applications by the end of 2018, but The Pointer was unable to confirm whether Peel's application was successful.
The request did get the support of Peel's MPs, all of whom signed a letter sent to Public Safety Canada in support of the request. "The Peel Regional Police has started to significantly feel the strain of the lack of resources, and we firmly believe that there are funding gaps that need to be addressed," the letter sent in October said. "Throughout the summer, we as Members of Parliament have been engaging with our constituents and listening to their feedback on issues that are important to them … We found that a recurring theme in our discussions was the rising number of reports of violent crime, especially among youth."
Police Services Board member Norma Nicholson voiced wholehearted support for expanding YIPI in Peel. "I totally, fully, 100 percent support our YIPI program. I've been very fortunate in being able to see these young people when they come into the program and also to speak with them afterward, and they are changed" for the better and able to reach their full potential, she said.
Police board member Norma Nicholson
The program has been in place since 2010, when 15 youths by the program. That number was increased in 2016 to 20, and then 25 last year, with the board adding extra funding.
Nicholson advocates for expanding the program even further to reach more at-risk youth.
"A lot of marginalized children and youth have been transformed by this program," she said.
Peel police agree; they'd like the board to make the additional five places a permanent fixture in the program, so that "sustainability can be achieved in this initiative and that planning can be implemented for the additional positions," according to a police report.
In addition, Peel police have explored several other initiatives to engage with youth. One hit the streets at the end of November, when police handed out "positive tickets" to teens observed carrying out good deeds or good behaviour.
The program, which first launched in 2014, has to date issued more than 67,000 "positive tickets" in Peel Region, police say.
Other ongoing programs aimed at least in part at helping officers interact positively with youth include neighbourhood policing units, school resource officers, and the Youth Education bureau.
Email: [email protected]
Twitter: @JoeljWittnebel
Submit a correction about this story