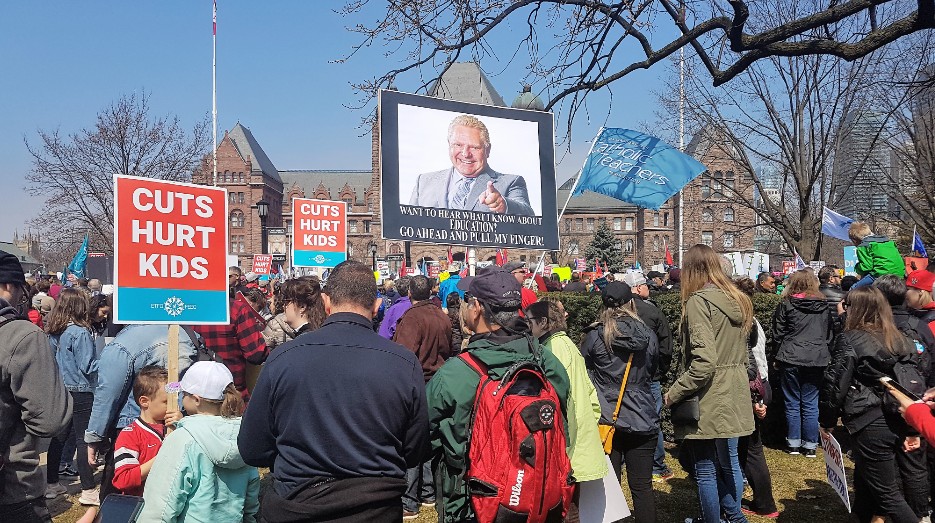 Photos by Mansoor Tanweer/Government of Ontario
PCs announce $1.6 billion fund to prevent teacher layoffs
The Peel District School Board received little in the way of relief from Friday's provincial announcement offering assurances that new attrition allocation funding, an estimated $1.6 billion, will help prevent Ontario boards from laying off thousands of teachers.
Education Minister Lisa Thompson's announcement followed weeks of outcry from teachers, students and parents over the spectre of thousands of teachers potentially losing their jobs, while average class sizes in high schools are set to rise from 22 to 28 students. The $1.6 billion Attrition Protection Allocation is meant to temporarily help school boards avoid layoffs where voluntary retirements are not as high as the required reductions resulting from the larger class sizes, but it will not prevent the overall reduction of positions over four years.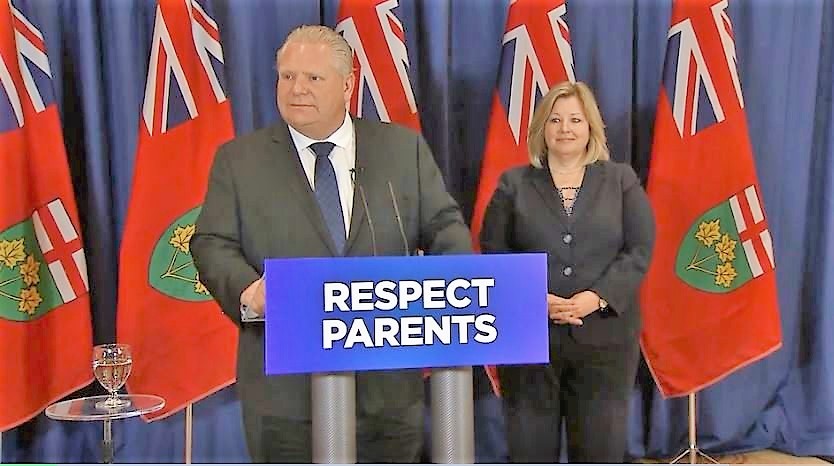 Premier Doug Ford and Education Minister Lisa Thompson
"This attrition protection funding will help protect front-line teaching staff and prevent the risk of layoffs due to class size changes or e-learning," says a release from the province.
"We have said from the beginning not a single teacher will lose their job as a result of our proposed changes to class sizes or e-learning. In fact, we are making a landmark $1.6B investment in teacher job protection to make sure school boards are well prepared to handle the result of these proposed changes over the course of the next four years," Thompson said in a statement.
"With attrition protection funding support in place, school boards should have sufficient funding to avoid laying off teachers who may be impacted by our proposed changes," she added. "Our government is taking a responsible approach to balancing the budget that restores confidence in Ontario's finances, while protecting what matters most, our world-class health care and education systems."
The Peel District School Board is saying it's too early to measure the real effects the attrition funding will have for the coming school year, but it is a step in the right direction.
"We are pleased to hear that the government will provide attrition protection funding to protect staff impacted by changes to class sizes and e-learning," said a statement from the board. "Once we learn the board-specific details, staff who were impacted by these changes will be contacted. It's not yet clear if this funding will also protect jobs that were affected by cuts to secondary programming and local priority funding, announced earlier this year, that are unrelated to class size increases. These changes have already resulted in staffing cuts at the Peel board."
The board has issued layoff notices to 193 high school teachers, the result of the province's move to increase average class sizes. Allowable class sizes for Grades 4 to 8 are also being increased by one student.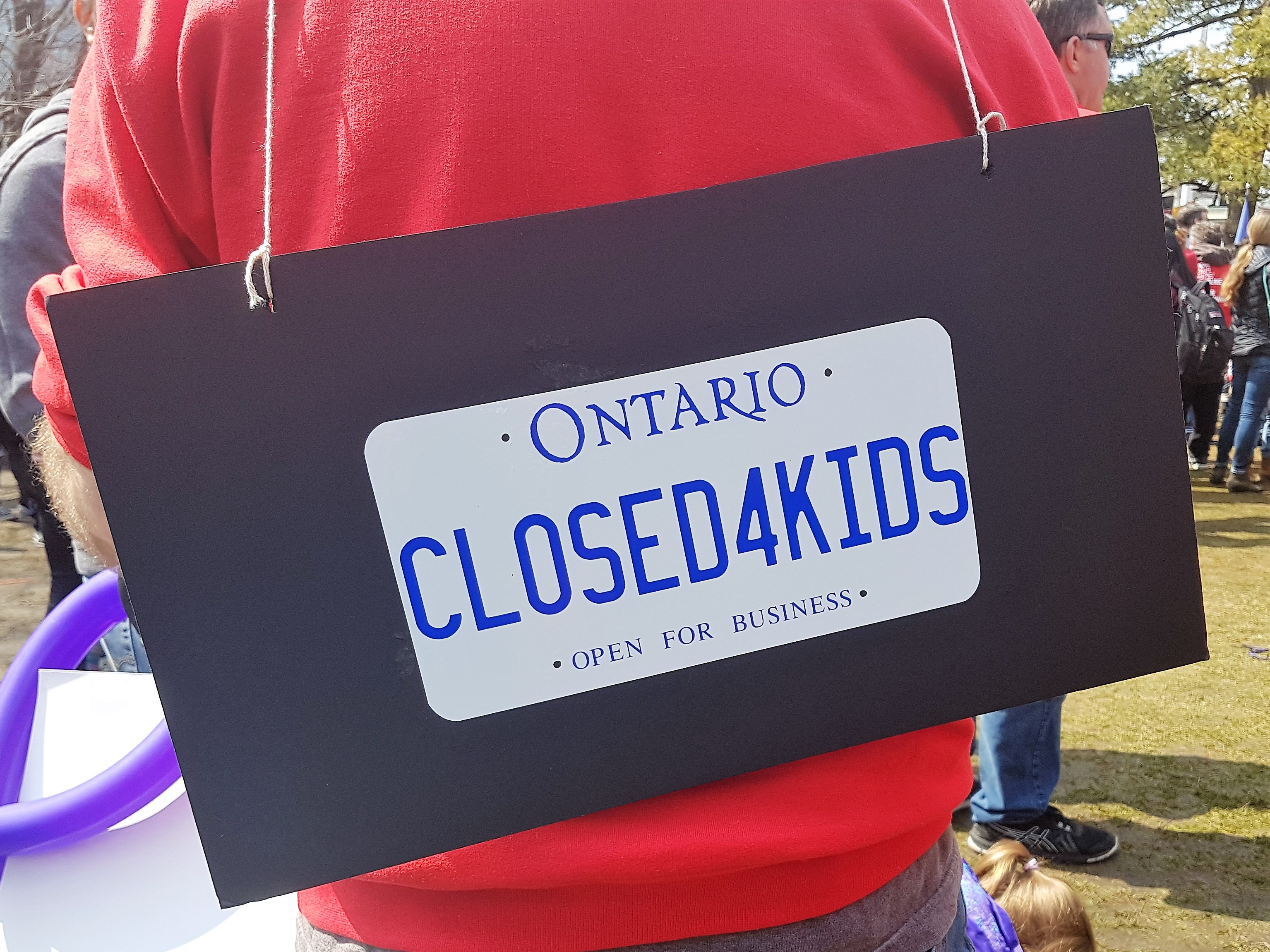 Teachers protested the proposed cuts to education in front of Queen's Park earlier this month
"The announcement just came through and staff will need to review the memo to understand its province-wide impact," said Peel school board spokesperson Carla Pereira. "Also, it could be a while before we actually know how we're impacted, because board-specific funding allocations haven't been announced. This can take two weeks."
The move comes amid concerns about the impact of cuts on students, which will include loss of learning options, with smaller, more specialized courses likely to be cut out of the schedule to avoid raising classes in other courses to as many as 40 students to maintain the higher average. There are also concerns that the requirement to take certain classes online will negatively affect low-income and rural students who have poor access at home to technology and the Internet.
Already, one Mississauga high school, Cawthra Park Secondary, has informed Grade 11 students that they will need to re-select courses for their final year due to pending loss of certain electives, with five fewer teachers at the school next fall. Students were advised they might need to pick up summer school, night school or online alternatives to get those electives.
That was labelled as jumping the gun by provincial spokespeople, who claimed the basic Grants for Student Needs (GSN) funding, combined with the new attrition allocations, would prevent any changes as a result of bigger class sizes. The attrition funding could even be used to fill positions lost via attrition, the province said.
The government will spend $24.66 billion on education this year, slightly more than the $24.53 billion spent last year, but per-student funding is down, from $12,300 this year to $12,246 next year.
The Peel board notes that the increasing class sizes will undoubtedly affect students in the coming year.
"As a result of increases to secondary class sizes, students will have less choice when selecting courses. We expect course re-selection to take place in many Peel secondary schools this spring," the board statement said.
Many fear the loss of teachers will hit elective courses hardest, including the arts and supplementary courses in science, technology, engineering and math (STEM) disciplines.
"Class size organization and program delivery are local school board decisions; however, to further support the staffing complement for the continuity of STEM and specialized programming, we're providing 105 percent of the funding needed for attrition protection," according to ministry spokesperson Heather Irwin. "Basically the funding they get for attrition is increased by a further 5 percent. This could be used for a variety of purposes – for example, hiring for an arts teacher position that could be vacant due to a retirement."
In addition to the new attrition funding, the province has also set up a $330 million Priorities and Partnerships Fund "that will support the ministry's vision with time-limited investments. This funding will focus on high-impact initiatives that directly support students in the classroom." The fund will provide grants for areas such as mental health and special education, including an after-school skills development program for students with autism, boosting Indigenous student achievement and support for parent/school councils.
Peel is among numerous school boards across the province that have been up in arms over the governing PCs' cuts to education. Last month, PDSB chair Stan Cameron wrote to Thompson, laying out the drastic impact of a series of proposed changes, particularly the 27 percent hike in average class sizes.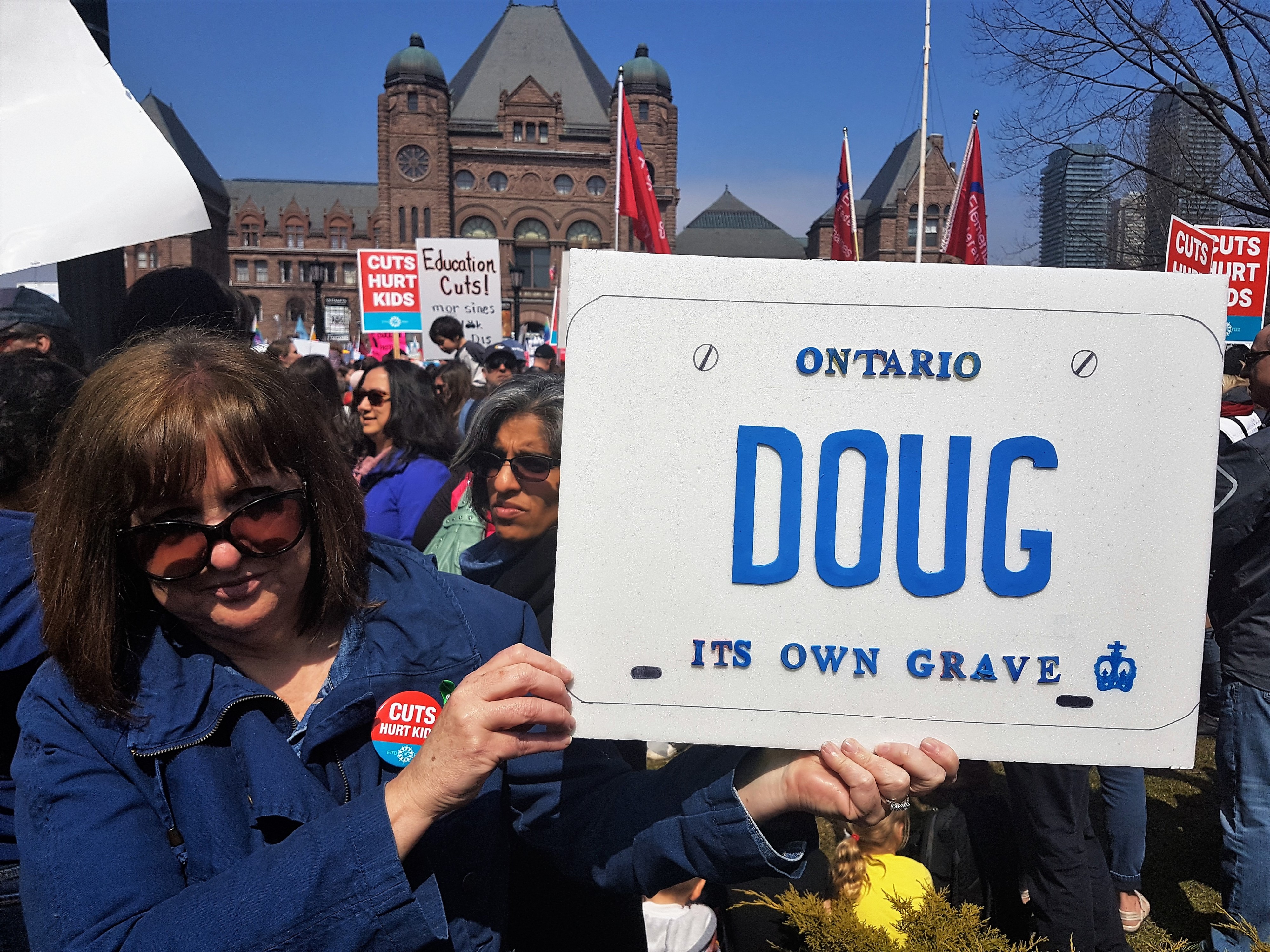 "If we were required to fully implement the ministry's changes to class size and funding restrictions this September 2019, 500 secondary teaching jobs would be lost due to proposed class size changes. Other jobs, including custodial, office administration and centrally assigned support staff would also be impacted," the March 26 letter said.
The province notes that consultations are continuing. "The ministry is now conducting a follow-up consultation on the proposed changes to class sizes. The consultations will allow us to ensure that our plan is designed to serve the best interests of Ontario's students in a way that works for families and school boards and is fair to our educators," a statement said.
Email: [email protected]
Twitter: @JoeljWittnebel
Submit a correction about this story