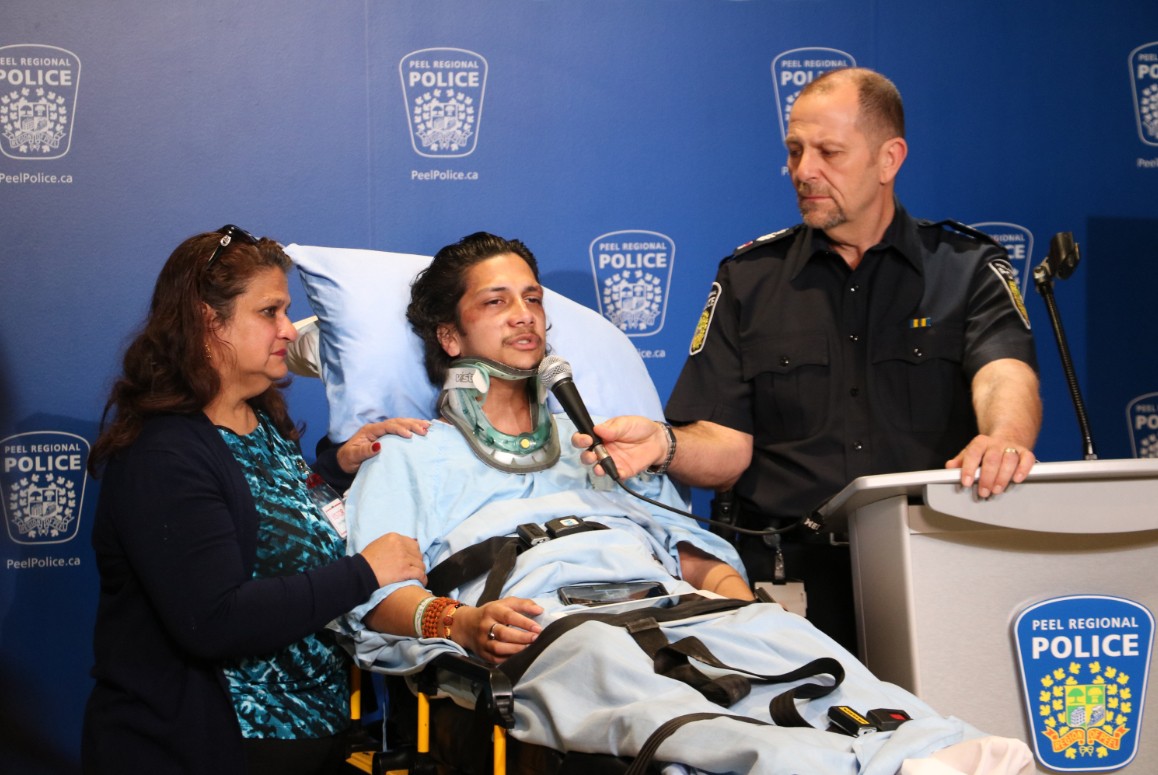 Photos from Peel Regional Police
Peel police, victim, appeal to community for help in solving tragic hit-and-run
"Do you know what that's like to feel?"
A compassionate response to this question — uttered by a devastated young man in a neck brace — could prove to be the key to solving the hit-and-run collision that left him broken and depressed, bound to a hospital bed for the foreseeable future.
On Thursday, 21-year-old Navindra Sookramsingh took the courageous step of joining Peel Regional Police officers for a press conference to appeal for the community's help in finding the driver of the Toyota Corolla that slammed into him in the early morning hours of March 17.
Angled back in his hospital bed, Sookramsingh gave a deeply emotional plea for help, urging the person responsible to come forward.
"I wanted to be here because I wanted to ask the driver to have mercy," he said, his softly spoken words broken by tears. "I had a life of love, I was always there for everyone, and I wanted to do what most people wanted to do, to work and have the best life I could, and now I can't walk … I barely survived. I don't know if I will be able to walk again and I can't move my hands."
Do you know what that's like to feel?
For most, the answer is no. The pain and suffering of those involved in serious motor vehicle collisions is not something deeply absorbed by those who read about or see them in the media. There were more than 28,000 collisions in Brampton and Mississauga in 2018, leading to 41 fatalities, an increase of 43 percent over 2017. The frequency of these events can lead to becoming desensitized to the reality of the aftermath. While the vast majority of collisions aren't fatal, some result in life-altering scenarios, like Sookramsingh's.
On Sunday, March 17, Sookramsingh had been out celebrating St. Patrick's Day. Like many other 20-somethings that day, he drank too much and decided not to drive home. The night was cold, the streets were slick, and while walking home at about 4:30 a.m., Sookramsingh stumbled into the southbound lane of traffic on West Drive in Brampton. He started to get sick.
It was here, as he was lying on the pavement, that a witness to the tragedy came into the picture. His car approached Sookramsingh, lying near the snow-covered curb, and swerved at the last minute to avoid hitting him. The man in the car immediately turned around to help. But the driver was unable to walk because his foot had undergone partial amputation. From within the vehicle, he did the best he could to rouse Sookramsingh from the street using his voice.
It worked. Sookramsingh began to stir and tried to stand.
This was when the second, southbound, car approached.
The witness in the car flashed his high beams, doing all he could to warn the approaching car that something was wrong, but to no avail.
The light cream-colored Corolla (2003-07), its driver possibly not seeing Sookramsingh as he was trying to stand, struck the 21-year-old and didn't stop. The car incurred damage on the front right corner.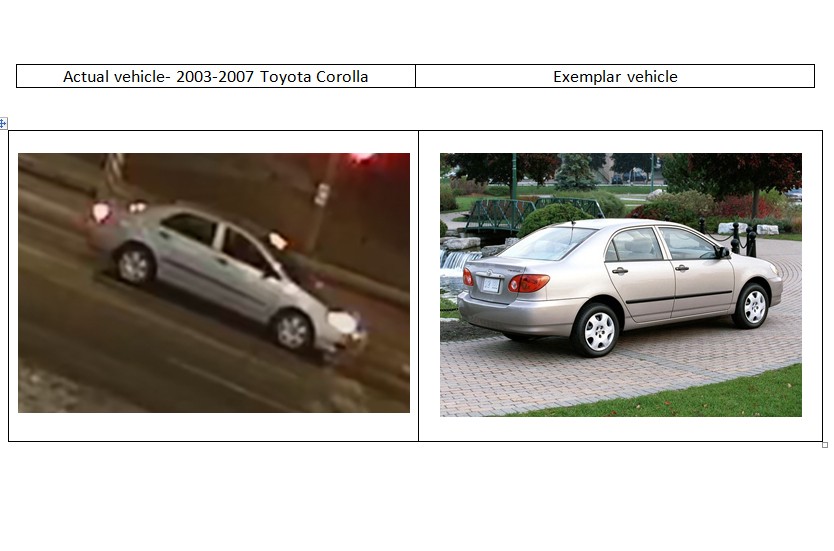 Police say they have no information on the driver and are unable to make out the licence plate number from the dark, grainy CCTV footage recovered from the scene. Pulling up a list of MTO-registered Corollas in the Brampton area returned thousands of results.
"It's kind of like looking for a needle in a pile of needles," said Staff Sgt. Gary Carty, of Peel's major collision bureau.
Sookramsingh suffered vertebrae separation in his neck, a punctured lung, damage to his liver and complete destruction of his left hip. The hip was reconstructed by surgeons, and now a 10-inch bolt transects his body, holding him together like a "broken toy," he said.
"Walking is now a goal that's far from reach. It's a goal that I may never be able to reach, and if I am, I'm thankful for that as well, and I'm thankful for the hospitals that kept me alive," he said.
Do you know what that's like to feel?
"It's important that we humanize the fact that this is a collision," said Carty. "It's important that the community recognizes who we're dealing with. We're dealing with human beings … each and every one of us is responsible for our fellow man, fellow woman."
The decision to bring forward Sookramsingh is relatively unprecedented for Peel police. Carty noted that many victims in fail-to-remain collisions do not survive, making Sookramsingh's case an exception in which the victim can provide a public statement. It is also a proactive move by the force to signal its commitment to working with the community — after years of criticism regarding its poor representation of community diversity and an apparent unwillingness to change with the times.
"One of your neighbours has come home with some very minor front-end damage. It may be related to this; you may hold the key to solving this collision," Carty said in his appeal to residents.
It's unclear what potential charges the driver might face, aside from failing to remain at the scene of a collision. Carty said fear is usually what causes people to flee the scene. But if the driver was watching the press conference and seeing Sookramsingh, he said, that individual should step forward and take responsibility.
"The time for fear is over; it's time for action," he urged. "We need your help, we need you to come forward and identify yourself to us. You know that this has happened, and now you can see what has occurred as a result of your actions that night … It's time to come forward and ease your conscience."
Despite his egregious injuries, Sookramsingh said he harbours no ill-will toward the driver. "It's wrong to hate because you've been hurt, and it hurts you more. You should forgive the person, because it's happened and it's not going to change."
Accidents happen, he said in directing his plea to the driver. "I don't want to see you get in any trouble, I just want you to be responsible for … what changes you made to my life."
He noted the decision to come forward was difficult, adding to his depression and his insomnia, but he knew it needed to be done.
"It's easy to speak to the person who hit me because I've already come to … accept that this is my only shot, my only chance to tell them to have mercy on me," he said.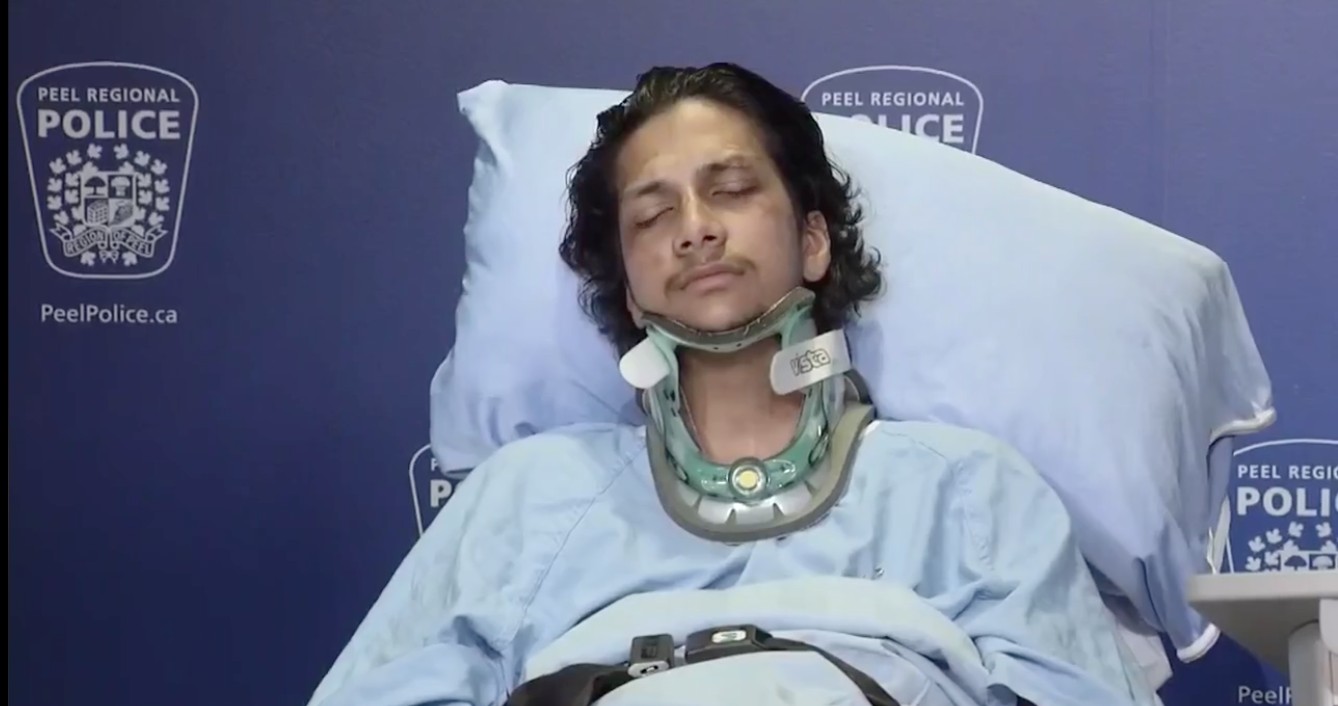 Sookramsingh's mother stood beside him throughout the press conference, alternating between rubbing his arm in support and wiping tears from her eyes. Her son may not harbour anger for the accident that changed his life forever, but she feels differently.
"Leaving him there to die was a choice. That wasn't an accident," she said. "Stand up to your responsibility."
Raising four children on her own, she said, she did everything she could to keep them safe.
"Seeing him like this now … I can't do anything about it. It hurts, it really hurts," she said.
Do you know what that's like to feel?
The Peel Regional Police are hoping that, at the very least, members of the community can sympathize with that feeling and, if they have any information at all, step forward and assist in the investigation.
Anyone with information on this collision or relevant dash-cam or surveillance footage is asked to call investigators with the Major Collision Bureau at (905) 453–2121, ext. 3710. Anonymous information may also be submitted by calling Peel Crime Stoppers at 1-800-222-TIPS(8477) or by visiting peelcrimestoppers.ca.
Email: [email protected]
Twitter: @JoeljWittnebel
Submit a correction about this story