Photos by Mansoor Tanweer
Residents and activists prepare for battle against provincial cuts to healthcare and possible privatization
Bill 74, the provincial PCs' legislation to find "efficiencies" through cuts and possible privatization in the healthcare sector, has been a source of anxiety for many in Ontario, and especially Peel. After all, Brampton is the city whose struggles with an overcrowded hospital popularized the phrase "hallway medicine" in Ontario, yet last week's provincial budget made no mention of the city on that or any other issue.
The NDP were the first to raise the alarm after obtaining a leaked copy of the draft bill in January, suggesting that key elements of the bill would privatize parts of the system and create a super-agency that would consolidate healthcare decisions under one provincial umbrella, including the power to designate healthcare providers.
After the PC government confirmed in February its intention to move forward with the super-agency, replacing the community healthcare network system established by the Liberals 15 years ago, the plan to dissolve 14 Local Health Integration Networks (LHINs) into one mega-system, which the Doug Ford government says will be more efficient, has left many residents across the province fearful of a less responsive, more centralized system of care that could involve privatizing some service delivery.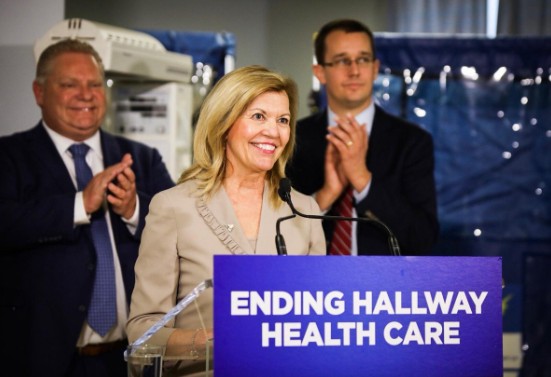 Health Minister Christine Elliott and Premier Doug Ford
That hasn't stopped the government from marching forward with its proposed new legislation, The People's Health Care Act, 2019, which promises to radically transform a system that clearly is not working well in places like Brampton.
But many residents fear the Ford government's moves could make things even worse.
Residents and activists gathered Friday at the city's picturesque Professor's Lake Recreation Centre to prepare to battle provincial changes to healthcare, in a town-hall stye gathering hosted by the Ontario Health Coalition and the Peel Poverty Action Group. The OHC has been rallying support across Ontario for an April 30 protest at Queen's Park and a possible referendum on the proposed new bill, which was tabled in the legislature on February 26 and is now in its third reading. Friday's meeting was the last of 22 stops for Natalie Kiran Mehra, executive director of the health coalition.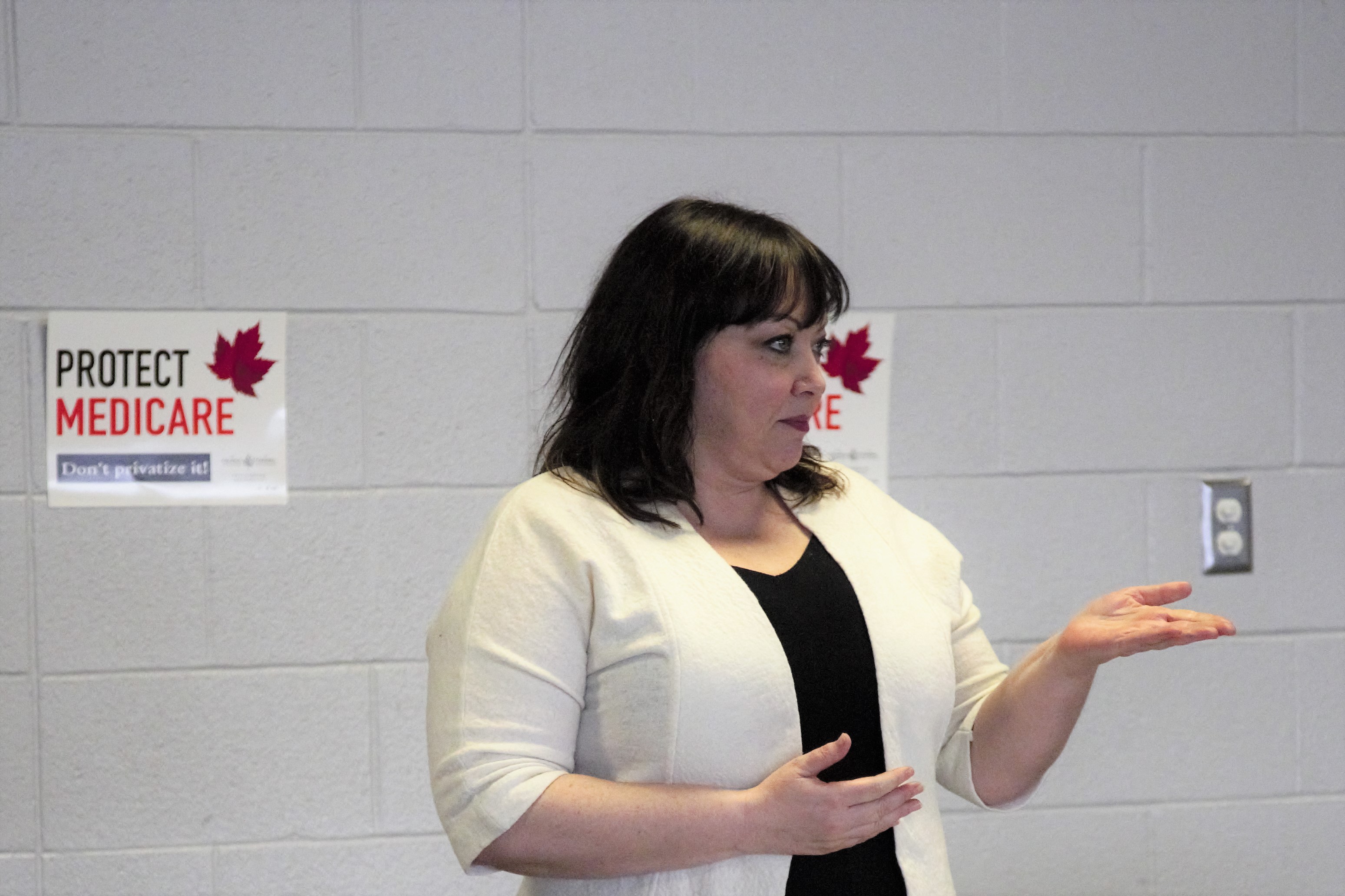 Natalie Kiran Mehra, executive director of the Ontario Health Coalition
The OHC argues that the bill's "bigger is better" philosophy puts the focus on costly restructuring without adding a single bed or service to the healthcare system, while removing community control and handing a gift to large for-profit corporations — all without meaningful public input. "They've slammed through the bill without public consultation," Mehra told The Pointer. "Our fight initially was for amendments and changes to the act, or to stop the act. We asked for it to be repealed."
She continued: "We know what's happening because we are hearing from the healthcare providers, the non-profit agencies, and so on. If they continue to move forward with mega-mergers, if they try any major service privatization, if they cut any services, then that would trigger [the referendum]."
Brampton PC MPP Prabmeet Sarkaria, asked by The Pointer what Brampton would be getting in his government's budget, responded only in general terms that the budget is "increasing hospital funding by $384 million, increasing home and community care spending by $267 million, increasing Long Term Care spending by $1.75 billion." He was short on details about how much of the cash would be allocated to Brampton.
His colleague, Brampton PC MPP Amarjot Sandhu, suggested to The Pointer that healthcare funding for the city is on the way, but was short on details.
"As far as healthcare for Brampton is concerned, it is important to know that not all investments were outlined in detail in Budget-2019," he wrote in an email. "In the coming weeks and months, our government looks forward to announcing a series of additional investments in the hospital infrastructure, as well as mental health and addiction services, but cannot provide more information at this time. I and the Ontario Government remain committed to representing the best interest of people in my riding and Brampton at Queen's Park."
Brampton MPP and NDP deputy-leader Sara Singh, questioned the lack of action by Sandhu and Sarkaria.
"It is really, really disappointing. Nothing was allocated to our community. Not from a healthcare perspective, not from a transit perspective, not from an education perspective," said the Opposition MPP, who has been an outspoken critic on the lack of funding for Brampton and the Ford government's moves to change healthcare delivery. She was present at the town hall. "There is an agenda behind the scenes. This is not a small bill that we are putting forward, this is one of the largest transformations of our healthcare system."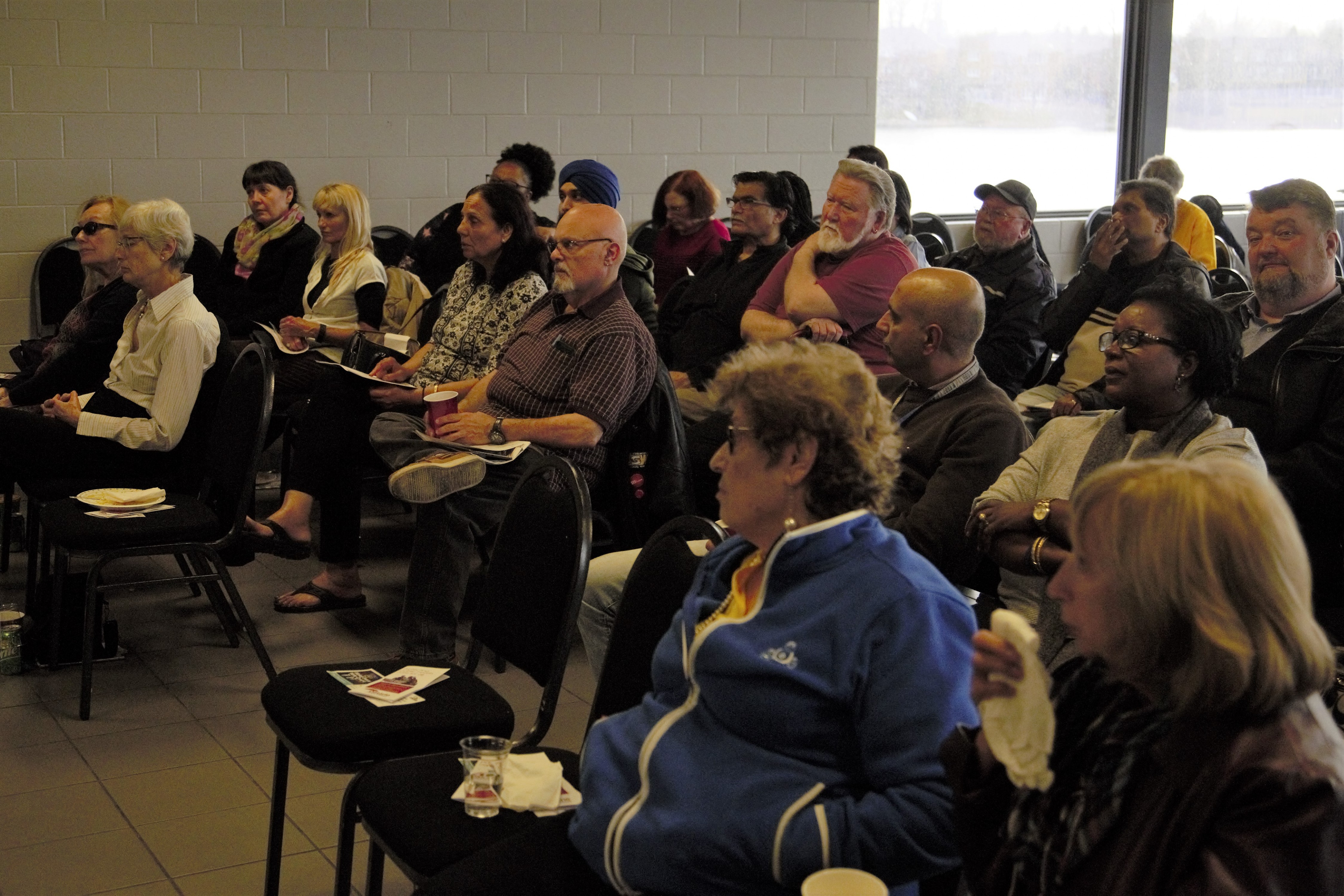 As residents listened, before later voicing their frustration, the meeting's co-host and chair of the poverty action group, Richard Antonio, was the first to speak about the disadvantages of privatization. He pointed to a 2014 report by Ontario Auditor General Bonnie Lysyk that said private companies were overcharging the public sector by $8 billion.
"If the public sector could manage projects successfully, on time and on budget, there is taxpayer money to be saved," Lysyk said in Queen's Park at the time. The Ontario Medical Association, which speaks on behalf of the province's doctors, has released an analysis of Bill 74, stating it does not include language intended to permit privatization. A number of healthcare organizations across the province disagree with the position of the OMA, and have pointed out that doctors could benefit from certain types of privatized healthcare delivery.
During the meeting, Mehra and Antonio called for the creation of a Brampton health coalition. It's not clear how that would take shape, or what it would do. But Wards 7 and 8 Councillor Charmaine Williams, who was in attendance, offered advice on how that could get started.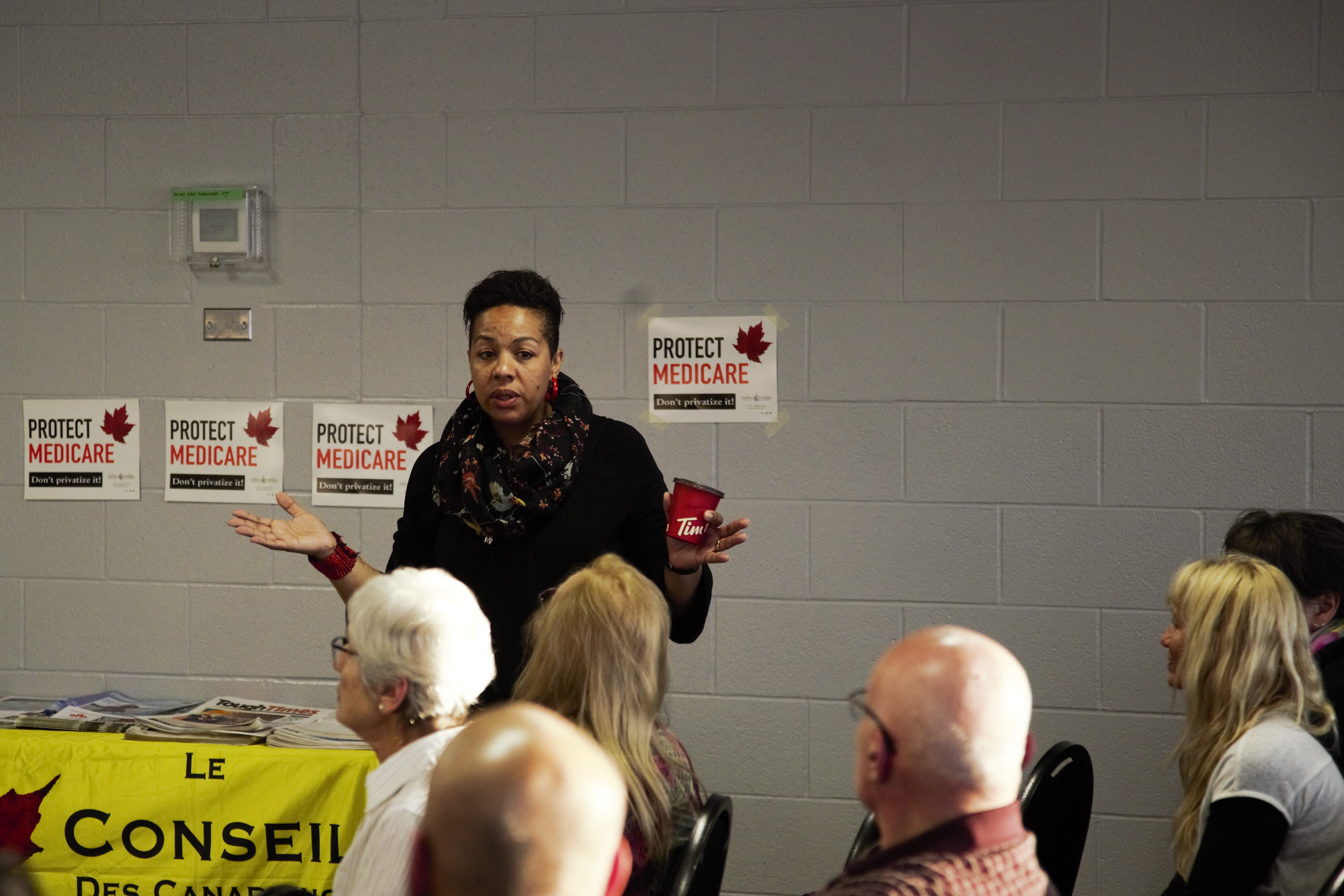 Councillor Charmaine Williams speaks at the recent healthcare town hall in Brampton
"City hall is your hall," Williams told the attendees. "So if you want space, let me know." Her offer for help was met with exuberant applause. The attendees — most of them seniors who statistically are most likely to be frequent users of the healthcare system — wasted no time before venting their frustrations at the government of Premier Doug Ford.
"Whenever they've done it [privatization], it ends up costing more. The shareholders want to make money. Right now we have a system where there are no shareholders. There are just users and taxpayers and administrators," said retiree Bette-Ann Goldstein.
Chrysler assembly worker Jim McDonell expressed bewilderment at the moves the premier has been making, which he said were akin to political suicide. "Why would Doug Ford implement something like this? Because there is a very good chance if this thing rolls out, it's going to alienate so many people that they won't be able to stand for him in the next election," McDonell told those in attendance.
Email: [email protected]
Twitter: @mansoortanweer
Submit a correction about this story