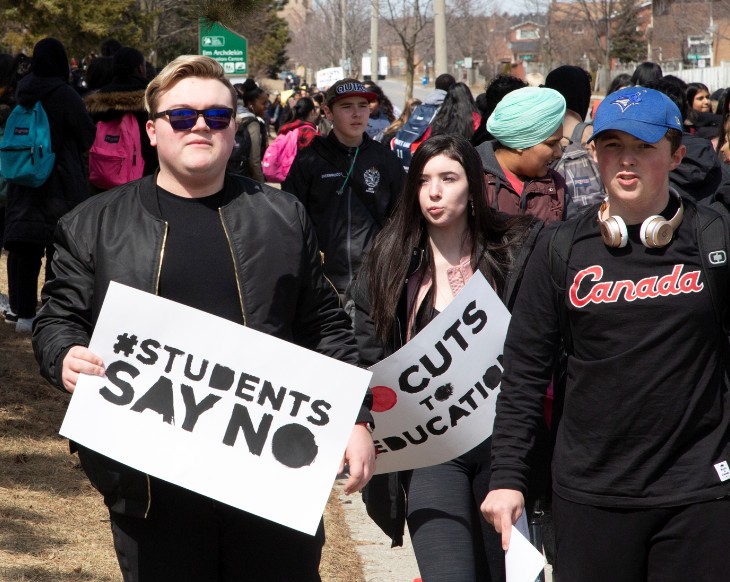 Photos by Mansoor Tanweer
330 Peel teachers get layoff notices due to provincial cuts
Is it a case of promise made, promise broken? After pledging for months that no teachers will be laid off as a result of the provincial government's cuts to education, it appears the opposite is about to happen.
Mike Bettiol of the Ontario Secondary School Teachers Federation District 19, Peel Region, said in a news release that the Peel District School Board has sent 193 high school teachers "surplus to board" notices as "a direct result of cuts by the Ford Government." The notice means that, as of this moment, the board believes it has that many more teachers than it will be able to keep employed for the 2019-20 school year.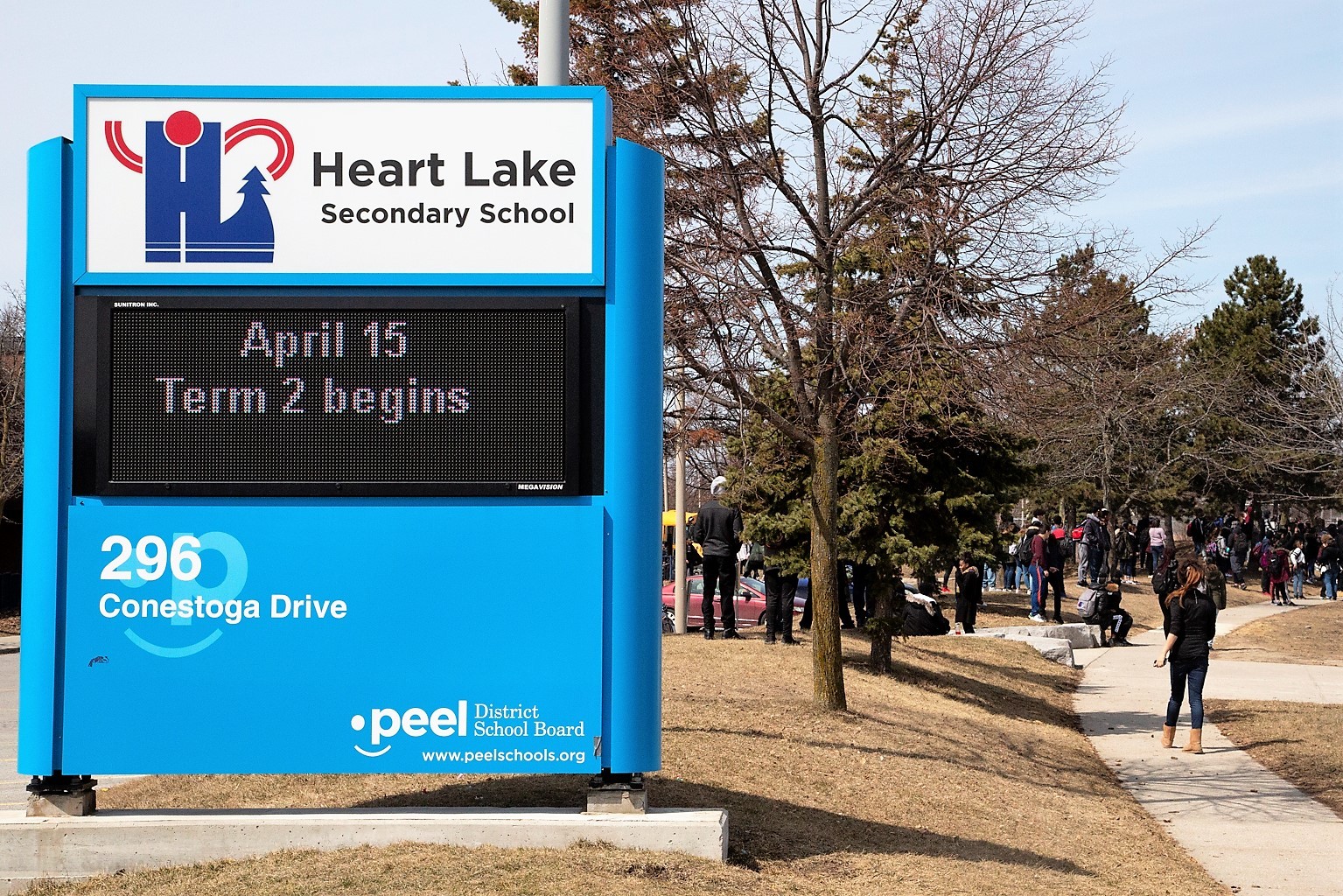 "Due to the change in the staffing generation number and cuts in the Province's education budget, Peel District School Board had to lay off an unprecedented number of teachers from their secondary panel. These layoffs alone will result in 1,200 fewer classes being offered in Peel public high schools," he said.
However, a spokesperson for the Peel board says that number represents just one segment of overall layoffs, which could number as high as 330. Ryan Reyes said that 137 elementary school teachers have also been declared surplus as a result of the province's changes.
"The 330 declared surplus is connected to recent provincial cuts and not related to routine yearly surplus," Reyes told The Pointer. Every year, depending on the needs of the board, it is common practice for school boards to issue surplus notices to teachers with low seniority, notifying them that they might get laid off if there is not high enough enrolment in fall.
The notices, Reyes notes, are not a result of the routine annual surplus notices because the Peel board "has not had to declare any teachers surplus over the past five years, because we have experienced enrolment growth every year."
Bettiol corroborates what Reyes said. "In spite of what the Premier has said, this is not a regular event in staffing in the PDSB. In fact, we haven't had layoffs in the last five years."
Total enrollment in the PDSB has been growing since the 2013/2014 school year. Though high school enrolment had declined a bit, it bounced back in 2017-18 and is projected to keep growing. But elementary classes have grown throughout those years, pushing overall enrolment consistently higher.
Education Minister Lisa Thompson announced last month that the average high school class size will increase to 28 students, up from 22. Educators have warned the number may in fact rise to as many as 40 students in some classes to make up for specialized classes that have fewer students, and that the effect will be to reduce educational options for students. The sweeping changes will also add an average of one more student per class in Grades 4 to 8.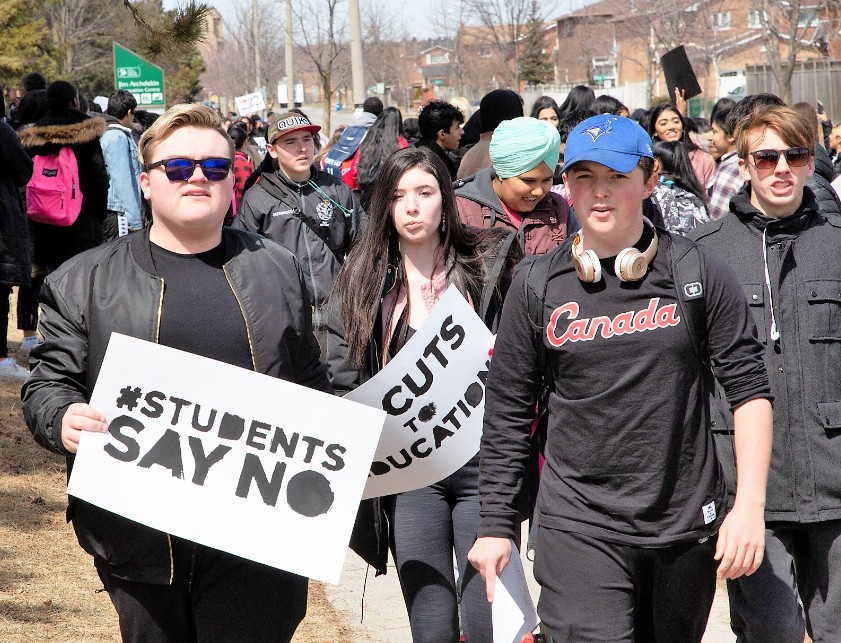 Brampton high school students took part in a province-wide walkout two weeks ago
Teachers' unions have been warning that as many as 5,500 jobs could be in jeopardy due to the changes.
Earlier in the month, students fearing for their future staged a province-wide walkout from classes in support of their teachers. That same week, a leaked provincial memo suggested that the Ministry of Education will reducing teaching positions by about 3,500, which prompted educators from across Ontario to stage a massive protest on the south lawn of Queen's Park.
The Ford government has stated repeatedly that job losses will be absorbed through attrition and voluntary departures. Bettiol says the PCs have been misleading teachers.
"The attrition protection has clearly not achieved its purpose. These layoffs are front-line teachers with families and mortgages, and the government should be ashamed for misleading them. We would very much like to speak to local Conservative MPPs about this, but they are not taking our calls."
PDSB Chair Stan Cameron, who has been watching the changes unfold with growing concern, wrote a letter to Thompson declaring his opposition to her reforms in late March. "If we were required to fully implement the ministry's changes to class size and funding restrictions this September 2019, 500 secondary teaching jobs would be lost due to proposed class size changes," Cameron warned Thompson.
The letter continued: "On average, about 100 teachers leave the Peel board each year. Through the government's attrition protection plan, we trust the ministry will top up our funding if the number of teachers impacted by class-size changes exceed the actual attrition number."
A ray of hope comes in the form of Grants for Student Needs, a provincial fund that provides cash for programs, equipment and services for students with special needs. Reyes says that the province has promised to top up GSN funding if the number of teachers laid off exceeds attrition and voluntary leaves.
"As such, relying on promises made by this government, we do not expect to be in a position to initiate layoffs of teachers associated with the proposed changes in class size. We are relying on the ministry's promise to provide attrition protection for up to four years so we can phase in the class size averages," Reyes told The Pointer. If funding comes through, the teachers could be reinstated by Sept. 1.
Email: [email protected]
Twitter: @mansoortanweer
Submit a correction about this story