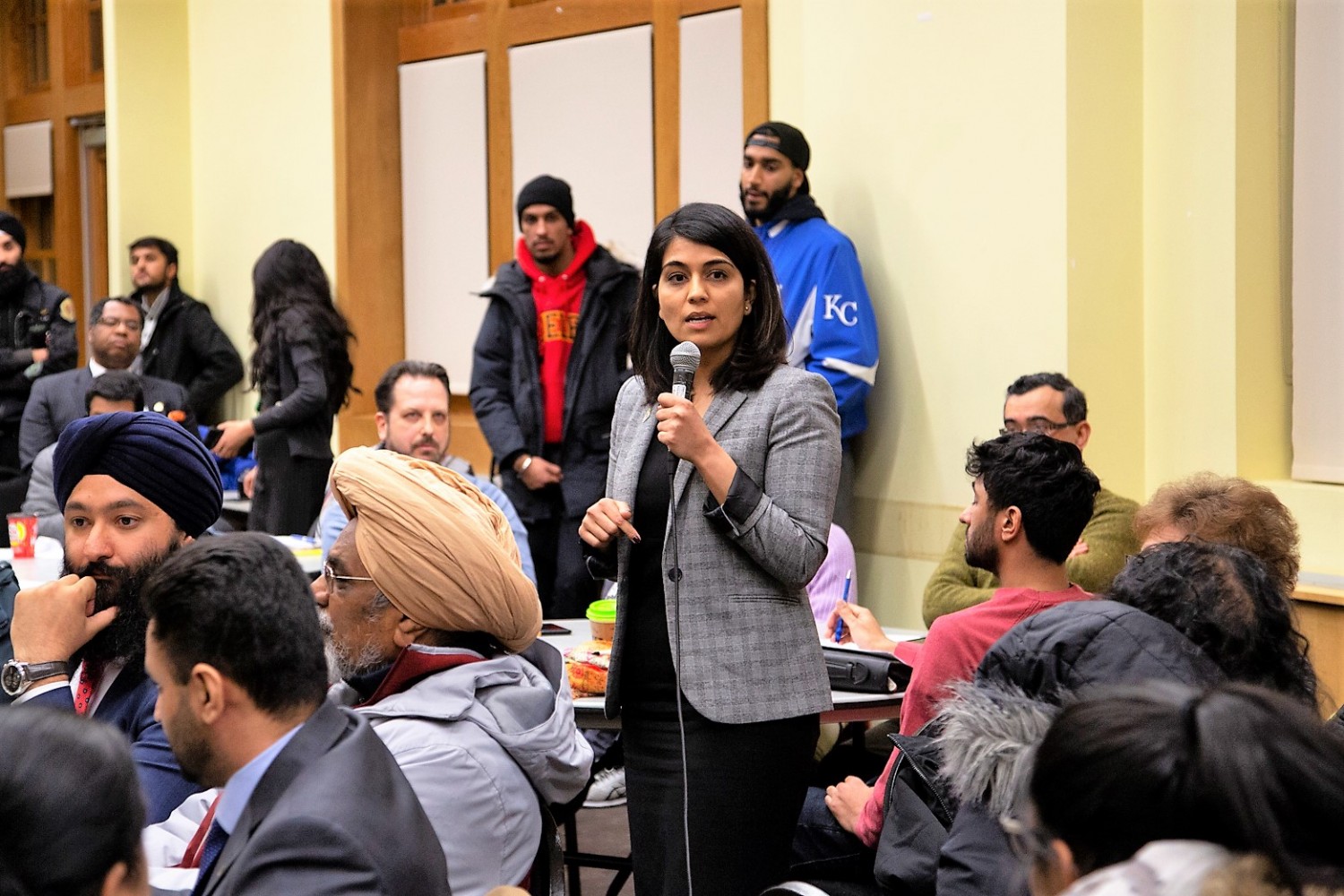 Photos by Mansoor Tanweer/Government of Ontario
Brampton MPP Sara Singh sounds alarm on loss of provincial public health units; vaccination and opioid issues could be impacted
The provincial budget remains a topic of testy conversation in the week following its release. On Monday, during question period, Brampton Centre MPP and Opposition Deputy Leader Sara Singh attacked the governing PCs' proposed closure of 25 public health units out of 35 across the province.
The mandate of public health units is to promote healthy communities, among other things by monitoring emerging health issues, offering health programs to vulnerable groups, administering vaccines, inspecting drinking water and reviewing restaurants for hygiene. Peel Region's unit reported and investigated a case of measles in a Brampton adult last February and warned residents to avoid certain locations to limit exposure. Earlier this month, Ottawa's public health unit also confirmed a case of measles in the city and advised residents to exercise caution.
Units such as Peel Public Health are needed now, more than ever, in the age of vaccine skepticism and the opioid crisis. Premier Doug Ford's proposed cuts in the budget would reduce the number of units across the province to 10. That makes Peel Public Health vulnerable to the axe, though the document offers no hints as to how the surviving 10 would be allocated.
"Last Thursday (budget day), the Conservatives revealed their scheme to cut $200 million in healthcare funding by dropping from 35 public health units to just 10," Singh said, addressing her question to Health Minister Christine Elliott. "Public health's bottom line is to keep us safe, and that's a hard job to do when more than 25 percent of their funding is cut. Does the minister know her cuts to public health will make us all less safe?"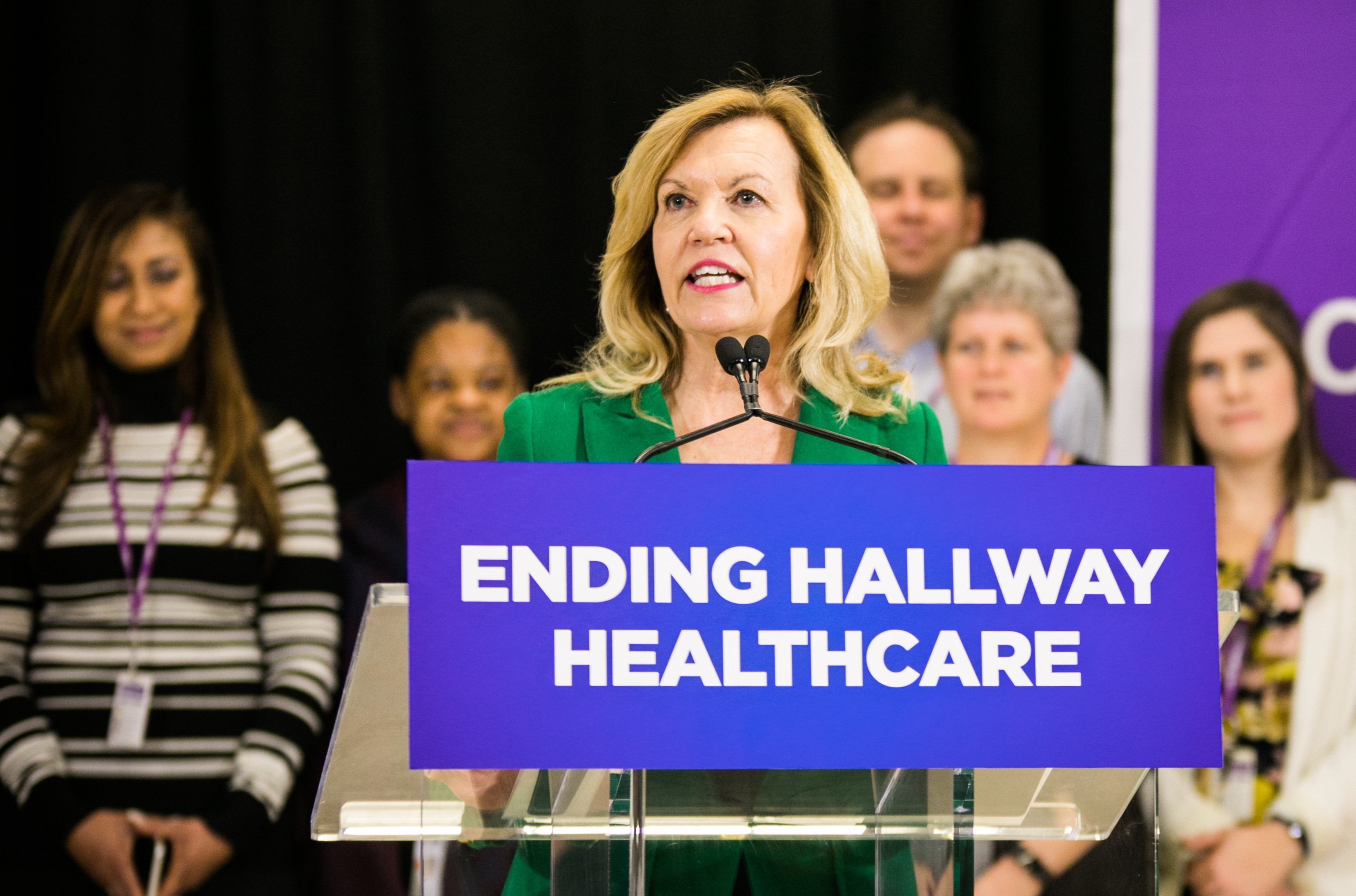 Health Minister Christine Elliott
Elliott said the cuts will make the units more mobile and, without being prompted to, addressed the need to keep keep them staffed. "That's what we're trying to do with public health, allowing it to be more responsive by having a smaller number of units, being able to mobilize in case there is a public health emergency," Elliott responded.
Elliott pointed to the support of Dr. Robert Cushman, former medical officer of health for the City of Ottawa, and his belief that "smaller health units have long had problems with recruiting staff. So we want to make sure that our health units are going to be appropriately staffed."
"We've been here before, under the last Conservative government, and the results aren't good," Singh responded, pointing out that the province is also planning to cut the number of public health labs.
"We know what happens when public health is not funded properly," she said, adding, "We should be investing in this system, not cutting it. Can the minister tell us if her government is planning to hand over the keys to our public health laboratories to for-profit companies?"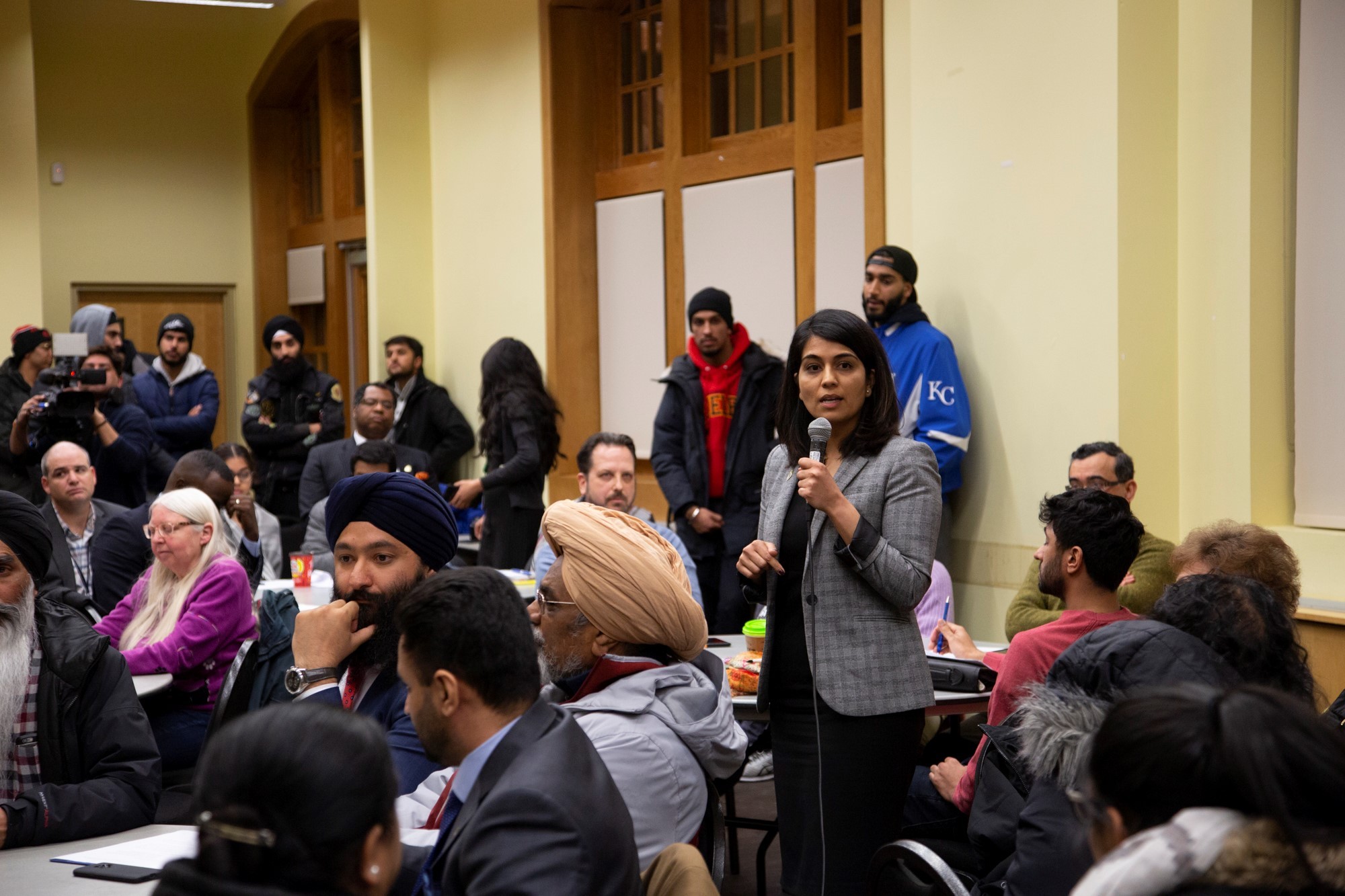 Brampton NDP MPP Sara Singh addresses residents at a Brampton healthcare town hall last month
Elliott did not answer Singh's question about privatizing labs directly, instead repeating her party's familiar refrain about the need to modernize. "Public health units and public health laboratories will continue to be well funded," Elliott replied. "There are situations in Ontario where we're having outbreaks of things like tuberculosis, measles, people not getting their children vaccinated. That is an important role that public health will continue to play."
The 35 local health units rely on the province for the bulk of their funding, typically 75 percent, with municipalities making up the remainder. Peel Region, however, has been getting only 63 percent of its funding from the province, meaning that the region shoulders a larger burden for funding it.
The latest provincial move to cut the spending harks back to the Mike Harris era of the '90s. The then-premier completely downloaded costs to the municipalities. In 2005, under the LIberals, the province mostly returned to the 75/25 funding split that had prevailed before the Harris cuts.
However, the restoration of funding was uneven, shortchanging fast-growing areas such as Peel. A 2013 review of public health units across Ontario showed Peel at the bottom of the pack with minuscule per capita spending of $29.83 per resident for public health. The cuts proposed in the provincial budget could mean that Brampton, Mississauga and Caledon lose even that, at least in terms of having a local unit dedicated to Peel.
"Ontarians deserve a government that protects our public health system, and invests in a not-for-profit, publicly funded and publicly delivered health care system," Singh said in a press release.
Email: [email protected]
Twitter: @mansoortanweer
Submit a correction about this story