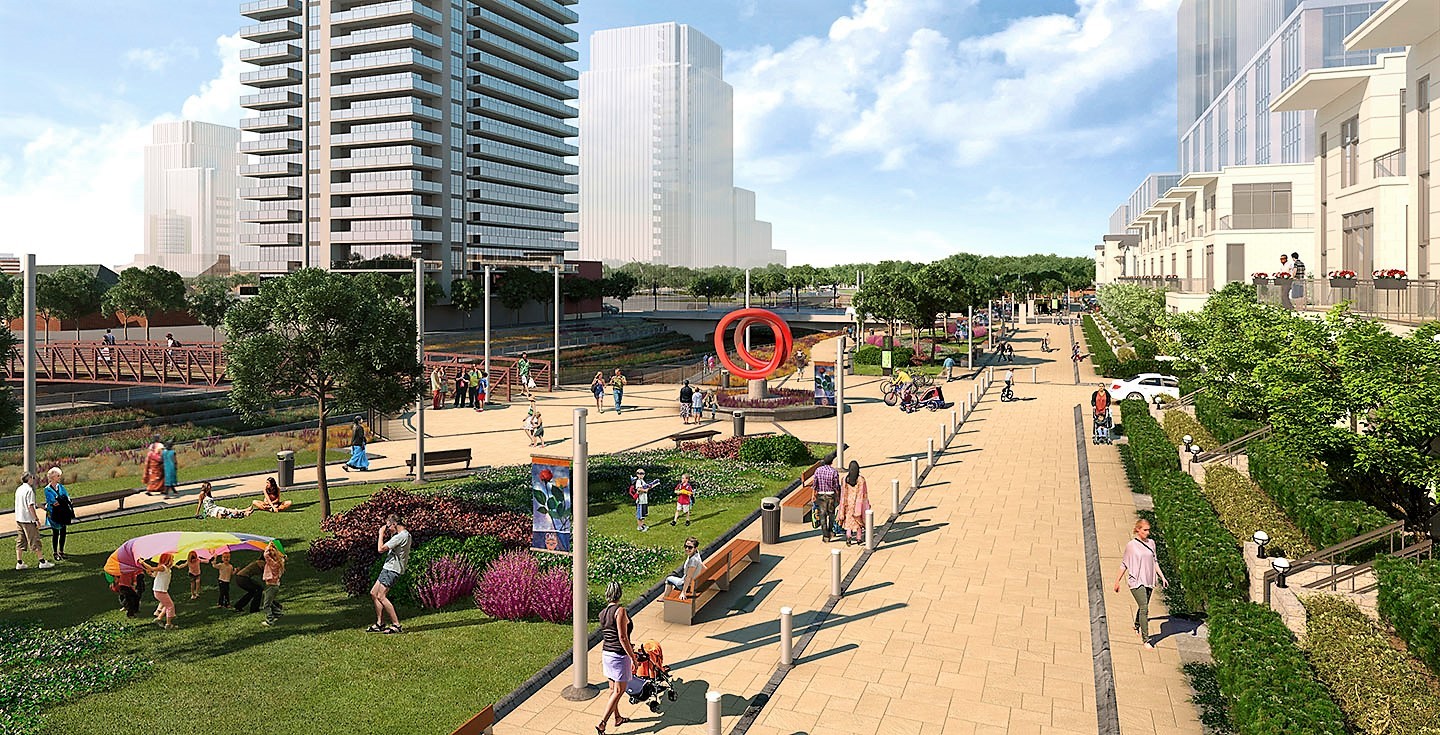 Renderings City of Brampton/Photo from Twitter
As climate change speeds up, federal funding flows into Brampton to help curb effects while Riverwalk plan pushes on
With the federal election around the corner, the Liberal government in Ottawa has started to loosen the purse strings. For Peel Region, that means a $22-million investment in curbing some local impacts that may be worsened by climate change.
On April 3, François-Philippe Champagne, Canada's minister of infrastructure and communities, was in Brampton sharing the details of the federal money being plowed into addressing erosion risks across the Toronto area.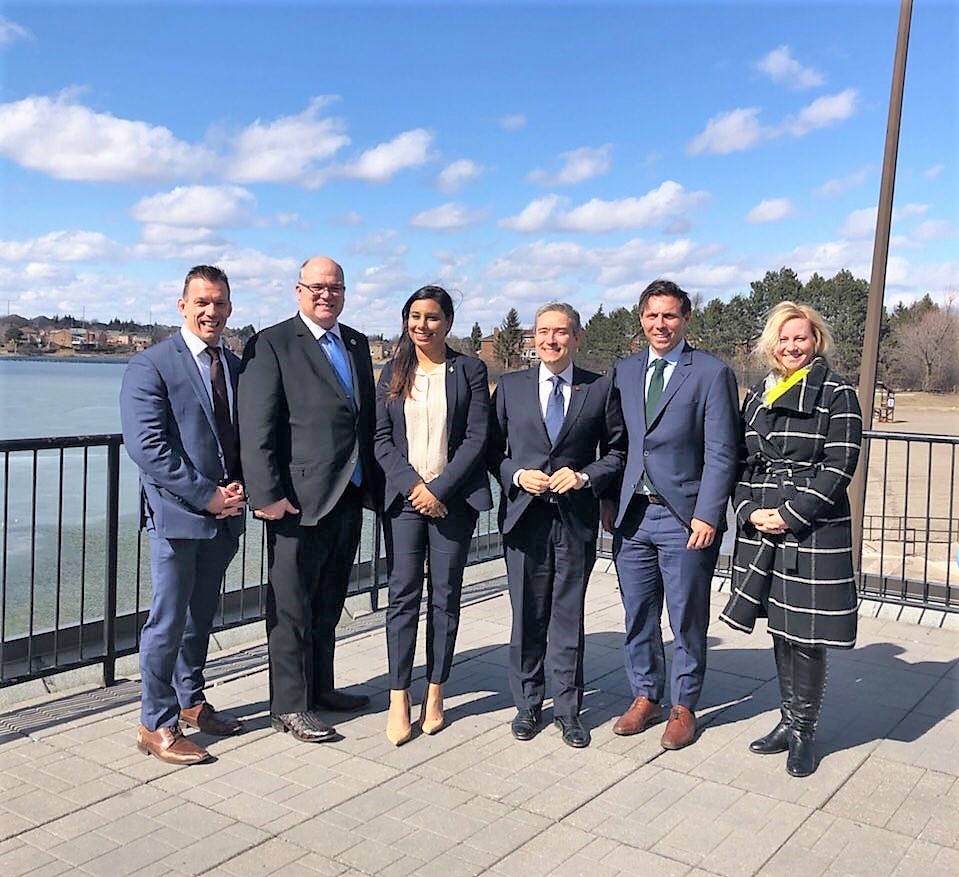 Federal Minister of Infrastructure François-Philippe Champagne (centre) is joined by Mayor Patrick Brown, Brampton MP Ruby Sahota (centre), Caledon Mayor Allan Thompson (second from left) and TRCA Chair Jennifer Innis
Along with the $22 million in federal funds, to be spent by the Toronto and Region Conservation Authority (TRCA) on a variety of projects, Peel Region will contribute $16.1 million to the effort; York Region, $5.1 million; and Toronto, $34.6 million.
The dollars will be used to address 111 projects within the TRCA's jurisdiction over the next 10 years, including work to mitigate erosion along public pathways in Brampton, such as the Don Doan Recreational Trail, and to fix other safety risks. The projects may not seem sexy, but they're crucial to mitigating the impact of a changing climate.
An updated report commissioned by Environment and Climate Change Canada made public on the 1st of the month, like a sour April Fool's joke, said new research shows that temperature rise in Canada is worse than previously thought.
According to Environment Canada, the country as a whole is warming at twice the rate of the rest of the world. Northern Canada is warming at three times the global average. Since 1948, according to the report, Canada's average land temperature has warmed by 1.7C, while data from the U.S. National Atmospheric and Oceanic Administration shows the global average has increased by 0.8C.
This follows an October 2018 report from the Intergovernmental Panel on Climate Change (IPCC) detailing that if greenhouse gas (GHG) emissions continue at the current rate, the world's climate could warm to 1.5C above pre-industrial levels by 2040. Previous studies and projections noted severe impacts from climate change would come when the climate had warmed 2C above pre-industrial levels. However, it's now become increasingly clear that many of those impacts (sea-level rise, drought, food scarcity) will be felt at the 1.5C level.
If there isn't a drastic change in policies around controlling greenhouse gas emissions in critical areas of industry, including development and land use policies, we may pass the point of no return, leading to the displacement of entire nations and a flood of environmental refugees that will cost the world economy trillions of dollars.
The government's erosion mitigation efforts also grow in significance when considering the report's projections for precipitation, which found the country is in for more rain and less snow in the future.
To deal with these increased levels of rainfall, particularly during severe weather events that see heavy amounts of rain falling in a short duration, municipalities need to ensure that low-level infrastructure is up to the task of handling all that water.
The impact of severe storms and flooding has been experienced repeatedly in the GTA in recent years. Lake Ontario reached record high water levels in 2017, causing widespread erosion damage in Oshawa, Durham Region and other coastal areas.
According to numbers from the Insurance Bureau of Canada, damage from natural disasters hit record levels in 2016, surpassing $4.9 billion and smashing the previous record of $3.2 billion, set in 2013. The economic costs of natural disasters have increased five-fold since the 1980s and are expected to continue rising as climate change increases the frequency and severity of storms.
The government says flood damage accounts for 80 percent of federal disaster assistance payments over the past 20 years.
"Taking measures to prevent erosion along the ravine system will help protect families and businesses in Toronto, Peel and York during severe storms and the spring thaw," Champagne states in a press release making the recent announcement.
The news was welcomed by Caledon Councillor Jennifer Innis, who also sits as chair of the TRCA board, noting the funds will help to ease the "severe impacts" erosion is having on local communities in Peel Region.
Brampton Mayor Patrick Brown was also present for the announcement, along with Brampton North MP Ruby Sahota and Caledon Mayor Allan Thompson.
"We appreciate the funding announced by the Government of Canada for erosion protection. We have a vast network of trails in Brampton that will benefit from this initiative," Brown said in a release. "Our staff at the City of Brampton will work in cooperation with the TRCA to keep our residents, trails, and commercial properties safe from natural disasters."
The recent news is a step up from a December 2018 announcement when Ottawa pledged a mere $2.3 million to eight TRCA projects. Both investments are part of the federal government's $2-billion Disaster Mitigation and Adaptation program, a 10-year effort designed to help communities build the proper infrastructure to prepare for the impacts of climate change. The DMAF forms a small part of the $180 billion Investing in Canada infrastructure program, which reports recently showed was behind schedule on delivering promised investments.
Any discussion of flood and erosion mitigation in Brampton inevitably circles back to the city's downtown Riverwalk project, which also received a $1.5-million bump from the federal government in December to help fund the ongoing environmental assessment process.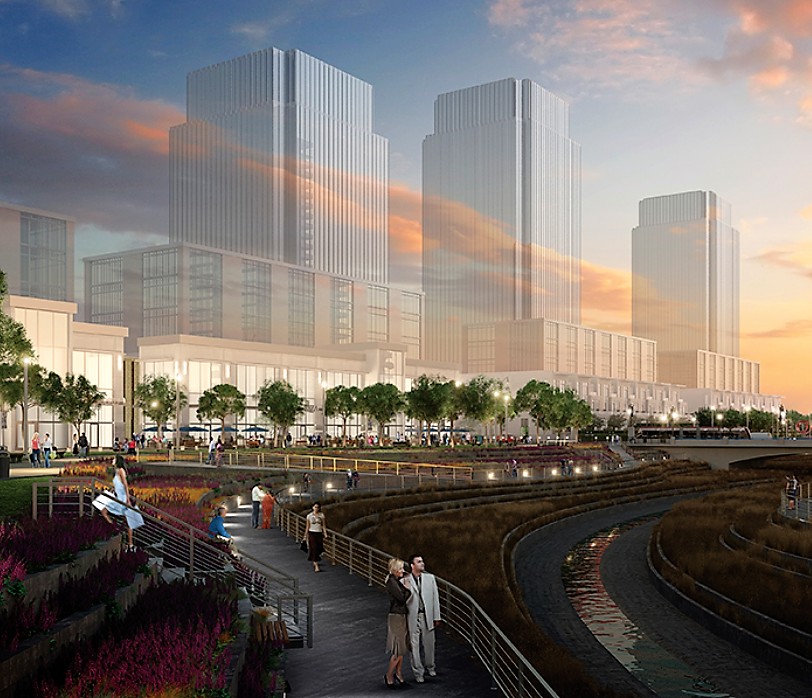 "Weather-related natural disasters are getting more severe, more frequent, more damaging and more expensive. This is a threat not only to the safety of our city, but to our economic stability," Sahota said in a release announcing the previous federal investment. "Through this funding, the Government of Canada is determined to reduce the impacts of flooding from the Etobicoke Creek and build a safer and more resilient Brampton."
The federal funds were the result of a successful application by the TRCA, which owns the concrete channel that diverts Etobicoke Creek away from downtown. The funding marks a significant step forward for a Brampton project that has seen stops and starts for the better part of a decade.
The EA is a critical step toward launching work on Riverwalk, which aims to turn the area surrounding Etobicoke Creek near downtown Brampton into a destination spot with walking paths, possible commercial features such as dining, condos and other amenities along the winding waterway, surrounded by an urban park. The work will also mitigate flooding risks in the downtown, a prerequisite to removing a special land-use designation imposed by the province that has prevented significant development in the city centre.

Brampton residents will have another chance to learn and provide input to the Riverwalk process at a second public information meeting to be held May 30, time and location still to be announced.
The Riverwalk EA is expected to cost $3 million, of which Ottawa will pay $1.5 million. Some $1.2 million is coming from the City of Brampton and $300,000 from Peel Region, which in turn is drawing from a multimillion-dollar federal investment in water and wastewater projects in the region announced in 2017.
Email: [email protected]
Twitter: @JoeljWittnebel
Submit a correction about this story