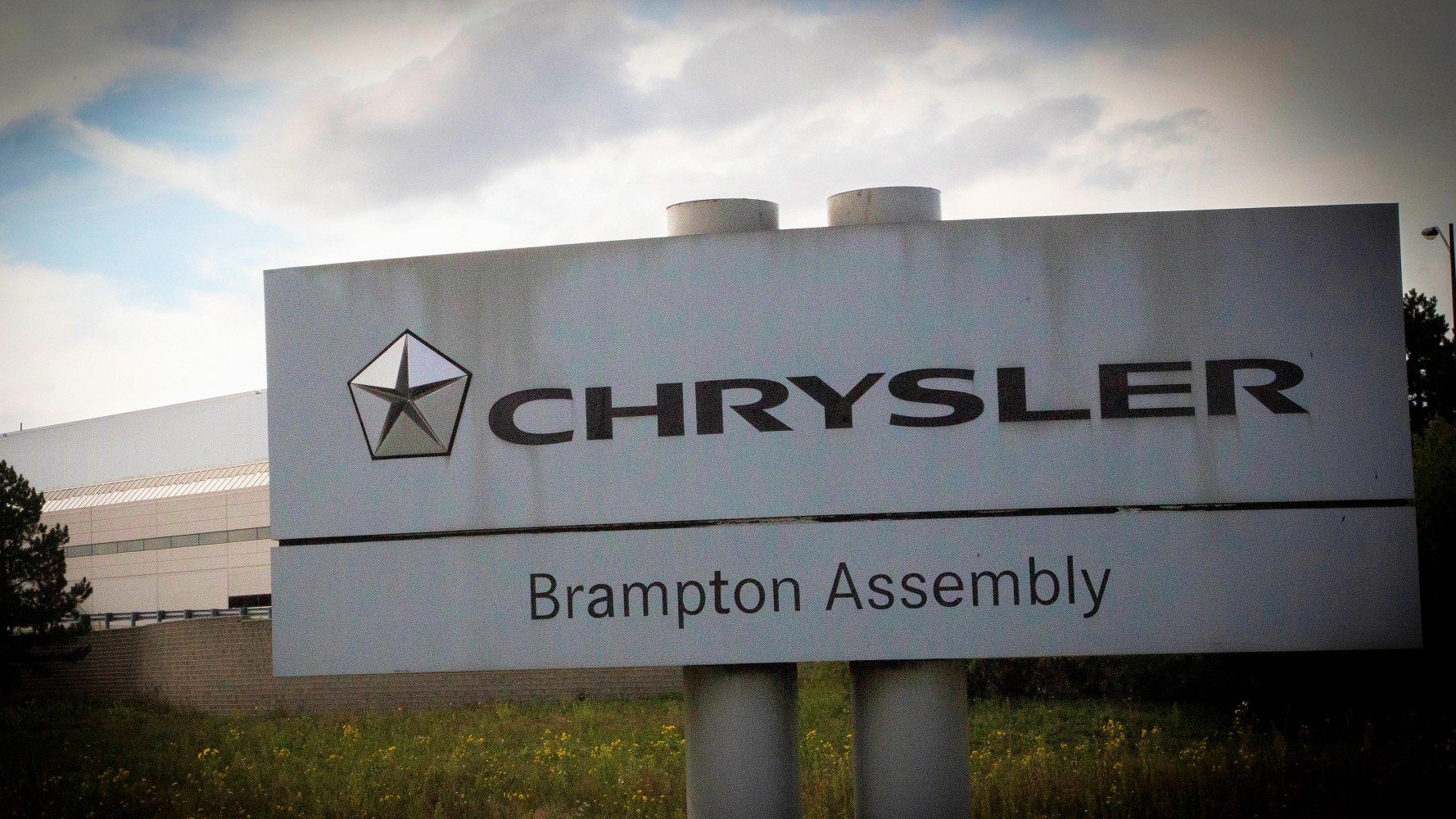 Photos By Mansoor Tanweer/Flickr
Updated: Will Fiat Chrysler's Windsor shift closure and temporary Brampton shut-down lead to more bad news?
The words "align production with demand" can mean one of two things: good news, or bad.
It was bad news that dropped late this week. Auto manufacturing giant Fiat Chrysler is eliminating a shift at its Windsor plant that produces the Pacifica minivan, whose U.S. sales dropped 32 percent when comparing numbers for February 2019 with February 2018, while Canadian sales dropped 55 percent in the first two months of this year compared to the first two months of 2018.
The loss of the shift, as sales of the Pacifica have gone in reverse recently, will mean the loss of 1,500 jobs in Windsor. Just ahead of that announcement came news that Brampton's assembly plant that produces the Dodge Charger and Challenger at the massive facility on Williams Parkway will be shut down temporarily in early April, to "align production with demand". Like Windsor, it's clear to many, the company's future here is in question.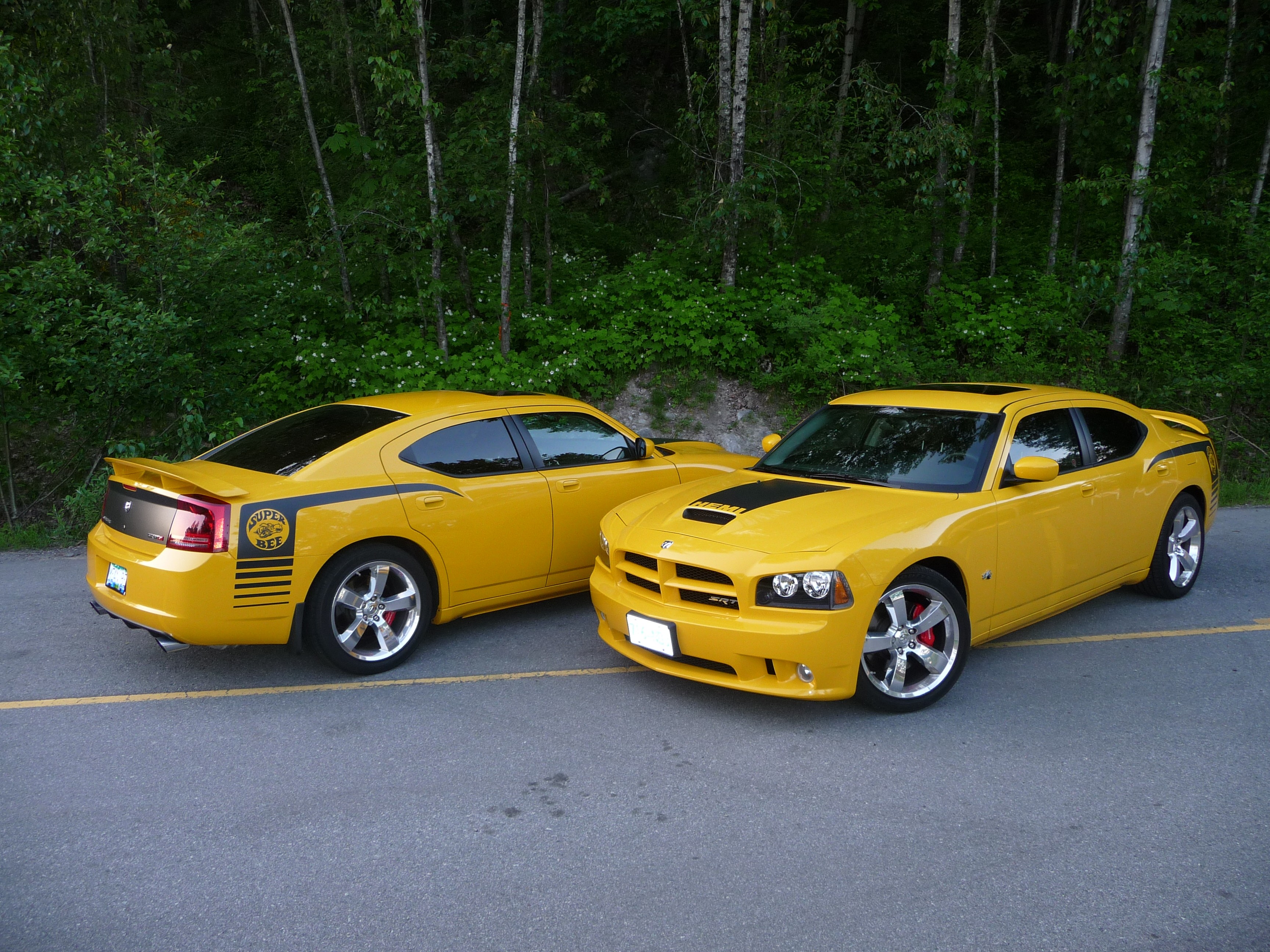 The Dodge Charger produced in Brampton
Sales of the Challenger in the U.S. dropped 40 percent in February, compared to the same month last year, as sedans continue to lose market share to vehicles such as SUVs and more environmentally friendly automobiles become increasingly popular with younger buyers. Sales of the Charger south of the border dropped 14 percent in February compared to the same month last year.
The overall sales figures for the Charger in the U.S. were down 33 percent in 2018, compared to 2007, the peak sales year, while Challenger sales, which have always been far lower than those of its more popular cousin, last year in the U.S. matched 2015 figures, which was the peak year.
FCA Canada said that Brampton will still maintain its two shifts, but the temporary closure of the assembly lines in early April is to make changes to the operation as sales trends continue to cause issues with how the facility is run. In total, about 4,000 staff work at the plant, making it one of the largest employers in Brampton.
The news about Windsor and Brampton comes shortly after auto-industry analysts warned that a recent $4.5 billion (U.S.) investment in Michigan by Fiat Chrysler, creating 6,500 new jobs in the Detroit area, including the first new assembly line in the area in over a generation, could spell trouble for the Brampton facility.
While labour markets in lower-cost countries continue to attract the industry, U.S.-based companies face mounting pressure to rebuild the country's hollowed out manufacturing sector. Both trends leave Canada out in the cold.
In Windsor, Mayor Drew Dilkens, has been warning the city that FCA could pull out completely, foreseeing this week's move to cut one of three shifts. Late last year he exhorted all of Windsor's stakeholders to prepare for a worst case scenario, publicly stating that the border city, across from Motor City U.S.A., needs to diversify its economy to align with the reality facing the auto industry.
The big question remains, is Brampton prepared to do the same?
---
A dark headline at the end of February, warning that a $4.5 billion (U.S.) investment by Fiat-Chrysler in Michigan is bad news for Brampton, wasn't surprising, as sales trends move away from the muscle cars produced here and the global auto supply chain continues its gravitation toward more favourable labour markets.
Any slowdown of the company's massive operation in Brampton would have a widespread ripple effect across the city. Leaders need to prepare for what might be an inevitable fate, if we want to avoid the sudden shock experienced last year in Oshawa, when families, workers and the local government were caught off-guard by GM's decision to shut down its operations there at the end of this year.
The writing was on the wall, with billions and billions being spent by the auto industry in countries such as Mexico, where advanced technologies are being implemented and a new skilled-worker class creates the vehicles of the future, while Canadian investment lags as we continue to produce outdated automobiles whose market share shrinks daily.
Brampton might want to heed the Windsor mayor's advice and begin preparing for a different future.
---
During the dangerous days of the Cold War, when the Soviet Union and the U.S. were locked in an expansive arms race and nuclear-tipped intercontinental missiles were aimed directly at each other, the threat to human existence was real and bone-chilling, and a defence system emerged in the west that was called an "early warning system."
It centred on the Dew Line, a necklace of radar stations that ran along the far northern region of Canada, and provided a trip wire for incoming Soviet bombers and missiles, and possible invasion. While the Dew Line offered some reassurance for a nervous populace, it was ultimately ineffective. But the concept of creating a system to allow for a measured response to a threat proved easily transferable to the business world.
Is an early warning system what's needed for stakeholders trying to save or enhance the business prospects at the 269-acre Fiat-Chrysler assembly plant on Williams Parkway? Or, if its future has already been sealed inside a closed British boardroom (Fiat Chrysler Automobiles is globally headquartered in London), what can Brampton do to ease the impact of a possible closure as the industry continues to invest in other countries while largely ignoring Canada?
After all, this is an anchor business that employs 4,000 in our city and sustains hundreds of other employees at parts suppliers connected to the Bramalea-based plant.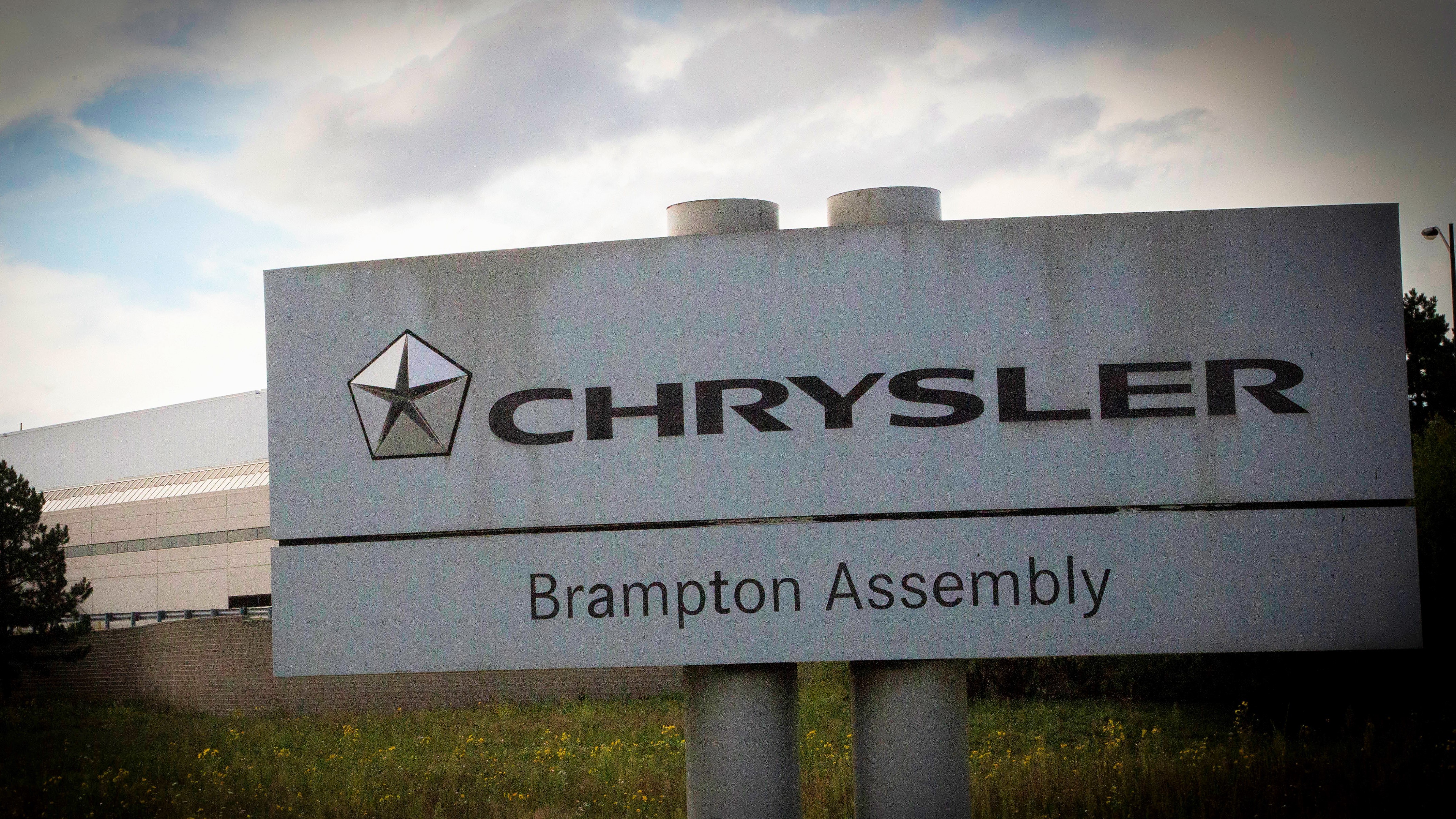 A Canadian Press story last month detailing the Michigan investment, included the headline: FCA's US$4.5-billion Michigan investment 'doesn't bode well for Brampton'.
---
Here's what we already know:
• Brampton's new mayor Patrick Brown stated in his inaugural address that all business interests would run through the city's now updated Economic Development Office. He promised a two-pronged attack to future growth: attracting investment, and retaining what was already here. To keep that election promise, he met recently with an executive leadership team from Fiat-Chrysler Automobiles' (FCA) headquarters in Windsor. They travelled to Brampton to attend the mayor's first state-of-the-city address last month. After his speech, he went to an anteroom and chatted with Lori Shaloub, vice-president, general counsel and secretary of external affairs, and two other members of the team. He talked to The Pointer on Tuesday and said he was happy with the meeting and "encouraged" by the company's positive response after investing $100 million in the Brampton plant's paint shop, a part of the 2016 labour negotiations between FCA and Unifor Local 1285. Brown said it was a tell-tale sign that the company is committed to this city. "They wouldn't do that if they were planning on leaving," he said. But is FCA really committed when the products it produces here aren't even a part of its five-year plan?
• Last month, FCA announced it was investing $4.5 billion in Michigan to build a new assembly plant in Detroit (a first for Motor City in over 30 years) and an upgrade of existing ones. The U.S. investment in Michigan is part of its capital spending plan presented in June of last year. It's unclear if Canada fits into those future plans. FCA's automobile strategy includes a new three-row Jeep Grand Cherokee, a midsize Ram pickup, several new or updated Alfa Romeos, a battery-electric Maserati sport coupe, and other products. The plan does not mention any of the three car lines built here: the Chrysler 300, the Dodge Charger and Challenger.
• In late November of last year, General Motors shocked the auto industry by announcing it was shuttering its plant in Oshawa this year, eliminating 2,500 jobs. The plant was a business icon that helped define the city. Generations of citizens worked there. The relationship between the business and the city lasted over 100 years. The GM logo was tattooed on the city's psyche. Despite the company's entrenchment in Oshawa and the economic reliance thousands there had on the global auto giant, the city was caught flatfooted by the announcement, and neither the union (Unifor) city, province or federal government offered up viable solutions to save the plant. The company said the decision to exit was buttressed by a shift to autonomous products – electric and self-driving cars, and SUVs and crossovers.
• A month ago, a new report called The Future of The Canadian Auto Industry report, issued by Canadian Centre for Policy Alternatives, offered more bad news for Brampton. It says maintaining the competitiveness of Canada's automotive sector in a rapidly changing industry requires decisive action and collaboration by provincial and federal governments, targeted investment and new policies designed for the new auto mobility. It says our automakers have to respond to consumer demand for electric and autonomous vehicles – products not produced in Brampton.
•The report's authors – Charlotte Yates, provost and vice-president Academic at the University of Guelph, and John Holmes, professor emeritus at Queen's University – are affiliated with the Automotive Policy Research Centre (APRC) whose work focuses on maintaining a competitive and sustainable industry. Both were interviewed by Canadian Press about their report, which drilled down to spit out some disquieting numbers. The CP story said the vehicle assembly sector averaged just $1.2 billion of investment a year between 2010 and 2017, down from $2.3 billion in the previous decade. But here's the most alarming figure out of the report – since 2004, greenfield investment (foreign direct investment by a parent company in another jurisdiction to build widescale operations there, including production, distribution and administrative offices, from the ground up) in Canada's vehicle assembly sector totaled $1 billion compared with $15 billion in Mexico. Investment is moving south, not north.
• The most cryptic comment in the CP story came from Joseph McCabe, the U.S.-based president and CEO of AutoForecast Solutions LLC. He predicted FCA would phase out the Chrysler 300 produced at Brampton by 2021, though the plant should still get the next generation Dodge Charger and Challenger muscle cars. He said: "We see that the Charger and Challenger remain the halo products in their car strategy, but they are literally the only thing left in Chrysler's car strategy in North America. There is a chance, though, that the company could cut the Chrysler car line-up, built on its LX rear-wheel drive platform, entirely. It's going to be literally an on and off approach. Either they stay in the car business and they need a place to put the LX and they'll keep it there. Or, they get out of the car business and then, all of a sudden, unfortunately, Brampton gets ramped up to the highest risk facility that Chrysler has in North America." McCabe should to be listened to. He predicted GM's Oshawa exit, years before the official announcement was made in late November.
• During its long 33-year history in Brampton, the plant has produced different makes and models of cars, including its current line of Chrysler 300, the Hellcat engineered Dodge Challenger and Charger. The worry is that FCA and Unifor are now on the clock, and the countdown is on to 2020 when new labour negotiations are scheduled to begin – or end.
• The consumers' love affair with these modern-day muscle cars appears over. FCA's Charger, for example, slipped 20 percent in sales across the U.S. between 2016 and 2018. Holmes says the Michigan announcement doesn't bode well for Brampton either, because the big challenge is not that the plant got a $325-million investment for its paint shop a few years ago (a relatively small investment that is nonetheless often trumpeted by those who have a vested interest in keeping the company here) but that the overall market is "real, real soft" for sedans.
---
The Brampton plant needs to serve a changing market
If you're a glass-half-empty type, these warning signs cross over the Dew Line. The Holmes-Yates-McCabe comments also lodge like a fishbone in the throat of Brampton boosters. Yates says the Brampton plant needs to build vehicles in growth sectors like trucks, SUVs, Jeeps, hybrids and electric.
FCA will invest $1.6 billion in Michigan to convert two plants that will produce the next generation Jeep Grand Cherokee as well as an all-new 3-row full-size Jeep SUV and plug-in hybrid models, adding 3,850 new jobs. The company starts construction of the new Detroit facility by the end of the second quarter of this year, with the first 3-row vehicles expected to roll off the line by the end of 2020, followed by the all-new Grand Cherokee in the first half of 2021.
Other news edging across the line says the auto industry is prepping for flatter growth in North America, and there's heightened concern that the Chinese economy is in peril and will mean a further dip in demand.
FCA Canada's head spokesperson, LouAnn Gosselin, said the company is still committed to the types of cars being produced in Brampton. And Unifor president Jerry Dias, a glass-half-full type, wholeheartedly agrees. In the days after the GM announcement, he said: The Brampton plant has been on two shifts for years. "It's steady, they have a loyal customer base, and they're not going anywhere." Dias wants to see a day when another vehicle complements the Charger and Challenger, and thinks FCA held off on spending all of the $325 million it committed to the paint shop (it has spent $100 million) until it figures out the next step for the plant.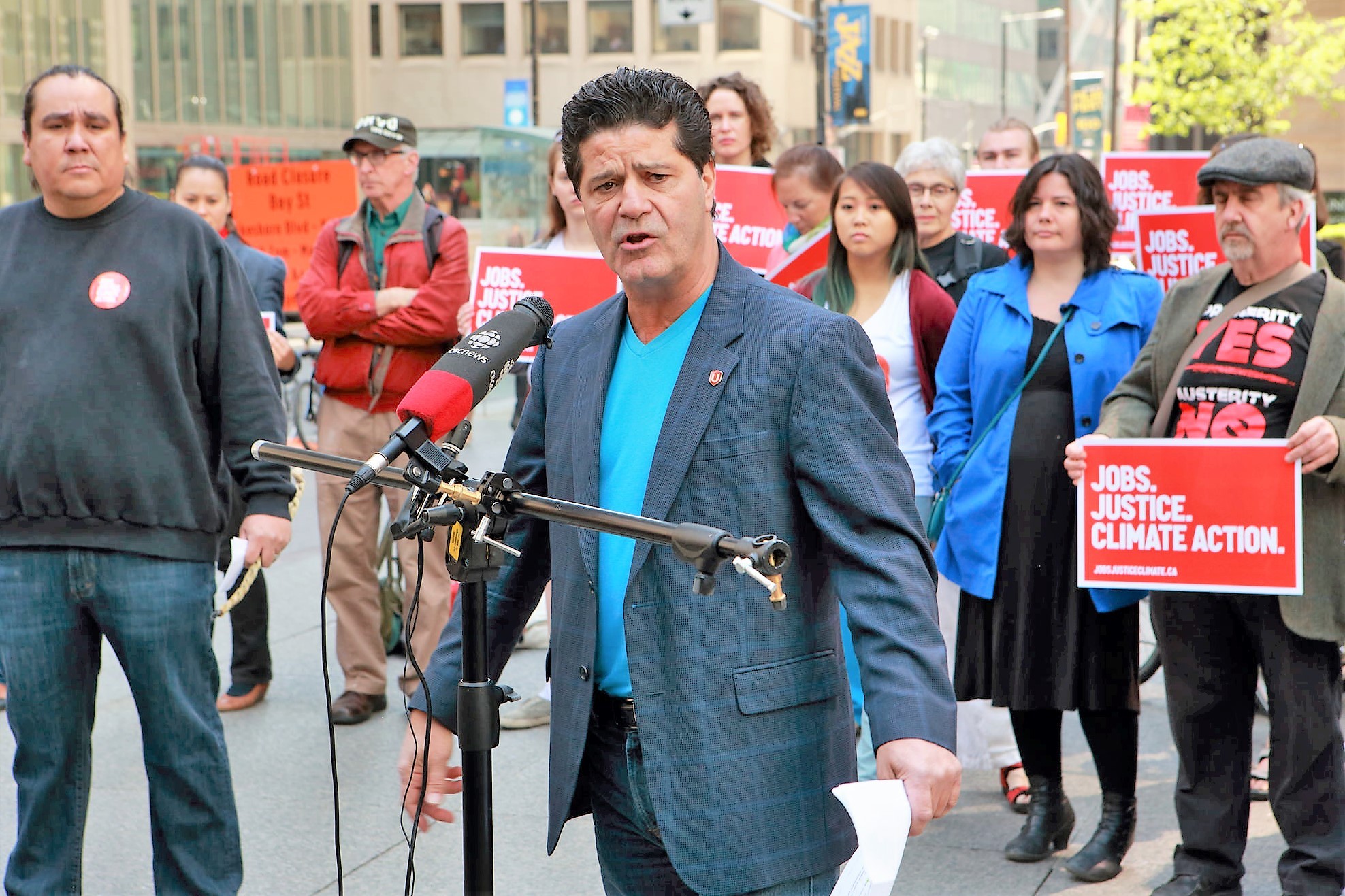 Unifor President Jerry Dias
Of course, there is another way to look at all of this, from the company's perspective, not that of the workers. We know what happened in Oshawa, when Unifor and Dias said much the same about that operation. Despite their best efforts after GM made its decision, and the eventual pleas from Premier Doug Ford and Prime Minister Justin Trudeau, and every politician in between, GM did exactly what it knew it was going to do after the bottom-line reality became clear to the company.
---
Political concern
More worrying signs spin out from the political arena. Last year, U.S. President Donald Trump vowed to re-do the North American Free Trade Agreement between Canada, the U.S. and Mexico, setting off an orgy of angst north of the border, especially in places like the floor of the Bramalea plant. NAFTA has been a boon to the auto industry in Ontario, directly leading to the employment of 127,000 with an annual payroll of about $8 billion. This seems to gall Trump, who wants to re-right what he calls outrageous trade imbalances. After originally imposing steel and aluminum tariffs last year, he fired another shot across the bow when he threatened to impose a 25 percent tariff on all cars manufactured in Canada. The 2018 NAFTA negotiations started, stopped, then started again, and the concern on the shop floor was palpable, said Jaspal Brar, president of Local 1285 in Brampton, when reached by The Pointer during the height of negotiations. A huge sigh of relief followed news that a deal called the United States Mexico Canada Agreement (USMCA) was finally completed last fall. But the pact has yet to be ratified by the House, and Trump is still being Trump – a disruptor always looking to elevate his self-styled image as the master of the art of the deal.
Another worry: the Ford government at Queen's Park and the Trudeau Liberals in Ottawa who seemed to turtle following the GM announcement. Dias said the sound of their silence was deafening, and the governments should have been more vocal and active in challenging companies like GM to commit to Canada, before things were too late, not after when reaction seemed like little more than a political gesture to save face.
Brown was a former Conservative backbencher from Barrie during the 2008-09 economic meltdown when the entire auto industry teetered on the brink of collapse. He watched as his leader, Stephen Harper, reluctantly used taxpayer money to help bail out Chrysler. A generation later, he is now mayor of a city with a major employer that is all-in as a supplier to cars that seem at odds with a changing consumer base.
Oshawa was caught flatfooted by the GM announcement, and Brown told The Pointer he wants to be more pro-active in building relationships with companies like FCA. He's eager to learn what the city can do to be a productive partner. He has yet to meet, however, with any of the men and women from Unifor 1285.
The plant has had a tumultuous 33-year history in Brampton. In July 2007, Chrysler Group announced an investment of US$1.2 billion to upgrade the Chrysler 300 series, Dodge Magnum, and Dodge Charger. Then came the financial meltdown, the company's stunning 2009 bankruptcy, and a shut-down that impacted thousands of employees and suppliers. The Fiat-Chrysler merger changed everything, but couldn't stem another massive shift in demand.
In 2010, something fundamentally changed and Canadians bought more than 850,000 larger vehicles (trucks and SUVs) compared to just over 700,000 cars (compacts and sedans). In data on new sales from automotive consultant Dennis DesRosiers, it was the first time the car's primacy was challenged and overtaken. Each year since, the gap has widened. Last year, Canadians bought two larger vehicles for every car sold.
Fiat Chrysler Automobiles killed off car models like the Dodge Dart and Chrysler 200 in 2016, and switched production lines to make SUVs and trucks. Ford announced it would stop making all kinds of cars by 2022, except the famed Mustang. It would focus on light trucks, vans and sport utility vehicles.
Canadian car sales accounted for 29.7 per cent of new vehicle sales in 2018, down 7.2 per cent from a year earlier. In 2017, around two-thirds of vehicles sold in the U.S. and Canada were either SUVs or pickups. The former accounted for roughly half of all sales.
DesRosiers Automotive Consultants Inc. told CP last month that passenger car sales continued a pronounced decline with a 13.7 per cent year-over-year drop. GM recorded a 14.8 per cent decline last year before it pulled the plug on Oshawa. It also chopped its workforce by 15 per cent and is shuttering five other plants in the U.S.. It is in the midst of a shift from sedans to crossovers, pickup trucks and SUVs. There's also a move to electric and autonomous vehicles.
The company is no stranger to reconstruction. In 2009 it, like Chrysler, filed for bankruptcy and was bailed out by US and Canadian taxpayers.
Other outdated makes now heading the way of the Edsel include the Chevrolet Volt, Cruze, Impala, Cadillac CT6, Cadillac XTS and Buick LaCrosse.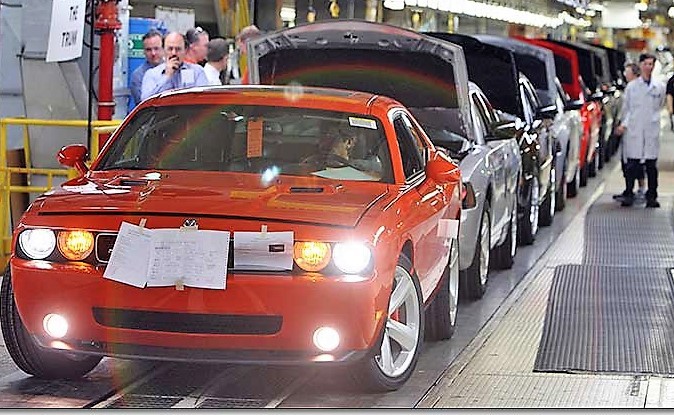 The Dodge Challenger SRT-8 rolling off an assembly line a decade ago
Mark Phelan, an auto columnist with The Detroit Free Press, wrote last year that the outlook for the Chrysler 300, Charger and Challenger and the Ontario plant that builds them (Brampton) is not bright. FCA executives have long been unhappy with the plant's quality and efficiency, he said. The Brampton facility is home to second and even third-generation auto workers, and like many plants, now faces the greatest challenge of all: how to keep relevant in an ever-changing market that's geared to consumers with a taste for the kinds of vehicles not produced here.
---
Manufacturing sector struggles in Brampton
The warning lights for manufacturers began flashing last year when Maple Leaf Foods, a long-time food processor and business stalwart, announced it will be closing and moving to London, Ontario in 2022, taking 324 unionized jobs with it. Dixie Cup recently closed after 69 years, killing 133 jobs. The post-war manufacturing boom that reached its zenith in the late 1970s and 80s, thinned considerably in the following decades due to the vagaries of the markets. Major industry losses here included American Motors, Nortel Networks, Caterpillar, Benson & Hedges, and some of the ancillary businesses that fed off the large ones. Parts suppliers like Android Industries LLC, located on Precidio Court, is just one of many that produce products (chassis modules, and a patented process for tire and wheel assembly) that go to the Williams Parkway FCA plant.
---
Some positive signs
Canada's low dollar, political stability, and well-trained workforce, are major pluses for keeping an auto plant here. The Brampton facility produces niche products that serve a loyal clientele. It is also buoyed by fleet sales. Many of the Dodge Chargers are used by police forces across North America, although some are currently shifting to SUVs. Meanwhile, Ford has discontinued much of its sedan production, including the Taurus, another car favoured by cops.
When FCA discontinued the Chrysler 200 and Dodge Dart in 2016, it expanded its SUVs and trucks under the Jeep and Ram names, as well as its high-end Italian brands. Also that year, labour negotiations resulted in $1 billion being pumped into retooling its Windsor plant so it could build minivans.
As the Detroit Free Press noted, the Brampton facility is home to second and even third-generation auto workers, and like many plants, has suffered through major layoffs, lost shifts (2001, '05, '08) and a bankruptcy-bailout in '08-09. The link between a plant and its suppliers led to a shut-down in production in May of 2018 when (Lear) went on strike.
The Future of The Canadian Auto Industry report says the Oshawa announcement sent shivers through the Ontario marketplace, and it's a reminder to Brampton employers it's not business as usual. New policies must be designed for the changing sector, including positioning Canada as a leader in responding to the consumer demand for electric and autonomous vehicles.
It's not a foregone conclusion that plants will close, says Yates, but the odds of that happening increases exponentially when products are out of step with consumer demand.
Brown is well aware of the trends and might be on to something when he says academia has to help students learn the kind of skills that make them valuable to employers like FCA. The auto report says new technology needs new skill sets – engineers, computer scientists, design specialists, media communications and data analysts.
This opens up opportunities for programs like the Advanced Manufacturing school at Sheridan College's William Davis campus in the city.
---
Diversity on Canada's side
American politics will even play a part, says the report. Canada is well placed to reap the benefits of recruiting highly skilled immigrants. Its celebration of diversity and a culture of inclusion has become a competitive advantage to some companies in the aftermath of the election of Trump. It also points to a generational re-alignment. The people buying today's vehicles are way different from their parents or their grandparents. Generation Y consumers (born during the 1980s and 1990s) and millennials born afterward "are less loyal, more skeptical, and more demanding than buyers from previous generations, and their focus on new technology, social connectivity, and nontraditional are changing the way expectations are part of the driving force behind increased vehicle connectivity, making our vehicles entertainment and business hubs," according to the recent auto-sector report.
---
It remains uncertain if more radical shifts in consumer patterns away from individually owned automobiles – with enhanced transit options, the rapid expansion of ride and auto-sharing and more dense urban design – will occur as quickly as some futurists predict. The report says the North American markets for vehicles are showing signs of shrinking, and these trends could accelerate this decline.
Although factors such as the cost and quality of labour, logistics, trade barriers and government financial incentives shape Canada's ability to attract automotive investment, the GM announcement has reminded the industry that these actions are not enough. What kind of industrial policy can maintain competitiveness without pushing a country to a low-labour-cost option? No wonder many of the new plants and investment is heading to Mexico.
FCA has invested nearly $14.5 billion in its American manufacturing operations and has created 30,000 new jobs since 2009. The Brampton plant received a light dusting of those dollars for its partial re-do, but more dramatic action is needed, says the report.
Among its recommendations: a green industrial policy to respond to consumer demand for electric and autonomous vehicles; and Ottawa and Queen's Park fostering deep collaboration across multiple levels of government while reducing bureaucratic obstacles and jurisdictional squabbles.
It's clear Canada's auto industry was left on the sidelines in the latest major spending commitment by FCA. Was the company under intense political pressure from the Trump regime to invest its money in Motor City?
Dias said last year that he's been assured the Windsor and Brampton plants will survive into the future, but he didn't get a pledge that new products such as a Jeep vehicle would be produced in either factory.
Brown was a sponge during his get together with the auto execs from FCA last month and wanted to know the company's greatest challenges moving forward. Human resources, they told him, without hesitation. They need to find good workers who fill specific skills.
Brown promised to match them with the city's academic partners, which right now, in terms of relevant alignment, consists of the state-of-the-art Centre for Advanced Manufacturing at Sheridan College.
He says that during his time as leader of the PC party of Ontario, he was determined to see young people get trained for the jobs of tomorrow. He wants to fix a mismatch between academic institutions and companies so they produce graduates who fit the labour requirements. "[HR] is a field in which we, as a city, can be a leader," he says.
Brown is not naïve about the macro issues facing the auto industry, and says jobs "are very fragile." Keeping them in Brampton is a major priority of city council, he says.
Brampton can ill-afford to lose the tax revenues and the wages produced from one of its business anchors. He hopes his election promise to create 115,000 new jobs over the next decade includes a few more at an expanding plant on Williams Parkway.
That's the half-full response. The half-empty reality is what happened in Oshawa. Does an "early warning system" have to be put in place in Brampton to prevent that from happening in the future?
Holmes says it's possible, if plants like the one in Brampton "future-proof" themselves in ways that will keep them competitive.
Of course, another alternative is to ditch the city's decades-long reliance on manufacturing altogether, as many sectors fade into the past and we make way for the coming future, a world driven by technological, not industrial innovation.
Perhaps the city's newly enhanced economic development office under its new mayor might see a possible shutdown of Fiat-Chrysler well in advance, and prepare for a whole new world of opportunities.
Submit a correction about this story