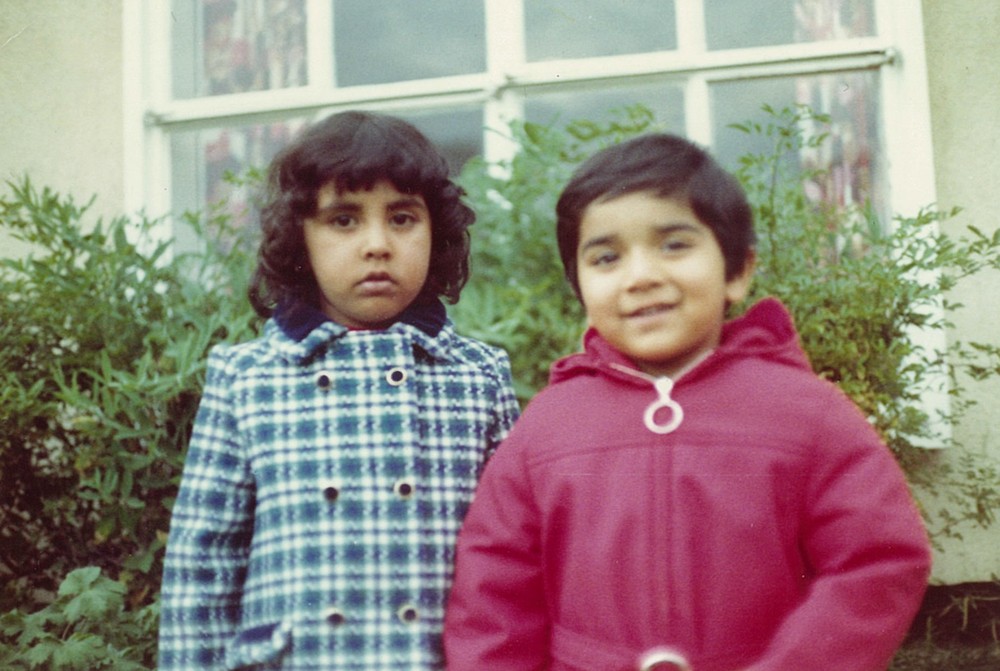 Photos by Ridwan Adhami/Nawaz family
Zarqa Nawaz on growing up in Brampton and the importance of sharing our stories
There's an old allegory about a young prairie girl who hates the monotony of her day-to-day existence and decides, in a moment of clarity or desperation, to run away from home. She runs and runs for three days straight before stopping to look back. And there – so close to escape she can almost reach out and touch it – is her house.
It's a metaphor for the flatness of the prairies, but on a deeper level, it's an interpretation about our complex connection to home and place. We can try running away from it, but it's always there – over our shoulder, and locked into our consciousness. Some might say, our soul. Even for those who spend their entire lives running away from their past, its grasp on one's identity, and the way it defines us, only grows stronger the more it's denied.
While some people want to airbrush their upbringing, or try discarding it altogether, others embrace it, and turn it into art: Rohinton Mistry; Tanya Mullings; Russell Peters; Scott Thompson.
Add Zarqa Nawaz to that list.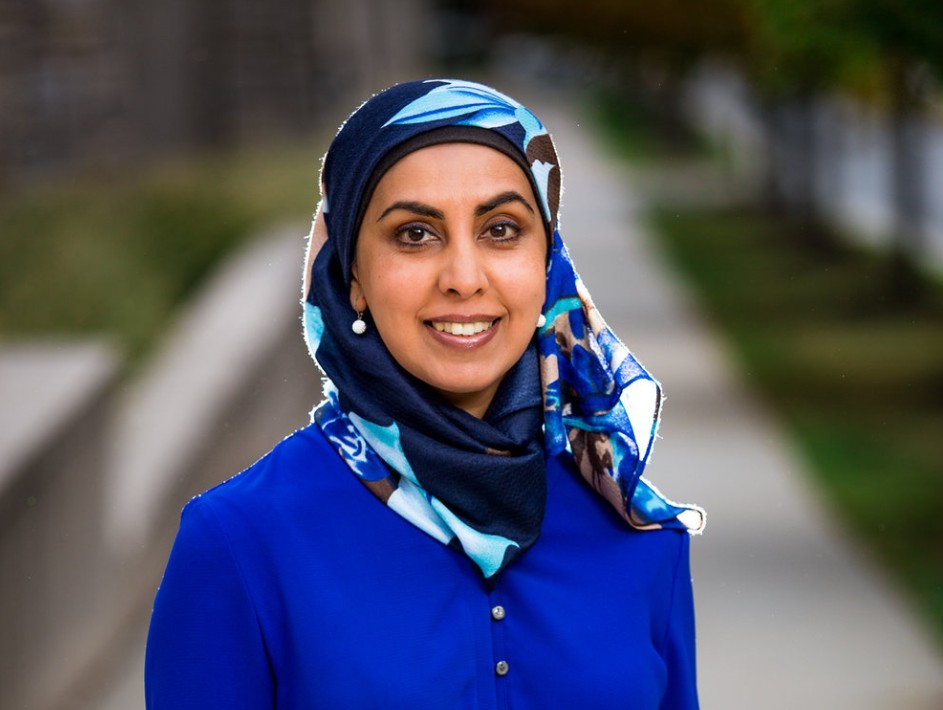 She uses her writing skills and humour to speak about universal truths – the kind that smooth over the rough patches that divide cultures. And people. Her goal is to break down stereotypes, and open up deep veins of comedic gold. She is not only an award-winning screenwriter, journalist/broadcaster, and documentarian, but author of a memoir, Laughing All the Way to the Mosque.
On Friday, March 22, the City of Brampton and the Festival of Literary Diversity (FOLD) present 'An Evening With Zarqa Nawaz', a celebration of her work. It includes storytelling and an intimate conversation hosted by Jael Richardson, artistic director of FOLD. It ends with Nawaz being officially inducted into the Brampton Arts Walk of Fame.
The Pointer spoke with her last week over the phone from her home in Regina.
The 51-year-old mother of four is best known as creator of CBC's hit TV show, Little Mosque on the Prairie, the planet's first sitcom about a small Muslim community living out their daily lives in the prairies. The show, which confronted behaviour and attitudes on both sides of the complex post-multicultural divide, is centred on a small mosque in a converted church in a make-believe town called Mercy, Saskatchewan. It was an instant hit, and ran for six seasons, ending in 2012.
It hatched as an idea in Nawaz's mind not long after 9/11 created global confusion about Islam and many who practised the centuries-old faith, even within many Muslim communities.
In places like Brampton, where a constant collision of cultures still sends parts and people scattering across cityscapes, as some try to reassemble the pieces into a new shape while others pick up their broken bits and run away, Nawaz represents the rare hope for a beautiful future: someone who understands and embraces each side of the divide. But most importantly, she possesses that rarest of talents, the artist who can bring people together.
Little Mosque on the Prairie has been broadcast in over 60 countries and has won numerous awards, including a Gemini. It's a reflection, and a confrontation, of the plural society we now live in, and if it wasn't for Little Mosque, there likely wouldn't be a Kim's Convenience, the current hit series on CBC.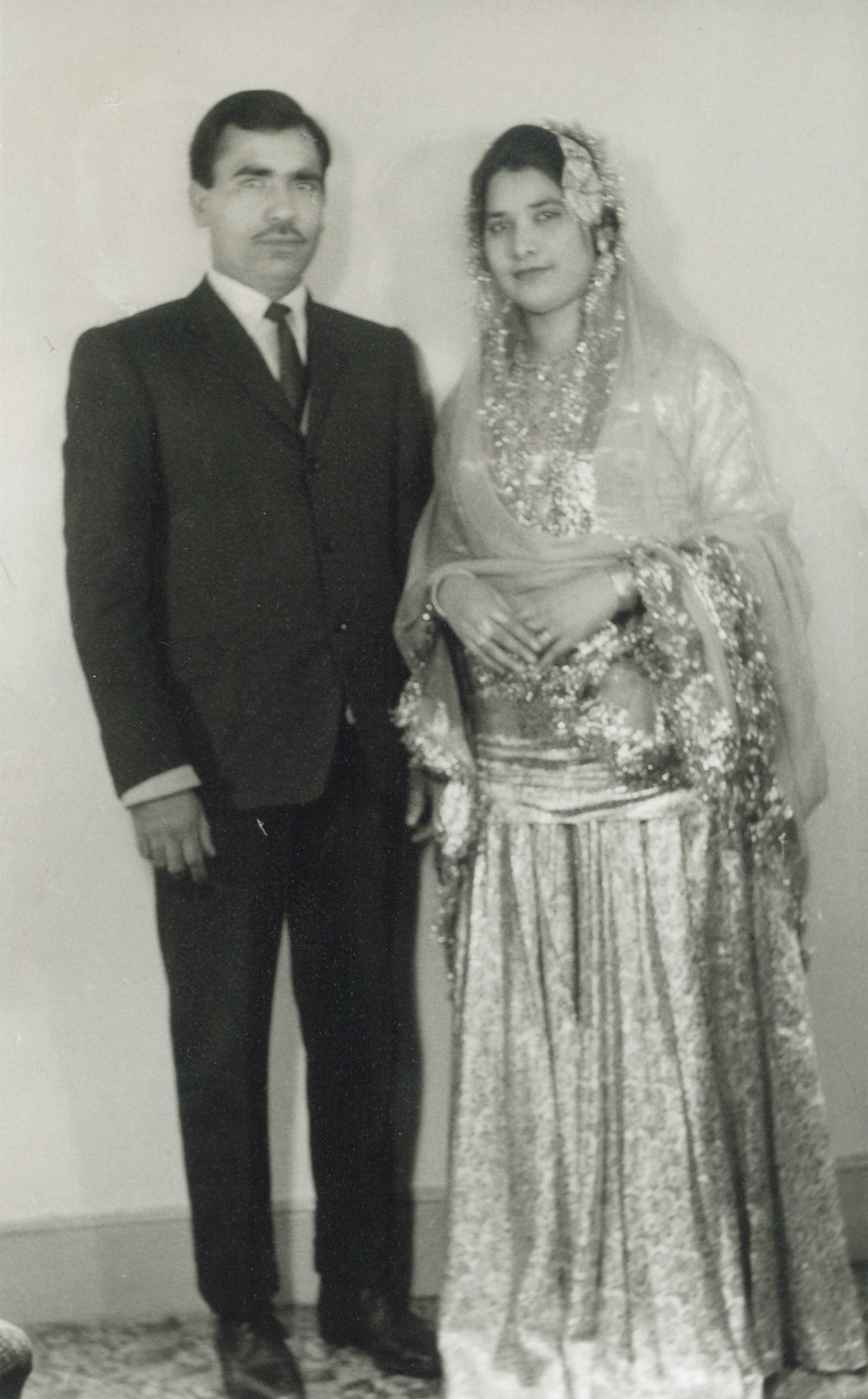 Nawaz's Parents, Ali and Parveen
Nawaz was born in Liverpool, England to Pakistani parents and immigrated with them to Canada at age five. They eventually settled on a street in the Bramalea area of Brampton in the late 1970s, and during her formative years in the late 70s and 80s she attended Fallingdale Elementary and Chinguacousy Secondary. She was "the only brown girl in [her] class." At Ching, she was the first student to wear the hijab.
The demographic makeup of the city today – 73.3 percent visible minorities, and almost 275,000 (44 percent) South Asians – was oh so different back then: homogeneous, mostly white, and Christian.
Her best-selling memoir, Laughing All the Way to the Mosque, talks about growing up as a Canadian of Muslim faith. Brampton is named early on in the book, and its reflective influence reverberates throughout the early chapters. One is called 'Recess' and in it she talks about the seemingly unbridgeable divide between her and her Grade 3 classmates.
She wrote: "I wanted to be like Kathleen, with her long, shiny blond hair, light, airy summer dresses and lunches that smelled like vanilla. Her hair, her clothes, her sandwich. I envied all three."
There were things she couldn't change – being brown and Pakistani. But there was one she could: her lunches. The other girls ate peanut butter and jam sandwiches; Nawaz's mother Parveen wrapped up chicken drumsticks seasoned with masala in aluminum foil. Those oily chicken legs were a cultural divider; she thought it kept her sulking by the brick wall while the others laughed and skipped rope at recess. She told her mother about it when she came home: "No one wants to play with me because of my lunch."
Her mother bought a loaf of white bread, and peanut butter and jelly. The assimilation began. But she was still exiled at recess. Her mother marched her straight back to school – much to the mortification of her daughter. She asked Kathleen if her daughter could skip rope with her and the other girls. Despite her daughter's protests, her mother's ploy worked. Sure, she can, said Kathleen, and handed the rope to her classmate. The chapter closes with a comedic flourish. Although her lunch had helped close the cultural gap, Nawaz really missed her curried drumsticks. They eventually found their way back into her lunch.
It's a funny story. But the complexity shouldn't be lost on readers. It's not only food that can represent how powerless we are against the force of culture. Centuries-long traditions have a way of absorbing into our bones. The clothes we wear, the music we dance to and the food we eat, become a part of us. But, as difficult as it is to escape the grip of the past, it's just as easy to sink your teeth into a peanut butter and strawberry-jam sandwich (on Wonder Bread) or glide across frozen water on a pair of skates, and think you're in heaven.
The 241-page book is full of tantalizing tidbits, and each chapter is broken into segments, like TV scripts. Here are just a few of the chapters: Hairy Legs, Hijab, Muslim Summer Camp, How to Name a Muslim Baby, Little Mosque in the City, Jinn – A Muslim Thing, and Dying, Muslim-Style. She channels her best Nora Ephron and writes the following in her introduction: "Dear Muslim reader, don't think I've forgotten you. First, stop sulking. This book could have had confessions about drug problems, strange sexual fetishes and criminal activity – basically the stuff of white-people memoirs. Although I enjoy reading them, I know you don't. There are no confessions of having sex while swinging from a chandelier…"
Much of her cultural dexterity was shaped by the dynamic, chaotic, rapidly growing city where her formative years were spent. Like many awkward youths trying to find their way in life, Brampton is an adolescent city, that can be as intimidating and unrelenting as a pack of mean girls, and as welcoming as a group of similarly confused classmates trying to make sense of a world transforming before them at the speed of light. For Brampton, and its residents, it can be hard to find a footing when the ground is always moving.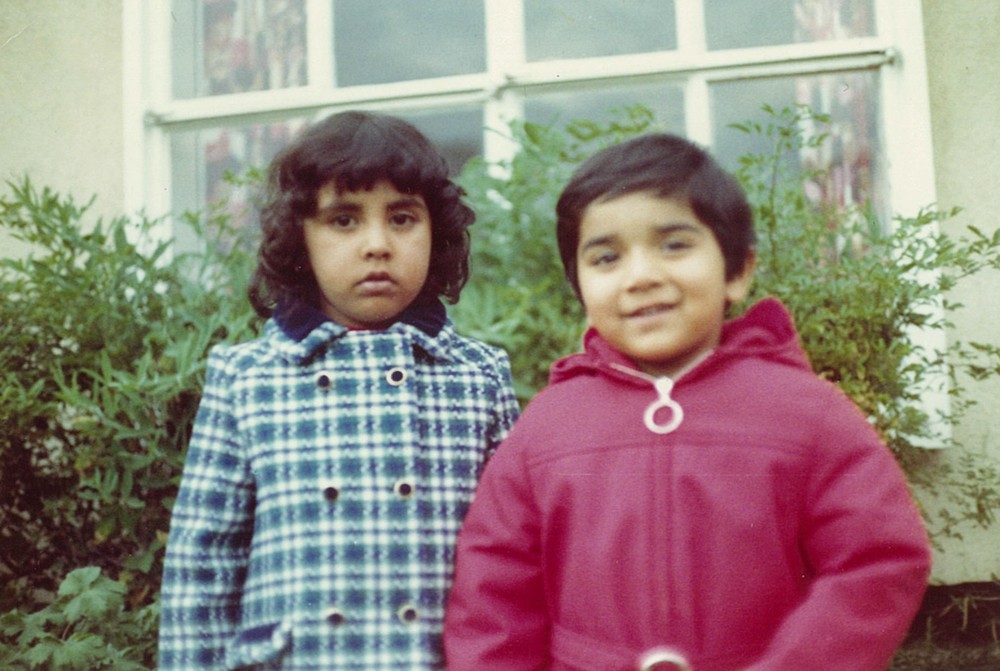 Nawaz with one of her brothers, Muzammal
In the '70s the city's small Muslim community, which is now hugely diverse and features dozens of mosques, created a small place of worship in a dusty room inside the downtown library. It was similar to the story told in Episode 1 of the Little Mosque series. Later, Nawaz and her family would travel to Toronto to a much larger mosque, and it became a go-to place where her family could practice its faith.
But in Brampton, the schoolyard taunters were everywhere to bully and intimidate her and her two brothers. The family learned to "roll with it," although it wasn't easy – and the images and emotions from those early years have stuck, often recreated and disarmed artistically.
The immigrant experience is a top-down one, with the often traumatic, huge sacrifice of leaving 'home' looming above all else, and it too leaves a lasting legacy. Like many parents, her mother and father (Ali) wanted the best for their children. That meant a top-flight education. This would provide them with good jobs, a solid future, and eliminate the deprivation many had felt themselves when growing up in the old country. Nawaz felt the pressure to excel, to be top of her class, and that meant that one day she would be what her father wanted her to be: a doctor. She studied non-stop. She stressed out. She attended summer school – not to pass, but to upgrade her marks. She enrolled in the University of Toronto (Erindale Campus in Mississauga) and studied chemistry, calculus, and all the other sciences required for medical school. It was hard. She went to Islamic camps and conferences. She won her BSC degree. But her marks weren't quite up to snuff to get her into med school. "There was no Plan B," she says.
When she looks back at that period in her life she hardly recognizes herself. It was all a cycle of work and worry. "To think at that time that one day I'd write comedy, or see myself as a creative person, didn't register," she says.
But a connecting principle was also mysteriously at work. Some call it fate. She found out that Ryerson University was still accepting applications to its highly competitive Journalism School. The competition just to get in was fierce. Most of the students applying had already written articles and worked for publications. But Nawaz convinced the man conducting the interview that a science degree gave her a leg-up on the competition. She could write about science and medical issues – she would bring something unique to the newsroom.
She was accepted and it changed her life. It turned her into something she never thought she was: a storyteller. "I was a deeply creative person and I didn't know it."
Journalism? Broadcasting? TV and radio? Film making? Writing novels or screenplays? "I thought they were the forbidden careers. Arts was too amorphous for anyone looking for security – there was no real [career] trajectory."
But there was. She won a journalism competition and scored a one-year internship on CBC's Morningside beside its iconic host, Peter Gzowski. She got pregnant during her time there and asked for a posting in Saskatchewan to be with her new husband, Sami Haque. She got work on a radio show produced in a studio atop a general store in a small town of 2,700 called La Ronge, on the shores of Lac La Ronge, located 250 km north of Prince Albert. She was now deep in the cold, boreal forest of Canada's west. Another cultural shock – even more profound than Brampton.
South Saskatchewan was white, rural, and flat – all tractors, grain elevators and hockey crazy. Saskatchewan north was white, rural, cold and hockey crazy.
She and her new family eventually settled in Regina where her career blossomed. In 1995, she joined CBC radio's 'The Morning Edition'. Then, due to job cuts at the CBC, it wasn't.
It forced her to shift priorities and began a 25-year career as a freelancer. That worked best because her family was growing, and would top-out at four children.
She started making short comedy films and one grabbed the attention of the National Film Board. They asked her to make another one about patriarchy in the mosque. Me and the Mosque was completed in 2005. That same year, she attended the Banff World Media Festival and pitched an idea she'd been fiddling with about a little mosque on the prairie. Some people from the comedy department at the CBC listened intently. The rest was a four-act play: the CBC green-lit the show; WestWind Pictures would bring it to life; seven writers were hired to work with her; and it aired two years later.
In year 1, Episode 1, the plot revolves around a small Muslim community in the prairies finally getting its own mosque. Problem is: it's located in a church! Reverend Magee issues them space as part of the deal made by the scheming Yasir – who is suddenly very unpopular with his parishioners. The mosque's new Imam, Amaar Rashid, arrives from the big city (Toronto) to save the day. But charm and good looks and progressive ways can't convince the locals that Muslims aren't just a bunch of terrorists. A handshake deal between the new Imam and Rev. Magee ensures that Mercy's Muslims are in for the long haul – and so is the series.
Episode 2 continues the assault on popular beliefs. Baber, Mercy Mosque's conservative voice, decides a barrier must be erected to separate the men and women during prayer. Protests convince the community's more liberal faction that they will prevail. A battle of the sexes ensues and a compromise ensures that no one will be happy. Meanwhile, one of the characters continues his long-standing and rather futile campaign to have his daughter Layla wear the hijab. Subsequent segments include Islamic dating tips, and purchasing a cemetery that will face Mecca, but also stares at a garish country music honky tonk.
No topic seemed out of bounds. Scripts tapped into the complexities of the human experience in small town Canada (writ large in a safe space to represent the entire country) – and all played for the comedic elements.
Her book outlines the incredible buzz she felt once the show was televised to millions of homes across the country. It wasn't an excitement driven by its immediate success, however. The most conservative voices in the Muslim community expressed their outrage. "I had no idea people would be so enraged," she writes in her memoir. Had she misread her own community? Was she naïve when creating the show? She thought Muslims would be thrilled with a depiction that didn't feature the stereotypical religious fanatics and anti-western zealots, or worse, the Hollywood-style gun-toting terrorists. Maybe the storyline was too raw, and the characterizations too flippant, or real? Maybe her story about a young Toronto lawyer chucking it all to become the Imam in Nowheresville, Saskatchewan, was too much of an overreach?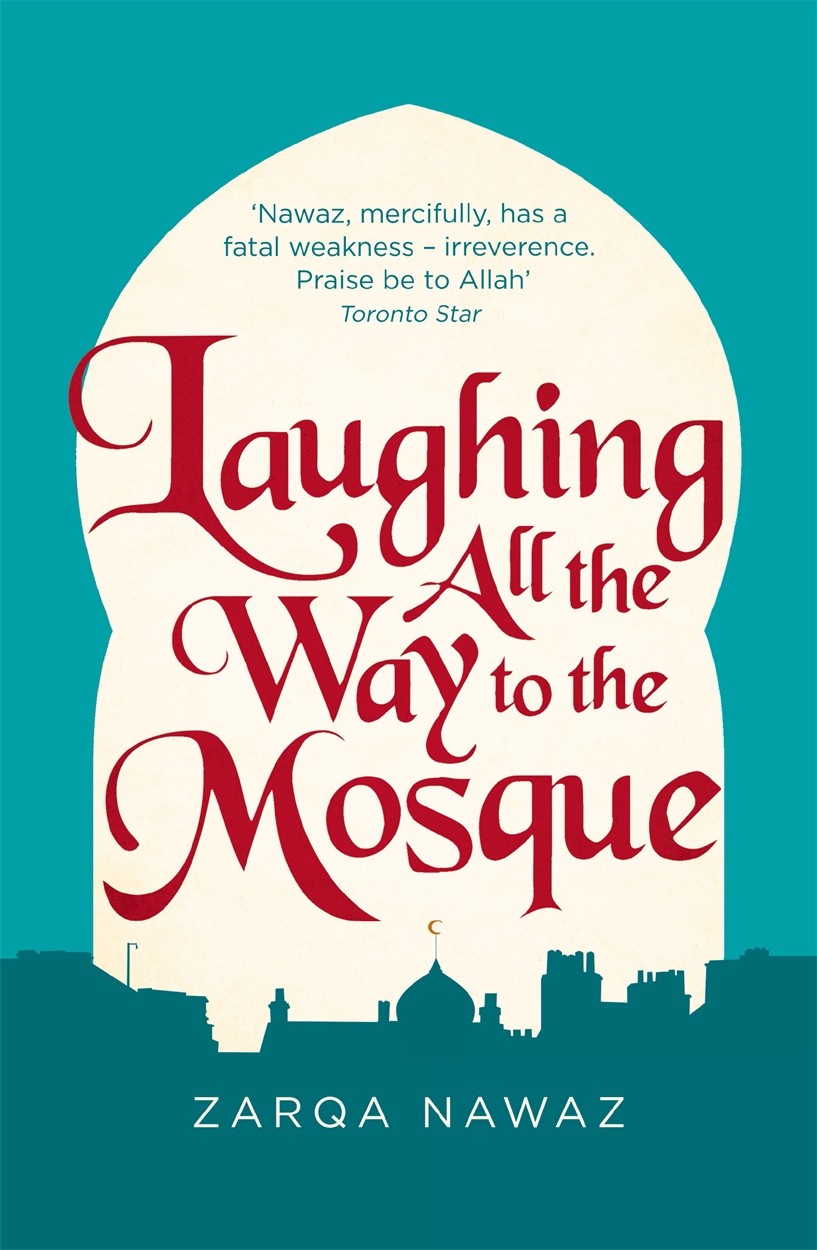 She watched the first episode with her parents. Her mother was knitting a sweater. They both liked the colourful hijabs. When a reporter called her, she braced for bad news. He told her the ratings had gone through the roof: 2.1 million. CBC hadn't seen such numbers since Anne of Green Gables. Any comments?
Incidents on the shows – pinching a man's butt, talk about menstruation, kissing in public – outraged those from the religion's right wing. The Islamic Association of Saskatchewan was presented with a petition to have Nawaz removed from her own mosque. She remembers feeling broken, discouraged and despondent.
Again, she was treated like an outcast. But her husband and family were so supportive. It took her time to understand the outrage wasn't widespread, and the show's six-year run proved it had real staying power. Add CTV's Corner Gas to the mix, and these two shows set in Saskatchewan, brought widespread acclaim to the province. Little Mosque, in particular, opened up a lot of Canadians to a reality long lived by those in the prairies: that some of the most complex and widespread features of multiculturalism, pluralism and immigration-related cultural experimentation happen outside Toronto, Montreal and Vancouver. And Brampton.
The stories about the creative process that produced this seminal TV show will no doubt be part of her chat Friday night. She might explain how she balanced raising four young children with crisscrossing the country – Regina to Toronto and back – to help produce each episode during the show's six-year run.
She was stuck with two choices, both bad: work all week in Toronto and fly home on the weekends, or let the show run its course without her input. Her husband picked up the home duties that allowed her to see her creation through to the end.
Nawaz is a frequent public speaker on Islam, comedy, gender, faith, multiculturalism and plurality – important subjects in light of the horrific domestic terrorism that continues to shake our collective spirit and led to dozens of deaths in two mosques in New Zealand this week. It may be 2019, but the discourse seems to be going backward, with the likes of Donald Trump using division for political goals.
She doesn't deserve the pressure, nor the expectation, but people like Nawaz, simply by stepping out and telling stories in the open, where we all collide, represent the best antidote for hate.
She recently left her position as host of CBC News Saskatchewan to continue work on a proposed next book, Rise and Fall of DICK (Dominion of Islamic Caliphate and Kingdoms). It's about a hapless woman who joins a terrorist group and becomes the first westerner they try to get rid of. It's very much a work in progress.
In a Q & A conducted with bookseller McNally Robinson after the release of her memoir, Nawaz was lauded for having "straddled two cultures". "She's just as likely to be agonizing over which sparkly earrings will 'pimp out' her hijab as to be flirting with the Walmart meat manager in a futile attempt to secure halal chicken the day before Eid."
On Friday, she joins an eclectic list of Walk of Fame members that includes other comedic talents like Russell Peters, Scott Thompson (The Kids in the Hall), and the late Alan Thicke. Each, in their own way, was impacted by their Brampton roots.
It's impossible to measure how much of Brampton has seeped into the plotlines or characterizations in Little Mosque, but it's clear and present in her memoir. Both the show and the book will be discussed on Friday.
Finding universal truths within your faith and upbringing has driven the creative process in men and women since they began putting pen to paper. Projecting that inner self to millions of viewers via television, is an audacious conceit. It often doesn't work. But when it does, the results are striking. Little Mosque still has relevance today, and likely will for decades to come.
Nawaz was comfortable creating a fictionalized version of her life in that show. When it came to writing a first-person account in her memoir, she was a little more uncomfortable. She took her concerns to her husband who said the best comedy is spawned from our day-to-day lives.
She says she is quite "touched" that her adopted hometown of Brampton has chosen to honour her for its Arts Walk of Fame. She looks forward to returning to a city that has changed dramatically since she left. Her brownness does not make her an outlier anymore.
Her parents, who are now in their 70s and live in Oakville, are certainly proud of her accomplishments – even if she doesn't get that Dr. designation before her name. Some of her friends from school will be there to see her being honoured. She hopes to engage with Brampton's new demographic mosaic, one of the most cosmopolitan in the world.
She also reports the same kind of wave of immigration that changed Brampton, has transformed her new home, Regina. Her four children – Maysa, 25, Inaya, 22, Rashad, 20, Zayn, 18, are now products of the prairies. There's a universality at work here that has changed the Canadian landscape.
She says it doesn't matter where a person lives, it's all about belonging. This is the reason why she writes stories, and hopes people of all cultures read them.
The danger, she says, is to demonize those who look or practice a faith that is different from you. The president of the United States wants to build walls and ban Muslims. A white terrorist in New Zealand, with extreme anti-immigrant and Islamophobic views, entered Muslim houses of worship and slaughtered dozens inside.
It seems, while the speed and reach of technology elevates the platforms for the hateful, as if the world has never been more ready to fight this hatred, to find the human truths within us all.
Nawaz's writing confronts hatred and tries putting a human, often humorous, face on people of her faith.
She wants to be the first to bring a Muslim-American sitcom to the airwaves. It might be a bit more edgy and cynical than Little Mosque, but the hope is that its kernels of reality and goodness – and most importantly, humour – will help tamp down the growing divide among many of different backgrounds.
Submit a correction about this story