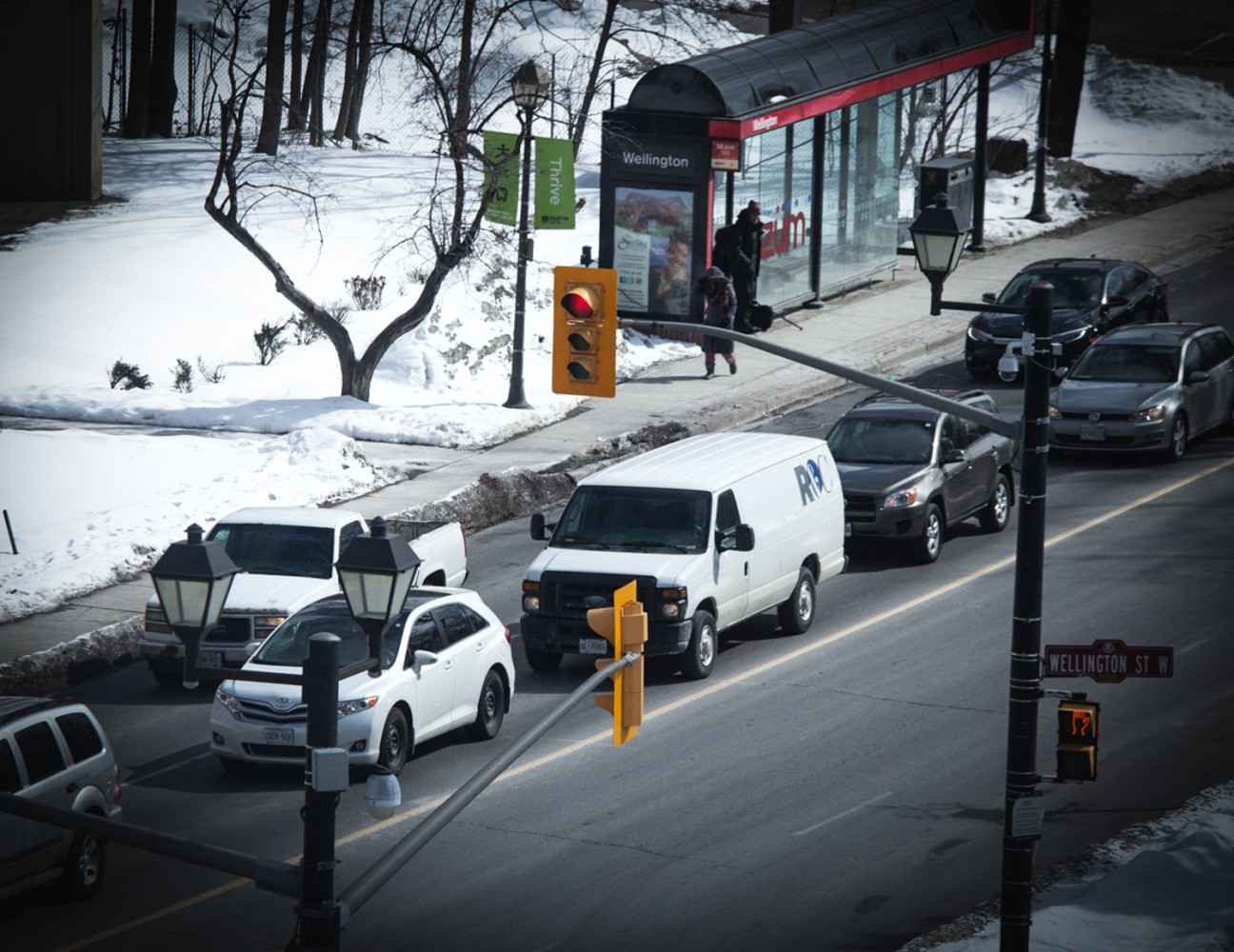 Photos by Mansoor Tanweer/Graphics from City of Brampton
Keep taxes down, or fix the roads? It's a tough choice for Brampton and other cities
Hard numbers from Brampton's 2019 draft budget point to a $246 million infrastructure backlog—money needed to pay for repairs and upgrades to roads, bridges, transit, buildings and more of the city's basic furnishings that isn't available right now. That's a bit of an improvement over last year's figure, which stood at $340 million. But with promises to keep the property tax increase as close to zero as possible this year, that figure is bound to grow some more. In fact, the backlog is projected to rise as high as $743 million by 2027.
Patrick Brown, who was elected mayor in October on a promise not to raise taxes, pushed for that in the draft budget, which currently proposes a below-inflation hike of only 0.8 percent, including special levies for infrastructure and transit. Brown has said that's a step in the right direction but he would "love to get it down to zero."
Brampton's scenario highlights a concern that municipalities big and small across Ontario are facing: a call from taxpayers to rein in tax increases, while city infrastructure grows another year older and a lot more in need of repair and replacement. The property tax base just isn't sufficient to meet the increasing demands on cities, while downloading over the past two decades—and parsimonious infrastructure funding from the province and the federal government—have made it impossible to keep up without infuriating homeowners forced to pay bigger and bigger tax bills each year.
Mayor Patrick Brown
Toronto, in its budget for 2019, plans to increase property taxes by 3.58 percent. Mayor John Tory pushed for just 2.55 percent in basic taxes, an increase below the rate of inflation, while the rest includes a continuing levy to fund housing and transit. Tory has faced criticism for not taking property taxes far enough. Councillor Mike Layton referred to the budget, and its constituent parts, as dangerously "unbalanced," saying, "We are talking about a deep budget hole. … We have never before seen just such a big hole and assumptions that another government is going to come and balance the books for us." Municipalities are not legally permitted to run deficits.
Tory has repeatedly defended his position on keeping taxes low. In a news conference he said, "The vast majority of people agree with me that the solution is not going to come by asking property tax payers to take on the whole burden of addressing some of these issues."
He continued: "Property taxes were never meant to address every social problem and substitute for the responsibility that should be taken by these other [federal and provincial] governments in some of these priority areas.
"You're never going to have all the money you need. It's one of those things where, just like every household and every business, there [is] a long list of things you want to do and would like to do."
Although Brampton's infrastructure is mostly relatively young, even compared with Toronto's, there are dire needs that are going unaddressed. In December, city council voted to cancel the Downtown Reimagined project, an initiative to upgrade the water utility network and revitalize the downtown streetscape, to give staff time to reassess its cost, which because of several big unknowns was beginning to balloon. Residents saw the decision as one more example of Brampton's infrastructure needs being ignored and put off.
Over the past year, the city has put $100 million towards tackling its infrastructure backlog, but it has a long way to go as more items get added to the list. A major source of help might come through Ottawa.
The federal Liberals, in their 2016 budget, promised $60 billion in new funding towards infrastructure projects across Canada, with $11.9 billion to be dispensed in the first five years for projects across the country in public transit, social infrastructure and green energy.
Ann-Clara Vaillancourt, a spokesperson for the Prime Minister's Office, said that over 2,000 projects have been funded in Ontario during the Justin Trudeau government's first three years in office. "Our programs work. They helped to fund projects like the $12.5-million investment in the Sandalwood Facility maintenance facility expansion and the $6 million federal investment in 20 buses in Brampton." That money was part of a grant of just under $32.5 million announced two years ago for six transit projects in the city, including expanding the bus maintenance garage, adding an automated monitoring system, new buses and new bus shelters, and opening of the Zum Airport Road rapid transit corridor.
Sonia Sidhu, MP for Brampton South, echoed Vaillancourt's words when she hinted that the provincial government under Doug Ford is putting up barriers to new funding for infrastructure, which is often split between three levels of government. "Minister [of Infrastructure and Communities François-Philippe] Champagne and I, along with our colleagues, MPs Ruby Sahota, Kamal Khera and Ramesh Sangha, have been encouraging the Ford government to open project intakes so towns and cities across the province can submit their priorities to them and so we can move projects forward together," Sidhu said in an emailed statement to The Pointer, referring to an $11.9 billion bilateral agreement with Ontario to co-fund infrastructure.
Sonia Sidhu, MP for Brampton South
"Now we're hearing from unions, trade associations, and contractors worried that they won't have work for the 2019 construction season. We are doing our part to make sure that is not the case and hope the Ford government will, too."
The Pointer has not been able to independently verify Sidhu's statements. According to an interactive map created by the federal government to inform the public about where the new funding is going, 28 city and regional projects are underway in Brampton with cash provided by Ottawa. Highlights include acquiring the 20 buses mentioned by Vaillancourt as well as three high-capacity articulated vehicles.
City spokesperson Natalie Stogdill verified that Ottawa's $32.461,000 contribution funded the six key transit projects, including the Sandalwood facility maintenance expansion.
"For federal and provincial programs, the city has been approved in principle to receive up to $10.7 million toward stormwater-related projects (50% federal share, 25% provincial share and 25% city share). As and when projects are complete, the City will invoice and receive funding."
When it comes to federal and provincial funding, it's often the squeaky wheel that gets the grease. Brown has, in the past, urged the city to be prepared with shovel-ready projects—even if they're relatively small—to jump on funding opportunities as soon they're offered. It's not clear what new applications the City of Brampton has in the pipeline for infrastructure funding.
Email: [email protected]
Twitter: @mansoortanweer
Submit a correction about this story