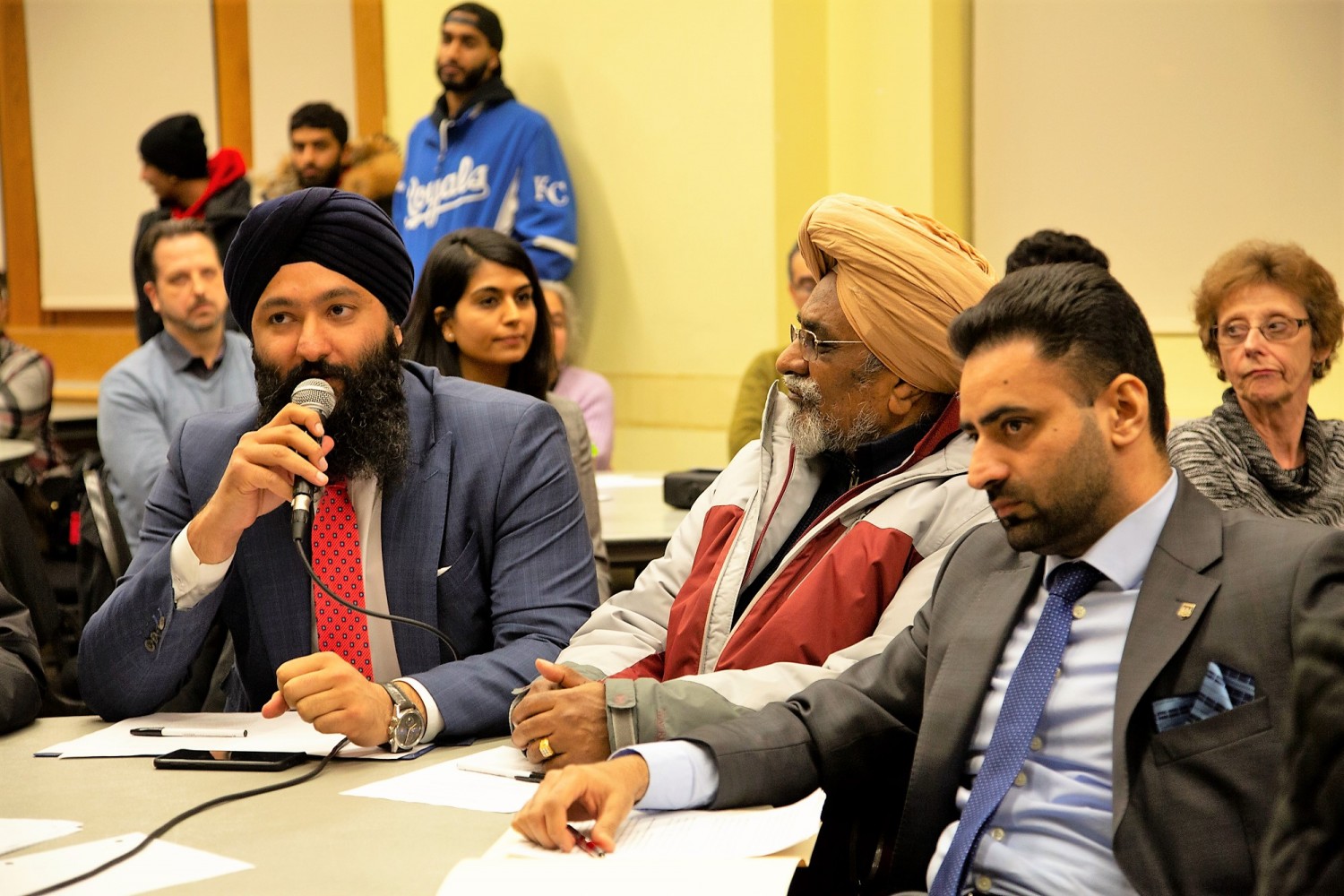 Photos by Mansoor Tanweer
PC MPPs get a grilling after late arrival at town hall on Brampton's healthcare crisis
Arriving 45 minutes late for a Tuesday evening town-hall gathering on the subject of "hallway healthcare," Brampton's two PC MPPs were met with a barrage of questions and angry confrontations from constituents complaining about the province's lack of movement on the dire situation, as families grow increasingly fearful that lives are being put at risk because of the ongoing crisis in the city.
The event's organizers, a group of concerned citizens, were forced to start without Prabmeet Sarkaria (Brampton South) and Amarjot Sandhu (Brampton West), prompting disparaging comments from NDP MPP Sara Singh (Brampton Centre). "I've actually been here since 7:30 and sat at these tables and was asked questions, and that's what our elected officials need to be doing," she said, "not showing up late and then saying that 'we're going to advocate.'"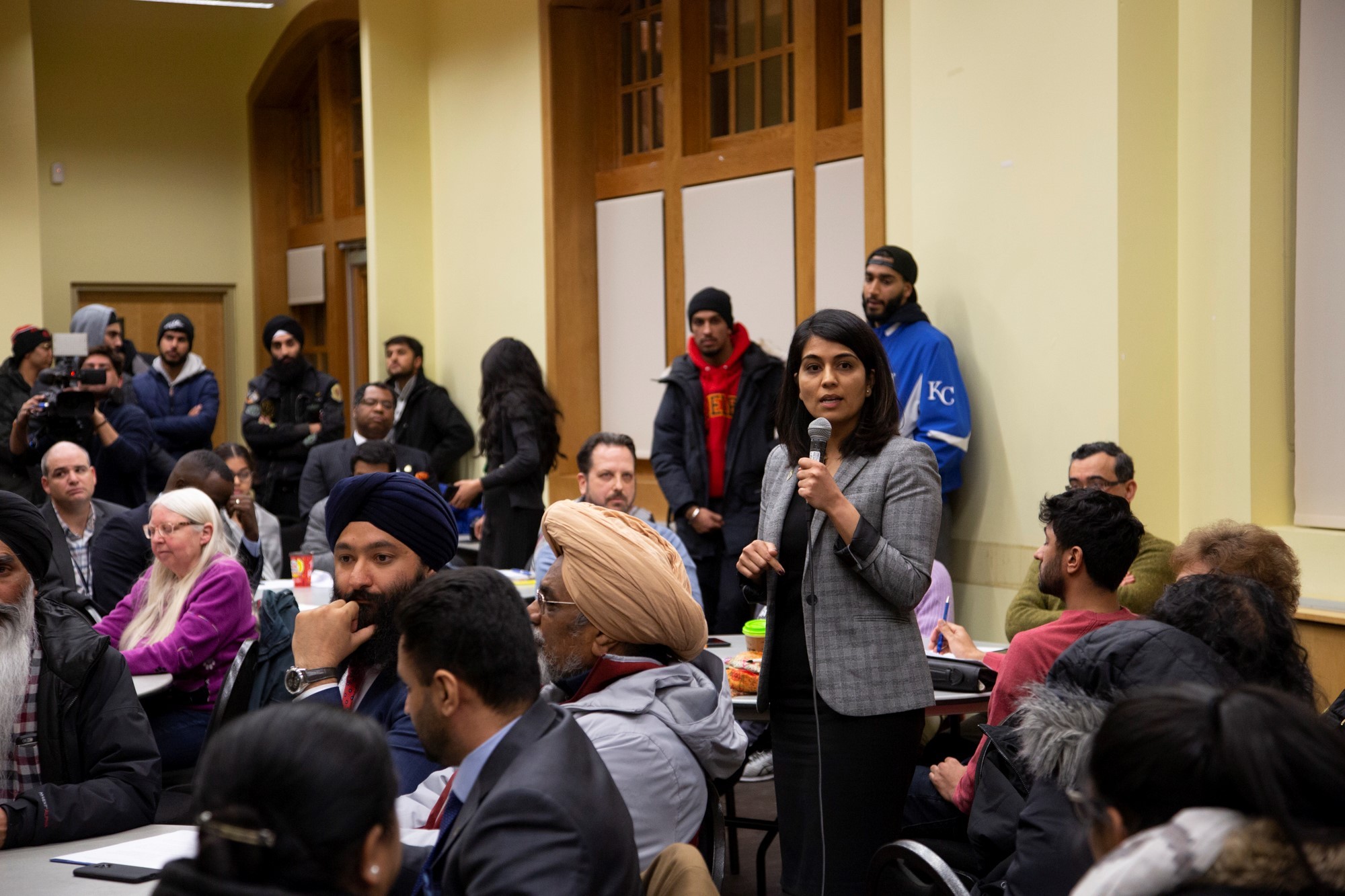 Brampton NDP MPP Sara Singh
The NDP revealed ahead of last year's provincial election that 4,352 patients were treated in hallways and closets at Brampton Civic from April of 2016 to April 2017, prompting the use of the term "hallway healthcare" throughout the election campaign to describe the crisis facing the city and other parts of the province facing a similar situation.
The evening at Mount Pleasant Library on Tuesday began with a series of roundtables, where residents discussed with each other and elected officials, including city councillors, how to best tackle Brampton's gridlocked health system. Sarkaria and Sandhu walked in about 45 minutes late and missed that session, only catching the portion when residents spoke to the room about their concerns.
That's when Chris Bejnar, co-chair of Citizens for a Better Brampton, began the verbal melee. "We need (another) full-service hospital. It would help if our MPPs actually show up for important debates at the legislative assembly for healthcare, for the university …," Bejnar said. After finishing his point, the mic was taken away by event organizer Ameek Singh, who later attempted to do the same to MPP Gurratan Singh (NDP, Brampton East). That prompted resident Kuldip Boparai to step in and stop the mic from being taken away.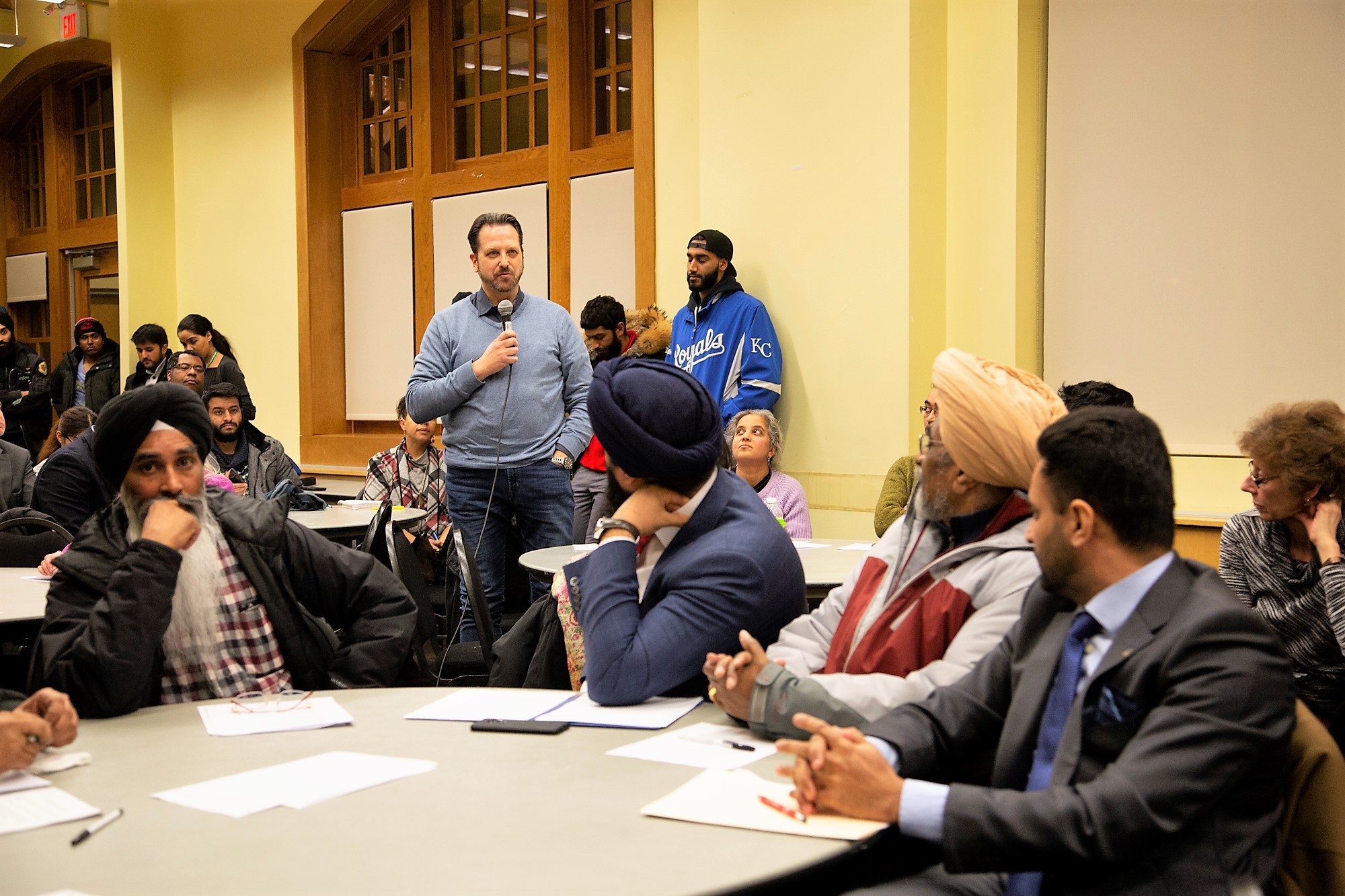 Brampton Resident Chris Bejnar poses questions to the city's two PC MPPs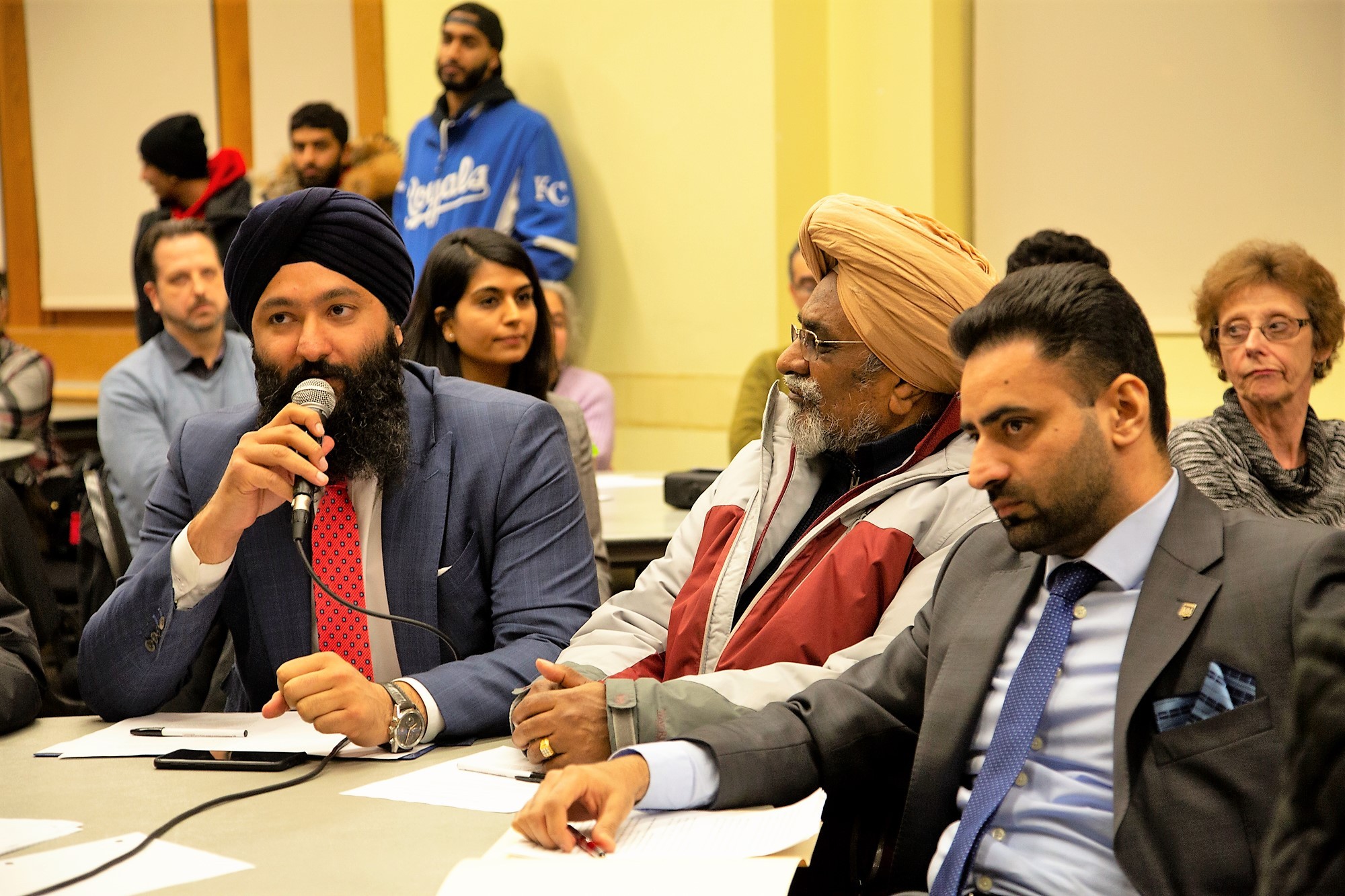 Brampton PC MPPs Prabmeet Sarkaria and Amarjot Sandhu
"People should be upset that Brampton has one [full service] hospital for 600,000 people. I'm upset, are you upset?" Gurratan Singh asked the audience. The crowd collectively responded: "Yes."
NDP MPP Kevin Yarde criticized the Tories and Premier Doug Ford for overlooking Brampton when the province allocated $90 million towards 640 beds for seven hospitals last October, in an announcement the PCs billed as their effort to end "hallway healthcare."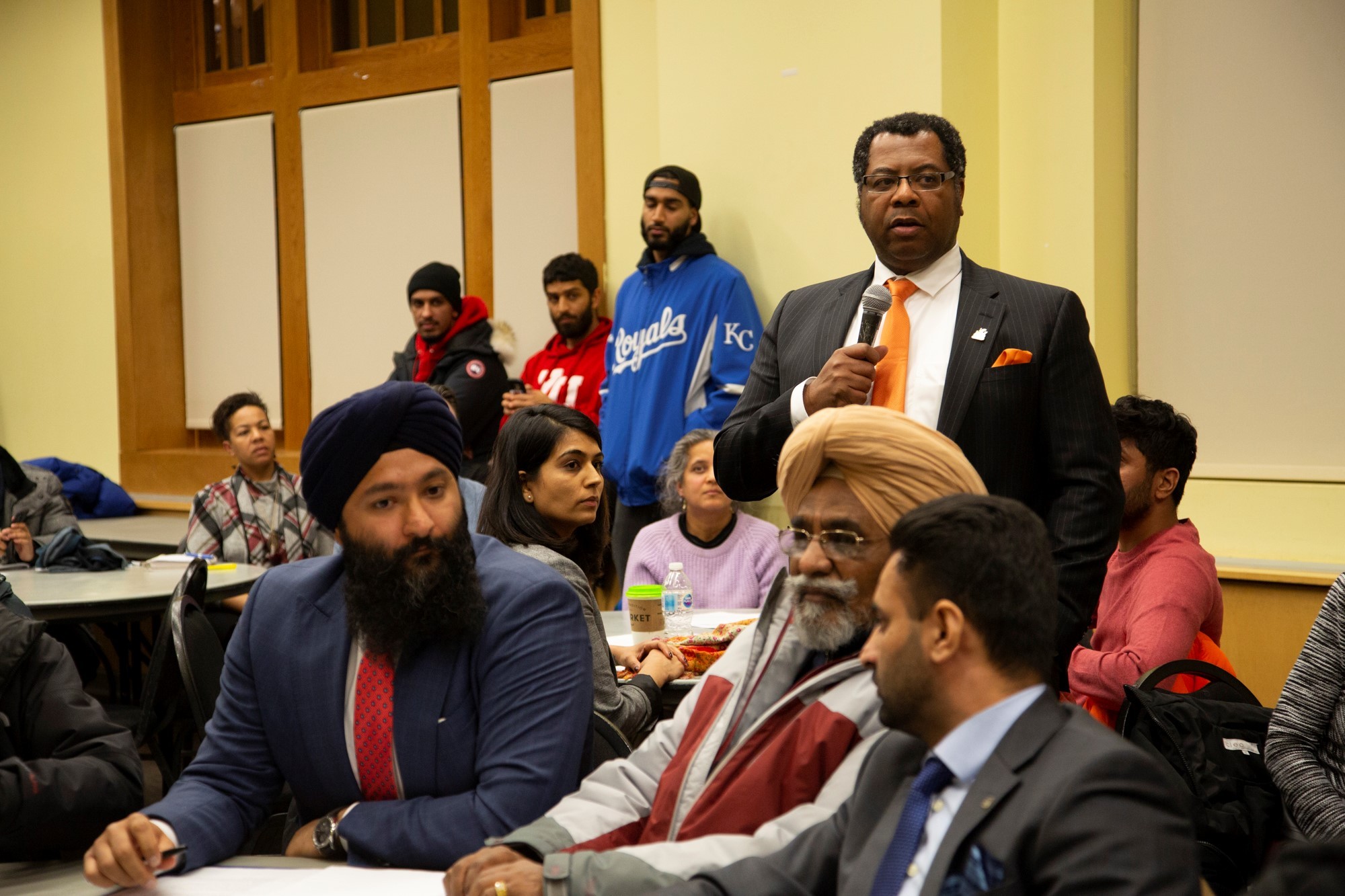 NDP MPP Kevin Yarde speaks at Tuesday's townhall
When Brampton, the place where the term was popularized because of the desperate situation here, was ignored by Ford and his government, which sent all $90 million to help fix hallway healthcare to other cities, while ignoring Brampton, about four-dozen readers contacted The Pointer to express their outrage.
"The [Progressive Conservative] government has said that they would give $90 million for healthcare. $300 million was what the ask was by the [OHA]. They are definitely short in terms of how much money is needed for these hospitals," Yarde said at Tuesday's event.
Sandhu spun the evening's fireworks as little more than concerned citizens expressing their views. "I honestly believe that these kinds of meeting are productive. You get to listen to the concerns of people and suggestions as well. Then you take the suggestions back to the ministry," Sandhu told The Pointer.
Questions have been raised about whether or not Sandhu and Sarkaria are doing their jobs, to represent the individuals and families who put them in power, sending them to Queen's Park to fight for Brampton. They have failed to advocate for better healthcare in the city, remaining silent in the legislature when debate centred on Brampton and then absenting themselves for the vote to bring a second full-service hospital here, an NDP motion that was defeated by the PCs while the two Brampton PCs were nowhere to be seen.
The government has little to show for the campaign promises made to end overcrowding in the city's lone full-service hospital. Similar sized cities across Canada have as many as six full-service hospitals. Of all the local hospital systems across the province, as of last year, Brampton's received the lowest amount of per capita funding, with less than one hospital bed per 1,000 residents, well below half the provincial average and a little more than a third of the national average of about 2.7 beds for every 1,000 residents. In Brampton, where the population is growing at more than three times the national rate, the situation has become a crisis, putting lives at risk.
Ford, with Health Minister Christine Elliott by his side, announced the impressively titled Ontario's Government for the People Taking Immediate Action to End Hallway Healthcare plan in October. It was to provide $90 million and 640 new bed spaces to seven hospitals across Ontario. While a few hospitals in the GTA were chosen to receive funding, neither of Brampton's hospitals (Peel Memorial and Brampton Civic) got anything from the initiative, despite the city being the place where the term used by the PCs in their PR campaign was popularized.
"One patient treated in a hallway is one patient too many. It's unacceptable that people are still waiting hours before seeing a doctor or are forced to lie on stretchers in hospital hallways when they do finally get there," Ford said when the plan was announced, seemingly unaware of the irony that Brampton Civic was being ignored while serving as the poster child for hallway medicine.
The Pointer asked Sarkaria then, and again at Tuesday's town hall, about why Brampton was passed over. He responded, "What we're going to do is fight for Bramptonians, fight for our healthcare needs, and we're going to ensure that Brampton gets its fair share."
One attendee told The Pointer that Ameek Singh had been "practically stalking" the Tory MPPs for months to attend a town hall on the question of hallway healthcare.
When Opposition Leader Andrea Horwath tabled a bill in October to build a new hospital in Brampton, both men were absent while their party defeated the motion. No explanation was given for why either was missing for the crucial vote.
"The Conservative government right now has a huge majority, and if they want to fix Brampton's issues they can do so. But what we've seen, since being elected, [is that] the Conservatives have not made Brampton's healthcare a priority and they've not invested in the things Brampton needs," MPP Gurratan Singh told The Pointer.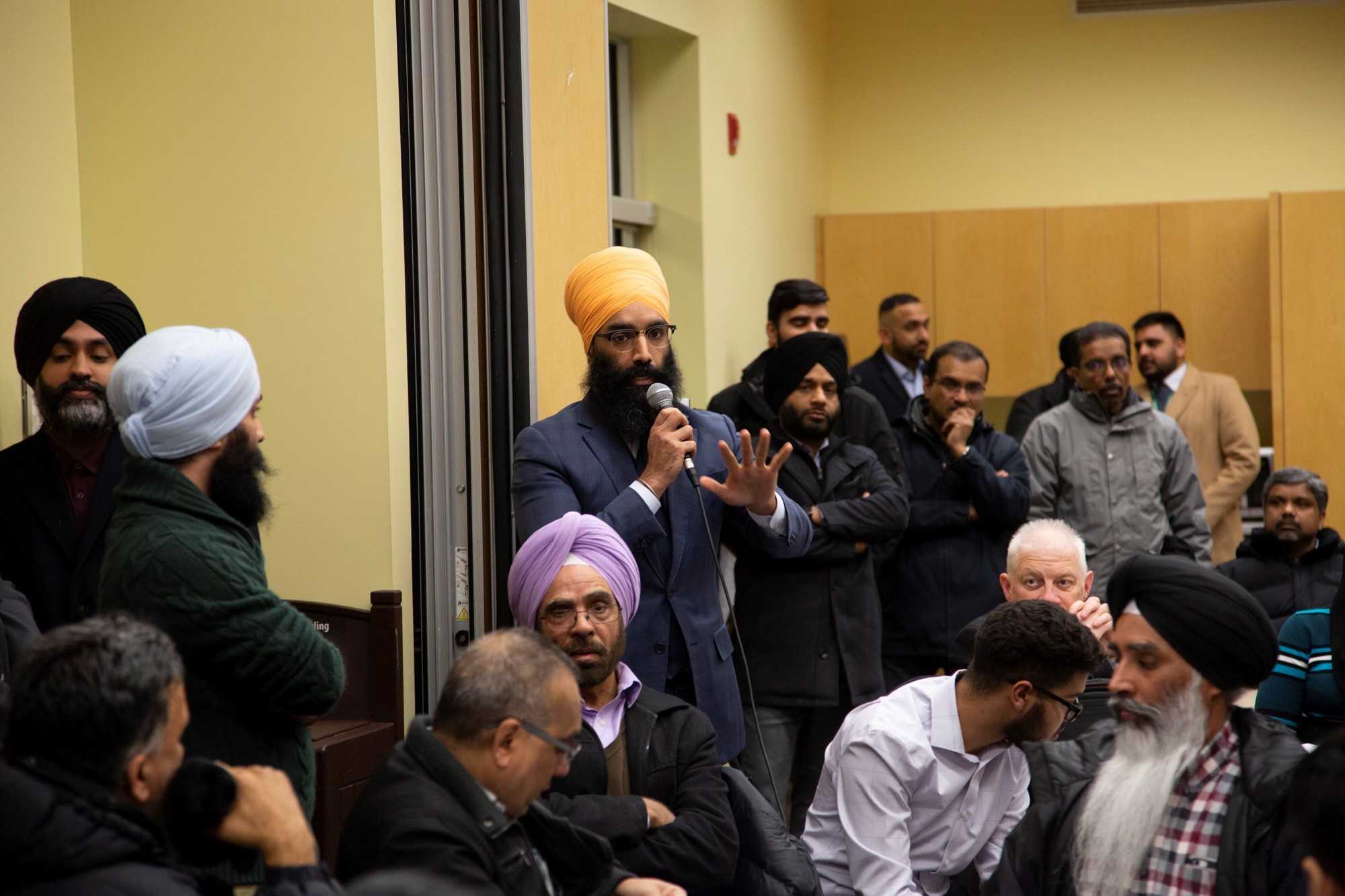 Brampton NDP MPP Gurratan Singh
During another key vote in the fall directly over a Brampton issue, to restore $90 million of funding for a planned downtown university campus, which the PCs clawed back, a spokesperson for Sandhu said the MPP for Brampton West "had to leave the House early to meet with constituents in Brampton due to prior commitments" so he missed the vote. MPPs are told not to schedule anything while the legislature is in session to vote on issues, the primary role they are elected to carry out. Questions were raised as to why Sandhu didn't simply reschedule his outside commitment, especially since the vote was over the most pressing issue in his city, one that he can directly influence.
While Sarkaria has remained mum on the healthcare issue, Sandhu has commented directly on occasion, when pressed by the media. When a draft bill suggesting the province was looking to privatize healthcare in Ontario was leaked in January, Sandhu told The Pointer, "This should not surprise anyone. Our healthcare system is on life support. It is a system that has been built for bureaucracy and not for patients."
The Ministry of Health is going ahead with one aspect of that draft bill, a super-agency to be called Ontario Health. The new bureaucracy will be formed by dissolving and absorbing the province's 14 Local Health Integration Networks and other agencies under the umbrella of the Ministry of Health.
"Let's look at Ontario's administrative costs to healthcare. We average 30 percent higher than other provinces. So our plan is going to redirect that money towards frontline care," Sarkaria said. He has offered no commitment or plan to advocate for Brampton to make sure some of those claimed efficiencies go directly toward funding more desperately needed hospital beds in the city.
Meanwhile, critics have said the PC plan will lead to a more American-style healthcare system in Ontario.
"It's opening the doors up to privatization," Gurratan Singh argues. "We have a situation where healthcare, which should be not profit motivated, is now going to have profit-motivated aspects to it ,and that is dangerous," said Gurratan Singh.
Email: [email protected]
Twitter: @mansoortanweer
Submit a correction about this story